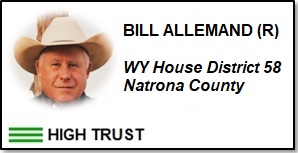 Summary
Representation
Competence
Integrity
More
+++
Bill Allemand is a WY House Representative for House District 58 in Natrona County and began serving in Jan 2023.  He has received a positive score for all three categories of Representation, Competence and Integrity and therefore has been ranked as High Trust.
He is up for reelection in 2024.
---
"I was born in Wyoming and raised right here in Natrona County on my family ranch before graduating high school from Midwest in 1977. I moved to Kansas and raised 4 wonderful children and became a grandfather; yet, my Wyoming roots kept calling me home. I moved back to my family ranch and have owned and operated a small trucking company that transports water in the Salt Creek oil field at Midwest and Edgerton. Throughout my life I have considered myself to be a Liberty-minded Republican who cares deeply about maintaining the way of life that I was blessed to have. The Wyoming Legislature needs strong Conservative Republicans who won't back down and won't cave to pressures from lobbyists. I am an active member of the Republican Party and can say that I wholeheartedly support the Republican Platforms and ideals. I am not and never will be a Republican in Name Only! (RINO)."
Overall Allemand earns a (+) for Representation.
Attendance
It appears that Allemand only missed two votes during 2023 General Session, both on 3/1/23: 3rd Reading for SF72 and SF94.
Public Conduct
Allemand appears to behave appropriately in public and to the public.
Sponsorship History
In 2023 Allemand was the primary sponsor of 4 bills, and co-sponsored 37 bills.  Bill topics/subjects that Allemand appears to favor sponsorship for include constitutional issues (federal and state), private property rights, agriculture, and protection of the unborn, children and students.  See more at Allemand's WY legislative page.
Committee Assignments
2023-House Agriculture, State and Public Lands & Water Resources
2023-NCSL – Natural Resources and Infrastructure
Allemand scored a (+) for Constitutional Competence with an average of 100% on the constitutional issues listed below.  Constitutional issue categories that have a "N/A" grade, refer to bills that Allemand did not have the opportunity to vote on.
For more on the bills used to analyze these scores click here.  Special hat-tip goes out to Evidence Based Wyoming for use of their statistical tool to generate the following vote scores:
Conflicts
Because we have not found any conflicts of interest for Allemand, he receives a (+) for Integrity.
Employment/Income
According to Allemand's 2023 State Elected Officials Financial Disclosure available at Wyofile, he reported the following:
Owner-Operator of a trucking business
Income earned from Real estate, leases, royalties
Income from a mineral trust
Memberships/Civic Organizations
None found.
Campaign Contributions
The table below shows all campaign contributions reported by the WY Secretary of State for Bill Allemand.
From 2021 to 2022 Allemand received 20 donations that totaled approximately $26,800.
Noteworthy contributions:
1 from a Campaign Committee ($500)
1 from out of state ($500)
and the rest from in state Wyoming citizens ($25,500)
Click the arrows at the top of columns to sort the data by name, date, $ amount, etc.  (Data is publicly available records obtained from the Wyoming Secretary of State's Wyoming's Campaign Finance Information System)
| Contributor Name | Recipient Name | Recipient Type | Contribution Type | Date | Filing Status | Amount | City State Zip |
| --- | --- | --- | --- | --- | --- | --- | --- |
| GLEASON, STEFAN (CHARLOTTE) | BILL ALLEMAND | CANDIDATE | MONETARY | 8/20/2022 | FILED | 500 | CHARLOTTE, NC 28277 |
| BILL ALLEMAND (MIDWEST) | BILL ALLEMAND | CANDIDATE | LOAN | 8/1/2022 | FILED | 8000 | MIDWEST, WY 82643 |
| COOPER, DONALD (CASPER) | BILL ALLEMAND | CANDIDATE | MONETARY | 7/25/2022 | FILED | 100 | CASPER, WY 82604 |
| HIRSCH, BILLY JEAN (CASPER) | BILL ALLEMAND | CANDIDATE | MONETARY | 7/17/2022 | FILED | 150 | CASPER, WY 82609 |
| MEIER, CURT (CHEYENNE) | BILL ALLEMAND | CANDIDATE | MONETARY | 7/12/2022 | FILED | 500 | CHEYENNE, WY 82002 |
| BEREGERON, LINDA (CASPER) | BILL ALLEMAND | CANDIDATE | MONETARY | 7/6/2022 | FILED | 100 | CASPER, WY 82604 |
| ALLEN JAGGI PAC FOR CONSTITUTIONAL ISSUES (LYMAN) | BILL ALLEMAND | CANDIDATE | MONETARY | 7/4/2022 | FILED | 500 | LYMAN, WY 82937 |
| EITEL, DELBERT (KAYCEE) | BILL ALLEMAND | CANDIDATE | MONETARY | 7/4/2022 | FILED | 200 | KAYCEE, WY 82639 |
| OWENS, MARY (MIDWEST) | BILL ALLEMAND | CANDIDATE | MONETARY | 7/3/2022 | FILED | 1000 | MIDWEST, WY 82643 |
| SMITH, DARIN (CHEYENNE) | BILL ALLEMAND | CANDIDATE | MONETARY | 6/24/2022 | FILED | 500 | CHEYENNE, WY 82003 |
| BILL ALLEMAND (MIDWEST) | BILL ALLEMAND | CANDIDATE | LOAN | 6/10/2022 | FILED | 5000 | MIDWEST, WY 82643 |
| ALLEMAND, JOHN (MIDWEST) | BILL ALLEMAND | CANDIDATE | MONETARY | 5/28/2022 | FILED | 1000 | MIDWEST, WY 82643 |
| DAVIS, ROBERT (CASPER) | BILL ALLEMAND | CANDIDATE | MONETARY | 5/20/2022 | FILED | 250 | CASPER, WY 82604 |
| ALLEMAND, TOM (MIDWEST) | BILL ALLEMAND | CANDIDATE | MONETARY | 5/10/2022 | FILED | 1500 | MIDWEST, WY 82643 |
| ALLEMAND, RAYMOND (CASPER) | BILL ALLEMAND | CANDIDATE | MONETARY | 5/4/2022 | FILED | 1000 | CASPER, WY 82601 |
| WHEELER, PERI (EDGERTON) | BILL ALLEMAND | CANDIDATE | MONETARY | 5/3/2022 | FILED | 1500 | EDGERTON, WY 82635 |
| WHEELER, SHANNON (EDGERTON) | BILL ALLEMAND | CANDIDATE | MONETARY | 5/3/2022 | FILED | 1500 | EDGERTON, WY 82635 |
| BOPHY, CARLEEN (JACKSON) | BILL ALLEMAND | CANDIDATE | MONETARY | 4/25/2022 | FILED | 1500 | JACKSON, WY 83001 |
| BOPHY, DAN (JACKSON) | BILL ALLEMAND | CANDIDATE | MONETARY | 4/25/2022 | FILED | 1500 | JACKSON, WY 83001 |
| TOBIN, MIKE (MIDWEST) | BILL ALLEMAND | CANDIDATE | MONETARY | 10/21/2021 | FILED | 500 | MIDWEST, WY 82643 |