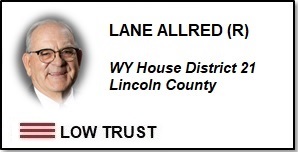 Summary
Representation
Competence
Integrity
More
– – +
Allred has served in WY House District 21 as a WY Representative for Lincoln County from Jan 2023 to the present.
Initially Allred had been scored as Limited Trust.  But due to a Citizen Tip, we have re-evaluated Allred and have dropped his ranking to Low Trust.
He is up for reelection in 2024.
---
"No!"

From vote on 2023 SF0117 – Parental rights in education, Sponsored by Senator Dan Dockstader and Representative Lane Allred (https://www.wyoleg.gov/Legislation/2023/SF0117)
Overall Allred has received a negative score (-) for Representation for his public display of cowardice as described below.
Attendance
It appears that Allred missed 0 votes in 2023 General Session.
Public Conduct
Karl Allred was one of two sponsors for 2023 SF0117 – Parental rights in education.  This bill dealt directly with the transgender ideology plaguing the public school system within our nation – including Wyoming schools.  The bill focused on parental rights in particular that have been outrageously abused by school boards, school counselors, etc. regarding the trans issue.   (The bill was modeled after a Florida bill that had successfully passed despite much controversy, propaganda and protests by radical activists.)
Allred was living up to his Oath of Office when he sponsored SF117:
Wyoming State Constitution Article 7, Section 20:
Duty of legislature to protect and promote health and morality of people.
As the health and morality of the people are essential to their well-being, and to the peace and permanence of the state, it shall be the duty of the legislature to protect and promote these vital interests by such measures for the encouragement of temperance and virtue, and such restrictions upon vice and immorality of every sort, as are deemed necessary to the public welfare.
Wyomingites, and most especially parents of Wyoming school children, were extremely grateful and relieved to see SF117 on our legislature's 2023 bill list.  We have no doubt that most citizens in Lincoln County House District 21 were extremely proud of Allred for his sponsorship of SF117.
The bill had passed out of the Senate on 1/27 with a vote of 18 to 12, with one excused (Senate President Ogden Driskill).  Wyomingites waited with baited breath for SF117 to begin the legislative process in the House.  Unfortunately Speaker Albert Sommers decided to keep this bill in his drawer and not allow it to go to committee. The bill sat until 2/21 when House Representative Jeanette Ward called for a recorded vote to allow Suspension of the Rules, pursuant to newly created 2023 House Rules 4-7 (b).  This vote had the power to override Speaker Sommer's and allow the bill to go to committee – like every bill has been allowed in past WY sessions.
When the vote was taken, Allred voted against his own bill.  The final vote was Ayes 27, Nays 34.
It is uncertain who got to Allred – radical leftists or the good ole boys pressuring him to 'go along to get along' and assist in killing his own bill.  Either way, what started out as a seemingly heroic effort by Allred turned into his spineless defeat with the breaking of his Oath, and an enormous disappointment for almost every Wyomingite.
While WY citizens lost SF117, many WY constituents in House District 21 also lost trust and faith in their newly elected House Representative Lane Allred as well.
Not a single person wants a representative that can be pushed around and manipulated by people with ill intentions – a person who is ultimately a coward.
Sponsorship History
In 2023 Allred was the primary sponsor of 0 bills, and co-sponsored 13 bills and 2 joint resolutions.  Favored sponsorship topics appear to be education and property tax.  For more details, see his legislator webpage.
Committee Assignments
2023-House Agriculture, State and Public Lands & Water Resources
2023-House Education
2023-Small Business Assistance Program Advisory Panel
2023-NCSL – Education
Allred scored a (–) for Constitutional Competence with an average of 46.6% on the constitutional issues listed below.
Constitutional issue categories that have a "N/A" grade, refer to specific bills that Allred did not have the opportunity to vote on.
For more on the bills used to analyze these scores click here.  Special hat-tip goes out to Evidence Based Wyoming for use of their statistical tool to generate the following vote scores:
Conflicts
Because we have not found any conflicts of interest for Allred, he receives a (+) for Integrity.
Employment/Income
According to Allred's 2023 State Elected Officials Financial Disclosure available at Wyofile, he reports:
Memberships/Civic Organizations
Fairview Cemetery Board
Fairview Irrigation District
Star Valley Historical Society
Lincoln County School District #2 Board of Directors [former?]
Campaign Contributions
The table below shows all campaign contributions reported by the WY Secretary of State for Lane Allred.
In 2022 Allred received 13 contributions that total approximately $9,717.09.  Of the 13 donations, approximately 6 were from PACs &/or Campaign Committees.  The total amount received from PACs &/or Campaign Committees was approximately $6,900.00, which is approximately 70% of all contributions.
Noteworthy contributions are:
$5,000 from Wyoming Hope (RINO donor)

$1,000 from WY Medical Society PAC
$500 from WY Hospital Association PAC
Click the arrows at the top of columns to sort the data by name, date, $ amount, etc.  (Data is publicly available records obtained from the Wyoming Secretary of State's Wyoming's Campaign Finance Information System.)
| Contributor Name | Recipient Name | Recipient Type | Contribution Type | Date | Filing Status | Amount | City State Zip |
| --- | --- | --- | --- | --- | --- | --- | --- |
| COMMON VALUES PAC (ALEXANDRIA) | LANE ALLRED | CANDIDATE | MONETARY | 9/19/2022 | FILED | 100 | ALEXANDRIA, VA 22314 |
| ALLRED, LANE BARLOW (AFTON) | LANE ALLRED | CANDIDATE | MONETARY | 8/5/2022 | AMEND - ADD | 1417.09 | AFTON, WY 83110 |
| COLES, DIANA (AFTON) | LANE ALLRED | CANDIDATE | MONETARY | 8/5/2022 | FILED | 150 | AFTON, WY 83110 |
| DAVIS, TOM (AFTON) | LANE ALLRED | CANDIDATE | MONETARY | 8/5/2022 | FILED | 400 | AFTON, WY 83110 |
| FROME, KIM (GROVER) | LANE ALLRED | CANDIDATE | MONETARY | 8/5/2022 | FILED | 50 | GROVER, WY 83122 |
| HEAP, GLOY (THAYNE) | LANE ALLRED | CANDIDATE | MONETARY | 8/5/2022 | FILED | 100 | THAYNE, WY 83127 |
| JENSEN, ROD (AFTON) | LANE ALLRED | CANDIDATE | MONETARY | 8/5/2022 | FILED | 200 | AFTON, WY 83110 |
| RAINEY, MARILYN (AFTON) | LANE ALLRED | CANDIDATE | MONETARY | 8/5/2022 | FILED | 500 | AFTON, WY 83110 |
| WYO PAC (WYOMING MEDICAL PAC) (CHEYENNE) | LANE ALLRED | CANDIDATE | MONETARY | 8/5/2022 | FILED | 1000 | CHEYENNE, WY 82003 |
| WYO-D-PAC (CASPER) | LANE ALLRED | CANDIDATE | MONETARY | 8/5/2022 | FILED | 100 | CASPER, WY 82601 |
| WYOMING HOPE (CASPER) | LANE ALLRED | CANDIDATE | MONETARY | 8/5/2022 | FILED | 5000 | CASPER, WY 82601 |
| WYOMING HOSPITAL ASSOCIATION PAC (CHEYENNE) | LANE ALLRED | CANDIDATE | MONETARY | 8/5/2022 | FILED | 500 | CHEYENNE, WY 82001 |
| WYOMING STOCK GROWERS' AG PAC (CHEYENNE) | LANE ALLRED | CANDIDATE | MONETARY | 8/5/2022 | FILED | 200 | CHEYENNE, WY 82003 |