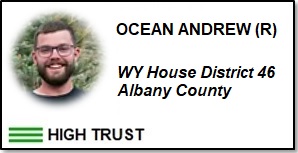 Summary
Representation
Competence
Integrity
More
+++
Ocean Andrew is a WY House Representative for House District 46 in Albany County and has served from 2021 to the present. He has received a positive score for all three categories of Representation, Competence and Integrity and therefore has been ranked as High Trust.
He is up for reelection in 2024.
---
Wyoming is a place where the torch of liberty is still carried in the hearts of the people; a place where people are free to speak their minds, a place where hard work is respected and rewarded, a place people can raise their families as they see fit, a place where breathtaking landscapes and open roads abound, a place where we we can roam free.  
My name is Ocean Andrew and I am running for re-election in House District 46. I moved to Wyoming nine years ago to seek a certain freedom that I believe can only be had in this state. In Wyoming you can feel freedom. We have a culture of self-responsibility and self-reliance. It does not matter if you are an accountant or a coal miner, we all have a little bit of cowboy woven into our spirits. 
Wyoming has a culture worth preserving and I am here to fight for it. Every election we send people to Cheyenne whom we expect to represent us as responsible and hardworking people. Unfortunately, every legislative session is only used to further erode our liberties, claim more of what we worked hard for, and pass policies that do not represent who we are as Wyomingites.  It's time to reclaim our liberties, introduce bills that expand freedom, and fight against the passing of those that don't.
-Ocean Andrew
From https://www.oceanandrew.com/
Overall Andrew earns a (+) for Representation.
Attendance
It appears that Andrew missed 0 votes in 2023 General Session.
Public Conduct
Andrew appears to behave appropriately in public and to the public.
Sponsorship History
From 2020 to 2023, Andrew has sponsored 4 bills and has co-sponsored 31 bills.  Bill topics/subjects that Andrew appears to favor for sponsorship include protection of the unborn, children and students.  See more at Andrew's WY legislative page.
Committee Assignments
2023-House Education
2023-Select Committee on Blockchain, Financial Technology and Digital Innovation Technology
Andrew scored a (+) for Constitutional Competence with 100% average on the constitutional issues listed below.
For more on the bills used to analyze these scores click here.  Special hat-tip goes out to Evidence Based Wyoming for use of their statistical tool to generate the following vote scores:
Conflicts
Because we have not found any conflicts of interest for Ocean Andrew, he receives a (+) for Integrity.
Employment/Income
According to Ocean Andrew's 2023 State Elected Officials Financial Disclosure available at Wyofile, he reported the following:
Owner of a private business
Income from investments
Memberships/Civic Organizations
None found
Campaign Contributions
The table below shows all campaign contributions reported by the WY Secretary of State for Ocean Andrew.
From 2020 to 2022 Andrew has received 53 contributions that total approximately $21,806.30.  With the exception of nine donation from out of state, all other donations came from within the State of Wyoming.  With the exception of approximately eight PACs & four campaign committees, all other donations came from individual WY residents.
Click the arrows at the top of columns to sort the data by name, date, $ amount, etc.  (Data is publicly available records obtained from the Wyoming Secretary of State's Wyoming's Campaign Finance Information System)
| Contributor Name | Recipient Name | Recipient Type | Contribution Type | Date | Filing Status | Amount | City State Zip |
| --- | --- | --- | --- | --- | --- | --- | --- |
| ALBANY REPUBLICAN PARTY CENTRAL COMMITTEE (LARAMIE) | OCEAN ANDREW | CANDIDATE | MONETARY | 10/27/2022 | FILED | 500 | LARAMIE, WY 82073 |
| PREUS, SAMUEL (LARAMIE) | OCEAN ANDREW | CANDIDATE | MONETARY | 10/5/2022 | FILED | 47.4 | LARAMIE, WY 82070 |
| LOFTUS, JAN (BUFFALO) | OCEAN ANDREW | CANDIDATE | MONETARY | 9/20/2022 | FILED | 50 | BUFFALO, WY 82831 |
| COMMON VALUES PAC (ALEXANDRIA) | OCEAN ANDREW | CANDIDATE | MONETARY | 9/19/2022 | FILED | 250 | ALEXANDRIA, VA 22314 |
| WY RURAL ELECTRIC ASSN. PAC (CHEYENNE) | OCEAN ANDREW | CANDIDATE | MONETARY | 9/19/2022 | FILED | 250 | CHEYENNE, WY 82001 |
| PREUS, SAMUEL (LARAMIE) | OCEAN ANDREW | CANDIDATE | MONETARY | 8/4/2022 | FILED | 200 | LARAMIE, WY 82070 |
| WILSON, SUSAN (CHEYENNE) | OCEAN ANDREW | CANDIDATE | MONETARY | 7/29/2022 | FILED | 500 | CHEYENNE, WY 82009 |
| FARMERS INSURANCE AGENTS AND EMPLOYEE(FEAPAC) MEMBERS OF WYOMING (CHEYENNE) | OCEAN ANDREW | CANDIDATE | MONETARY | 7/25/2022 | FILED | 250 | CHEYENNE, WY 82001 |
| POLEY, APRIL (BUFFALO) | OCEAN ANDREW | CANDIDATE | MONETARY | 7/9/2022 | FILED | 200 | BUFFALO, WY 82834 |
| MAUS, TODD (JACKSON) | OCEAN ANDREW | CANDIDATE | MONETARY | 7/6/2022 | FILED | 1000 | JACKSON, WY 83001 |
| UNION PACIFIC CORPORATION FUND FOR EFFECTIVE GOVERNMENT (WASHINGTON) | OCEAN ANDREW | CANDIDATE | MONETARY | 6/24/2022 | FILED | 250 | WASHINGTON, DC 20005 |
| BROPHY, CARLEEN (JACKSON) | OCEAN ANDREW | CANDIDATE | MONETARY | 5/4/2022 | FILED | 1500 | JACKSON, WY 83001 |
| BROPHY, DANIEL (JACKSON) | OCEAN ANDREW | CANDIDATE | MONETARY | 5/4/2022 | FILED | 1500 | JACKSON, WY 83001 |
| AMERICAN SOCIETY OF ANESTHESIOLOGISTS (SCHAUMBURG) | OCEAN ANDREW | CANDIDATE | MONETARY | 3/21/2022 | FILED | 500 | SCHAUMBURG, IL 60173 |
| PREUS, SAMUEL (LARAMIE) | OCEAN ANDREW | CANDIDATE | MONETARY | 12/8/2021 | FILED | 250 | LARAMIE, WY 82070 |
| KARVELA, ELENI (INCLINE VILLAGE) | OCEAN ANDREW | CANDIDATE | MONETARY | 5/14/2021 | FILED | 1500 | INCLINE VILLAGE, NV 89451 |
| MACRICOSTAS, GEORGE (INCLINE VILLAGE) | OCEAN ANDREW | CANDIDATE | MONETARY | 5/14/2021 | FILED | 1500 | INCLINE VILLAGE, NV 89451 |
| SNYDER, JEFF (CASPER) | OCEAN ANDREW | CANDIDATE | MONETARY | 2/12/2021 | FILED | 50 | CASPER, WY 82601 |
| FRIESS, FOSTER (JACKSON) | OCEAN ANDREW | CANDIDATE | MONETARY | 11/3/2020 | AMEND - ADD | 1500 | JACKSON, WY 83002 |
| BLACK HILLS CORPORATION PAC (RAPID CITY) | OCEAN ANDREW | CANDIDATE | MONETARY | 10/16/2020 | FILED | 150 | RAPID CITY, SD 57709 |
| CROOK REPUBLICAN PARTY CENTRAL COMMITTEE (SUNDANCE) | OCEAN ANDREW | CANDIDATE | MONETARY | 10/8/2020 | FILED | 1000 | SUNDANCE, WY 82729 |
| LOFTUS , JANET (SHERIDAN) | OCEAN ANDREW | CANDIDATE | MONETARY | 9/29/2020 | FILED | 40 | SHERIDAN, WY 82801 |
| REPUBLICAN (CHEYENNE) | OCEAN ANDREW | CANDIDATE | MONETARY | 9/25/2020 | FILED | 2500 | CHEYENNE, WY 82003 |
| MAYNARD, DAVID (LARAMIE) | OCEAN ANDREW | CANDIDATE | MONETARY | 9/24/2020 | FILED | 50 | LARAMIE, WY 82070 |
| HOUSE REPUBLICAN CAUCUS (POWELL) | OCEAN ANDREW | CANDIDATE | MONETARY | 9/23/2020 | FILED | 150 | POWELL, WY 82435 |
| COWBOY GAMES PAC (SHERIDAN) | OCEAN ANDREW | CANDIDATE | MONETARY | 9/21/2020 | FILED | 150 | SHERIDAN, WY 82801 |
| HALLINAN FOR HOUSE (GILETTE) | OCEAN ANDREW | CANDIDATE | MONETARY | 9/19/2020 | FILED | 100 | GILETTE, WY 82718 |
| LANGEFELD , BRIAN (LARAMIE ) | OCEAN ANDREW | CANDIDATE | MONETARY | 9/11/2020 | FILED | 50 | LARAMIE , WY 82070 |
| ANDREW, OCEAN (JELM) | OCEAN ANDREW | CANDIDATE | MONETARY | 9/9/2020 | FILED | 85.5 | JELM, WY 82063 |
| COMMON VALUES PAC (ALEXANDRIA) | OCEAN ANDREW | CANDIDATE | MONETARY | 9/9/2020 | FILED | 100 | ALEXANDRIA, VA 22314 |
| LAWSON , TYLER (LARAMIE) | OCEAN ANDREW | CANDIDATE | MONETARY | 8/27/2020 | FILED | 40 | LARAMIE, WY 83070 |
| WHEELER, JAMEY (BROOKLYN CENTER ) | OCEAN ANDREW | CANDIDATE | MONETARY | 8/27/2020 | FILED | 100 | BROOKLYN CENTER , MN 55430 |
| COLTER, JENNY (LARAMIE) | OCEAN ANDREW | CANDIDATE | MONETARY | 8/26/2020 | FILED | 100 | LARAMIE, WY 82070 |
| WHITMAN, BRENDA (LARAMIE) | OCEAN ANDREW | CANDIDATE | MONETARY | 8/26/2020 | FILED | 100 | LARAMIE, WY 82070 |
| BORROWS, GENE (LARAMIE) | OCEAN ANDREW | CANDIDATE | MONETARY | 7/31/2020 | FILED | 25 | LARAMIE, WY 82070 |
| GORE, SUSAN (CHEYENNE ) | OCEAN ANDREW | CANDIDATE | MONETARY | 7/22/2020 | FILED | 900 | CHEYENNE , WY 82009 |
| SHELTON , NANCY (LARAMIE) | OCEAN ANDREW | CANDIDATE | MONETARY | 7/20/2020 | FILED | 50 | LARAMIE, WY 82070 |
| VANDIVER , RICHARD (RIDGEWAY ) | OCEAN ANDREW | CANDIDATE | MONETARY | 6/18/2020 | FILED | 200 | RIDGEWAY , SC 29130 |
| IDE , CATHY (CASPER ) | OCEAN ANDREW | CANDIDATE | MONETARY | 6/17/2020 | FILED | 200 | CASPER , WY 82601 |
| LEGGETT, ERIC (ASTORIA ) | OCEAN ANDREW | CANDIDATE | MONETARY | 6/14/2020 | FILED | 50 | ASTORIA , OR 97103 |
| POLEY, DANIEL (GILLETTE ) | OCEAN ANDREW | CANDIDATE | MONETARY | 6/13/2020 | FILED | 250 | GILLETTE , WY 82716 |
| ANDREW, BREANNA (CODY ) | OCEAN ANDREW | CANDIDATE | MONETARY | 6/9/2020 | FILED | 50 | CODY , WY 82414 |
| GAMBOA , MONA (JELM ) | OCEAN ANDREW | CANDIDATE | MONETARY | 6/9/2020 | FILED | 100 | JELM , WY 82063 |
| LIGGETT , GARRETT (NEWCASTLE ) | OCEAN ANDREW | CANDIDATE | MONETARY | 5/29/2020 | FILED | 20 | NEWCASTLE , WY 82701 |
| MURPHY , SHAWNNA (JELM) | OCEAN ANDREW | CANDIDATE | MONETARY | 5/26/2020 | FILED | 50 | JELM, WY 82063 |
| BROPHY , CARLEEN (JACKSON) | OCEAN ANDREW | CANDIDATE | MONETARY | 5/21/2020 | FILED | 1500 | JACKSON, WY 83001 |
| BROPHY, DANIEL (JACKSON ) | OCEAN ANDREW | CANDIDATE | MONETARY | 5/21/2020 | FILED | 1500 | JACKSON , WY 83001 |
| LEACH , JESSIE (LARAMIE) | OCEAN ANDREW | CANDIDATE | IN-KIND | 5/21/2020 | FILED | 100 | LARAMIE, WY 82070 |
| RUBINO, JOE (LARAMIE) | OCEAN ANDREW | CANDIDATE | IN-KIND | 5/21/2020 | FILED | 100 | LARAMIE, WY 82070 |
| TRAVIS , BRADLEY (LARAMIE ) | OCEAN ANDREW | CANDIDATE | MONETARY | 5/20/2020 | FILED | 5 | LARAMIE , WY 82070 |
| WHEELER , JAMEY (BROOKLYN CENTER) | OCEAN ANDREW | CANDIDATE | MONETARY | 5/5/2020 | FILED | 50 | BROOKLYN CENTER, MN 55430 |
| ANDREW, OCEAN (JELM) | OCEAN ANDREW | CANDIDATE | MONETARY | 4/24/2020 | FILED | 143.4 | JELM, WY 82063 |