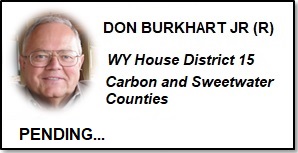 Summary
Representation
Competence
Integrity
More
+- +
Donald Burkhart Jr. is a WY House Representative for House District 15 in Carbon and Sweetwater Counties and has served from 2011 to the present.  Burkhart has received a positive score for Representation and Integrity, and a negative score for Competence.  Therefore, he has been ranked as Limited Trust.
He is up for reelection in 2024.
---
"Defending the Wyoming and US Constitutions and the rights guaranteed by them is of prime importance to me.  This includes the rights of free speech, religion, assembly and to keep and bear arms.  I consistently push back against federal encroachment of our freedoms."

From https://www.donburkhart.com/meet-don
Overall Burkhart earns a (+) for Representation.
Attendance
It appears that Burkhart missed four votes during 2023 General Session:
1/31/23 – Committee of the Whole vote for HB125;
2/21/23 – 3rd Reading votes on SF38; SF61; SF84.
Public Conduct
Burkhart appears to behave appropriately in public and to the public.
Sponsorship History
Burhart's webpage does not show 2023 bills.
In 2022 Burkhart was the primary sponsor of 2 bills and co-sponsored 13 bills.  Favored bill topics appear to be energy related.  See Burkhart's legislative webpage for more.
Committee Assignments
2023-House Minerals, Business & Economic Development – Chairman
2023-House Travel, Recreation, Wildlife & Cultural Resources
2023-Energy Council
2023-Enhanced and Improved Oil Recovery Commission
2023-UW Energy Resource Council
Burkhart scored a (–) for Constitutional Competence with an average of 67.85% on the constitutional issues listed below.
For more on the bills used to analyze these scores click here.  Special hat-tip goes out to Evidence Based Wyoming for use of their statistical tool to generate the following vote scores:
Conflicts
Still being assessed…
Burkhart disclosed that he is owner of Don Burkhart Consulting.  Is it safety oriented as he claims his occupation is?  Without knowing the nature of his consulting business it is impossible to determine a conflict.
Employment/Income
According to his legislative webpage, Burkhart is employed as a safety engineer.  According to Burkhart's 2023 State Elected Officials Financial Disclosure available at Wyofile, he reported the following:
Owner of Don Burkhart Gunsmithing business
Owner of Don Burkhart Consulting business
Income earned from "Any security or interest earnings"
Memberships/Civic Organizations
Professional Member, American Society of Safety Engineers
Member, Council of State Governments West – Fiscal Affairs, 2014
Member, International System Safety Society, 2005-2010
Chairman, Petroleum Association of Wyoming Safety Committee, 2009-2010
Board Member, Wyoming-Montana Safety Council, 2000-2002, 2009-2010
President of the Board of Directors, Wyoming-Montana Safety Committee, 2002-2009
Member, Wyoming State Fire Marshal Advisory Council, 1987-1989
(Source: Vote Smart)
Campaign Contributions
The table below shows all campaign contributions reported by the WY Secretary of State for Donald E. Burkhart Jr.; Donald Burkhart; Donald Edgar Burkhart Jr.
From 2010 to 2022 Burkhart has received 206 contributions that total approximately $95,375.66.  With the exception of approximately 50 donations, all others came from PACs &/or Campaign Committees.  The total amount from PACs &/or Campaign Committees was approximately $60,331.50, which is approximately 63% of all contributions received.
Noteworthy contributions:
$15,000 total from Wyoming Hope (RINO donor)

$100 from Diamond Free Enterprise PAC (RINO donor)
$1,200 total from True family dynasty members
$5,950 total from ESG compliant energy company PACs:

$3,500 total from DECPAC/Devon Energy
$750 total from MDU Resources Group Good Government Fund
$500 from NextEra PAC
$1,200 total from Pacific Power/PACIFICORP

$600 total from Common Values PAC (Alexandria)
$1,000 total from CONPAC Contractors PAC
$500 from Prosperity and Commerce PAC
Click the arrows at the top of columns to sort the data by name, date, $ amount, etc.  (Data is publicly available records obtained from the Wyoming Secretary of State's Wyoming's Campaign Finance Information System)
| Contributor Name | Recipient Name | Recipient Type | Contribution Type | Date | Filing Status | Amount | City State Zip |
| --- | --- | --- | --- | --- | --- | --- | --- |
| LEVIN, JODY (CHEYENNE) | DONALD E. BURKHART JR. | CANDIDATE | MONETARY | 10/18/2022 | FILED | 500 | CHEYENNE, WY 82009 |
| LUMMIS FOR WYOMING (CASPER) | DONALD E. BURKHART JR. | CANDIDATE | MONETARY | 10/14/2022 | FILED | 250 | CASPER, WY 82601 |
| DECPAC (OKLAHOMA CITY) | DONALD E. BURKHART JR. | CANDIDATE | MONETARY | 10/13/2022 | FILED | 1000 | OKLAHOMA CITY, OK 73102 |
| TRUCKING INDUSTRY PAC (CASPER) | DONALD E. BURKHART JR. | CANDIDATE | MONETARY | 10/7/2022 | FILED | 300 | CASPER, WY 82602 |
| FUND FOR EFFECTIVE GOVERNMENT (WASHINGTON) | DONALD E. BURKHART JR. | CANDIDATE | MONETARY | 10/6/2022 | FILED | 250 | WASHINGTON, DC 20005 |
| COMMON VALUES PAC (ALEXANDRIA) | DONALD E. BURKHART JR. | CANDIDATE | MONETARY | 9/30/2022 | FILED | 500 | ALEXANDRIA, VA 22314 |
| BLACK HILLS CORPORATION PAC (RAPID CITY) | DONALD E. BURKHART JR. | CANDIDATE | MONETARY | 9/28/2022 | FILED | 250 | RAPID CITY, SD 57709 |
| TRUE, DAVID L (CASPER) | DONALD E. BURKHART JR. | CANDIDATE | MONETARY | 9/27/2022 | FILED | 300 | CASPER, WY 82602 |
| WY REALTORS PAC (CASPER) | DONALD E. BURKHART JR. | CANDIDATE | MONETARY | 9/27/2022 | FILED | 2500 | CASPER, WY 82604 |
| PAW POLITICAL ACTION COUNCIL (CASPER) | DONALD E. BURKHART JR. | CANDIDATE | MONETARY | 9/26/2022 | FILED | 1500 | CASPER, WY 82601 |
| WYOMING STOCK GROWERS' AG PAC (CHEYENNE) | DONALD E. BURKHART JR. | CANDIDATE | MONETARY | 9/26/2022 | FILED | 200 | CHEYENNE, WY 82003 |
| NEXTERA ENERGY PAC (JUNO BEACH) | DONALD E. BURKHART JR. | CANDIDATE | MONETARY | 9/22/2022 | FILED | 500 | JUNO BEACH, FL 33408 |
| WY PUBLIC EMPLOYEES ASSN. PAC (CHEYENNE) | DONALD E. BURKHART JR. | CANDIDATE | MONETARY | 9/22/2022 | FILED | 500 | CHEYENNE, WY 82003 |
| PROSPERITY AND COMMERCE PAC (CHEYENNE) | DONALD E. BURKHART JR. | CANDIDATE | MONETARY | 9/16/2022 | FILED | 500 | CHEYENNE, WY 82001 |
| WYOMING HOPE (CASPER) | DONALD E. BURKHART JR. | CANDIDATE | MONETARY | 9/16/2022 | FILED | 5000 | CASPER, WY 82601 |
| MDU RESOURCES GROUP GOOD GOVERNMENT FUND (BISMARCK) | DONALD E. BURKHART JR. | CANDIDATE | MONETARY | 9/15/2022 | FILED | 250 | BISMARCK, ND 58506 |
| PACIFIC POWER/ROCKY MOUNTAIN POWER PAC (PORTLAND) | DONALD E. BURKHART JR. | CANDIDATE | MONETARY | 9/15/2022 | FILED | 300 | PORTLAND, OR 97232 |
| BEBOUT, ELI (RIVERTON) | DONALD E. BURKHART JR. | CANDIDATE | MONETARY | 9/13/2022 | FILED | 500 | RIVERTON, WY 82501 |
| WYOMING MINING ASSOCIATION PAC (WMA) (CHEYENNE) | DONALD E. BURKHART JR. | CANDIDATE | MONETARY | 9/9/2022 | FILED | 1000 | CHEYENNE, WY 82001 |
| AGOPIAN, NICHOLAS (CHEYENNE) | DONALD E. BURKHART JR. | CANDIDATE | MONETARY | 9/1/2022 | FILED | 500 | CHEYENNE, WY 82001 |
| BURKHART, DONALD (RAWLINS) | DONALD E. BURKHART JR. | CANDIDATE | LOAN | 8/29/2022 | FILED | 5000 | RAWLINS, WY 82301 |
| ELLIS, AFFIE (CHEYENNE) | DONALD E. BURKHART JR. | CANDIDATE | MONETARY | 8/26/2022 | FILED | 200 | CHEYENNE, WY 82001 |
| SUMMERS, ALBERT (PINEDALE) | DONALD E. BURKHART JR. | CANDIDATE | MONETARY | 8/23/2022 | FILED | 500 | PINEDALE, WY 82941 |
| COWBOY GAMES PAC (SHERIDAN) | DONALD E. BURKHART JR. | CANDIDATE | MONETARY | 8/22/2022 | FILED | 500 | SHERIDAN, WY 82801 |
| ALTRIA GROUP, INC. PAC (WASHINGTON) | DONALD E. BURKHART JR. | CANDIDATE | MONETARY | 8/10/2022 | AMEND - ADD | 200 | WASHINGTON, DC 20001 |
| CHARTER COMMUNICATIONS, INC. WYOMING POLITICAL ACTION COMMITTEE (CHEYENNE) | DONALD E. BURKHART JR. | CANDIDATE | MONETARY | 8/10/2022 | AMEND - ADD | 500 | CHEYENNE, WY 82009 |
| BNSF RAILPAC (FT WORTH) | DONALD E. BURKHART JR. | CANDIDATE | MONETARY | 7/6/2022 | FILED | 300 | FT WORTH, TX 76161 |
| UNION PACIFIC CORPORATION FUND FOR EFFECTIVE GOVERNMENT (WASHINGTON) | DONALD E. BURKHART JR. | CANDIDATE | MONETARY | 6/24/2022 | FILED | 400 | WASHINGTON, DC 20005 |
| EXXONMOBILE PAC (IRVING) | DONALD E. BURKHART JR. | CANDIDATE | MONETARY | 6/15/2022 | FILED | 500 | IRVING, TX 75039 |
| UNION PACIFIC CORPORATION FUND FOR EFFECTIVE GOVERNMENT (WASHINGTON) | DONALD E. BURKHART JR. | CANDIDATE | MONETARY | 12/21/2021 | FILED | 400 | WASHINGTON, DC 20005 |
| MOTOROLA SOLUTIONS, INC. PAC (WASHINGTON ) | DONALD E. BURKHART JR. | CANDIDATE | MONETARY | 12/16/2021 | FILED | 500 | WASHINGTON , DC 20004 |
| ALLSTATE INSURANCE COMPANY PAC (ALLPAC) (NORTHBROOK) | DONALD E. BURKHART JR. | CANDIDATE | MONETARY | 11/12/2021 | FILED | 250 | NORTHBROOK, IL 60062 |
| MDU RESOURCES GROUP GOOD GOVERNMENT FUND (BISMARCK) | DONALD E. BURKHART JR. | CANDIDATE | MONETARY | 10/26/2020 | AMEND - ADD | 250 | BISMARCK, ND 58506 |
| BLACK HILLS CORPORATION PAC (RAPID CITY) | DONALD E. BURKHART JR. | CANDIDATE | MONETARY | 10/21/2020 | FILED | 250 | RAPID CITY, SD 57709 |
| HOUSE REPUBLICAN CAUCUS (POWELL) | DONALD E. BURKHART JR. | CANDIDATE | MONETARY | 10/16/2020 | FILED | 150 | POWELL, WY 82435 |
| FARMERS EMPLOYEE & AGENT WYOMING PAC (LOS ANGELES) | DONALD E. BURKHART JR. | CANDIDATE | MONETARY | 10/14/2020 | FILED | 1000 | LOS ANGELES, CA 90027 |
| BURNS, BRUCE (SHERIDAN) | DONALD E. BURKHART JR. | CANDIDATE | MONETARY | 10/7/2020 | FILED | 200 | SHERIDAN, WY 82801 |
| WYOMING MINING ASSOCIATION PAC (WMA) (CHEYENNE) | DONALD E. BURKHART JR. | CANDIDATE | MONETARY | 10/7/2020 | FILED | 300 | CHEYENNE, WY 82001 |
| UNION PACIFIC CORPORATION FUND FOR EFFECTIVE GOVERNMENT (WASHINGTON) | DONALD E. BURKHART JR. | CANDIDATE | MONETARY | 10/5/2020 | FILED | 500 | WASHINGTON, DC 20005 |
| ONEOK EMPLOYEES PAC (SHAWNEE MISSION) | DONALD E. BURKHART JR. | CANDIDATE | MONETARY | 10/3/2020 | FILED | 200 | SHAWNEE MISSION, KS 66225 |
| TRUCKING INDUSTRY PAC (CASPER) | DONALD E. BURKHART JR. | CANDIDATE | MONETARY | 10/1/2020 | FILED | 200 | CASPER, WY 82602 |
| LAWYERS ACTIVE IN WY PAC (LAWPAC) (CHEYENNE) | DONALD E. BURKHART JR. | CANDIDATE | MONETARY | 9/26/2020 | FILED | 100 | CHEYENNE, WY 82001 |
| WY RURAL ELECTRIC ASSN. PAC (CHEYENNE) | DONALD E. BURKHART JR. | CANDIDATE | MONETARY | 9/23/2020 | FILED | 250 | CHEYENNE, WY 82001 |
| WYOMING STOCK GROWERS' AG PAC (CHEYENNE) | DONALD E. BURKHART JR. | CANDIDATE | MONETARY | 9/21/2020 | FILED | 200 | CHEYENNE, WY 82003 |
| COMMON VALUES PAC (ALEXANDRIA) | DONALD E. BURKHART JR. | CANDIDATE | MONETARY | 9/17/2020 | FILED | 100 | ALEXANDRIA, VA 22314 |
| WY REALTORS PAC (CASPER) | DONALD E. BURKHART JR. | CANDIDATE | MONETARY | 9/15/2020 | FILED | 1000 | CASPER, WY 82604 |
| WYOMING HOPE (CHEYENNE) | DONALD E. BURKHART JR. | CANDIDATE | MONETARY | 9/15/2020 | FILED | 5000 | CHEYENNE, WY 82009 |
| ALTRIA GROUP, INC. PAC (WASHINGTON) | DONALD E. BURKHART JR. | CANDIDATE | MONETARY | 8/15/2020 | AMEND - ADD | 200 | WASHINGTON, DC 20001 |
| CHARTER COMMUNICATIONS, INC. WYOMING POLITICAL ACTION COMMITTEE (STAMFORD) | DONALD E. BURKHART JR. | CANDIDATE | MONETARY | 8/13/2020 | AMEND - ADD | 300 | STAMFORD, CT 06901 |
| COWBOY GAMES PAC (SHERIDAN) | DONALD E. BURKHART JR. | CANDIDATE | MONETARY | 8/12/2020 | AMEND - ADD | 150 | SHERIDAN, WY 82801 |
| PENLAND, ELIZABETH (RAWLINS) | DONALD E. BURKHART JR. | CANDIDATE | MONETARY | 8/12/2020 | AMEND - ADD | 100 | RAWLINS, WY 82301 |
| PACIFIC POWER/ROCKY MOUNTAIN POWER PAC (PORTLAND) | DONALD E. BURKHART JR. | CANDIDATE | MONETARY | 8/5/2020 | FILED | 300 | PORTLAND, OR 97232 |
| ALLPAC (ENGLEWOOD) | DONALD E. BURKHART JR. | CANDIDATE | MONETARY | 8/4/2020 | FILED | 200 | ENGLEWOOD, CO 80112 |
| ONEOK EMPLOYEES PAC (SHAWNEE MISSION) | DONALD E. BURKHART JR. | CANDIDATE | MONETARY | 8/4/2020 | FILED | 200 | SHAWNEE MISSION, KS 66225 |
| CHESAPEAKE ENERGY CORPORATION FEDERAL PAC (OKLAHOMA CITY) | DONALD E. BURKHART JR. | CANDIDATE | MONETARY | 8/3/2020 | FILED | 500 | OKLAHOMA CITY, OK 73154 |
| DIAMOND FREE ENTERPRISE PAC (CASPER) | DONALD E. BURKHART JR. | CANDIDATE | MONETARY | 7/30/2020 | FILED | 100 | CASPER, WY 82601 |
| MARATHON OIL COMPANY EMPLOYEES POLITICAL ACTION COMMITTEE (MEPAC) - STATE (FINDLEY) | DONALD E. BURKHART JR. | CANDIDATE | MONETARY | 7/30/2020 | FILED | 300 | FINDLEY, OH 45840 |
| CIGNA POL ACTION COMMITTEE (PHILADELPHIA) | DONALD E. BURKHART JR. | CANDIDATE | MONETARY | 7/24/2020 | FILED | 375 | PHILADELPHIA, PA 19191 |
| TRUE, DAVID (CASPER) | DONALD E. BURKHART JR. | CANDIDATE | MONETARY | 7/23/2020 | FILED | 150 | CASPER, WY 82602 |
| DEVON ENERGY CORPORATION PAC (OKLAHOMA CITY) | DONALD E. BURKHART JR. | CANDIDATE | MONETARY | 7/21/2020 | FILED | 500 | OKLAHOMA CITY, OK 73102 |
| BNSF RAILPAC (FT WORTH) | DONALD E. BURKHART JR. | CANDIDATE | MONETARY | 6/29/2020 | FILED | 300 | FT WORTH, TX 76161 |
| H&H FEDERAL PAC (DENVER) | DONALD E. BURKHART JR. | CANDIDATE | MONETARY | 6/25/2020 | FILED | 500 | DENVER, CO 80202 |
| WYOMING HOPE (CHEYENNE) | DONALD E. BURKHART JR. | CANDIDATE | MONETARY | 6/15/2020 | FILED | 5000 | CHEYENNE, WY 82009 |
| NATIONAL FEDERATION OF INDEPENDENT BUSINESS WYOMING POLITICAL ACTION COMMITTEE (WASHINGTON) | DONALD BURKHART | CANDIDATE | IN-KIND | 11/1/2018 | FILED | 5.12 | WASHINGTON, DC 20004 |
| DECPAC (OKLAHOMA CITY) | DONALD BURKHART | CANDIDATE | MONETARY | 10/22/2018 | AMEND - ADD | 1000 | OKLAHOMA CITY, OK 73102 |
| CGI TECHNOLOGIES AND SOLUTIONS INC. PAC (FAIRFAX) | DONALD BURKHART | CANDIDATE | MONETARY | 10/17/2018 | AMEND - ADD | 500 | FAIRFAX, VA 22030 |
| CHARTER COMMUNICATIONS, INC. WYOMING POLITICAL ACTION COMMITTEE (STAMFORD) | DONALD BURKHART | CANDIDATE | MONETARY | 10/15/2018 | AMEND - ADD | 200 | STAMFORD, CT 06901 |
| WYOMING MINING ASSOCIATION PAC (WMA) (CHEYENNE) | DONALD BURKHART | CANDIDATE | MONETARY | 10/4/2018 | FILED | 200 | CHEYENNE, WY 82001 |
| TRUCKING INDUSTRY PAC (CASPER) | DONALD BURKHART | CANDIDATE | MONETARY | 9/28/2018 | FILED | 200 | CASPER, WY 82602 |
| THE WILLIAMS COMPANIES, INC PAC (WASHINGTON) | DONALD BURKHART | CANDIDATE | MONETARY | 9/25/2018 | FILED | 300 | WASHINGTON, DC 20006 |
| TRUE, DAVID L (CASPER) | DONALD BURKHART | CANDIDATE | MONETARY | 9/20/2018 | FILED | 150 | CASPER, WY 82602 |
| HOLDING, CAROL (SALT LAKE CITY) | DONALD BURKHART | CANDIDATE | MONETARY | 9/17/2018 | FILED | 1000 | SALT LAKE CITY, UT 84103 |
| PAW POLITICAL ACTION COUNCIL (CASPER) | DONALD BURKHART | CANDIDATE | MONETARY | 9/14/2018 | FILED | 200 | CASPER, WY 82601 |
| BNSF RAILPAC (FT WORTH) | DONALD BURKHART | CANDIDATE | MONETARY | 8/23/2018 | FILED | 200 | FT WORTH, TX 76161 |
| EXXONMOBILE PAC (IRVING) | DONALD BURKHART | CANDIDATE | MONETARY | 8/13/2018 | AMEND - ADD | 250 | IRVING, TX 75039 |
| UNION PACIFIC CORPORATION FUND FOR EFFECTIVE GOVERNMENT (WASHINGTON) | DONALD BURKHART | CANDIDATE | MONETARY | 8/3/2018 | AMEND - ADD | 250 | WASHINGTON, DC 20005 |
| CHESAPEAKE ENERGY CORPORATION FEDERAL PAC (OKLAHOMA CITY) | DONALD BURKHART | CANDIDATE | MONETARY | 7/23/2018 | FILED | 250 | OKLAHOMA CITY, OK 73154 |
| PACIFIC POWER/ROCKY MOUNTAIN POWER PAC (PORTLAND) | DONALD BURKHART | CANDIDATE | MONETARY | 7/6/2018 | FILED | 200 | PORTLAND, OR 97232 |
| ANDEAVOR (SAN ANTONIO) | DONALD BURKHART | CANDIDATE | MONETARY | 7/2/2018 | AMEND - ADD | 200 | SAN ANTONIO, TX 78259 |
| ALLSTATE INSURANCE COMPANY PAC (ALLPAC) (NORTHBROOK) | DONALD BURKHART | CANDIDATE | MONETARY | 10/3/2017 | FILED | 200 | NORTHBROOK, IL 60062 |
| BP EMPLOYEE PAC (HOUSTON) | DONALD BURKHART | CANDIDATE | MONETARY | 9/19/2017 | FILED | 200 | HOUSTON, TX 77079 |
| AT&T INC. FEDERAL PAC (DALLAS) | DONALD BURKHART | CANDIDATE | MONETARY | 9/7/2017 | FILED | 200 | DALLAS, TX 75202 |
| UNION PACIFIC CORPORATION FUND FOR EFFECTIVE GOVERNMENT (WASHINGTON) | DONALD BURKHART | CANDIDATE | MONETARY | 8/30/2017 | FILED | 350 | WASHINGTON, DC 20005 |
| ALTRIA GROUP, INC. PAC (WASHINGTON ) | DONALD BURKHART | CANDIDATE | MONETARY | 8/4/2017 | FILED | 150 | WASHINGTON , DC 20001 |
| BURKHART, DONALD (RAWLINS) | DONALD E. BURKHART JR. | CANDIDATE | LOAN | 11/2/2016 | FILED | 4000 | RAWLINS, WY 82301 |
| PAW POLITICAL ACTION COUNCIL (CASPER) | DONALD E. BURKHART JR. | CANDIDATE | MONETARY | 10/14/2016 | FILED | 300 | CASPER, WY 82601 |
| PICARD, DAVID (CHEYENNE) | DONALD E. BURKHART JR. | CANDIDATE | MONETARY | 10/7/2016 | FILED | 100 | CHEYENNE, WY 82009 |
| ANADARKO PETROLEUM PAC (WOODLANDS) | DONALD E. BURKHART JR. | CANDIDATE | MONETARY | 10/4/2016 | FILED | 500 | WOODLANDS, TX 77380 |
| HOLDING, CAROL (CODY) | DONALD E. BURKHART JR. | CANDIDATE | MONETARY | 10/4/2016 | FILED | 500 | CODY, WY 82414 |
| PENLAND, ELIZABETH (RAWLINS) | DONALD E. BURKHART JR. | CANDIDATE | MONETARY | 10/3/2016 | FILED | 100 | RAWLINS, WY 82301 |
| UNION PACIFIC CORPORATION FUND FOR EFFECTIVE GOVERNMENT (WASHINGTON) | DONALD E. BURKHART JR. | CANDIDATE | MONETARY | 10/3/2016 | FILED | 350 | WASHINGTON, DC 20005 |
| WYOMING CONSTRUCTION COALITION POLITICAL ACTION COMMITTEE (CASPER) | DONALD E. BURKHART JR. | CANDIDATE | MONETARY | 10/3/2016 | FILED | 200 | CASPER, WY 82601 |
| TRUCKING INDUSTRY PAC (CASPER) | DONALD E. BURKHART JR. | CANDIDATE | MONETARY | 9/26/2016 | FILED | 200 | CASPER, WY 82602 |
| TRUE, HENRY (CASPER) | DONALD E. BURKHART JR. | CANDIDATE | MONETARY | 9/23/2016 | FILED | 100 | CASPER, WY 82602 |
| TRUE, DAVID (CASPER) | DONALD E. BURKHART JR. | CANDIDATE | MONETARY | 9/19/2016 | FILED | 100 | CASPER, WY 82602 |
| WYOMING STOCK GROWERS' AG PAC (CHEYENNE) | DONALD E. BURKHART JR. | CANDIDATE | MONETARY | 9/16/2016 | FILED | 200 | CHEYENNE, WY 82003 |
| DECPAC (OKLAHOMA CITY) | DONALD E. BURKHART JR. | CANDIDATE | MONETARY | 9/14/2016 | FILED | 250 | OKLAHOMA CITY, OK 73102 |
| QEP RESOURCES PAC (DENVER) | DONALD E. BURKHART JR. | CANDIDATE | MONETARY | 9/14/2016 | FILED | 250 | DENVER, CO 80265 |
| EXXONMOBILE PAC (IRVING) | DONALD E. BURKHART JR. | CANDIDATE | MONETARY | 9/13/2016 | FILED | 150 | IRVING, TX 75039 |
| WILLCO PAC (TULSA) | DONALD E. BURKHART JR. | CANDIDATE | MONETARY | 9/13/2016 | FILED | 200 | TULSA, OK 74172 |
| WYOMING MINING ASSOCIATION PAC (WMA) (CHEYENNE) | DONALD E. BURKHART JR. | CANDIDATE | MONETARY | 8/26/2016 | FILED | 200 | CHEYENNE, WY 82003 |
| BNSF RAILPAC (FT.WORTH) | DONALD E. BURKHART JR. | CANDIDATE | MONETARY | 8/25/2016 | FILED | 200 | FT.WORTH, TX 76161 |
| PACIFIC POWER/ROCKY MOUNTAIN POWER PAC (PORTLAND) | DONALD E. BURKHART JR. | CANDIDATE | MONETARY | 8/23/2016 | FILED | 200 | PORTLAND, OR 97232 |
| JAURE, RONI (RAWLINS) | DONALD E. BURKHART JR. | CANDIDATE | MONETARY | 8/22/2016 | FILED | 50 | RAWLINS, WY 82301 |
| CONPAC CONTRACTORS PAC (CHEYENNE) | DONALD E. BURKHART JR. | CANDIDATE | MONETARY | 7/28/2016 | FILED | 250 | CHEYENNE, WY 82003 |
| BURKHART, DONALD E. (RAWLINS) | DONALD E. BURKHART JR. | CANDIDATE | LOAN | 7/25/2016 | FILED | 4000 | RAWLINS, WY 82301 |
| ALTRIA GROUP, INC. PAC (WASHINGTON ) | DONALD E. BURKHART JR. | CANDIDATE | MONETARY | 7/21/2016 | AMEND - ADD | 150 | WASHINGTON , DC 20001 |
| WY RURAL ELECTRIC ASSN. PAC (CHEYENNE) | DONALD E. BURKHART JR. | CANDIDATE | MONETARY | 7/18/2016 | FILED | 500 | CHEYENNE, WY 82001 |
| ALLSTATE INSURANCE COMPANY PAC (ALLPAC) (NORTHBROOK) | DONALD E. BURKHART JR. | CANDIDATE | MONETARY | 7/15/2016 | AMEND - ADD | 100 | NORTHBROOK, IL 60062 |
| CHESAPEAKE ENERGY CORPORATION FEDERAL PAC (OKLAHOMA CITY) | DONALD E. BURKHART JR. | CANDIDATE | MONETARY | 7/13/2016 | FILED | 250 | OKLAHOMA CITY, OK 73154 |
| BP EMPLOYEE PAC (HOUSTON) | DONALD E. BURKHART JR. | CANDIDATE | MONETARY | 7/8/2016 | FILED | 100 | HOUSTON, TX 77079 |
| TESORO CORPORATION POLITICAL ACTION COMMITTEE (SAN ANTONIO) | DONALD E. BURKHART JR. | CANDIDATE | MONETARY | 7/7/2016 | AMEND - ADD | 200 | SAN ANTONIO, TX 78259 |
| UNION PACIFIC CORPORATION FUND FOR EFFECTIVE GOVERNMENT (WASHINGTON) | DONALD E. BURKHART JR. | CANDIDATE | MONETARY | 12/7/2015 | FILED | 300 | WASHINGTON, DC 20005 |
| MARATHON OIL COMPANY EMPLOYEES POLITICAL ACTION COMMITTEE (MEPAC) - STATE (FINDLEY) | DONALD E BURKHART JR. | CANDIDATE | MONETARY | 10/28/2014 | FILED | 200 | FINDLEY, OH 45840 |
| BURKHART, DONALD (RAWLINS) | DONALD E BURKHART JR. | CANDIDATE | LOAN | 10/17/2014 | FILED | 3000 | RAWLINS, WY 82301 |
| TRUE, DAVID (CASPER) | DONALD E BURKHART JR. | CANDIDATE | MONETARY | 10/8/2014 | FILED | 100 | CASPER, WY 82602 |
| TRUE, HENRY (CASPER) | DONALD E BURKHART JR. | CANDIDATE | MONETARY | 10/8/2014 | FILED | 100 | CASPER, WY 82602 |
| DEVON ENERGY CORPORATION PAC (OKLAHOMA CITY) | DONALD E BURKHART JR. | CANDIDATE | MONETARY | 9/30/2014 | FILED | 250 | OKLAHOMA CITY, OK 73102 |
| TRUCKING INDUSTRY PAC (CASPER) | DONALD E BURKHART JR. | CANDIDATE | MONETARY | 9/22/2014 | FILED | 200 | CASPER, WY 82602 |
| WYOMING STOCK GROWERS' AG PAC (CHEYENNE) | DONALD E BURKHART JR. | CANDIDATE | MONETARY | 9/18/2014 | FILED | 100 | CHEYENNE, WY 82003 |
| PAW POLITICAL ACTION COUNCIL (CASPER) | DONALD E BURKHART JR. | CANDIDATE | MONETARY | 9/16/2014 | FILED | 250 | CASPER, WY 82601 |
| WILLCO PAC (TULSA) | DONALD E BURKHART JR. | CANDIDATE | MONETARY | 9/11/2014 | FILED | 300 | TULSA, OK 74172 |
| BURKHART, DONALD (RAWLINS) | DONALD E BURKHART JR. | CANDIDATE | LOAN | 8/29/2014 | FILED | 650 | RAWLINS, WY 82301 |
| CENTURYLINK, INC., EMPLOYEES PAC (WASHINGTON ) | DONALD E BURKHART JR. | CANDIDATE | MONETARY | 8/28/2014 | FILED | 200 | WASHINGTON , DC 20001 |
| BNSF RAILPAC (FT.WORTH) | DONALD E BURKHART JR. | CANDIDATE | MONETARY | 8/7/2014 | FILED | 200 | FT.WORTH, TX 76161 |
| LAWYERS ACTIVE IN WY PAC (LAWPAC) (CHEYENNE) | DONALD E BURKHART JR. | CANDIDATE | MONETARY | 8/6/2014 | FILED | 100 | CHEYENNE, WY 82001 |
| CONPAC CONTRACTORS PAC (CHEYENNE) | DONALD E BURKHART JR. | CANDIDATE | MONETARY | 7/28/2014 | FILED | 250 | CHEYENNE, WY 82003 |
| BURKHART, DONALD (RAWLINS) | DONALD E BURKHART JR. | CANDIDATE | LOAN | 7/22/2014 | FILED | 3000 | RAWLINS, WY 82301 |
| HOLDING, CAROL (CODY) | DONALD E BURKHART JR. | CANDIDATE | MONETARY | 7/18/2014 | FILED | 500 | CODY, WY 82414 |
| WY RURAL ELECTRIC ASSN. PAC (CHEYENNE) | DONALD E BURKHART JR. | CANDIDATE | MONETARY | 7/15/2014 | FILED | 100 | CHEYENNE, WY 82001 |
| BP EMPLOYEE PAC (HOUSTON) | DONALD E BURKHART JR. | CANDIDATE | MONETARY | 6/16/2014 | FILED | 100 | HOUSTON, TX 77079 |
| CHESHIRE, CARY (SARATOGA) | DONALD EDGAR BURKHART JR. | CANDIDATE | IN-KIND | 11/3/2012 | FILED | 49.86 | SARATOGA, WY 82331 |
| QEP RESOURCES PAC (DENVER) | DONALD EDGAR BURKHART JR. | CANDIDATE | MONETARY | 10/28/2012 | FILED | 250 | DENVER, CO 80265 |
| PENLAND, ELIZABETH (RAWLINS) | DONALD EDGAR BURKHART JR. | CANDIDATE | MONETARY | 10/27/2012 | FILED | 50 | RAWLINS, WY 82301 |
| WYO PAC (WYOMING MEDICAL PAC) (CHEYENNE) | DONALD EDGAR BURKHART JR. | CANDIDATE | MONETARY | 10/24/2012 | FILED | 100 | CHEYENNE, WY 82003 |
| QUESTAR EMPLOYEES PAC (SALT LAKE CITY) | DONALD EDGAR BURKHART JR. | CANDIDATE | MONETARY | 10/23/2012 | AMEND - ADD | 250 | SALT LAKE CITY, UT 84145 |
| REPUBLICAN (CASPER) | DONALD EDGAR BURKHART JR. | CANDIDATE | MONETARY | 10/23/2012 | FILED | 1000 | CASPER, WY 82602 |
| WLRAPAC (CHEYENNE) | DONALD EDGAR BURKHART JR. | CANDIDATE | MONETARY | 10/22/2012 | FILED | 300 | CHEYENNE, WY 82003 |
| BP NORTH AMERICA EMPLOYEE PAC (HOUSTON ) | DONALD EDGAR BURKHART JR. | CANDIDATE | MONETARY | 10/19/2012 | FILED | 400 | HOUSTON , TX 77079 |
| BLACK HILLS CORPORATION PAC (RAPID CITY) | DONALD EDGAR BURKHART JR. | CANDIDATE | MONETARY | 10/18/2012 | FILED | 400 | RAPID CITY, SD 57709 |
| ALPHA NATURAL RESOURCES POLITICAL ACTION COMMITTEE (LINTHICUM HEIGHTS) | DONALD EDGAR BURKHART JR. | CANDIDATE | MONETARY | 10/12/2012 | FILED | 200 | LINTHICUM HEIGHTS, MD 21090 |
| BNSF RAILPAC (FT.WORTH) | DONALD EDGAR BURKHART JR. | CANDIDATE | MONETARY | 10/11/2012 | FILED | 200 | FT.WORTH, TX 76161 |
| TRUE, DAVID (CASPER) | DONALD EDGAR BURKHART JR. | CANDIDATE | MONETARY | 10/11/2012 | FILED | 50 | CASPER, WY 82602 |
| TRUE, HENRY (CASPER) | DONALD EDGAR BURKHART JR. | CANDIDATE | MONETARY | 10/11/2012 | FILED | 50 | CASPER, WY 82602 |
| BURKHART, DONALD (RAWLINS) | DONALD EDGAR BURKHART JR. | CANDIDATE | LOAN | 10/10/2012 | FILED | 2000 | RAWLINS, WY 82301 |
| CHEVRON EMPLOYEES PAC (SAN RAMON) | DONALD EDGAR BURKHART JR. | CANDIDATE | MONETARY | 10/9/2012 | FILED | 300 | SAN RAMON, CA 94583 |
| HOLDING, EARL (CODY) | DONALD EDGAR BURKHART JR. | CANDIDATE | MONETARY | 10/8/2012 | FILED | 500 | CODY, WY 82414 |
| WYO-D-PAC (CASPER) | DONALD EDGAR BURKHART JR. | CANDIDATE | MONETARY | 10/8/2012 | AMEND - ADD | 100 | CASPER, WY 82601 |
| PACIFICORP/MIDAMERICAN PAC (PORTLAND) | DONALD EDGAR BURKHART JR. | CANDIDATE | MONETARY | 10/4/2012 | FILED | 200 | PORTLAND, OR 97232 |
| BARRASSO, JOHN (CASPER) | DONALD EDGAR BURKHART JR. | CANDIDATE | MONETARY | 10/1/2012 | FILED | 50 | CASPER, WY 82605 |
| ANADARKO PETROLEUM PAC (WOODLANDS) | DONALD EDGAR BURKHART JR. | CANDIDATE | MONETARY | 9/26/2012 | FILED | 400 | WOODLANDS, TX 77380 |
| REPUBLICAN (CASPER) | DONALD EDGAR BURKHART JR. | CANDIDATE | MONETARY | 9/20/2012 | FILED | 200 | CASPER, WY 82602 |
| TRUCKING INDUSTRY PAC (CASPER) | DONALD EDGAR BURKHART JR. | CANDIDATE | MONETARY | 9/19/2012 | FILED | 500 | CASPER, WY 82602 |
| WILLIAMS COMPANIES, INC (WASHINGTON) | DONALD EDGAR BURKHART JR. | CANDIDATE | MONETARY | 9/19/2012 | FILED | 300 | WASHINGTON, DC 20006 |
| WYOMING STOCK GROWERS' AG PAC (CHEYENNE) | DONALD EDGAR BURKHART JR. | CANDIDATE | MONETARY | 9/18/2012 | FILED | 100 | CHEYENNE, WY 82003 |
| AT&T INC. FEDERAL PAC (DALLAS) | DONALD EDGAR BURKHART JR. | CANDIDATE | MONETARY | 9/17/2012 | FILED | 100 | DALLAS, TX 75202 |
| WYWATCH (CHEYENNE) | DONALD EDGAR BURKHART JR. | CANDIDATE | MONETARY | 9/17/2012 | FILED | 1000 | CHEYENNE, WY 82003 |
| RAYL, WALLACE (CHEYENNE) | DONALD EDGAR BURKHART JR. | CANDIDATE | MONETARY | 9/14/2012 | FILED | 500 | CHEYENNE, WY 82009 |
| CENTURYLINK, INC., EMPLOYEES PAC (WASHINGTON) | DONALD EDGAR BURKHART JR. | CANDIDATE | MONETARY | 9/12/2012 | FILED | 200 | WASHINGTON, DC 20001 |
| PAW POLITICAL ACTION COUNCIL (CASPER) | DONALD EDGAR BURKHART JR. | CANDIDATE | MONETARY | 9/12/2012 | FILED | 500 | CASPER, WY 82601 |
| WYOMING MINING ASSOCIATION PAC (WMA) (CHEYENNE) | DONALD EDGAR BURKHART JR. | CANDIDATE | MONETARY | 9/7/2012 | FILED | 200 | CHEYENNE, WY 82003 |
| ALTRIA GROUP, INC. PAC (WASHINGTON) | DONALD EDGAR BURKHART JR. | CANDIDATE | MONETARY | 8/24/2012 | FILED | 150 | WASHINGTON, DC 20001 |
| WY RURAL ELECTRIC ASSN. PAC (CHEYENNE) | DONALD EDGAR BURKHART JR. | CANDIDATE | MONETARY | 8/15/2012 | FILED | 250 | CHEYENNE, WY 82001 |
| EXXONMOBILE PAC (IRVING) | DONALD EDGAR BURKHART JR. | CANDIDATE | MONETARY | 8/12/2012 | AMEND - ADD | 150 | IRVING, TX 75039 |
| HANNUM, ROGER (RAWLINS) | DONALD EDGAR BURKHART JR. | CANDIDATE | IN-KIND | 8/4/2012 | AMEND - ADD | 20 | RAWLINS, WY 82301 |
| EXXONMOBILE PAC (IRVING) | DONALD EDGAR BURKHART JR. | CANDIDATE | MONETARY | 8/1/2012 | AMEND - ADD | 150 | IRVING, TX 75039 |
| EXXONMOBILE PAC (IRVING) | DONALD EDGAR BURKHART JR. | CANDIDATE | MONETARY | 8/1/2012 | AMEND - ADD | 150 | IRVING, TX 75039 |
| WYOMING MINING ASSOCIATION PAC (WMA) (CHEYENNE) | DONALD EDGAR BURKHART JR. | CANDIDATE | MONETARY | 7/30/2012 | FILED | 200 | CHEYENNE, WY 82003 |
| CLOUD PEAK ENERGY EMPLOYEE PAC (CHEYENNE) | DONALD EDGAR BURKHART JR. | CANDIDATE | MONETARY | 7/10/2012 | FILED | 500 | CHEYENNE, WY 82009 |
| AT&T INC. FEDERAL PAC (DALLAS) | DONALD EDGAR BURKHART JR. | CANDIDATE | MONETARY | 6/28/2012 | FILED | 100 | DALLAS, TX 75202 |
| BYERS, GEORGE (DENVER) | DONALD EDGAR BURKHART JR. | CANDIDATE | MONETARY | 6/12/2012 | FILED | 100 | DENVER, CO 80235 |
| MARATHON OIL COMPANY EMPLOYEES POLITICAL ACTION COMMITTEE (MEPAC) - STATE (FINDLEY) | DONALD EDGAR BURKHART JR. | CANDIDATE | MONETARY | 5/17/2012 | FILED | 250 | FINDLEY, OH 45840 |
| AT&T INC. FEDERAL PAC (DALLAS) | DONALD EDGAR BURKHART JR. | CANDIDATE | MONETARY | 12/5/2011 | FILED | 100 | DALLAS, TX 75202 |
| CITY OF RAWLINS, (NOT AVAILABLE) (RAWLINS) | DONALD EDGAR BURKHART JR | CANDIDATE | MONETARY | 11/8/2010 | AMEND - ADD | 100 | RAWLINS, WY 82301 |
| CHAPMAN, LEO (RAWLINS) | DONALD EDGAR BURKHART JR | CANDIDATE | MONETARY | 10/26/2010 | FILED | 89.15 | RAWLINS, WY 82301 |
| HICKS, LARRY (BAGGS) | DONALD EDGAR BURKHART JR | CANDIDATE | MONETARY | 10/26/2010 | FILED | 89.15 | BAGGS, WY 82321 |
| PENLAND, HAROLD (RAWLINS) | DONALD EDGAR BURKHART JR | CANDIDATE | MONETARY | 10/23/2010 | FILED | 50 | RAWLINS, WY 82301 |
| DEVON ENERGY CORPORATION PAC (OKLAHOMA CITY) | DONALD EDGAR BURKHART JR | CANDIDATE | MONETARY | 10/21/2010 | FILED | 500 | OKLAHOMA CITY, OK 73102 |
| QEP RESOURCES PAC (DENVER) | DONALD EDGAR BURKHART JR | CANDIDATE | MONETARY | 10/21/2010 | FILED | 100 | DENVER, CO 80265 |
| REPUBLICAN (CASPER) | DONALD EDGAR BURKHART JR | CANDIDATE | MONETARY | 10/21/2010 | FILED | 500 | CASPER, WY 82602 |
| BARRASSO, JOHN (CASPER) | DONALD EDGAR BURKHART JR | CANDIDATE | MONETARY | 10/20/2010 | FILED | 50 | CASPER, WY 82601 |
| TRUE, DAVID (CASPER) | DONALD EDGAR BURKHART JR | CANDIDATE | MONETARY | 10/19/2010 | FILED | 50 | CASPER, WY 82602 |
| TRUE, HENRY (CASPER) | DONALD EDGAR BURKHART JR | CANDIDATE | MONETARY | 10/19/2010 | FILED | 50 | CASPER, WY 82602 |
| NATIONAL FEDERATION OF INDEPENDENT BUSINESS WYOMING POLITICAL ACTION COMMITTEE (WASHINGTON) | DONALD EDGAR BURKHART JR | CANDIDATE | IN-KIND | 10/18/2010 | FILED | 1.38 | WASHINGTON, DC 20004 |
| MDU RESOURCES GROUP GOOD GOVERNMENT FUND (BISMARCK) | DONALD EDGAR BURKHART JR | CANDIDATE | MONETARY | 10/15/2010 | FILED | 250 | BISMARCK, ND 58506 |
| TRABING, DOUG (DUBOIS) | DONALD EDGAR BURKHART JR | CANDIDATE | MONETARY | 10/13/2010 | FILED | 1 | DUBOIS, WY 82513 |
| CONPAC CONTRACTORS PAC (CHEYENNE) | DONALD EDGAR BURKHART JR | CANDIDATE | MONETARY | 10/12/2010 | FILED | 500 | CHEYENNE, WY 82003 |
| EXXONMOBILE PAC (IRVING) | DONALD EDGAR BURKHART JR | CANDIDATE | MONETARY | 10/8/2010 | FILED | 250 | IRVING, TX 75039 |
| BURKHART, ANDREW (FT. COLLINS) | DONALD EDGAR BURKHART JR | CANDIDATE | IN-KIND | 10/6/2010 | FILED | 25 | FT. COLLINS, CO 80525 |
| CATCHPOLE, JUDITH (CHEYENNE) | DONALD EDGAR BURKHART JR | CANDIDATE | MONETARY | 10/4/2010 | FILED | 50 | CHEYENNE, WY 82009 |
| MILLER, DOUGLAS (NEMO) | DONALD EDGAR BURKHART JR | CANDIDATE | MONETARY | 10/4/2010 | FILED | 100 | NEMO, SD 57759 |
| LEBEAU, GERALD (MCFADDEN) | DONALD EDGAR BURKHART JR | CANDIDATE | MONETARY | 10/2/2010 | FILED | 20 | MCFADDEN, WY 82083 |
| CLOUD PEAK ENERGY EMPLOYEE PAC (CHEYENNE) | DONALD EDGAR BURKHART JR | CANDIDATE | MONETARY | 9/24/2010 | FILED | 250 | CHEYENNE, WY 82009 |
| REPUBLICAN (CASPER) | DONALD EDGAR BURKHART JR | CANDIDATE | MONETARY | 9/24/2010 | FILED | 750 | CASPER, WY 82602 |
| BP EMPLOYEE PAC (HOUSTON) | DONALD EDGAR BURKHART JR | CANDIDATE | MONETARY | 9/23/2010 | FILED | 350 | HOUSTON, TX 77079 |
| TRUCKING INDUSTRY PAC (CASPER) | DONALD EDGAR BURKHART JR | CANDIDATE | MONETARY | 9/23/2010 | FILED | 500 | CASPER, WY 82602 |
| REPUBLICAN (CASPER) | DONALD EDGAR BURKHART JR | CANDIDATE | MONETARY | 9/22/2010 | FILED | 500 | CASPER, WY 82602 |
| ANADARKO PETROLEUM PAC (WOODLANDS) | DONALD EDGAR BURKHART JR | CANDIDATE | MONETARY | 9/20/2010 | FILED | 400 | WOODLANDS, TX 77380 |
| PAW POLITICAL ACTION COUNCIL (CASPER) | DONALD EDGAR BURKHART JR | CANDIDATE | MONETARY | 9/8/2010 | FILED | 400 | CASPER, WY 82601 |
| BROWN, DAVID (HIGHLANDS RANCH) | DONALD EDGAR BURKHART JR | CANDIDATE | MONETARY | 9/3/2010 | FILED | 250 | HIGHLANDS RANCH, CO 80129 |
| BURKHART, DONALD (RAWLINS) | DONALD EDGAR BURKHART JR | CANDIDATE | MONETARY | 8/27/2010 | FILED | 125 | RAWLINS, WY 82301 |
| BURKHART, DONALD (RAWLINS) | DONALD EDGAR BURKHART JR | CANDIDATE | MONETARY | 8/23/2010 | FILED | 50 | RAWLINS, WY 82301 |
| BURKHART, DONALD EDGAR (RAWLINS) | DONALD EDGAR BURKHART JR | CANDIDATE | MONETARY | 8/7/2010 | FILED | 900 | RAWLINS, WY 82301 |
| HANNUM, ROGER (RALWINS) | DONALD EDGAR BURKHART JR | CANDIDATE | IN-KIND | 8/7/2010 | FILED | 25 | RALWINS, WY 82301 |
| BURKHART, DONALD (RAWLINS) | DONALD EDGAR BURKHART JR | CANDIDATE | MONETARY | 6/15/2010 | FILED | 1000 | RAWLINS, WY 82301 |