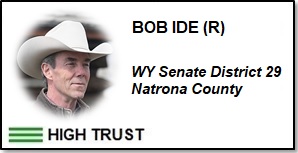 Summary
Representation
Competence
Integrity
More
+ + +
Bob Ide has served in Senate District 29 as a WY Senator for Natrona County from 2022 to the present.  After Ide won the 2022 election, incumbent Senator Drew Perkins resigned his seat on November 10, 2022.  Natrona County Commissioners appointed Ide to serve Senate District 29 for the last few months of Perkins' term.
Ide has received a positive score for Representation, Competence and Integrity and therefore has been ranked as High Trust.
Ide is up for reelection in 2026.
---
"Yes, there are numerous policies that need to be addressed such as the state's egregious property tax assessment policies and other taxation policies; I would oppose expansion of any and all government programs and bureaucracies; I would promote and defend personal, healthcare and economic liberty; I would work to stop cross-over voting; I would uncompromisingly defend the 2nd Amendment and the Right to Life of the unborn; and sponsor legislation that returns control of all "Federal Land" back to Wyoming."
From https://oilcity.news/community/elections/2022/06/27/candidate-questionnaire-bob-ide-for-senate-district-29/
Overall, Ide scores a (+) for Representation.
Attendance
It appears that Ide missed 0 votes in 2023 General Session.
Public Conduct
Ide appears to behave appropriately in public and to the public.
Sponsorship History
In 2023 Ide was the primary sponsor of 3 bills, and co-sponsored 30 bills and 1 joint resolution.  Favored sponsorship topics appear to be protection/support of constitutional rights; protection of the unborn, children and students; education; elections.  For more details, see his legislator webpage.
Committee Assignments
2023-Senate Agriculture, State and Public Lands & Water Resources
2023-Senate Revenue
2023-Regulatory Reduction Task Force
Ide scored a (+) for Constitutional Competence with an average of 100% on the constitutional issues listed below.
Constitutional issue categories that have a "N/A" grade, refer to specific bills that Ide did not have the opportunity to vote on.  It is relevant that Ide cosponsored HB0143 Health mandates-CDC and WHO jurisdiction in Wyoming, and SF0179 Anti-red flag gun seizure act.
For more on the bills used to analyze these scores click here.  Special hat-tip goes out to Evidence Based Wyoming for use of their statistical tool to generate the following vote scores:
Conflicts
Because we have not found any conflicts of interest for Ide, he receives a (+) for Integrity.
Employment/Income
According to Ide's 2023 State Elected Officials Financial Disclosure available at Wyofile, he reports:
Managing member – Ide-Ohio, LLC; KC Properties, LLC; Ide-Superior, LLC; Downtown Self Storage, LLC; Ide-Petroleum, LLC; Ide-Mobil, LLC.
Director – United Precious Metals Association
Memberships/Civic Organizations
Wyoming Campaign For Liberty
National Association for Gun Rights
Independent Cattlemen of WY
United Precious Metals Association
Campaign Contributions
The table below shows all campaign contributions reported by the WY Secretary of State for Ide for Senate.
In 2022 Ide received 101 contributions that total $69,224.  Of the 101 donations, 2 were from PACs.  The total amount received from PACS was $1,429.
Click the arrows at the top of columns to sort the data by name, date, $ amount, etc.  (Data is publicly available records obtained from the Wyoming Secretary of State's Wyoming's Campaign Finance Information System.)
| Contributor Name | Recipient Name | Recipient Type | Contribution Type | Date | Filing Status | Amount | City State Zip |
| --- | --- | --- | --- | --- | --- | --- | --- |
| IDE, JEREMY (CRESTON) | IDE FOR SENATE | CANDIDATE COMMITTEE | MONETARY | 9/22/2022 | FILED | 75 | CRESTON, IA 50861 |
| IDE, MONTY (SHANNON CITY) | IDE FOR SENATE | CANDIDATE COMMITTEE | MONETARY | 8/25/2022 | FILED | 25 | SHANNON CITY, IA 50861 |
| IDE, ANDREW (CRESTON) | IDE FOR SENATE | CANDIDATE COMMITTEE | MONETARY | 8/24/2022 | FILED | 25 | CRESTON, IA 50801 |
| WALES, RON (EVANSVILLE) | IDE FOR SENATE | CANDIDATE COMMITTEE | MONETARY | 8/23/2022 | FILED | 100 | EVANSVILLE, WY 82636 |
| KROEKER, KENDELL (EVANSVILLE) | IDE FOR SENATE | CANDIDATE COMMITTEE | MONETARY | 8/20/2022 | FILED | 200 | EVANSVILLE, WY 82636 |
| PEDERSEN, LLEWELLYN (CASPER) | IDE FOR SENATE | CANDIDATE COMMITTEE | MONETARY | 8/19/2022 | FILED | 100 | CASPER, WY 82604 |
| JAIME, CAESAR (CASPER) | IDE FOR SENATE | CANDIDATE COMMITTEE | MONETARY | 8/17/2022 | FILED | 100 | CASPER, WY 82604 |
| WYOMING STOCKMEN FOR LIBERTY (WHEATLAND) | IDE FOR SENATE | CANDIDATE COMMITTEE | IN-KIND | 8/16/2022 | AMEND - ADD | 979 | WHEATLAND, WY 82201 |
| RIGGINS, LESLIE (CASPER) | IDE FOR SENATE | CANDIDATE COMMITTEE | MONETARY | 8/12/2022 | AMEND - ADD | 100 | CASPER, WY 82604 |
| HALVERSON, MARTI (ETNA) | IDE FOR SENATE | CANDIDATE COMMITTEE | MONETARY | 8/11/2022 | AMEND - ADD | 500 | ETNA, WY 83118 |
| IDE, BOB (CASPER) | IDE FOR SENATE | CANDIDATE COMMITTEE | MONETARY | 8/11/2022 | AMEND - ADD | 10000 | CASPER, WY 82601 |
| TAUCHER, BEN (CASPER) | IDE FOR SENATE | CANDIDATE COMMITTEE | MONETARY | 8/11/2022 | AMEND - ADD | 25 | CASPER, WY 82604 |
| TRUE, KYLE (CASPER) | IDE FOR SENATE | CANDIDATE COMMITTEE | MONETARY | 8/11/2022 | AMEND - ADD | 500 | CASPER, WY 82601 |
| PILCHER, CHRISTINE (CASPER) | IDE FOR SENATE | CANDIDATE COMMITTEE | MONETARY | 8/9/2022 | AMEND - ADD | 100 | CASPER, WY 82609 |
| MANNINA-MONGOLD, BRENDA (CASPER) | IDE FOR SENATE | CANDIDATE COMMITTEE | MONETARY | 8/8/2022 | AMEND - ADD | 100 | CASPER, WY 82601 |
| LINN, KARA (CASPER) | IDE FOR SENATE | CANDIDATE COMMITTEE | MONETARY | 8/7/2022 | AMEND - ADD | 75 | CASPER, WY 82609 |
| BENTZ, DON (CASPER) | IDE FOR SENATE | CANDIDATE COMMITTEE | MONETARY | 7/31/2022 | FILED | 100 | CASPER, WY 82604 |
| MAYNARD, MICHELLE (CASPER) | IDE FOR SENATE | CANDIDATE COMMITTEE | MONETARY | 7/27/2022 | FILED | 25 | CASPER, WY 82604 |
| TAUBERT, LOUIS (CASPER) | IDE FOR SENATE | CANDIDATE COMMITTEE | MONETARY | 7/27/2022 | FILED | 500 | CASPER, WY 82601 |
| HAGER, GREG (CASPER) | IDE FOR SENATE | CANDIDATE COMMITTEE | MONETARY | 7/26/2022 | FILED | 100 | CASPER, WY 82604 |
| SUNDAHL, JOHN (CHEYENNE) | IDE FOR SENATE | CANDIDATE COMMITTEE | MONETARY | 7/26/2022 | FILED | 500 | CHEYENNE, WY 82001 |
| BROWN, BRUCE (HULET) | IDE FOR SENATE | CANDIDATE COMMITTEE | MONETARY | 7/25/2022 | FILED | 50 | HULET, WY 82720 |
| FOX, DONNA (CASPER) | IDE FOR SENATE | CANDIDATE COMMITTEE | MONETARY | 7/23/2022 | FILED | 50 | CASPER, WY 82601 |
| JONES, JOAN (LANDER) | IDE FOR SENATE | CANDIDATE COMMITTEE | MONETARY | 7/23/2022 | FILED | 100 | LANDER, WY 82520 |
| ALLEN JAGGI PAC FOR CONSTITUTIONAL ISSUES (LYMAN) | IDE FOR SENATE | CANDIDATE COMMITTEE | MONETARY | 7/22/2022 | FILED | 500 | LYMAN, WY 82937 |
| BRODRECHT, JOHN (CASPER) | IDE FOR SENATE | CANDIDATE COMMITTEE | MONETARY | 7/22/2022 | FILED | 200 | CASPER, WY 82604 |
| RUBINO, RACHEL (LARAMIE) | IDE FOR SENATE | CANDIDATE COMMITTEE | MONETARY | 7/21/2022 | FILED | 400 | LARAMIE, WY 82072 |
| BAILEY, NANCY (CASPER) | IDE FOR SENATE | CANDIDATE COMMITTEE | MONETARY | 7/20/2022 | FILED | 500 | CASPER, WY 82609 |
| KIRKWOOD, BOB (CASPER) | IDE FOR SENATE | CANDIDATE COMMITTEE | MONETARY | 7/16/2022 | FILED | 1500 | CASPER, WY 82604 |
| KIRKWOOD, CECILIA (CASPER) | IDE FOR SENATE | CANDIDATE COMMITTEE | MONETARY | 7/16/2022 | FILED | 1500 | CASPER, WY 82604 |
| HALL, CONNIE (MILLS) | IDE FOR SENATE | CANDIDATE COMMITTEE | MONETARY | 7/15/2022 | FILED | 100 | MILLS, WY 82644 |
| IDE, MARY (BOULDER) | IDE FOR SENATE | CANDIDATE COMMITTEE | MONETARY | 7/15/2022 | FILED | 1000 | BOULDER, CO 80303 |
| STALKUP, LAURA (CASPER) | IDE FOR SENATE | CANDIDATE COMMITTEE | MONETARY | 7/15/2022 | FILED | 1000 | CASPER, WY 82604 |
| ELLESTAD, LAURA (CASPER) | IDE FOR SENATE | CANDIDATE COMMITTEE | MONETARY | 7/14/2022 | FILED | 50 | CASPER, WY 82604 |
| FOURNIER, STEPHEN (MILLS) | IDE FOR SENATE | CANDIDATE COMMITTEE | MONETARY | 7/14/2022 | FILED | 25 | MILLS, WY 82644 |
| GUENTHER, MICHEAL (CASPER) | IDE FOR SENATE | CANDIDATE COMMITTEE | MONETARY | 7/14/2022 | FILED | 50 | CASPER, WY 82604 |
| HAIGLER, MICHAEL (CASPER) | IDE FOR SENATE | CANDIDATE COMMITTEE | MONETARY | 7/14/2022 | FILED | 250 | CASPER, WY 82604 |
| HALL, NICHOLE (CASPER) | IDE FOR SENATE | CANDIDATE COMMITTEE | MONETARY | 7/14/2022 | FILED | 50 | CASPER, WY 82604 |
| IDE, ROBERT C (CASPER) | IDE FOR SENATE | CANDIDATE COMMITTEE | MONETARY | 7/14/2022 | FILED | 15000 | CASPER, WY 82601 |
| LINEWEBER, TOM (CASPER) | IDE FOR SENATE | CANDIDATE COMMITTEE | MONETARY | 7/14/2022 | FILED | 200 | CASPER, WY 82604 |
| PEDRY, DANNA (CASPER) | IDE FOR SENATE | CANDIDATE COMMITTEE | MONETARY | 7/14/2022 | FILED | 200 | CASPER, WY 82601 |
| ROSENE, DWIGHT (CASPER) | IDE FOR SENATE | CANDIDATE COMMITTEE | MONETARY | 7/14/2022 | FILED | 100 | CASPER, WY 82604 |
| MAUS, TODD (JACKSON) | IDE FOR SENATE | CANDIDATE COMMITTEE | MONETARY | 7/11/2022 | FILED | 1000 | JACKSON, WY 83001 |
| LONGBOTTOM, MIKE (CASPER) | IDE FOR SENATE | CANDIDATE COMMITTEE | MONETARY | 7/8/2022 | FILED | 110 | CASPER, WY 82604 |
| PEDERSON, LLEWELLYN (CASPER) | IDE FOR SENATE | CANDIDATE COMMITTEE | MONETARY | 7/8/2022 | FILED | 100 | CASPER, WY 82604 |
| SHORT, BRENDA (CASPER) | IDE FOR SENATE | CANDIDATE COMMITTEE | MONETARY | 7/8/2022 | FILED | 50 | CASPER, WY 82604 |
| ELLBOGEN, PATRICK (CASPER) | IDE FOR SENATE | CANDIDATE COMMITTEE | MONETARY | 7/6/2022 | FILED | 300 | CASPER, WY 82602 |
| FISHER, LINDA (CASPER) | IDE FOR SENATE | CANDIDATE COMMITTEE | MONETARY | 7/6/2022 | FILED | 25 | CASPER, WY 82601 |
| TOUPS, CATHY (FORSTON) | IDE FOR SENATE | CANDIDATE COMMITTEE | MONETARY | 7/6/2022 | FILED | 50 | FORSTON, GA 31808 |
| BACKMAN, KARL (CASPER) | IDE FOR SENATE | CANDIDATE COMMITTEE | MONETARY | 7/5/2022 | FILED | 20 | CASPER, WY 82604 |
| COOK, R.E. (CASPER) | IDE FOR SENATE | CANDIDATE COMMITTEE | MONETARY | 7/5/2022 | FILED | 25 | CASPER, WY 82604 |
| CRAB, LINDA (CASPER) | IDE FOR SENATE | CANDIDATE COMMITTEE | MONETARY | 7/5/2022 | FILED | 50 | CASPER, WY 82604 |
| FARS, ROBERTO (CASPER) | IDE FOR SENATE | CANDIDATE COMMITTEE | MONETARY | 7/5/2022 | FILED | 250 | CASPER, WY 82604 |
| BRECHTEL, BOB (EVANSVILLE) | IDE FOR SENATE | CANDIDATE COMMITTEE | MONETARY | 7/3/2022 | FILED | 50 | EVANSVILLE, WY 82636 |
| HAGEMAN, KYRA (FT LARAMIE) | IDE FOR SENATE | CANDIDATE COMMITTEE | MONETARY | 7/2/2022 | FILED | 200 | FT LARAMIE, WY 82212 |
| MCQUILLAN, KARIN (JACKSON) | IDE FOR SENATE | CANDIDATE COMMITTEE | MONETARY | 7/2/2022 | FILED | 500 | JACKSON, WY 83001 |
| HAGEMAN, LEE (FT LARAMIE) | IDE FOR SENATE | CANDIDATE COMMITTEE | MONETARY | 7/1/2022 | FILED | 250 | FT LARAMIE, WY 82212 |
| LEWIS, SHERRIE (CASPER) | IDE FOR SENATE | CANDIDATE COMMITTEE | MONETARY | 7/1/2022 | FILED | 100 | CASPER, WY 82604 |
| ROBINSON, PATRICIA (CASPER) | IDE FOR SENATE | CANDIDATE COMMITTEE | MONETARY | 7/1/2022 | FILED | 50 | CASPER, WY 82604 |
| THOMPSON, KRISTY (CASPER) | IDE FOR SENATE | CANDIDATE COMMITTEE | MONETARY | 7/1/2022 | FILED | 50 | CASPER, WY 82601 |
| GARVIN, GARY (CASPER) | IDE FOR SENATE | CANDIDATE COMMITTEE | MONETARY | 6/30/2022 | FILED | 50 | CASPER, WY 82604 |
| HAGER, GREG (CASPER) | IDE FOR SENATE | CANDIDATE COMMITTEE | MONETARY | 6/30/2022 | FILED | 300 | CASPER, WY 82604 |
| LAMB, STEVE (CASPER) | IDE FOR SENATE | CANDIDATE COMMITTEE | MONETARY | 6/30/2022 | FILED | 25 | CASPER, WY 82604 |
| MURPHY, TODD (CASPER) | IDE FOR SENATE | CANDIDATE COMMITTEE | MONETARY | 6/30/2022 | FILED | 25 | CASPER, WY 82604 |
| ROSATI, COLETTE (WATERFORD TOWNSHIP) | IDE FOR SENATE | CANDIDATE COMMITTEE | MONETARY | 6/30/2022 | FILED | 1000 | WATERFORD TOWNSHIP, MI 48329 |
| SMITH, DARIN (CHEYENNE) | IDE FOR SENATE | CANDIDATE COMMITTEE | MONETARY | 6/27/2022 | FILED | 500 | CHEYENNE, WY 82003 |
| COGDILL, LUCAS (CASPER) | IDE FOR SENATE | CANDIDATE COMMITTEE | MONETARY | 6/26/2022 | FILED | 150 | CASPER, WY 82604 |
| FULLER, ASHLEY (CASPER) | IDE FOR SENATE | CANDIDATE COMMITTEE | MONETARY | 6/26/2022 | FILED | 250 | CASPER, WY 82604 |
| DEMATTIA, MARK (DALLAS) | IDE FOR SENATE | CANDIDATE COMMITTEE | MONETARY | 6/24/2022 | FILED | 1500 | DALLAS, TX 75244 |
| | IDE FOR SENATE | CANDIDATE COMMITTEE | ANONYMOUS | 6/24/2022 | FILED | 20 | |
| JONES, JOAN (LANDER) | IDE FOR SENATE | CANDIDATE COMMITTEE | MONETARY | 6/23/2022 | FILED | 100 | LANDER, WY 82520 |
| PETERSON, MARY (CASPER) | IDE FOR SENATE | CANDIDATE COMMITTEE | MONETARY | 6/23/2022 | FILED | 100 | CASPER, WY 82601 |
| KAMBORIS, NIKI (CASPER) | IDE FOR SENATE | CANDIDATE COMMITTEE | MONETARY | 6/21/2022 | FILED | 75 | CASPER, WY 82609 |
| SPECHT, RALPH (CASPER) | IDE FOR SENATE | CANDIDATE COMMITTEE | MONETARY | 6/21/2022 | FILED | 150 | CASPER, WY 82601 |
| SCHMID, MARK (CASPER) | IDE FOR SENATE | CANDIDATE COMMITTEE | MONETARY | 6/20/2022 | FILED | 50 | CASPER, WY 82604 |
| BARR, NANCY (EXMORE) | IDE FOR SENATE | CANDIDATE COMMITTEE | MONETARY | 6/19/2022 | FILED | 50 | EXMORE, VA 23350 |
| FOIX, ZACH (MILLS) | IDE FOR SENATE | CANDIDATE COMMITTEE | MONETARY | 6/19/2022 | FILED | 25 | MILLS, WY 82644 |
| EADES, WILLIAM (CASPER) | IDE FOR SENATE | CANDIDATE COMMITTEE | MONETARY | 6/18/2022 | FILED | 500 | CASPER, WY 82601 |
| HARDY, JACK (CASPER) | IDE FOR SENATE | CANDIDATE COMMITTEE | MONETARY | 6/18/2022 | FILED | 200 | CASPER, WY 82601 |
| HERBST, KAREN (DALLAS) | IDE FOR SENATE | CANDIDATE COMMITTEE | MONETARY | 6/16/2022 | FILED | 1000 | DALLAS, TX 75248 |
| NAIMAN, JESSE (CHEYENNE) | IDE FOR SENATE | CANDIDATE COMMITTEE | MONETARY | 6/16/2022 | FILED | 20 | CHEYENNE, WY 82001 |
| SULLIVAN, GERALD (TUCSON) | IDE FOR SENATE | CANDIDATE COMMITTEE | MONETARY | 6/16/2022 | FILED | 50 | TUCSON, AZ 85718 |
| TETREAULT, MARY (CLAREMORE) | IDE FOR SENATE | CANDIDATE COMMITTEE | MONETARY | 6/16/2022 | FILED | 75 | CLAREMORE, OK 74017 |
| BARATELLI, JACK (CLEARWATER) | IDE FOR SENATE | CANDIDATE COMMITTEE | MONETARY | 6/13/2022 | FILED | 500 | CLEARWATER, FL 33762 |
| LAMB, PAULA (CASPER) | IDE FOR SENATE | CANDIDATE COMMITTEE | MONETARY | 6/12/2022 | FILED | 25 | CASPER, WY 82604 |
| KUEHL, RON (LOVELAND) | IDE FOR SENATE | CANDIDATE COMMITTEE | MONETARY | 6/10/2022 | FILED | 1500 | LOVELAND, CO 80538 |
| JESKE, NEIL (SIOUX FALLS) | IDE FOR SENATE | CANDIDATE COMMITTEE | MONETARY | 6/7/2022 | FILED | 500 | SIOUX FALLS, SD 57101 |
| ROBLES, ELIZABETH (LAS VEGAS) | IDE FOR SENATE | CANDIDATE COMMITTEE | MONETARY | 6/4/2022 | FILED | 100 | LAS VEGAS, NV 89183 |
| KIMBROUGH, CAROLE (CLAREMORE) | IDE FOR SENATE | CANDIDATE COMMITTEE | MONETARY | 6/3/2022 | FILED | 500 | CLAREMORE, OK 74017 |
| IDE, ROBERT C (CASPER) | IDE FOR SENATE | CANDIDATE COMMITTEE | MONETARY | 6/2/2022 | FILED | 10000 | CASPER, WY 82601 |
| SCHAFER, LORI (VETERAN) | IDE FOR SENATE | CANDIDATE COMMITTEE | MONETARY | 6/2/2022 | FILED | 100 | VETERAN, WY 82243 |
| TETREAULT, DAVE (BOISE) | IDE FOR SENATE | CANDIDATE COMMITTEE | MONETARY | 6/2/2022 | FILED | 150 | BOISE, ID 83701 |
| PRIDGEON, DAVE (BEL AIR) | IDE FOR SENATE | CANDIDATE COMMITTEE | MONETARY | 5/31/2022 | FILED | 200 | BEL AIR, MD 21015 |
| RUBINO, JESSIE (CASPER) | IDE FOR SENATE | CANDIDATE COMMITTEE | MONETARY | 5/27/2022 | FILED | 500 | CASPER, WY 82601 |
| IDE, JAMES F (MARION) | IDE FOR SENATE | CANDIDATE COMMITTEE | MONETARY | 5/23/2022 | FILED | 1500 | MARION, IL 62959 |
| IDE, MARY (BOULDER) | IDE FOR SENATE | CANDIDATE COMMITTEE | MONETARY | 5/9/2022 | FILED | 500 | BOULDER, WY 80303 |
| BROPHY, CARLEEN (JACKSON) | IDE FOR SENATE | CANDIDATE COMMITTEE | MONETARY | 4/25/2022 | FILED | 1500 | JACKSON, WY 83001 |
| BROPHY, DANIEL (JACKSON) | IDE FOR SENATE | CANDIDATE COMMITTEE | MONETARY | 4/25/2022 | FILED | 1500 | JACKSON, WY 83001 |
| GLEASON, STEFAN (CHARLOTTE) | IDE FOR SENATE | CANDIDATE COMMITTEE | MONETARY | 4/25/2022 | FILED | 1500 | CHARLOTTE, NC 28277 |
| MEIER, CURT (CHEYENNE) | IDE FOR SENATE | CANDIDATE COMMITTEE | MONETARY | 4/22/2022 | FILED | 1000 | CHEYENNE, WY 82001 |
| ELLBOGEN, JOHN (CASPER) | IDE FOR SENATE | CANDIDATE COMMITTEE | MONETARY | 4/18/2022 | FILED | 1200 | CASPER, WY 82602 |