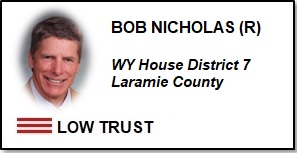 Summary
Representation
Competence
Integrity
More
– – –
Bob Nicholas has served as a WY House Representative for Laramie County from 2011 to the present.  He served in House District 8 from 2011 to 2022, and now in House District 7 from Jan 2023 to the present.
He has received a negative score for Representation, Competence and Integrity.  Therefore Nicholas has been ranked as Low Trust.
Nicholas is up for reelection in 2024.
"Recommend Do Not Pass."
– House Appropriations Chair Bob Nicholas on SF0144 – Chloe's law-children gender change prohibition (2023).
From https://www.wyoleg.gov/Legislation/2023/SF0144
Overall Nicholas earns a (-) for Representation for flouting WY State Constitution Article 3, Section 46.
Attendance
It appears that Nicholas missed 5 votes across 2 days in 2023 General Session:
2/13/23 – Committee of the Whole on SF158;
3/2/23 – Concurrence on HB76; Concurrence on HB195 (Nicholas was originally appointed to the Concurrence Committee); concurrence on SF76; concurrence on SF120.
Public Conduct
Nicholas was the primary sponsor of 2021 bill, HB0198 – University water system, which created law that UW's attorney was fighting for.  The attorney in that case was Bob Nicholas' brother, Phil Nicholas.  This is an egregious public display of a legislator abusing their power to benefit a family member.  More info here.
Additionally, Nicholas sponsors and/or votes on other judicial related bills that are a conflict for him.  See more under Integrity.
Sponsorship History
In 2023 Nicholas was the primary sponsor of 2 bills and 1 joint resolution.  He also co-sponsored 6 bills, and 1 joint resolutions.  Favored sponsorship topics appear to be judicial related topics; finance/investment; education.  For more details, see his legislator webpage.
Committee Assignments
2023-House Appropriations – Chairman
2023-Regulatory Reduction Task Force – Chairman
2023-Capitol Interpretive Exhibits and Wayfinding Subcommittee
2023-Riverton State Office Task Force
2023-Subcommittee on Capitol Governance
2023-Investment Funds Committee
2023-State Building Commission Liaison
Nicholas scored a (–) for Constitutional Competence with an average of 31.5% on the constitutional issues listed below.  Constitutional issue categories that have a "N/A" grade, refer to specific bills that Nicholas did not have the opportunity to vote on.
For more on the bills used to analyze these scores click here.  Special hat-tip goes out to Evidence Based Wyoming for use of their statistical tool to generate the following vote scores:
Conflicts
Nicholas receives a negative (-) score for Integrity for the following judicial conflicts:
Nicholas is an attorney.  Attorneys strive to stay in the good graces of judges for professional discourse in the courtroom, and unbiased treatment of an attorney's cases and clients. Thus, a legislator-attorney would be hard-pressed to oppose any bill or policy changes that a judge advocates for.  This is a fact for all legislator-attorneys in any state legislature.  The Wyoming Supreme Court has consistently pushed, perhaps even lobbied, for the transfer of substance abuse/mental health treatment issues from the WY Dept. of Health (Executive Branch) to the Judicial Branch.  Not only are the following bills unconstitutional because they implement the transfer of Executive branch duties to the Judicial branch (WY State Constitution Article 2, Section 1; Article 5, Section 16), these bills are also a conflict for any legislator-attorney:
Additionally, legislator-lawyers have an interest in making changes to law for courts, courtrooms and litigation procedures.  Therefore we believe the following bills were also a conflict for Nicholas:
Furthermore:
Nicholas was the primary sponsor of a 2021 bill that passed:  HB0198/HEA65 – University water system, which specifically addressed a University of Wyoming legal fight in regards to a water rights dispute with either the City of Laramie or Laramie County.  The attorney representing UW was Phil Nicholas – Bob Nicholas' brother.  We believe Bob Nicholas running a bill for his brother and his brother's client is a form of nepotism.  More info here.
WY §9-13-104. Nepotism.
(a) No public official, public member or public employee shall advocate or cause the employment, appointment, promotion, transfer or advancement of a family member to an office or position of the state, a county, municipality or a school district. A public official, public member or public employee shall not supervise or manage a family member who is in an office or position of the state, a county, municipality or school district.
(b) A public official, public member or public employee, acting in his official capacity, shall not participate in his official responsibility or capacity regarding a matter relating to the employment or discipline of a family member.
As an owner of housing rental properties, Nicholas may have had had a conflict with the following bills:
Employment/Income
According to Nicholas' legislative webpage, his occupation is an Attorney & Businessman.  According to Nicholas' 2023 State Elected Officials Financial Disclosure available at Wyofile, he reports:
Vice President – Proform Tech., Inc.
Attorney
Income earned: "Any security or interest earnings" and "Real estate, leases, royalties"
Retirement portfolio with Fidelity Investments (Fortune 500 stocks)
Housing Rental Properties, Fremont County, WY
Proform Tech appears to be a manufacturing company for painting brushes/tools.
Memberships/Civic Organizations
None found.
Campaign Contributions
The table below shows all campaign contributions reported by the WY Secretary of State for Bob Nicholas.
From 2010 to 2022 Nicholas received approximately 146 contributions that total approximately $62,125.  Of the 146 donations, approximately 104 were from PACs &/or campaign committees.  The total amount received from PACs &/or campaign committees was approximately $41,000, which is approximately 65% of all contributions received.
Noteworthy contributions:
$5,000 from Wyoming Hope (RINO donor)

$1,950 total from ESG compliant energy company PACS:

$500 from DECPAC
$250 from MDU Resources Group Good Government Fund
$500 from NextEra PAC
$500 total from Pacific Power/PacifiCorp
$200 from WindPAC

$200 from Deloitte PAC
$4,200 total from Lawyers Active in WY PAC
$2,100 total from WY Education Assn. PAC for Education (teacher's union)
$550 total from Pfizer
$100 from WY Medical Society PAC
$500 from WY Hospital Association PAC
Click the arrows at the top of columns to sort the data by name, date, $ amount, etc.  (Data is publicly available records obtained from the Wyoming Secretary of State's Wyoming's Campaign Finance Information System.)

| Contributor Name | Recipient Name | Recipient Type | Contribution Type | Date | Filing Status | Amount | City State Zip |
| --- | --- | --- | --- | --- | --- | --- | --- |
| DELOITTE PAC (WASHINGTON) | BOB NICHOLAS | CANDIDATE | MONETARY | 11/7/2022 | AMEND - ADD | 200 | WASHINGTON, DC 20044 |
| TRUCKING INDUSTRY PAC (CASPER) | BOB NICHOLAS | CANDIDATE | MONETARY | 11/7/2022 | AMEND - ADD | 200 | CASPER, WY 82602 |
| TRUCKING INDUSTRY PAC (CASPER) | BOB NICHOLAS | CANDIDATE | MONETARY | 11/7/2022 | AMEND - ADD | 200 | CASPER, WY 82602 |
| DECPAC (OKLAHOMA CITY) | BOB NICHOLAS | CANDIDATE | MONETARY | 10/31/2022 | FILED | 500 | OKLAHOMA CITY, OK 73102 |
| WY REALTORS PAC (CASPER) | BOB NICHOLAS | CANDIDATE | MONETARY | 10/15/2022 | FILED | 1000 | CASPER, WY 82604 |
| WYO-D-PAC (CASPER) | BOB NICHOLAS | CANDIDATE | MONETARY | 10/14/2022 | FILED | 250 | CASPER, WY 82601 |
| NEXTERA ENERGY PAC (JUNO BEACH) | BOB NICHOLAS | CANDIDATE | MONETARY | 10/5/2022 | FILED | 500 | JUNO BEACH, FL 33408 |
| MOTOROLA SOLUTIONS, INC. PAC (WASHINGTON ) | BOB NICHOLAS | CANDIDATE | MONETARY | 10/3/2022 | FILED | 750 | WASHINGTON , DC 20004 |
| MDU RESOURCES GROUP GOOD GOVERNMENT FUND (BISMARCK) | BOB NICHOLAS | CANDIDATE | MONETARY | 10/1/2022 | FILED | 250 | BISMARCK, ND 58506 |
| PROSPERITY AND COMMERCE PAC (CHEYENNE) | BOB NICHOLAS | CANDIDATE | MONETARY | 10/1/2022 | FILED | 500 | CHEYENNE, WY 82001 |
| WY PUBLIC EMPLOYEES ASSN. PAC (CHEYENNE) | BOB NICHOLAS | CANDIDATE | MONETARY | 10/1/2022 | FILED | 500 | CHEYENNE, WY 82003 |
| WYOMING STOCK GROWERS' AG PAC (CHEYENNE) | BOB NICHOLAS | CANDIDATE | MONETARY | 10/1/2022 | FILED | 200 | CHEYENNE, WY 82003 |
| PACIFIC POWER/ROCKY MOUNTAIN POWER PAC (PORTLAND) | BOB NICHOLAS | CANDIDATE | MONETARY | 9/20/2022 | FILED | 300 | PORTLAND, OR 97232 |
| LARAMIE REPUBLICAN PARTY CENTRAL COMMITTEE (CHEYENNE) | BOB NICHOLAS | CANDIDATE | MONETARY | 9/9/2022 | FILED | 500 | CHEYENNE, WY 82003 |
| CHARTER COMMUNICATIONS, INC. WYOMING POLITICAL ACTION COMMITTEE (CHEYENNE) | BOB NICHOLAS | CANDIDATE | MONETARY | 8/15/2022 | AMEND - ADD | 1000 | CHEYENNE, WY 82009 |
| COWBOY GAMES PAC (SHERIDAN) | BOB NICHOLAS | CANDIDATE | MONETARY | 8/15/2022 | AMEND - ADD | 1500 | SHERIDAN, WY 82801 |
| BLACKWELDER, GARRETT (GRIMESLAND) | BOB NICHOLAS | CANDIDATE | MONETARY | 8/5/2022 | FILED | 750 | GRIMESLAND, NC 27837 |
| LAWYERS ACTIVE IN WY PAC (LAWPAC) (CHEYENNE) | BOB NICHOLAS | CANDIDATE | MONETARY | 8/5/2022 | FILED | 1000 | CHEYENNE, WY 82001 |
| WY EDUCATION ASSN. PAC FOR EDUCATION (CHEYENNE) | BOB NICHOLAS | CANDIDATE | MONETARY | 7/25/2022 | FILED | 300 | CHEYENNE, WY 82001 |
| HICKEY, PAUL (CHEYENNE) | BOB NICHOLAS | CANDIDATE | MONETARY | 7/20/2022 | FILED | 250 | CHEYENNE, WY 82009 |
| CIGNA POL ACTION COMMITTEE (PHILADELPHIA) | BOB NICHOLAS | CANDIDATE | MONETARY | 7/15/2022 | FILED | 500 | PHILADELPHIA, PA 19191 |
| MEULI, LARRY (CHEYENNE) | BOB NICHOLAS | CANDIDATE | MONETARY | 7/15/2022 | FILED | 150 | CHEYENNE, WY 82009 |
| NICHOLAS, PHIL (LARAMIE) | BOB NICHOLAS | CANDIDATE | MONETARY | 7/15/2022 | FILED | 500 | LARAMIE, WY 82070 |
| THOMSON, TONI A (CHEYENNE) | BOB NICHOLAS | CANDIDATE | MONETARY | 7/15/2022 | FILED | 500 | CHEYENNE, WY 82009 |
| DOWNING, JONATHAN (CHEYENNE) | BOB NICHOLAS | CANDIDATE | MONETARY | 7/11/2022 | FILED | 150 | CHEYENNE, WY 82009 |
| WYOMING HOSPITAL ASSOCIATION PAC (CHEYENNE) | BOB NICHOLAS | CANDIDATE | MONETARY | 7/11/2022 | FILED | 500 | CHEYENNE, WY 82001 |
| HIBBARD, KEVIN (CHEYENNE) | BOB NICHOLAS | CANDIDATE | MONETARY | 7/1/2022 | FILED | 250 | CHEYENNE, WY 82009 |
| UNION PACIFIC CORPORATION FUND FOR EFFECTIVE GOVERNMENT (WASHINGTON) | BOB NICHOLAS | CANDIDATE | MONETARY | 6/24/2022 | FILED | 250 | WASHINGTON, DC 20005 |
| BLACK HILLS CORPORATION PAC (RAPID CITY) | BOB NICHOLAS | CANDIDATE | MONETARY | 6/23/2022 | FILED | 500 | RAPID CITY, SD 57709 |
| NICHOLAS, BOB (CHEYENNE) | BOB NICHOLAS | CANDIDATE | MONETARY | 6/15/2022 | FILED | 5000 | CHEYENNE, WY 82009 |
| BLACK HILLS CORPORATION PAC (RAPID CITY) | BOB NICHOLAS | CANDIDATE | MONETARY | 11/2/2020 | AMEND - ADD | 250 | RAPID CITY, SD 57709 |
| FMC GOOD GOVERNMENT PROGRAM (WASHINGTON) | BOB NICHOLAS | CANDIDATE | MONETARY | 10/28/2020 | AMEND - ADD | 250 | WASHINGTON, DC 20004 |
| LAWYERS ACTIVE IN WY PAC (LAWPAC) (CHEYENNE) | BOB NICHOLAS | CANDIDATE | MONETARY | 10/28/2020 | AMEND - ADD | 500 | CHEYENNE, WY 82001 |
| MEULI, LARRY A. (CHEYENNE) | BOB NICHOLAS | CANDIDATE | MONETARY | 10/23/2020 | FILED | 50 | CHEYENNE, WY 82009 |
| PAW POLITICAL ACTION COUNCIL (CASPER) | BOB NICHOLAS | CANDIDATE | MONETARY | 10/19/2020 | FILED | 1000 | CASPER, WY 82601 |
| WYOMING MINING ASSOCIATION PAC (WMA) (CHEYENNE) | BOB NICHOLAS | CANDIDATE | MONETARY | 10/13/2020 | FILED | 100 | CHEYENNE, WY 82001 |
| COWBOY GAMES PAC (SHERIDAN) | BOB NICHOLAS | CANDIDATE | MONETARY | 10/12/2020 | FILED | 150 | SHERIDAN, WY 82801 |
| WYOMING HOPE (CHEYENNE) | BOB NICHOLAS | CANDIDATE | MONETARY | 10/12/2020 | FILED | 5000 | CHEYENNE, WY 82009 |
| WY PUBLIC EMPLOYEES ASSN. PAC (CHEYENNE) | BOB NICHOLAS | CANDIDATE | MONETARY | 10/7/2020 | FILED | 500 | CHEYENNE, WY 82003 |
| WY EDUCATION ASSN. PAC FOR EDUCATION (CHEYENNE) | BOB NICHOLAS | CANDIDATE | MONETARY | 10/5/2020 | FILED | 1000 | CHEYENNE, WY 82001 |
| TRUCKING INDUSTRY PAC (CASPER) | BOB NICHOLAS | CANDIDATE | MONETARY | 10/2/2020 | FILED | 200 | CASPER, WY 82602 |
| UNION PACIFIC CORPORATION FUND FOR EFFECTIVE GOVERNMENT (WASHINGTON) | BOB NICHOLAS | CANDIDATE | MONETARY | 10/2/2020 | FILED | 300 | WASHINGTON, DC 20005 |
| BOSWELL, C. A. (CHEYENNE) | BOB NICHOLAS | CANDIDATE | MONETARY | 10/1/2020 | FILED | 250 | CHEYENNE, WY 82001 |
| COMMON VALUES PAC (ALEXANDRIA) | BOB NICHOLAS | CANDIDATE | MONETARY | 10/1/2020 | FILED | 100 | ALEXANDRIA, VA 22314 |
| SHANOR, DICKEY A. (CHEYENNE) | BOB NICHOLAS | CANDIDATE | MONETARY | 10/1/2020 | FILED | 100 | CHEYENNE, WY 82009 |
| LAWYERS ACTIVE IN WY PAC (LAWPAC) (CHEYENNE) | BOB NICHOLAS | CANDIDATE | MONETARY | 9/28/2020 | FILED | 1000 | CHEYENNE, WY 82001 |
| CHARTER COMMUNICATIONS, INC. PAC (STAMFORD) | BOB NICHOLAS | CANDIDATE | MONETARY | 9/2/2020 | FILED | 300 | STAMFORD, CT 06901 |
| MOTOROLA SOLUTIONS, INC. PAC (WASHINGTON ) | BOB NICHOLAS | CANDIDATE | MONETARY | 9/1/2020 | FILED | 500 | WASHINGTON , DC 20004 |
| CHESAPEAKE ENERGY CORPORATION FEDERAL PAC (OKLAHOMA CITY) | BOB NICHOLAS | CANDIDATE | MONETARY | 8/3/2020 | FILED | 500 | OKLAHOMA CITY, OK 73154 |
| HICKEY, JEANNE (CHEYENNE) | BOB NICHOLAS | CANDIDATE | MONETARY | 8/3/2020 | FILED | 500 | CHEYENNE, WY 82009 |
| WY EDUCATION ASSN. PAC FOR EDUCATION (CHEYENNE) | BOB NICHOLAS | CANDIDATE | MONETARY | 7/10/2020 | FILED | 600 | CHEYENNE, WY 82001 |
| LAWYERS ACTIVE IN WY PAC (LAWPAC) (CHEYENNE) | BOB NICHOLAS | CANDIDATE | MONETARY | 7/1/2020 | FILED | 500 | CHEYENNE, WY 82001 |
| UNION PACIFIC CORPORATION FUND FOR EFFECTIVE GOVERNMENT (WASHINGTON) | BOB NICHOLAS | CANDIDATE | MONETARY | 1/30/2020 | FILED | 250 | WASHINGTON, DC 20005 |
| MOTOROLA SOLUTIONS, INC. PAC (WASHINGTON ) | BOB NICHOLAS | CANDIDATE | MONETARY | 5/9/2019 | FILED | 500 | WASHINGTON , DC 20004 |
| TRUE, DAVID (CASPER) | BOB NICHOLAS | CANDIDATE | MONETARY | 10/24/2014 | FILED | 50 | CASPER, WY 82602 |
| TRUE, H A (CASPER) | BOB NICHOLAS | CANDIDATE | MONETARY | 10/24/2014 | FILED | 50 | CASPER, WY 82602 |
| CENTURYLINK, INC., EMPLOYEES PAC (WASHINGTON) | BOB NICHOLAS | CANDIDATE | MONETARY | 10/12/2014 | FILED | 200 | WASHINGTON, DC 20001 |
| TRUCKING INDUSTRY PAC (CASPER) | BOB NICHOLAS | CANDIDATE | MONETARY | 10/12/2014 | FILED | 100 | CASPER, WY 82602 |
| WY REALTORS PAC (CASPER) | BOB NICHOLAS | CANDIDATE | MONETARY | 10/12/2014 | FILED | 250 | CASPER, WY 82601 |
| WYOMING STOCK GROWERS' AG PAC (CHEYENNE) | BOB NICHOLAS | CANDIDATE | MONETARY | 10/12/2014 | FILED | 100 | CHEYENNE, WY 82003 |
| ALTRIA GROUP, INC. PAC (WASHINGTON) | BOB NICHOLAS | CANDIDATE | MONETARY | 8/18/2014 | FILED | 100 | WASHINGTON, DC 20001 |
| CONPAC CONTRACTORS PAC (CHEYENNE) | BOB NICHOLAS | CANDIDATE | MONETARY | 8/18/2014 | FILED | 250 | CHEYENNE, WY 82003 |
| WY RURAL ELECTRIC ASSN. PAC (CHEYENNE) | BOB NICHOLAS | CANDIDATE | MONETARY | 8/18/2014 | FILED | 100 | CHEYENNE, WY 82001 |
| WYO-D-PAC (CASPER) | BOB NICHOLAS | CANDIDATE | MONETARY | 8/18/2014 | FILED | 50 | CASPER, WY 82601 |
| BRIMMER, CLARENCE (CHEYENNE) | BOB NICHOLAS | CANDIDATE | MONETARY | 11/5/2012 | FILED | 50 | CHEYENNE, WY 82001 |
| MEULI, LARRY (CHEYENNE) | BOB NICHOLAS | CANDIDATE | MONETARY | 11/5/2012 | FILED | 50 | CHEYENNE, WY 82009 |
| QEP RESOURCES (CHEYENNE) | BOB NICHOLAS | CANDIDATE | MONETARY | 11/1/2012 | FILED | 250 | CHEYENNE, WY 82001 |
| WYO-D-PAC (CASPER) | BOB NICHOLAS | CANDIDATE | MONETARY | 10/30/2012 | FILED | 100 | CASPER, WY 82601 |
| CHEVRON EMPLOYEES PAC (SAN RAMON) | BOB NICHOLAS | CANDIDATE | MONETARY | 10/29/2012 | FILED | 300 | SAN RAMON, CA 94583 |
| PACIFICORP/MIDAMERICAN PAC (PORTLAND) | BOB NICHOLAS | CANDIDATE | MONETARY | 10/29/2012 | FILED | 200 | PORTLAND, OR 97232 |
| THOMSON, TONI (CHEYENNE) | BOB NICHOLAS | CANDIDATE | MONETARY | 10/29/2012 | FILED | 100 | CHEYENNE, WY 82003 |
| ALPHA NATURAL RESOURCES POLITICAL ACTION COMMITTEE (LINTHICUM HEIGHTS) | BOB NICHOLAS | CANDIDATE | MONETARY | 10/27/2012 | FILED | 200 | LINTHICUM HEIGHTS, MD 21090 |
| BLACK HILLS CORPORATION PAC (RAPID CITY) | BOB NICHOLAS | CANDIDATE | MONETARY | 10/27/2012 | FILED | 200 | RAPID CITY, SD 57709 |
| REPUBLICAN (CASPER) | BOB NICHOLAS | CANDIDATE | MONETARY | 10/27/2012 | FILED | 1000 | CASPER, WY 82602 |
| CONPAC CONTRACTORS PAC (CHEYENNE) | BOB NICHOLAS | CANDIDATE | MONETARY | 10/19/2012 | FILED | 250 | CHEYENNE, WY 82003 |
| WY REALTORS PAC (CASPER) | BOB NICHOLAS | CANDIDATE | MONETARY | 10/14/2012 | FILED | 500 | CASPER, WY 82601 |
| ALTRIA GROUP, INC. PAC (WASHINGTON) | BOB NICHOLAS | CANDIDATE | MONETARY | 10/12/2012 | FILED | 200 | WASHINGTON, DC 20001 |
| BARRASSO, JOHN (CASPER) | BOB NICHOLAS | CANDIDATE | MONETARY | 10/12/2012 | FILED | 50 | CASPER, WY 82601 |
| BNSF RAILPAC (FT WORTH) | BOB NICHOLAS | CANDIDATE | MONETARY | 10/12/2012 | FILED | 200 | FT WORTH, TX 76161 |
| LEWIS, RYAN (CHEYENNE) | BOB NICHOLAS | CANDIDATE | MONETARY | 10/12/2012 | FILED | 100 | CHEYENNE, WY 82001 |
| TRUCKING INDUSTRY PAC (CASPER) | BOB NICHOLAS | CANDIDATE | MONETARY | 10/12/2012 | FILED | 300 | CASPER, WY 82602 |
| WINDPAC (WASHINGTON DC) | BOB NICHOLAS | CANDIDATE | MONETARY | 10/12/2012 | FILED | 200 | WASHINGTON DC, WY 20005 |
| LARAMIE REPUBLICAN PARTY CENTRAL COMMITTEE (CHEYENNE) | BOB NICHOLAS | CANDIDATE | MONETARY | 9/24/2012 | FILED | 500 | CHEYENNE, WY 82003 |
| LAWYERS ACTIVE IN WY PAC (LAWPAC) (CHEYENNE) | BOB NICHOLAS | CANDIDATE | MONETARY | 9/24/2012 | FILED | 200 | CHEYENNE, WY 82001 |
| WYOMING STOCK GROWERS' AG PAC (CHEYENNE) | BOB NICHOLAS | CANDIDATE | MONETARY | 9/18/2012 | FILED | 100 | CHEYENNE, WY 82003 |
| PAW POLITICAL ACTION COUNCIL (CASPER) | BOB NICHOLAS | CANDIDATE | MONETARY | 9/12/2012 | FILED | 250 | CASPER, WY 82601 |
| WYOMING MINING ASSOCIATION PAC (WMA) (CHEYENNE) | BOB NICHOLAS | CANDIDATE | MONETARY | 9/11/2012 | FILED | 200 | CHEYENNE, WY 82003 |
| PETROFF, RUTH ANN (JACKSON) | BOB NICHOLAS | CANDIDATE | MONETARY | 9/8/2012 | FILED | 50 | JACKSON, WY 83001 |
| PFIZER PAC (NEW YORK) | BOB NICHOLAS | CANDIDATE | MONETARY | 9/8/2012 | FILED | 300 | NEW YORK, NY 10017 |
| BLACK HILLS CORPORATION PAC (RAPID CITY) | BOB NICHOLAS | CANDIDATE | MONETARY | 8/17/2012 | FILED | 400 | RAPID CITY, SD 57709 |
| JOYCE, EUGENE (EVANSTON) | BOB NICHOLAS | CANDIDATE | MONETARY | 8/17/2012 | FILED | 100 | EVANSTON, WY 82930 |
| WY RURAL ELECTRIC ASSN. PAC (CHEYENNE) | BOB NICHOLAS | CANDIDATE | MONETARY | 8/17/2012 | FILED | 250 | CHEYENNE, WY 82001 |
| NICHOLAS, JOHN (CARL JUNCTION) | BOB NICHOLAS | CANDIDATE | LOAN | 8/10/2012 | FILED | 1000 | CARL JUNCTION, MS 64834 |
| NICHOLAS, TRACY (CARL JUNCTION) | BOB NICHOLAS | CANDIDATE | LOAN | 8/10/2012 | FILED | 1000 | CARL JUNCTION, MS 64834 |
| PAW POLITICAL ACTION COUNCIL (CASPER) | BOB NICHOLAS | CANDIDATE | MONETARY | 8/10/2012 | FILED | 250 | CASPER, WY 82601 |
| SULLIVAN, DAN (CASPER) | BOB NICHOLAS | CANDIDATE | MONETARY | 8/6/2012 | FILED | 50 | CASPER, WY 82601 |
| JOHNSON, RANDOLPH (CHEYENNE) | BOB NICHOLAS | CANDIDATE | MONETARY | 8/3/2012 | FILED | 100 | CHEYENNE, WY 82009 |
| MILLER, ANNE (CHEYENNE) | BOB NICHOLAS | CANDIDATE | MONETARY | 8/3/2012 | FILED | 100 | CHEYENNE, WY 82009 |
| MILLIN, JOHN (CHEYENNE) | BOB NICHOLAS | CANDIDATE | MONETARY | 8/3/2012 | FILED | 200 | CHEYENNE, WY 82009 |
| CLOUD PEAK ENERGY EMPLOYEE PAC (CHEYENNE) | BOB NICHOLAS | CANDIDATE | MONETARY | 8/1/2012 | FILED | 250 | CHEYENNE, WY 82009 |
| CHESAPEAKE ENERGY CORPORATION FEDERAL PAC (OKLAHOMA CITY) | BOB NICHOLAS | CANDIDATE | MONETARY | 7/20/2012 | FILED | 350 | OKLAHOMA CITY, OK 73154 |
| LAWYERS ACTIVE IN WY PAC (LAWPAC) (CHEYENNE) | BOB NICHOLAS | CANDIDATE | MONETARY | 7/20/2012 | FILED | 500 | CHEYENNE, WY 82001 |
| LOCKHART, TOM (CASPER) | BOB NICHOLAS | CANDIDATE | MONETARY | 7/20/2012 | FILED | 25 | CASPER, WY 82601 |
| AT&T INC. FEDERAL PAC (DALLAS) | BOB NICHOLAS | CANDIDATE | MONETARY | 7/12/2012 | FILED | 100 | DALLAS, TX 75202 |
| FFFWY FIRE PAC (CHEYENNE) | BOB NICHOLAS | CANDIDATE | MONETARY | 7/12/2012 | FILED | 500 | CHEYENNE, WY 82003 |
| FFFWY FIRE PAC (CHEYENNE) | BOB NICHOLAS | CANDIDATE | MONETARY | 7/12/2012 | FILED | 500 | CHEYENNE, WY 82003 |
| WY REALTORS PAC (CASPER) | BOB NICHOLAS | CANDIDATE | MONETARY | 7/12/2012 | FILED | 500 | CASPER, WY 82601 |
| WY EDUCATION ASSN. PAC FOR EDUCATION (CHEYENNE) | BOB NICHOLAS | CANDIDATE | MONETARY | 7/4/2012 | FILED | 200 | CHEYENNE, WY 82001 |
| NICHOLAS, BOB (CHEYENNE) | BOB NICHOLAS | CANDIDATE | LOAN | 7/1/2012 | FILED | 4000 | CHEYENNE, WY 82009 |
| MARATHON OIL COMPANY EMPLOYEES (HOUSTON) | BOB NICHOLAS | CANDIDATE | MONETARY | 1/11/2012 | AMEND - ADD | 250 | HOUSTON, TX 77210 |
| MARATHON OIL COMPANY EMPLOYEES POLITICAL ACTION COMMITTEE (MEPAC) - STATE (FINDLEY) | BOB NICHOLAS | CANDIDATE | MONETARY | 11/1/2010 | FILED | 250 | FINDLEY, OH 45840 |
| MEULI, LARRY (CHEYENNE) | BOB NICHOLAS | CANDIDATE | MONETARY | 11/1/2010 | FILED | 50 | CHEYENNE, WY 82009 |
| WYO-D-PAC (CASPER) | BOB NICHOLAS | CANDIDATE | MONETARY | 11/1/2010 | FILED | 100 | CASPER, WY 82601 |
| CROSS, DEMI (CHEY) | BOB NICHOLAS | CANDIDATE | MONETARY | 10/31/2010 | FILED | 50 | CHEY, WY 82009 |
| ALTRIA GROUP, INC. PAC (WASHINGTON ) | BOB NICHOLAS | CANDIDATE | MONETARY | 10/26/2010 | FILED | 100 | WASHINGTON , DC 20001 |
| BARASSO, JOHN (CASPER) | BOB NICHOLAS | CANDIDATE | MONETARY | 10/26/2010 | FILED | 50 | CASPER, WY 82601 |
| QEP RESOURCES PAC (DENVER) | BOB NICHOLAS | CANDIDATE | MONETARY | 10/26/2010 | FILED | 100 | DENVER, CO 80265 |
| REPUBLICAN (CASPER) | BOB NICHOLAS | CANDIDATE | MONETARY | 10/26/2010 | FILED | 500 | CASPER, WY 82602 |
| TIEDEKEN, ROBERT (CHEYENNE) | BOB NICHOLAS | CANDIDATE | MONETARY | 10/26/2010 | FILED | 100 | CHEYENNE, WY 82009 |
| EXXONMOBILE PAC (IRVING) | BOB NICHOLAS | CANDIDATE | MONETARY | 10/22/2010 | FILED | 250 | IRVING, TX 75039 |
| LARAMIE REPUBLICAN PARTY CENTRAL COMMITTEE (CHEYENNE) | BOB NICHOLAS | CANDIDATE | MONETARY | 10/21/2010 | FILED | 400 | CHEYENNE, WY 82003 |
| WLRAPAC (CHEYENNE) | BOB NICHOLAS | CANDIDATE | MONETARY | 10/21/2010 | FILED | 150 | CHEYENNE, WY 82003 |
| WYOMING MINING ASSOCIATION PAC (WMA) (CHEYENNE) | BOB NICHOLAS | CANDIDATE | MONETARY | 10/21/2010 | FILED | 250 | CHEYENNE, WY 82003 |
| BP EMPLOYEE PAC (HOUSTON) | BOB NICHOLAS | CANDIDATE | MONETARY | 10/20/2010 | FILED | 400 | HOUSTON, TX 77079 |
| CHEVRON EMPLOYEES PAC (SAN RAMON) | BOB NICHOLAS | CANDIDATE | MONETARY | 10/20/2010 | FILED | 400 | SAN RAMON, CA 94583 |
| CONPAC CONTRACTORS PAC (CHEYENNE) | BOB NICHOLAS | CANDIDATE | MONETARY | 10/20/2010 | FILED | 250 | CHEYENNE, WY 82003 |
| LAWYERS ACTIVE IN WY PAC (LAWPAC) (CHEYENNE) | BOB NICHOLAS | CANDIDATE | MONETARY | 10/20/2010 | FILED | 250 | CHEYENNE, WY 82001 |
| PFIZER PAC (NEW YORK) | BOB NICHOLAS | CANDIDATE | MONETARY | 10/20/2010 | FILED | 250 | NEW YORK, NY 10017 |
| ANADARKO PETROLEUM PAC (WOODLANDS) | BOB NICHOLAS | CANDIDATE | MONETARY | 9/27/2010 | FILED | 400 | WOODLANDS, TX 77380 |
| BNSF RAILPAC (FT WORTH) | BOB NICHOLAS | CANDIDATE | MONETARY | 9/27/2010 | FILED | 400 | FT WORTH, TX 76161 |
| LARAMIE REPUBLICAN PARTY CENTRAL COMMITTEE (CHEYENNE) | BOB NICHOLAS | CANDIDATE | MONETARY | 9/27/2010 | FILED | 700 | CHEYENNE, WY 82003 |
| PAW POLITICAL ACTION COUNCIL (CASPER) | BOB NICHOLAS | CANDIDATE | MONETARY | 9/27/2010 | FILED | 250 | CASPER, WY 82601 |
| WYO PAC (WYOMING MEDICAL PAC) (CHEYENNE) | BOB NICHOLAS | CANDIDATE | MONETARY | 9/27/2010 | FILED | 100 | CHEYENNE, WY 82003 |
| WYOMING STOCK GROWERS' AG PAC (CHEYENNE) | BOB NICHOLAS | CANDIDATE | MONETARY | 9/27/2010 | FILED | 300 | CHEYENNE, WY 82003 |
| TRUCKING INDUSTRY PAC (CASPER) | BOB NICHOLAS | CANDIDATE | MONETARY | 9/26/2010 | FILED | 300 | CASPER, WY 82602 |
| REPUBLICAN (CASPER) | BOB NICHOLAS | CANDIDATE | MONETARY | 9/13/2010 | FILED | 500 | CASPER, WY 82602 |
| ALLSTATE INSURANCE COMPANY PAC (ALLPAC) (NORTHBROOK) | BOB NICHOLAS | CANDIDATE | MONETARY | 9/10/2010 | FILED | 100 | NORTHBROOK, IL 60062 |
| BLACK HILLS CORPORATION PAC (RAPID CITY) | BOB NICHOLAS | CANDIDATE | MONETARY | 9/10/2010 | FILED | 300 | RAPID CITY, SD 57709 |
| NICHOLAS, T (CARL JUNCTION) | BOB NICHOLAS | CANDIDATE | MONETARY | 9/10/2010 | FILED | 1000 | CARL JUNCTION, MO 64834 |
| NICHOLAS, WJ (CARL JUNCTION) | BOB NICHOLAS | CANDIDATE | MONETARY | 9/10/2010 | FILED | 1000 | CARL JUNCTION, MO 64834 |
| PICARD, DAVID (CHEYENNE) | BOB NICHOLAS | CANDIDATE | MONETARY | 9/10/2010 | FILED | 100 | CHEYENNE, WY 82009 |
| PETERSEN, SANDRA (CHEYENNE) | BOB NICHOLAS | CANDIDATE | MONETARY | 8/13/2010 | FILED | 50 | CHEYENNE, WY 82009 |
| NICHOLAS, BOB (CHEYENNE) | BOB NICHOLAS | CANDIDATE | LOAN | 8/6/2010 | FILED | 1100 | CHEYENNE, WY 82009 |
| LAWYERS ACTIVE IN WY PAC (LAWPAC) (CHEYENNE) | BOB NICHOLAS | CANDIDATE | MONETARY | 7/26/2010 | FILED | 250 | CHEYENNE, WY 82001 |
| AT&T INC. FEDERAL PAC (DALLAS) | BOB NICHOLAS | CANDIDATE | MONETARY | 7/25/2010 | AMEND - ADD | 200 | DALLAS, TX 75202 |
| ELLIS, MARK (CHEYENNE) | BOB NICHOLAS | CANDIDATE | MONETARY | 5/5/2010 | FILED | 100 | CHEYENNE, WY 82001 |