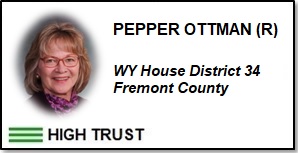 Summary
Representation
Competence
Integrity
More
+ + +
Pepper Ottman has served in House District 34 as a WY Representative for Fremont County from 2021 to the present.  She has received a positive score for all three categories of Representation, Competence and Integrity and therefore has been ranked as High Trust.
She is up for reelection in 2024.
---
"Since elected I have voted and fought to educate stakeholders and empower parents and communities in their desire for good education. Our students need education that will prepare them to be productive citizens. Basic skills with enhancement as they progress throughout Elementary school. Trades should be offered as well as academics. Parents should be motivated to participate and children taught HOW to learn.. Local control and knowledge of the goals of a curriculum should be the norm. Parents should be able to work with the system to make decisions about their own children's education. Sexual education should be voluntary, age appropriate, and developed by a group of stakeholders. Pornography should never be a part of it."
From https://www.pepperottmanhd34.com/issues
Overall Ottman earns a (+) for Representation.
Attendance
It appears that Ottman missed 0 votes in 2023 General Session.
Public Conduct
Ottman appears to behave appropriately in public and to the public.
Sponsorship History
In 2023 Ottman was the primary sponsor of 2 bills, and co-sponsored 30 bills.  Favored sponsorship topics appear to be protection of the unborn, children and students; medical freedom; education.  For more see her legislator webpage.
Committee Assignments
2023-Management Audit Committee
2023-House Corporations, Elections & Political Subdivisions
2023-State Shooting Complex Oversight Task Force
Ottman scored a (+) for Constitutional Competence with an average of 100% on the constitutional issues listed below.
Constitutional issue categories that have a "N/A" grade, refer to specific bills that Ottman did not have the opportunity to vote on.  It is relevant that Ottman cosponsored HB0177 Education-Understanding federal and state government in 2021, but it died in the House Education Committee.
For more on the bills used to analyze these scores click here.  Special hat-tip goes out to Evidence Based Wyoming for use of their statistical tool to generate the following vote scores:
Conflicts
Because we have not found any conflicts of interest for Ottman, she receives a (+) for Integrity.
Employment/Income
According to Ottman's 2023 State Elected Officials Financial Disclosure available at Wyofile, she reports no income.
Memberships/Civic Organizations
Lighthouse Bible Church
Wyoming Prospectors Assoc.
NRA
Farm Bureau
Campaign Contributions
The table below shows all campaign contributions reported by the WY Secretary of State for Pepper L Ottman.
From 2020 to 2022 Ottman received approximately 26 contributions that total approximately $10,880.  Of the 26 donations, approximately 6 were from PACs &/or campaign committees.  The total amount received from PACs s &/or campaign committees was $1,700.
Noteworthy contributions are:
$200 from (ESG compliant) Pacific Power/Rocky Mountain Power PAC
Click the arrows at the top of columns to sort the data by name, date, $ amount, etc.  (Data is publicly available records obtained from the Wyoming Secretary of State's Wyoming's Campaign Finance Information System.)
| Contributor Name | Recipient Name | Recipient Type | Contribution Type | Date | Filing Status | Amount | City State Zip |
| --- | --- | --- | --- | --- | --- | --- | --- |
| FREMONT COUNTY REPUBLICAN WOMEN (RIVERTON) | PEPPER L. OTTMAN | CANDIDATE | MONETARY | 9/30/2022 | FILED | 250 | RIVERTON, WY 82501 |
| WYOMING MINING ASSOCIATION PAC (WMA) (CHEYENNE) | PEPPER L. OTTMAN | CANDIDATE | MONETARY | 9/20/2022 | FILED | 100 | CHEYENNE, WY 82001 |
| BARTO, BEN (DUBOIS) | PEPPER L. OTTMAN | CANDIDATE | MONETARY | 7/27/2022 | FILED | 100 | DUBOIS, WY 82513 |
| CORBETT, MARILYN (EVERETT) | PEPPER L. OTTMAN | CANDIDATE | MONETARY | 7/27/2022 | FILED | 300 | EVERETT, PA 15537 |
| KESSLER, SALLYE (RIVERTON) | PEPPER L. OTTMAN | CANDIDATE | MONETARY | 7/27/2022 | FILED | 100 | RIVERTON, WY 82501 |
| EGGERS, MARION (PAVILLION) | PEPPER L. OTTMAN | CANDIDATE | MONETARY | 7/20/2022 | FILED | 30 | PAVILLION, WY 82523 |
| IBARRA, LYNNE (LOS ANGELES) | PEPPER L. OTTMAN | CANDIDATE | MONETARY | 6/10/2022 | FILED | 150 | LOS ANGELES, CA 90042 |
| PINCE, DENNIS (SHOSHONI) | PEPPER L. OTTMAN | CANDIDATE | MONETARY | 6/10/2022 | FILED | 400 | SHOSHONI, WY 82649 |
| HAMPTON, MIRIAM (LANDER) | PEPPER L. OTTMAN | CANDIDATE | MONETARY | 5/27/2022 | FILED | 50 | LANDER, WY 82520 |
| BROPHY, CARLEEN (JACKSON) | PEPPER L. OTTMAN | CANDIDATE | MONETARY | 4/11/2022 | FILED | 1500 | JACKSON, WY 83001 |
| BROPHY, DAN (JACKSON) | PEPPER L. OTTMAN | CANDIDATE | MONETARY | 4/11/2022 | FILED | 1500 | JACKSON, WY 83001 |
| HOUSE REPUBLICAN CAUCUS (POWELL) | PEPPER L OTTMAN | CANDIDATE | MONETARY | 10/8/2020 | FILED | 150 | POWELL, WY 82435 |
| CORBETT, MARILYN (EVERETT) | PEPPER L OTTMAN | CANDIDATE | MONETARY | 9/28/2020 | FILED | 500 | EVERETT, PA 15537 |
| FREMONT REPUBLICAN PARTY CENTRAL COMMITTEE (RIVERTON) | PEPPER L OTTMAN | CANDIDATE | MONETARY | 9/28/2020 | FILED | 500 | RIVERTON, WY 82501 |
| OTTMAN, JULIE (PARACHUTE) | PEPPER L OTTMAN | CANDIDATE | MONETARY | 9/14/2020 | FILED | 200 | PARACHUTE, CO 81635 |
| OTTMAN, LELAND (PALISADE) | PEPPER L OTTMAN | CANDIDATE | MONETARY | 9/14/2020 | FILED | 100 | PALISADE, CO 81526 |
| REPUBLICAN WOMEN OF FREMONT COUNTY PAC (RIVERTON) | PEPPER L OTTMAN | CANDIDATE | MONETARY | 9/14/2020 | FILED | 500 | RIVERTON, WY 82501 |
| IBARRA, LYNNE (LOS ANGELES) | PEPPER L OTTMAN | CANDIDATE | MONETARY | 8/31/2020 | FILED | 150 | LOS ANGELES, CA 90042 |
| CORBETT, FRED (EVERETT) | PEPPER L OTTMAN | CANDIDATE | MONETARY | 8/26/2020 | FILED | 100 | EVERETT, PA 15537 |
| PACIFIC POWER/ROCKY MOUNTAIN POWER PAC (PORTLAND) | PEPPER L OTTMAN | CANDIDATE | MONETARY | 8/26/2020 | FILED | 200 | PORTLAND, OR 97232 |
| FLEISHER, MARILYN (EVERETT) | PEPPER L OTTMAN | CANDIDATE | MONETARY | 7/23/2020 | FILED | 500 | EVERETT, PA 15537 |
| MEIER JR., CURT (CHEYENNE) | PEPPER L OTTMAN | CANDIDATE | MONETARY | 6/8/2020 | FILED | 100 | CHEYENNE, WY 82002 |
| OTTMAN, LARRY (RIVERTON) | PEPPER L OTTMAN | CANDIDATE | MONETARY | 6/1/2020 | FILED | 300 | RIVERTON, WY 82501 |
| BROPHY, CARLEEN (JACKSON) | PEPPER L OTTMAN | CANDIDATE | MONETARY | 5/27/2020 | FILED | 1500 | JACKSON, WY 83001 |
| BROPHY, DAN (JACKSON) | PEPPER L OTTMAN | CANDIDATE | MONETARY | 5/27/2020 | FILED | 1500 | JACKSON, WY 83001 |
| OTTMAN, PEPPER L (RIVERTON) | PEPPER L OTTMAN | CANDIDATE | MONETARY | 5/18/2020 | FILED | 100 | RIVERTON, WY 82501 |