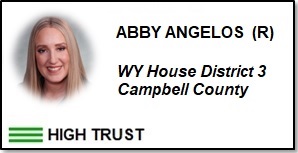 Summary
Representation
Competence
Integrity
More
+ + +
Abby Angelos is a WY House Representative for House District 3 in Campbell County that has served from Jan 2023 to the present.  She has received a positive score for all three categories of Representation, Competence and Integrity and therefore has been ranked as High Trust.
She is up for reelection in 2024.
I am a Conservative Republican and stand for traditional family values, the sanctity of life, protecting our 2nd Amendment, fiscal responsibility, health and medical freedom, and supporting our jobs in the ranching and energy industries. I do not believe that government drives meaningful economic development. True economic growth comes from removing government from the markets, deregulation, and fiscal responsibility. Unlike my opponent, I believe that when we accept federal handouts we are devaluing our money and worse we are selling our freedoms at some point down the road.
From https://county17.com/2022/07/07/campbell-county-candidate-questionnaire-abby-angelos-for-state-rep-for-district-3/
Overall Angelos earns a (+) for Representation.
Attendance
It appears that Angelos missed one vote in 2023 General Session:
2/2/23 Travel Committee vote on HB92.
Public Conduct
Angelos appears to behave appropriately in public and to the public.
Sponsorship History
In 2023 Angelos was the primary sponsor of 1 bill, and co-sponsored 26 bills.  Bill topics/subjects that Angelos appears to favor for sponsorship include protection of the unborn, children and students; fair elections.  See more at Angelos' WY legislative page.
Committee Assignments
2023-House Travel, Recreation, Wildlife & Cultural Resources
2023-Legislative Artwork Donation Program Committee
2023-CSG West – Canada Relations
Angelos scored a (+) for Constitutional Competence with a 100% average on the constitutional issues listed below.  Constitutional issue categories that have a "N/A" grade, refer to bills that Angelos did not have the opportunity to vote on.
For more on the bills used to analyze these scores click here.  Special hat-tip goes out to Evidence Based Wyoming for use of their statistical tool to generate the following vote scores:
Conflicts
Because we have not found any conflicts of interest for Abby Angelos, she receives a (+) for Integrity.
Employment/Income
According to Angelos' 2023 State Elected Officials Financial Disclosure available at Wyofile, she reported the following:
Co-owner of family business
Women's Ministry Director
Memberships/Civic Organizations
Women's Ministry at Family Life Church
PTO board at Pronghorn Elementary school
Meal Ministry Team
Campaign Contributions
Because we have not found any conflicts of interest for Abby Angelos, she receives a (+) for Integrity.
The table below shows all campaign contributions reported by the WY Secretary of State for Committee to Elect Abby Angelos for House.
In 2022 Angelos received 42 contributions that total approximately $24,468.  All donations came from individuals, with none coming from any PAC.
Click the arrows at the top of columns to sort the data by name, date, $ amount, etc.  (Data is publicly available records obtained from the Wyoming Secretary of State's Wyoming's Campaign Finance Information System)
| Contributor Name | Recipient Name | Recipient Type | Contribution Type | Date | Filing Status | Amount | City State Zip |
| --- | --- | --- | --- | --- | --- | --- | --- |
| | COMMITTEE TO ELECT ABBY ANGELOS FOR HOUSE | CANDIDATE COMMITTEE | ANONYMOUS | 8/13/2022 | AMEND - ADD | 100 | |
| CRUMP, MARTIN (GILLETTE) | COMMITTEE TO ELECT ABBY ANGELOS FOR HOUSE | CANDIDATE COMMITTEE | MONETARY | 8/9/2022 | AMEND - ADD | 1000 | GILLETTE, WY 82718 |
| CANNON, STEPHEN (GILLETTE) | COMMITTEE TO ELECT ABBY ANGELOS FOR HOUSE | CANDIDATE COMMITTEE | IN-KIND | 8/8/2022 | FILED | 1500 | GILLETTE, WY 82718 |
| CANNON, TAMARA (GILLETTE) | COMMITTEE TO ELECT ABBY ANGELOS FOR HOUSE | CANDIDATE COMMITTEE | IN-KIND | 8/8/2022 | FILED | 1500 | GILLETTE, WY 82718 |
| STALCUP, THOMAS (GILLETTE) | COMMITTEE TO ELECT ABBY ANGELOS FOR HOUSE | CANDIDATE COMMITTEE | MONETARY | 8/8/2022 | AMEND - ADD | 1500 | GILLETTE, WY 82718 |
| | COMMITTEE TO ELECT ABBY ANGELOS FOR HOUSE | CANDIDATE COMMITTEE | UN-ITEMIZED | 8/8/2022 | AMEND - ADD | 50 | |
| KNAPP, CHRIS (GILLETTE) | COMMITTEE TO ELECT ABBY ANGELOS FOR HOUSE | CANDIDATE COMMITTEE | IN-KIND | 8/5/2022 | FILED | 698 | GILLETTE, WY 82718 |
| BENNET, HUGH (GILLETTE) | COMMITTEE TO ELECT ABBY ANGELOS FOR HOUSE | CANDIDATE COMMITTEE | IN-KIND | 8/2/2022 | FILED | 600 | GILLETTE, WY 82718 |
| | COMMITTEE TO ELECT ABBY ANGELOS FOR HOUSE | CANDIDATE COMMITTEE | ANONYMOUS | 7/25/2022 | FILED | 50 | |
| CRUMP, CARRIE (GILLETTE) | COMMITTEE TO ELECT ABBY ANGELOS FOR HOUSE | CANDIDATE COMMITTEE | MONETARY | 7/20/2022 | FILED | 500 | GILLETTE, WY 82718 |
| CANNON, AARON (GILLETTE) | COMMITTEE TO ELECT ABBY ANGELOS FOR HOUSE | CANDIDATE COMMITTEE | MONETARY | 7/11/2022 | AMEND - ADD | 100 | GILLETTE, WY 82718 |
| MAUS, TODD (JACKSON) | COMMITTEE TO ELECT ABBY ANGELOS FOR HOUSE | CANDIDATE COMMITTEE | MONETARY | 7/5/2022 | FILED | 1000 | JACKSON, WY 83001 |
| | COMMITTEE TO ELECT ABBY ANGELOS FOR HOUSE | CANDIDATE COMMITTEE | ANONYMOUS | 7/5/2022 | FILED | 500 | |
| ANGELOS, WARD (KENNEWICK) | COMMITTEE TO ELECT ABBY ANGELOS FOR HOUSE | CANDIDATE COMMITTEE | MONETARY | 7/1/2022 | FILED | 300 | KENNEWICK, WA 99336 |
| LIVELY, SARAH (GILLETTE) | COMMITTEE TO ELECT ABBY ANGELOS FOR HOUSE | CANDIDATE COMMITTEE | MONETARY | 7/1/2022 | FILED | 2000 | GILLETTE, WY 82718 |
| MADER, JANET (GILLETTE) | COMMITTEE TO ELECT ABBY ANGELOS FOR HOUSE | CANDIDATE COMMITTEE | MONETARY | 6/27/2022 | FILED | 100 | GILLETTE, WY 82717 |
| STALCUP, CATHY (GILLETTE) | COMMITTEE TO ELECT ABBY ANGELOS FOR HOUSE | CANDIDATE COMMITTEE | MONETARY | 6/24/2022 | FILED | 1500 | GILLETTE, WY 82718 |
| OLIVER, JOESPH (GILLETTE) | COMMITTEE TO ELECT ABBY ANGELOS FOR HOUSE | CANDIDATE COMMITTEE | MONETARY | 6/22/2022 | FILED | 20 | GILLETTE, WY 82718 |
| CONZLEMAN, RITA (GILLETTE) | COMMITTEE TO ELECT ABBY ANGELOS FOR HOUSE | CANDIDATE COMMITTEE | MONETARY | 6/15/2022 | FILED | 180 | GILLETTE, WY 82718 |
| KENNEDY, MIRANDA (GILLETTE) | COMMITTEE TO ELECT ABBY ANGELOS FOR HOUSE | CANDIDATE COMMITTEE | MONETARY | 6/15/2022 | FILED | 100 | GILLETTE, WY 82718 |
| DOENZ, WILLIAM (SHERIDAN) | COMMITTEE TO ELECT ABBY ANGELOS FOR HOUSE | CANDIDATE COMMITTEE | MONETARY | 6/9/2022 | FILED | 1500 | SHERIDAN, WY 82801 |
| MULLINS, BEVERLY (GILLETTE) | COMMITTEE TO ELECT ABBY ANGELOS FOR HOUSE | CANDIDATE COMMITTEE | MONETARY | 6/6/2022 | FILED | 150 | GILLETTE, WY 82716 |
| CRUMP, MARTIN (GILLETTE) | COMMITTEE TO ELECT ABBY ANGELOS FOR HOUSE | CANDIDATE COMMITTEE | MONETARY | 6/1/2022 | FILED | 1500 | GILLETTE, WV 82718 |
| BANNISTER, GERRI (GILLETTE) | COMMITTEE TO ELECT ABBY ANGELOS FOR HOUSE | CANDIDATE COMMITTEE | MONETARY | 5/28/2022 | FILED | 50 | GILLETTE, WY 82716 |
| PRAUS, TONI (GILLLETTE) | COMMITTEE TO ELECT ABBY ANGELOS FOR HOUSE | CANDIDATE COMMITTEE | MONETARY | 5/28/2022 | FILED | 50 | GILLLETTE, WY 82718 |
| JACOBSON, MELODY (GILLETTE) | COMMITTEE TO ELECT ABBY ANGELOS FOR HOUSE | CANDIDATE COMMITTEE | MONETARY | 5/27/2022 | FILED | 500 | GILLETTE, WY 82718 |
| CRUMP SR, JOHN (GILLETTE) | COMMITTEE TO ELECT ABBY ANGELOS FOR HOUSE | CANDIDATE COMMITTEE | MONETARY | 5/26/2022 | FILED | 1000 | GILLETTE, WY 82718 |
| SMITH, KELLEN (GILLETTE) | COMMITTEE TO ELECT ABBY ANGELOS FOR HOUSE | CANDIDATE COMMITTEE | MONETARY | 5/26/2022 | FILED | 100 | GILLETTE, WY 82716 |
| ANGELOS, STEPHANIE (REDMOND) | COMMITTEE TO ELECT ABBY ANGELOS FOR HOUSE | CANDIDATE COMMITTEE | MONETARY | 5/24/2022 | FILED | 250 | REDMOND, WA 98053 |
| BARN, ART STUDIO KAY (GILLETTE) | COMMITTEE TO ELECT ABBY ANGELOS FOR HOUSE | CANDIDATE COMMITTEE | MONETARY | 5/22/2022 | FILED | 1000 | GILLETTE, WY 82718 |
| BARN, ART STUDIO KAY (GILLETTE) | COMMITTEE TO ELECT ABBY ANGELOS FOR HOUSE | CANDIDATE COMMITTEE | MONETARY | 5/22/2022 | AMEND - DELETE | 1000 | GILLETTE, WY 82718 |
| CRUMP, CORI (GILLETTE) | COMMITTEE TO ELECT ABBY ANGELOS FOR HOUSE | CANDIDATE COMMITTEE | MONETARY | 5/22/2022 | AMEND - ADD | 1000 | GILLETTE, WY 82718 |
| CRUMP, JOHN (GILLETTE) | COMMITTEE TO ELECT ABBY ANGELOS FOR HOUSE | CANDIDATE COMMITTEE | MONETARY | 5/19/2022 | FILED | 500 | GILLETTE, WY 82718 |
| MARTIN, FRANCIS (RAYNE) | COMMITTEE TO ELECT ABBY ANGELOS FOR HOUSE | CANDIDATE COMMITTEE | MONETARY | 5/18/2022 | FILED | 500 | RAYNE, LA 70578 |
| MEANS, SHELBY (GILLETTE) | COMMITTEE TO ELECT ABBY ANGELOS FOR HOUSE | CANDIDATE COMMITTEE | MONETARY | 5/18/2022 | FILED | 250 | GILLETTE, WY 82718 |
| MERCHEN, STEPHEN (GILLETTE) | COMMITTEE TO ELECT ABBY ANGELOS FOR HOUSE | CANDIDATE COMMITTEE | MONETARY | 5/18/2022 | FILED | 250 | GILLETTE, WY 82718 |
| BROWN, WESLEY (GILLETTE) | COMMITTEE TO ELECT ABBY ANGELOS FOR HOUSE | CANDIDATE COMMITTEE | MONETARY | 5/17/2022 | FILED | 250 | GILLETTE, WY 82716 |
| KNUTSON, DEBRA (GILLETTE) | COMMITTEE TO ELECT ABBY ANGELOS FOR HOUSE | CANDIDATE COMMITTEE | MONETARY | 5/17/2022 | FILED | 100 | GILLETTE, WY 82716 |
| | COMMITTEE TO ELECT ABBY ANGELOS FOR HOUSE | CANDIDATE COMMITTEE | ANONYMOUS | 5/16/2022 | FILED | 100 | |
| SCOTT, M H (GILLETTE) | COMMITTEE TO ELECT ABBY ANGELOS FOR HOUSE | CANDIDATE COMMITTEE | MONETARY | 5/11/2022 | FILED | 100 | GILLETTE, WY 82716 |
| BROPHY, CARLEEN (JACKSON) | COMMITTEE TO ELECT ABBY ANGELOS FOR HOUSE | CANDIDATE COMMITTEE | MONETARY | 5/4/2022 | FILED | 1500 | JACKSON, WY 83001 |
| BROPHY, DANIEL (JACKSON) | COMMITTEE TO ELECT ABBY ANGELOS FOR HOUSE | CANDIDATE COMMITTEE | MONETARY | 5/4/2022 | FILED | 1500 | JACKSON, WY 83001 |
| ANGELOS, PETER (GILLETTE) | COMMITTEE TO ELECT ABBY ANGELOS FOR HOUSE | CANDIDATE COMMITTEE | MONETARY | 5/3/2022 | FILED | 20 | GILLETTE, WY 82718 |