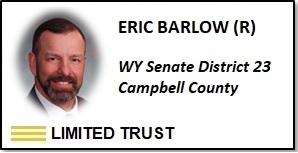 Summary
Representation
Competence
Integrity
More
+ – +
Eric Barlow has served in Senate District 23 as a WY Senator for Campbell County from Jan 2023 to the present.  He served House District 3 for Campbell County from 2013 to 2022.
Barlow has received a positive score for Representation and Integrity, and a negative score for Competence. Thus he has been ranked as Limited Trust.
He is up for reelection in 2026.
---
"There are a few things I don't do… No PAC money. No dark money. No candidate questionnaires. No negative campaigning. No self-serving agenda. No special interest strings. No labels. No pledges."
From https://county17.com/2022/07/14/campbell-county-candidate-questionnaire-eric-barlow-for-state-senator-for-district-23/
Overall, Barlow scores a (+) for Representation.
Attendance
It appears that Barlow missed 0 votes in 2023 General Session.
Public Conduct
Barlow appears to behave appropriately in public and to the public.
Sponsorship History
In 2023 Barlow was the primary sponsor of 5 bills, and co-sponsored 46 bills and 4 joint resolutions.  Favored sponsorship topics appear to be education, elections.  For more details, see his legislator webpage.
Committee Assignments
2023-Management Audit Committee – Chairman
2023-Senate Corporations, Elections & Political Subdivisions
2023-Senate Labor, Health & Social Services
2023-Mental Health & Vulnerable Adult Task Force
2023-Select Committee on Tribal Relations
2023-Subcommittee on Legislator Ethics Complaint Procedure
2023-CSG West – Energy & Environment
2023-CSG West – Executive Committee
Barlow scored a (–) for Constitutional Competence with an average of 50.9% on the constitutional issues listed below.  Constitutional issue categories that have a "N/A" grade, refer to specific bills that Barlow did not have the opportunity to vote on.
For more on the bills used to analyze these scores click here.  Special hat-tip goes out to Evidence Based Wyoming for use of their statistical tool to generate the following vote scores:
Conflicts
Because we have not found any conflicts of interest for Barlow, he receives a (+) for Integrity.
Employment/Income
According to Barlow's legislative webpage, his occupation is Rancher, Veterinarian.  According to Barlow's 2023 State Elected Officials Financial Disclosure available at Wyofile, he reports:
Partner – Gourmet Lamb of Wyoming, LLC
Partner – Eric S. Barlow DVM, PC
Partner – Holding Water Resources, LLC
Income from "Any security or interest earnings" and from "Real estate, leases, royalties"
Memberships/Civic Organizations
United States Marine Corps
Campaign Contributions
The table below shows all campaign contributions reported by the WY Secretary of State for Eric Barlow; Eric Stephen Barlow.
From 2012 to 2022 Barlow received 157 contributions that total approximately $74,935.77.  Of the 157 donations, 3 were from PACs & Campaign Committees.  The total amount received from PACS was approximately $5.12; the total amount received from Campaign Committees was approximately $5,066.65.
Noteworthy contributions are:
$2,000 total from Mark Gordon and Jennie Gordon (2012)
$500 total from True family dynasty member
Click the arrows at the top of columns to sort the data by name, date, $ amount, etc.  (Data is publicly available records obtained from the Wyoming Secretary of State's Wyoming's Campaign Finance Information System.)
| Contributor Name | Recipient Name | Recipient Type | Contribution Type | Date | Filing Status | Amount | City State Zip |
| --- | --- | --- | --- | --- | --- | --- | --- |
| BARKS, DAN (GILLETTE) | ERIC BARLOW | CANDIDATE | MONETARY | 10/27/2022 | FILED | 100 | GILLETTE, WY 82718 |
| BOLTON, JOSEPH (GILLETTE) | ERIC BARLOW | CANDIDATE | MONETARY | 10/27/2022 | FILED | 75 | GILLETTE, WY 82718 |
| GALLILEE, CATHERINE (GILLETTE) | ERIC BARLOW | CANDIDATE | MONETARY | 10/27/2022 | FILED | 325 | GILLETTE, WY 82718 |
| GROVES, BERNICE (GILLETTE) | ERIC BARLOW | CANDIDATE | MONETARY | 10/27/2022 | FILED | 300 | GILLETTE, WY 82718 |
| MARQUISS, GARY (GILLETTE) | ERIC BARLOW | CANDIDATE | MONETARY | 10/25/2022 | FILED | 200 | GILLETTE, WY 82718 |
| MCLELAND, JIM (GILLETTE) | ERIC BARLOW | CANDIDATE | MONETARY | 10/25/2022 | FILED | 500 | GILLETTE, WY 82718 |
| WRIGHT, NOLENE (GILLETTE) | ERIC BARLOW | CANDIDATE | MONETARY | 10/25/2022 | FILED | 1500 | GILLETTE, WY 82718 |
| GREEAR, TIFFANY (WORLAND) | ERIC BARLOW | CANDIDATE | MONETARY | 10/14/2022 | FILED | 1000 | WORLAND, WY 82401 |
| BELL, TONI (GILLETTE) | ERIC BARLOW | CANDIDATE | MONETARY | 10/11/2022 | FILED | 500 | GILLETTE, WY 82716 |
| BENNICK, GREGORY (GILLETTE) | ERIC BARLOW | CANDIDATE | MONETARY | 10/11/2022 | FILED | 100 | GILLETTE, WY 82718 |
| BLIKRE, GREGG (GILLETTE) | ERIC BARLOW | CANDIDATE | MONETARY | 10/11/2022 | FILED | 200 | GILLETTE, WY 82716 |
| COOPER, GAIL (GILLETTE) | ERIC BARLOW | CANDIDATE | MONETARY | 10/11/2022 | FILED | 100 | GILLETTE, WY 82716 |
| HINES, JOHN (GILLETTE) | ERIC BARLOW | CANDIDATE | MONETARY | 10/11/2022 | FILED | 500 | GILLETTE, WY 82716 |
| JESSEN, ELAINE (GILLETTE) | ERIC BARLOW | CANDIDATE | MONETARY | 10/11/2022 | FILED | 100 | GILLETTE, WY 82718 |
| KASPERIK, NICK (GILLETTE) | ERIC BARLOW | CANDIDATE | MONETARY | 10/11/2022 | FILED | 200 | GILLETTE, WY 82718 |
| KNESEL, SUSAN (GILLETTE) | ERIC BARLOW | CANDIDATE | MONETARY | 10/11/2022 | FILED | 100 | GILLETTE, WY 82718 |
| LUBNAU, KATHRYN (GILLETTE) | ERIC BARLOW | CANDIDATE | MONETARY | 10/11/2022 | FILED | 100 | GILLETTE, WY 82716 |
| LUBNAU, TOM (GILLETTE) | ERIC BARLOW | CANDIDATE | MONETARY | 10/11/2022 | FILED | 500 | GILLETTE, WY 82718 |
| LUNDQUIST, GEORGIA (GILLETTE) | ERIC BARLOW | CANDIDATE | MONETARY | 10/11/2022 | FILED | 100 | GILLETTE, WY 82717 |
| MONK, REGINA (GILLETTE) | ERIC BARLOW | CANDIDATE | MONETARY | 10/11/2022 | FILED | 500 | GILLETTE, WY 82717 |
| MORRISON, REBECCA (GILLETTE) | ERIC BARLOW | CANDIDATE | MONETARY | 10/11/2022 | FILED | 150 | GILLETTE, WY 82716 |
| OKRAY, RANDY (GILLETTE) | ERIC BARLOW | CANDIDATE | MONETARY | 10/11/2022 | FILED | 200 | GILLETTE, WY 82716 |
| RUNYON, REBECCA (GILLETTE) | ERIC BARLOW | CANDIDATE | MONETARY | 10/11/2022 | FILED | 100 | GILLETTE, WY 82718 |
| SCHLADWEILER, BRENDA (GILLETTE) | ERIC BARLOW | CANDIDATE | MONETARY | 10/11/2022 | FILED | 100 | GILLETTE, WY 82717 |
| SHOBER, MICKY (GILLETTE) | ERIC BARLOW | CANDIDATE | MONETARY | 10/11/2022 | FILED | 500 | GILLETTE, WY 82718 |
| TARVER, NANCY (GILLETTE) | ERIC BARLOW | CANDIDATE | MONETARY | 10/11/2022 | FILED | 500 | GILLETTE, WY 82717 |
| TYSTAD, JERRY (GILLETTE) | ERIC BARLOW | CANDIDATE | MONETARY | 10/11/2022 | FILED | 250 | GILLETTE, WY 82718 |
| WASSERBURGER, JEFF (GILLETTE) | ERIC BARLOW | CANDIDATE | MONETARY | 10/11/2022 | FILED | 200 | GILLETTE, WY 82718 |
| | ERIC BARLOW | CANDIDATE | ANONYMOUS | 10/11/2022 | FILED | 550 | |
| DAVIS, TOM (GILLETTE) | ERIC BARLOW | CANDIDATE | MONETARY | 10/10/2022 | FILED | 500 | GILLETTE, WY 82718 |
| VON FLATERN, MICHAEL (GILLETTE) | ERIC BARLOW | CANDIDATE | MONETARY | 10/10/2022 | FILED | 1000 | GILLETTE, WY 82718 |
| JEREMIAH, SHEILA (GILLETTE) | ERIC BARLOW | CANDIDATE | MONETARY | 10/7/2022 | FILED | 100 | GILLETTE, WY 82718 |
| SYMONS, GAIL (SHERIDAN) | ERIC BARLOW | CANDIDATE | MONETARY | 10/7/2022 | FILED | 100 | SHERIDAN, WY 82801 |
| STUDY, SHIRLEY (GILLETTE) | ERIC BARLOW | CANDIDATE | MONETARY | 10/5/2022 | FILED | 100 | GILLETTE, WY 82716 |
| SCHLAUTMANN, JEANIE (GILLETTE) | ERIC BARLOW | CANDIDATE | MONETARY | 10/4/2022 | FILED | 1500 | GILLETTE, WY 82718 |
| TWEEDY, JOANNE (GILLETTE) | ERIC BARLOW | CANDIDATE | MONETARY | 10/4/2022 | FILED | 1000 | GILLETTE, WY 82718 |
| BOLLER, RONDA (GILLETTE) | ERIC BARLOW | CANDIDATE | MONETARY | 10/2/2022 | FILED | 500 | GILLETTE, WY 82716 |
| VERGNANI, ROBERT (GILLETTE) | ERIC BARLOW | CANDIDATE | MONETARY | 10/1/2022 | FILED | 200 | GILLETTE, WY 82718 |
| MAYCOCK, MITCH (GILLETTE) | ERIC BARLOW | CANDIDATE | MONETARY | 9/29/2022 | FILED | 500 | GILLETTE, WY 82717 |
| CAMPBELL REPUBLICAN PARTY CENTRAL COMMITTEE (GILLETTE) | ERIC BARLOW | CANDIDATE | MONETARY | 9/28/2022 | FILED | 5000 | GILLETTE, WY 82717 |
| ISENBERGER, LEE (GILLETTE) | ERIC BARLOW | CANDIDATE | MONETARY | 9/28/2022 | FILED | 500 | GILLETTE, WY 82718 |
| COSNER, DIANA (GILLETTE) | ERIC BARLOW | CANDIDATE | MONETARY | 9/26/2022 | FILED | 1000 | GILLETTE, WY 82718 |
| BARLOW, BERNADETTE (SHERIDAN) | ERIC BARLOW | CANDIDATE | MONETARY | 9/18/2022 | FILED | 2000 | SHERIDAN, WY 82801 |
| EBERTZ, DAVID (GILLETTE) | ERIC BARLOW | CANDIDATE | MONETARY | 9/11/2022 | FILED | 100 | GILLETTE, WY 82717 |
| BURNS, BRUCE (SHERIDAN) | ERIC BARLOW | CANDIDATE | MONETARY | 9/8/2022 | FILED | 1000 | SHERIDAN, WY 82801 |
| BEBOUT, ELI (RIVERTON) | ERIC BARLOW | CANDIDATE | MONETARY | 9/1/2022 | FILED | 500 | RIVERTON, WY 82501 |
| CORKERY, JOHN (GILLETTE) | ERIC BARLOW | CANDIDATE | MONETARY | 9/1/2022 | FILED | 1000 | GILLETTE, WY 82718 |
| DRISKILL, OGDEN (DEVILS TOWER) | ERIC BARLOW | CANDIDATE | MONETARY | 9/1/2022 | FILED | 500 | DEVILS TOWER, WY 82714 |
| GERRITS, CHRISTINA (GILLETTE) | ERIC BARLOW | CANDIDATE | MONETARY | 9/1/2022 | FILED | 100 | GILLETTE, WY 82718 |
| COMMITTEE TO ELECT JEFF WASSERBURGER (GILLETTE) | ERIC BARLOW | CANDIDATE | MONETARY | 8/31/2022 | FILED | 66.65 | GILLETTE, WY 82718 |
| FISCHER, JOSEPH (GILLETTE) | ERIC BARLOW | CANDIDATE | MONETARY | 8/20/2022 | FILED | 100 | GILLETTE, WY 82718 |
| KASPERIK, NORINE (GILLETTE) | ERIC BARLOW | CANDIDATE | MONETARY | 8/20/2022 | FILED | 100 | GILLETTE, WY 82718 |
| MACKEY, MARILYN (GILLETTE) | ERIC BARLOW | CANDIDATE | MONETARY | 8/20/2022 | FILED | 100 | GILLETTE, WY 82716 |
| MAYCOCK, JOSEPH (GILLETTE) | ERIC BARLOW | CANDIDATE | MONETARY | 8/20/2022 | FILED | 100 | GILLETTE, WY 82717 |
| BARLOW, ERIC (GILLETTE) | ERIC BARLOW | CANDIDATE | MONETARY | 8/1/2022 | FILED | 2500 | GILLETTE, WY 82718 |
| VERGNANI, ROBERT (GILLETTE) | ERIC BARLOW | CANDIDATE | MONETARY | 7/26/2022 | FILED | 200 | GILLETTE, WY 82718 |
| HINES, JOHN (GILLETTE) | ERIC BARLOW | CANDIDATE | MONETARY | 7/23/2022 | FILED | 500 | GILLETTE, WY 82716 |
| SAUNDERS, CYNTHIA (GILLETTE) | ERIC BARLOW | CANDIDATE | MONETARY | 7/11/2022 | FILED | 200 | GILLETTE, WY 82718 |
| SAUNDERS, RAYMOND (GILLETTE) | ERIC BARLOW | CANDIDATE | MONETARY | 7/11/2022 | FILED | 100 | GILLETTE, WY 82718 |
| BLIKRE, GREGG (GILLETTE) | ERIC BARLOW | CANDIDATE | MONETARY | 6/27/2022 | FILED | 100 | GILLETTE, WY 82716 |
| HLADKY, PAUL (GILLETTE) | ERIC BARLOW | CANDIDATE | MONETARY | 6/6/2022 | FILED | 1000 | GILLETTE, WY 82718 |
| EBERTZ, DAVE (GILLETTE) | ERIC BARLOW | CANDIDATE | MONETARY | 5/14/2022 | FILED | 100 | GILLETTE, WY 82717 |
| KINGAN, RALPH (WRIGHT) | ERIC BARLOW | CANDIDATE | MONETARY | 5/14/2022 | FILED | 100 | WRIGHT, WY 82732 |
| BARLOW, BERNADETTE (SHERIDAN) | ERIC BARLOW | CANDIDATE | MONETARY | 5/7/2022 | FILED | 1000 | SHERIDAN, WY 82801 |
| BARLOW, NICOLE (BOZEMAN) | ERIC BARLOW | CANDIDATE | MONETARY | 4/28/2022 | FILED | 2500 | BOZEMAN, MT 59771 |
| BARLOW, ERIC (GILLETTE) | ERIC BARLOW | CANDIDATE | MONETARY | 8/10/2020 | FILED | 1000 | GILLETTE, WY 82718 |
| BARLOW, ERIC (GILLETTE) | ERIC BARLOW | CANDIDATE | MONETARY | 8/1/2020 | FILED | 1000 | GILLETTE, WY 82718 |
| BARLOW, ERIC (GILLETTE) | ERIC BARLOW | CANDIDATE | MONETARY | 7/25/2020 | FILED | 500 | GILLETTE, WY 82718 |
| BOUCHER, JAMES (LARAMIE) | ERIC BARLOW | CANDIDATE | MONETARY | 7/24/2020 | FILED | 100 | LARAMIE, WY 82073 |
| HAAS, THERESA (PINE BLUFFS) | ERIC BARLOW | CANDIDATE | MONETARY | 7/24/2020 | FILED | 100 | PINE BLUFFS, WY 82082 |
| PORTER, LEVI (CASPER) | ERIC BARLOW | CANDIDATE | MONETARY | 7/24/2020 | FILED | 200 | CASPER, WY 82609 |
| MCLELAND, DEB (GILLETTE) | ERIC BARLOW | CANDIDATE | MONETARY | 7/23/2020 | FILED | 100 | GILLETTE, WY 82717 |
| NETT, JEREMY (CHEYENNE) | ERIC BARLOW | CANDIDATE | MONETARY | 7/23/2020 | FILED | 100 | CHEYENNE, WY 82001 |
| MACKEY, MARILYN (GILLETTE) | ERIC BARLOW | CANDIDATE | MONETARY | 7/16/2020 | FILED | 50 | GILLETTE, WY 82716 |
| BLIKRE, JACKIE (GILLETTE) | ERIC BARLOW | CANDIDATE | MONETARY | 7/15/2020 | FILED | 200 | GILLETTE, WY 82716 |
| WILKINSON, KATHARINE (CHEYENNE) | ERIC BARLOW | CANDIDATE | MONETARY | 7/13/2020 | FILED | 100 | CHEYENNE, WY 82009 |
| BURNS, BRUCE (SHERIDAN) | ERIC BARLOW | CANDIDATE | MONETARY | 7/8/2020 | FILED | 100 | SHERIDAN, WY 82801 |
| HINES, JOHN (GILLETTE) | ERIC BARLOW | CANDIDATE | MONETARY | 6/26/2020 | FILED | 250 | GILLETTE, WY 82716 |
| EBERTZ, DAVID (GILLETTE) | ERIC BARLOW | CANDIDATE | MONETARY | 6/15/2020 | FILED | 100 | GILLETTE, WY 82717 |
| JOYCE, EUGENE (EVANSTON) | ERIC BARLOW | CANDIDATE | MONETARY | 6/8/2020 | FILED | 1000 | EVANSTON, WY 82930 |
| TRUE, JOANN (CASPER) | ERIC BARLOW | CANDIDATE | MONETARY | 5/20/2020 | FILED | 500 | CASPER, WY 82604 |
| NATIONAL FEDERATION OF INDEPENDENT BUSINESS WYOMING POLITICAL ACTION COMMITTEE (WASHINGTON) | ERIC BARLOW | CANDIDATE | IN-KIND | 10/24/2018 | FILED | 5.12 | WASHINGTON, DC 20004 |
| BARLOW, ERIC (GILLETTE) | ERIC BARLOW | CANDIDATE | MONETARY | 8/15/2018 | FILED | 245 | GILLETTE, WY 82718 |
| COSNER, DIANNA (WRIGHT) | ERIC BARLOW | CANDIDATE | MONETARY | 8/10/2016 | FILED | 1000 | WRIGHT, WY 82732 |
| HINES, JOHN (GILLETTE) | ERIC BARLOW | CANDIDATE | MONETARY | 8/10/2016 | FILED | 200 | GILLETTE, WY 82716 |
| TURNER, LELAND (GILLETTE) | ERIC BARLOW | CANDIDATE | MONETARY | 8/10/2016 | FILED | 250 | GILLETTE, WY 82718 |
| BARLOW, ERIC (GILLETTE) | ERIC BARLOW | CANDIDATE | MONETARY | 8/8/2016 | FILED | 4000 | GILLETTE, WY 82718 |
| BURNS, BRUCE (SHERIDAN) | ERIC BARLOW | CANDIDATE | MONETARY | 7/22/2016 | FILED | 200 | SHERIDAN, WY 82801 |
| MAYCOCK, JOSEPH (GILLETTE) | ERIC BARLOW | CANDIDATE | MONETARY | 7/22/2016 | FILED | 100 | GILLETTE, WY 82717 |
| FISCHER, ASHLEE (GILLETTE) | ERIC BARLOW | CANDIDATE | MONETARY | 7/19/2016 | FILED | 100 | GILLETTE, WY 82718 |
| JORDAN, KRISTI (GILLETTE) | ERIC BARLOW | CANDIDATE | MONETARY | 7/18/2016 | FILED | 75 | GILLETTE, WY 82718 |
| BARLOW, BERNADETTE (SHERIDAN) | ERIC BARLOW | CANDIDATE | MONETARY | 7/15/2016 | FILED | 500 | SHERIDAN, WY 82801 |
| BLIKRE, GREGG (GILLETTE) | ERIC BARLOW | CANDIDATE | MONETARY | 7/15/2016 | FILED | 100 | GILLETTE, WY 82716 |
| EBERTZ, DAVID (GILLETTE) | ERIC BARLOW | CANDIDATE | MONETARY | 7/15/2016 | FILED | 199 | GILLETTE, WY 82717 |
| TWEEDY, JOANNE (GILLETTE) | ERIC BARLOW | CANDIDATE | MONETARY | 7/15/2016 | FILED | 500 | GILLETTE, WY 82717 |
| HINCKLEY, BERN (LARAMIE) | ERIC BARLOW | CANDIDATE | MONETARY | 9/14/2014 | FILED | 25 | LARAMIE, WY 82070 |
| OWENS, MARY (MIDWEST) | ERIC BARLOW | CANDIDATE | MONETARY | 9/13/2014 | FILED | 100 | MIDWEST, WY 82601 |
| BAILEY, ROBIN (GILLETTE) | ERIC BARLOW | CANDIDATE | MONETARY | 8/15/2014 | FILED | 50 | GILLETTE, WY 82716 |
| BARLOW, ERIC (GILLETTE) | ERIC BARLOW | CANDIDATE | MONETARY | 8/15/2014 | FILED | 5500 | GILLETTE, WY 82718 |
| FISCHER, JOSEPH (GILLETTE) | ERIC BARLOW | CANDIDATE | MONETARY | 8/15/2014 | FILED | 75 | GILLETTE, WY 82718 |
| JORDAN, ROGER (GILLETTE) | ERIC BARLOW | CANDIDATE | MONETARY | 8/15/2014 | FILED | 50 | GILLETTE, WY 82718 |
| MAYCOCK, JOSEPH (GILLETTE) | ERIC BARLOW | CANDIDATE | MONETARY | 8/15/2014 | FILED | 50 | GILLETTE, WY 82717 |
| PETROFF, RUTH ANN (JACKSON) | ERIC BARLOW | CANDIDATE | MONETARY | 8/15/2014 | FILED | 50 | JACKSON, WY 83001 |
| MORRISON, JILL (STORY) | ERIC BARLOW | CANDIDATE | MONETARY | 8/6/2014 | FILED | 100 | STORY, WY 82842 |
| MAYCOCK, BILL (GILLETTE) | ERIC BARLOW | CANDIDATE | MONETARY | 7/29/2014 | FILED | 1000 | GILLETTE, WY 82717 |
| RENO, EDA (WRIGHT) | ERIC BARLOW | CANDIDATE | MONETARY | 7/29/2014 | FILED | 300 | WRIGHT, WY 82732 |
| KUNZ, BRENT (CHEYENNE) | ERIC BARLOW | CANDIDATE | MONETARY | 7/27/2014 | FILED | 100 | CHEYENNE, WY 82009 |
| TURNER, LELAND (GILLETTE) | ERIC BARLOW | CANDIDATE | MONETARY | 7/20/2014 | FILED | 500 | GILLETTE, WY 82718 |
| BENSEL, BILL (RANCHESTER) | ERIC BARLOW | CANDIDATE | MONETARY | 7/14/2014 | FILED | 100 | RANCHESTER, WY 82839 |
| SCOTT, CHARLES (CASPER) | ERIC BARLOW | CANDIDATE | MONETARY | 7/14/2014 | FILED | 100 | CASPER, WY 82604 |
| WATSABAUGH, MICHAEL (GILLETTE) | ERIC BARLOW | CANDIDATE | MONETARY | 7/14/2014 | FILED | 100 | GILLETTE, WY 82716 |
| LERESCHE, BOB (CLEARMONT) | ERIC BARLOW | CANDIDATE | MONETARY | 7/8/2014 | FILED | 250 | CLEARMONT, WY 82835 |
| BARLOW, BERNADETTE (GILLETTE) | ERIC BARLOW | CANDIDATE | MONETARY | 6/25/2014 | FILED | 500 | GILLETTE, WY 82718 |
| ERNST, DIANE (GILLETTE) | ERIC BARLOW | CANDIDATE | MONETARY | 6/25/2014 | FILED | 100 | GILLETTE, WY 82716 |
| SAUNDERS, RAYMOND (GILLETTE) | ERIC BARLOW | CANDIDATE | MONETARY | 6/25/2014 | FILED | 100 | GILLETTE, WY 82718 |
| EBERTZ, DAVID (GILLETTE) | ERIC BARLOW | CANDIDATE | MONETARY | 6/20/2014 | FILED | 100 | GILLETTE, WY 82717 |
| VERGNANI, ROBERT (GILLETTE) | ERIC BARLOW | CANDIDATE | MONETARY | 6/17/2014 | FILED | 100 | GILLETTE, WY 82718 |
| HINES, JOHN (GILLETTE) | ERIC BARLOW | CANDIDATE | MONETARY | 6/14/2014 | FILED | 200 | GILLETTE, WY 82716 |
| BURNS, BRUCE (SHERIDAN) | ERIC BARLOW | CANDIDATE | MONETARY | 6/12/2014 | FILED | 100 | SHERIDAN, WY 82801 |
| HANEBRINK, BRADLEY (SHERIDAN) | ERIC BARLOW | CANDIDATE | MONETARY | 6/12/2014 | FILED | 100 | SHERIDAN, WY 82801 |
| TWEEDY, JOANNE (GILLETTE) | ERIC BARLOW | CANDIDATE | MONETARY | 6/12/2014 | FILED | 300 | GILLETTE, WY 82717 |
| CARR, DOUG (GILLETTE) | ERIC STEPHEN BARLOW | CANDIDATE | MONETARY | 10/30/2012 | FILED | 100 | GILLETTE, WY 82718 |
| SAUNDERS, RAYMOND (GILLETTE) | ERIC STEPHEN BARLOW | CANDIDATE | MONETARY | 10/30/2012 | FILED | 100 | GILLETTE, WY 82718 |
| MAYCOCK, JOE (GILLETTE) | ERIC STEPHEN BARLOW | CANDIDATE | MONETARY | 10/1/2012 | FILED | 100 | GILLETTE, WY 82716 |
| OWENS, BILL (MIDWEST) | ERIC STEPHEN BARLOW | CANDIDATE | MONETARY | 10/1/2012 | FILED | 100 | MIDWEST, WY 82634 |
| HENDERSON, TERRY (SHAWNEE) | ERIC STEPHEN BARLOW | CANDIDATE | MONETARY | 8/20/2012 | FILED | 25 | SHAWNEE, WY 82229 |
| LEWIS, GARY (GILLETTE) | ERIC STEPHEN BARLOW | CANDIDATE | MONETARY | 8/20/2012 | FILED | 100 | GILLETTE, WY 82718 |
| LITTON, PATRICIA (GILLETTE) | ERIC STEPHEN BARLOW | CANDIDATE | MONETARY | 8/20/2012 | FILED | 100 | GILLETTE, WY 82718 |
| MARTON, PHIL (CASPER) | ERIC STEPHEN BARLOW | CANDIDATE | MONETARY | 8/20/2012 | FILED | 100 | CASPER, WY 82604 |
| MAYCOCK, BILL (GILLETTE) | ERIC STEPHEN BARLOW | CANDIDATE | MONETARY | 8/20/2012 | FILED | 1000 | GILLETTE, WY 82716 |
| ROURKE, CHUCK (GILLETTE) | ERIC STEPHEN BARLOW | CANDIDATE | MONETARY | 8/20/2012 | FILED | 250 | GILLETTE, WY 82718 |
| BARLOW, ERIC (GILLETTE) | ERIC STEPHEN BARLOW | CANDIDATE | MONETARY | 8/15/2012 | FILED | 5000 | GILLETTE, WY 82718 |
| FISCHER, ASHLEE (GILLETTE) | ERIC STEPHEN BARLOW | CANDIDATE | MONETARY | 8/14/2012 | FILED | 100 | GILLETTE, WY 82718 |
| HAYDEN, BOB (GILLETTE) | ERIC STEPHEN BARLOW | CANDIDATE | MONETARY | 8/7/2012 | FILED | 100 | GILLETTE, WY 82718 |
| HAYDEN, TONY (GILLETTE) | ERIC STEPHEN BARLOW | CANDIDATE | MONETARY | 8/7/2012 | FILED | 20 | GILLETTE, WY 82718 |
| RENO, EDIE (GILLETTE) | ERIC STEPHEN BARLOW | CANDIDATE | MONETARY | 8/7/2012 | FILED | 300 | GILLETTE, WY 82718 |
| KISSACK, KATHERINE (GILLETTE) | ERIC STEPHEN BARLOW | CANDIDATE | MONETARY | 8/4/2012 | FILED | 250 | GILLETTE, WY 82718 |
| MOONEY, ALLEN (GILLETTE) | ERIC STEPHEN BARLOW | CANDIDATE | MONETARY | 8/3/2012 | FILED | 50 | GILLETTE, WY 82716 |
| WRIGHT, NOLENE (WRIGHT) | ERIC STEPHEN BARLOW | CANDIDATE | MONETARY | 8/3/2012 | FILED | 100 | WRIGHT, WY 82732 |
| HUDSON, BRANDI (GILLETTE) | ERIC STEPHEN BARLOW | CANDIDATE | MONETARY | 8/2/2012 | FILED | 500 | GILLETTE, WY 82718 |
| VAN BUGGENUM, LEROY (STORY) | ERIC STEPHEN BARLOW | CANDIDATE | MONETARY | 8/1/2012 | FILED | 50 | STORY, WY 82842 |
| BELL, KATHY (GILLETTE) | ERIC STEPHEN BARLOW | CANDIDATE | MONETARY | 7/31/2012 | FILED | 200 | GILLETTE, WY 82718 |
| HARSHBARGER, ROBERT (NEWCASTLE) | ERIC STEPHEN BARLOW | CANDIDATE | MONETARY | 7/27/2012 | FILED | 100 | NEWCASTLE, WY 82701 |
| MORRISON, JILL (STORY) | ERIC STEPHEN BARLOW | CANDIDATE | MONETARY | 7/18/2012 | FILED | 100 | STORY, WY 82842 |
| BARLOW, MICHELE (LARAMIE) | ERIC STEPHEN BARLOW | CANDIDATE | MONETARY | 7/4/2012 | FILED | 500 | LARAMIE, WY 82070 |
| SHEPPERSON, FRANK (MIDWEST) | ERIC STEPHEN BARLOW | CANDIDATE | MONETARY | 7/4/2012 | FILED | 500 | MIDWEST, WY 82643 |
| HAGEMAN, BOB (DOUGLAS) | ERIC STEPHEN BARLOW | CANDIDATE | MONETARY | 6/30/2012 | FILED | 500 | DOUGLAS, WY 82633 |
| ANDERSON, DARRYL (GILLETTE) | ERIC STEPHEN BARLOW | CANDIDATE | MONETARY | 6/26/2012 | FILED | 500 | GILLETTE, WY 82716 |
| GORDON, JENNIE (BUFFALO) | ERIC STEPHEN BARLOW | CANDIDATE | MONETARY | 6/26/2012 | FILED | 1000 | BUFFALO, WY 82834 |
| GORDON, MARK (BUFFALO) | ERIC STEPHEN BARLOW | CANDIDATE | MONETARY | 6/26/2012 | FILED | 1000 | BUFFALO, WY 82834 |
| GARLAND, BILL (RIVERTON) | ERIC STEPHEN BARLOW | CANDIDATE | MONETARY | 6/22/2012 | FILED | 250 | RIVERTON, WY 82501 |
| BENSEL, BILL (RANCHESTER) | ERIC STEPHEN BARLOW | CANDIDATE | MONETARY | 6/20/2012 | FILED | 100 | RANCHESTER, WY 82839 |
| SWANDA, ANTONE (OSHOTO) | ERIC STEPHEN BARLOW | CANDIDATE | MONETARY | 6/19/2012 | FILED | 500 | OSHOTO, WY 82721 |
| LERESCHE, BOB (CLEARMONT) | ERIC STEPHEN BARLOW | CANDIDATE | MONETARY | 6/17/2012 | FILED | 500 | CLEARMONT, WY 82835 |
| RITTHALER, SHELLY (UPTON) | ERIC STEPHEN BARLOW | CANDIDATE | MONETARY | 6/14/2012 | FILED | 300 | UPTON, WY 82730 |
| TURNER, L J (GILLETTE) | ERIC STEPHEN BARLOW | CANDIDATE | MONETARY | 6/10/2012 | FILED | 500 | GILLETTE, WY 82718 |
| HABECK, PHILIP (MOORCROFT) | ERIC STEPHEN BARLOW | CANDIDATE | MONETARY | 6/8/2012 | FILED | 500 | MOORCROFT, WY 82721 |
| BARLOW, BERNADETTE (GILLETTE) | ERIC STEPHEN BARLOW | CANDIDATE | MONETARY | 5/24/2012 | FILED | 1000 | GILLETTE, WY 82718 |