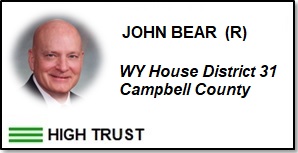 Summary
Representation
Competence
Integrity
More
+ + +
John Bear is a WY House Representative for House District 31 in Campbell County that has served from 2021 to the present.  He has received a positive score for all three categories of Representation, Competence and Integrity and therefore has been ranked as High Trust.
He is up for reelection in 2024.
---
If you are politically progressive or live in one of the top five most populated cities in Wyoming, you will find that you are well represented by the Wyoming House Appropriations Committee. If you are traditionally conservative or live in a place other than Cheyenne, Casper or Laramie, you may find that those holding the purse strings wouldn't agree with you on many matters of policy. 
Nearly half of the House Appropriations Committee represents Cheyenne. One member represents Laramie. Another, Casper. Lawmakers from Rock Springs and Lander fill the other two slots. Not only do six of the seven members hail from county seats– urban population centers for a state like ours– every member votes with the Democrats over 80% of the time. That threshold increases when voting on how to spend tax dollars.
-John Bear
From https://cowboystatedaily.com/2023/05/19/john-bear-unipartys-push-for-anti-conservative-wyoming/
Overall Bear earns a (+) for Representation.
Attendance
It appears that Bear was present for every vote in 2023 General Session.
Public Conduct
Bear appears to behave appropriately in public and to the public.
Sponsorship History
From 2021 to 2023 Bear has sponsored 8 bills. In 2023 he co-sponsored 52 bills. Bill topics/subjects that Bear appears to favor for sponsorship include protection of the unborn, children and students; medical freedom; fair elections; 2nd Amendment.  See more at Bear's WY legislative page.
Committee Assignments
2023-House Revenue
2023-Interstate Compact on Students of Military Families
Bear scored a (+) for Constitutional Competence with a 100% average on the constitutional issues listed below.  Constitutional issue categories that have a "N/A" grade, refer to bills that Bear did not have the opportunity to vote on.
It is relevant that Bear cosponsored 2023 SF0114 – Constitutional instruction and examination requirements but it failed before going to the House.
For more on the bills used to analyze these scores click here.  Special hat-tip goes out to Evidence Based Wyoming for use of their statistical tool to generate the following vote scores:
Conflicts
Because we have not found any conflicts of interest for Bear, he receives a (+) for Integrity.
Employment/Income
According to 's 2023 State Elected Officials Financial Disclosure available at Wyofile, he reported the following:
President of cleaning business
Vice president and General Manager of cleaning business
Memberships/Civic Organizations
United States Navy
Campaign Contributions
The table below shows all campaign contributions reported by the WY Secretary of State for Coalition to Elect John Bear.
From 2020 to 2022 Bear has received 86 contributions that total approximately $38,490.  With the exception of 6 PACs, all other donations came from individual contributors.
Click the arrows at the top of columns to sort the data by name, date, $ amount, etc.  (Data is publicly available records obtained from the Wyoming Secretary of State's Wyoming's Campaign Finance Information System
| Contributor Name | Recipient Name | Recipient Type | Contribution Type | Date | Filing Status | Amount | City State Zip |
| --- | --- | --- | --- | --- | --- | --- | --- |
| MERCHEN, STEVE (GILLETTE) | COALITION TO ELECT JOHN BEAR | CANDIDATE COMMITTEE | MONETARY | 10/17/2022 | FILED | 500 | GILLETTE, WY 82718 |
| WYOMING MINING ASSOCIATION PAC (WMA) (CHEYENNE) | COALITION TO ELECT JOHN BEAR | CANDIDATE COMMITTEE | MONETARY | 9/16/2022 | FILED | 200 | CHEYENNE, WY 82001 |
| COULTER, DARYL (GILLETTE) | COALITION TO ELECT JOHN BEAR | CANDIDATE COMMITTEE | MONETARY | 9/1/2022 | FILED | 200 | GILLETTE, WY 82718 |
| ANGELOS, ABBEY (GILLETTE) | COALITION TO ELECT JOHN BEAR | CANDIDATE COMMITTEE | MONETARY | 8/18/2022 | FILED | 265 | GILLETTE, WY 82718 |
| MAYCOCK, JOSEPH (GILLETTE) | COALITION TO ELECT JOHN BEAR | CANDIDATE COMMITTEE | MONETARY | 8/17/2022 | FILED | 100 | GILLETTE, WY 82717 |
| STALCUP, TOM (GILLETTE) | COALITION TO ELECT JOHN BEAR | CANDIDATE COMMITTEE | MONETARY | 8/17/2022 | FILED | 1500 | GILLETTE, WY 82718 |
| BEAR, JOHN AND SAGE (GILLETTE) | COALITION TO ELECT JOHN BEAR | CANDIDATE COMMITTEE | MONETARY | 7/28/2022 | FILED | 1500 | GILLETTE, WY 82718 |
| GILBERTZ, LD (GILLETTE) | COALITION TO ELECT JOHN BEAR | CANDIDATE COMMITTEE | MONETARY | 7/11/2022 | FILED | 150 | GILLETTE, WY 82718 |
| REYNOLDS, SALLY (ROZET) | COALITION TO ELECT JOHN BEAR | CANDIDATE COMMITTEE | MONETARY | 7/7/2022 | FILED | 150 | ROZET, WY 82727 |
| SCHRAMM, LORI & KEVIN (GILLETTE) | COALITION TO ELECT JOHN BEAR | CANDIDATE COMMITTEE | MONETARY | 7/7/2022 | FILED | 50 | GILLETTE, WY 82718 |
| MOORE, BRENDA (BENNETT) | COALITION TO ELECT JOHN BEAR | CANDIDATE COMMITTEE | MONETARY | 7/5/2022 | FILED | 500 | BENNETT, CO 80102 |
| MOTOROLA SOLUTIONS, INC. PAC (WASHINGTON ) | COALITION TO ELECT JOHN BEAR | CANDIDATE COMMITTEE | MONETARY | 7/1/2022 | FILED | 250 | WASHINGTON , DC 20004 |
| SMITH, DARIN (CHEYENNE) | COALITION TO ELECT JOHN BEAR | CANDIDATE COMMITTEE | MONETARY | 6/24/2022 | FILED | 250 | CHEYENNE, WY 82009 |
| GREEN, JARED (GILLETTE) | COALITION TO ELECT JOHN BEAR | CANDIDATE COMMITTEE | MONETARY | 6/23/2022 | FILED | 75 | GILLETTE, WY 82718 |
| JORDAN, DR ROGER & KRISTI (GILLETTE) | COALITION TO ELECT JOHN BEAR | CANDIDATE COMMITTEE | MONETARY | 6/23/2022 | FILED | 100 | GILLETTE, WY 82718 |
| KRUSE, GAIL (GILLETTE) | COALITION TO ELECT JOHN BEAR | CANDIDATE COMMITTEE | MONETARY | 6/23/2022 | FILED | 200 | GILLETTE, WY 82716 |
| MCCREARY, PATRICK & NADINE (GILLETTE) | COALITION TO ELECT JOHN BEAR | CANDIDATE COMMITTEE | MONETARY | 6/23/2022 | FILED | 100 | GILLETTE, WY 82716 |
| MEYER, KARYL (GILLETTE) | COALITION TO ELECT JOHN BEAR | CANDIDATE COMMITTEE | MONETARY | 6/23/2022 | FILED | 100 | GILLETTE, WY 82718 |
| THORN, LINDA (GILLETTE) | COALITION TO ELECT JOHN BEAR | CANDIDATE COMMITTEE | MONETARY | 6/23/2022 | FILED | 50 | GILLETTE, WY 82717 |
| | COALITION TO ELECT JOHN BEAR | CANDIDATE COMMITTEE | ANONYMOUS | 6/23/2022 | FILED | 220 | |
| BEAR, BILL (TRENTON) | COALITION TO ELECT JOHN BEAR | CANDIDATE COMMITTEE | MONETARY | 5/27/2022 | FILED | 1500 | TRENTON, MO 64683 |
| BEAR, SUSIE (TRENTON) | COALITION TO ELECT JOHN BEAR | CANDIDATE COMMITTEE | MONETARY | 5/27/2022 | FILED | 1500 | TRENTON, MO 64683 |
| KNAPP, CHRIS (GILLETTE) | COALITION TO ELECT JOHN BEAR | CANDIDATE COMMITTEE | IN-KIND | 5/10/2022 | FILED | 190 | GILLETTE, WY 82716 |
| RODGERS, KARI D (GILLETTE) | COALITION TO ELECT JOHN BEAR | CANDIDATE COMMITTEE | MONETARY | 4/29/2022 | FILED | 200 | GILLETTE, WY 82718 |
| BEAR, SAGE (GILLETTE) | COALITION TO ELECT JOHN BEAR | CANDIDATE COMMITTEE | MONETARY | 4/12/2022 | FILED | 500 | GILLETTE, WY 82718 |
| MILLS, NANCY (GILLETTE) | COALITION TO ELECT JOHN BEAR | CANDIDATE COMMITTEE | MONETARY | 4/6/2022 | FILED | 100 | GILLETTE, WY 82718 |
| BROPHY, CARLEEN (JACKSON) | COALITION TO ELECT JOHN BEAR | CANDIDATE COMMITTEE | MONETARY | 3/28/2022 | FILED | 1500 | JACKSON, WY 83001 |
| BROPHY, DAN (JACKSON) | COALITION TO ELECT JOHN BEAR | CANDIDATE COMMITTEE | MONETARY | 3/28/2022 | FILED | 1500 | JACKSON, WY 83001 |
| AMERICAN SOCIETY OF ANESTHESIOLOGISTS (SCHAUMBURG) | COALITION TO ELECT JOHN BEAR | CANDIDATE COMMITTEE | MONETARY | 3/17/2022 | FILED | 500 | SCHAUMBURG, IL 60173 |
| BEAR, JOHN (GILLETTE) | COALITION TO ELECT JOHN BEAR | CANDIDATE COMMITTEE | MONETARY | 4/26/2021 | FILED | 1100 | GILLETTE, WY 82718 |
| BEAR, JOHN (GILLETTE) | COALITION TO ELECT JOHN BEAR | CANDIDATE COMMITTEE | MONETARY | 4/26/2021 | FILED | 500 | GILLETTE, WY 82718 |
| BEAR, JOHN (GILLETTE) | COALITION TO ELECT JOHN BEAR | CANDIDATE COMMITTEE | MONETARY | 2/16/2021 | FILED | 500 | GILLETTE, WY 82718 |
| BEAR, JOHN (GILLETTE) | COALITION TO ELECT JOHN BEAR | CANDIDATE COMMITTEE | MONETARY | 1/20/2021 | FILED | 500 | GILLETTE, WY 82718 |
| BLACK HILLS CORPORATION PAC (RAPID CITY) | COALITION TO ELECT JOHN BEAR | CANDIDATE COMMITTEE | MONETARY | 10/21/2020 | FILED | 150 | RAPID CITY, SD 57709 |
| HOUSE REPUBLICAN CAUCUS (POWELL) | COALITION TO ELECT JOHN BEAR | CANDIDATE COMMITTEE | MONETARY | 10/8/2020 | FILED | 150 | POWELL, WY 82435 |
| BEAR, SUSIE (TRENTON) | COALITION TO ELECT JOHN BEAR | CANDIDATE COMMITTEE | MONETARY | 9/22/2020 | FILED | 1500 | TRENTON, MO 64683 |
| HOLLANDER, BOB (GILLETTE) | COALITION TO ELECT JOHN BEAR | CANDIDATE COMMITTEE | MONETARY | 8/31/2020 | FILED | 100 | GILLETTE, WY 82718 |
| FISCHER, ASHLEY (GILLETTE) | COALITION TO ELECT JOHN BEAR | CANDIDATE COMMITTEE | MONETARY | 8/29/2020 | FILED | 50 | GILLETTE, WY 82718 |
| JACKSON, JASON (PARKER) | COALITION TO ELECT JOHN BEAR | CANDIDATE COMMITTEE | MONETARY | 8/29/2020 | FILED | 200 | PARKER, CO 80136 |
| JORDAN, KRISTI (GILLETTE) | COALITION TO ELECT JOHN BEAR | CANDIDATE COMMITTEE | MONETARY | 8/29/2020 | FILED | 50 | GILLETTE, WY 82718 |
| MAYCOCK, JOSEPH (GILLETTE) | COALITION TO ELECT JOHN BEAR | CANDIDATE COMMITTEE | MONETARY | 8/29/2020 | FILED | 50 | GILLETTE, WY 82717 |
| YOUNGER, MELISSA (GILLETTE) | COALITION TO ELECT JOHN BEAR | CANDIDATE COMMITTEE | MONETARY | 8/29/2020 | FILED | 50 | GILLETTE, WY 82718 |
| BEAR, JOHN (GILLETTE) | COALITION TO ELECT JOHN BEAR | CANDIDATE COMMITTEE | IN-KIND | 8/7/2020 | FILED | 470 | GILLETTE, WY 82718 |
| JUNEK, MARK (GILLETTE) | COALITION TO ELECT JOHN BEAR | CANDIDATE COMMITTEE | MONETARY | 8/6/2020 | FILED | 50 | GILLETTE, WY 82717 |
| GEIS, CAROL (GILLETTE) | COALITION TO ELECT JOHN BEAR | CANDIDATE COMMITTEE | MONETARY | 8/4/2020 | FILED | 75 | GILLETTE, WY 82717 |
| AMERICAN SOCIETY OF ANESTHESIOLOGISTS (SCHAUMBURG) | COALITION TO ELECT JOHN BEAR | CANDIDATE COMMITTEE | MONETARY | 7/28/2020 | FILED | 500 | SCHAUMBURG, IL 60173 |
| KISSACK, CLARK (GILLETTE) | COALITION TO ELECT JOHN BEAR | CANDIDATE COMMITTEE | MONETARY | 7/28/2020 | FILED | 300 | GILLETTE, WY 82718 |
| GORE, SUSAN (CHEYENNE) | COALITION TO ELECT JOHN BEAR | CANDIDATE COMMITTEE | MONETARY | 7/27/2020 | FILED | 1500 | CHEYENNE, WY 82009 |
| HACKETT, DIANE (GILLETTE) | COALITION TO ELECT JOHN BEAR | CANDIDATE COMMITTEE | MONETARY | 7/24/2020 | FILED | 100 | GILLETTE, WY 82716 |
| BARKER, PAUL AND PATTY (HOUSTON) | COALITION TO ELECT JOHN BEAR | CANDIDATE COMMITTEE | MONETARY | 7/23/2020 | FILED | 250 | HOUSTON, TX 77070 |
| BEAR, JOHN (GILLETTE) | COALITION TO ELECT JOHN BEAR | CANDIDATE COMMITTEE | IN-KIND | 7/23/2020 | FILED | 1345 | GILLETTE, WY 82718 |
| BEAR, JOHN (GILLETTE) | COALITION TO ELECT JOHN BEAR | CANDIDATE COMMITTEE | MONETARY | 7/16/2020 | FILED | 30 | GILLETTE, WY 82718 |
| | COALITION TO ELECT JOHN BEAR | CANDIDATE COMMITTEE | ANONYMOUS | 7/15/2020 | FILED | 20 | |
| PAYTON, PHILIP AND PEGGY (AURORA) | COALITION TO ELECT JOHN BEAR | CANDIDATE COMMITTEE | MONETARY | 7/9/2020 | FILED | 50 | AURORA, CO 80016 |
| STALCUP, TOM AND CATHY (GILLETTE) | COALITION TO ELECT JOHN BEAR | CANDIDATE COMMITTEE | MONETARY | 7/8/2020 | FILED | 500 | GILLETTE, WY 82718 |
| HALLINAN, TIM (GILLETTE) | COALITION TO ELECT JOHN BEAR | CANDIDATE COMMITTEE | MONETARY | 7/3/2020 | FILED | 100 | GILLETTE, WY 82718 |
| NAIL, ROLAND & PATRICIA (CLAYTON) | COALITION TO ELECT JOHN BEAR | CANDIDATE COMMITTEE | MONETARY | 7/3/2020 | FILED | 100 | CLAYTON, TX 75637 |
| REID, TODD & NANCY (AURORA) | COALITION TO ELECT JOHN BEAR | CANDIDATE COMMITTEE | MONETARY | 7/3/2020 | FILED | 200 | AURORA, CO 80014 |
| CHRISTOFFERSON, ROBERT & MICHELLE (GILLETTE) | COALITION TO ELECT JOHN BEAR | CANDIDATE COMMITTEE | MONETARY | 6/30/2020 | FILED | 25 | GILLETTE, WY 82718 |
| KREUL, BARRY (GILLETTE) | COALITION TO ELECT JOHN BEAR | CANDIDATE COMMITTEE | MONETARY | 6/30/2020 | FILED | 250 | GILLETTE, WY 82718 |
| NOWAK, SHAWN (GILLETTE) | COALITION TO ELECT JOHN BEAR | CANDIDATE COMMITTEE | MONETARY | 6/30/2020 | FILED | 25 | GILLETTE, WY 82716 |
| CRUMP, JOHN & KRISTIE (GILLETTE) | COALITION TO ELECT JOHN BEAR | CANDIDATE COMMITTEE | MONETARY | 6/24/2020 | FILED | 300 | GILLETTE, WY 82718 |
| MANSELL, JOHN AND DONNA (GILLETTE) | COALITION TO ELECT JOHN BEAR | CANDIDATE COMMITTEE | MONETARY | 6/24/2020 | FILED | 100 | GILLETTE, WY 82718 |
| MOORE, MARK (BENNETT) | COALITION TO ELECT JOHN BEAR | CANDIDATE COMMITTEE | IN-KIND | 6/22/2020 | FILED | 500.05 | BENNETT, CO 80102 |
| COULTER, A.C. (CYPRESS) | COALITION TO ELECT JOHN BEAR | CANDIDATE COMMITTEE | MONETARY | 6/19/2020 | FILED | 200 | CYPRESS, TX 77433 |
| MCGEE, RUSTY (GILLETTE) | COALITION TO ELECT JOHN BEAR | CANDIDATE COMMITTEE | MONETARY | 6/19/2020 | FILED | 200 | GILLETTE, WY 82718 |
| BENNETT, HUGH (GILLETTE) | COALITION TO ELECT JOHN BEAR | CANDIDATE COMMITTEE | MONETARY | 6/18/2020 | FILED | 100 | GILLETTE, WY 82718 |
| GILBERTZ, L.D. (GILLETTE) | COALITION TO ELECT JOHN BEAR | CANDIDATE COMMITTEE | MONETARY | 6/18/2020 | FILED | 100 | GILLETTE, WY 82718 |
| HUNSAKER, JIM (CANBY) | COALITION TO ELECT JOHN BEAR | CANDIDATE COMMITTEE | MONETARY | 6/18/2020 | FILED | 500 | CANBY, OR 97013 |
| BRICKER, STEVE18 (GILLETTE) | COALITION TO ELECT JOHN BEAR | CANDIDATE COMMITTEE | MONETARY | 6/17/2020 | FILED | 30 | GILLETTE, WY 82716 |
| DEGNAN, TOM (GILLETTE) | COALITION TO ELECT JOHN BEAR | CANDIDATE COMMITTEE | MONETARY | 6/17/2020 | FILED | 100 | GILLETTE, WY 82718 |
| BROPHY, CARLEEN (JACKSON HOLE) | COALITION TO ELECT JOHN BEAR | CANDIDATE COMMITTEE | MONETARY | 6/15/2020 | FILED | 1500 | JACKSON HOLE, WY 83001 |
| BROPHY, DAN (JACKSON HOLE) | COALITION TO ELECT JOHN BEAR | CANDIDATE COMMITTEE | MONETARY | 6/15/2020 | FILED | 1500 | JACKSON HOLE, WY 83001 |
| PARKHURST, JADY (GILLETTE) | COALITION TO ELECT JOHN BEAR | CANDIDATE COMMITTEE | MONETARY | 6/15/2020 | FILED | 450 | GILLETTE, WY 82718 |
| CHADWICK, RICK (BOULDER) | COALITION TO ELECT JOHN BEAR | CANDIDATE COMMITTEE | MONETARY | 6/12/2020 | FILED | 500 | BOULDER, CO 80303 |
| COULTER, ALTON (GILLETTE) | COALITION TO ELECT JOHN BEAR | CANDIDATE COMMITTEE | MONETARY | 6/9/2020 | FILED | 200 | GILLETTE, WY 82718 |
| BEAR, BILL (TRENTON) | COALITION TO ELECT JOHN BEAR | CANDIDATE COMMITTEE | MONETARY | 6/1/2020 | FILED | 1500 | TRENTON, MO 64683 |
| MOORE, BRENDA (BENNETT) | COALITION TO ELECT JOHN BEAR | CANDIDATE COMMITTEE | MONETARY | 6/1/2020 | FILED | 1500 | BENNETT, CO 80102 |
| BEAR, JOHN (GILLETTE) | COALITION TO ELECT JOHN BEAR | CANDIDATE COMMITTEE | IN-KIND | 5/29/2020 | FILED | 320 | GILLETTE, WY 82718 |
| BEAR, JOHN (GILLETTE) | COALITION TO ELECT JOHN BEAR | CANDIDATE COMMITTEE | MONETARY | 5/29/2020 | FILED | 1000 | GILLETTE, WY 82718 |
| RANEY, CATHY (GILLETE) | COALITION TO ELECT JOHN BEAR | CANDIDATE COMMITTEE | MONETARY | 5/27/2020 | FILED | 1500 | GILLETE, WY 82718 |
| RODGERS, KARI (GILLETTE) | COALITION TO ELECT JOHN BEAR | CANDIDATE COMMITTEE | MONETARY | 5/27/2020 | FILED | 500 | GILLETTE, WY 82717 |
| BEAR, JOHN (GILLETTE) | COALITION TO ELECT JOHN BEAR | CANDIDATE COMMITTEE | MONETARY | 5/26/2020 | FILED | 500 | GILLETTE, WY 82718 |
| BEAR, JOHN (GILLETTE) | COALITION TO ELECT JOHN BEAR | CANDIDATE COMMITTEE | MONETARY | 5/18/2020 | FILED | 500 | GILLETTE, WY 82718 |
| ECKBERG, CHAD (GILLETTE) | COALITION TO ELECT JOHN BEAR | CANDIDATE COMMITTEE | MONETARY | 5/15/2020 | FILED | 50 | GILLETTE, WY 82718 |
| SCHMITZ, CRIS (GILLETTE) | COALITION TO ELECT JOHN BEAR | CANDIDATE COMMITTEE | MONETARY | 5/11/2020 | FILED | 100 | GILLETTE, WY 82718 |