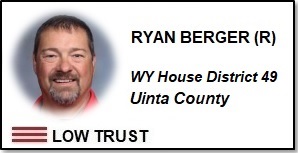 Summary
Representation
Competence
Integrity
More
+ – –
Ryan Berger is a WY House Representative for House District 49 in Uinta County and has served from Jan 2023 to the present.  He has received a positive score for Representation and Integrity, and a negative score for Competence.  Therefore Berger has been ranked as Limited Trust.
He is up for reelection in 2024.
---
"My entire career is built on teamwork; I will advocate for cohesiveness. I am a proven leader, coach, and supporter of the community whom I will be a voice for."
-Ryan Berger
From https://uintacountyherald.com/article/candidates-for-state-federal-offices-square-off
Overall Berger earns a (+) for Representation.
Attendance
It appears that Berger was present for every vote in 2023 General Session.
Public Conduct
Berger appears to behave appropriately in public and to the public.
Sponsorship History
In 2023 Berger sponsored 3 bills and co-sponsored 31 bills. Bill topics/subjects that Berger appeared to favor co-sponsorship for include education/public schools.  See more at Berger's WY legislative page.
Committee Assignments
2023-House Education
2023-House Transportation, Highways & Military Affairs
2023-State Workforce Investment Board
Berger scored a (–) for Constitutional Competence with an average of 53.34% on the constitutional issues listed below.  Constitutional issue categories that have a "N/A" grade, refer to bills that Berger did not have the opportunity to vote on.
For more on the bills used to analyze these scores click here.  Special hat-tip goes out to Evidence Based Wyoming for use of their statistical tool to generate the following vote scores:
Conflicts
As a Special Ed Teacher, we believe Berger had a conflict when voting on 2023 SF0052/SEA58  – School finance-special education funding.  Because of this Berger received a (-) for Integrity.
Employment/Income
According to Berger's 2023 State Elected Officials Financial Disclosure available at Wyofile, he reported the following:
Special Ed Teacher at Uinta County School
Memberships/Civic Organizations
WEA
WCA
Note: The above memberships are what Berger posted to his legislative webpage.  We have no idea what the WCA is.
Campaign Contributions
The table below shows all campaign contributions reported by the WY Secretary of State for Ryan C Berger.
In 2022 Berger received 14 contributions that total approximately $14,300.  Of the 14 donations, approximately 8 were from PACs &/or campaign committees.  The total amount Berger received from PACS was approximately $11,800.00, which is approximately 82% of total donations received.
Noteworthy PAC contributions to Berger are:
$10,000 from Wyoming Hope (RINO donor)

$500 from the WY Medical Center PAC
$300 from WY EDUCATION ASSN. PAC FOR EDUCATION (Berger is a member of the WEA)
Click the arrows at the top of columns to sort the data by name, date, $ amount, etc.  (Data is publicly available records obtained from the Wyoming Secretary of State's Wyoming's Campaign Finance Information System)
| Contributor Name | Recipient Name | Recipient Type | Contribution Type | Date | Filing Status | Amount | City State Zip |
| --- | --- | --- | --- | --- | --- | --- | --- |
| WYOMING HOPE (CASPER) | RYAN C BERGER | CANDIDATE | MONETARY | 10/10/2022 | FILED | 5000 | CASPER, WY 82601 |
| RHEA, CHARLES (JACKSON) | RYAN C BERGER | CANDIDATE | MONETARY | 10/4/2022 | FILED | 200 | JACKSON, WY 83001 |
| SOMMERS, ALBERT (PINEDALE) | RYAN C BERGER | CANDIDATE | MONETARY | 9/28/2022 | FILED | 250 | PINEDALE, WY 92941 |
| TRUE, JOANN (CASPER) | RYAN C BERGER | CANDIDATE | MONETARY | 9/28/2022 | FILED | 1500 | CASPER, WY 82604 |
| COMMON VALUES PAC (ALEXANDRIA) | RYAN C BERGER | CANDIDATE | MONETARY | 9/19/2022 | FILED | 100 | ALEXANDRIA, VA 22314 |
| PROSPERITY AND COMMERCE PAC (CHEYENNE) | RYAN C BERGER | CANDIDATE | MONETARY | 9/14/2022 | FILED | 500 | CHEYENNE, WY 82001 |
| PICARD, DAVID (CHEYENNE) | RYAN C BERGER | CANDIDATE | MONETARY | 9/9/2022 | FILED | 200 | CHEYENNE, WY 82003 |
| WYOMING MINING ASSOCIATION PAC (WMA) (CHEYENNE) | RYAN C BERGER | CANDIDATE | MONETARY | 9/9/2022 | FILED | 200 | CHEYENNE, WY 82001 |
| WYO PAC (WYOMING MEDICAL PAC) (CHEYENNE) | RYAN C BERGER | CANDIDATE | MONETARY | 7/20/2022 | FILED | 500 | CHEYENNE, WY 82003 |
| OLSEN, JAROD (CHEYENNE) | RYAN C BERGER | CANDIDATE | MONETARY | 7/10/2022 | FILED | 150 | CHEYENNE, WY 82001 |
| RHEA, CHUCK (JACKSON) | RYAN C BERGER | CANDIDATE | MONETARY | 7/7/2022 | FILED | 200 | JACKSON, WY 83001 |
| WY EDUCATION ASSN. PAC FOR EDUCATION (CHEYENNE) | RYAN C BERGER | CANDIDATE | MONETARY | 6/27/2022 | FILED | 300 | CHEYENNE, WY 82001 |
| WYOMING HOPE (CASPER) | RYAN C BERGER | CANDIDATE | MONETARY | 6/27/2022 | FILED | 5000 | CASPER, WY 82601 |
| WYOMING MINING ASSOCIATION PAC (WMA) (CHEYENNE) | RYAN C BERGER | CANDIDATE | MONETARY | 6/10/2022 | FILED | 200 | CHEYENNE, WY 82001 |