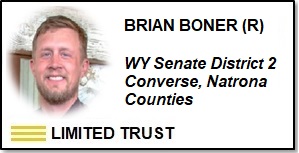 Summary
Representation
Competence
Integrity
More
+ – +
Brian Boner has served as a WY Senator for Converse County for Senate District 2 since 2015, and for Natrona County since 2023.  He has received a positive score for both Representation and Integrity, but a negative score for Competence.  Therefore Boner has been ranked as Limited Trust.
He is up for reelection in 2024.
---
Happy Earth Day! In Wyoming, we know the real environmentalists are the ones working the land to preserve it for future generations. We are ranchers who have successfully worked the same land over the decades, just as our families have done for over a century. We are hunters managing for healthy wildlife populations year after year. We are the loggers who know how to provide for a healthy forest and healthy local economy. We are the weed and pest professionals fighting invasive species.

We know none of this happens from behind a desk or in a courtroom. We know that treating the environment as if it some sort of museum or holy site is a recipe for disaster. Ultimately, we know it is possible for humans to thrive alongside and in partnership with the natural world, not in competition with it.

-Brian Boner
From https://www.facebook.com/BrianBonerWYO/
Overall, Bonor scores a (+) for Representation.
Attendance
It appears that Boner was present for every vote in 2023 General Session.
Public Conduct
Boner appears to behave appropriately in public and to the public.
Sponsorship History
From 2016 to 2023 Boner has been the primary sponsor of 25 bills among a variety of topics.  In 2023 he co-sponsored 40 bills, with agriculture, firearms, abortion and elections related topics occurring more often than others.
Committee Assignments
2023-Senate Transportation, Highways & Military Affairs – Chairman
2023-Senate Corporations, Elections & Political Subdivisions
2023-Select Federal Natural Resource Management Committee
2023-Interstate Compact on Students of Military Families – Alternate
2023-Multistate Highway Transportation Agreement Cooperating Committee
Boner scored a (–) for Constitutional Competence with an average of 68.3% on the constitutional issues listed below.
For more on the bills used to analyze these scores click here.  Special hat-tip goes out to Evidence Based Wyoming for use of their statistical tool to generate the following vote scores:
Conflicts
Because we have not found any conflicts of interest for Boner, he receives a (+) for Integrity.
Employment/Income
According to Boner's 2023 State Elected Officials Financial Disclosure available at Wyofile, he reported the following:
Limited partner with minerals-based company
Rancher
Income earned from "any security or interest earnings"
Income earned from "Real estate, leases, royalties"
Memberships/Civic Organizations
Moose Lodge
Knights of Columbus
American Legion
Wyoming LEAD Class 13
Association of Air Force Missileers
Campaign Contributions
The table below shows all campaign contributions reported by the WY Secretary of State for Committee to Elect Brian Boner.
From 2015 to 2022 Boner received 89 contributions that total approximately $20,506.  Of the 89 donations, approximately 42 were from PACs &/or Campaign Committees.  The total amount received from PACS &/or Campaign Committees was approximately $12,300 – which is approximately 60% of total donations received.
Noteworthy PAC contributions are:
ESG compliant energy companies

DECPAC ($,1000)
Nextera Energy PAC ($500)
Pacific Power/Rocky Mountain Power PAC ($400 total)

Pfizer Pharmaceuticals PAC ($500 total)
Click the arrows at the top of columns to sort the data by name, date, $ amount, etc.  (Data is publicly available records obtained from the Wyoming Secretary of State's Wyoming's Campaign Finance Information System)
| Contributor Name | Recipient Name | Recipient Type | Contribution Type | Date | Filing Status | Amount | City State Zip |
| --- | --- | --- | --- | --- | --- | --- | --- |
| ALLSTATE INSURANCE COMPANY PAC (ALLPAC) (NORTHBROOK) | COMMITTEE TO ELECT BRIAN BONER | CANDIDATE COMMITTEE | MONETARY | 8/29/2022 | FILED | 200 | NORTHBROOK, IL 60062 |
| ALLSTATE INSURANCE COMPANY PAC (ALLPAC) (NORTHBROOK) | COMMITTEE TO ELECT BRIAN BONER | CANDIDATE COMMITTEE | MONETARY | 12/16/2021 | FILED | 250 | NORTHBROOK, IL 60062 |
| BLACK HILLS CORPORATION PAC (RAPID CITY) | COMMITTEE TO ELECT BRIAN BONER | CANDIDATE COMMITTEE | MONETARY | 10/16/2020 | FILED | 250 | RAPID CITY, SD 57709 |
| WYOMING MINING ASSOCIATION PAC (WMA) (CHEYENNE) | COMMITTEE TO ELECT BRIAN BONER | CANDIDATE COMMITTEE | MONETARY | 9/30/2020 | FILED | 200 | CHEYENNE, WY 82001 |
| ALLSTATE INSURANCE COMPANY PAC (ALLPAC) (NORTHBROOK) | COMMITTEE TO ELECT BRIAN BONER | CANDIDATE COMMITTEE | MONETARY | 9/28/2020 | FILED | 150 | NORTHBROOK, IL 60062 |
| TRUCKING INDUSTRY PAC (CASPER) | COMMITTEE TO ELECT BRIAN BONER | CANDIDATE COMMITTEE | MONETARY | 9/28/2020 | FILED | 200 | CASPER, WY 82602 |
| WYOMING STOCK GROWERS' AG PAC (CHEYENNE) | COMMITTEE TO ELECT BRIAN BONER | CANDIDATE COMMITTEE | MONETARY | 9/15/2020 | FILED | 100 | CHEYENNE, WY 82003 |
| ALTRIA GROUP, INC. PAC (WASHINGTON) | COMMITTEE TO ELECT BRIAN BONER | CANDIDATE COMMITTEE | MONETARY | 8/17/2020 | AMEND - ADD | 200 | WASHINGTON, DC 20001 |
| COWBOY GAMES PAC (SHERIDAN) | COMMITTEE TO ELECT BRIAN BONER | CANDIDATE COMMITTEE | MONETARY | 8/17/2020 | AMEND - ADD | 250 | SHERIDAN, WY 82801 |
| COWBOY GAMES PAC (SHERIDAN) | COMMITTEE TO ELECT BRIAN BONER | CANDIDATE COMMITTEE | MONETARY | 8/17/2020 | AMEND - DELETE | 250 | SHERIDAN, WY 82801 |
| PFIZER PAC (NEW YORK) | COMMITTEE TO ELECT BRIAN BONER | CANDIDATE COMMITTEE | MONETARY | 8/13/2020 | AMEND - ADD | 200 | NEW YORK, NY 10017 |
| ALTRIA GROUP, INC. PAC (WASHINGTON) | COMMITTEE TO ELECT BRIAN BONER | CANDIDATE COMMITTEE | MONETARY | 8/11/2020 | AMEND - ADD | 200 | WASHINGTON, DC 20001 |
| ALTRIA GROUP, INC. PAC (WASHINGTON) | COMMITTEE TO ELECT BRIAN BONER | CANDIDATE COMMITTEE | MONETARY | 8/11/2020 | AMEND - DELETE | 200 | WASHINGTON, DC 20001 |
| PACIFIC POWER/ROCKY MOUNTAIN POWER PAC (PORTLAND) | COMMITTEE TO ELECT BRIAN BONER | CANDIDATE COMMITTEE | MONETARY | 7/29/2020 | FILED | 200 | PORTLAND, OR 97232 |
| COWBOY GAMES PAC (SHERIDAN) | COMMITTEE TO ELECT BRIAN BONER | CANDIDATE COMMITTEE | MONETARY | 7/20/2020 | AMEND - ADD | 250 | SHERIDAN, WY 82801 |
| NEXTERA ENERGY PAC (JUNO BEACH) | COMMITTEE TO ELECT BRIAN BONER | CANDIDATE COMMITTEE | MONETARY | 7/15/2020 | FILED | 500 | JUNO BEACH, FL 33408 |
| BNSF RAILPAC (FT WORTH) | COMMITTEE TO ELECT BRIAN BONER | CANDIDATE COMMITTEE | MONETARY | 7/7/2020 | FILED | 200 | FT WORTH, TX 76161 |
| UNION PACIFIC CORPORATION FUND FOR EFFECTIVE GOVERNMENT (WASHINGTON) | COMMITTEE TO ELECT BRIAN BONER | CANDIDATE COMMITTEE | MONETARY | 1/4/2020 | FILED | 300 | WASHINGTON, DC 20005 |
| PFIZER PAC (NEW YORK) | COMMITTEE TO ELECT BRIAN BONER | CANDIDATE COMMITTEE | MONETARY | 12/6/2019 | FILED | 200 | NEW YORK, NY 10017 |
| CATPAC (PEORIA) | COMMITTEE TO ELECT BRIAN BONER | CANDIDATE COMMITTEE | MONETARY | 10/4/2019 | FILED | 300 | PEORIA, IL 61629 |
| BUTLER DRUMHILLER, KAREN (KNOXVILLE) | COMMITTEE TO ELECT BRIAN BONER | CANDIDATE COMMITTEE | MONETARY | 9/20/2018 | FILED | 100 | KNOXVILLE, TN 37922 |
| CATERPILLAR EMPLOYEE POLITICAL ACTION COMMITTEE (WASHINGTON) | COMMITTEE TO ELECT BRIAN BONER | CANDIDATE COMMITTEE | MONETARY | 8/27/2018 | FILED | 500 | WASHINGTON, DC 20005 |
| BP NORTH AMERICA EMPLOYEE PAC (HOUSTON ) | COMMITTEE TO ELECT BRIAN BONER | CANDIDATE COMMITTEE | MONETARY | 11/8/2017 | FILED | 200 | HOUSTON , TX 77079 |
| 3M COMPANY PAC (ST. PAUL) | COMMITTEE TO ELECT BRIAN BONER | CANDIDATE COMMITTEE | MONETARY | 12/18/2016 | AMEND - ADD | 200 | ST. PAUL, MN 55144 |
| WYO-D-PAC (CASPER) | COMMITTEE TO ELECT BRIAN BONER | CANDIDATE COMMITTEE | MONETARY | 11/4/2016 | FILED | 100 | CASPER, WY 82601 |
| CLOUD PEAK ENERGY EMPLOYEE PAC (BROOMFIELD) | COMMITTEE TO ELECT BRIAN BONER | CANDIDATE COMMITTEE | MONETARY | 10/5/2016 | FILED | 500 | BROOMFIELD, CO 80021 |
| ANADARKO PETROLEUM PAC (THE WOODLANDS) | COMMITTEE TO ELECT BRIAN BONER | CANDIDATE COMMITTEE | MONETARY | 10/4/2016 | FILED | 750 | THE WOODLANDS, TX 77380 |
| UNION PACIFIC CORPORATION FUND FOR EFFECTIVE GOVERNMENT (WASHINGTON) | COMMITTEE TO ELECT BRIAN BONER | CANDIDATE COMMITTEE | MONETARY | 10/3/2016 | FILED | 500 | WASHINGTON, DC 20005 |
| TRUCKING INDUSTRY PAC (CASPER) | COMMITTEE TO ELECT BRIAN BONER | CANDIDATE COMMITTEE | MONETARY | 9/26/2016 | FILED | 200 | CASPER, WY 82602 |
| NATIONAL FEDERATION OF SMALL BUSINESS (WASHINGTON ) | COMMITTEE TO ELECT BRIAN BONER | CANDIDATE COMMITTEE | MONETARY | 9/21/2016 | FILED | 100 | WASHINGTON , DC 20004 |
| CATERPILLAR EMPLOYEE POLITICAL ACTION COMMITTEE (PEORIA) | COMMITTEE TO ELECT BRIAN BONER | CANDIDATE COMMITTEE | MONETARY | 9/20/2016 | FILED | 500 | PEORIA, IL 61629 |
| PFIZER PAC (NEW YORK) | COMMITTEE TO ELECT BRIAN BONER | CANDIDATE COMMITTEE | MONETARY | 9/19/2016 | FILED | 100 | NEW YORK, NY 10017 |
| PAW POLITICAL ACTION COUNCIL (CASPER) | COMMITTEE TO ELECT BRIAN BONER | CANDIDATE COMMITTEE | MONETARY | 9/14/2016 | FILED | 300 | CASPER, WY 82601 |
| EXXONMOBILE PAC (IRVING) | COMMITTEE TO ELECT BRIAN BONER | CANDIDATE COMMITTEE | MONETARY | 9/13/2016 | FILED | 300 | IRVING, TX 75039 |
| WILLIAMS COMPANIES, INC (WASHINGTON) | COMMITTEE TO ELECT BRIAN BONER | CANDIDATE COMMITTEE | MONETARY | 9/9/2016 | FILED | 200 | WASHINGTON, DC 20006 |
| BARRIOS, CARLOS (DE BERRY) | COMMITTEE TO ELECT BRIAN BONER | CANDIDATE COMMITTEE | MONETARY | 9/2/2016 | FILED | 50 | DE BERRY, TX 75639 |
| WYOMING MINING ASSOCIATION PAC (WMA) (CHEYENNE) | COMMITTEE TO ELECT BRIAN BONER | CANDIDATE COMMITTEE | MONETARY | 9/1/2016 | FILED | 100 | CHEYENNE, WY 82003 |
| ETCHEMENDY, GEORGE AND JEANNIE (DOUGLAS) | COMMITTEE TO ELECT BRIAN BONER | CANDIDATE COMMITTEE | MONETARY | 8/16/2016 | FILED | 50 | DOUGLAS, WY 82633 |
| BNSF RAILPAC (FT WORTH) | COMMITTEE TO ELECT BRIAN BONER | CANDIDATE COMMITTEE | MONETARY | 8/10/2016 | FILED | 200 | FT WORTH, TX 76161 |
| FFFWY FIRE PAC (CHEYENNE) | COMMITTEE TO ELECT BRIAN BONER | CANDIDATE COMMITTEE | MONETARY | 8/10/2016 | FILED | 500 | CHEYENNE, WY 82003 |
| PACIFIC POWER/ROCKY MOUNTAIN POWER PAC (PORTLAND) | COMMITTEE TO ELECT BRIAN BONER | CANDIDATE COMMITTEE | MONETARY | 8/10/2016 | FILED | 200 | PORTLAND, OR 97232 |
| DAY, DANA (CASPER) | COMMITTEE TO ELECT BRIAN BONER | CANDIDATE COMMITTEE | IN-KIND | 8/9/2016 | FILED | 50 | CASPER, WY 82601 |
| DAY, DANA (CASPER) | COMMITTEE TO ELECT BRIAN BONER | CANDIDATE COMMITTEE | MONETARY | 7/28/2016 | FILED | 100 | CASPER, WY 82601 |
| BONER, ED (LUSK) | COMMITTEE TO ELECT BRIAN BONER | CANDIDATE COMMITTEE | MONETARY | 7/20/2016 | FILED | 200 | LUSK, WY 82225 |
| WY RURAL ELECTRIC ASSN. PAC (CHEYENNE) | COMMITTEE TO ELECT BRIAN BONER | CANDIDATE COMMITTEE | MONETARY | 7/18/2016 | FILED | 500 | CHEYENNE, WY 82001 |
| MOORE, FRANK AND ELAINE (DOUGLAS) | COMMITTEE TO ELECT BRIAN BONER | CANDIDATE COMMITTEE | MONETARY | 7/16/2016 | FILED | 250 | DOUGLAS, WY 82633 |
| WURZELBACHER, BILL AND TRACEY (HAMILTON) | COMMITTEE TO ELECT BRIAN BONER | CANDIDATE COMMITTEE | MONETARY | 7/14/2016 | FILED | 100 | HAMILTON, OH 45013 |
| CHRISTIAN, CLAUDE AND ELEANOR (DOUGLAS) | COMMITTEE TO ELECT BRIAN BONER | CANDIDATE COMMITTEE | MONETARY | 7/6/2016 | FILED | 50 | DOUGLAS, WY 82633 |
| WYOMING MINING ASSOCIATION PAC (WMA) (CHEYENNE) | COMMITTEE TO ELECT BRIAN BONER | CANDIDATE COMMITTEE | MONETARY | 7/6/2016 | FILED | 100 | CHEYENNE, WY 82003 |
| BONER, BRIAN AND NICOLE (DOUGLAS) | COMMITTEE TO ELECT BRIAN BONER | CANDIDATE COMMITTEE | MONETARY | 7/5/2016 | FILED | 1100 | DOUGLAS, WY 82633 |
| CHESAPEAKE ENERGY CORPORATION FEDERAL PAC (OKLAHOMA CITY) | COMMITTEE TO ELECT BRIAN BONER | CANDIDATE COMMITTEE | MONETARY | 7/1/2016 | FILED | 500 | OKLAHOMA CITY, OK 73154 |
| PLANCHENSTAINER, FRANCESCO (EVANSVILLE) | COMMITTEE TO ELECT BRIAN BONER | CANDIDATE COMMITTEE | MONETARY | 7/1/2016 | FILED | 100 | EVANSVILLE, IN 47714 |
| BLACK HILLS CORPORATION PAC (RAPID CITY) | COMMITTEE TO ELECT BRIAN BONER | CANDIDATE COMMITTEE | MONETARY | 6/30/2016 | FILED | 500 | RAPID CITY, SD 57709 |
| WYOMING STOCK GROWERS' AG PAC (CHEYENNE) | COMMITTEE TO ELECT BRIAN BONER | CANDIDATE COMMITTEE | MONETARY | 6/30/2016 | FILED | 200 | CHEYENNE, WY 82003 |
| LISCO, DICK (DOUGLAS) | COMMITTEE TO ELECT BRIAN BONER | CANDIDATE COMMITTEE | MONETARY | 6/27/2016 | FILED | 250 | DOUGLAS, WY 82633 |
| BONER, JEFF AND TRACY (DOUGLAS) | COMMITTEE TO ELECT BRIAN BONER | CANDIDATE COMMITTEE | MONETARY | 6/25/2016 | FILED | 200 | DOUGLAS, WY 82633 |
| JOHNSTON, ERIC AND HOLLY (WHEATLAND) | COMMITTEE TO ELECT BRIAN BONER | CANDIDATE COMMITTEE | MONETARY | 6/25/2016 | FILED | 100 | WHEATLAND, WY 82201 |
| MAGEE, DEAN AND RITA (DOUGLAS) | COMMITTEE TO ELECT BRIAN BONER | CANDIDATE COMMITTEE | MONETARY | 6/25/2016 | FILED | 30 | DOUGLAS, WY 82633 |
| MARCUS, JASON AND TRACY (DOUGLAS) | COMMITTEE TO ELECT BRIAN BONER | CANDIDATE COMMITTEE | MONETARY | 6/24/2016 | FILED | 50 | DOUGLAS, WY 82633 |
| MOLLMAN, JIM (GLENROCK) | COMMITTEE TO ELECT BRIAN BONER | CANDIDATE COMMITTEE | MONETARY | 6/24/2016 | FILED | 500 | GLENROCK, WY 82637 |
| GREFF, NICOLE (CHEYENNE) | COMMITTEE TO ELECT BRIAN BONER | CANDIDATE COMMITTEE | MONETARY | 6/20/2016 | FILED | 50 | CHEYENNE, WY 82001 |
| HAEFELE, HAROLD AND CHERI (DOUGLAS) | COMMITTEE TO ELECT BRIAN BONER | CANDIDATE COMMITTEE | MONETARY | 6/20/2016 | FILED | 50 | DOUGLAS, WY 82633 |
| ROBERTSON, DJ AND VICKIE (DOUGLAS) | COMMITTEE TO ELECT BRIAN BONER | CANDIDATE COMMITTEE | MONETARY | 6/20/2016 | FILED | 200 | DOUGLAS, WY 82633 |
| SCHNEIDER, TROY (EVANSVILLE) | COMMITTEE TO ELECT BRIAN BONER | CANDIDATE COMMITTEE | MONETARY | 6/20/2016 | FILED | 40 | EVANSVILLE, IN 47720 |
| STRAND, MARY (EVANSVILLE) | COMMITTEE TO ELECT BRIAN BONER | CANDIDATE COMMITTEE | MONETARY | 6/20/2016 | FILED | 50 | EVANSVILLE, WY 82636 |
| TWIFORD, JIM AND JENNE (DOUGLAS) | COMMITTEE TO ELECT BRIAN BONER | CANDIDATE COMMITTEE | MONETARY | 6/18/2016 | FILED | 500 | DOUGLAS, WY 82633 |
| ESPELAND, DAN (DOUGLAS) | COMMITTEE TO ELECT BRIAN BONER | CANDIDATE COMMITTEE | MONETARY | 6/16/2016 | FILED | 100 | DOUGLAS, WY 82633 |
| HALVORSEN, KEVIN AND RUTHIE (ROLLING HILLS) | COMMITTEE TO ELECT BRIAN BONER | CANDIDATE COMMITTEE | MONETARY | 6/16/2016 | FILED | 50 | ROLLING HILLS, WY 82637 |
| JOHNSTON, KIM (GLENROCK) | COMMITTEE TO ELECT BRIAN BONER | CANDIDATE COMMITTEE | MONETARY | 6/13/2016 | FILED | 25 | GLENROCK, WY 82637 |
| MOLLMAN, BOB AND JONABETH (WATAUGA) | COMMITTEE TO ELECT BRIAN BONER | CANDIDATE COMMITTEE | MONETARY | 6/13/2016 | FILED | 25 | WATAUGA, SD 57660 |
| CURLEY, JIM AND CINDY (DOUGLAS) | COMMITTEE TO ELECT BRIAN BONER | CANDIDATE COMMITTEE | MONETARY | 6/10/2016 | FILED | 100 | DOUGLAS, WY 82633 |
| PAW POLITICAL ACTION COUNCIL (CASPER) | COMMITTEE TO ELECT BRIAN BONER | CANDIDATE COMMITTEE | MONETARY | 6/10/2016 | FILED | 400 | CASPER, WY 82601 |
| WILLOX, JIM AND DOROTHY (DOUGLAS) | COMMITTEE TO ELECT BRIAN BONER | CANDIDATE COMMITTEE | MONETARY | 6/10/2016 | FILED | 25 | DOUGLAS, WY 82633 |
| FOY, ROCKY AND NANCY (GLENDO) | COMMITTEE TO ELECT BRIAN BONER | CANDIDATE COMMITTEE | MONETARY | 6/9/2016 | FILED | 100 | GLENDO, WY 82213 |
| SCHMELZLE, LARRY AND PATRICIA (ESTERBROOK) | COMMITTEE TO ELECT BRIAN BONER | CANDIDATE COMMITTEE | MONETARY | 6/8/2016 | FILED | 50 | ESTERBROOK, WY 82633 |
| DECPAC (OKLAHOMA CITY) | COMMITTEE TO ELECT BRIAN BONER | CANDIDATE COMMITTEE | MONETARY | 6/7/2016 | FILED | 1000 | OKLAHOMA CITY, OK 73102 |
| BONER, BRIAN AND NICOLE (DOUGLAS) | COMMITTEE TO ELECT BRIAN BONER | CANDIDATE COMMITTEE | MONETARY | 6/6/2016 | FILED | 1000 | DOUGLAS, WY 82633 |
| SCOTT, BUTCH AND VALORA (DOUGLAS) | COMMITTEE TO ELECT BRIAN BONER | CANDIDATE COMMITTEE | MONETARY | 6/6/2016 | FILED | 100 | DOUGLAS, WY 82633 |
| REED, DEDE (LUSK) | COMMITTEE TO ELECT BRIAN BONER | CANDIDATE COMMITTEE | MONETARY | 6/4/2016 | FILED | 100 | LUSK, WY 82225 |
| UHRIG, GREG AND MONA (WHEATLAND) | COMMITTEE TO ELECT BRIAN BONER | CANDIDATE COMMITTEE | MONETARY | 6/4/2016 | FILED | 50 | WHEATLAND, WY 82201 |
| GOERKE, THOMAS AND KARLEEN (CENTENNIAL) | COMMITTEE TO ELECT BRIAN BONER | CANDIDATE COMMITTEE | MONETARY | 6/3/2016 | FILED | 100 | CENTENNIAL, CO 80122 |
| RODGERS, JESS AND ELEANOR (DOUGLAS) | COMMITTEE TO ELECT BRIAN BONER | CANDIDATE COMMITTEE | MONETARY | 6/3/2016 | FILED | 50 | DOUGLAS, WY 82633 |
| BONER, ANNE (DOUGLAS) | COMMITTEE TO ELECT BRIAN BONER | CANDIDATE COMMITTEE | MONETARY | 6/2/2016 | FILED | 500 | DOUGLAS, WY 82633 |
| BONER, ROB (DOUGLAS) | COMMITTEE TO ELECT BRIAN BONER | CANDIDATE COMMITTEE | MONETARY | 6/2/2016 | FILED | 500 | DOUGLAS, WY 82633 |
| JOHNSTON, KIM (DOUGLAS) | COMMITTEE TO ELECT BRIAN BONER | CANDIDATE COMMITTEE | MONETARY | 5/26/2016 | FILED | 25 | DOUGLAS, WY 82633 |
| DEGERING, KENNY AND BARBARA (LUSK) | COMMITTEE TO ELECT BRIAN BONER | CANDIDATE COMMITTEE | MONETARY | 1/20/2016 | FILED | 25 | LUSK, WY 82225 |
| BONER, BRIAN (DOUGLAS) | COMMITTEE TO ELECT BRIAN BONER | CANDIDATE COMMITTEE | MONETARY | 12/31/2015 | AMEND - ADD | 261 | DOUGLAS, WY 82633 |
| BONER, BRIAN (DOUGLAS) | COMMITTEE TO ELECT BRIAN BONER | CANDIDATE COMMITTEE | MONETARY | 12/30/2015 | FILED | 375 | DOUGLAS, WY 82633 |
| RUSSELL, GLEN AND HANNI (DOUGLAS) | COMMITTEE TO ELECT BRIAN BONER | CANDIDATE COMMITTEE | MONETARY | 12/30/2015 | FILED | 100 | DOUGLAS, WY 82633 |
| MOORE, FRANK AND ELAINE (DOUGLAS) | COMMITTEE TO ELECT BRIAN BONER | CANDIDATE COMMITTEE | MONETARY | 12/15/2015 | FILED | 250 | DOUGLAS, WY 82633 |
| HUNTER, RILEY (GILLETTE) | COMMITTEE TO ELECT BRIAN BONER | CANDIDATE COMMITTEE | MONETARY | 12/9/2015 | FILED | 50 | GILLETTE, WY 82718 |
| BONER, BRIAN (DOUGLAS) | COMMITTEE TO ELECT BRIAN BONER | CANDIDATE COMMITTEE | MONETARY | 11/24/2015 | FILED | 25 | DOUGLAS, WY 82633 |