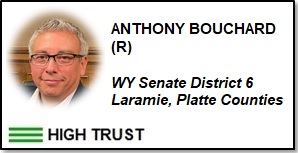 Summary
Representation
Competence
Integrity
More
+ + +
Anthony Bouchard has served Senate District 6 as a WY Senator from 2017 to the present for Laramie and Platte counties.  He has received a positive score for all three categories of Representation, Competence and Integrity and therefore has been ranked as High Trust.
He is up for reelection in 2024.
---
Wyomingites are victims of out-of-touch politicians who act just like their Washington DC counterparts. Excessive spending and steep pay raises for upper level government staffers has created a corrupted and bloated government that is inching us closer to the implementation of a state income tax.

The average American already works four months per year just to pay taxes.

That's outrageous.

Unless we curb the state government's appetite for spending, it will create more and more unnecessary burdens on Wyoming businesses and families.

-Anthony Bouchard
From http://www.senbouchard.com/issues/
Overall, Bouchard earns a (+) for Representation.
Attendance
It appears that Bouchard missed seven votes in 2023 General Session:
1/13/23 – SF7, SF9 and SF37;
2/22/23 – HB4 and HB286;
2/24/23 – HB123 and HB276.
Public Conduct
Bouchard appears to behave appropriately in public and to the public.
While there have been reports of ethics complaints and Senate Rules Committee investigations against Bouchard, such reports do not appear to be publicly accessible.  It is relevant that the trustworthiness of the investigators should be equally scrutinized (most members are actually ranked as Limited Trust at this website).
In regard to information provided in news articles, the reported incidences with Bouchard appear to have occurred during private exchanges with fellow legislators, lobbyists, or personal acquaintances.
Furthermore, lobbyists are not the same as citizen constituents or "the public" – lobbyists are paid to attempt to sway legislators on certain votes and decisions.
It appears that recent complaints filed against Bouchard were initiated by medical entities who disagree with Bouchard's stance on Covid mandates and transgender issues.  Issues that constitutionally minded constituents would most likely agree with Bouchard on, as opposed to those who filed the complaints.
Many of those in the medical industry are being paid to promote policies and laws that would ultimately strip citizens of their rights.  Bouchard's defense of his constituency from these lobbyists is, in our opinion, proper representation that everyone should hope to have.
Sponsorship History
From 2017 to 2023 Bouchard has been the primary sponsor of 28 bills, with defense of various constitutional rights being his  primary focus, primarily 2nd Amendment rights.  In 2023 he co-sponsored 6 bills.  For more see Bouchard's legislative webpage.
Committee Assignments
2023-Senate Labor, Health & Social Services
Bouchard scored a (+) for Constitutional Competence with a 100% average on the constitutional issues listed below.
For more on the bills used to analyze these scores click here.  Special hat-tip goes out to Evidence Based Wyoming for use of their statistical tool to generate the following vote scores:
Conflicts
Because we have not found any conflicts of interest for Bouchard, he receives a (+) for Integrity.
Employment/Income
According to Bouchard's 2023 State Elected Officials Financial Disclosure available at Wyofile, he reported the following:
Employed with State of WY
Septic Service
Memberships/Civic Organizations
Member, Association of Strategic Marketing, present
Member, National Association of Sales Professionals, present
Charter Student Member, American Welding Society, 1981-1982
Campaign Contributions
The table below shows all campaign contributions reported by the WY Secretary of State for Anthony Bouchard.
From 2012 to 2022 Bouchard has received 268 contributions that total approximately $80,202.75.  Of the 268 donations, approximately 264 were from individuals and only 4 were from PACs &/or Campaign Committees.  The total amount received from PACs &/or Campaign Committees was $5,450.
Click the arrows at the top of columns to sort the data by name, date, $ amount, etc.  (Data is publicly available records obtained from the Wyoming Secretary of State's Wyoming's Campaign Finance Information System)
| Contributor Name | Recipient Name | Recipient Type | Contribution Type | Date | Filing Status | Amount | City State Zip |
| --- | --- | --- | --- | --- | --- | --- | --- |
| FRIESS, FOSTER (JACKSON) | ANTHONY BOUCHARD | CANDIDATE | MONETARY | 11/10/2020 | AMEND - ADD | 1500 | JACKSON, WY 83002 |
| BEXTEL, REBECCA (JACKSON) | ANTHONY BOUCHARD | CANDIDATE | MONETARY | 11/3/2020 | AMEND - ADD | 100 | JACKSON, WY 83002 |
| MUELLER, THEODORE (CHEYENNE) | ANTHONY BOUCHARD | CANDIDATE | MONETARY | 10/27/2020 | FILED | 200 | CHEYENNE, WY 82009 |
| DOENZ, WILLIAM (SHERIDAN) | ANTHONY BOUCHARD | CANDIDATE | MONETARY | 10/19/2020 | FILED | 1000 | SHERIDAN, WY 82801 |
| JAMES, TOM (ROCK SPRINGS) | ANTHONY BOUCHARD | CANDIDATE | MONETARY | 10/19/2020 | FILED | 1500 | ROCK SPRINGS, WY 82901 |
| TUTTLE, MICHAEL (CHEYENNE) | ANTHONY BOUCHARD | CANDIDATE | MONETARY | 10/19/2020 | FILED | 1000 | CHEYENNE, WY 82009 |
| MOSHER, LEONARD (CHEYENNE) | ANTHONY BOUCHARD | CANDIDATE | MONETARY | 10/16/2020 | FILED | 100 | CHEYENNE, WY 82003 |
| CROOK REPUBLICAN PARTY CENTRAL COMMITTEE (SUNDANCE) | ANTHONY BOUCHARD | CANDIDATE | MONETARY | 10/13/2020 | FILED | 500 | SUNDANCE, WY 82729 |
| VANATA, VINCE (CODY) | ANTHONY BOUCHARD | CANDIDATE | MONETARY | 10/13/2020 | FILED | 300 | CODY, WY 82414 |
| WILLIAMS, BRYAN (SHELBYVILLE) | ANTHONY BOUCHARD | CANDIDATE | MONETARY | 10/8/2020 | FILED | 500 | SHELBYVILLE, TN 37160 |
| GULINO, JOSEPH (LARAMIE) | ANTHONY BOUCHARD | CANDIDATE | MONETARY | 10/4/2020 | FILED | 50 | LARAMIE, WY 82070 |
| LOFTUS, JANET (BUFFALO) | ANTHONY BOUCHARD | CANDIDATE | MONETARY | 10/2/2020 | FILED | 40 | BUFFALO, WY 82834 |
| REPUBLICAN (CHEYENNE) | ANTHONY BOUCHARD | CANDIDATE | MONETARY | 10/2/2020 | FILED | 3000 | CHEYENNE, WY 82003 |
| BROWN, LANDIS (CASPER) | ANTHONY BOUCHARD | CANDIDATE | MONETARY | 9/23/2020 | FILED | 25 | CASPER, WY 82601 |
| SCOTT, CHARLES (CASPER) | ANTHONY BOUCHARD | CANDIDATE | MONETARY | 9/22/2020 | FILED | 200 | CASPER, WY 82604 |
| BROWN, DUDLEY (LOVELAND) | ANTHONY BOUCHARD | CANDIDATE | MONETARY | 9/15/2020 | FILED | 100 | LOVELAND, WY 80537 |
| BOUD, MARY (CHEYENNE) | ANTHONY BOUCHARD | CANDIDATE | MONETARY | 9/13/2020 | FILED | 15 | CHEYENNE, WY 82001 |
| BYERS, GARY (ROCK SPRINGS) | ANTHONY BOUCHARD | CANDIDATE | MONETARY | 9/12/2020 | FILED | 100 | ROCK SPRINGS, WY 82901 |
| CARROLL, MARTIN (CHEYENNE) | ANTHONY BOUCHARD | CANDIDATE | MONETARY | 9/11/2020 | FILED | 250 | CHEYENNE, WY 82009 |
| MITCHEM, STAN (GLENROCK) | ANTHONY BOUCHARD | CANDIDATE | MONETARY | 9/11/2020 | FILED | 25 | GLENROCK, WY 82637 |
| SABEL, RODNEY (LOS ANGELES) | ANTHONY BOUCHARD | CANDIDATE | MONETARY | 9/11/2020 | FILED | 100 | LOS ANGELES, WY 90034 |
| BOUD, MARY (CHEYENNE) | ANTHONY BOUCHARD | CANDIDATE | MONETARY | 9/10/2020 | FILED | 15 | CHEYENNE, WY 82001 |
| EGAN, MICHAEL (OSAGE BEACH) | ANTHONY BOUCHARD | CANDIDATE | MONETARY | 9/10/2020 | FILED | 1000 | OSAGE BEACH, MO 65065 |
| ELLIOTT, EDGAR (CODY) | ANTHONY BOUCHARD | CANDIDATE | MONETARY | 9/10/2020 | FILED | 100 | CODY, WY 82414 |
| FRANK, MAC (DEVILS TOWER) | ANTHONY BOUCHARD | CANDIDATE | MONETARY | 9/10/2020 | FILED | 100 | DEVILS TOWER, WY 82714 |
| OLIVERIA, LARRY (CODY) | ANTHONY BOUCHARD | CANDIDATE | MONETARY | 9/10/2020 | FILED | 50 | CODY, WY 82414 |
| SPERRY, PATRICK (BUFFALO) | ANTHONY BOUCHARD | CANDIDATE | MONETARY | 9/10/2020 | FILED | 100 | BUFFALO, WY 82834 |
| TYGRET, DEANDRA (CHEYENNE) | ANTHONY BOUCHARD | CANDIDATE | MONETARY | 9/10/2020 | FILED | 25 | CHEYENNE, WY 82007 |
| WELLS, DON (PINE BLUFFS) | ANTHONY BOUCHARD | CANDIDATE | MONETARY | 8/25/2020 | FILED | 1500 | PINE BLUFFS, WY 82902 |
| BRYAN, KELLY (SAN MATEO) | ANTHONY BOUCHARD | CANDIDATE | MONETARY | 8/24/2020 | FILED | 250 | SAN MATEO, CA 94401 |
| DAVIS, LAURIE (CHEYENNE) | ANTHONY BOUCHARD | CANDIDATE | MONETARY | 8/11/2020 | FILED | 1500 | CHEYENNE, WY 82009 |
| EGAN, DONNA (OSAGE BEACH) | ANTHONY BOUCHARD | CANDIDATE | MONETARY | 8/11/2020 | FILED | 1500 | OSAGE BEACH, MO 65065 |
| GRAY, JAN (CASPER) | ANTHONY BOUCHARD | CANDIDATE | MONETARY | 8/11/2020 | FILED | 1000 | CASPER, WY 82601 |
| MEIER, CURT (LAGRANGE) | ANTHONY BOUCHARD | CANDIDATE | MONETARY | 8/11/2020 | FILED | 500 | LAGRANGE, WY 82221 |
| BERRY JR, ROBERT C (CODY) | ANTHONY BOUCHARD | CANDIDATE | MONETARY | 8/10/2020 | FILED | 100 | CODY, WY 82414 |
| LAWS, ROBIN (CHEYENNE) | ANTHONY BOUCHARD | CANDIDATE | MONETARY | 8/10/2020 | FILED | 200 | CHEYENNE, WY 82003 |
| RAINEY, JEFF (GILLETTE) | ANTHONY BOUCHARD | CANDIDATE | MONETARY | 8/10/2020 | FILED | 1000 | GILLETTE, WY 82716 |
| FRENCH, LARRY (POWELL) | ANTHONY BOUCHARD | CANDIDATE | MONETARY | 8/7/2020 | FILED | 100 | POWELL, WY 82435 |
| LAST, HOWARD (CHEYENNE) | ANTHONY BOUCHARD | CANDIDATE | MONETARY | 8/7/2020 | FILED | 100 | CHEYENNE, WY 82009 |
| LONG, CLAYTON (CHEYENNE) | ANTHONY BOUCHARD | CANDIDATE | MONETARY | 8/7/2020 | FILED | 50 | CHEYENNE, WY 82001 |
| MASLAK, MARK (CODY) | ANTHONY BOUCHARD | CANDIDATE | MONETARY | 8/6/2020 | FILED | 50 | CODY, WY 82414 |
| OTTO, JOEL (LANDER) | ANTHONY BOUCHARD | CANDIDATE | MONETARY | 8/6/2020 | FILED | 1000 | LANDER, WY 82520 |
| BAKER, MARK (ROCK SPRINGS) | ANTHONY BOUCHARD | CANDIDATE | MONETARY | 8/5/2020 | FILED | 150 | ROCK SPRINGS, WY 82902 |
| SCHULTZ, GLEN (CODY) | ANTHONY BOUCHARD | CANDIDATE | MONETARY | 8/5/2020 | FILED | 100 | CODY, WY 82414 |
| SOULE, JASON (COPPERAS COVE) | ANTHONY BOUCHARD | CANDIDATE | MONETARY | 8/5/2020 | FILED | 25 | COPPERAS COVE, TX 76522 |
| SPERRY, PATRICK (BUFFALO) | ANTHONY BOUCHARD | CANDIDATE | MONETARY | 8/5/2020 | FILED | 100 | BUFFALO, WY 82834 |
| WOLF, TODD (CHEYENNE) | ANTHONY BOUCHARD | CANDIDATE | MONETARY | 8/5/2020 | FILED | 200 | CHEYENNE, WY 82009 |
| ROGERS, SPENCE (SANFORD) | ANTHONY BOUCHARD | CANDIDATE | MONETARY | 8/4/2020 | FILED | 100 | SANFORD, NC 27330 |
| VANATA, VINCENT (CODY) | ANTHONY BOUCHARD | CANDIDATE | MONETARY | 8/4/2020 | FILED | 100 | CODY, WY 82414 |
| LEWIS, KEVIN (CHEYENNE) | ANTHONY BOUCHARD | CANDIDATE | MONETARY | 8/3/2020 | FILED | 50 | CHEYENNE, WY 82009 |
| SABEL, RODNEY (LOS ANGELES) | ANTHONY BOUCHARD | CANDIDATE | MONETARY | 7/30/2020 | FILED | 100 | LOS ANGELES, CA 90034 |
| MANKOWSKI, STEE (LANDER) | ANTHONY BOUCHARD | CANDIDATE | MONETARY | 7/29/2020 | FILED | 25 | LANDER, WY 82520 |
| PORTER, LANNY (SHERIDAN) | ANTHONY BOUCHARD | CANDIDATE | MONETARY | 7/29/2020 | FILED | 50 | SHERIDAN, WY 82802 |
| BOUD, MARY (CHEYENNE) | ANTHONY BOUCHARD | CANDIDATE | MONETARY | 7/28/2020 | FILED | 15 | CHEYENNE, WY 82001 |
| BOYER, LANDIS (CASPER) | ANTHONY BOUCHARD | CANDIDATE | MONETARY | 7/28/2020 | FILED | 25 | CASPER, WY 82601 |
| ELLIOTT, EDGAR (CODY) | ANTHONY BOUCHARD | CANDIDATE | MONETARY | 7/28/2020 | FILED | 100 | CODY, WY 82414 |
| JAMES, JAMES (RIVERTON) | ANTHONY BOUCHARD | CANDIDATE | MONETARY | 7/28/2020 | FILED | 25 | RIVERTON, WY 82501 |
| LAMPE, KARL (CODY) | ANTHONY BOUCHARD | CANDIDATE | MONETARY | 7/28/2020 | FILED | 100 | CODY, WY 82414 |
| NELSON, MICHAEL (CHEYENNE) | ANTHONY BOUCHARD | CANDIDATE | MONETARY | 7/28/2020 | FILED | 100 | CHEYENNE, WY 82007 |
| PERRYMAN, BRUCE/SHARON (CHEYENNE) | ANTHONY BOUCHARD | CANDIDATE | MONETARY | 7/28/2020 | FILED | 25 | CHEYENNE, WY 82009 |
| SCOTT, SHARON (GREEN RIVER) | ANTHONY BOUCHARD | CANDIDATE | MONETARY | 7/28/2020 | FILED | 50 | GREEN RIVER, WY 82935 |
| WILLIAMS, DC (CODY) | ANTHONY BOUCHARD | CANDIDATE | MONETARY | 7/28/2020 | FILED | 100 | CODY, WY 82414 |
| SCOTT, CHARLES (CASPER) | ANTHONY BOUCHARD | CANDIDATE | MONETARY | 7/24/2020 | FILED | 200 | CASPER, WY 82604 |
| PATTON, GREGORY (CHEYENNE) | ANTHONY BOUCHARD | CANDIDATE | MONETARY | 7/21/2020 | FILED | 100 | CHEYENNE, WY 82009 |
| BOUCHARD, CORY (CHEYENNE) | ANTHONY BOUCHARD | CANDIDATE | MONETARY | 7/20/2020 | FILED | 100 | CHEYENNE, WY 82009 |
| DOENZ, WILLIAM (SHERIDAN) | ANTHONY BOUCHARD | CANDIDATE | MONETARY | 7/20/2020 | FILED | 1500 | SHERIDAN, WY 82801 |
| ZIOMEK, WILLIAM (CHEYENNE) | ANTHONY BOUCHARD | CANDIDATE | MONETARY | 7/20/2020 | FILED | 375 | CHEYENNE, WY 82003 |
| BELL, DALE (SCOTTSDALE) | ANTHONY BOUCHARD | CANDIDATE | MONETARY | 7/7/2020 | FILED | 100 | SCOTTSDALE, AZ 85250 |
| POLEY, DAN (GILLETTE) | ANTHONY BOUCHARD | CANDIDATE | MONETARY | 7/7/2020 | FILED | 100 | GILLETTE, WY 82716 |
| FRIESS, FOSTER (JACKSON) | ANTHONY BOUCHARD | CANDIDATE | MONETARY | 7/6/2020 | FILED | 1000 | JACKSON, WY 83001 |
| TUTTLE, MICHAEL (CHEYENNE) | ANTHONY BOUCHARD | CANDIDATE | MONETARY | 7/2/2020 | FILED | 1000 | CHEYENNE, WY 82009 |
| | ANTHONY BOUCHARD | CANDIDATE | ANONYMOUS | 7/2/2020 | FILED | 50 | |
| BRANT, RICHARD (CARPENTER) | ANTHONY BOUCHARD | CANDIDATE | MONETARY | 7/1/2020 | FILED | 100 | CARPENTER, WY 82504 |
| COLLINS, KEITH (CODY) | ANTHONY BOUCHARD | CANDIDATE | MONETARY | 7/1/2020 | FILED | 25 | CODY, WY 82414 |
| GRAY, LAUREL (CASPER) | ANTHONY BOUCHARD | CANDIDATE | MONETARY | 7/1/2020 | FILED | 50 | CASPER, WY 82609 |
| IDE, CATHY (CASPER) | ANTHONY BOUCHARD | CANDIDATE | MONETARY | 7/1/2020 | FILED | 100 | CASPER, WY 82602 |
| SPERRY, PATRICK (BUFFALO) | ANTHONY BOUCHARD | CANDIDATE | MONETARY | 7/1/2020 | FILED | 100 | BUFFALO, WY 82834 |
| VEHAR, GLEN (JACKSON) | ANTHONY BOUCHARD | CANDIDATE | MONETARY | 7/1/2020 | FILED | 25 | JACKSON, WY 83001 |
| WOLFE, DAVID (CASPER) | ANTHONY BOUCHARD | CANDIDATE | MONETARY | 6/30/2020 | FILED | 50 | CASPER, WY 82604 |
| VANATA, VINCENT (CODY) | ANTHONY BOUCHARD | CANDIDATE | MONETARY | 6/26/2020 | FILED | 200 | CODY, WY 82414 |
| BRATTEN, RICHARD (SHERIDAN) | ANTHONY BOUCHARD | CANDIDATE | MONETARY | 6/23/2020 | FILED | 250 | SHERIDAN, WY 82801 |
| BROPHY, CARLEEN (JACKSON) | ANTHONY BOUCHARD | CANDIDATE | MONETARY | 6/23/2020 | FILED | 1250 | JACKSON, WY 83001 |
| BROPHY, DAN (JACKSON) | ANTHONY BOUCHARD | CANDIDATE | MONETARY | 6/23/2020 | FILED | 1250 | JACKSON, WY 83001 |
| LEWIS, KEVIN (CHEYENNE) | ANTHONY BOUCHARD | CANDIDATE | MONETARY | 6/23/2020 | FILED | 50 | CHEYENNE, WY 82009 |
| GORE, SUSAN (CHEYENNE) | ANTHONY BOUCHARD | CANDIDATE | MONETARY | 6/19/2020 | FILED | 1500 | CHEYENNE, WY 82009 |
| JAMES, TOM (ROCK SPRINGS) | ANTHONY BOUCHARD | CANDIDATE | MONETARY | 6/12/2020 | FILED | 1500 | ROCK SPRINGS, WY 82901 |
| EGAN, MICHAEL (OSAGE BEACH) | ANTHONY BOUCHARD | CANDIDATE | MONETARY | 6/4/2020 | FILED | 1000 | OSAGE BEACH, MO 65065 |
| WILLS, DON (PINE BLUFFS) | ANTHONY BOUCHARD | CANDIDATE | MONETARY | 5/18/2020 | FILED | 1000 | PINE BLUFFS, WY 82082 |
| WILLS, DON (PINE BLUFFS) | ANTHONY BOUCHARD | CANDIDATE | MONETARY | 5/14/2020 | FILED | 500 | PINE BLUFFS, WY 82082 |
| RAYL, WALLACE (CHEYENNE) | ANTHONY BOUCHARD | CANDIDATE | MONETARY | 11/12/2016 | FILED | 100 | CHEYENNE, WY 82009 |
| LONG, CLAY (CHEYENNE) | ANTHONY BOUCHARD | CANDIDATE | MONETARY | 11/4/2016 | FILED | 200 | CHEYENNE, WY 82001 |
| PERRYMAN, BRUCE (CHEYENNE) | ANTHONY BOUCHARD | CANDIDATE | MONETARY | 11/4/2016 | FILED | 25 | CHEYENNE, WY 82009 |
| BRANDT, RICHARD (CARPENTER) | ANTHONY BOUCHARD | CANDIDATE | MONETARY | 11/3/2016 | FILED | 50 | CARPENTER, WY 82054 |
| PRATT, LARRY (SPRINGFIELD) | ANTHONY BOUCHARD | CANDIDATE | MONETARY | 11/3/2016 | FILED | 25 | SPRINGFIELD, VA 22153 |
| CLAWSON, LOWELL (BAIROIL) | ANTHONY BOUCHARD | CANDIDATE | MONETARY | 11/2/2016 | FILED | 100 | BAIROIL, WY 82322 |
| CLEAR THINKERS OF WYOMING (CHEYENNE) | ANTHONY BOUCHARD | CANDIDATE | MONETARY | 11/2/2016 | FILED | 200 | CHEYENNE, WY 82009 |
| HEPKER, ERIC (NEWCASTLE) | ANTHONY BOUCHARD | CANDIDATE | MONETARY | 11/2/2016 | FILED | 50 | NEWCASTLE, WY 82701 |
| HOFFERT, SUSAN (CLARK) | ANTHONY BOUCHARD | CANDIDATE | MONETARY | 11/2/2016 | FILED | 25 | CLARK, WY 82435 |
| LOFTUS, GREG (SHERIDAN) | ANTHONY BOUCHARD | CANDIDATE | MONETARY | 11/2/2016 | FILED | 50 | SHERIDAN, WY 82801 |
| ROSE, KEVIN (PINDALE) | ANTHONY BOUCHARD | CANDIDATE | MONETARY | 11/2/2016 | FILED | 50 | PINDALE, WY 82941 |
| STOTT, SHARON (GREEN RIVER) | ANTHONY BOUCHARD | CANDIDATE | MONETARY | 11/2/2016 | FILED | 50 | GREEN RIVER, WY 82935 |
| TELEP, JOSEPH (CHEYENNE) | ANTHONY BOUCHARD | CANDIDATE | MONETARY | 11/2/2016 | FILED | 50 | CHEYENNE, WY 82001 |
| BAILEY, GREG (CHEYENNE) | ANTHONY BOUCHARD | CANDIDATE | MONETARY | 11/1/2016 | FILED | 50 | CHEYENNE, WY 82001 |
| BENNET, DAVID (EVANSTON) | ANTHONY BOUCHARD | CANDIDATE | MONETARY | 11/1/2016 | FILED | 50 | EVANSTON, WY 82930 |
| BOUD, MARY (CHEYENNE) | ANTHONY BOUCHARD | CANDIDATE | MONETARY | 11/1/2016 | FILED | 50 | CHEYENNE, WY 82001 |
| BOWLING, MARK (DANIEL) | ANTHONY BOUCHARD | CANDIDATE | MONETARY | 11/1/2016 | FILED | 100 | DANIEL, WY 83115 |
| BYERS, GARY (ROCK SPRINGS) | ANTHONY BOUCHARD | CANDIDATE | MONETARY | 11/1/2016 | FILED | 100 | ROCK SPRINGS, WY 82901 |
| HUNT, GEORGE (CHELSEA) | ANTHONY BOUCHARD | CANDIDATE | MONETARY | 11/1/2016 | FILED | 50 | CHELSEA, MI 48118 |
| LAST, HOWARD (CHEYENNE) | ANTHONY BOUCHARD | CANDIDATE | MONETARY | 11/1/2016 | FILED | 100 | CHEYENNE, WY 82009 |
| MANKOWSKI, STEVE (LANDER) | ANTHONY BOUCHARD | CANDIDATE | MONETARY | 11/1/2016 | FILED | 25 | LANDER, WY 82520 |
| MULCAHEY, WILLIAM (SUNDANCE) | ANTHONY BOUCHARD | CANDIDATE | MONETARY | 11/1/2016 | FILED | 10 | SUNDANCE, WY 82729 |
| VANDEBERGHE, BECKY (CARPENTER) | ANTHONY BOUCHARD | CANDIDATE | MONETARY | 11/1/2016 | FILED | 250 | CARPENTER, WY 82054 |
| DAVIS, GARY (ROCK SPRINGS) | ANTHONY BOUCHARD | CANDIDATE | MONETARY | 10/27/2016 | FILED | 20 | ROCK SPRINGS, WY 82901 |
| BELL, DALE (SUNDANCE) | ANTHONY BOUCHARD | CANDIDATE | MONETARY | 10/26/2016 | FILED | 100 | SUNDANCE, WY 82729 |
| KIENITZ, GWYNNE (CODY) | ANTHONY BOUCHARD | CANDIDATE | MONETARY | 10/26/2016 | FILED | 50 | CODY, WY 82414 |
| WALKER, AL (THERMOPOLIS) | ANTHONY BOUCHARD | CANDIDATE | MONETARY | 10/26/2016 | FILED | 15 | THERMOPOLIS, WY 82443 |
| MERIDETH, DONALD (PINE BLUFFS) | ANTHONY BOUCHARD | CANDIDATE | MONETARY | 10/24/2016 | FILED | 50 | PINE BLUFFS, WY 82082 |
| CHRISTIANSON, DENIS (GILLETTE) | ANTHONY BOUCHARD | CANDIDATE | MONETARY | 10/22/2016 | FILED | 100 | GILLETTE, WY 82718 |
| LAWS, ROBIN (CHEYENNE) | ANTHONY BOUCHARD | CANDIDATE | MONETARY | 10/22/2016 | FILED | 100 | CHEYENNE, WY 82003 |
| COLLINS, KEITH (CODY) | ANTHONY BOUCHARD | CANDIDATE | MONETARY | 10/21/2016 | FILED | 25 | CODY, WY 82414 |
| STOTT, SHARON (GREEN RIVER) | ANTHONY BOUCHARD | CANDIDATE | MONETARY | 10/21/2016 | FILED | 50 | GREEN RIVER, WY 82935 |
| AVENT, DALLA (CHEYENNE) | ANTHONY BOUCHARD | CANDIDATE | MONETARY | 10/20/2016 | FILED | 50 | CHEYENNE, WY 82001 |
| EGAN, DONNA (CHEYENNE) | ANTHONY BOUCHARD | CANDIDATE | MONETARY | 10/20/2016 | FILED | 1000 | CHEYENNE, WY 82009 |
| HORVATH, JAMES (CODY) | ANTHONY BOUCHARD | CANDIDATE | MONETARY | 10/20/2016 | FILED | 50 | CODY, WY 82414 |
| JACKSON, KEITH (LARAMIE) | ANTHONY BOUCHARD | CANDIDATE | MONETARY | 10/20/2016 | FILED | 100 | LARAMIE, WY 82070 |
| WITT, DARRELL (BUFFALO) | ANTHONY BOUCHARD | CANDIDATE | MONETARY | 10/20/2016 | FILED | 250 | BUFFALO, WY 82834 |
| ESHELMAN, SKIP (CHEYENNE) | ANTHONY BOUCHARD | CANDIDATE | MONETARY | 10/17/2016 | FILED | 100 | CHEYENNE, WY 82009 |
| JAGGI, ALLEN (LYMAN) | ANTHONY BOUCHARD | CANDIDATE | MONETARY | 10/17/2016 | FILED | 100 | LYMAN, WY 82937 |
| MCQUILAN, KARIN (JACKSON) | ANTHONY BOUCHARD | CANDIDATE | MONETARY | 10/17/2016 | FILED | 50 | JACKSON, WY 83001 |
| DOENZ, BILL (SHERIDAN) | ANTHONY BOUCHARD | CANDIDATE | MONETARY | 10/14/2016 | FILED | 1000 | SHERIDAN, WY 82801 |
| IDE, CATHY (CASPER) | ANTHONY BOUCHARD | CANDIDATE | MONETARY | 10/14/2016 | FILED | 100 | CASPER, WY 82601 |
| SIKORSKI, MIKE (PINEDALE) | ANTHONY BOUCHARD | CANDIDATE | MONETARY | 10/13/2016 | FILED | 1500 | PINEDALE, WY 82941 |
| JONES, MAURY (JACKSON) | ANTHONY BOUCHARD | CANDIDATE | MONETARY | 10/12/2016 | FILED | 25 | JACKSON, WY 08301 |
| HOLDING, CAROL (CODY) | ANTHONY BOUCHARD | CANDIDATE | MONETARY | 10/11/2016 | FILED | 500 | CODY, WY 82414 |
| SMITH, WILLIAM (JACKSON) | ANTHONY BOUCHARD | CANDIDATE | MONETARY | 10/11/2016 | FILED | 100 | JACKSON, WY 83002 |
| BROWN, DUDLEY (WINDSOR) | ANTHONY BOUCHARD | CANDIDATE | MONETARY | 10/10/2016 | FILED | 1000 | WINDSOR, CO 80550 |
| BROPHY, DAN (JACKSON) | ANTHONY BOUCHARD | CANDIDATE | MONETARY | 10/9/2016 | FILED | 250 | JACKSON, WY 83001 |
| CLANCY, NANCY (JACKSON) | ANTHONY BOUCHARD | CANDIDATE | MONETARY | 10/8/2016 | FILED | 50 | JACKSON, WY 83001 |
| CURLEY, WILLIAM (NEWCASTLE) | ANTHONY BOUCHARD | CANDIDATE | MONETARY | 10/8/2016 | FILED | 100 | NEWCASTLE, WY 82701 |
| POLEY, DAN (GILLETTE) | ANTHONY BOUCHARD | CANDIDATE | MONETARY | 10/8/2016 | FILED | 100 | GILLETTE, WY 82716 |
| REEDY, SCOTT (CHEYENNE) | ANTHONY BOUCHARD | CANDIDATE | MONETARY | 10/8/2016 | FILED | 26 | CHEYENNE, WY 82009 |
| SUGDEN, RICHARD (JACKSON) | ANTHONY BOUCHARD | CANDIDATE | MONETARY | 10/5/2016 | FILED | 500 | JACKSON, WY 83001 |
| MOSHER, LEONARD (CHEYENNE) | ANTHONY BOUCHARD | CANDIDATE | MONETARY | 9/28/2016 | FILED | 250 | CHEYENNE, WY 82003 |
| JACOBS, MADELEINE (TORRINGTON) | ANTHONY BOUCHARD | CANDIDATE | MONETARY | 9/25/2016 | FILED | 20 | TORRINGTON, WY 82240 |
| DORR, AARON (DES MOINES) | ANTHONY BOUCHARD | CANDIDATE | MONETARY | 9/22/2016 | FILED | 100 | DES MOINES, IA 50323 |
| STOTT, SHARON (GREEN RIVER) | ANTHONY BOUCHARD | CANDIDATE | MONETARY | 9/22/2016 | FILED | 100 | GREEN RIVER, WY 82935 |
| LARAMIE REPUBLICAN PARTY CENTRAL COMMITTEE (CHEYENNE) | ANTHONY BOUCHARD | CANDIDATE | MONETARY | 9/21/2016 | FILED | 3250 | CHEYENNE, WY 82003 |
| HODGES, RICHARD (HULETT) | ANTHONY BOUCHARD | CANDIDATE | MONETARY | 9/20/2016 | FILED | 100 | HULETT, WY 82720 |
| BRAY, STEVE (CASPER) | ANTHONY BOUCHARD | CANDIDATE | MONETARY | 9/19/2016 | FILED | 300 | CASPER, WY 82604 |
| OTTO, JOEL (LANDER) | ANTHONY BOUCHARD | CANDIDATE | MONETARY | 9/19/2016 | FILED | 400 | LANDER, WY 82520 |
| WILLS, DON (PINE BLUFFS) | ANTHONY BOUCHARD | CANDIDATE | MONETARY | 9/19/2016 | FILED | 1500 | PINE BLUFFS, WY 82082 |
| MITCHEM, STAN (GLENROCK) | ANTHONY BOUCHARD | CANDIDATE | MONETARY | 9/18/2016 | FILED | 50 | GLENROCK, WY 82637 |
| SPUNGIN, MARK (GUERNSEY) | ANTHONY BOUCHARD | CANDIDATE | MONETARY | 9/18/2016 | FILED | 200 | GUERNSEY, WY 82214 |
| LOFTUS, JAN (SHERIDAN) | ANTHONY BOUCHARD | CANDIDATE | MONETARY | 9/17/2016 | FILED | 75 | SHERIDAN, WY 82801 |
| SPERRY, PATRICK (BUFFALO) | ANTHONY BOUCHARD | CANDIDATE | MONETARY | 9/17/2016 | FILED | 50 | BUFFALO, WY 82834 |
| WOLFE, DAVID (CASPER) | ANTHONY BOUCHARD | CANDIDATE | MONETARY | 9/16/2016 | FILED | 50 | CASPER, WY 82604 |
| WILLIAMS, DOUG (CODY) | ANTHONY BOUCHARD | CANDIDATE | MONETARY | 9/15/2016 | FILED | 100 | CODY, WY 82414 |
| KIRST, PETER (LOVELL) | ANTHONY BOUCHARD | CANDIDATE | MONETARY | 9/14/2016 | FILED | 50 | LOVELL, WY 82431 |
| LUNDBERG, JOHN (SHERIDAN) | ANTHONY BOUCHARD | CANDIDATE | MONETARY | 9/14/2016 | FILED | 100 | SHERIDAN, WY 82801 |
| PERRYMAN, BRUCE (CHEYENNE) | ANTHONY BOUCHARD | CANDIDATE | MONETARY | 9/14/2016 | FILED | 15 | CHEYENNE, WY 82009 |
| LAST NAME, HOWARD (CHEYENNE) | ANTHONY BOUCHARD | CANDIDATE | MONETARY | 9/13/2016 | FILED | 100 | CHEYENNE, WY 82009 |
| LAWTON, WAYNE (WORLAND) | ANTHONY BOUCHARD | CANDIDATE | MONETARY | 9/13/2016 | FILED | 25 | WORLAND, WY 82401 |
| PRATT, LARRY (SPRINGFIELD) | ANTHONY BOUCHARD | CANDIDATE | MONETARY | 9/13/2016 | FILED | 25 | SPRINGFIELD, VA 22153 |
| WILLIAMS, BRYAN (BASIN) | ANTHONY BOUCHARD | CANDIDATE | MONETARY | 9/13/2016 | FILED | 50 | BASIN, WY 82410 |
| DIX, LEE (CHEYENNE) | ANTHONY BOUCHARD | CANDIDATE | MONETARY | 9/10/2016 | FILED | 100 | CHEYENNE, WY 82009 |
| MEIER, CURT (TORRINGTON) | ANTHONY BOUCHARD | CANDIDATE | MONETARY | 9/7/2016 | FILED | 500 | TORRINGTON, WY 82240 |
| TROYER, DARWIN (CHEYENNE) | ANTHONY BOUCHARD | CANDIDATE | MONETARY | 9/7/2016 | FILED | 260 | CHEYENNE, WY 82009 |
| VANATA, VINCE (CODY) | ANTHONY BOUCHARD | CANDIDATE | MONETARY | 9/7/2016 | FILED | 100 | CODY, WY 82414 |
| EGAN, MIKE (CHEYENNE) | ANTHONY BOUCHARD | CANDIDATE | MONETARY | 8/31/2016 | FILED | 1000 | CHEYENNE, WY 82009 |
| RANEY, JEFF (GILLETTE) | ANTHONY BOUCHARD | CANDIDATE | MONETARY | 8/12/2016 | FILED | 500 | GILLETTE, WY 82718 |
| YORGASON, ROBERT (COWLEY) | ANTHONY BOUCHARD | CANDIDATE | MONETARY | 8/10/2016 | FILED | 75 | COWLEY, WY 82420 |
| HEPKER, ERIC (NEWCASTLE) | ANTHONY BOUCHARD | CANDIDATE | MONETARY | 7/31/2016 | FILED | 50 | NEWCASTLE, WY 82701 |
| SPERRY, PATRICK (BUFFALO) | ANTHONY BOUCHARD | CANDIDATE | MONETARY | 7/30/2016 | FILED | 500 | BUFFALO, WY 82834 |
| DIANE, O'MEARA (CHEYENNE) | ANTHONY BOUCHARD | CANDIDATE | MONETARY | 7/28/2016 | FILED | 25 | CHEYENNE, WY 82009 |
| DOENZ, WILLIAM (SHERIDAN) | ANTHONY BOUCHARD | CANDIDATE | MONETARY | 7/28/2016 | FILED | 1500 | SHERIDAN, WY 82801 |
| BOUCHARD, CORY (CHEYENNE) | ANTHONY BOUCHARD | CANDIDATE | MONETARY | 7/27/2016 | FILED | 50 | CHEYENNE, WY 82001 |
| TAYLOR, DOUG (CHEYENNE) | ANTHONY BOUCHARD | CANDIDATE | MONETARY | 7/27/2016 | FILED | 25 | CHEYENNE, WY 82009 |
| CARY, NOLA (PINE BLUFFS) | ANTHONY BOUCHARD | CANDIDATE | MONETARY | 7/22/2016 | FILED | 100 | PINE BLUFFS, WY 82082 |
| NUSSBAUM, LARRY (PINE BLUFFS) | ANTHONY BOUCHARD | CANDIDATE | MONETARY | 7/22/2016 | FILED | 100 | PINE BLUFFS, WY 82082 |
| MERIDITH, DON (PINE BLUFFS) | ANTHONY BOUCHARD | CANDIDATE | MONETARY | 7/18/2016 | FILED | 15 | PINE BLUFFS, WY 82082 |
| SANCHEZ, PHILIP (ALBIN) | ANTHONY BOUCHARD | CANDIDATE | MONETARY | 7/18/2016 | FILED | 2 | ALBIN, WY 82009 |
| TOBIN, MARGARET (CHEYENNE) | ANTHONY BOUCHARD | CANDIDATE | MONETARY | 7/18/2016 | FILED | 10 | CHEYENNE, WY 82009 |
| MANKOWSKI, STEVE (LANDER) | ANTHONY BOUCHARD | CANDIDATE | MONETARY | 7/15/2016 | FILED | 10 | LANDER, WY 82520 |
| PORTER, LANNY (SHERIDAN) | ANTHONY BOUCHARD | CANDIDATE | MONETARY | 7/15/2016 | FILED | 100 | SHERIDAN, WY 82801 |
| CULVER, BOB (JACKSON) | ANTHONY BOUCHARD | CANDIDATE | MONETARY | 7/14/2016 | FILED | 100 | JACKSON, WY 83001 |
| SPERRY, PATRICK (BUFFALO) | ANTHONY BOUCHARD | CANDIDATE | MONETARY | 7/14/2016 | FILED | 100 | BUFFALO, WY 82834 |
| BERRYMAN, CARL (WORLAND) | ANTHONY BOUCHARD | CANDIDATE | MONETARY | 7/13/2016 | FILED | 10 | WORLAND, WY 82401 |
| NAVARRO, RUBEN (WHEATLAND) | ANTHONY BOUCHARD | CANDIDATE | MONETARY | 7/12/2016 | FILED | 10 | WHEATLAND, WY 82201 |
| REHM, JACK (CHEYENNE) | ANTHONY BOUCHARD | CANDIDATE | MONETARY | 7/12/2016 | FILED | 10 | CHEYENNE, WY 82009 |
| ROUTH, RAYMOND (CHEYENNE) | ANTHONY BOUCHARD | CANDIDATE | MONETARY | 7/12/2016 | FILED | 100 | CHEYENNE, WY 82001 |
| UKKONEN, MARK (NEWCASTLE) | ANTHONY BOUCHARD | CANDIDATE | MONETARY | 7/12/2016 | FILED | 10 | NEWCASTLE, WY 82701 |
| ESHELMAN, SKIP (CHEYENNE) | ANTHONY BOUCHARD | CANDIDATE | MONETARY | 7/11/2016 | FILED | 25 | CHEYENNE, WY 82009 |
| REIF, JEFFERY (CHEYENNE) | ANTHONY BOUCHARD | CANDIDATE | MONETARY | 7/10/2016 | FILED | 50 | CHEYENNE, WY 82009 |
| TYRNEY, KRISTY (POWELL) | ANTHONY BOUCHARD | CANDIDATE | MONETARY | 7/9/2016 | FILED | 50 | POWELL, WY 82435 |
| VANATA, VINCE (CODY) | ANTHONY BOUCHARD | CANDIDATE | MONETARY | 7/9/2016 | FILED | 50 | CODY, WY 82414 |
| ZERUCHA, TOM (POWELL) | ANTHONY BOUCHARD | CANDIDATE | MONETARY | 7/5/2016 | FILED | 250 | POWELL, WY 82435 |
| LONG, CLAY (CHEYENNE) | ANTHONY BOUCHARD | CANDIDATE | MONETARY | 7/4/2016 | FILED | 200 | CHEYENNE, WY 82001 |
| BELL, DALE (BEULAH) | ANTHONY BOUCHARD | CANDIDATE | MONETARY | 7/2/2016 | FILED | 100 | BEULAH, WY 82712 |
| CHRISTIANSON, DENIS (GILLETTE) | ANTHONY BOUCHARD | CANDIDATE | MONETARY | 7/2/2016 | FILED | 250 | GILLETTE, WY 82718 |
| JIM, JAMES (RIVERTON) | ANTHONY BOUCHARD | CANDIDATE | MONETARY | 7/1/2016 | FILED | 100 | RIVERTON, WY 82501 |
| BOYER, LANDIS (CASPER) | ANTHONY BOUCHARD | CANDIDATE | MONETARY | 6/30/2016 | FILED | 100 | CASPER, WY 82601 |
| FRANK, RON (DEVILS TOWER) | ANTHONY BOUCHARD | CANDIDATE | MONETARY | 6/30/2016 | FILED | 100 | DEVILS TOWER, WY 82714 |
| LOWELL, CLAWSEN (BAIROIL) | ANTHONY BOUCHARD | CANDIDATE | MONETARY | 6/30/2016 | FILED | 250 | BAIROIL, WY 82322 |
| BRANT, RICHARD (CARPENTER) | ANTHONY BOUCHARD | CANDIDATE | MONETARY | 6/29/2016 | FILED | 50 | CARPENTER, WY 82054 |
| OLSEN, PAUL (CHEYENNE) | ANTHONY BOUCHARD | CANDIDATE | MONETARY | 6/29/2016 | FILED | 25 | CHEYENNE, WY 82009 |
| DAVIS, ROBERT (CASPER) | ANTHONY BOUCHARD | CANDIDATE | MONETARY | 6/28/2016 | FILED | 250 | CASPER, WY 82604 |
| KROEKER, CHRISTINE (CASPER) | ANTHONY BOUCHARD | CANDIDATE | MONETARY | 6/28/2016 | FILED | 200 | CASPER, WY 82609 |
| PERRYMAN, BRUCE (CHEYENNE) | ANTHONY BOUCHARD | CANDIDATE | MONETARY | 6/28/2016 | FILED | 25 | CHEYENNE, WY 82009 |
| SPERRY, PATRICK (BUFFALO) | ANTHONY BOUCHARD | CANDIDATE | MONETARY | 6/28/2016 | FILED | 200 | BUFFALO, WY 82834 |
| STOTT, SHARON (GREEN RIVER) | ANTHONY BOUCHARD | CANDIDATE | MONETARY | 6/28/2016 | FILED | 50 | GREEN RIVER, WY 82935 |
| TYGRET, DEANDRA (CHEYENNE) | ANTHONY BOUCHARD | CANDIDATE | MONETARY | 6/28/2016 | FILED | 100 | CHEYENNE, WY 82007 |
| DOWNS, GLENN (DOUGLAS) | ANTHONY BOUCHARD | CANDIDATE | MONETARY | 6/27/2016 | FILED | 50 | DOUGLAS, WY 82633 |
| LAST, HOWARD (CHEYENNE) | ANTHONY BOUCHARD | CANDIDATE | MONETARY | 6/27/2016 | FILED | 100 | CHEYENNE, WY 82009 |
| LOFTUS, JAN (SHERIDAN) | ANTHONY BOUCHARD | CANDIDATE | MONETARY | 6/27/2016 | FILED | 50 | SHERIDAN, WY 82801 |
| SHELTON, BRUCE (BUFFALO) | ANTHONY BOUCHARD | CANDIDATE | MONETARY | 6/27/2016 | FILED | 100 | BUFFALO, WY 82834 |
| BROPHY, DAN (JACKSON) | ANTHONY BOUCHARD | CANDIDATE | MONETARY | 6/22/2016 | FILED | 1500 | JACKSON, WY 83001 |
| EGAN, DONNA (CHEYENNE) | ANTHONY BOUCHARD | CANDIDATE | MONETARY | 6/9/2016 | FILED | 1500 | CHEYENNE, WY 82009 |
| EGAN, MICHAEL (CHEYENNE) | ANTHONY BOUCHARD | CANDIDATE | MONETARY | 6/9/2016 | FILED | 1500 | CHEYENNE, WY 82009 |
| JOEL, OTTO (LANDER) | ANTHONY BOUCHARD | CANDIDATE | MONETARY | 6/2/2016 | FILED | 600 | LANDER, WY 82520 |
| WOLFE, DAVID (CASPER) | ANTHONY BOUCHARD | CANDIDATE | MONETARY | 5/19/2016 | FILED | 50 | CASPER, WY 82604 |
| SIKORSKI, MIKE (PINEDALE) | ANTHONY BOUCHARD | CANDIDATE | MONETARY | 4/21/2016 | FILED | 1500 | PINEDALE, WY 82941 |
| TROYER, DARWIN (CHEYENNE) | ANTHONY BOUCHARD | CANDIDATE | MONETARY | 4/14/2016 | FILED | 100 | CHEYENNE, WY 82007 |
| WILLS, DON (PINE BLUFFS) | ANTHONY BOUCHARD | CANDIDATE | MONETARY | 4/14/2016 | FILED | 1500 | PINE BLUFFS, WY 82082 |
| POLEY, DAN (GILLETTE) | ANTHONY BOUCHARD | CANDIDATE | MONETARY | 3/1/2016 | FILED | 250 | GILLETTE, WY 82716 |
| BOUCHARD, ANTHONY (BURNS) | ANTHONY BOUCHARD | CANDIDATE | MONETARY | 10/31/2012 | FILED | 1600 | BURNS, WY 82009 |
| BARBARA, CASSL (EVANSTON) | ANTHONY BOUCHARD | CANDIDATE | MONETARY | 9/28/2012 | FILED | 10 | EVANSTON, WY 82930 |
| PORTER, LANNY (SHERIDAN) | ANTHONY BOUCHARD | CANDIDATE | MONETARY | 9/28/2012 | FILED | 100 | SHERIDAN, WY 82801 |
| WILLIAMS, BRYAN (BASIN) | ANTHONY BOUCHARD | CANDIDATE | MONETARY | 9/28/2012 | FILED | 100 | BASIN, WY 82410 |
| LAST, HOWARD (CHEYENNE) | ANTHONY BOUCHARD | CANDIDATE | MONETARY | 9/27/2012 | FILED | 50 | CHEYENNE, WY 82009 |
| BOUCHARD, ANTHONY (BURNS) | ANTHONY BOUCHARD | CANDIDATE | MONETARY | 9/15/2012 | FILED | 400 | BURNS, WY 82053 |
| BOLT, STEVE (STRATHMORE) | ANTHONY BOUCHARD | CANDIDATE | MONETARY | 9/13/2012 | FILED | 50 | STRATHMORE, CA 93267 |
| MARTINEZ, RICK (RAWLINS) | ANTHONY BOUCHARD | CANDIDATE | MONETARY | 9/5/2012 | FILED | 10 | RAWLINS, WY 82301 |
| MARTINEZ, RICK (RAWLINS) | ANTHONY BOUCHARD | CANDIDATE | MONETARY | 9/5/2012 | FILED | 10 | RAWLINS, WY 82301 |
| BOUCHARD, ANTHONY (CHEYENNE) | ANTHONY BOUCHARD | CANDIDATE | MONETARY | 8/24/2012 | FILED | 1124.75 | CHEYENNE, WY 82009 |
| MCQUEENEY, ROBERT (CHEYENNE) | ANTHONY BOUCHARD | CANDIDATE | MONETARY | 8/23/2012 | FILED | 5 | CHEYENNE, WY 82009 |
| SPERRY, PATRICK (BUFFALO) | ANTHONY BOUCHARD | CANDIDATE | MONETARY | 8/23/2012 | FILED | 100 | BUFFALO, WY 82009 |
| TELEP, JOSEPH (CHEYENNE) | ANTHONY BOUCHARD | CANDIDATE | MONETARY | 8/23/2012 | FILED | 50 | CHEYENNE, WY 82001 |
| HAGTROM, BETTY (CHEYENNE) | ANTHONY BOUCHARD | CANDIDATE | MONETARY | 8/16/2012 | FILED | 300 | CHEYENNE, WY 82003 |
| NATIONAL ASSOCIATION FOR GUN RIGHTS PAC (WINDSOR) | ANTHONY BOUCHARD | CANDIDATE | MONETARY | 8/16/2012 | FILED | 1500 | WINDSOR, CO 80550 |
| TROYER, TRENT (CHEYENNE) | ANTHONY BOUCHARD | CANDIDATE | MONETARY | 8/16/2012 | FILED | 520 | CHEYENNE, WY 82009 |
| TUTTLE, PAT (CHEYENNE) | ANTHONY BOUCHARD | CANDIDATE | MONETARY | 8/16/2012 | FILED | 200 | CHEYENNE, WY 82009 |
| BROWN, RANDALL (GILLETTE) | ANTHONY BOUCHARD | CANDIDATE | MONETARY | 8/2/2012 | AMEND - ADD | 100 | GILLETTE, WY 82550 |
| GABEL, TERRY (PINE BLUFFS) | ANTHONY BOUCHARD | CANDIDATE | MONETARY | 8/2/2012 | AMEND - ADD | 100 | PINE BLUFFS, WY 82082 |
| ROBERTS, MARVIN (CHEYENNE) | ANTHONY BOUCHARD | CANDIDATE | MONETARY | 8/2/2012 | AMEND - ADD | 20 | CHEYENNE, WY 82009 |
| BOLT, STEVE (STRATHMORE) | ANTHONY BOUCHARD | CANDIDATE | MONETARY | 8/1/2012 | FILED | 100 | STRATHMORE, CA 93267 |
| SACCO, ANTHONY (CHEYENNE) | ANTHONY BOUCHARD | CANDIDATE | MONETARY | 8/1/2012 | FILED | 100 | CHEYENNE, WY 82009 |
| TRIMBLE, ROBERTA (CHEYENNE) | ANTHONY BOUCHARD | CANDIDATE | MONETARY | 8/1/2012 | FILED | 20 | CHEYENNE, WY 82053 |
| JAMIESON, HARRY (CHEYENNE) | ANTHONY BOUCHARD | CANDIDATE | MONETARY | 7/31/2012 | FILED | 100 | CHEYENNE, WY 82054 |
| WARE, JOHN (CARPENTER) | ANTHONY BOUCHARD | CANDIDATE | MONETARY | 7/31/2012 | FILED | 100 | CARPENTER, WY 82054 |
| LAWS, ROBIN (CHEYENNE) | ANTHONY BOUCHARD | CANDIDATE | MONETARY | 7/29/2012 | FILED | 25 | CHEYENNE, WY 82003 |
| JOHNSON, ROBERT (STORY) | ANTHONY BOUCHARD | CANDIDATE | MONETARY | 7/20/2012 | FILED | 500 | STORY, WY 82832 |
| CARLSON, CHIP (CHEYENNE) | ANTHONY BOUCHARD | CANDIDATE | MONETARY | 7/10/2012 | FILED | 50 | CHEYENNE, WY 82009 |
| FELICIANO, MYRNA (BURNS) | ANTHONY BOUCHARD | CANDIDATE | MONETARY | 7/10/2012 | FILED | 125 | BURNS, WY 82053 |
| RAYL, WALLY (CHEYENNE) | ANTHONY BOUCHARD | CANDIDATE | MONETARY | 7/9/2012 | FILED | 500 | CHEYENNE, WY 82009 |
| CULVER, ROBERT (JACKSON) | ANTHONY BOUCHARD | CANDIDATE | MONETARY | 7/5/2012 | FILED | 50 | JACKSON, WY 83001 |
| CASSEL, BARBARA (EVANSTON) | ANTHONY BOUCHARD | CANDIDATE | MONETARY | 7/3/2012 | FILED | 10 | EVANSTON, WY 82930 |
| JOHNSON, ROBERT (STORY) | ANTHONY BOUCHARD | CANDIDATE | MONETARY | 7/3/2012 | FILED | 300 | STORY, WY 82832 |
| MARTINEZ, RICK (RAWLINS) | ANTHONY BOUCHARD | CANDIDATE | MONETARY | 7/3/2012 | FILED | 20 | RAWLINS, WY 82301 |
| STOTT, SHARON (GREEN RIVER) | ANTHONY BOUCHARD | CANDIDATE | MONETARY | 7/3/2012 | FILED | 25 | GREEN RIVER, WY 82935 |
| VANDEBERGHE, MARK (CARPENTER) | ANTHONY BOUCHARD | CANDIDATE | MONETARY | 7/3/2012 | FILED | 100 | CARPENTER, WY 82054 |
| WITT, DARRELL (BUFFALO) | ANTHONY BOUCHARD | CANDIDATE | MONETARY | 7/3/2012 | FILED | 100 | BUFFALO, WY 82834 |
| TUTTLE, MIKE (CHEYENNE) | ANTHONY BOUCHARD | CANDIDATE | MONETARY | 6/25/2012 | FILED | 1000 | CHEYENNE, WY 82009 |
| BORNGESSER, WAYNE (NEWCASTLE) | ANTHONY BOUCHARD | CANDIDATE | MONETARY | 6/23/2012 | FILED | 500 | NEWCASTLE, WY 82701 |
| SMITH, MARC (CASPER) | ANTHONY BOUCHARD | CANDIDATE | MONETARY | 6/20/2012 | FILED | 50 | CASPER, WY 82605 |
| JOHNSON, ROBERT (STORY) | ANTHONY BOUCHARD | CANDIDATE | MONETARY | 6/16/2012 | FILED | 200 | STORY, WY 82832 |
| WILLS, DON (PINEBLUFFS) | ANTHONY BOUCHARD | CANDIDATE | MONETARY | 6/15/2012 | FILED | 1000 | PINEBLUFFS, WY 82082 |
| DILLARD, ARNOLD (PORTERVILLE) | ANTHONY BOUCHARD | CANDIDATE | MONETARY | 6/1/2012 | FILED | 100 | PORTERVILLE, CA 95257 |
| GUTHRIE, ROLAND (SARATOGA) | ANTHONY BOUCHARD | CANDIDATE | MONETARY | 6/1/2012 | FILED | 100 | SARATOGA, WY 82331 |
| WARD, CAROL (PORTERVILLE) | ANTHONY BOUCHARD | CANDIDATE | MONETARY | 6/1/2012 | FILED | 100 | PORTERVILLE, CA 95257 |