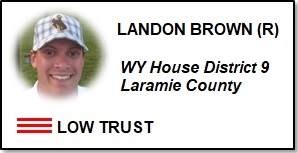 Summary
Representation
Competence
Integrity
More
– – –
Landon Brown is a WY House Representative for House District 9 in Laramie County and has served from 2017 to the present.  He has received a negative score for all three categories of Representation, Competence and Integrity and therefore has been ranked as Low Trust.
He is up for reelection in 2024.
---
"You know, one of the sayings that we use as a mantra here in Wyoming is, Wyoming is what America was, and that's very much this Wild West, very openness and live-and-let-live mantra that goes on. But unfortunately, the world is changing around us, and we're stuck in the, you know, the – Wyoming doesn't want to really move along. And so that starts the problem of us being scared and being afraid of what might come in, so that's why I'm so supportive of this. And I think it's a very important piece for Wyoming to grow as a state – is to welcome these refugees in and have different viewpoints and different ideologies moving in as opposed to an echo chamber that we currently are."
From: Wyoming Rep. Brown says Afghan refugees should resettle in the state, Oct 10, 2021 NPR
Brown has received a (–) score for Representation for his public conduct and attendance.
Attendance
It appears that Brown missed 10 votes across 6 days in 2023 General Session.  Our guidelines require a legislator to be present for all votes on 90% of the days in any session. For 2023 session, if a legislator missed any votes on 5 or more days, they receive a negative (-) score.
2/6/23 – HB100 3rd reading;
2/8/23 – HB108 3rd reading;
2/21/23 – SF84 3rd reading;
2/28/23 – HB89 Concurrence;
2/28/23 – SF80 3rd reading;
2/28/23 – SF83 3rd reading; SF108 3rd reading; SF112 3rd reading; SF131 3rd reading; and SJ5 3rd reading.
Public Conduct
Brown has publicly demonstrated contempt for Wyomingites on multiple occasions:
On Oct 10, 2021 on Wyoming Public Radio/NPR, Brown slammed Wyoming/Wyomingites for living in "an echo chamber", not having a refugee resettlement program, and stated "the world is changing around us, and we're stuck in the, you know, the – Wyoming doesn't want to really move along".  Additionally, Brown said, "there is ongoing discussions between myself and a few other counterparts in the state legislature as well as the governor's office to see what we can do about this" [refugee resettlement program].
On Feb 22, 2022 on CNN Brown referred to Wyomingites who opposed Liz Cheney as "fringe characters" who are destroying the Republican Party.
On June 23, 2022 on Twitter Brown condoned Democrats switching parties to vote for Liz Cheney in Republican primaries.
In item #1 above, Brown disclosed that he intends to move forward to pursue his own agenda regarding a refugee resettlement program – using connections he has made via his elected seat.  Not once did he state that any of his constituents requested he take such actions.  Thus he intends to use the platform his constituents entrusted him with for his own purposes.
In item #2, Brown vilified anyone from his chosen political party who did not agree with his personal choice for 2022 U.S. House candidate – which was over 60% of the primary election precinct voters in Brown's House District.
In item #3, Brown mocked the same party system that has elected him to serve House District 9 for the past 8 years.  Less than 1 month after his tweet, Brown received $5,000 from the Liz Cheney's leadership PAC (7/16/22, Cowboy PAC).
It appears that Brown has no commitment whatsoever to his registered constituents, and should either change his political party affiliation, or move to a state that is aligned with his values.
Sponsorship History
From 2017 to 2023 Brown has sponsored 30 bills.  In 2023 he co-sponsored 31 bills.  Bill topics/subjects that Brown appears to favor for sponsorship include education and military related bills.  See more at Brown's WY legislative page.
Committee Assignments
2023-Management Audit Committee – Vice Chair
2023-House Transportation, Highways & Military Affairs – Chairman
2023-Select Committee on School Facilities – Chairman
2023-House Education
2023-CSG West – Executive Committee
2023-CSG West – Legislative Oversight Working Group
Brown scored a (-) for Constitutional Competence with an average of 43.7% on the constitutional issues listed below.  Constitutional issue categories that have a "N/A" grade, refer to bills that Brown did not have the opportunity to vote on.
Note – Brown should have recused himself from the bills in the 1st Amendment/ Right to Healthcare Decisions (Covid Mandates) category below.  See more under Integrity for Brown.
For more on the bills used to analyze these scores click here.  Special hat-tip goes out to Evidence Based Wyoming for use of their statistical tool to generate the following vote scores:
Conflicts
Brown has earned a (-) score for Integrity.
Brown is an employee with the Cheyenne Regional Medical Center Foundation.  Cheyenne Regional Medical Center is one of the two largest hospitals in Wyoming and was/is completely embedded in the COVID-19 pandemic response including vaccine and mask mandates.  Brown should uniformly recuse himself from any bill that addresses these mandates, but he has continually ignored this personal conflict.
The WY 2020 Special Session and 2021 Special Session were held specifically to deal with COVID issues.  Per digest records, Brown voted on every bill that came to the House floor (and also drafted at least one amendment).  The same is true for any COVID related bills that have been on the House floor since 2021.
Out of all the Wyomingites employed at medical facilities across the state, Brown was one of just two people who had the advantage (benefit) of voting for or against COVID mandate laws.
The WY Medical Society and WY Hospital Association parroted the above mentioned COVID mandates across the state.  Pfizer was one of three pharmaceutical companies that manufactured the COVID "vaccines".  Brown has received campaign contributions from all three entities.
Employment/Income
According to Brown's 2023 State Elected Officials Financial Disclosure available at Wyofile, he reported the following:
Employment: Director Annual Giving + Grants
Employment: Cheyenne Regional Medical Center Foundation
Income earned from "Real estate, leases, royalties"
Memberships/Civic Organizations
Science Fair Judge, Laramie County School District, District 1, 2015-present
Member, Phi Kappa Phi, present
Member, Pi Alpha Alpha, present
Treasurer, Black Dog Animal Rescue, Incorporated, 2017-2018
Member, City of Cheyenne Planning Commission, 2014-2017
Chair/Secretary, Board of Directors, National Pollution Prevention Roundtable, 2014-2016
(Source: Vote Smart)
Campaign Contributions
The table below shows all campaign contributions reported by the WY Secretary of State for Committee to Elect Landon Brown.
From 2016 to 2022 Brown received 229 contributions that total approximately $69,004.81.  Of the 229 donations, approximately 83 were from PACs &/or Campaign Committees.  The total amount received from PACs &/or Campaign Committees by Brown was approximately $43,000.12 – which is approximately 62% of total donations received.
Noteworthy PAC contributions to Brown are:
$5,000 from Cowboy PAC (Liz Cheney leadership PAC)
$1,750 from ESG compliant energy company PAC

$500 from Devon Energy Corp. PAC
$250 from MDU Resources Group Good Government Fund
$750 total from Nextera Energy PAC
$500 total from Pacific Power/Pacificorp PACs

$600 total from Pfizer PAC
$500 from WY Medical Society PAC
$500 from WY Hospital Association PAC
$2,000 from Cheyenne PAC
$2,000 from CONPAC Contactors PAC
$1,650 from Cowboy Games PAC
$500 from Prosperity and Commerce PAC
$1,200 from WY Education Assn. PAC for Education
The table below shows all campaign contributions for Landon Brown.  Click the arrows at the top of columns to sort the data by name, date, $ amount, etc.  (Data is publicly available records obtained from the Wyoming Secretary of State's Wyoming's Campaign Finance Information System)
| Contributor Name | Recipient Name | Recipient Type | Contribution Type | Date | Filing Status | Amount | City State Zip |
| --- | --- | --- | --- | --- | --- | --- | --- |
| DELOITTE PAC (WASHINGTON) | COMMITTEE TO ELECT LANDON BROWN | CANDIDATE COMMITTEE | MONETARY | 12/8/2022 | AMEND - ADD | 200 | WASHINGTON, DC 20044 |
| BROTHERHOOD OF LOCOMOTIVE ENGINEERS AND TRAINMEN PAC (INDEPENDENCE) | COMMITTEE TO ELECT LANDON BROWN | CANDIDATE COMMITTEE | MONETARY | 11/7/2022 | AMEND - ADD | 300 | INDEPENDENCE, OH 44131 |
| INTERNAT'L BROTHERHOOD OF ELEC. WORKERS #322 (CASPER) | COMMITTEE TO ELECT LANDON BROWN | CANDIDATE COMMITTEE | MONETARY | 11/7/2022 | AMEND - ADD | 300 | CASPER, WY 82601 |
| INTERNAT'L BROTHERHOOD OF ELEC. WORKERS #322 (CASPER) | COMMITTEE TO ELECT LANDON BROWN | CANDIDATE COMMITTEE | MONETARY | 11/7/2022 | AMEND - DELETE | 300 | CASPER, WY 82601 |
| NEXTERA ENERGY PAC (JUNO BEACH) | COMMITTEE TO ELECT LANDON BROWN | CANDIDATE COMMITTEE | MONETARY | 10/27/2022 | FILED | 500 | JUNO BEACH, FL 33408 |
| TRUCKING INDUSTRY PAC (CASPER) | COMMITTEE TO ELECT LANDON BROWN | CANDIDATE COMMITTEE | MONETARY | 10/27/2022 | FILED | 300 | CASPER, WY 82602 |
| ARNOLD, JOHN (HOUSTON) | COMMITTEE TO ELECT LANDON BROWN | CANDIDATE COMMITTEE | MONETARY | 10/26/2022 | FILED | 1500 | HOUSTON, TX 77019 |
| ARNOLD, LAURA (HOUSTON) | COMMITTEE TO ELECT LANDON BROWN | CANDIDATE COMMITTEE | MONETARY | 10/26/2022 | FILED | 1500 | HOUSTON, TX 77019 |
| PACIFIC POWER/ROCKY MOUNTAIN POWER PAC (PORTLAND) | COMMITTEE TO ELECT LANDON BROWN | CANDIDATE COMMITTEE | MONETARY | 10/24/2022 | FILED | 100 | PORTLAND, OR 97232 |
| TRUE, DAVE (CASPER) | COMMITTEE TO ELECT LANDON BROWN | CANDIDATE COMMITTEE | MONETARY | 10/22/2022 | FILED | 150 | CASPER, WY 82063 |
| DEVON ENERGY CORPORATION PAC (OKLAHOMA CITY) | COMMITTEE TO ELECT LANDON BROWN | CANDIDATE COMMITTEE | MONETARY | 10/19/2022 | FILED | 500 | OKLAHOMA CITY, OK 73102 |
| FFFWY FIRE PAC (CHEYENNE) | COMMITTEE TO ELECT LANDON BROWN | CANDIDATE COMMITTEE | MONETARY | 10/17/2022 | FILED | 500 | CHEYENNE, WY 82003 |
| COMMON VALUES PAC (ALEXANDRIA) | COMMITTEE TO ELECT LANDON BROWN | CANDIDATE COMMITTEE | MONETARY | 10/11/2022 | FILED | 250 | ALEXANDRIA, VA 22314 |
| WORKERS' HELP IN POLITICS (CHEYENNE) | COMMITTEE TO ELECT LANDON BROWN | CANDIDATE COMMITTEE | MONETARY | 10/11/2022 | FILED | 500 | CHEYENNE, WY 82001 |
| WY REALTORS PAC (CASPER) | COMMITTEE TO ELECT LANDON BROWN | CANDIDATE COMMITTEE | MONETARY | 10/3/2022 | FILED | 2500 | CASPER, WY 82604 |
| MDU RESOURCES GROUP GOOD GOVERNMENT FUND (BISMARCK) | COMMITTEE TO ELECT LANDON BROWN | CANDIDATE COMMITTEE | MONETARY | 9/28/2022 | FILED | 250 | BISMARCK, ND 58506 |
| WY PUBLIC EMPLOYEES ASSN. PAC (CHEYENNE) | COMMITTEE TO ELECT LANDON BROWN | CANDIDATE COMMITTEE | MONETARY | 9/28/2022 | FILED | 500 | CHEYENNE, WY 82003 |
| PROSPERITY AND COMMERCE PAC (CHEYENNE) | COMMITTEE TO ELECT LANDON BROWN | CANDIDATE COMMITTEE | MONETARY | 9/20/2022 | FILED | 500 | CHEYENNE, WY 82001 |
| WYOMING MINING ASSOCIATION PAC (WMA) (CHEYENNE) | COMMITTEE TO ELECT LANDON BROWN | CANDIDATE COMMITTEE | MONETARY | 9/15/2022 | FILED | 250 | CHEYENNE, WY 82001 |
| LARAMIE REPUBLICAN PARTY CENTRAL COMMITTEE (CHEYENNE) | COMMITTEE TO ELECT LANDON BROWN | CANDIDATE COMMITTEE | MONETARY | 8/30/2022 | FILED | 500 | CHEYENNE, WY 82003 |
| CHARTER COMMUNICATIONS, INC. PAC (STAMFORD) | COMMITTEE TO ELECT LANDON BROWN | CANDIDATE COMMITTEE | MONETARY | 8/11/2022 | AMEND - ADD | 500 | STAMFORD, CT 06901 |
| LANCE, RYAN (CHEYENNE) | COMMITTEE TO ELECT LANDON BROWN | CANDIDATE COMMITTEE | MONETARY | 8/11/2022 | AMEND - ADD | 200 | CHEYENNE, WY 82001 |
| COWBOY GAMES PAC (SHERIDAN) | COMMITTEE TO ELECT LANDON BROWN | CANDIDATE COMMITTEE | MONETARY | 8/10/2022 | AMEND - ADD | 1500 | SHERIDAN, WY 82801 |
| CHEYENNE PAC (CHEYENNE) | COMMITTEE TO ELECT LANDON BROWN | CANDIDATE COMMITTEE | MONETARY | 8/6/2022 | FILED | 500 | CHEYENNE, WY 82003 |
| FFFWY FIRE PAC (CHEYENNE) | COMMITTEE TO ELECT LANDON BROWN | CANDIDATE COMMITTEE | MONETARY | 8/6/2022 | FILED | 1000 | CHEYENNE, WY 82003 |
| LAWYERS ACTIVE IN WY PAC (LAWPAC) (CHEYENNE) | COMMITTEE TO ELECT LANDON BROWN | CANDIDATE COMMITTEE | MONETARY | 8/6/2022 | FILED | 500 | CHEYENNE, WY 82001 |
| MICKELSON, GORDON (ROCK SPRINGS) | COMMITTEE TO ELECT LANDON BROWN | CANDIDATE COMMITTEE | MONETARY | 8/5/2022 | FILED | 100 | ROCK SPRINGS, WY 82901 |
| THOMAS, SCOTT (LARAMIE) | COMMITTEE TO ELECT LANDON BROWN | CANDIDATE COMMITTEE | MONETARY | 8/1/2022 | FILED | 100 | LARAMIE, WY 82073 |
| FARMERS INSURANCE AGENTS AND EMPLOYEE(FEAPAC) MEMBERS OF WYOMING (CHEYENNE) | COMMITTEE TO ELECT LANDON BROWN | CANDIDATE COMMITTEE | MONETARY | 7/26/2022 | FILED | 500 | CHEYENNE, WY 82001 |
| UNION PACIFIC CORPORATION FUND FOR EFFECTIVE GOVERNMENT (WASHINGTON) | COMMITTEE TO ELECT LANDON BROWN | CANDIDATE COMMITTEE | MONETARY | 7/26/2022 | FILED | 250 | WASHINGTON, DC 20005 |
| WORKERS' HELP IN POLITICS (CHEYENNE) | COMMITTEE TO ELECT LANDON BROWN | CANDIDATE COMMITTEE | MONETARY | 7/26/2022 | FILED | 500 | CHEYENNE, WY 82001 |
| WYO PAC (WYOMING MEDICAL PAC) (CHEYENNE) | COMMITTEE TO ELECT LANDON BROWN | CANDIDATE COMMITTEE | MONETARY | 7/26/2022 | FILED | 500 | CHEYENNE, WY 82003 |
| POPE, DAVID (CHEYENNE) | COMMITTEE TO ELECT LANDON BROWN | CANDIDATE COMMITTEE | MONETARY | 7/22/2022 | FILED | 250 | CHEYENNE, WY 82009 |
| WY RURAL ELECTRIC ASSN. PAC (CHEYENNE) | COMMITTEE TO ELECT LANDON BROWN | CANDIDATE COMMITTEE | MONETARY | 7/22/2022 | FILED | 250 | CHEYENNE, WY 82001 |
| LEE, KRISTIN (CHEYENNE) | COMMITTEE TO ELECT LANDON BROWN | CANDIDATE COMMITTEE | MONETARY | 7/21/2022 | FILED | 200 | CHEYENNE, WY 82001 |
| FANNING, JARED (CHEYENNE) | COMMITTEE TO ELECT LANDON BROWN | CANDIDATE COMMITTEE | MONETARY | 7/18/2022 | FILED | 50 | CHEYENNE, WY 82001 |
| CIGNA POL ACTION COMMITTEE (PHILADELPHIA) | COMMITTEE TO ELECT LANDON BROWN | CANDIDATE COMMITTEE | MONETARY | 7/16/2022 | FILED | 500 | PHILADELPHIA, PA 19191 |
| COWBOY PAC (ARLINGTON) | COMMITTEE TO ELECT LANDON BROWN | CANDIDATE COMMITTEE | MONETARY | 7/16/2022 | FILED | 5000 | ARLINGTON, VA 22206 |
| GERINGER, LEONARD (CHEYENNE) | COMMITTEE TO ELECT LANDON BROWN | CANDIDATE COMMITTEE | MONETARY | 7/16/2022 | FILED | 100 | CHEYENNE, WY 82009 |
| EXON, DUFFY (SHERIDAN) | COMMITTEE TO ELECT LANDON BROWN | CANDIDATE COMMITTEE | MONETARY | 7/13/2022 | FILED | 25 | SHERIDAN, WY 82801 |
| WLRAPAC (CHEYENNE) | COMMITTEE TO ELECT LANDON BROWN | CANDIDATE COMMITTEE | MONETARY | 7/11/2022 | FILED | 250 | CHEYENNE, WY 82009 |
| FINKBEINER, CHERYL (CHEYENNE) | COMMITTEE TO ELECT LANDON BROWN | CANDIDATE COMMITTEE | MONETARY | 7/7/2022 | FILED | 10 | CHEYENNE, WY 82009 |
| BEGGER, JASON (CHEYENNE) | COMMITTEE TO ELECT LANDON BROWN | CANDIDATE COMMITTEE | MONETARY | 7/6/2022 | FILED | 100 | CHEYENNE, WY 82009 |
| MICKELSON, GORDON (ROCK SPRINGS) | COMMITTEE TO ELECT LANDON BROWN | CANDIDATE COMMITTEE | MONETARY | 7/6/2022 | FILED | 100 | ROCK SPRINGS, WY 82901 |
| WYOMING HOSPITAL ASSOCIATION PAC (CHEYENNE) | COMMITTEE TO ELECT LANDON BROWN | CANDIDATE COMMITTEE | MONETARY | 7/6/2022 | FILED | 500 | CHEYENNE, WY 82001 |
| BLACK HILLS CORPORATION PAC (RAPID CITY) | COMMITTEE TO ELECT LANDON BROWN | CANDIDATE COMMITTEE | MONETARY | 7/5/2022 | FILED | 500 | RAPID CITY, SD 57709 |
| PAW POLITICAL ACTION COUNCIL (CASPER) | COMMITTEE TO ELECT LANDON BROWN | CANDIDATE COMMITTEE | MONETARY | 7/5/2022 | FILED | 250 | CASPER, WY 82601 |
| WY EDUCATION ASSN. PAC FOR EDUCATION (CHEYENNE) | COMMITTEE TO ELECT LANDON BROWN | CANDIDATE COMMITTEE | MONETARY | 7/5/2022 | FILED | 300 | CHEYENNE, WY 82001 |
| GREEN, PATRICK (CHEYENNE) | COMMITTEE TO ELECT LANDON BROWN | CANDIDATE COMMITTEE | MONETARY | 6/30/2022 | FILED | 100 | CHEYENNE, WY 82001 |
| | COMMITTEE TO ELECT LANDON BROWN | CANDIDATE COMMITTEE | ANONYMOUS | 6/30/2022 | FILED | 200 | |
| CONPAC CONTRACTORS PAC (CHEYENNE) | COMMITTEE TO ELECT LANDON BROWN | CANDIDATE COMMITTEE | MONETARY | 6/28/2022 | FILED | 1500 | CHEYENNE, WY 82003 |
| EMERICH, FRED (CHEYENNE) | COMMITTEE TO ELECT LANDON BROWN | CANDIDATE COMMITTEE | MONETARY | 6/28/2022 | FILED | 200 | CHEYENNE, WY 82003 |
| WYO-D-PAC (CASPER) | COMMITTEE TO ELECT LANDON BROWN | CANDIDATE COMMITTEE | MONETARY | 6/27/2022 | AMEND - ADD | 100 | CASPER, WY 82601 |
| CRACCHIOLO, PETER (LUTZ) | COMMITTEE TO ELECT LANDON BROWN | CANDIDATE COMMITTEE | MONETARY | 6/24/2022 | FILED | 9.61 | LUTZ, FL 33558 |
| OBERMUELLER, PETE (CHEYENNE) | COMMITTEE TO ELECT LANDON BROWN | CANDIDATE COMMITTEE | MONETARY | 6/24/2022 | FILED | 240.15 | CHEYENNE, WY 82009 |
| FANNING, JARED (CHEYENNE) | COMMITTEE TO ELECT LANDON BROWN | CANDIDATE COMMITTEE | MONETARY | 6/20/2022 | FILED | 50 | CHEYENNE, WY 82001 |
| MICKEY, CHRIS (CHEYENNE) | COMMITTEE TO ELECT LANDON BROWN | CANDIDATE COMMITTEE | MONETARY | 6/17/2022 | FILED | 250 | CHEYENNE, WY 82009 |
| WYOMING MINING ASSOCIATION PAC (WMA) (CHEYENNE) | COMMITTEE TO ELECT LANDON BROWN | CANDIDATE COMMITTEE | MONETARY | 6/16/2022 | FILED | 500 | CHEYENNE, WY 82001 |
| BROWN, LARRY (CHEYENNE) | COMMITTEE TO ELECT LANDON BROWN | CANDIDATE COMMITTEE | MONETARY | 6/10/2022 | FILED | 100 | CHEYENNE, WY 82001 |
| FRANKEN, JOHN (CHEYENNE) | COMMITTEE TO ELECT LANDON BROWN | CANDIDATE COMMITTEE | MONETARY | 6/10/2022 | FILED | 100 | CHEYENNE, WY 82001 |
| HALPERN, JEAN (CHEYENNE) | COMMITTEE TO ELECT LANDON BROWN | CANDIDATE COMMITTEE | MONETARY | 6/10/2022 | FILED | 100 | CHEYENNE, WY 82009 |
| HARDSCOG, MARTIN (CHEYENNE) | COMMITTEE TO ELECT LANDON BROWN | CANDIDATE COMMITTEE | MONETARY | 6/10/2022 | FILED | 50 | CHEYENNE, WY 82009 |
| ILLOWAY, PETER (CHEYENNE) | COMMITTEE TO ELECT LANDON BROWN | CANDIDATE COMMITTEE | MONETARY | 6/10/2022 | FILED | 50 | CHEYENNE, WY 82009 |
| LEWIS, LAURA (CHEYENNE) | COMMITTEE TO ELECT LANDON BROWN | CANDIDATE COMMITTEE | MONETARY | 6/10/2022 | FILED | 50 | CHEYENNE, WY 82001 |
| PICARD, DAVID (CHEYENNE) | COMMITTEE TO ELECT LANDON BROWN | CANDIDATE COMMITTEE | MONETARY | 6/10/2022 | FILED | 200 | CHEYENNE, WY 82003 |
| POLLOCK, KATHY (CASPER) | COMMITTEE TO ELECT LANDON BROWN | CANDIDATE COMMITTEE | MONETARY | 6/10/2022 | FILED | 100 | CASPER, WY 82601 |
| SCHMIDT, PATRICK (CHEYENNE) | COMMITTEE TO ELECT LANDON BROWN | CANDIDATE COMMITTEE | MONETARY | 6/10/2022 | FILED | 100 | CHEYENNE, WY 82001 |
| THOMSON, TONI (CHEYENNE) | COMMITTEE TO ELECT LANDON BROWN | CANDIDATE COMMITTEE | MONETARY | 6/10/2022 | FILED | 500 | CHEYENNE, WY 82009 |
| WY REALTORS PAC (CASPER) | COMMITTEE TO ELECT LANDON BROWN | CANDIDATE COMMITTEE | MONETARY | 6/10/2022 | FILED | 2500 | CASPER, WY 82604 |
| YOUNG, SARAH (CHEYENNE) | COMMITTEE TO ELECT LANDON BROWN | CANDIDATE COMMITTEE | MONETARY | 6/10/2022 | FILED | 100 | CHEYENNE, WY 82009 |
| YOUNG, TONY (CHEYENNE) | COMMITTEE TO ELECT LANDON BROWN | CANDIDATE COMMITTEE | MONETARY | 6/10/2022 | FILED | 200 | CHEYENNE, WY 82001 |
| | COMMITTEE TO ELECT LANDON BROWN | CANDIDATE COMMITTEE | ANONYMOUS | 6/10/2022 | FILED | 60 | |
| STAFFORD, BARBARA (CHEYENNE) | COMMITTEE TO ELECT LANDON BROWN | CANDIDATE COMMITTEE | MONETARY | 6/9/2022 | FILED | 100 | CHEYENNE, WY 82009 |
| GARRETT, RICHARD (CHEYENNE) | COMMITTEE TO ELECT LANDON BROWN | CANDIDATE COMMITTEE | MONETARY | 6/6/2022 | FILED | 10 | CHEYENNE, WY 82009 |
| MICKELSON, GORDON (ROCK SPRINGS) | COMMITTEE TO ELECT LANDON BROWN | CANDIDATE COMMITTEE | MONETARY | 6/4/2022 | FILED | 100 | ROCK SPRINGS, WY 82901 |
| ROLSTON, BOBBY (CHEYENNE) | COMMITTEE TO ELECT LANDON BROWN | CANDIDATE COMMITTEE | MONETARY | 6/2/2022 | FILED | 100 | CHEYENNE, WY 82009 |
| WILSON, GAY (CHEYENNE) | COMMITTEE TO ELECT LANDON BROWN | CANDIDATE COMMITTEE | MONETARY | 6/2/2022 | FILED | 100 | CHEYENNE, WY 82009 |
| REUTLINGER, JANA (CHEYENNE) | COMMITTEE TO ELECT LANDON BROWN | CANDIDATE COMMITTEE | MONETARY | 6/1/2022 | FILED | 25 | CHEYENNE, WY 82001 |
| EISELE, TRUDY (CHEYENNE) | COMMITTEE TO ELECT LANDON BROWN | CANDIDATE COMMITTEE | MONETARY | 5/31/2022 | FILED | 100 | CHEYENNE, WY 82001 |
| BARRON, MARK (JACKSON) | COMMITTEE TO ELECT LANDON BROWN | CANDIDATE COMMITTEE | MONETARY | 5/30/2022 | FILED | 250 | JACKSON, WY 83001 |
| STUBSON, TIMOTHY (CASPER) | COMMITTEE TO ELECT LANDON BROWN | CANDIDATE COMMITTEE | MONETARY | 5/30/2022 | FILED | 200 | CASPER, WY 82601 |
| SHERARD, PHYLLIS (CHEYENNE) | COMMITTEE TO ELECT LANDON BROWN | CANDIDATE COMMITTEE | MONETARY | 5/29/2022 | FILED | 100 | CHEYENNE, WY 82001 |
| GARRISON, TOM (CHEYENNE) | COMMITTEE TO ELECT LANDON BROWN | CANDIDATE COMMITTEE | MONETARY | 5/28/2022 | FILED | 100 | CHEYENNE, WY 82009 |
| BAY-TESKE, JANINE (JACKSON) | COMMITTEE TO ELECT LANDON BROWN | CANDIDATE COMMITTEE | MONETARY | 5/27/2022 | FILED | 50 | JACKSON, WY 83001 |
| SALZBURG, PHYLLIS (CHEYENNE) | COMMITTEE TO ELECT LANDON BROWN | CANDIDATE COMMITTEE | MONETARY | 5/26/2022 | FILED | 200 | CHEYENNE, WY 82009 |
| ANDERSON, TOM (CODY) | COMMITTEE TO ELECT LANDON BROWN | CANDIDATE COMMITTEE | MONETARY | 5/25/2022 | FILED | 250 | CODY, WY 82414 |
| POLLOCK, AMBER (CASPER) | COMMITTEE TO ELECT LANDON BROWN | CANDIDATE COMMITTEE | MONETARY | 5/23/2022 | FILED | 50 | CASPER, WY 82601 |
| STOREY, JEFF (CHEYENNE) | COMMITTEE TO ELECT LANDON BROWN | CANDIDATE COMMITTEE | MONETARY | 5/23/2022 | FILED | 576.36 | CHEYENNE, WY 82009 |
| FANNING, JARED (CHEYENNE) | COMMITTEE TO ELECT LANDON BROWN | CANDIDATE COMMITTEE | MONETARY | 5/17/2022 | FILED | 50 | CHEYENNE, WY 82001 |
| PERALA, DAN (CHEYENNE) | COMMITTEE TO ELECT LANDON BROWN | CANDIDATE COMMITTEE | MONETARY | 5/17/2022 | FILED | 700 | CHEYENNE, WY 82009 |
| BROWN, LANDON (CHEYENNE) | COMMITTEE TO ELECT LANDON BROWN | CANDIDATE COMMITTEE | MONETARY | 5/15/2022 | FILED | 14.25 | CHEYENNE, WY 82009 |
| TESTERMAN, GABE (CHEYENNE) | COMMITTEE TO ELECT LANDON BROWN | CANDIDATE COMMITTEE | MONETARY | 5/15/2022 | FILED | 100 | CHEYENNE, WY 82009 |
| DIAZ, GUILLERMO (DENVER) | COMMITTEE TO ELECT LANDON BROWN | CANDIDATE COMMITTEE | MONETARY | 5/14/2022 | FILED | 75 | DENVER, CO 80236 |
| AGOPIAN, NICK (CHEYENNE) | COMMITTEE TO ELECT LANDON BROWN | CANDIDATE COMMITTEE | MONETARY | 5/13/2022 | FILED | 200 | CHEYENNE, WY 82001 |
| FAGAN, TIGHE (CHEYENNE) | COMMITTEE TO ELECT LANDON BROWN | CANDIDATE COMMITTEE | MONETARY | 5/13/2022 | FILED | 24.01 | CHEYENNE, WY 82001 |
| GARRETT, RICHARD (CHEYENNE) | COMMITTEE TO ELECT LANDON BROWN | CANDIDATE COMMITTEE | MONETARY | 5/13/2022 | FILED | 10 | CHEYENNE, WY 82001 |
| JORDON, STACIA (CHEYENNE) | COMMITTEE TO ELECT LANDON BROWN | CANDIDATE COMMITTEE | MONETARY | 5/13/2022 | FILED | 250 | CHEYENNE, WY 82009 |
| MOTOROLA SOLUTIONS, INC. PAC (WASHINGTON ) | COMMITTEE TO ELECT LANDON BROWN | CANDIDATE COMMITTEE | MONETARY | 5/13/2022 | FILED | 500 | WASHINGTON , DC 20004 |
| REED, KYLA (CHEYENNE) | COMMITTEE TO ELECT LANDON BROWN | CANDIDATE COMMITTEE | MONETARY | 5/13/2022 | FILED | 25 | CHEYENNE, WY 82009 |
| THORNELL, TIM (CHEYENNE) | COMMITTEE TO ELECT LANDON BROWN | CANDIDATE COMMITTEE | MONETARY | 5/13/2022 | FILED | 50 | CHEYENNE, WY 82009 |
| BARRETT, PJ (CHEYENNE) | COMMITTEE TO ELECT LANDON BROWN | CANDIDATE COMMITTEE | MONETARY | 5/11/2022 | FILED | 50 | CHEYENNE, WY 82009 |
| CRISTMAN, TIM (HERKIMER) | COMMITTEE TO ELECT LANDON BROWN | CANDIDATE COMMITTEE | MONETARY | 5/11/2022 | FILED | 100 | HERKIMER, NY 13350 |
| JOHNSON, PAUL (CHEYENNE) | COMMITTEE TO ELECT LANDON BROWN | CANDIDATE COMMITTEE | MONETARY | 5/11/2022 | FILED | 240.15 | CHEYENNE, WY 82001 |
| FAGAN, TIGHE (CHEYENNE) | COMMITTEE TO ELECT LANDON BROWN | CANDIDATE COMMITTEE | MONETARY | 5/10/2022 | FILED | 24.01 | CHEYENNE, WY 82001 |
| FOX, SCOTT (CHEYENNE) | COMMITTEE TO ELECT LANDON BROWN | CANDIDATE COMMITTEE | MONETARY | 5/10/2022 | FILED | 100 | CHEYENNE, WY 82009 |
| GRONSKI, NICHOLAS (CHEYENNE) | COMMITTEE TO ELECT LANDON BROWN | CANDIDATE COMMITTEE | MONETARY | 5/10/2022 | FILED | 50 | CHEYENNE, WY 82009 |
| RIEMAN, JERIMIAH (CHEYENNE) | COMMITTEE TO ELECT LANDON BROWN | CANDIDATE COMMITTEE | MONETARY | 5/10/2022 | FILED | 50 | CHEYENNE, WY 82001 |
| SURBRUGG, SANDRA (CHEYENNE) | COMMITTEE TO ELECT LANDON BROWN | CANDIDATE COMMITTEE | MONETARY | 5/10/2022 | FILED | 100 | CHEYENNE, WY 82009 |
| THORNELL, TIM (CHEYENNE) | COMMITTEE TO ELECT LANDON BROWN | CANDIDATE COMMITTEE | MONETARY | 5/10/2022 | FILED | 50 | CHEYENNE, WY 82009 |
| WATSON, LISA (CODY) | COMMITTEE TO ELECT LANDON BROWN | CANDIDATE COMMITTEE | MONETARY | 5/10/2022 | FILED | 100 | CODY, WY 82414 |
| GARRETT, RICHARD (CHEYE) | COMMITTEE TO ELECT LANDON BROWN | CANDIDATE COMMITTEE | MONETARY | 5/6/2022 | FILED | 10 | CHEYE, WY 82001 |
| PFIZER PAC (NEW YORK) | COMMITTEE TO ELECT LANDON BROWN | CANDIDATE COMMITTEE | MONETARY | 5/6/2022 | FILED | 200 | NEW YORK, NY 10017 |
| TOALSON, STEPHEN (CHEYENNE) | COMMITTEE TO ELECT LANDON BROWN | CANDIDATE COMMITTEE | MONETARY | 5/6/2022 | FILED | 100 | CHEYENNE, WY 82001 |
| BOSWELL, CHRISTOPHER (CHEYENNE) | COMMITTEE TO ELECT LANDON BROWN | CANDIDATE COMMITTEE | MONETARY | 5/5/2022 | FILED | 96.06 | CHEYENNE, WY 82001 |
| DARLING, DREW (OLATHE) | COMMITTEE TO ELECT LANDON BROWN | CANDIDATE COMMITTEE | MONETARY | 5/5/2022 | FILED | 100 | OLATHE, KS 66062 |
| FLEMMING, HEATHER (CHEYENNE) | COMMITTEE TO ELECT LANDON BROWN | CANDIDATE COMMITTEE | MONETARY | 5/5/2022 | FILED | 1000 | CHEYENNE, WY 82001 |
| FRONST, HEATH (CHEYENNE) | COMMITTEE TO ELECT LANDON BROWN | CANDIDATE COMMITTEE | MONETARY | 5/5/2022 | FILED | 25 | CHEYENNE, WY 82009 |
| GALUSHA, RICK (OMAHA) | COMMITTEE TO ELECT LANDON BROWN | CANDIDATE COMMITTEE | MONETARY | 5/5/2022 | FILED | 50 | OMAHA, NE 68112 |
| GARRETT, RICHARD (CHEYENNE) | COMMITTEE TO ELECT LANDON BROWN | CANDIDATE COMMITTEE | MONETARY | 5/5/2022 | FILED | 50 | CHEYENNE, WY 82001 |
| JORDON, STACIA (CHEYENNE) | COMMITTEE TO ELECT LANDON BROWN | CANDIDATE COMMITTEE | MONETARY | 5/5/2022 | FILED | 250 | CHEYENNE, WY 82009 |
| LEGERSKI, KATIE (CHEYENNE) | COMMITTEE TO ELECT LANDON BROWN | CANDIDATE COMMITTEE | MONETARY | 5/5/2022 | FILED | 96.06 | CHEYENNE, WY 82009 |
| MICKELSON, GORDON (ROCK SPRINGS) | COMMITTEE TO ELECT LANDON BROWN | CANDIDATE COMMITTEE | MONETARY | 5/5/2022 | FILED | 100 | ROCK SPRINGS, WY 82901 |
| MORRIS, KANE (CODY) | COMMITTEE TO ELECT LANDON BROWN | CANDIDATE COMMITTEE | MONETARY | 5/5/2022 | FILED | 100 | CODY, WY 82414 |
| OLSEN, JARED (CHEYENNE) | COMMITTEE TO ELECT LANDON BROWN | CANDIDATE COMMITTEE | MONETARY | 5/5/2022 | FILED | 480.3 | CHEYENNE, WY 82001 |
| PAULEY, LUCY (CHEYENNE) | COMMITTEE TO ELECT LANDON BROWN | CANDIDATE COMMITTEE | MONETARY | 5/5/2022 | FILED | 25 | CHEYENNE, WY 82009 |
| RUBY, JIM (CHEYENNE) | COMMITTEE TO ELECT LANDON BROWN | CANDIDATE COMMITTEE | MONETARY | 5/5/2022 | FILED | 200 | CHEYENNE, WY 82009 |
| SCARLETT IV, WILLIAM (JACKSON ) | COMMITTEE TO ELECT LANDON BROWN | CANDIDATE COMMITTEE | MONETARY | 5/5/2022 | FILED | 500 | JACKSON , WY 83002 |
| SURDAM, AMY (CHEYENNE) | COMMITTEE TO ELECT LANDON BROWN | CANDIDATE COMMITTEE | MONETARY | 5/5/2022 | FILED | 100 | CHEYENNE, WY 82009 |
| TRUE, SHANE (CASPER) | COMMITTEE TO ELECT LANDON BROWN | CANDIDATE COMMITTEE | MONETARY | 5/5/2022 | FILED | 1440.9 | CASPER, WY 82604 |
| WALLIN, KRISTI (CHEYENNE) | COMMITTEE TO ELECT LANDON BROWN | CANDIDATE COMMITTEE | MONETARY | 5/5/2022 | FILED | 50 | CHEYENNE, WY 82009 |
| ALLEN, BARBARA (JACKSON) | COMMITTEE TO ELECT LANDON BROWN | CANDIDATE COMMITTEE | MONETARY | 4/7/2022 | FILED | 200 | JACKSON, WY 83002 |
| CIGNA POL ACTION COMMITTEE (PHILADELPHIA) | COMMITTEE TO ELECT LANDON BROWN | CANDIDATE COMMITTEE | MONETARY | 10/26/2021 | FILED | 400 | PHILADELPHIA, PA 19191 |
| TRUCKING INDUSTRY PAC (CASPER) | COMMITTEE TO ELECT LANDON BROWN | CANDIDATE COMMITTEE | MONETARY | 10/21/2020 | FILED | 100 | CASPER, WY 82602 |
| CHEYENNE PAC (CHEYENNE) | COMMITTEE TO ELECT LANDON BROWN | CANDIDATE COMMITTEE | MONETARY | 10/16/2020 | FILED | 500 | CHEYENNE, WY 82003 |
| FUND FOR EFFECTIVE GOVERNMENT (WASHINGTON) | COMMITTEE TO ELECT LANDON BROWN | CANDIDATE COMMITTEE | MONETARY | 10/16/2020 | FILED | 300 | WASHINGTON, DC 20005 |
| WYOMING MINING ASSOCIATION PAC (WMA) (CHEYENNE) | COMMITTEE TO ELECT LANDON BROWN | CANDIDATE COMMITTEE | MONETARY | 10/16/2020 | FILED | 100 | CHEYENNE, WY 82001 |
| SHANOR, RICHARD (CHEYENNE) | COMMITTEE TO ELECT LANDON BROWN | CANDIDATE COMMITTEE | MONETARY | 10/1/2020 | FILED | 150 | CHEYENNE, WY 82009 |
| CHARTER COMMUNICATIONS, INC. PAC (STAMFORD) | COMMITTEE TO ELECT LANDON BROWN | CANDIDATE COMMITTEE | MONETARY | 8/25/2020 | FILED | 200 | STAMFORD, CT 06901 |
| CHEYENNE PAC (CHEYENNE) | COMMITTEE TO ELECT LANDON BROWN | CANDIDATE COMMITTEE | MONETARY | 8/25/2020 | FILED | 500 | CHEYENNE, WY 82003 |
| COWBOY GAMES PAC (SHERIDAN) | COMMITTEE TO ELECT LANDON BROWN | CANDIDATE COMMITTEE | MONETARY | 8/25/2020 | FILED | 150 | SHERIDAN, WY 82801 |
| FFFWY FIRE PAC (CHEYENNE) | COMMITTEE TO ELECT LANDON BROWN | CANDIDATE COMMITTEE | MONETARY | 8/25/2020 | FILED | 500 | CHEYENNE, WY 82003 |
| PFIZER PAC (NEW YORK) | COMMITTEE TO ELECT LANDON BROWN | CANDIDATE COMMITTEE | MONETARY | 8/25/2020 | FILED | 200 | NEW YORK, NY 10017 |
| WY EDUCATION ASSN. PAC FOR EDUCATION (CHEYENNE) | COMMITTEE TO ELECT LANDON BROWN | CANDIDATE COMMITTEE | MONETARY | 7/29/2020 | FILED | 300 | CHEYENNE, WY 82001 |
| BURNS, D. BRUCE (SHERIDAN) | COMMITTEE TO ELECT LANDON BROWN | CANDIDATE COMMITTEE | MONETARY | 7/28/2020 | FILED | 100 | SHERIDAN, WY 82801 |
| NEXTERA ENERGY PAC (JUNO BEACH) | COMMITTEE TO ELECT LANDON BROWN | CANDIDATE COMMITTEE | MONETARY | 7/28/2020 | FILED | 250 | JUNO BEACH, FL 33408 |
| TRUE, DAVE (CASPER) | COMMITTEE TO ELECT LANDON BROWN | CANDIDATE COMMITTEE | MONETARY | 7/25/2020 | FILED | 100 | CASPER, WY 82602 |
| UNION PACIFIC CORPORATION FUND FOR EFFECTIVE GOVERNMENT (WASHINGTON) | COMMITTEE TO ELECT LANDON BROWN | CANDIDATE COMMITTEE | MONETARY | 1/6/2020 | FILED | 250 | WASHINGTON, DC 20005 |
| PFIZER PAC (NEW YORK) | COMMITTEE TO ELECT LANDON BROWN | CANDIDATE COMMITTEE | MONETARY | 12/2/2019 | FILED | 200 | NEW YORK, NY 10017 |
| CIGNA POL ACTION COMMITTEE (PHILADELPHIA) | COMMITTEE TO ELECT LANDON BROWN | CANDIDATE COMMITTEE | MONETARY | 10/22/2019 | FILED | 250 | PHILADELPHIA, PA 19191 |
| BLACK HILLS CORPORATION PAC (RAPID CITY) | COMMITTEE TO ELECT LANDON BROWN | CANDIDATE COMMITTEE | MONETARY | 11/1/2018 | FILED | 125 | RAPID CITY, SD 57709 |
| NATIONAL FEDERATION OF INDPENDENT BUSINESS (WASHINGTON ) | COMMITTEE TO ELECT LANDON BROWN | CANDIDATE COMMITTEE | IN-KIND | 10/25/2018 | FILED | 5.12 | WASHINGTON , DC 20004 |
| TRUCKING INDUSTRY PAC (CASPER) | COMMITTEE TO ELECT LANDON BROWN | CANDIDATE COMMITTEE | MONETARY | 10/19/2018 | FILED | 200 | CASPER, WY 82602 |
| CHARTER COMMUNICATIONS, INC. WYOMING POLITICAL ACTION COMMITTEE (STAMFORD) | COMMITTEE TO ELECT LANDON BROWN | CANDIDATE COMMITTEE | MONETARY | 10/18/2018 | FILED | 200 | STAMFORD, CT 06901 |
| ALLSTATE INSURANCE COMPANY PAC (ALLPAC) (NORTHBROOK) | COMMITTEE TO ELECT LANDON BROWN | CANDIDATE COMMITTEE | MONETARY | 10/9/2018 | FILED | 150 | NORTHBROOK, IL 60062 |
| CHEYENNE PAC (CHEYENNE) | COMMITTEE TO ELECT LANDON BROWN | CANDIDATE COMMITTEE | MONETARY | 10/9/2018 | FILED | 500 | CHEYENNE, WY 82003 |
| FFFWY FIRE PAC (CHEYENNE) | COMMITTEE TO ELECT LANDON BROWN | CANDIDATE COMMITTEE | MONETARY | 10/9/2018 | FILED | 500 | CHEYENNE, WY 82003 |
| BNSF RAILPAC (FT WORTH) | COMMITTEE TO ELECT LANDON BROWN | CANDIDATE COMMITTEE | MONETARY | 10/3/2018 | FILED | 200 | FT WORTH, TX 76161 |
| UNION PACIFIC CORPORATION FUND FOR EFFECTIVE GOVERNMENT (WASHINGTON) | COMMITTEE TO ELECT LANDON BROWN | CANDIDATE COMMITTEE | MONETARY | 8/13/2018 | FILED | 250 | WASHINGTON, DC 20005 |
| CHESAPEAKE ENERGY CORPORATION FEDERAL PAC (OKLAHOMA CITY) | COMMITTEE TO ELECT LANDON BROWN | CANDIDATE COMMITTEE | MONETARY | 7/23/2018 | FILED | 250 | OKLAHOMA CITY, OK 73154 |
| WYOMING MINING ASSOCIATION PAC (WMA) (CHEYENNE) | COMMITTEE TO ELECT LANDON BROWN | CANDIDATE COMMITTEE | MONETARY | 7/23/2018 | FILED | 200 | CHEYENNE, WY 82001 |
| HEGGIE, JULIE (LARAMIE) | COMMITTEE TO ELECT LANDON BROWN | CANDIDATE COMMITTEE | MONETARY | 7/18/2018 | FILED | 100 | LARAMIE, WY 82073 |
| PACIFIC POWER/ROCKY MOUNTAIN POWER PAC (PORTLAND) | COMMITTEE TO ELECT LANDON BROWN | CANDIDATE COMMITTEE | MONETARY | 7/2/2018 | FILED | 200 | PORTLAND, OR 97232 |
| BARRON, MARK (JACKSON) | COMMITTEE TO ELECT LANDON BROWN | CANDIDATE COMMITTEE | MONETARY | 10/28/2016 | FILED | 200 | JACKSON, WY 83001 |
| MALM, GUNNAR (CHEYENNE) | COMMITTEE TO ELECT LANDON BROWN | CANDIDATE COMMITTEE | MONETARY | 10/27/2016 | FILED | 100 | CHEYENNE, WY 82009 |
| CONPAC CONTRACTORS PAC (CHEYENNE) | COMMITTEE TO ELECT LANDON BROWN | CANDIDATE COMMITTEE | MONETARY | 10/13/2016 | FILED | 250 | CHEYENNE, WY 82003 |
| WY REALTORS PAC (CASPER) | COMMITTEE TO ELECT LANDON BROWN | CANDIDATE COMMITTEE | MONETARY | 10/13/2016 | FILED | 1000 | CASPER, WY 82601 |
| ALLSTATE INSURANCE COMPANY PAC (ALLPAC) (NORTHBROOK) | COMMITTEE TO ELECT LANDON BROWN | CANDIDATE COMMITTEE | MONETARY | 10/6/2016 | FILED | 100 | NORTHBROOK, IL 60062 |
| TRUCKING INDUSTRY PAC (CASPER) | COMMITTEE TO ELECT LANDON BROWN | CANDIDATE COMMITTEE | MONETARY | 10/6/2016 | FILED | 100 | CASPER, WY 82602 |
| BLACK HILLS CORPORATION PAC (RAPID CITY) | COMMITTEE TO ELECT LANDON BROWN | CANDIDATE COMMITTEE | MONETARY | 10/4/2016 | FILED | 250 | RAPID CITY, SD 57709 |
| GASPAR, BARB (PINE BLUFFS) | COMMITTEE TO ELECT LANDON BROWN | CANDIDATE COMMITTEE | MONETARY | 9/30/2016 | FILED | 100 | PINE BLUFFS, WY 82082 |
| ALTRIA GROUP, INC. PAC (WASHINGTON) | COMMITTEE TO ELECT LANDON BROWN | CANDIDATE COMMITTEE | MONETARY | 9/28/2016 | FILED | 150 | WASHINGTON, DC 20001 |
| EXXONMOBILE PAC (IRVING) | COMMITTEE TO ELECT LANDON BROWN | CANDIDATE COMMITTEE | MONETARY | 9/23/2016 | FILED | 150 | IRVING, TX 75039 |
| LARAMIE REPUBLICAN PARTY CENTRAL COMMITTEE (CHEYENNE) | COMMITTEE TO ELECT LANDON BROWN | CANDIDATE COMMITTEE | MONETARY | 9/23/2016 | FILED | 2000 | CHEYENNE, WY 82003 |
| WY PUBLIC EMPLOYEES ASSN. PAC (CHEYENNE) | COMMITTEE TO ELECT LANDON BROWN | CANDIDATE COMMITTEE | MONETARY | 9/23/2016 | FILED | 500 | CHEYENNE, WY 82003 |
| PAW POLITICAL ACTION COUNCIL (CASPER) | COMMITTEE TO ELECT LANDON BROWN | CANDIDATE COMMITTEE | MONETARY | 9/16/2016 | FILED | 300 | CASPER, WY 82601 |
| LARAMIE REPUBLICAN PARTY CENTRAL COMMITTEE (CHEYENNE) | COMMITTEE TO ELECT LANDON BROWN | CANDIDATE COMMITTEE | MONETARY | 9/15/2016 | FILED | 3000 | CHEYENNE, WY 82003 |
| MEYER, HOLLY (CHEYENNE) | COMMITTEE TO ELECT LANDON BROWN | CANDIDATE COMMITTEE | MONETARY | 9/14/2016 | FILED | 75 | CHEYENNE, WY 82001 |
| WYOMING MINING ASSOCIATION PAC (WMA) (CHEYENNE) | COMMITTEE TO ELECT LANDON BROWN | CANDIDATE COMMITTEE | MONETARY | 9/14/2016 | FILED | 200 | CHEYENNE, WY 82003 |
| OLSEN, JARED S (CHEYENNE) | COMMITTEE TO ELECT LANDON BROWN | CANDIDATE COMMITTEE | MONETARY | 9/2/2016 | FILED | 150 | CHEYENNE, WY 82001 |
| BROWN, LANDON (CHEYENNE) | COMMITTEE TO ELECT LANDON BROWN | CANDIDATE COMMITTEE | LOAN | 8/27/2016 | FILED | 6 | CHEYENNE, WY 82009 |
| BROWN, LANDON (CHEYENNE) | COMMITTEE TO ELECT LANDON BROWN | CANDIDATE COMMITTEE | LOAN | 8/27/2016 | FILED | 15 | CHEYENNE, WY 82009 |
| BROWN, LANDON (CHEYENNE) | COMMITTEE TO ELECT LANDON BROWN | CANDIDATE COMMITTEE | LOAN | 8/26/2016 | FILED | 27.5 | CHEYENNE, WY 82009 |
| BROWN, LANDON (CHEYENNE) | COMMITTEE TO ELECT LANDON BROWN | CANDIDATE COMMITTEE | LOAN | 8/26/2016 | FILED | 278.64 | CHEYENNE, WY 82009 |
| BROWN, LANDON (CHEYENNE) | COMMITTEE TO ELECT LANDON BROWN | CANDIDATE COMMITTEE | LOAN | 8/9/2016 | FILED | 1100 | CHEYENNE, WY 82009 |
| BNSF RAILPAC (FT WORTH) | COMMITTEE TO ELECT LANDON BROWN | CANDIDATE COMMITTEE | MONETARY | 8/8/2016 | FILED | 200 | FT WORTH, TX 76161 |
| BROWN, LANDON (CHEYENNE) | COMMITTEE TO ELECT LANDON BROWN | CANDIDATE COMMITTEE | MONETARY | 8/8/2016 | FILED | 50 | CHEYENNE, WY 82009 |
| MILLION-HUGHES, VICKI (CHEYENNE) | COMMITTEE TO ELECT LANDON BROWN | CANDIDATE COMMITTEE | MONETARY | 8/8/2016 | FILED | 750 | CHEYENNE, WY 82009 |
| BROWN, LANDON (CHEYENNE) | COMMITTEE TO ELECT LANDON BROWN | CANDIDATE COMMITTEE | LOAN | 7/31/2016 | FILED | 209.8 | CHEYENNE, WY 82009 |
| CONPAC CONTRACTORS PAC (CHEYENNE) | COMMITTEE TO ELECT LANDON BROWN | CANDIDATE COMMITTEE | MONETARY | 7/28/2016 | AMEND - ADD | 250 | CHEYENNE, WY 82003 |
| PACIFICORP/MIDAMERICAN PAC (PORTLAND) | COMMITTEE TO ELECT LANDON BROWN | CANDIDATE COMMITTEE | MONETARY | 7/25/2016 | FILED | 200 | PORTLAND, OR 97232 |
| WYOMING MINING ASSOCIATION PAC (WMA) (CHEYENNE) | COMMITTEE TO ELECT LANDON BROWN | CANDIDATE COMMITTEE | MONETARY | 7/22/2016 | FILED | 100 | CHEYENNE, WY 82003 |
| BROWN, LANDON (CHEYENNE) | COMMITTEE TO ELECT LANDON BROWN | CANDIDATE COMMITTEE | IN-KIND | 7/4/2016 | FILED | 50.18 | CHEYENNE, WY 82009 |
| BROWN, LANDON (CHEYENNE) | COMMITTEE TO ELECT LANDON BROWN | CANDIDATE COMMITTEE | IN-KIND | 7/2/2016 | FILED | 20 | CHEYENNE, WY 82009 |
| BROWN, LANDON (CHEYENNE) | COMMITTEE TO ELECT LANDON BROWN | CANDIDATE COMMITTEE | LOAN | 7/2/2016 | FILED | 100 | CHEYENNE, WY 82009 |
| WY EDUCATION ASSN. PAC FOR EDUCATION (CHEYENNE) | COMMITTEE TO ELECT LANDON BROWN | CANDIDATE COMMITTEE | MONETARY | 6/29/2016 | FILED | 600 | CHEYENNE, WY 82001 |
| WY REALTORS PAC (CASPER) | COMMITTEE TO ELECT LANDON BROWN | CANDIDATE COMMITTEE | MONETARY | 6/16/2016 | FILED | 500 | CASPER, WY 82601 |
| BROWN, LANDON (CHEYENNE) | COMMITTEE TO ELECT LANDON BROWN | CANDIDATE COMMITTEE | LOAN | 6/9/2016 | FILED | 85 | CHEYENNE, WY 82009 |
| GREEN, PATRICK (CHEYENNE) | COMMITTEE TO ELECT LANDON BROWN | CANDIDATE COMMITTEE | MONETARY | 6/8/2016 | FILED | 100 | CHEYENNE, WY 82001 |
| UZZELL, JIM (CHEYENNE) | COMMITTEE TO ELECT LANDON BROWN | CANDIDATE COMMITTEE | MONETARY | 6/8/2016 | FILED | 50 | CHEYENNE, WY 82009 |
| BROWN, LANDON (CHEYENNE) | COMMITTEE TO ELECT LANDON BROWN | CANDIDATE COMMITTEE | LOAN | 6/7/2016 | FILED | 1275 | CHEYENNE, WY 82009 |
| GASPAR, BARB (PINE BLUFFS) | COMMITTEE TO ELECT LANDON BROWN | CANDIDATE COMMITTEE | MONETARY | 6/2/2016 | FILED | 50 | PINE BLUFFS, WY 82082 |
| ESP, TYLER (CHEYENNE) | COMMITTEE TO ELECT LANDON BROWN | CANDIDATE COMMITTEE | MONETARY | 5/30/2016 | FILED | 100 | CHEYENNE, WY 82001 |
| GUDENKAUF, JERRY (CHEYENNE) | COMMITTEE TO ELECT LANDON BROWN | CANDIDATE COMMITTEE | MONETARY | 5/30/2016 | FILED | 50 | CHEYENNE, WY 82001 |
| JENKINS, MORRIS (CHEYENNE) | COMMITTEE TO ELECT LANDON BROWN | CANDIDATE COMMITTEE | MONETARY | 5/30/2016 | FILED | 100 | CHEYENNE, WY 82001 |
| MEYER, HOLLY (CHEYENNE) | COMMITTEE TO ELECT LANDON BROWN | CANDIDATE COMMITTEE | MONETARY | 5/30/2016 | FILED | 100 | CHEYENNE, WY 82001 |
| MEYER, RITA C. (CHEYENNE) | COMMITTEE TO ELECT LANDON BROWN | CANDIDATE COMMITTEE | MONETARY | 5/30/2016 | FILED | 250 | CHEYENNE, WY 82003 |
| OSE, ALAN (CHEYENNE) | COMMITTEE TO ELECT LANDON BROWN | CANDIDATE COMMITTEE | MONETARY | 5/30/2016 | FILED | 50 | CHEYENNE, WY 82001 |
| RUDEY, SHERYL (CASTLE ROCK) | COMMITTEE TO ELECT LANDON BROWN | CANDIDATE COMMITTEE | MONETARY | 5/30/2016 | FILED | 200 | CASTLE ROCK, CO 80104 |
| THOMPSON, GINA (CHEYENNE) | COMMITTEE TO ELECT LANDON BROWN | CANDIDATE COMMITTEE | MONETARY | 5/30/2016 | FILED | 50 | CHEYENNE, WY 82001 |
| VENDEGNIA, GEORGE (WHEATRIDGE) | COMMITTEE TO ELECT LANDON BROWN | CANDIDATE COMMITTEE | MONETARY | 5/30/2016 | FILED | 300 | WHEATRIDGE, CO 80033 |
| YETTER, KEN (CHEYENNE) | COMMITTEE TO ELECT LANDON BROWN | CANDIDATE COMMITTEE | MONETARY | 5/30/2016 | FILED | 100 | CHEYENNE, WY 82001 |
| | COMMITTEE TO ELECT LANDON BROWN | CANDIDATE COMMITTEE | ANONYMOUS | 5/30/2016 | FILED | 50 | |
| | COMMITTEE TO ELECT LANDON BROWN | CANDIDATE COMMITTEE | ANONYMOUS | 5/30/2016 | FILED | 40 | |
| | COMMITTEE TO ELECT LANDON BROWN | CANDIDATE COMMITTEE | ANONYMOUS | 5/30/2016 | FILED | 20 | |
| BROWN, LANDON (CHEYENNE) | COMMITTEE TO ELECT LANDON BROWN | CANDIDATE COMMITTEE | LOAN | 5/27/2016 | FILED | 299.64 | CHEYENNE, WY 82009 |
| HELLING, BRIAN (CASPER) | COMMITTEE TO ELECT LANDON BROWN | CANDIDATE COMMITTEE | MONETARY | 5/13/2016 | FILED | 250 | CASPER, WY 82601 |
| BROWN, LARRY (CHEYENNE) | COMMITTEE TO ELECT LANDON BROWN | CANDIDATE COMMITTEE | IN-KIND | 5/11/2016 | FILED | 70 | CHEYENNE, WY 82001 |
| HENNING, PETE (CHEYENNE) | COMMITTEE TO ELECT LANDON BROWN | CANDIDATE COMMITTEE | MONETARY | 5/11/2016 | FILED | 100 | CHEYENNE, WY 82001 |
| URBIGKIT, LAURIE (CASPER) | COMMITTEE TO ELECT LANDON BROWN | CANDIDATE COMMITTEE | MONETARY | 5/9/2016 | FILED | 100 | CASPER, WY 82601 |
| BROWN, KAREN (CHEYENNE) | COMMITTEE TO ELECT LANDON BROWN | CANDIDATE COMMITTEE | MONETARY | 5/8/2016 | FILED | 200 | CHEYENNE, WY 82001 |
| WATTLES, HOWARD (CHEYENNE) | COMMITTEE TO ELECT LANDON BROWN | CANDIDATE COMMITTEE | MONETARY | 5/8/2016 | FILED | 100 | CHEYENNE, WY 82001 |
| BROWN, LANDON (CHEYENNE) | COMMITTEE TO ELECT LANDON BROWN | CANDIDATE COMMITTEE | LOAN | 5/3/2016 | FILED | 25 | CHEYENNE, WY 82009 |
| BROWN, LANDON (CHEYENNE) | COMMITTEE TO ELECT LANDON BROWN | CANDIDATE COMMITTEE | LOAN | 4/27/2016 | FILED | 8.31 | CHEYENNE, WY 82009 |
| | COMMITTEE TO ELECT LANDON BROWN | CANDIDATE COMMITTEE | ANONYMOUS | 4/22/2016 | FILED | 40 | |
| BROWN, LANDON (CHEYENNE) | COMMITTEE TO ELECT LANDON BROWN | CANDIDATE COMMITTEE | LOAN | 4/7/2016 | FILED | 59.36 | CHEYENNE, WY 82009 |
| BROWN, LANDON (CHEYENNE) | COMMITTEE TO ELECT LANDON BROWN | CANDIDATE COMMITTEE | LOAN | 4/7/2016 | FILED | 148.4 | CHEYENNE, WY 82009 |
| HUGHES, VICKIE (CHEYENNE) | COMMITTEE TO ELECT LANDON BROWN | CANDIDATE COMMITTEE | MONETARY | 4/7/2016 | FILED | 250 | CHEYENNE, WY 82009 |
| MEYER, RITA (CHEYENNE) | COMMITTEE TO ELECT LANDON BROWN | CANDIDATE COMMITTEE | MONETARY | 4/7/2016 | FILED | 200 | CHEYENNE, WY 82001 |
| PARELA, DANIEL (CHEYENNE) | COMMITTEE TO ELECT LANDON BROWN | CANDIDATE COMMITTEE | MONETARY | 4/7/2016 | FILED | 500 | CHEYENNE, WY 82009 |
| RUBY, JAMES (CHEYENNE) | COMMITTEE TO ELECT LANDON BROWN | CANDIDATE COMMITTEE | MONETARY | 4/7/2016 | FILED | 100 | CHEYENNE, WY 82009 |
| BROWN, LANDON (CHEYENNE) | COMMITTEE TO ELECT LANDON BROWN | CANDIDATE COMMITTEE | MONETARY | 4/4/2016 | FILED | 40 | CHEYENNE, WY 82009 |