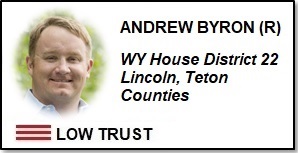 Summary
Representation
Competence
Integrity
More
+ – – 
Andrew Byron is a WY House Representative for House District 22 in Lincoln and Teton Counties and has served from Jan 2023 to the present.  He has received a positive score for Representation, and a negative score for Competence and Integrity.  Therefore Byron has been ranked as Low Trust.
He is up for reelection in 2024.
---
I will work to protect public lands, push property tax reform, foster small businesses, encourage entrepreneurship, and improve the relationship between House District 22 and Cheyenne. Public service has always called to me. I enjoy serving others, lending my expertise and working though differences to achieve a common goal.

-Andrew Byron

From https://www.abhd22.com/
Overall Byron earns a (+) for Representation.
Attendance
It appears that Byron missed 39 votes across 4 days in 2023 General Session:
2/23/23 – HB188 Concurrence; 3rd reading for SF75 ; SF97; SF129; SF148; SF123;
3/1/23 – 3rd Reading for SF72; SF76; SF94; SF99; SF101; SF107; SF109; SF120; SF127; SF133; SF137; SF147; SF151; SF152; SF153; SF164; SF167; SF181; Concurrence for HB144; HB152; HB171; HB208; HB222; Veto Override for SF71;
3/2/23 – Concurrence for HB195; SF76; SF120;
3/3/23 – Concurrence for HB64; HB76; HB93; SF42; SF48; SF96.
Because our cut-off is any missed votes on 5 or more days, Byron came close to earning a (-) score.  Three of the four days that Byron missed, were the last three days of session.
Public Conduct
Byron appears to behave appropriately in public and to the public.
Sponsorship History
In 2023 Byron was the primary sponsor of a single bill, HB0171 – State land leases, which passed.  Byron co-sponsored 16 bills – favored topics appear to be wildlife and education related.  See Byron's legislative webpage for more.
Committee Assignments
2023-House Revenue
2023-House Travel, Recreation, Wildlife & Cultural Resources
2023-Select Natural Resource Funding Committee
Byron scored a (–) for Constitutional Competence with an average of 26.6% on the constitutional issues listed below.  Constitutional issue categories that have a "N/A" grade, refer to bills that Byron did not have the opportunity to vote on.
For more on the bills used to analyze these scores click here.  Special hat-tip goes out to Evidence Based Wyoming for use of their statistical tool to generate the following vote scores:
Conflicts
Byron has scored a (–) for Integrity.
Byron is a volunteer Lieutenant for the Jackson Hole Fire Department.  As such, he should have abstained from voting on 2023 HB118- Volunteer firefighter pension-funding
Byron has a business interest and is employed with fly-fishing outfitter, Wyoming Angling Company.  As such, he should have abstained from sponsoring 2023 HB0232- Outfitters and guides-amendments.
Employment/Income
According to Byron's 2023 State Elected Officials Financial Disclosure available at Wyofile, he reported the following:
Business Enterprises, offices held: Manager, HSB LLC
Employment: HSB LLC; fly-fishing company; real estate agent
Business Interests: with HSB LLC; fly-fishing company; real estate agent
Income earned from "Any security or interest earnings" and "Real estate, leases, royalties"
Other: AKN LLC
Memberships/Civic Organizations
Jackson Hole Fire/EMS
Chairman, Snake River Fund
Campaign Contributions
The table below shows all campaign contributions reported by the WY Secretary of State for Andrew Peter Byron.
In 2022 Byron received 47 contributions that total approximately $44,829.17.  Of those donations, approximately 8 were from PACs &/or Campaign Committees.  The total amount received from PACS &/or Campaign Committees was approximately $33,250 – which is approximately 74% of total donations received.
Noteworthy PAC contributions to Byron were:
Teton Republican Party ($15,000 and $7,000)
Lincoln County Republican Part ($2,000)
Crook County Republican Party ($1,000)
Click the arrows at the top of columns to sort the data by name, date, $ amount, etc.  (Data is publicly available records obtained from the Wyoming Secretary of State's Wyoming's Campaign Finance Information System)
| Contributor Name | Recipient Name | Recipient Type | Contribution Type | Date | Filing Status | Amount | City State Zip |
| --- | --- | --- | --- | --- | --- | --- | --- |
| SPENCER, PATRICK (WILSON) | ANDREW PETER BYRON | CANDIDATE | MONETARY | 11/14/2022 | AMEND - ADD | 50 | WILSON, WY 83014 |
| LONG, PETER (MORAN) | ANDREW PETER BYRON | CANDIDATE | MONETARY | 11/13/2022 | AMEND - ADD | 490 | MORAN, WY 83013 |
| WOOLLEY, CHRISTOPHER (WILSON) | ANDREW PETER BYRON | CANDIDATE | MONETARY | 10/29/2022 | FILED | 250 | WILSON, WY 83014 |
| TETON REPUBLICAN PARTY CENTRAL COMMITTEE (JACKSON) | ANDREW PETER BYRON | CANDIDATE | MONETARY | 10/24/2022 | FILED | 7000 | JACKSON, WY 83001 |
| KEEGAN, MICHAEL (JACKSON) | ANDREW PETER BYRON | CANDIDATE | MONETARY | 10/20/2022 | FILED | 100 | JACKSON, WY 83001 |
| RESOR, JOHN (WILSON) | ANDREW PETER BYRON | CANDIDATE | MONETARY | 10/20/2022 | FILED | 500 | WILSON, WY 83014 |
| PERSSON, ALEX (LOS ANGELES) | ANDREW PETER BYRON | CANDIDATE | MONETARY | 10/18/2022 | FILED | 100 | LOS ANGELES, CA 90019 |
| PISANO, ALEXANDRA (ALEXANDRIA) | ANDREW PETER BYRON | CANDIDATE | MONETARY | 10/18/2022 | FILED | 100 | ALEXANDRIA, WY 22302 |
| WYLLIE, THOMAS (ALEXANDRIA) | ANDREW PETER BYRON | CANDIDATE | MONETARY | 10/18/2022 | FILED | 100 | ALEXANDRIA, VA 22304 |
| WESTBROOK, TOM (TETON VILLAGE) | ANDREW PETER BYRON | CANDIDATE | MONETARY | 10/13/2022 | FILED | 250 | TETON VILLAGE, WY 83025 |
| CROOK REPUBLICAN PARTY CENTRAL COMMITTEE (SUNDANCE) | ANDREW PETER BYRON | CANDIDATE | MONETARY | 10/11/2022 | FILED | 1000 | SUNDANCE, WY 82729 |
| GALBREATH, LIZANNE (NORWALK) | ANDREW PETER BYRON | CANDIDATE | MONETARY | 10/11/2022 | FILED | 500 | NORWALK, CT 06853 |
| HAUGE, SUSIE (WILSON) | ANDREW PETER BYRON | CANDIDATE | MONETARY | 10/3/2022 | FILED | 1500 | WILSON, WY 83014 |
| COMMON VALUES PAC (ALEXANDRIA) | ANDREW PETER BYRON | CANDIDATE | MONETARY | 9/30/2022 | FILED | 250 | ALEXANDRIA, VA 22314 |
| STARYK, TED (JACKSON) | ANDREW PETER BYRON | CANDIDATE | MONETARY | 9/29/2022 | FILED | 1000 | JACKSON, WY 83001 |
| RESOR, TURNER (WILSON) | ANDREW PETER BYRON | CANDIDATE | MONETARY | 9/27/2022 | FILED | 250 | WILSON, WY 83014 |
| WY REALTORS PAC (CASPER) | ANDREW PETER BYRON | CANDIDATE | MONETARY | 9/27/2022 | FILED | 5000 | CASPER, WY 82604 |
| BERGIEN, SLOANE (JACKSON) | ANDREW PETER BYRON | CANDIDATE | MONETARY | 9/26/2022 | FILED | 200 | JACKSON, WY 83001 |
| LINCOLN REPUBLICAN PARTY CENTRAL COMMITTEE (AFTON) | ANDREW PETER BYRON | CANDIDATE | MONETARY | 9/26/2022 | FILED | 2000 | AFTON, WY 83110 |
| TETON REPUBLICAN PARTY CENTRAL COMMITTEE (JACKSON) | ANDREW PETER BYRON | CANDIDATE | MONETARY | 9/21/2022 | FILED | 15000 | JACKSON, WY 83001 |
| PROSPERITY AND COMMERCE PAC (CHEYENNE) | ANDREW PETER BYRON | CANDIDATE | MONETARY | 9/20/2022 | FILED | 500 | CHEYENNE, WY 82001 |
| SWORD, ELIZABETH (JACKSON) | ANDREW PETER BYRON | CANDIDATE | MONETARY | 9/11/2022 | FILED | 300 | JACKSON, WY 83001 |
| OLSON, JARED (CHEYENNE) | ANDREW PETER BYRON | CANDIDATE | MONETARY | 8/29/2022 | FILED | 250 | CHEYENNE, WY 82001 |
| SOMMERS, ALBERT (PINEDALE) | ANDREW PETER BYRON | CANDIDATE | MONETARY | 8/27/2022 | FILED | 250 | PINEDALE, WY 82941 |
| HUMMEL, JOHN (JACKSON) | ANDREW PETER BYRON | CANDIDATE | MONETARY | 8/21/2022 | FILED | 250 | JACKSON, WY 83001 |
| STANTON, JOHN (MEDINA) | ANDREW PETER BYRON | CANDIDATE | MONETARY | 8/18/2022 | FILED | 1500 | MEDINA, WY 98039 |
| SWORD, MORGAN (NEW YORK) | ANDREW PETER BYRON | CANDIDATE | MONETARY | 8/17/2022 | FILED | 1500 | NEW YORK, NY 10128 |
| ALLEN, BARBARA (JACKSON) | ANDREW PETER BYRON | CANDIDATE | MONETARY | 8/16/2022 | AMEND - ADD | 100 | JACKSON, WY 83001 |
| STAPLES , SOPHIE (BROOKLYN) | ANDREW PETER BYRON | CANDIDATE | MONETARY | 8/16/2022 | AMEND - ADD | 250 | BROOKLYN, NY 11328 |
| KAUFMAN, NICOLE (VICTOR) | ANDREW PETER BYRON | CANDIDATE | MONETARY | 8/9/2022 | FILED | 25 | VICTOR, ID 83455 |
| BROOKS, MICHAEL (JUPITER ISLAND) | ANDREW PETER BYRON | CANDIDATE | MONETARY | 8/8/2022 | FILED | 1500 | JUPITER ISLAND, FL 33455 |
| HUMMEL, JOHN (JACKSON) | ANDREW PETER BYRON | CANDIDATE | MONETARY | 8/7/2022 | FILED | 250 | JACKSON, WY 83001 |
| BYRON, ANDREW (JACKSON) | ANDREW PETER BYRON | CANDIDATE | MONETARY | 8/2/2022 | FILED | 1057.6 | JACKSON, WY 83001 |
| BYRON, ANDREW (JACKSON) | ANDREW PETER BYRON | CANDIDATE | MONETARY | 7/31/2022 | FILED | 594.13 | JACKSON, WY 83001 |
| PROPST, LUTHER (JACKSON) | ANDREW PETER BYRON | CANDIDATE | MONETARY | 7/21/2022 | FILED | 100 | JACKSON, WY 83002 |
| SWORD, BAYLESS (JACKSON) | ANDREW PETER BYRON | CANDIDATE | MONETARY | 7/20/2022 | FILED | 263.17 | JACKSON, WY 83001 |
| SHANKS, JAMIE (MERCER ISLAND) | ANDREW PETER BYRON | CANDIDATE | MONETARY | 7/19/2022 | FILED | 250 | MERCER ISLAND, WA 98040 |
| WESTLUND, NICK (BELLEVUE) | ANDREW PETER BYRON | CANDIDATE | MONETARY | 7/19/2022 | FILED | 250 | BELLEVUE, WA 98008 |
| BYRON, ANDREW (JACKSON) | ANDREW PETER BYRON | CANDIDATE | MONETARY | 7/18/2022 | FILED | 141.71 | JACKSON, WY 83001 |
| BYRON, ANDREW (JACKSON) | ANDREW PETER BYRON | CANDIDATE | MONETARY | 7/18/2022 | FILED | 680.37 | JACKSON, WY 83001 |
| STEINAUER, KIPP (DENVER) | ANDREW PETER BYRON | CANDIDATE | MONETARY | 7/16/2022 | FILED | 100 | DENVER, CO 80231 |
| TENNANT, BRIAN (WHEATON) | ANDREW PETER BYRON | CANDIDATE | MONETARY | 7/15/2022 | FILED | 150 | WHEATON, IL 60189 |
| BYRON, ANDREW (JACKSON) | ANDREW PETER BYRON | CANDIDATE | MONETARY | 7/10/2022 | FILED | 67 | JACKSON, WY 83001 |
| HAUGE, MEG (JACKSON) | ANDREW PETER BYRON | CANDIDATE | MONETARY | 7/8/2022 | FILED | 500 | JACKSON, WY 83001 |
| LONG, PETER (JACKSON) | ANDREW PETER BYRON | CANDIDATE | MONETARY | 6/30/2022 | FILED | 200 | JACKSON, WY 83001 |
| BYRON, ANDREW (JACKSON) | ANDREW PETER BYRON | CANDIDATE | MONETARY | 6/28/2022 | FILED | 1 | JACKSON, WY 83001 |
| WY REALTORS PAC (CASPER) | ANDREW PETER BYRON | CANDIDATE | MONETARY | 6/23/2022 | FILED | 2500 | CASPER, WY 82604 |