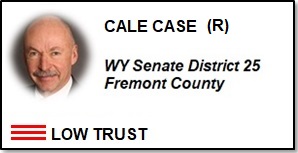 Summary
Representation
Competence
Integrity
More
– – –
Cale Case has served in the WY Legislature for Fremont County since 1993; in the House from 1993 to 1998, and in Senate District 25 from 1999 to the present – 30 years total.  He has received a negative score for Representation, Competence, and Integrity and therefore has been ranked as Low Trust.
He is up for reelection in 2026.
---
With a doctorate in Resource Economics from the University of Wyoming Cale is the president of Case and Company, an economic consulting firm specializing in public utility, energy, regulatory and resource economics. He has served as an advisor to municipal, state and national governments, local and long distance telephone companies, electric utilities, and other private firms.

From https://caseforsenate.com/about
Case earns a (–) for Representation regarding his public conduct of gaming his votes (2023 -SF0013) on the Senate floor.
Attendance
It appears that Case missed eight votes in 2023 General Session, six of which were acknowledged conflicts.
The two non-conflict votes that Case missed were:
1/30/23 – Senate Judiciary committee vote for SF120;
2/21/23 – Senate concurrence vote for SF16.
The conflict votes that Case acknowledged and recused himself from were:
Regarding SF0013 noted above – Case appeared to play musical chairs with his vote as follows:
Recused for conflict during Senate Corporations committee on 1/19/23
Recused for conflict during Senate 3rd Reading on 1/14/23
Recused for conflict during Senate concurrence on 2/13/23
Voted to concur on *Bill Reconsideration Motion on 2/13/23
Recused for conflict to 2nd Senate concurrence on 2/13/23
*Reconsideration of the Vote is basically an opportunity for legislators on the prevailing side of a vote, to call for a second vote – giving opportunity for legislators to change their vote.  It is described in detail in the WY Joint Rules Handbook.
Public Conduct
The gaming Case played with the above mentioned SF0013 votes is a shameful public display of violating Wyoming Constitution Article 3, Section 46. Interested member shall not vote.
Sponsorship History
From 2016 to 2023  has been the primary sponsor of  bills among a variety of topics.  See his legislative webpage for more info.
Committee Assignments
2023-Senate Corporations, Elections & Political Subdivisions – Chairman
2023-Select Committee on Legislative Facilities, Technology and Process – Chairman
2023-Subcommittee on Capitol Governance – Chairman
2023-Senate Judiciary
2023-Indian Child Welfare Act Task Force
2023-Select Committee on Tribal Relations
2023-Energy Council
2023-Legislative Artwork Donation Program Committee
Case scored a (–) for Constitutional Competence with an average of 16.67% on the constitutional issues listed below.
For more on the bills used to analyze these scores click here.  Special hat-tip goes out to Evidence Based Wyoming for use of their statistical tool to generate the following vote scores:
Conflicts
Case has scored a (–) for Integrity.
Case has an acknowledged conflict of interest with bills that focus on liquor licenses.  On 2/13/23 Case voted on Reconsideration of the Bill for Senate File #SF0013 that he had an acknowledged personal conflict with.
Additionally, and significantly, Case is President of Case & Company which he describes as an "economic consulting firm specializing in public utility, energy, regulatory and resource economics" (archived here).  (Case is also a Senior Regulatory Specialist for Segura Consulting where he specializes in "telecommunications, electric and gas utilities, and energy and environmental resources" that serves the global community.)
One would assume that there are too many conflicts of interest for Case to be a legislator at all.  Despite that however, Case currently serves as the Senate Committee Chair for the Corporations Committee and a member of the Energy Council.  Case serving on these committees is, in our opinion, a conflict of interest.
Noted below are 2023 bills that Case voted on or sponsored that he likely had an unacknowledged conflict of interest.
HB0061 – Source material associated with mining-agreement.
HB0284 – Collection agency regulation-debt buyers.
SF0154 – Energy authority project financing-refineries.
Employment/Income
According to Cale Case's 2023 State Elected Officials Financial Disclosure made available at Wyofile, Case reported the following:
President of:

Case & Company
Sink & Rise, Inc.
Tangemann Benedict Corporation

Vice President of Lander Dickinson Creek Co. (Lander, WY)
Secretary of Flying Six, Inc. (Lander, WY)
Director of (inactive) Brahm Corporation in India
Wyoming Senate (job/employment)
Income earned from "security or interest earnings" and "real estate, leases, royalties"
Other income from "consulting relationship with Segura Consulting LLC" in Rockville, MD.
The Inn at Lander (Sink & Rise, Inc and Tangemann Benedict Corporation) "

often supply lodging, food & conference facilities" to "State of Wyoming agencies, boards and elected officials, special districts, schools.

"
Memberships/Civic Organizations
State Workforce Investment Board
Wyoming Liberty Group, Former Director
Campaign Contributions
The table below shows all campaign contributions reported by the WY Secretary of State for Cale Case from 2010 to 2022.  Case, however has been serving in the WY legislature since 1993.
From 2010 to 2022 Case has received 117 contributions that total approximately $38,047.10.  Of the 117 donations, approximately10 were from PACs &/or Campaign Committees.
Noteworthy contributions to Case are:
Party PACs

CENTRAL WYOMING CONSERVATIVE POLITICAL ACTION COMMITTEE ($500)
Fremont County Republican Party ($500)
Republican Women of Fremont County ($1,500; $250; $500)
Wyoming State Senate Republican Conference ($500; $1,000)

WY Family Dynasty

True family members ($1,500; $1,500; $200)
Click the arrows at the top of columns to sort the data by name, date, $ amount, etc.  (Data is publicly available records obtained from the Wyoming Secretary of State's Wyoming's Campaign Finance Information System)
| Contributor Name | Recipient Name | Recipient Type | Contribution Type | Date | Filing Status | Amount | City State Zip |
| --- | --- | --- | --- | --- | --- | --- | --- |
| ANDERSON, TOM AND RITA (CODY) | CALE CASE | CANDIDATE | MONETARY | 10/19/2022 | FILED | 500 | CODY, WY 82414 |
| TRUE, DAVID L. (CASPER) | CALE CASE | CANDIDATE | MONETARY | 10/10/2022 | FILED | 150 | CASPER, WY 82602 |
| REPUBLICAN WOMEN OF FREMONT COUNTY (RIVERTON) | CALE CASE | CANDIDATE | MONETARY | 9/29/2022 | FILED | 250 | RIVERTON, WY 82501 |
| SINCLAIR, STEPHEN AND JEAN (OAK HILLS) | CALE CASE | CANDIDATE | MONETARY | 9/20/2022 | FILED | 300 | OAK HILLS, VA 20171 |
| KING, JACK OR MARY JANE (LANDER) | CALE CASE | CANDIDATE | MONETARY | 8/17/2022 | FILED | 150 | LANDER, WY 82520 |
| | CALE CASE | CANDIDATE | ANONYMOUS | 8/16/2022 | AMEND - ADD | 100 | |
| EAST, DEBRA (LANDER) | CALE CASE | CANDIDATE | MONETARY | 8/15/2022 | AMEND - ADD | 20 | LANDER, WY 82520 |
| QUIROZ, JOE AND ANDREA (LANDER) | CALE CASE | CANDIDATE | MONETARY | 8/15/2022 | AMEND - ADD | 200 | LANDER, WY 82520 |
| FALLS, JOHN (LANDER) | CALE CASE | CANDIDATE | MONETARY | 8/9/2022 | FILED | 1000 | LANDER, WY 82520 |
| COOPER, DANYNE (RIVERTON) | CALE CASE | CANDIDATE | MONETARY | 8/3/2022 | FILED | 500 | RIVERTON, WY 82501 |
| HELLYER, MARTHA AND ROB (LANDER) | CALE CASE | CANDIDATE | MONETARY | 8/3/2022 | FILED | 250 | LANDER, WY 82520 |
| KAUFMAN, PERRY (RIVERTON) | CALE CASE | CANDIDATE | MONETARY | 8/3/2022 | FILED | 100 | RIVERTON, WY 82501 |
| LANCASTER, ARLEN (LANDER) | CALE CASE | CANDIDATE | MONETARY | 8/3/2022 | FILED | 100 | LANDER, WY 82520 |
| LEE, KRISTIN (CHEYENNE) | CALE CASE | CANDIDATE | MONETARY | 8/3/2022 | FILED | 300 | CHEYENNE, WY 82001 |
| NIGHTINGALE, FRANK (PHOENIX) | CALE CASE | CANDIDATE | MONETARY | 8/3/2022 | FILED | 500 | PHOENIX, WY 85016 |
| PETERSON, QUINN AND SAMANTHA (FORT COLLINS) | CALE CASE | CANDIDATE | MONETARY | 8/3/2022 | FILED | 1000 | FORT COLLINS, CO 80525 |
| SINCLAIR, STEPHEN AND JEAN (OAK HILL) | CALE CASE | CANDIDATE | MONETARY | 8/3/2022 | FILED | 300 | OAK HILL, VA 20171 |
| FOWLER, JEFFREY (LANDER) | CALE CASE | CANDIDATE | MONETARY | 8/1/2022 | FILED | 1000 | LANDER, WY 82520 |
| LEVIN, ROBERT AND JODY (CHEYENNE) | CALE CASE | CANDIDATE | MONETARY | 7/12/2022 | FILED | 500 | CHEYENNE, WY 82009 |
| PETERSON, DALE (LANDER) | CALE CASE | CANDIDATE | MONETARY | 7/12/2022 | FILED | 100 | LANDER, WY 82520 |
| ARANOW, ELIZABETH (LANDER) | CALE CASE | CANDIDATE | MONETARY | 7/7/2022 | FILED | 200 | LANDER, WY 82520 |
| GUSCHEWSKY, CATHERINE (LANDER) | CALE CASE | CANDIDATE | MONETARY | 6/27/2022 | FILED | 100 | LANDER, WY 82520 |
| LYNN, STEVE AND JANE (LANDER) | CALE CASE | CANDIDATE | MONETARY | 6/27/2022 | FILED | 100 | LANDER, WY 82520 |
| MANN AND WOOD, PENNY AND JOHN (LANDER) | CALE CASE | CANDIDATE | MONETARY | 6/27/2022 | FILED | 100 | LANDER, WY 82520 |
| NORTON, RICHARD AND CATHY (LANDER) | CALE CASE | CANDIDATE | MONETARY | 6/27/2022 | FILED | 10 | LANDER, WY 82520 |
| SMITH, RON AND CAROL (LANDER) | CALE CASE | CANDIDATE | MONETARY | 6/27/2022 | FILED | 50 | LANDER, WY 82520 |
| TRUE, SHANE (CASPER) | CALE CASE | CANDIDATE | MONETARY | 6/27/2022 | FILED | 1500 | CASPER, WY 82604 |
| ALMAS, KAREN AND WILLIAM (LANDER) | CALE CASE | CANDIDATE | MONETARY | 6/15/2022 | FILED | 200 | LANDER, WY 82520 |
| DOWNING, JONATHAN (CHEYENNE) | CALE CASE | CANDIDATE | MONETARY | 6/15/2022 | FILED | 250 | CHEYENNE, WY 82009 |
| GOSE, ROGER AND BARBARA (RIVERTON) | CALE CASE | CANDIDATE | MONETARY | 6/15/2022 | FILED | 200 | RIVERTON, WY 82501 |
| TRUE, JOANN (CASPER) | CALE CASE | CANDIDATE | MONETARY | 6/15/2022 | FILED | 1500 | CASPER, WY 82604 |
| SCHMIDT, KIRK (LANDER) | CALE CASE | CANDIDATE | MONETARY | 6/6/2022 | FILED | 1000 | LANDER, WY 82520 |
| CORNIA, MIKE (EVANSTON) | CALE CASE | CANDIDATE | MONETARY | 12/20/2021 | FILED | 1500 | EVANSTON, WY 82930 |
| PERKINS, DREW (CASPER) | CALE CASE | CANDIDATE | MONETARY | 10/27/2018 | FILED | 200 | CASPER, WY 82601 |
| COMMON VALUES, PAC, SEN. JOHN BARRASSO (ALEXANDRIA) | CALE CASE | CANDIDATE | MONETARY | 10/22/2018 | FILED | 250 | ALEXANDRIA, VA 82520 |
| LANCASTER, ARLEN (LANDER) | CALE CASE | CANDIDATE | MONETARY | 10/22/2018 | FILED | 100 | LANDER, WY 82520 |
| PETERSON, DALE (LANDER) | CALE CASE | CANDIDATE | MONETARY | 10/22/2018 | FILED | 100 | LANDER, WY 82520 |
| WEIDEMAN, MIKEL (LANDER) | CALE CASE | CANDIDATE | MONETARY | 10/22/2018 | FILED | 100 | LANDER, WY 82520 |
| BEBOUT, ELI (RIVERTON) | CALE CASE | CANDIDATE | MONETARY | 10/11/2018 | FILED | 250 | RIVERTON, WY 82501 |
| REPUBLICAN WOMEN OF FREMONT COUNTY (LANDER) | CALE CASE | CANDIDATE | MONETARY | 10/11/2018 | FILED | 1500 | LANDER, WY 82520 |
| UCHNER, DAVID (CHEYENNE) | CALE CASE | CANDIDATE | MONETARY | 10/11/2018 | FILED | 300 | CHEYENNE, WY 82003 |
| WYOMING STATE SENATE REPUBLICAN CONFERENCE (AFTON) | CALE CASE | CANDIDATE | MONETARY | 10/11/2018 | FILED | 500 | AFTON, WY 83110 |
| CENTRAL WYOMING CONSERVATIVE POLITICAL ACTION COMMITTEE (KINNEAR) | CALE CASE | CANDIDATE | MONETARY | 9/28/2018 | FILED | 500 | KINNEAR, WY 82516 |
| GORE, SUSAN (CHEYENNE) | CALE CASE | CANDIDATE | MONETARY | 9/28/2018 | FILED | 1500 | CHEYENNE, WY 82009 |
| HOLDING, CAROL (SALT LAKE CITY) | CALE CASE | CANDIDATE | MONETARY | 9/28/2018 | FILED | 500 | SALT LAKE CITY, UT 84103 |
| GORE, SUSAN (CHEYENNE) | CALE CASE | CANDIDATE | MONETARY | 6/16/2018 | FILED | 1500 | CHEYENNE, WY 82009 |
| CASE, CALE (LANDER) | CALE CASE | CANDIDATE | MONETARY | 10/28/2014 | FILED | 52.16 | LANDER, WY 82520 |
| BOWER, ROGER (RIVERTON) | CALE CASE | CANDIDATE | MONETARY | 10/27/2014 | FILED | 25 | RIVERTON, WY 82501 |
| WYOMING STATE SENATE REPUBLICAN CONFERENCE (CASPER) | CALE CASE | CANDIDATE | MONETARY | 10/27/2014 | FILED | 1000 | CASPER, WY 82605 |
| CASE, CALE (LANDER) | CALE CASE | CANDIDATE | MONETARY | 10/12/2014 | FILED | 47.63 | LANDER, WY 82520 |
| BARRASSO, JOHN (CASPER) | CALE CASE | CANDIDATE | MONETARY | 10/7/2014 | FILED | 100 | CASPER, WY 82601 |
| MADDEN CAMPAIGN ACCOUNT (BUFFALO) | CALE CASE | CANDIDATE | MONETARY | 10/7/2014 | FILED | 200 | BUFFALO, WY 82834 |
| REPUBLICAN (CASPER) | CALE CASE | CANDIDATE | MONETARY | 10/7/2014 | FILED | 1000 | CASPER, WY 82602 |
| CASE, CALE (LANDER) | CALE CASE | CANDIDATE | MONETARY | 10/4/2014 | FILED | 36.81 | LANDER, WY 82520 |
| FREMONT REPUBLICAN PARTY CENTRAL COMMITTEE (LANDER) | CALE CASE | CANDIDATE | MONETARY | 9/23/2014 | FILED | 500 | LANDER, WY 82520 |
| REPUBLICAN WOMEN OF FREMONT COUNTY PAC (LANDER) | CALE CASE | CANDIDATE | MONETARY | 9/23/2014 | FILED | 500 | LANDER, WY 82520 |
| CORNIA, MIKE (EVANSTON) | CALE CASE | CANDIDATE | MONETARY | 9/22/2014 | FILED | 1000 | EVANSTON, WY 82930 |
| GORE, SUSAN (CHEYENNE) | CALE CASE | CANDIDATE | MONETARY | 9/22/2014 | FILED | 1000 | CHEYENNE, WY 82009 |
| GORIN, SARAH (LARAMIE) | CALE CASE | CANDIDATE | MONETARY | 9/22/2014 | FILED | 50 | LARAMIE, WY 82070 |
| KUNZ, MELANIE AND BRENT (CHEYENNE) | CALE CASE | CANDIDATE | MONETARY | 9/22/2014 | FILED | 100 | CHEYENNE, WY 82009 |
| MAXFIELD, MAX AND GAYLA (CHEYENNE) | CALE CASE | CANDIDATE | MONETARY | 9/22/2014 | FILED | 300 | CHEYENNE, WY 82003 |
| MCCRACKEN, ANNEMARIE (CHEYENNE) | CALE CASE | CANDIDATE | MONETARY | 9/22/2014 | FILED | 250 | CHEYENNE, WY 82009 |
| PICARD, DAVID C. (CHEYENNE) | CALE CASE | CANDIDATE | MONETARY | 9/22/2014 | FILED | 100 | CHEYENNE, WY 82009 |
| SCHMIDT, KIRK (LANDER) | CALE CASE | CANDIDATE | MONETARY | 9/22/2014 | FILED | 1000 | LANDER, WY 82520 |
| LEWIS, LAURA AND RYAN (CHEYENNE) | CALE CASE | CANDIDATE | MONETARY | 8/24/2014 | FILED | 50 | CHEYENNE, WY 82001 |
| THOMSON, WILLIAM AND TONI (CHEYENNE) | CALE CASE | CANDIDATE | MONETARY | 8/24/2014 | FILED | 200 | CHEYENNE, WY 82003 |
| PETROFF, RUTH ANN (JACKSON) | CALE CASE | CANDIDATE | MONETARY | 8/19/2014 | FILED | 50 | JACKSON, WY 83001 |
| SINCLAIR, STEPHEN AND JEAN (OAK HILL) | CALE CASE | CANDIDATE | MONETARY | 8/19/2014 | FILED | 100 | OAK HILL, VA 20171 |
| CASE, CALE (LANDER) | CALE CASE | CANDIDATE | MONETARY | 8/10/2014 | FILED | 34.75 | LANDER, WY 82520 |
| CASE, CALE (LANDER) | CALE CASE | CANDIDATE | MONETARY | 8/10/2014 | FILED | 13.74 | LANDER, WY 82520 |
| CASE, CALE (LANDER) | CALE CASE | CANDIDATE | MONETARY | 8/8/2014 | FILED | 17.23 | LANDER, WY 82520 |
| COMMITTEE TO ELECT R.M. BERGER (LANDER) | CALE CASE | CANDIDATE | MONETARY | 8/8/2014 | FILED | 500 | LANDER, WY 82833 |
| JONES, MIKE AND KRISTY (LANDER) | CALE CASE | CANDIDATE | MONETARY | 8/8/2014 | FILED | 100 | LANDER, WY 82520 |
| LANCASTER, ARLEN (LANDER) | CALE CASE | CANDIDATE | MONETARY | 8/8/2014 | FILED | 100 | LANDER, WY 82520 |
| PETERSON, DALE (LANDER) | CALE CASE | CANDIDATE | MONETARY | 8/8/2014 | FILED | 100 | LANDER, WY 82520 |
| QUIROZ, JOE AND ANDREA (LANDER) | CALE CASE | CANDIDATE | MONETARY | 8/8/2014 | FILED | 500 | LANDER, WY 82520 |
| CASE, CALE (LANDER) | CALE CASE | CANDIDATE | MONETARY | 8/3/2014 | FILED | 63.2 | LANDER, WY 82520 |
| CHAPMAN, GARVE (LANDER) | CALE CASE | CANDIDATE | MONETARY | 7/29/2014 | FILED | 100 | LANDER, WY 82520 |
| ELLIS, AFFIE AND DENNIS (CHEYENNE) | CALE CASE | CANDIDATE | MONETARY | 7/29/2014 | FILED | 50 | CHEYENNE, WY 82001 |
| GRIFFITH, CLAY (LANDER) | CALE CASE | CANDIDATE | MONETARY | 7/29/2014 | FILED | 100 | LANDER, WY 82520 |
| HELLYER, ROBERT AND MARTHA (LANDER) | CALE CASE | CANDIDATE | MONETARY | 7/29/2014 | FILED | 100 | LANDER, WY 82520 |
| LANCASTER, ARLEN (LANDER) | CALE CASE | CANDIDATE | MONETARY | 7/29/2014 | FILED | 130.66 | LANDER, WY 82520 |
| NEELY, JENNIFER (LANDER) | CALE CASE | CANDIDATE | MONETARY | 7/29/2014 | FILED | 130.67 | LANDER, WY 82520 |
| PICARD, DAVE (CHEYENNE) | CALE CASE | CANDIDATE | MONETARY | 7/29/2014 | FILED | 150 | CHEYENNE, WY 82009 |
| SCOTT, CHARLES K (CASPER) | CALE CASE | CANDIDATE | MONETARY | 7/29/2014 | FILED | 100 | CASPER, WY 82604 |
| UCHNER, DAVE (CHEYENNE) | CALE CASE | CANDIDATE | MONETARY | 7/29/2014 | FILED | 200 | CHEYENNE, WY 82003 |
| CASE, CALE (LANDER) | CALE CASE | CANDIDATE | MONETARY | 7/20/2014 | FILED | 41 | LANDER, WY 82520 |
| CASE, CALE (LANDER) | CALE CASE | CANDIDATE | MONETARY | 7/20/2014 | FILED | 19.84 | LANDER, WY 82520 |
| GASSMAN, GERALD (CASPER) | CALE CASE | CANDIDATE | MONETARY | 7/14/2014 | FILED | 120 | CASPER, WY 82601 |
| MCKAY, JEFFREY (CHEYENNE) | CALE CASE | CANDIDATE | MONETARY | 7/14/2014 | FILED | 300 | CHEYENNE, WY 82009 |
| MORES, TIFFANY AND GEORGE (CHEYENNE) | CALE CASE | CANDIDATE | MONETARY | 7/14/2014 | FILED | 300 | CHEYENNE, WY 82009 |
| NOEL, BONNIE AND JIM (LARAMIE) | CALE CASE | CANDIDATE | MONETARY | 7/14/2014 | FILED | 180 | LARAMIE, WY 82073 |
| WILCOX, RICK AND JANIE (CHEYENNE) | CALE CASE | CANDIDATE | MONETARY | 7/14/2014 | FILED | 300 | CHEYENNE, WY 82009 |
| CASE, CALE (LANDER) | CALE CASE | CANDIDATE | MONETARY | 7/7/2014 | FILED | 25.2 | LANDER, WY 82520 |
| LEVIN, ROB AND JODY (CHEYENNE) | CALE CASE | CANDIDATE | MONETARY | 6/26/2014 | FILED | 500 | CHEYENNE, WY 82009 |
| MAXFIELD, GAYLA (CHEYENNE) | CALE CASE | CANDIDATE | MONETARY | 6/26/2014 | FILED | 250 | CHEYENNE, WY 82009 |
| RODGERS, CHARLES (RIVERTON) | CALE CASE | CANDIDATE | MONETARY | 6/26/2014 | FILED | 100 | RIVERTON, WY 82501 |
| SCHMIDT, KIRK (LANDER) | CALE CASE | CANDIDATE | MONETARY | 6/26/2014 | FILED | 1000 | LANDER, WY 82520 |
| SULLIVAN, DAN (CASPER) | CALE CASE | CANDIDATE | MONETARY | 6/26/2014 | FILED | 50 | CASPER, WY 82601 |
| CASE, CALE (LANDER) | CALE CASE | CANDIDATE | MONETARY | 6/19/2014 | FILED | 29.39 | LANDER, WY 82520 |
| BURNS, BRUCE (SHERIDAN) | CALE CASE | CANDIDATE | MONETARY | 6/18/2014 | FILED | 200 | SHERIDAN, WY 82801 |
| GORE, SUSAN (CHEYENNE) | CALE CASE | CANDIDATE | MONETARY | 6/18/2014 | FILED | 1000 | CHEYENNE, WY 82009 |
| CORNIA, MIKE (EVANSTON) | CALE CASE | CANDIDATE | MONETARY | 6/10/2014 | FILED | 1000 | EVANSTON, WY 82920 |
| CASE, CALE (LANDER) | CALE CASE | CANDIDATE | MONETARY | 3/4/2014 | FILED | 25 | LANDER, WY 82520 |
| ANGST, JOHN (DUBOIS) | CALE CASE | CANDIDATE | MONETARY | 10/27/2010 | FILED | 50 | DUBOIS, WY 82513 |
| CEBALLOS, MICHAEL AND ADDIE (CHEYENNE) | CALE CASE | CANDIDATE | MONETARY | 10/15/2010 | FILED | 100 | CHEYENNE, WY 82009 |
| CATCHPOLE, JUDITH AND GLENN (CHEYENNE) | CALE CASE | CANDIDATE | MONETARY | 10/8/2010 | FILED | 50 | CHEYENNE, WY 82009 |
| CORNIA, MIKE (EVANSTON) | CALE CASE | CANDIDATE | MONETARY | 10/4/2010 | FILED | 250 | EVANSTON, WY 82930 |
| LEVIN, JODY AND ROB (CHE) | CALE CASE | CANDIDATE | MONETARY | 9/23/2010 | FILED | 200 | CHE, WY 82009 |
| GARRETT, RICHARD (LANDER) | CALE CASE | CANDIDATE | MONETARY | 8/26/2010 | FILED | 50 | LANDER, WY 82520 |
| CASE, CALE (LANDER) | CALE CASE | CANDIDATE | MONETARY | 8/4/2010 | FILED | 63.82 | LANDER, WY 82520 |
| PETERSON, DALE R (LANDER) | CALE CASE | CANDIDATE | MONETARY | 7/28/2010 | FILED | 100 | LANDER, WY 82520 |
| WEBSTER, WILLIAM L. (LANDER) | CALE CASE | CANDIDATE | MONETARY | 7/4/2010 | FILED | 100 | LANDER, WY 82520 |
| MAXFIELD, MAX (CHEYENNE) | CALE CASE | CANDIDATE | MONETARY | 6/30/2010 | FILED | 100 | CHEYENNE, WY 82009 |
| CASE, CALE (LANDER) | CALE CASE | CANDIDATE | MONETARY | 6/17/2010 | FILED | 26 | LANDER, WY 82520 |
| CASE, CALE (LANDER) | CALE CASE | CANDIDATE | MONETARY | 3/18/2010 | FILED | 10 | LANDER, WY 82520 |
| CASE, CALE (LANDER) | CALE CASE | CANDIDATE | MONETARY | 2/26/2010 | FILED | 25 | LANDER, WY 82520 |