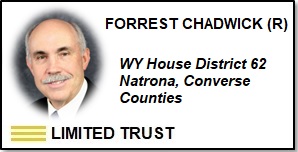 Summary
Representation
Competence
Integrity
More
+ – +
Forrest Chadwick was elected as the first WY Representative for Natrona and Converse Counties in newly created House District 62, beginning his service in Jan 2023.  Chadwick has received a positive score for Representation and Integrity, and a negative score for Constitutional Competence.  Thus his final ranking is Limited Trust.
He is up for reelection in 2024.
---
"The very future of many of Wyoming's coal-fired power plants is in doubt. While government interference in private business is not desired, a working relationship can often produce a desired benefit."
From https://oilcity.news/community/elections/2022/06/28/candidate-questionnaire-forrest-chadwick-for-house-district-62/
Overall, Chadwick earns a (+) for Representation.
Attendance
It appears that Chadwick was present for every vote in 2023 General Session.
Public Conduct
Chadwick appears to behave appropriately in public and to the public.
Sponsorship History
In 2023 Chadwick has been the primary sponsor of 0 bills, and co-sponsored 13 bills.  Favored sponsorship topics appear to be State lands; healthcare.  For more see Chadwick's legislative webpage.
Committee Assignments
2023-House Corporations, Elections & Political Subdivisions
2023-House Labor, Health & Social Services
2023-Indian Child Welfare Act Task Force
2023-Small Business Assistance Program Advisory Panel
Chadwick scored a (–) for Constitutional Competence with an average of 36.6% on the constitutional issues listed below.  Constitutional issue categories that have a "N/A" grade, refer to specific bills that Chadwick did not have the opportunity to vote on.
For more on the bills used to analyze these scores click here.  Special hat-tip goes out to Evidence Based Wyoming for use of their statistical tool to generate the following vote scores:
Conflicts
Because we have not found any conflicts of interest for Chadwick, he receives a (+) for Integrity.
Employment/Income
According to Chadwick's 2023 State Elected Officials Financial Disclosure available at Wyofile, he reports:
Managing Partner with CC Investments LLC
Income from "Any security or interest earnings"
Memberships/Civic Organizations
Previously served as a Natrona County Commissioner (2013 to 2020; Chairman of the Ag, Water and Public Lands Committee for the Wyoming County Commissioners Association; director on the Western Interstate Region National Association of Counties Board of Directors.
Campaign Contributions
The table below shows all campaign contributions reported by the WY Secretary of State for Forrest Chadwick.
In 2022 Chadwick received 49 contributions that total approximately $19,025.  Of the 49 donations, approximately 5 were from PACs &/or Campaign Committees.  The total amount received from PACS &/or Campaign Committees was approximately $5,900, which is approximately 31% of all contributions.
Noteworthy contributions are:
$5,000 from Wyoming Hope (RINO PAC)
$2,650 total from True family dynasty members
$500 from WY Hospital Association PAC
Click the arrows at the top of columns to sort the data by name, date, $ amount, etc.  (Data is publicly available records obtained from the Wyoming Secretary of State's Wyoming's Campaign Finance Information System.)
| Contributor Name | Recipient Name | Recipient Type | Contribution Type | Date | Filing Status | Amount | City State Zip |
| --- | --- | --- | --- | --- | --- | --- | --- |
| TRUCKING INDUSTRY PAC (CASPER) | FORREST CHADWICK | CANDIDATE | MONETARY | 10/8/2022 | FILED | 100 | CASPER, WY 82602 |
| TRUE, DAVID L (CASPER) | FORREST CHADWICK | CANDIDATE | MONETARY | 9/30/2022 | FILED | 150 | CASPER, WY 82602 |
| GOOLSBY, ROSA & JIMMY (CASPER) | FORREST CHADWICK | CANDIDATE | MONETARY | 8/11/2022 | AMEND - ADD | 300 | CASPER, WY 82609 |
| TRUE, HANK A (CASPER) | FORREST CHADWICK | CANDIDATE | MONETARY | 8/6/2022 | FILED | 1000 | CASPER, WY 82602 |
| ROHRBECK, GENE A (CASPER) | FORREST CHADWICK | CANDIDATE | MONETARY | 7/26/2022 | FILED | 50 | CASPER, WY 82604 |
| SEDAR, DAVID M (EVANSVILLE) | FORREST CHADWICK | CANDIDATE | MONETARY | 7/26/2022 | FILED | 100 | EVANSVILLE, WY 82636 |
| KENYON, DONALD AND SHELLY L (CASPER) | FORREST CHADWICK | CANDIDATE | MONETARY | 7/22/2022 | FILED | 100 | CASPER, WY 82604 |
| OLSEN, JARED & DANILLE (CHEYENNE) | FORREST CHADWICK | CANDIDATE | MONETARY | 7/14/2022 | FILED | 150 | CHEYENNE, WY 82001 |
| WYO-D-PAC (GILLETTE) | FORREST CHADWICK | CANDIDATE | MONETARY | 7/14/2022 | FILED | 100 | GILLETTE, WY 82716 |
| SMOTHERS, HARRY RAY (CASPER) | FORREST CHADWICK | CANDIDATE | MONETARY | 7/13/2022 | FILED | 100 | CASPER, WY 82601 |
| SIENKIEWICZ, PAUL & SANDRA H (EVANSVILLE) | FORREST CHADWICK | CANDIDATE | MONETARY | 7/11/2022 | FILED | 25 | EVANSVILLE, WY 82636 |
| JOHNSON, JOHN & PATRICIA (MILLS) | FORREST CHADWICK | CANDIDATE | MONETARY | 7/8/2022 | FILED | 100 | MILLS, WY 82644 |
| WYOMING HOSPITAL ASSOCIATION PAC (CHEYENNE) | FORREST CHADWICK | CANDIDATE | MONETARY | 7/8/2022 | FILED | 500 | CHEYENNE, WY 82001 |
| LANTA, KENNETH D (CASPER) | FORREST CHADWICK | CANDIDATE | MONETARY | 6/25/2022 | FILED | 100 | CASPER, WY 82601 |
| WALTERS, DON & BETTY (CASPER) | FORREST CHADWICK | CANDIDATE | MONETARY | 6/25/2022 | FILED | 100 | CASPER, WY 82609 |
| TRUE, DAVID L (CASPER) | FORREST CHADWICK | CANDIDATE | MONETARY | 6/23/2022 | FILED | 500 | CASPER, WY 82602 |
| BURKHALTER, ELAINE M (CASPER) | FORREST CHADWICK | CANDIDATE | MONETARY | 6/22/2022 | FILED | 25 | CASPER, WY 82604 |
| FARMER, KEN & KAREN (CASPER) | FORREST CHADWICK | CANDIDATE | MONETARY | 6/21/2022 | FILED | 200 | CASPER, WY 82602 |
| KNIGHT, WILLIAM P (CASPER) | FORREST CHADWICK | CANDIDATE | MONETARY | 6/18/2022 | FILED | 100 | CASPER, WY 82604 |
| WALTERS, THOMAS J (CASPER) | FORREST CHADWICK | CANDIDATE | MONETARY | 6/18/2022 | FILED | 100 | CASPER, WY 82604 |
| PORTER, JIM & TERRY (CASPER) | FORREST CHADWICK | CANDIDATE | MONETARY | 6/17/2022 | FILED | 250 | CASPER, WY 82609 |
| HUNZICKER, JOHN & ETTA (CASPER) | FORREST CHADWICK | CANDIDATE | MONETARY | 6/16/2022 | FILED | 50 | CASPER, WY 82601 |
| PADILLA, JEFF & TRACY (EVANSVILLE) | FORREST CHADWICK | CANDIDATE | MONETARY | 6/16/2022 | FILED | 100 | EVANSVILLE, WY 82636 |
| COFFMAN, LEE & MARSHA (CASPER) | FORREST CHADWICK | CANDIDATE | MONETARY | 6/15/2022 | FILED | 100 | CASPER, WY 82604 |
| GOOLSBY, JIMMY & ROSA (CASPER) | FORREST CHADWICK | CANDIDATE | MONETARY | 6/15/2022 | FILED | 100 | CASPER, WY 82609 |
| SOLICH, MITCH & BARB (LITTLETON) | FORREST CHADWICK | CANDIDATE | MONETARY | 6/15/2022 | FILED | 1000 | LITTLETON, CO 80127 |
| THOMAS, SUSAN R (CASPER) | FORREST CHADWICK | CANDIDATE | MONETARY | 6/15/2022 | FILED | 100 | CASPER, WY 82609 |
| TRUE, SHANE & JOANN (CASPER) | FORREST CHADWICK | CANDIDATE | MONETARY | 6/15/2022 | FILED | 1000 | CASPER, WY 82604 |
| WYOMING HOPE (CHEYENNE) | FORREST CHADWICK | CANDIDATE | MONETARY | 6/13/2022 | FILED | 5000 | CHEYENNE, WY 82009 |
| GALLES, DAN & CRYSTAL (CASPER) | FORREST CHADWICK | CANDIDATE | MONETARY | 6/10/2022 | FILED | 25 | CASPER, WY 82604 |
| LAWSON, JOHN & GINGER (CASPER) | FORREST CHADWICK | CANDIDATE | MONETARY | 6/10/2022 | FILED | 100 | CASPER, WY 82604 |
| ALLEMAND, TOM & RENE (MIDWEST) | FORREST CHADWICK | CANDIDATE | MONETARY | 6/9/2022 | FILED | 1000 | MIDWEST, WY 82643 |
| JORDAN, DAN & SHERYL (EVANSVILLE) | FORREST CHADWICK | CANDIDATE | MONETARY | 6/9/2022 | FILED | 100 | EVANSVILLE, WY 82636 |
| WHEELER, RICHARD & LINDA (CASPER) | FORREST CHADWICK | CANDIDATE | MONETARY | 6/9/2022 | FILED | 500 | CASPER, WY 82601 |
| WYOMING STOCK GROWERS' AG PAC (CHEYENNE) | FORREST CHADWICK | CANDIDATE | MONETARY | 6/9/2022 | FILED | 200 | CHEYENNE, WY 82003 |
| CHAPMAN, GUY (MIDWEST) | FORREST CHADWICK | CANDIDATE | MONETARY | 6/8/2022 | FILED | 50 | MIDWEST, WY 82643 |
| ALLEMAND, JOHN C (MIDWEST) | FORREST CHADWICK | CANDIDATE | MONETARY | 6/7/2022 | FILED | 100 | MIDWEST, WY 82643 |
| MCDOWELL, WILLIAM L (CASPER) | FORREST CHADWICK | CANDIDATE | MONETARY | 6/7/2022 | FILED | 500 | CASPER, WY 82601 |
| MCGINLEY, JOSEPH C (CASPER) | FORREST CHADWICK | CANDIDATE | MONETARY | 6/7/2022 | FILED | 100 | CASPER, WY 82601 |
| PUTMAN, CHARLES R (MILLS) | FORREST CHADWICK | CANDIDATE | MONETARY | 6/7/2022 | FILED | 1000 | MILLS, WY 82644 |
| STRAND, MARY (EVANSVILLE) | FORREST CHADWICK | CANDIDATE | MONETARY | 6/7/2022 | FILED | 25 | EVANSVILLE, WY 82636 |
| TAYLOR, GLEN H (EVANSVILLE) | FORREST CHADWICK | CANDIDATE | MONETARY | 6/7/2022 | FILED | 150 | EVANSVILLE, WY 82636 |
| COHEE, ROY G (CASPER) | FORREST CHADWICK | CANDIDATE | MONETARY | 6/6/2022 | FILED | 100 | CASPER, WY 82609 |
| COOPER, THOMAS DOUGLAS (CASPER) | FORREST CHADWICK | CANDIDATE | MONETARY | 6/6/2022 | FILED | 50 | CASPER, WY 82601 |
| LATHROP, KENT & VAL (EVANSVILLE) | FORREST CHADWICK | CANDIDATE | MONETARY | 6/6/2022 | FILED | 200 | EVANSVILLE, WY 82636 |
| NICOLAYSEN, JON C (CASPER) | FORREST CHADWICK | CANDIDATE | MONETARY | 6/6/2022 | FILED | 100 | CASPER, WY 82602 |
| GERVAIS, BETTY (CASPER) | FORREST CHADWICK | CANDIDATE | MONETARY | 6/4/2022 | FILED | 25 | CASPER, WY 82604 |
| WILSON, DANNY (WALLA WALLA) | FORREST CHADWICK | CANDIDATE | MONETARY | 6/4/2022 | FILED | 100 | WALLA WALLA, WA 99362 |
| CHADWICK, FORREST (EVANSVILLE) | FORREST CHADWICK | CANDIDATE | LOAN | 5/5/2022 | FILED | 3000 | EVANSVILLE, WY 82636 |