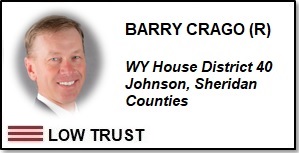 Summary
Representation
Competence
Integrity
More
+ – –
Barry Crago has served in House District 40 as a WY Representative for Johnson and Sheridan Counties from 2021 to the present.  Crago received a positive score for Representation and a negative score for Competence and Integrity.  Thus he has been ranked as Low Trust.
He is up for reelection in 2024.
---
"Our children are our future. Wyoming parents and local communities know best what should be taught to our school children. Barry supports local control of education."
From https://cragoforstatehouse.com/issues
Overall Crago earns a (+) for Representation.
Attendance
It appears that Crago missed 3 votes in 2023 General Session::
2/9/23 – Agriculture Committee vote on SF68; SF74;
2/16/23 – Agriculture Committee vote on SF107.
Public Conduct
Crago appears to behave appropriately in public and to the public.
Sponsorship History
From 2023 Crago was the primary sponsor of 8 bills, and he co-sponsored 28 bills.  Favored sponsorship topics appear to be judicial related bills.
Committee Assignments
2023-House Agriculture, State and Public Lands & Water Resources
2023-House Judiciary
2023-House Rules & Procedure
2023-Select Natural Resource Funding Committee
2023-NCSL – Law and Criminal Justice
Crago scored a (–) for Constitutional Competence with an average of 53.8% on the constitutional issues listed below.  Constitutional issue categories that have a "N/A" grade, refer to specific bills that Crago did not have the opportunity to vote on.
For more on the bills used to analyze these scores click here.  Special hat-tip goes out to Evidence Based Wyoming for use of their statistical tool to generate the following vote scores:
Conflicts
Crago has received a negative (–) score for Integrity for the following judicial conflicts:
Crago is an attorney. Attorneys strive to stay in the good graces of judges for professional discourse in the courtroom, and unbiased treatment of an attorney's cases and clients. Thus, a legislator-attorney would be hard-pressed to oppose any bill or policy changes that a judge advocates for.  This is a fact for all legislator-attorneys in any state legislature.  The Wyoming Supreme Court has consistently pushed, perhaps even lobbied, for the transfer of substance abuse/mental health treatment issues from the WY Dept. of Health (Executive Branch) to the Judicial Branch.  Not only are the following bills unconstitutional because they facilitate the transfer of Executive branch duties to the Judicial branch (WY State Constitution Article 2, Section 1; Article 5, Section 16), these bills are also a conflict for any legislator-attorney:
Employment/Income
According to 's 2023 State Elected Officials Financial Disclosure available at Wyofile, he reports:
President/Secretary – Crago Law Offices
Attorney – Crago Law Offices
Attorney – Johnson County
Manager – Willow Creek Ranch, LP
Manager – Hole in the Wall Livestock Co., LLC
Director – Buffalo Christian Academy
Director – Johnson County Sheriffs Foundation
Income received from "Any security or interest earnings" and "Real estate, leases, royalties"
Ranching income
Contract for legal services – Town of Kaycee
Memberships/Civic Organizations
Wyoming Stock Growers Association – Member
Wyoming Bar Association – Member
Johnson County Cattlemen Association – Member
Johnson County Sheriff's Foundation – Board Member
Buffalo Christian Academy – Board Member
Campaign Contributions
The table below shows all campaign contributions reported by the WY Secretary of State for Crago for State House.
From 2020 to 2022 Crago has received 121 contributions that total approximately $47,536.  Of the 121 donations, approximately 36 were from PACs &/or Campaign Committees.  The total amount  received from PACS &/or Campaign Committees was approximately $19,500 which is approximately 41% of all contributions.
Noteworthy contributions are:
$5,000 from Wyoming Hope (RINO donor)

$200 from Diamond Free Enterprise PAC (RINO donor)
$650 total from True family dynasty members
$600 total from ESG compliant energy company PACs:

$500 from DECPAC
$100 from MDU Resources Group Good Government Fund

$1,000 from WYO PAC (WY Medical Society)
$500 from Wyoming Hospital Association
$1,500 total from FUTURE307
$500 from Prosperity and Commerce PAC
Click the arrows at the top of columns to sort the data by name, date, $ amount, etc.  (Data is publicly available records obtained from the Wyoming Secretary of State's Wyoming's Campaign Finance Information System.)
| Contributor Name | Recipient Name | Recipient Type | Contribution Type | Date | Filing Status | Amount | City State Zip |
| --- | --- | --- | --- | --- | --- | --- | --- |
| DECPAC (OKLAHOMA CITY) | CRAGO FOR STATE HOUSE | CANDIDATE COMMITTEE | MONETARY | 10/27/2022 | FILED | 500 | OKLAHOMA CITY, OK 73102 |
| DELROSSI, PAUL (SHERIDAN) | CRAGO FOR STATE HOUSE | CANDIDATE COMMITTEE | MONETARY | 10/27/2022 | FILED | 100 | SHERIDAN, WY 82801 |
| FFFWY FIRE PAC (CHEYENNE) | CRAGO FOR STATE HOUSE | CANDIDATE COMMITTEE | MONETARY | 10/27/2022 | FILED | 500 | CHEYENNE, WY 82003 |
| MDU RESOURCES GROUP GOOD GOVERNMENT FUND (BISMARCK) | CRAGO FOR STATE HOUSE | CANDIDATE COMMITTEE | MONETARY | 10/27/2022 | FILED | 100 | BISMARCK, ND 58506 |
| TRUCKING INDUSTRY PAC (CASPER) | CRAGO FOR STATE HOUSE | CANDIDATE COMMITTEE | MONETARY | 10/27/2022 | FILED | 100 | CASPER, WY 82602 |
| COWBOY GAMES PAC (CHEYENNE) | CRAGO FOR STATE HOUSE | CANDIDATE COMMITTEE | MONETARY | 8/30/2022 | FILED | 1000 | CHEYENNE, WY 82003 |
| WILKERSON, KIRK (ROSWELL) | CRAGO FOR STATE HOUSE | CANDIDATE COMMITTEE | MONETARY | 8/30/2022 | FILED | 1000 | ROSWELL, GA 30075 |
| ALTRIA GROUP, INC. PAC (WASHINGTON) | CRAGO FOR STATE HOUSE | CANDIDATE COMMITTEE | MONETARY | 8/18/2022 | FILED | 200 | WASHINGTON, DC 20001 |
| BURNS, BRUCE (SHERIDAN) | CRAGO FOR STATE HOUSE | CANDIDATE COMMITTEE | MONETARY | 8/18/2022 | FILED | 200 | SHERIDAN, WY 82801 |
| CHARTER COMMUNICATIONS, INC. PAC (STAMFORD) | CRAGO FOR STATE HOUSE | CANDIDATE COMMITTEE | MONETARY | 8/18/2022 | FILED | 1000 | STAMFORD, CT 06901 |
| DOWNES, WILLIAM (CASTLE ROCK) | CRAGO FOR STATE HOUSE | CANDIDATE COMMITTEE | MONETARY | 8/18/2022 | FILED | 500 | CASTLE ROCK, CO 80108 |
| EITEL, DELBERT (KAYCEE) | CRAGO FOR STATE HOUSE | CANDIDATE COMMITTEE | MONETARY | 8/18/2022 | FILED | 100 | KAYCEE, WY 82639 |
| FARMERS INSURANCE AGENTS AND EMPLOYEE(FEAPAC) MEMBERS OF WYOMING (LOS ANGELES) | CRAGO FOR STATE HOUSE | CANDIDATE COMMITTEE | MONETARY | 8/18/2022 | FILED | 250 | LOS ANGELES, CA 90027 |
| GODDARD, LUKE (BUFFALO) | CRAGO FOR STATE HOUSE | CANDIDATE COMMITTEE | MONETARY | 8/18/2022 | FILED | 500 | BUFFALO, WY 82834 |
| JONS, CHRISTOPHER (BUFFALOW) | CRAGO FOR STATE HOUSE | CANDIDATE COMMITTEE | MONETARY | 8/18/2022 | FILED | 250 | BUFFALOW, WY 82834 |
| LAWYERS ACTIVE IN WY PAC (LAWPAC) (CHEYENNE) | CRAGO FOR STATE HOUSE | CANDIDATE COMMITTEE | MONETARY | 8/18/2022 | FILED | 500 | CHEYENNE, WY 82001 |
| MCKNIVEN, TRAVIS (RIVERTON) | CRAGO FOR STATE HOUSE | CANDIDATE COMMITTEE | MONETARY | 8/18/2022 | FILED | 400 | RIVERTON, WY 82501 |
| PICKENS, C. BOYD (BUFFALOW) | CRAGO FOR STATE HOUSE | CANDIDATE COMMITTEE | MONETARY | 8/18/2022 | FILED | 100 | BUFFALOW, WY 82834 |
| WAGES, CHRISTOPHER (BUFFALO) | CRAGO FOR STATE HOUSE | CANDIDATE COMMITTEE | MONETARY | 8/18/2022 | FILED | 500 | BUFFALO, WY 82834 |
| BURKE, JOHN (RAPID CITY) | CRAGO FOR STATE HOUSE | CANDIDATE COMMITTEE | MONETARY | 7/27/2022 | FILED | 500 | RAPID CITY, SD 57702 |
| ELLIOT, ROSS (BUFFALO) | CRAGO FOR STATE HOUSE | CANDIDATE COMMITTEE | MONETARY | 7/27/2022 | FILED | 100 | BUFFALO, WY 82834 |
| FUTURE307 (BUFFALO) | CRAGO FOR STATE HOUSE | CANDIDATE COMMITTEE | MONETARY | 7/27/2022 | FILED | 500 | BUFFALO, WY 82824 |
| GILLARY, RANDALL (TROY) | CRAGO FOR STATE HOUSE | CANDIDATE COMMITTEE | MONETARY | 7/27/2022 | FILED | 500 | TROY, MI 48084 |
| HIRSHFELD, THEO (BUFFALO) | CRAGO FOR STATE HOUSE | CANDIDATE COMMITTEE | MONETARY | 7/27/2022 | FILED | 50 | BUFFALO, WY 82834 |
| MARATHON OIL COMPANY EMPLOYEES (HOUSTON) | CRAGO FOR STATE HOUSE | CANDIDATE COMMITTEE | MONETARY | 7/27/2022 | FILED | 500 | HOUSTON, TX 77210 |
| PALMERLEE, DAVID (BUFFALO) | CRAGO FOR STATE HOUSE | CANDIDATE COMMITTEE | MONETARY | 7/27/2022 | FILED | 200 | BUFFALO, WY 82834 |
| WYO PAC (WYOMING MEDICAL PAC) (CHEYENNE) | CRAGO FOR STATE HOUSE | CANDIDATE COMMITTEE | MONETARY | 7/27/2022 | FILED | 1000 | CHEYENNE, WY 82003 |
| WYO-D-PAC (CASPER) | CRAGO FOR STATE HOUSE | CANDIDATE COMMITTEE | MONETARY | 7/27/2022 | FILED | 100 | CASPER, WY 82601 |
| BAKER, JULIE (BUFFALO) | CRAGO FOR STATE HOUSE | CANDIDATE COMMITTEE | MONETARY | 7/19/2022 | FILED | 100 | BUFFALO, WY 82384 |
| BLACK HILLS CORPORATION PAC (RAPID CITY) | CRAGO FOR STATE HOUSE | CANDIDATE COMMITTEE | MONETARY | 7/19/2022 | FILED | 500 | RAPID CITY, SD 57709 |
| BLISS, DAVID (BUFFALO) | CRAGO FOR STATE HOUSE | CANDIDATE COMMITTEE | MONETARY | 7/19/2022 | FILED | 100 | BUFFALO, WY 82834 |
| CIGNA POL ACTION COMMITTEE (PHILADELPHIA) | CRAGO FOR STATE HOUSE | CANDIDATE COMMITTEE | MONETARY | 7/19/2022 | FILED | 500 | PHILADELPHIA, PA 19191 |
| FRIENDS OF AFFIE ELLIS (CHEYENNE) | CRAGO FOR STATE HOUSE | CANDIDATE COMMITTEE | MONETARY | 7/19/2022 | FILED | 100 | CHEYENNE, WY 82001 |
| HUGHES, B. WAYNE (JACKSON) | CRAGO FOR STATE HOUSE | CANDIDATE COMMITTEE | MONETARY | 7/19/2022 | FILED | 1500 | JACKSON, WY 83002 |
| KINCHEN, JOHN (KAYCEE) | CRAGO FOR STATE HOUSE | CANDIDATE COMMITTEE | MONETARY | 7/19/2022 | FILED | 75 | KAYCEE, WY 82639 |
| LARSON, LARRY (BUFFALO) | CRAGO FOR STATE HOUSE | CANDIDATE COMMITTEE | MONETARY | 7/19/2022 | FILED | 100 | BUFFALO, WY 82834 |
| OLSEN, JARED (CHEYENNE) | CRAGO FOR STATE HOUSE | CANDIDATE COMMITTEE | MONETARY | 7/19/2022 | FILED | 250 | CHEYENNE, WY 82001 |
| ONEOK EMPLOYEES PAC (SHAWNEE MISSION) | CRAGO FOR STATE HOUSE | CANDIDATE COMMITTEE | MONETARY | 7/19/2022 | FILED | 250 | SHAWNEE MISSION, KS 66225 |
| PALLISTER, RICHARD (BUFFALO) | CRAGO FOR STATE HOUSE | CANDIDATE COMMITTEE | MONETARY | 7/19/2022 | FILED | 100 | BUFFALO, WY 82834 |
| PEARSON, JOHN (BUFFALO) | CRAGO FOR STATE HOUSE | CANDIDATE COMMITTEE | MONETARY | 7/19/2022 | FILED | 100 | BUFFALO, WY 82834 |
| SMITH, GREG (BUFFALO) | CRAGO FOR STATE HOUSE | CANDIDATE COMMITTEE | MONETARY | 7/19/2022 | FILED | 200 | BUFFALO, WY 82834 |
| TRUE, DIEMER (CASPER) | CRAGO FOR STATE HOUSE | CANDIDATE COMMITTEE | MONETARY | 7/19/2022 | FILED | 500 | CASPER, WY 82601 |
| WALTERS, THOMAS (CASPER) | CRAGO FOR STATE HOUSE | CANDIDATE COMMITTEE | MONETARY | 7/19/2022 | FILED | 250 | CASPER, WY 82604 |
| WLRAPAC (CHEYENNE) | CRAGO FOR STATE HOUSE | CANDIDATE COMMITTEE | MONETARY | 7/19/2022 | FILED | 250 | CHEYENNE, WY 82003 |
| WYOMING HOSPITAL ASSOCIATION PAC (CHEYENNE) | CRAGO FOR STATE HOUSE | CANDIDATE COMMITTEE | MONETARY | 7/19/2022 | FILED | 500 | CHEYENNE, WY 82001 |
| GILLARY, RANDALL (TROY) | CRAGO FOR STATE HOUSE | CANDIDATE COMMITTEE | IN-KIND | 7/1/2022 | FILED | 171 | TROY, MI 48084 |
| BNSF RAILPAC (FT WORTH) | CRAGO FOR STATE HOUSE | CANDIDATE COMMITTEE | MONETARY | 6/28/2022 | FILED | 750 | FT WORTH, TX 76161 |
| HICKS, JIM (BUFFALO) | CRAGO FOR STATE HOUSE | CANDIDATE COMMITTEE | MONETARY | 6/28/2022 | FILED | 500 | BUFFALO, WY 82834 |
| PAW POLITICAL ACTION COUNCIL (CASPER) | CRAGO FOR STATE HOUSE | CANDIDATE COMMITTEE | MONETARY | 6/28/2022 | FILED | 500 | CASPER, WY 82601 |
| SCHIFFER, TONY (BUFFALO) | CRAGO FOR STATE HOUSE | CANDIDATE COMMITTEE | MONETARY | 6/28/2022 | FILED | 250 | BUFFALO, WY 82834 |
| SMITT-BRANIFF, MARGARET (BUFFALO) | CRAGO FOR STATE HOUSE | CANDIDATE COMMITTEE | MONETARY | 6/28/2022 | FILED | 100 | BUFFALO, WY 82834 |
| TAYLOR, STEVEN (ANTHEM) | CRAGO FOR STATE HOUSE | CANDIDATE COMMITTEE | MONETARY | 6/28/2022 | FILED | 400 | ANTHEM, AZ 85086 |
| VIEH, FRANCES (BUFFALO) | CRAGO FOR STATE HOUSE | CANDIDATE COMMITTEE | MONETARY | 6/28/2022 | FILED | 1000 | BUFFALO, WY 82834 |
| WYOMING MINING ASSOCIATION PAC (WMA) (CHEYENNE) | CRAGO FOR STATE HOUSE | CANDIDATE COMMITTEE | MONETARY | 6/28/2022 | FILED | 500 | CHEYENNE, WY 82001 |
| BARTLEY, BRUCE (BUFFALO) | CRAGO FOR STATE HOUSE | CANDIDATE COMMITTEE | MONETARY | 6/14/2022 | FILED | 100 | BUFFALO, WY 82834 |
| BOOMGAARDEN, RICK (CHEYENNE) | CRAGO FOR STATE HOUSE | CANDIDATE COMMITTEE | MONETARY | 6/14/2022 | FILED | 500 | CHEYENNE, WY 82003 |
| HARLAN, ROBERT (KAYCEE) | CRAGO FOR STATE HOUSE | CANDIDATE COMMITTEE | MONETARY | 6/14/2022 | FILED | 200 | KAYCEE, WY 82639 |
| WY REALTORS PAC (CASPER) | CRAGO FOR STATE HOUSE | CANDIDATE COMMITTEE | MONETARY | 6/14/2022 | FILED | 1000 | CASPER, WY 82604 |
| WYOMING STOCK GROWERS' AG PAC (CHEYENNE) | CRAGO FOR STATE HOUSE | CANDIDATE COMMITTEE | MONETARY | 6/14/2022 | FILED | 200 | CHEYENNE, WY 82003 |
| AGOPIAN, NICHOLAS M (CHEYENNE) | CRAGO FOR STATE HOUSE | CANDIDATE COMMITTEE | MONETARY | 6/3/2022 | FILED | 200 | CHEYENNE, WY 82001 |
| HUGHES, KEVIN (NEWCASTLE) | CRAGO FOR STATE HOUSE | CANDIDATE COMMITTEE | MONETARY | 6/3/2022 | FILED | 100 | NEWCASTLE, WY 82701 |
| MOTOROLA SOLUTIONS, INC. PAC (WASHINGTON ) | CRAGO FOR STATE HOUSE | CANDIDATE COMMITTEE | MONETARY | 6/3/2022 | FILED | 250 | WASHINGTON , DC 20004 |
| WYOMING HOPE (CASPER) | CRAGO FOR STATE HOUSE | CANDIDATE COMMITTEE | MONETARY | 6/3/2022 | FILED | 5000 | CASPER, WY 82601 |
| ALLPAC (ENGLEWOOD) | CRAGO FOR STATE HOUSE | CANDIDATE COMMITTEE | MONETARY | 12/20/2021 | FILED | 250 | ENGLEWOOD, CO 80112 |
| CANNON, ANN (CONCORD) | CRAGO FOR STATE HOUSE | CANDIDATE COMMITTEE | MONETARY | 11/14/2020 | AMEND - ADD | 1000 | CONCORD, NC 28026 |
| MATTHEWS, WARREN (SOUTH HILL) | CRAGO FOR STATE HOUSE | CANDIDATE COMMITTEE | MONETARY | 11/14/2020 | AMEND - ADD | 250 | SOUTH HILL, VA 23970 |
| ALLPAC (ENGLEWOOD) | CRAGO FOR STATE HOUSE | CANDIDATE COMMITTEE | MONETARY | 10/22/2020 | FILED | 150 | ENGLEWOOD, CO 80112 |
| COWBOY GAMES PAC (SHERIDAN) | CRAGO FOR STATE HOUSE | CANDIDATE COMMITTEE | MONETARY | 10/22/2020 | FILED | 200 | SHERIDAN, WY 82801 |
| HOUSE REPUBLICAN CAUCUS (POWELL) | CRAGO FOR STATE HOUSE | CANDIDATE COMMITTEE | MONETARY | 10/22/2020 | FILED | 150 | POWELL, WY 82435 |
| TRUCKING INDUSTRY PAC (CASPER) | CRAGO FOR STATE HOUSE | CANDIDATE COMMITTEE | MONETARY | 10/22/2020 | FILED | 100 | CASPER, WY 82602 |
| FEDERL, JOSEPH (MEQUON) | CRAGO FOR STATE HOUSE | CANDIDATE COMMITTEE | MONETARY | 9/10/2020 | FILED | 100 | MEQUON, WI 53092 |
| HARLAN, ROBERT (KAYCEE) | CRAGO FOR STATE HOUSE | CANDIDATE COMMITTEE | MONETARY | 9/10/2020 | FILED | 150 | KAYCEE, WY 82639 |
| KINCHEN, JOHN (KAYCEE) | CRAGO FOR STATE HOUSE | CANDIDATE COMMITTEE | MONETARY | 9/10/2020 | FILED | 100 | KAYCEE, WY 82639 |
| PERRY, ROBERT (BUFFALO) | CRAGO FOR STATE HOUSE | CANDIDATE COMMITTEE | MONETARY | 9/10/2020 | FILED | 140 | BUFFALO, WY 82834 |
| CULLITON, CLINT (BUFFALO) | CRAGO FOR STATE HOUSE | CANDIDATE COMMITTEE | MONETARY | 8/14/2020 | AMEND - ADD | 1000 | BUFFALO, WY 82834 |
| GLANTON, THOMAS (RUTLEDGE) | CRAGO FOR STATE HOUSE | CANDIDATE COMMITTEE | MONETARY | 8/14/2020 | AMEND - ADD | 100 | RUTLEDGE, GA 30663 |
| GRAVES, WAYNE (KAYCEE) | CRAGO FOR STATE HOUSE | CANDIDATE COMMITTEE | MONETARY | 8/14/2020 | AMEND - ADD | 100 | KAYCEE, WY 82639 |
| SCHIFFER, BEN (BUFFALO) | CRAGO FOR STATE HOUSE | CANDIDATE COMMITTEE | MONETARY | 8/14/2020 | AMEND - ADD | 100 | BUFFALO, WY 82834 |
| SCHIFFER, NANCY (KAYCEE) | CRAGO FOR STATE HOUSE | CANDIDATE COMMITTEE | MONETARY | 8/14/2020 | AMEND - ADD | 300 | KAYCEE, WY 82639 |
| LANCE, RYAN (CHEYENNE) | CRAGO FOR STATE HOUSE | CANDIDATE COMMITTEE | MONETARY | 8/10/2020 | FILED | 350 | CHEYENNE, WY 82009 |
| PROSPERITY AND COMMERCE PAC (CHEYENNE) | CRAGO FOR STATE HOUSE | CANDIDATE COMMITTEE | MONETARY | 8/10/2020 | FILED | 500 | CHEYENNE, WY 82001 |
| ELLIOT, ROSS (BUFFALO) | CRAGO FOR STATE HOUSE | CANDIDATE COMMITTEE | MONETARY | 8/5/2020 | FILED | 250 | BUFFALO, WY 82834 |
| MULLEN, J. LOUIS (BUFFALO) | CRAGO FOR STATE HOUSE | CANDIDATE COMMITTEE | MONETARY | 8/5/2020 | FILED | 600 | BUFFALO, WY 82834 |
| ROGERS, DAN (BUFFALO) | CRAGO FOR STATE HOUSE | CANDIDATE COMMITTEE | MONETARY | 8/5/2020 | FILED | 500 | BUFFALO, WY 82834 |
| SMITH, JILLIAN (BUFFALO) | CRAGO FOR STATE HOUSE | CANDIDATE COMMITTEE | MONETARY | 8/5/2020 | FILED | 50 | BUFFALO, WY 82834 |
| STENSAAS, JOSHUA (BUFFALO) | CRAGO FOR STATE HOUSE | CANDIDATE COMMITTEE | MONETARY | 8/5/2020 | FILED | 100 | BUFFALO, WY 82834 |
| TRUE, DAVID (CASPER) | CRAGO FOR STATE HOUSE | CANDIDATE COMMITTEE | MONETARY | 8/5/2020 | FILED | 150 | CASPER, WY 82602 |
| BOYD, NATHAN (SHERIDAN) | CRAGO FOR STATE HOUSE | CANDIDATE COMMITTEE | MONETARY | 8/4/2020 | FILED | 100 | SHERIDAN, WY 82801 |
| BURNS, BRUCE (SHERIDAN) | CRAGO FOR STATE HOUSE | CANDIDATE COMMITTEE | MONETARY | 8/4/2020 | FILED | 100 | SHERIDAN, WY 82801 |
| DIAMOND FREE ENTERPRISE PAC (CASPER) | CRAGO FOR STATE HOUSE | CANDIDATE COMMITTEE | MONETARY | 8/4/2020 | FILED | 200 | CASPER, WY 82601 |
| FUTURE307 (BUFFALO) | CRAGO FOR STATE HOUSE | CANDIDATE COMMITTEE | MONETARY | 8/4/2020 | FILED | 1000 | BUFFALO, WY 82824 |
| IVEY, J. ANDREW (LILBURN) | CRAGO FOR STATE HOUSE | CANDIDATE COMMITTEE | MONETARY | 8/4/2020 | FILED | 500 | LILBURN, GA 30047 |
| JONS, CHRISTOPHER (BUFFALO) | CRAGO FOR STATE HOUSE | CANDIDATE COMMITTEE | MONETARY | 8/4/2020 | FILED | 250 | BUFFALO, WY 82834 |
| MAHLER, RICHARD (SEATTLE) | CRAGO FOR STATE HOUSE | CANDIDATE COMMITTEE | MONETARY | 8/4/2020 | FILED | 200 | SEATTLE, WA 98103 |
| PALERMLEE, DAVE (BUFFALO) | CRAGO FOR STATE HOUSE | CANDIDATE COMMITTEE | MONETARY | 8/4/2020 | FILED | 100 | BUFFALO, WY 82834 |
| REDDEN, KATHRYN (DENVER) | CRAGO FOR STATE HOUSE | CANDIDATE COMMITTEE | MONETARY | 8/4/2020 | FILED | 1000 | DENVER, CO 80209 |
| SMITH, DEVON (SHERIDN) | CRAGO FOR STATE HOUSE | CANDIDATE COMMITTEE | MONETARY | 8/4/2020 | FILED | 250 | SHERIDN, WY 82801 |
| GODDARD, MARCIA (BUFFALO) | CRAGO FOR STATE HOUSE | CANDIDATE COMMITTEE | IN-KIND | 7/23/2020 | FILED | 400 | BUFFALO, WY 82834 |
| KOZISEK, ALECIA (BUFFALO) | CRAGO FOR STATE HOUSE | CANDIDATE COMMITTEE | IN-KIND | 7/23/2020 | FILED | 500 | BUFFALO, WY 82834 |
| BOYD, RONALD (BASIN) | CRAGO FOR STATE HOUSE | CANDIDATE COMMITTEE | MONETARY | 7/22/2020 | FILED | 50 | BASIN, WY 82410 |
| HICKS, JIM (BUFFALO) | CRAGO FOR STATE HOUSE | CANDIDATE COMMITTEE | MONETARY | 7/22/2020 | FILED | 1000 | BUFFALO, WY 82834 |
| HIRSHFELD, THEO (BUFFALO) | CRAGO FOR STATE HOUSE | CANDIDATE COMMITTEE | MONETARY | 7/22/2020 | FILED | 100 | BUFFALO, WY 82834 |
| PETERSEN, LOIS (BUFFALO) | CRAGO FOR STATE HOUSE | CANDIDATE COMMITTEE | MONETARY | 7/22/2020 | FILED | 200 | BUFFALO, WY 82834 |
| ANDERSEN, LAURA (ROCKPORT) | CRAGO FOR STATE HOUSE | CANDIDATE COMMITTEE | MONETARY | 7/16/2020 | FILED | 500 | ROCKPORT, TX 78382 |
| LOOMER, ORVILLE (BUFFALO) | CRAGO FOR STATE HOUSE | CANDIDATE COMMITTEE | MONETARY | 7/16/2020 | FILED | 500 | BUFFALO, WY 82834 |
| CRAGO, BRUCE (BELLE FOURCHE) | CRAGO FOR STATE HOUSE | CANDIDATE COMMITTEE | MONETARY | 7/6/2020 | FILED | 1000 | BELLE FOURCHE, SD 57717 |
| LAWYERS ACTIVE IN WY PAC (LAWPAC) (CHEYENNE) | CRAGO FOR STATE HOUSE | CANDIDATE COMMITTEE | MONETARY | 7/6/2020 | FILED | 200 | CHEYENNE, WY 82001 |
| MATTHEWS, WARREN (SOUTH HILL) | CRAGO FOR STATE HOUSE | CANDIDATE COMMITTEE | MONETARY | 7/6/2020 | FILED | 250 | SOUTH HILL, VA 23970 |
| STUBSON, TIMOTHY (CASPER) | CRAGO FOR STATE HOUSE | CANDIDATE COMMITTEE | MONETARY | 7/6/2020 | FILED | 200 | CASPER, WY 82001 |
| SYLER, REBECCA (SHERIDAN) | CRAGO FOR STATE HOUSE | CANDIDATE COMMITTEE | MONETARY | 7/6/2020 | FILED | 100 | SHERIDAN, WY 82801 |
| BURKE, JOHN (RAPID CITY) | CRAGO FOR STATE HOUSE | CANDIDATE COMMITTEE | MONETARY | 6/30/2020 | FILED | 500 | RAPID CITY, SD 57702 |
| DOWNES, WILLIAM (CASTLE ROCK) | CRAGO FOR STATE HOUSE | CANDIDATE COMMITTEE | MONETARY | 6/30/2020 | FILED | 500 | CASTLE ROCK, CO 80108 |
| EITEL, DELBERT (KAYCEE) | CRAGO FOR STATE HOUSE | CANDIDATE COMMITTEE | MONETARY | 6/30/2020 | FILED | 200 | KAYCEE, WY 82639 |
| JOHNSON, LINDA (BELLE FOURCHE) | CRAGO FOR STATE HOUSE | CANDIDATE COMMITTEE | MONETARY | 6/30/2020 | FILED | 50 | BELLE FOURCHE, SD 57717 |
| SCHIFFER, TONY (BUFF) | CRAGO FOR STATE HOUSE | CANDIDATE COMMITTEE | MONETARY | 6/30/2020 | FILED | 250 | BUFF, WY 82834 |
| TAYLOR, STEVE (LANCASTER) | CRAGO FOR STATE HOUSE | CANDIDATE COMMITTEE | MONETARY | 6/30/2020 | FILED | 300 | LANCASTER, OH 43130 |
| WYOMING STOCK GROWERS' AG PAC (CHEYENNE) | CRAGO FOR STATE HOUSE | CANDIDATE COMMITTEE | MONETARY | 6/30/2020 | FILED | 200 | CHEYENNE, WY 82003 |
| BOOMGAARDEN, RICK (CHEYENNE) | CRAGO FOR STATE HOUSE | CANDIDATE COMMITTEE | MONETARY | 6/22/2020 | FILED | 500 | CHEYENNE, WY 82003 |
| STENSAAS, JOSHUA (BUFFALO) | CRAGO FOR STATE HOUSE | CANDIDATE COMMITTEE | MONETARY | 6/16/2020 | FILED | 250 | BUFFALO, WY 82834 |
| EDWARDS, MITCH (LARAMIE) | CRAGO FOR STATE HOUSE | CANDIDATE COMMITTEE | MONETARY | 6/3/2020 | FILED | 1000 | LARAMIE, WY 82070 |
| HUGHES, KEVIN (NEWCASTLE) | CRAGO FOR STATE HOUSE | CANDIDATE COMMITTEE | MONETARY | 6/3/2020 | FILED | 50 | NEWCASTLE, WY 82701 |