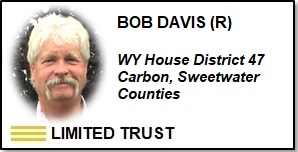 Summary
Representation
Competence
Integrity
More
+ – –
Bob Davis has served in House District 47 as a WY Representative for Carbon and Sweetwater Counties from Jan 2023 to the present.  He has received a positive score for Representation, and a negative score for Competence and Integrity.  Therefore Davis has been ranked as Low Trust.
He is up for reelection in 2024.
---
"I believe our Nation is at a crossroad and we need to return to our Founding Fathers' values and The Constitution of the United States."
From https://www.facebook.com/BobDavisforWY/
Overall Davis scores a (+) for Representation.
Attendance
It appears that Davis missed one vote in 2023 General Session: Committee of the Whole vote for SF47 on 2/14/23.
Public Conduct
Davis appears to behave appropriately in public and to the public.
Sponsorship History
In 2023 Davis was the primary sponsor of 1 bill, and co-sponsored 23 bills and 1 joint resolution.  Favored sponsorship topics appear to be protection of the unborn and children; education.  For more on Davis see his legislative webpage.
Committee Assignments
2023-House Agriculture, State and Public Lands & Water Resources
2023-Regulatory Reduction Task Force
2023-Sage Grouse Implementation Team
Davis scored a (-) for Constitutional Competence with an average of 80% on the constitutional issues listed below.  With our cut-off at 85%, Davis came close to scoring a (+).  Constitutional issue categories that have a "N/A" grade, refer to specific bills that Davis did not have the opportunity to vote on.  (2023 SF0114 – Constitutional instruction and examination requirements was a bill that Davis co-sponsored, but it failed before going to the House.)
For more on the bills used to analyze these scores click here.  Special hat-tip goes out to Evidence Based Wyoming for use of their statistical tool to generate the following vote scores:
Conflicts
Davis scores a (-) for Integrity for the following:
Davis is a member of the business enterprise Cowboy Inn in Baggs, WY, which is a motel, restaurant and bar.  As such, Davis had a conflict of interest with 2023 SF0013 – Bar and grill liquor license phaseout, but failed to abstain from voting.
Additionally Purple Sage LLC might be a family ranch with conservation easements.  As such, future conflicts in this area might exist for Davis.
Employment/Income
According to 's 2023 State Elected Officials Financial Disclosure available at Wyofile, he reports:
Member of Purple Sage LLC
Member of Cowboy Inn LLC
Memberships/Civic Organizations
Former Carbon County Commissioner and member of the Carbon County Development Board.
Campaign Contributions
The table below shows all campaign contributions reported by the WY Secretary of State for Committee to Elect Robert Davis; Robert Davis.
In 2022 Davis received 8 contributions that total approximately $10,400.  Of the 8 donations, approximately 5 were from PACs &/or Campaign Committees.  The total amount received from PACS &/or Campaign Committees was approximately $1,900.
Click the arrows at the top of columns to sort the data by name, date, $ amount, etc.  (Data is publicly available records obtained from the Wyoming Secretary of State's Wyoming's Campaign Finance Information System.)
| Contributor Name | Recipient Name | Recipient Type | Contribution Type | Date | Filing Status | Amount | City State Zip |
| --- | --- | --- | --- | --- | --- | --- | --- |
| REPUBLICAN (CHEYENNE) | COMMITTEE TO ELECT ROBERT DAVIS | CANDIDATE COMMITTEE | MONETARY | 10/24/2022 | AMEND - ADD | 500 | CHEYENNE, WY 82003 |
| TRUCKING INDUSTRY PAC (CASPER) | COMMITTEE TO ELECT ROBERT DAVIS | CANDIDATE COMMITTEE | MONETARY | 10/7/2022 | FILED | 100 | CASPER, WY 82602 |
| CROOK REPUBLICAN PARTY CENTRAL COMMITTEE (SUNDANCE) | COMMITTEE TO ELECT ROBERT DAVIS | CANDIDATE COMMITTEE | MONETARY | 10/3/2022 | FILED | 500 | SUNDANCE, WY 82729 |
| WY REALTORS PAC (CASPER) | COMMITTEE TO ELECT ROBERT DAVIS | CANDIDATE COMMITTEE | MONETARY | 9/27/2022 | FILED | 1000 | CASPER, WY 82604 |
| WYOMING STOCK GROWERS' AG PAC (CHEYENNE) | COMMITTEE TO ELECT ROBERT DAVIS | CANDIDATE COMMITTEE | MONETARY | 9/26/2022 | FILED | 200 | CHEYENNE, WY 82003 |
| COMMON VALUES PAC (ALEXANDRIA) | COMMITTEE TO ELECT ROBERT DAVIS | CANDIDATE COMMITTEE | MONETARY | 9/19/2022 | FILED | 100 | ALEXANDRIA, VA 22314 |
| BROPHY, CARLEEN (JACKSON) | ROBERT DAVIS | CANDIDATE | MONETARY | 5/16/2022 | FILED | 3000 | JACKSON, WY 83001 |
| BROPHY, CARLEEN (JACKSON) | ROBERT DAVIS | CANDIDATE | MONETARY | 5/16/2022 | AMEND - DELETE | 3000 | JACKSON, WY 83001 |
| BROPHY, CARLEEN (JACKSON) | COMMITTEE TO ELECT ROBERT DAVIS | CANDIDATE COMMITTEE | MONETARY | 5/16/2022 | FILED | 3000 | JACKSON, WY 83001 |
| COMMITTEE TO ELECT ROBERT DAVIS (BAGGS) | ROBERT DAVIS | CANDIDATE | MONETARY | 5/13/2022 | FILED | 5000 | BAGGS, WY 82321 |
| COMMITTEE TO ELECT ROBERT DAVIS (BAGGS) | ROBERT DAVIS | CANDIDATE | MONETARY | 5/13/2022 | AMEND - DELETE | 5000 | BAGGS, WY 82321 |
| DAVIS, ROBERT (BAGGS) | COMMITTEE TO ELECT ROBERT DAVIS | CANDIDATE COMMITTEE | MONETARY | 5/13/2022 | FILED | 5000 | BAGGS, WY 82321 |