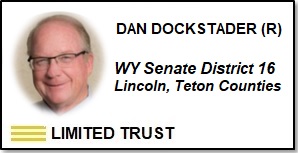 Summary
Representation
Competence
Integrity
More
+ – +
Dan Dockstader has served in the WY Legislature since 2007; in the House from 2007 to 2008, and in the Senate for Senate District 16 from 2009 to the present.  He has received a positive score for Representation and Integrity, and a negative score for Competence.  Therefore Dockstader has been ranked as Limited Trust.
He is up for reelection in 2024.
---
I have a proven record of Pro-Life, Pro-Gun, Pro-Family, small government, and low taxes. Over the last 16 years in the legislature I have but hundreds and hundreds of thousands of miles on multiple vehicles working for the people of Wyoming.
-Dan Dockstader
From https://www.facebook.com/danforwyoming/
Overall  earns a (+) for Representation.
Attendance
It appears that Dockstader missed one vote in 2023 General Session: Concurrence vote for SF80 on 2/28/23.  Additionally, Dockstader recused himself from voting because of a Conflict with SF0164 Public improvement contract requirements-amendments.
Public Conduct
Dockstader appears to behave appropriately in public and to the public.
Sponsorship History
From 2007 to 2023 Dockstader was the primary sponsor of 35 bills with a favored topic of public utilities.  In 2023 he co-sponsored 30 bills.  For more see Dockstader's legislative webpage.
Committee Assignments
2023-Senate Minerals, Business & Economic Development – Chairman
2023-Senate Labor, Health & Social Services
2023-Energy Council
2023-CSG West – Energy & Environment
2023-CSG West – Legislative Oversight Working Group
Dockstader scored a (–) for Constitutional Competence with an average of 70.8% on the constitutional issues listed below.
For more on the bills used to analyze these scores click here.  Special hat-tip goes out to Evidence Based Wyoming for use of their statistical tool to generate the following vote scores:
Conflicts
Because we have not found any conflicts of interest for Dockstader, he receives a (+) for Integrity.
Employment/Income
According to Dockstader's 2023 State Elected Officials Financial Disclosure available at Wyofile, he reported the following:
Business Enterprises, offices held: President, Owner of SVI Media, Afton, WY; Manager, Star Valley Chamber of Commerce
Directorship positions: Lower Valley Energy – Afton, WY
Salaried Employment: Publisher/Executive Producer – SVI Media, Afton, WY
Business Interests: SVI Media; Star Valley Independent; Western Wyoming Radio
Income earned: "Any security or interest earnings" and "Real estate, leases, royalties"
According to his legislative webpage Dockstader reports he is a Publisher/Radio Host.
Memberships/Civic Organizations
Chamber of Commerce
Arts Council
Rotary Club
Historical Society
Afton Town Council
Lincoln County Fair Board
Campaign Contributions
The table below shows all campaign contributions reported by the WY Secretary of State for Committee to Elect Dan Dockstader; Dan Dockstader. Note: Dockstader has served in the WY Legislature since 2007, however the only records provided by the WY Secretary of State are for 2022.
In 2022 Dockstader received 7 contributions that total approximately $25,600.  Of the 7 donations, 1 came from a PAC.
Click the arrows at the top of columns to sort the data by name, date, $ amount, etc.  (Data is publicly available records obtained from the Wyoming Secretary of State's Wyoming's Campaign Finance Information System.)
| Contributor Name | Recipient Name | Recipient Type | Contribution Type | Date | Filing Status | Amount | City State Zip |
| --- | --- | --- | --- | --- | --- | --- | --- |
| WYOMING STOCK GROWERS' AG PAC (CHEYENNE) | COMMITTEE TO ELECT DAN DOCKSTADER | CANDIDATE COMMITTEE | MONETARY | 6/20/2022 | FILED | 300 | CHEYENNE, WY 82003 |
| DOCKSTADER, KIM (GROVER) | COMMITTEE TO ELECT DAN DOCKSTADER | CANDIDATE COMMITTEE | LOAN | 6/16/2022 | FILED | 20000 | GROVER, WY 83122 |
| DAVIS, TOM (AFTON) | COMMITTEE TO ELECT DAN DOCKSTADER | CANDIDATE COMMITTEE | MONETARY | 6/7/2022 | FILED | 1000 | AFTON, WY 83110 |
| HIBBARD, WILLIAM (CHEYENNE) | COMMITTEE TO ELECT DAN DOCKSTADER | CANDIDATE COMMITTEE | MONETARY | 6/7/2022 | FILED | 1000 | CHEYENNE, WY 82001 |
| JENSEN, ROD (AFTON) | COMMITTEE TO ELECT DAN DOCKSTADER | CANDIDATE COMMITTEE | MONETARY | 6/6/2022 | FILED | 2000 | AFTON, WY 83110 |
| TAYLOR, MARK AND PATTY (AFTON) | COMMITTEE TO ELECT DAN DOCKSTADER | CANDIDATE COMMITTEE | MONETARY | 6/6/2022 | FILED | 1000 | AFTON, WY 83110 |
| DOCKSTADER, DAN (AFTON) | DAN DOCKSTADER | CANDIDATE | MONETARY | 8/9/2020 | FILED | 300 | AFTON, WY 83110 |