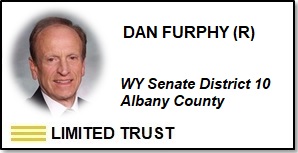 Summary
Representation
Competence
Integrity
More
+ – +
Dan Furphy initially served in Albany County WY House District 14 from 2017 to 2020, and then in Albany County WY Senate District 10 from 2021 to the present.  He has received a positive score for Representation and Integrity, and a negative score for Competence.  Therefore Furphy has been ranked as Limited Trust.
He is up for reelection in 2024.
---
"I'm just a moderate Republican," Furphy said. "I think the group of us moderate Republicans, overall, I think have the most success."

The legislators with the highest success rate for bills passed also didn't tend to be the ones who sponsored the most bills. Furphy only co-sponsored 10 bills, a tally lower than most other legislators.

"We don't need more laws on the books," Furphy said. "Personally, I don't think it's important how many bills get passed. I think it's important that bills have a very positive impact on Wyoming residents. I try to look through each bill very carefully."

From https://cowboystatedaily.com/2023/03/11/analysis-wyoming-moderate-conservatives-had-more-success-in-2023-legislative-session/
Overall, Furphy earns a (+) for Representation.
Attendance
It appears that Furphy was present for every vote in 2023 General Session.
Public Conduct
Furphy appears to behave appropriately in public and to the public.
Sponsorship History
In 2023 Furphy was the primary sponsor of 1 bill, and he co-sponsored 10 bills and 2 joint resolutions.  Favored sponsorship topics appear to be varied.  For more on Furphy see his legislator webpage.
Committee Assignments
2023-Management Audit Committee
2023-Senate Judiciary
2023-Senate Transportation, Highways & Military Affairs
2023-Select Committee on Blockchain, Financial Technology and Digital Innovation Technology
2023-Select Committee on Capital Financing & Investments
2023-State Retirement Board Liaison
Furphy scored a (–) for Constitutional Competence with an average of 52.7% on the constitutional issues listed below.
For more on the bills used to analyze these scores click here.  Special hat-tip goes out to Evidence Based Wyoming for use of their statistical tool to generate the following vote scores:
Conflicts
Because we have not found any conflicts of interest for Furphy, he receives a (+) for Integrity.
Employment/Income
According to Furphy's legislator webpage, he is retired.  According to Furphy's 2023 State Elected Officials Financial Disclosure available at Wyofile, he reported the following:
Income earned from "Any security or interest earnings"
Memberships/Civic Organizations
None found.
Campaign Contributions
The table below shows all campaign contributions reported by the WY Secretary of State for Committee to Elect Dan Furphy to Senate; Committee to Elect Dan Furphy.
From 2016 to 2021 Furphy has received approximately 132 contributions that total approximately $28,726.50.  Of the 132 donations, approximately 33 were from PACs & Campaign Committees.  The total amount Furphy received from PACS & Campaign Committees was approximately $8,400.
Noteworthy contributions are:
$1,300 total from ESG compliant energy company PACs:

$250 from DECPAC
$250 total from MDU Resources Group Good Government Fund
$500 from Nextera Energy PAC
$300 from Pacific Power/Rocky Mountain Power PAC

$500 from Prosperity and Commerce PAC
$150 from True family dynasty member
$750 total from Wyoming Bankers Association PAC
$500 from WY Hospital Association PAC
Click the arrows at the top of columns to sort the data by name, date, $ amount, etc.  (Data is publicly available records obtained from the Wyoming Secretary of State's Wyoming's Campaign Finance Information System.)
| Contributor Name | Recipient Name | Recipient Type | Contribution Type | Date | Filing Status | Amount | City State Zip |
| --- | --- | --- | --- | --- | --- | --- | --- |
| KUHN, DEBBIE (LARAMIE) | COMMITTEE TO ELECT DAN FURPHY TO SENATE | CANDIDATE COMMITTEE | IN-KIND | 11/20/2021 | FILED | 166 | LARAMIE, WY 82070 |
| KUHN, DEBBIE (LARAMIE) | COMMITTEE TO ELECT DAN FURPHY TO SENATE | CANDIDATE COMMITTEE | IN-KIND | 11/17/2020 | AMEND - ADD | 76 | LARAMIE, WY 82070 |
| MDU RESOURCES GROUP GOOD GOVERNMENT FUND (BISMARCK) | COMMITTEE TO ELECT DAN FURPHY TO SENATE | CANDIDATE COMMITTEE | MONETARY | 11/10/2020 | AMEND - ADD | 250 | BISMARCK, ND 58506 |
| MDU RESOURCES GROUP GOOD GOVERNMENT FUND (BISMARCK) | COMMITTEE TO ELECT DAN FURPHY TO SENATE | CANDIDATE COMMITTEE | MONETARY | 11/10/2020 | AMEND - ADD | 250 | BISMARCK, ND 58506 |
| MDU RESOURCES GROUP GOOD GOVERNMENT FUND (BISMARCK) | COMMITTEE TO ELECT DAN FURPHY TO SENATE | CANDIDATE COMMITTEE | MONETARY | 11/10/2020 | AMEND - DELETE | 250 | BISMARCK, ND 58506 |
| BROWN, KERMIT (LARAMIE) | COMMITTEE TO ELECT DAN FURPHY TO SENATE | CANDIDATE COMMITTEE | MONETARY | 11/3/2020 | AMEND - ADD | 100 | LARAMIE, WY 82070 |
| BROWN, KERMIT (LARAMIE) | COMMITTEE TO ELECT DAN FURPHY TO SENATE | CANDIDATE COMMITTEE | MONETARY | 11/3/2020 | AMEND - ADD | 100 | LARAMIE, WY 82070 |
| BROWN, KERMIT (LARAMIE) | COMMITTEE TO ELECT DAN FURPHY TO SENATE | CANDIDATE COMMITTEE | MONETARY | 11/3/2020 | AMEND - DELETE | 100 | LARAMIE, WY 82070 |
| GARLAND, MARY (LARAMIE) | COMMITTEE TO ELECT DAN FURPHY TO SENATE | CANDIDATE COMMITTEE | MONETARY | 11/3/2020 | AMEND - ADD | 50 | LARAMIE, WY 82070 |
| COWBOY GAMES PAC (SHERIDAN) | COMMITTEE TO ELECT DAN FURPHY TO SENATE | CANDIDATE COMMITTEE | MONETARY | 10/24/2020 | FILED | 300 | SHERIDAN, WY 82801 |
| WYOMING BANKERS ASSOCIATION BANK PAC (CHEYENNE) | COMMITTEE TO ELECT DAN FURPHY TO SENATE | CANDIDATE COMMITTEE | MONETARY | 10/24/2020 | FILED | 250 | CHEYENNE, WY 82001 |
| WYOMING STATE SENATE REPUBLICAN CONFERENCE (DOUGLAS) | COMMITTEE TO ELECT DAN FURPHY TO SENATE | CANDIDATE COMMITTEE | MONETARY | 10/24/2020 | FILED | 500 | DOUGLAS, WY 82633 |
| HAMBLIN, STEVE (SANTA FE) | COMMITTEE TO ELECT DAN FURPHY TO SENATE | CANDIDATE COMMITTEE | MONETARY | 10/13/2020 | FILED | 200 | SANTA FE, NM 87507 |
| HENNIG, RICHARD (LARAMIE) | COMMITTEE TO ELECT DAN FURPHY TO SENATE | CANDIDATE COMMITTEE | MONETARY | 10/13/2020 | FILED | 250 | LARAMIE, WY 82072 |
| HOWELL, GARRETT (LARAMIE) | COMMITTEE TO ELECT DAN FURPHY TO SENATE | CANDIDATE COMMITTEE | MONETARY | 10/13/2020 | FILED | 200 | LARAMIE, WY 82072 |
| TRUCKING INDUSTRY PAC (CASPER) | COMMITTEE TO ELECT DAN FURPHY TO SENATE | CANDIDATE COMMITTEE | MONETARY | 10/13/2020 | FILED | 200 | CASPER, WY 82602 |
| UNION PACIFIC CORPORATION FUND FOR EFFECTIVE GOVERNMENT (WASHINGTON) | COMMITTEE TO ELECT DAN FURPHY TO SENATE | CANDIDATE COMMITTEE | MONETARY | 10/13/2020 | FILED | 300 | WASHINGTON, DC 20005 |
| HOLLON, JAMES (LARAMIE) | COMMITTEE TO ELECT DAN FURPHY TO SENATE | CANDIDATE COMMITTEE | MONETARY | 10/5/2020 | FILED | 100 | LARAMIE, WY 82072 |
| PACIFIC POWER/ROCKY MOUNTAIN POWER PAC (PORTLAND) | COMMITTEE TO ELECT DAN FURPHY TO SENATE | CANDIDATE COMMITTEE | MONETARY | 10/5/2020 | FILED | 300 | PORTLAND, OR 97232 |
| TENERALLI, FRANK (LARAMIE) | COMMITTEE TO ELECT DAN FURPHY TO SENATE | CANDIDATE COMMITTEE | MONETARY | 10/5/2020 | FILED | 250 | LARAMIE, WY 82072 |
| TORO, DUANE (LARAMIE) | COMMITTEE TO ELECT DAN FURPHY TO SENATE | CANDIDATE COMMITTEE | MONETARY | 10/5/2020 | FILED | 100 | LARAMIE, WY 82070 |
| COMMON VALUES PAC (ALEXANDRIA) | COMMITTEE TO ELECT DAN FURPHY TO SENATE | CANDIDATE COMMITTEE | MONETARY | 9/22/2020 | FILED | 250 | ALEXANDRIA, VA 22314 |
| POTEET, GARY (LARAMIE) | COMMITTEE TO ELECT DAN FURPHY TO SENATE | CANDIDATE COMMITTEE | MONETARY | 9/22/2020 | FILED | 100 | LARAMIE, WY 82072 |
| WYOMING STATE SENATE REPUBLICAN CONFERENCE (DOUGLAS) | COMMITTEE TO ELECT DAN FURPHY TO SENATE | CANDIDATE COMMITTEE | MONETARY | 9/22/2020 | FILED | 500 | DOUGLAS, WY 82633 |
| DENNIS, ROBERT (LARAMIE) | COMMITTEE TO ELECT DAN FURPHY TO SENATE | CANDIDATE COMMITTEE | MONETARY | 8/24/2020 | FILED | 100 | LARAMIE, WY 82072 |
| MANGAN, THOMAS (LARAMIE) | COMMITTEE TO ELECT DAN FURPHY TO SENATE | CANDIDATE COMMITTEE | MONETARY | 8/24/2020 | FILED | 100 | LARAMIE, WY 82070 |
| PROSPERITY AND COMMERCE PAC (CHEYENNE) | COMMITTEE TO ELECT DAN FURPHY TO SENATE | CANDIDATE COMMITTEE | MONETARY | 8/24/2020 | FILED | 500 | CHEYENNE, WY 82001 |
| LAWYERS ACTIVE IN WY PAC (LAWPAC) (CHEYENNE) | COMMITTEE TO ELECT DAN FURPHY TO SENATE | CANDIDATE COMMITTEE | MONETARY | 8/7/2020 | FILED | 100 | CHEYENNE, WY 82001 |
| ALLSTATE INSURANCE COMPANY PAC (ALLPAC) (NORTHBROOK) | COMMITTEE TO ELECT DAN FURPHY TO SENATE | CANDIDATE COMMITTEE | MONETARY | 7/31/2020 | FILED | 250 | NORTHBROOK, IL 60062 |
| NEXTERA ENERGY PAC (JUNO BEACH) | COMMITTEE TO ELECT DAN FURPHY TO SENATE | CANDIDATE COMMITTEE | MONETARY | 7/31/2020 | FILED | 500 | JUNO BEACH, FL 33408 |
| BOUCHER, JAMES A (LARAMIE) | COMMITTEE TO ELECT DAN FURPHY TO SENATE | CANDIDATE COMMITTEE | MONETARY | 7/24/2020 | FILED | 300 | LARAMIE, WY 82073 |
| CRUM, GARY E (LARAMIE) | COMMITTEE TO ELECT DAN FURPHY TO SENATE | CANDIDATE COMMITTEE | MONETARY | 7/24/2020 | FILED | 100 | LARAMIE, WY 82073 |
| GEESEY, HATTIE (LARAMIE) | COMMITTEE TO ELECT DAN FURPHY TO SENATE | CANDIDATE COMMITTEE | MONETARY | 7/24/2020 | FILED | 100 | LARAMIE, WY 82027 |
| MCELWEE, RAY (LARAMIE) | COMMITTEE TO ELECT DAN FURPHY TO SENATE | CANDIDATE COMMITTEE | MONETARY | 7/24/2020 | FILED | 200 | LARAMIE, WY 82070 |
| BEDESSEM, JACK (LARAMIE) | COMMITTEE TO ELECT DAN FURPHY TO SENATE | CANDIDATE COMMITTEE | MONETARY | 7/15/2020 | FILED | 250 | LARAMIE, WY 82070 |
| DEVIN, JERRY (LARAMIE) | COMMITTEE TO ELECT DAN FURPHY TO SENATE | CANDIDATE COMMITTEE | MONETARY | 7/15/2020 | FILED | 35 | LARAMIE, WY 82072 |
| DOOLEY, E. JAYNE (LARAMIE) | COMMITTEE TO ELECT DAN FURPHY TO SENATE | CANDIDATE COMMITTEE | MONETARY | 7/15/2020 | FILED | 100 | LARAMIE, WY 82072 |
| DUNNUCK III, SAMUEL (LARAMIE) | COMMITTEE TO ELECT DAN FURPHY TO SENATE | CANDIDATE COMMITTEE | MONETARY | 7/15/2020 | FILED | 500 | LARAMIE, WY 82070 |
| ESPELAND, PENNIE (LARAMIE) | COMMITTEE TO ELECT DAN FURPHY TO SENATE | CANDIDATE COMMITTEE | MONETARY | 7/15/2020 | FILED | 75 | LARAMIE, WY 82070 |
| FREESE, ALICE (LAKE HAVASU CITY) | COMMITTEE TO ELECT DAN FURPHY TO SENATE | CANDIDATE COMMITTEE | MONETARY | 7/15/2020 | FILED | 300 | LAKE HAVASU CITY, AZ 86406 |
| GIFFIN, R. G. (LARAMIE) | COMMITTEE TO ELECT DAN FURPHY TO SENATE | CANDIDATE COMMITTEE | MONETARY | 7/15/2020 | FILED | 100 | LARAMIE, WY 82070 |
| GREASER, KERRY (LARAMIE) | COMMITTEE TO ELECT DAN FURPHY TO SENATE | CANDIDATE COMMITTEE | MONETARY | 7/15/2020 | FILED | 150 | LARAMIE, WY 82072 |
| GREASER, PAUL (LARAMIE) | COMMITTEE TO ELECT DAN FURPHY TO SENATE | CANDIDATE COMMITTEE | MONETARY | 7/15/2020 | FILED | 300 | LARAMIE, WY 82072 |
| MARRS, RONALD (LARAMIE) | COMMITTEE TO ELECT DAN FURPHY TO SENATE | CANDIDATE COMMITTEE | MONETARY | 7/15/2020 | FILED | 200 | LARAMIE, WY 82070 |
| MELONE, RICHARD (LARAMIE) | COMMITTEE TO ELECT DAN FURPHY TO SENATE | CANDIDATE COMMITTEE | MONETARY | 7/15/2020 | FILED | 100 | LARAMIE, WY 82072 |
| MEYER, E. GERALD (LARAMIE) | COMMITTEE TO ELECT DAN FURPHY TO SENATE | CANDIDATE COMMITTEE | MONETARY | 7/15/2020 | FILED | 500 | LARAMIE, WY 82072 |
| NICHOLAS, PHILIP (LARAMIE) | COMMITTEE TO ELECT DAN FURPHY TO SENATE | CANDIDATE COMMITTEE | MONETARY | 7/15/2020 | FILED | 150 | LARAMIE, WY 82072 |
| NUTTER, MICHAEL (LARAMIE) | COMMITTEE TO ELECT DAN FURPHY TO SENATE | CANDIDATE COMMITTEE | MONETARY | 7/15/2020 | FILED | 100 | LARAMIE, WY 82072 |
| ROBERTS, LOIS (LARAMIE) | COMMITTEE TO ELECT DAN FURPHY TO SENATE | CANDIDATE COMMITTEE | MONETARY | 7/15/2020 | FILED | 50 | LARAMIE, WY 82070 |
| SCHAEFER, JAY DEE (LARAMIE) | COMMITTEE TO ELECT DAN FURPHY TO SENATE | CANDIDATE COMMITTEE | MONETARY | 7/15/2020 | FILED | 100 | LARAMIE, WY 82072 |
| WESTBROOK, KIM (LARAMIE) | COMMITTEE TO ELECT DAN FURPHY TO SENATE | CANDIDATE COMMITTEE | MONETARY | 7/15/2020 | FILED | 100 | LARAMIE, WY 82072 |
| WYOMING HOSPITAL ASSOCIATION PAC (CHEYENNE) | COMMITTEE TO ELECT DAN FURPHY TO SENATE | CANDIDATE COMMITTEE | MONETARY | 7/15/2020 | FILED | 500 | CHEYENNE, WY 82001 |
| DANIEL G. FURPHY CAMPAIGN ACCOUNT (LARAMIE) | COMMITTEE TO ELECT DAN FURPHY TO SENATE | CANDIDATE COMMITTEE | MONETARY | 6/25/2020 | FILED | 429.5 | LARAMIE, WY 82072 |
| FURPHY, DANIEL (LARAMIE) | COMMITTEE TO ELECT DAN FURPHY TO SENATE | CANDIDATE COMMITTEE | LOAN | 6/25/2020 | FILED | 1000 | LARAMIE, WY 82072 |
| WY RURAL ELECTRIC ASSN. PAC (CHEYENNE) | COMMITTEE TO ELECT DAN FURPHY TO SENATE | CANDIDATE COMMITTEE | MONETARY | 6/25/2020 | FILED | 250 | CHEYENNE, WY 82001 |
| FURPHY, DANIEL (LARAMIE) | COMMITTEE TO ELECT DAN FURPHY TO SENATE | CANDIDATE COMMITTEE | MONETARY | 6/15/2020 | FILED | 1000 | LARAMIE, WY 82072 |
| VITALE, JOE (LARAMIE) | COMMITTEE TO ELECT DAN FURPHY TO SENATE | CANDIDATE COMMITTEE | MONETARY | 6/15/2020 | FILED | 500 | LARAMIE, WY 82072 |
| KUHN, DEBBIE (LARAMIE) | COMMITTEE TO ELECT DAN FURPHY TO SENATE | CANDIDATE COMMITTEE | IN-KIND | 6/10/2020 | FILED | 46 | LARAMIE, WY 82070 |
| COMMON VALUES PAC (ALEXANDRIA) | COMMITTEE TO ELECT DAN FURPHY | CANDIDATE COMMITTEE | MONETARY | 10/19/2018 | FILED | 100 | ALEXANDRIA, VA 22314 |
| TRUCKING INDUSTRY PAC (CASPER) | COMMITTEE TO ELECT DAN FURPHY | CANDIDATE COMMITTEE | MONETARY | 10/19/2018 | FILED | 100 | CASPER, WY 82602 |
| WYOMING BANKERS ASSOCIATION BANK PAC (CHEYENNE) | COMMITTEE TO ELECT DAN FURPHY | CANDIDATE COMMITTEE | MONETARY | 10/19/2018 | FILED | 250 | CHEYENNE, WY 82001 |
| SPEAR, TYLER (LARAMIE) | COMMITTEE TO ELECT DAN FURPHY | CANDIDATE COMMITTEE | MONETARY | 10/10/2018 | FILED | 25 | LARAMIE, WY 82072 |
| HOUSE REPUBLICAN CAUCUS (LINGLE) | COMMITTEE TO ELECT DAN FURPHY | CANDIDATE COMMITTEE | MONETARY | 10/4/2018 | FILED | 300 | LINGLE, WY 82223 |
| TENERALLI, FRANK (LARAMIE) | COMMITTEE TO ELECT DAN FURPHY | CANDIDATE COMMITTEE | MONETARY | 10/4/2018 | FILED | 250 | LARAMIE, WY 82072 |
| TRUE, DAVID (CASPER) | COMMITTEE TO ELECT DAN FURPHY | CANDIDATE COMMITTEE | MONETARY | 10/4/2018 | FILED | 150 | CASPER, WY 82602 |
| WYOMING STOCK GROWERS' AG PAC (CHEYENNE) | COMMITTEE TO ELECT DAN FURPHY | CANDIDATE COMMITTEE | MONETARY | 10/4/2018 | FILED | 200 | CHEYENNE, WY 82003 |
| MEYER, E. GERALD (LARAMIE) | COMMITTEE TO ELECT DAN FURPHY | CANDIDATE COMMITTEE | MONETARY | 9/26/2018 | FILED | 500 | LARAMIE, WY 82072 |
| PAW POLITICAL ACTION COUNCIL (CASPER) | COMMITTEE TO ELECT DAN FURPHY | CANDIDATE COMMITTEE | MONETARY | 9/26/2018 | FILED | 250 | CASPER, WY 82601 |
| TORO, DUANE (LARAMIE) | COMMITTEE TO ELECT DAN FURPHY | CANDIDATE COMMITTEE | MONETARY | 9/26/2018 | FILED | 150 | LARAMIE, WY 82070 |
| WALL, DANIEL (LARAMIE) | COMMITTEE TO ELECT DAN FURPHY | CANDIDATE COMMITTEE | MONETARY | 9/20/2018 | FILED | 100 | LARAMIE, WY 82072 |
| MCELWEE, RAYMOND (LARAMIE) | COMMITTEE TO ELECT DAN FURPHY | CANDIDATE COMMITTEE | MONETARY | 9/18/2018 | FILED | 100 | LARAMIE, WY 82070 |
| WY RURAL ELECTRIC ASSN. PAC (CHEYENNE) | COMMITTEE TO ELECT DAN FURPHY | CANDIDATE COMMITTEE | MONETARY | 8/20/2018 | FILED | 250 | CHEYENNE, WY 82001 |
| CRUM, GARY E (LARAMIE) | COMMITTEE TO ELECT DAN FURPHY | CANDIDATE COMMITTEE | MONETARY | 8/3/2018 | FILED | 100 | LARAMIE, WY 82073 |
| FURPHY, DANIEL G (LARAMIE) | COMMITTEE TO ELECT DAN FURPHY | CANDIDATE COMMITTEE | LOAN | 7/20/2018 | FILED | 1000 | LARAMIE, WY 82072 |
| VITALE, JOE (LARAMIE) | COMMITTEE TO ELECT DAN FURPHY | CANDIDATE COMMITTEE | MONETARY | 7/20/2018 | FILED | 400 | LARAMIE, WY 82072 |
| BEDESSEM, JACK (LARAMIE) | COMMITTEE TO ELECT DAN FURPHY | CANDIDATE COMMITTEE | MONETARY | 11/8/2016 | FILED | 100 | LARAMIE, WY 82070 |
| HOUSE REPUBLICAN CAUCUS (POWELL) | COMMITTEE TO ELECT DAN FURPHY | CANDIDATE COMMITTEE | MONETARY | 11/8/2016 | FILED | 100 | POWELL, WY 82435 |
| TRUCKING INDUSTRY PAC (CASPER) | COMMITTEE TO ELECT DAN FURPHY | CANDIDATE COMMITTEE | MONETARY | 11/8/2016 | FILED | 100 | CASPER, WY 82602 |
| CROW, GORDON (MARSHALL) | COMMITTEE TO ELECT DAN FURPHY | CANDIDATE COMMITTEE | MONETARY | 10/21/2016 | FILED | 50 | MARSHALL, MN 56258 |
| CRUM, GARY (LARAMIE) | COMMITTEE TO ELECT DAN FURPHY | CANDIDATE COMMITTEE | MONETARY | 10/21/2016 | FILED | 100 | LARAMIE, WY 82073 |
| PICARD, DAVID (CHEYENNE) | COMMITTEE TO ELECT DAN FURPHY | CANDIDATE COMMITTEE | MONETARY | 10/21/2016 | FILED | 100 | CHEYENNE, WY 82009 |
| WYOMING BANKERS ASSOCIATION BANK PAC (CHEYENNE) | COMMITTEE TO ELECT DAN FURPHY | CANDIDATE COMMITTEE | MONETARY | 10/21/2016 | FILED | 250 | CHEYENNE, WY 82001 |
| HAMBLIN, STEVE (SANTA FE) | COMMITTEE TO ELECT DAN FURPHY | CANDIDATE COMMITTEE | MONETARY | 10/12/2016 | FILED | 100 | SANTA FE, NM 87507 |
| BNSF RAILPAC (FT.WORTH) | COMMITTEE TO ELECT DAN FURPHY | CANDIDATE COMMITTEE | MONETARY | 10/7/2016 | FILED | 200 | FT.WORTH, TX 76161 |
| DECPAC (OKLAHOMA CITY) | COMMITTEE TO ELECT DAN FURPHY | CANDIDATE COMMITTEE | MONETARY | 10/7/2016 | FILED | 250 | OKLAHOMA CITY, OK 73102 |
| PAW POLITICAL ACTION COUNCIL (CASPER) | COMMITTEE TO ELECT DAN FURPHY | CANDIDATE COMMITTEE | MONETARY | 10/7/2016 | FILED | 300 | CASPER, WY 82601 |
| WYOMING STOCK GROWERS' AG PAC (CHEYENNE) | COMMITTEE TO ELECT DAN FURPHY | CANDIDATE COMMITTEE | MONETARY | 10/7/2016 | FILED | 100 | CHEYENNE, WY 82003 |
| BOUCHER, JAMES (LARAMIE) | COMMITTEE TO ELECT DAN FURPHY | CANDIDATE COMMITTEE | MONETARY | 9/21/2016 | FILED | 200 | LARAMIE, WY 82073 |
| MEYER, E. GERALD (LARAMIE) | COMMITTEE TO ELECT DAN FURPHY | CANDIDATE COMMITTEE | MONETARY | 9/21/2016 | FILED | 200 | LARAMIE, WY 82072 |
| WYOMING MINING ASSOCIATION PAC (WMA) (CHEYENNE) | COMMITTEE TO ELECT DAN FURPHY | CANDIDATE COMMITTEE | MONETARY | 9/21/2016 | FILED | 100 | CHEYENNE, WY 82003 |
| MAVRICK, RON & SUSAN (LARAMIE) | COMMITTEE TO ELECT DAN FURPHY | CANDIDATE COMMITTEE | IN-KIND | 8/16/2016 | FILED | 200 | LARAMIE, WY 82070 |
| ALLSTATE INSURANCE COMPANY PAC (ALLPAC) (NORTHBROOK) | COMMITTEE TO ELECT DAN FURPHY | CANDIDATE COMMITTEE | MONETARY | 8/15/2016 | FILED | 100 | NORTHBROOK, IL 60062 |
| CONPAC CONTRACTORS PAC (CHEYENNE) | COMMITTEE TO ELECT DAN FURPHY | CANDIDATE COMMITTEE | MONETARY | 8/15/2016 | FILED | 250 | CHEYENNE, WY 82003 |
| DARNALL, ROBERTA (LARAMIE) | COMMITTEE TO ELECT DAN FURPHY | CANDIDATE COMMITTEE | MONETARY | 8/15/2016 | FILED | 100 | LARAMIE, WY 82070 |
| DENNIS, ROBERT (LARAMIE) | COMMITTEE TO ELECT DAN FURPHY | CANDIDATE COMMITTEE | MONETARY | 8/15/2016 | FILED | 100 | LARAMIE, WY 82072 |
| GREASER, KERRY (LARAMIE) | COMMITTEE TO ELECT DAN FURPHY | CANDIDATE COMMITTEE | MONETARY | 8/15/2016 | FILED | 100 | LARAMIE, WY 82072 |
| NORD, TOM (CENTENNIAL) | COMMITTEE TO ELECT DAN FURPHY | CANDIDATE COMMITTEE | MONETARY | 8/15/2016 | FILED | 50 | CENTENNIAL, WY 82055 |
| TENERALLI, FRANK (LARAMIE) | COMMITTEE TO ELECT DAN FURPHY | CANDIDATE COMMITTEE | MONETARY | 8/15/2016 | FILED | 250 | LARAMIE, WY 82072 |
| WEISZ, M. GREGORY (LARAMIE) | COMMITTEE TO ELECT DAN FURPHY | CANDIDATE COMMITTEE | MONETARY | 8/15/2016 | FILED | 100 | LARAMIE, WY 82070 |
| BORDEN, TIM (STEAMBOAT SPRINGS) | COMMITTEE TO ELECT DAN FURPHY | CANDIDATE COMMITTEE | MONETARY | 8/11/2016 | FILED | 250 | STEAMBOAT SPRINGS, CO 80487 |
| BLACK HILLS CORPORATION PAC (RAPID CITY) | COMMITTEE TO ELECT DAN FURPHY | CANDIDATE COMMITTEE | MONETARY | 8/2/2016 | FILED | 250 | RAPID CITY, SD 57709 |
| BOUCHER, JAMES (LARAMIE) | COMMITTEE TO ELECT DAN FURPHY | CANDIDATE COMMITTEE | MONETARY | 8/2/2016 | FILED | 300 | LARAMIE, WY 82070 |
| BURNETT, CHERYL (LARAMIE) | COMMITTEE TO ELECT DAN FURPHY | CANDIDATE COMMITTEE | MONETARY | 8/2/2016 | FILED | 100 | LARAMIE, WY 82072 |
| COMLY, WILLIAM (LARAMIE) | COMMITTEE TO ELECT DAN FURPHY | CANDIDATE COMMITTEE | MONETARY | 8/2/2016 | FILED | 200 | LARAMIE, WY 82072 |
| DODDS, GARY (LARAMIE) | COMMITTEE TO ELECT DAN FURPHY | CANDIDATE COMMITTEE | MONETARY | 8/2/2016 | FILED | 100 | LARAMIE, WY 82072 |
| DODDS, JEFF (LARAMIE) | COMMITTEE TO ELECT DAN FURPHY | CANDIDATE COMMITTEE | MONETARY | 8/2/2016 | FILED | 100 | LARAMIE, WY 82072 |
| DOOLEY, E. JAYNE (LARAMIE) | COMMITTEE TO ELECT DAN FURPHY | CANDIDATE COMMITTEE | MONETARY | 8/2/2016 | FILED | 100 | LARAMIE, WY 82072 |
| DUNNUCK, SAMUEL (LARAMIE) | COMMITTEE TO ELECT DAN FURPHY | CANDIDATE COMMITTEE | MONETARY | 8/2/2016 | FILED | 100 | LARAMIE, WY 82070 |
| EGNACZAK, MARY LEE (LARAMIE) | COMMITTEE TO ELECT DAN FURPHY | CANDIDATE COMMITTEE | MONETARY | 8/2/2016 | FILED | 100 | LARAMIE, WY 82070 |
| ESPELAND, GARY (LARAMIE) | COMMITTEE TO ELECT DAN FURPHY | CANDIDATE COMMITTEE | MONETARY | 8/2/2016 | FILED | 75 | LARAMIE, WY 82070 |
| GEESEY, JIM (LARAMIE) | COMMITTEE TO ELECT DAN FURPHY | CANDIDATE COMMITTEE | MONETARY | 8/2/2016 | FILED | 200 | LARAMIE, WY 82072 |
| GREASER, PAUL (LARAMIE) | COMMITTEE TO ELECT DAN FURPHY | CANDIDATE COMMITTEE | MONETARY | 8/2/2016 | FILED | 500 | LARAMIE, WY 82072 |
| MACMILLAN, HOKE (ANTHEM) | COMMITTEE TO ELECT DAN FURPHY | CANDIDATE COMMITTEE | MONETARY | 8/2/2016 | FILED | 25 | ANTHEM, AZ 85086 |
| MADER, MARK (LARAMIE) | COMMITTEE TO ELECT DAN FURPHY | CANDIDATE COMMITTEE | MONETARY | 8/2/2016 | FILED | 100 | LARAMIE, WY 82073 |
| MANGAN, THOMAS (LARAMIE) | COMMITTEE TO ELECT DAN FURPHY | CANDIDATE COMMITTEE | MONETARY | 8/2/2016 | FILED | 50 | LARAMIE, WY 82070 |
| MANIG, HERBERT (LARAMIE) | COMMITTEE TO ELECT DAN FURPHY | CANDIDATE COMMITTEE | MONETARY | 8/2/2016 | FILED | 100 | LARAMIE, WY 82072 |
| MEYER, E. GERALD (LARAMIE) | COMMITTEE TO ELECT DAN FURPHY | CANDIDATE COMMITTEE | MONETARY | 8/2/2016 | FILED | 100 | LARAMIE, WY 82072 |
| O'MALLEY, CHERYL (LARAMIE) | COMMITTEE TO ELECT DAN FURPHY | CANDIDATE COMMITTEE | MONETARY | 8/2/2016 | FILED | 20 | LARAMIE, WY 82070 |
| PARNELL, TOM (LARAMIE) | COMMITTEE TO ELECT DAN FURPHY | CANDIDATE COMMITTEE | MONETARY | 8/2/2016 | FILED | 50 | LARAMIE, WY 82072 |
| PINCKNEY, DEBORAH (LARAMIE) | COMMITTEE TO ELECT DAN FURPHY | CANDIDATE COMMITTEE | MONETARY | 8/2/2016 | FILED | 100 | LARAMIE, WY 82072 |
| THELEN, TOM (LARAMIE) | COMMITTEE TO ELECT DAN FURPHY | CANDIDATE COMMITTEE | MONETARY | 8/2/2016 | FILED | 100 | LARAMIE, WY 82072 |
| | COMMITTEE TO ELECT DAN FURPHY | CANDIDATE COMMITTEE | ANONYMOUS | 8/2/2016 | FILED | 90 | |
| BURTON, C. L. (CENTENNIAL) | COMMITTEE TO ELECT DAN FURPHY | CANDIDATE COMMITTEE | MONETARY | 7/29/2016 | FILED | 500 | CENTENNIAL, WY 82055 |
| DEVIN, JERRY (LARAMIE) | COMMITTEE TO ELECT DAN FURPHY | CANDIDATE COMMITTEE | MONETARY | 7/29/2016 | FILED | 50 | LARAMIE, WY 82072 |
| PREHODA, DONALD (LARAMIE) | COMMITTEE TO ELECT DAN FURPHY | CANDIDATE COMMITTEE | MONETARY | 7/29/2016 | FILED | 250 | LARAMIE, WY 82072 |
| ROBERTS, LOIS (LARAMIE) | COMMITTEE TO ELECT DAN FURPHY | CANDIDATE COMMITTEE | MONETARY | 7/29/2016 | FILED | 25 | LARAMIE, WY 82070 |
| FURPHY, DANIEL (LARAMIE) | COMMITTEE TO ELECT DAN FURPHY | CANDIDATE COMMITTEE | LOAN | 7/20/2016 | FILED | 1000 | LARAMIE, WY 82072 |
| HOEFER, ANDREW (LARAMIE) | COMMITTEE TO ELECT DAN FURPHY | CANDIDATE COMMITTEE | MONETARY | 7/12/2016 | FILED | 100 | LARAMIE, WY 82070 |
| KUHN, DEBBIE (LARAMIE) | COMMITTEE TO ELECT DAN FURPHY | CANDIDATE COMMITTEE | MONETARY | 7/12/2016 | FILED | 100 | LARAMIE, WY 82070 |
| KUHN, DEBBIE (LARAMIE) | COMMITTEE TO ELECT DAN FURPHY | CANDIDATE COMMITTEE | IN-KIND | 7/1/2016 | FILED | 39 | LARAMIE, WY 82070 |
| MANIG, HERBERT (LARAMIE) | COMMITTEE TO ELECT DAN FURPHY | CANDIDATE COMMITTEE | MONETARY | 6/28/2016 | FILED | 200 | LARAMIE, WY 82072 |
| SCHAEFER, JAY (LARAMIE) | COMMITTEE TO ELECT DAN FURPHY | CANDIDATE COMMITTEE | MONETARY | 6/28/2016 | FILED | 100 | LARAMIE, WY 82072 |
| NICHOLAS, PHILIP (LARAMIE) | COMMITTEE TO ELECT DAN FURPHY | CANDIDATE COMMITTEE | MONETARY | 5/13/2016 | FILED | 250 | LARAMIE, WY 82070 |
| NEGICH, GARY (LARAMIE) | COMMITTEE TO ELECT DAN FURPHY | CANDIDATE COMMITTEE | MONETARY | 5/3/2016 | FILED | 250 | LARAMIE, WY 82072 |
| VITALE, JOE (LARAMIE) | COMMITTEE TO ELECT DAN FURPHY | CANDIDATE COMMITTEE | MONETARY | 5/2/2016 | FILED | 500 | LARAMIE, WY 82072 |
| FURPHY, DANIEL (LARAMIE) | COMMITTEE TO ELECT DAN FURPHY | CANDIDATE COMMITTEE | MONETARY | 4/22/2016 | FILED | 1000 | LARAMIE, WY 82072 |