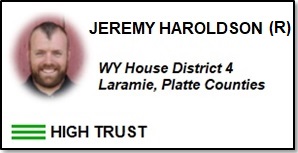 Summary
Representation
Competence
Integrity
More
+++
Jeremey Haroldson is a WY House Representative for House District 4 in Laramie and Platte Counties and has served from 2021 to the present.  He has received a positive score for all three categories of Representation, Competence and Integrity and therefore has been ranked as High Trust.
He is up for reelection in 2024.
---
As a boy, I took for granted that this country that I love would always be here for me and my kids. The older I get, the more I am realizing that unless each and every one of us stands up and defends the values we all love, our kids won't know the America we do. Or even worse…they may not even know America.

I am very passionate about making sure that we don't produce a government so powerful that it eliminates the rights of us as parents to raise our children how we see fit. I believe it is not the government's job to raise our children or to tell us what to believe. It's not the Governments job to tell me what marriage is, or how it's supposed to look.

I know that we as a nation need to see a reversal in the importance of the family unit. When the family is strong, the nation is strong.

-Jeremy Haroldson

From https://haroldsonforhouse.com/about
Overall Haroldson earns a (+) for Representation.
Attendance
It appears Haroldson missed one vote in 2023 General Session –  House Judiciary Committee vote for SF25 on 2/10/23.
Public Conduct
Haroldson appears to behave appropriately in public and to the public.
Sponsorship History
From 2021 to 2023 Haroldson has been a primary sponsor of 10 bills, and has co-sponsored 102 bills.  Favored bill subjects include protection of the unborn, children and students; 2nd Amendment; elections; protection from government COVID mandates; protection from CRT, ESG.  For more on Haroldson see his legislative webpage.
Committee Assignments
2023-House Corporations, Elections & Political Subdivisions
2023-House Judiciary
Haroldson scored a (+) for Constitutional Competence with an average of 100% on the constitutional issues listed below.  Constitutional issue categories that have a "N/A" grade, refer to specific bills that Haroldson did not have the opportunity to vote on.
It so relevant that Haroldson cosponsored 2023 SF0114 – Constitutional instruction and examination requirements but it failed before going to the House.
For more on the bills used to analyze these scores click here.  Special hat-tip goes out to Evidence Based Wyoming for use of their statistical tool to generate the following vote scores:
Conflicts
Because we have not found any conflicts of interest for Haroldson, he receives a (+) for Integrity.
Employment/Income
According to Jeremy Haroldson's 2023 State Elected Officials Financial Disclosure available at Wyofile, Haroldson reports the following:
Employed as Pastor
Memberships/Civic Organizations
Rural Advancement
Platte County Chamber of Commerce
Platte County Ministerial Society
Campaign Contributions
The table below shows all campaign contributions reported by the WY Secretary of State for Jeremy Michael Haroldson.
From 2020 to 2022 Haroldson has received approximately 35 contributions that total approximately $16,852.  Of the 35 donations, 2 were from PACs &/or campaign committees – both being WY County Party PACs.  The total amount received from PACs was approximately $2,000.
| Contributor Name | Recipient Name | Recipient Type | Contribution Type | Date | Filing Status | Amount | City State Zip |
| --- | --- | --- | --- | --- | --- | --- | --- |
| REPUBLICAN (CHEYENNE) | JEREMY MICHAEL HAROLDSON | CANDIDATE | MONETARY | 11/2/2022 | AMEND - ADD | 1000 | CHEYENNE, WY 82003 |
| WIGHT, DIANE (WHEATLAND) | JEREMY MICHAEL HAROLDSON | CANDIDATE | MONETARY | 10/27/2022 | FILED | 1000 | WHEATLAND, WY 82201 |
| HORNOK, CARRIE (CHEYENNE ) | JEREMY MICHAEL HAROLDSON | CANDIDATE | MONETARY | 10/26/2022 | FILED | 100 | CHEYENNE , WY 82009 |
| REPUBLICAN (CHEYENNE) | JEREMY MICHAEL HAROLDSON | CANDIDATE | MONETARY | 10/24/2022 | FILED | 500 | CHEYENNE, WY 82003 |
| KINSKEY, DAVID (SHERIDAN ) | JEREMY MICHAEL HAROLDSON | CANDIDATE | MONETARY | 10/21/2022 | FILED | 200 | SHERIDAN , WY 82801 |
| TILLMAN, WILLIAM D (WHEATLAND) | JEREMY MICHAEL HAROLDSON | CANDIDATE | MONETARY | 10/10/2022 | FILED | 100 | WHEATLAND, WY 82201 |
| GRIFFIN, JANNA L (WHEATLAND) | JEREMY MICHAEL HAROLDSON | CANDIDATE | MONETARY | 10/9/2022 | FILED | 100 | WHEATLAND, WY 82201 |
| MILLER , KEITH A (CHUGWATER ) | JEREMY MICHAEL HAROLDSON | CANDIDATE | MONETARY | 10/9/2022 | FILED | 150 | CHUGWATER , WY 82210 |
| BAKER, TERESA (CHUGWATER) | JEREMY MICHAEL HAROLDSON | CANDIDATE | MONETARY | 10/8/2022 | FILED | 20 | CHUGWATER, WY 82210 |
| CULLEN, SHERRI (WHEATLAND) | JEREMY MICHAEL HAROLDSON | CANDIDATE | MONETARY | 10/8/2022 | FILED | 100 | WHEATLAND, WY 82201 |
| MANNING, MAUREEN (WHEATLAND) | JEREMY MICHAEL HAROLDSON | CANDIDATE | MONETARY | 10/8/2022 | FILED | 40 | WHEATLAND, WY 82201 |
| WARDELL, CHERI (WHEATLAND) | JEREMY MICHAEL HAROLDSON | CANDIDATE | MONETARY | 10/8/2022 | FILED | 100 | WHEATLAND, WY 82201 |
| | JEREMY MICHAEL HAROLDSON | CANDIDATE | ANONYMOUS | 10/8/2022 | FILED | 807 | |
| CROOK REPUBLICAN PARTY CENTRAL COMMITTEE (SUNDANCE) | JEREMY MICHAEL HAROLDSON | CANDIDATE | MONETARY | 10/3/2022 | FILED | 1500 | SUNDANCE, WY 82729 |
| BIEN, BRENT (SHERIDAN) | JEREMY MICHAEL HAROLDSON | CANDIDATE | MONETARY | 10/2/2022 | FILED | 200 | SHERIDAN, WY 82801 |
| | JEREMY MICHAEL HAROLDSON | CANDIDATE | ANONYMOUS | 10/2/2022 | FILED | 375 | |
| CONVERSE REPUBLICAN PARTY CENTRAL COMMITTEE (DOUGLAS) | JEREMY MICHAEL HAROLDSON | CANDIDATE | MONETARY | 9/21/2022 | FILED | 500 | DOUGLAS, WY 82633 |
| BAIRD, JOHN (THERMOPOLIS) | JEREMY MICHAEL HAROLDSON | CANDIDATE | MONETARY | 9/17/2022 | FILED | 250 | THERMOPOLIS, WY 82443 |
| LOFTUS, GREG (BUFFALO ) | JEREMY MICHAEL HAROLDSON | CANDIDATE | MONETARY | 9/17/2022 | FILED | 200 | BUFFALO , WY 82834 |
| BIRT, ROY (WHEATLAND ) | JEREMY MICHAEL HAROLDSON | CANDIDATE | MONETARY | 9/15/2022 | FILED | 100 | WHEATLAND , WY 82201 |
| BUNKER , SHANA M (WHEATLAND) | JEREMY MICHAEL HAROLDSON | CANDIDATE | MONETARY | 9/15/2022 | FILED | 1000 | WHEATLAND, WY 82201 |
| BUTLER, CLINTON (WHEATLAND ) | JEREMY MICHAEL HAROLDSON | CANDIDATE | MONETARY | 9/14/2022 | FILED | 50 | WHEATLAND , WY 82201 |
| LENZ, LINDA (WHEATLAND ) | JEREMY MICHAEL HAROLDSON | CANDIDATE | MONETARY | 9/9/2022 | FILED | 100 | WHEATLAND , WY 82201 |
| BROPHY, CARLEEN E (JACKSON) | JEREMY MICHAEL HAROLDSON | CANDIDATE | MONETARY | 4/6/2022 | FILED | 1500 | JACKSON, WY 83001 |
| BROPHY, DANIEL F (JACKSON ) | JEREMY MICHAEL HAROLDSON | CANDIDATE | MONETARY | 4/6/2022 | FILED | 1500 | JACKSON , WY 83001 |
| REPUBLICAN (CHEYENNE) | JEREMY MICHAEL HAROLDSON | CANDIDATE | MONETARY | 9/28/2020 | FILED | 150 | CHEYENNE, WY 82003 |
| | JEREMY MICHAEL HAROLDSON | CANDIDATE | ANONYMOUS | 7/26/2020 | FILED | 760 | |
| BROPHY, DAN (JACKSON ) | JEREMY MICHAEL HAROLDSON | CANDIDATE | MONETARY | 7/12/2020 | FILED | 1500 | JACKSON , WY 83001 |
| DOBY, HERB (TORRINGTON ) | JEREMY MICHAEL HAROLDSON | CANDIDATE | MONETARY | 7/9/2020 | FILED | 100 | TORRINGTON , WY 82240 |
| PROSSER, ALDEN (WHEATLAND) | JEREMY MICHAEL HAROLDSON | CANDIDATE | MONETARY | 6/20/2020 | FILED | 50 | WHEATLAND, WY 82201 |
| TILTRUM , DARREL (WHEATLAND) | JEREMY MICHAEL HAROLDSON | CANDIDATE | MONETARY | 6/17/2020 | FILED | 100 | WHEATLAND, WY 82201 |
| WEIR, MARK + KERRI (WHEATLAND) | JEREMY MICHAEL HAROLDSON | CANDIDATE | MONETARY | 6/17/2020 | FILED | 100 | WHEATLAND, WY 82201 |
| CROW, BARB (WHEATLAND) | JEREMY MICHAEL HAROLDSON | CANDIDATE | MONETARY | 6/15/2020 | FILED | 100 | WHEATLAND, WY 82201 |
| BROPHY, CARLEEN (JACKSON) | JEREMY MICHAEL HAROLDSON | CANDIDATE | MONETARY | 6/12/2020 | FILED | 1500 | JACKSON, WY 83001 |
| RIDOUR, BRIAN + JEAN (WHEATLAND) | JEREMY MICHAEL HAROLDSON | CANDIDATE | MONETARY | 6/11/2020 | FILED | 1000 | WHEATLAND, WY 82201 |