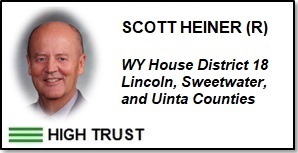 Summary
Representation
Competence
Integrity
More
+ + +
Scott Heiner has served in House District 18 as a WY Representative for Lincoln, Sweetwater and Uinta Counties from 2021 to the present.  He has received a positive score for all three categories of Representation, Competence and Integrity and therefore has been ranked as High Trust.
He is up for reelection in 2024.
---
The statement from President Ronald Reagan appropriately describes me: "You can't be for big government, big taxes, and big bureaucracy and still be for the little guy."
From https://www.wyomingnews.com/rocketminer/elections/2020-primary-election-edition-house-district-18-republican-scott-heiner/article_41223be2-d1be-5f0f-ab45-57bc78b9f3cc.html
Overall Heiner earns a (+) for Representation.
Attendance
It appears that Heiner was present for every vote in 2023 General Session.
Public Conduct
Heiner appears to behave appropriately in public and to the public.
Sponsorship History
In 2023 Heiner was the primary sponsor of 3 bills, and co-sponsored 36 bills.  Favored sponsorship topics appear to be education; protection of children from progressive/Marxist agenda.
Committee Assignments
2023-Select Federal Natural Resource Management Committee – Chairman
2023-House Minerals, Business & Economic Development
2023-CSG West – Energy & Environment
Heiner scored a (+) for Constitutional Competence with an average of 96.4% on the constitutional issues listed below.  Constitutional issue categories that have a "N/A" grade, refer to specific bills that Heiner did not have the opportunity to vote on.
It is relevant that Heiner cosponsored 2023 SF0114 – Constitutional instruction and examination requirements, but it failed before going to the House.
For more on the bills used to analyze these scores click here.  Special hat-tip goes out to Evidence Based Wyoming for use of their statistical tool to generate the following vote scores:
Conflicts
Because we have not found any conflicts of interest for Heiner, he receives a (+) for Integrity.
Employment/Income
According to both Heiner's legislative webpage and his 2023 State Elected Officials Financial Disclosure available at Wyofile, Heiner does not report any employment.  He does report income from:
"Any security or interest earnings"
"Real estate, leases, royalties"
If Heiner is retired and receives a pension, we believe that information should be disclosed.
Memberships/Civic Organizations
None found.
Campaign Contributions
The table below shows all campaign contributions reported by the WY Secretary of State for Scott Heiner.
From 2016 to 2022 Heiner received 23 contributions that total approximately $14,105.  Of the 23 donations, approximately 13 were from PACs &/or campaign committees.  The total amount received from PACS &/or campaign committees was approximately $5,300, which is approximately 37% of all contributions received.
Noteworthy contributions are:
$700 total from ESG compliant energy companies:

$500 from NextEra
$200 from Pacific Power/Rocky Mountain Power PAC
Click the arrows at the top of columns to sort the data by name, date, $ amount, etc.  (Data is publicly available records obtained from the Wyoming Secretary of State's Wyoming's Campaign Finance Information System)
| Contributor Name | Recipient Name | Recipient Type | Contribution Type | Date | Filing Status | Amount | City State Zip |
| --- | --- | --- | --- | --- | --- | --- | --- |
| CROOK REPUBLICAN PARTY CENTRAL COMMITTEE (SUNDANCE) | SCOTT HEINER | CANDIDATE | MONETARY | 10/7/2022 | FILED | 1500 | SUNDANCE, WY 82729 |
| COMMON VALUES PAC (ALEXANDRIA) | SCOTT HEINER | CANDIDATE | MONETARY | 10/5/2022 | FILED | 100 | ALEXANDRIA, VA 22314 |
| LINCOLN REPUBLICAN PARTY CENTRAL COMMITTEE (AFTON) | SCOTT HEINER | CANDIDATE | MONETARY | 10/5/2022 | FILED | 1000 | AFTON, WY 83110 |
| NEXTERA ENERGY PAC (JUNO BEACH) | SCOTT HEINER | CANDIDATE | MONETARY | 10/5/2022 | FILED | 500 | JUNO BEACH, FL 33408 |
| PACIFIC POWER/ROCKY MOUNTAIN POWER PAC (PORTLAND) | SCOTT HEINER | CANDIDATE | MONETARY | 10/5/2022 | FILED | 200 | PORTLAND, OR 97232 |
| WYOMING STOCK GROWERS' AG PAC (CHEYENNE) | SCOTT HEINER | CANDIDATE | MONETARY | 10/5/2022 | FILED | 200 | CHEYENNE, WY 82003 |
| WYOMING MINING ASSOCIATION PAC (WMA) (CHEYENNE) | SCOTT HEINER | CANDIDATE | MONETARY | 9/20/2022 | FILED | 250 | CHEYENNE, WY 82001 |
| WILSON, JEFFREY A (GREEN RIVER) | SCOTT HEINER | CANDIDATE | MONETARY | 8/25/2022 | FILED | 100 | GREEN RIVER, WY 82935 |
| EXXONMOBILE PAC (IRVING) | SCOTT HEINER | CANDIDATE | MONETARY | 7/8/2022 | FILED | 250 | IRVING, TX 75039 |
| UNION PACIFIC CORPORATION FUND FOR EFFECTIVE GOVERNMENT (WASHINGTON) | SCOTT HEINER | CANDIDATE | MONETARY | 7/8/2022 | FILED | 250 | WASHINGTON, DC 20005 |
| AMERICAN SOCIETY OF ANESTHESIOLOGISTS (SCHAUMBURG) | SCOTT HEINER | CANDIDATE | MONETARY | 6/23/2022 | FILED | 500 | SCHAUMBURG, IL 60173 |
| MOTOROLA SOLUTIONS, INC. PAC (WASHINGTON ) | SCOTT HEINER | CANDIDATE | MONETARY | 4/24/2022 | FILED | 250 | WASHINGTON , DC 20004 |
| BROPHY, CARLEEN (JACKSON) | SCOTT HEINER | CANDIDATE | MONETARY | 4/15/2022 | FILED | 1500 | JACKSON, WY 83001 |
| BROPHY, DANIEL (JACKSON) | SCOTT HEINER | CANDIDATE | MONETARY | 4/15/2022 | FILED | 1500 | JACKSON, WY 83001 |
| COWBOY GAMES PAC (SHERIDAN) | SCOTT HEINER | CANDIDATE | MONETARY | 10/5/2020 | FILED | 150 | SHERIDAN, WY 82801 |
| HOUSE REPUBLICAN CAUCUS (POWELL) | SCOTT HEINER | CANDIDATE | MONETARY | 9/29/2020 | FILED | 150 | POWELL, WY 82435 |
| HEINER, SCOTT (GREEN RIVER) | SCOTT HEINER | CANDIDATE | MONETARY | 8/1/2020 | FILED | 500 | GREEN RIVER, WY 82935 |
| ANDERSON, JAY (LYMAN) | SCOTT HEINER | CANDIDATE | MONETARY | 6/29/2020 | FILED | 100 | LYMAN, WY 82937 |
| BROPHY, CARLEEN (JACKSON) | SCOTT HEINER | CANDIDATE | MONETARY | 6/25/2020 | FILED | 1500 | JACKSON, WY 83001 |
| BROPHY, DAN (JACKSON) | SCOTT HEINER | CANDIDATE | MONETARY | 6/25/2020 | FILED | 1500 | JACKSON, WY 83001 |
| HEINER, SCOTT (GREEN RIVER) | SCOTT HEINER | CANDIDATE | MONETARY | 6/1/2018 | FILED | 1815 | GREEN RIVER, WY 82935 |
| ANDERSON, JAY R (LYMAN) | SCOTT HEINER | CANDIDATE | MONETARY | 7/15/2016 | FILED | 100 | LYMAN, WY 82937 |
| IZATT, DERK (STAR VALLEY RANCH) | SCOTT HEINER | CANDIDATE | IN-KIND | 7/2/2016 | FILED | 190 | STAR VALLEY RANCH, WY 83127 |