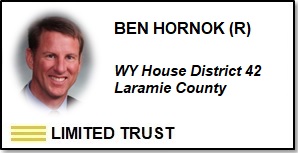 Summary
Representation
Competence
Integrity
More
+ – +
Ben Hornok has served in House District 42 as a WY Representative for Laramie County from Jan 2023 to the present.  He has received a positive score for Representation and Integrity, and a negative score for Competence.  Therefore Hornok has been ranked as Limited Trust.
NOTE:  Hornok missed receiving a positive score for Competence by only 5 points – if he focused on a stronger constitutional education we believe he could rank as a High Trust legislator next year.
He is up for reelection in 2024.
---
"Wyoming stands at a crossroads that will determine the course of our state for the future. In the last two years, we have seen how far the government can overreach and how fast our liberties can dissolve. If you are like me, you thought that Wyoming would be different. Unfortunately, we all watched as our state leadership followed lock step and refused to acknowledge the sovereignty of Wyoming or the individual autonomy of its citizens. As a republican state, true conservative values seem to fly away in the Wyoming wind. In the legislature, I will fight to keep our conservative values and individual autonomy where it belongs–with you. Our Constitution safeguards freedom by limiting the government's access into our lives. At the crossroads before us now, we can fight to keep that limitation, or we can allow the government to delegate aspects of our lives. I know which road I want to be on, and I will work hard to protect the freedom that our Constitution describes and that God grants you."
From https://www.benhornokforwyoming.com/
Overall Hornok scored a (+) for Representation.
Attendance
It appears that Hornok was present for every vote in 2023 General Session.
Public Conduct
Hornok appears to behave appropriately in public and to the public.
Sponsorship History
In 2023 Hornok was the primary sponsor of 4 bills, and co-sponsored 20 bills.  Favored sponsorship topics appear to be protection of the unborn and children/students; education; medical freedom.
Committee Assignments
2023-House Labor, Health & Social Services
2023-NCSL – Labor & Economic Development
Hornok scored a (–) for Constitutional Competence with an average of 80% on the constitutional issues listed below.  With our cut-off being at 85%, Hornok came close to earning a (+).
Constitutional issue categories that have a "N/A" grade, refer to specific bills that Hornok did not have the opportunity to vote on.  It is relevant that Hornok cosponsored HB0205 Ban on teaching and training critical race theory, unfortunately WY House Speaker Sommers kept it hidden in his drawer and therefore the bill was never voted on.
For more on the bills used to analyze these scores click here.  Special hat-tip goes out to Evidence Based Wyoming for use of their statistical tool to generate the following vote scores:
Conflicts
Because we have not found any conflicts of interest for Hornok, he receives a (+) for Integrity.
Employment/Income
According to Hornok's legislative webpage his occupation is General Contractor.  According to Hornok's 2023 State Elected Officials Financial Disclosure available at Wyofile, he reports:
Owner of TC Solutions
Laramie County contract
Memberships/Civic Organizations
None found.
Campaign Contributions
The table below shows all campaign contributions reported by the WY Secretary of State for Ben Hornok for Wyoming.
In 2022 Hornok received approximately 51 contributions that total approximately $13,428.08.  Of the 51 donations, approximately 3 were from PACs &/or campaign committees.  The total amount received from PACs &/or campaign committees was approximately $1,500.
Click the arrows at the top of columns to sort the data by name, date, $ amount, etc.  (Data is publicly available records obtained from the Wyoming Secretary of State's Wyoming's Campaign Finance Information System.)
| Contributor Name | Recipient Name | Recipient Type | Contribution Type | Date | Filing Status | Amount | City State Zip |
| --- | --- | --- | --- | --- | --- | --- | --- |
| DARIN SMITH FOR WYOMING (CHEYENNE) | BEN HORNOK FOR WYOMING | CANDIDATE COMMITTEE | MONETARY | 10/18/2022 | FILED | 500 | CHEYENNE, WY 82003 |
| | BEN HORNOK FOR WYOMING | CANDIDATE COMMITTEE | ANONYMOUS | 10/18/2022 | FILED | 291.5 | |
| ALLEN JAGGI PAC FOR CONSTITUTIONAL ISSUES (LYMAN) | BEN HORNOK FOR WYOMING | CANDIDATE COMMITTEE | MONETARY | 10/17/2022 | FILED | 500 | LYMAN, WY 82937 |
| MOYER, SUZAN (WICHITA) | BEN HORNOK FOR WYOMING | CANDIDATE COMMITTEE | MONETARY | 8/10/2022 | AMEND - ADD | 50 | WICHITA, KS 67226 |
| HORNOK, CARRIE (CHEYENNE) | BEN HORNOK FOR WYOMING | CANDIDATE COMMITTEE | IN-KIND | 8/8/2022 | FILED | 181.25 | CHEYENNE, WY 82009 |
| GLEASON, STEFAN (CHARLOTTE) | BEN HORNOK FOR WYOMING | CANDIDATE COMMITTEE | MONETARY | 8/7/2022 | FILED | 500 | CHARLOTTE, NC 28277 |
| HORNOK, BEN (CHEYENNE) | BEN HORNOK FOR WYOMING | CANDIDATE COMMITTEE | IN-KIND | 8/7/2022 | FILED | 50 | CHEYENNE, WY 82009 |
| HORNOK, RICHARD (TEXARKANA) | BEN HORNOK FOR WYOMING | CANDIDATE COMMITTEE | MONETARY | 7/26/2022 | FILED | 150 | TEXARKANA, TX 75503 |
| LUFKIN, LISA (WEST JORDAN) | BEN HORNOK FOR WYOMING | CANDIDATE COMMITTEE | MONETARY | 7/26/2022 | FILED | 25 | WEST JORDAN, UT 84088 |
| ALLEN JAGGI PAC FOR CONSTITUTIONAL ISSUES (LYMAN) | BEN HORNOK FOR WYOMING | CANDIDATE COMMITTEE | MONETARY | 7/18/2022 | FILED | 500 | LYMAN, WY 82937 |
| DEAKIN, JIM (CHEYENNE) | BEN HORNOK FOR WYOMING | CANDIDATE COMMITTEE | MONETARY | 7/16/2022 | FILED | 50 | CHEYENNE, WY 82009 |
| KELLY, ANDREW (CHEYENNE) | BEN HORNOK FOR WYOMING | CANDIDATE COMMITTEE | MONETARY | 7/16/2022 | FILED | 50 | CHEYENNE, WY 82009 |
| HORNOK, BEN (CHEYENNE) | BEN HORNOK FOR WYOMING | CANDIDATE COMMITTEE | IN-KIND | 7/15/2022 | FILED | 114.53 | CHEYENNE, WY 82009 |
| STATHAM, ROB (CHEYENNE) | BEN HORNOK FOR WYOMING | CANDIDATE COMMITTEE | MONETARY | 7/15/2022 | FILED | 50 | CHEYENNE, WY 82009 |
| CULBERSON, CAROLE (SANDY) | BEN HORNOK FOR WYOMING | CANDIDATE COMMITTEE | MONETARY | 7/14/2022 | FILED | 100 | SANDY, UT 84093 |
| HARNS, CHRIS (FARSON) | BEN HORNOK FOR WYOMING | CANDIDATE COMMITTEE | MONETARY | 7/14/2022 | FILED | 20 | FARSON, WY 82932 |
| VANATA, VINCE (CODY) | BEN HORNOK FOR WYOMING | CANDIDATE COMMITTEE | MONETARY | 7/14/2022 | FILED | 100 | CODY, WY 82414 |
| KAPPES, CARLA (WEST JORDAN) | BEN HORNOK FOR WYOMING | CANDIDATE COMMITTEE | MONETARY | 7/13/2022 | FILED | 50 | WEST JORDAN, UT 84088 |
| HILL, DRAKE (CHEYENNE) | BEN HORNOK FOR WYOMING | CANDIDATE COMMITTEE | MONETARY | 7/5/2022 | FILED | 200 | CHEYENNE, WY 82001 |
| JOHNSON, SCOTT (FARSON) | BEN HORNOK FOR WYOMING | CANDIDATE COMMITTEE | MONETARY | 7/5/2022 | FILED | 100 | FARSON, WY 82932 |
| ANDERSON, RUSS (TAYLORSVILLE) | BEN HORNOK FOR WYOMING | CANDIDATE COMMITTEE | MONETARY | 7/2/2022 | FILED | 700 | TAYLORSVILLE, UT 84129 |
| GARLAND, SHARON (CHEYENNE) | BEN HORNOK FOR WYOMING | CANDIDATE COMMITTEE | MONETARY | 7/1/2022 | FILED | 50 | CHEYENNE, WY 82003 |
| GORE, SUSAN (CHEYENNE) | BEN HORNOK FOR WYOMING | CANDIDATE COMMITTEE | MONETARY | 6/30/2022 | FILED | 1000 | CHEYENNE, WY 82009 |
| HARNS, STEVE (FARSON) | BEN HORNOK FOR WYOMING | CANDIDATE COMMITTEE | MONETARY | 6/29/2022 | FILED | 50 | FARSON, WY 82932 |
| WARHURST, AMBER (BLOUNTVILLE) | BEN HORNOK FOR WYOMING | CANDIDATE COMMITTEE | MONETARY | 6/28/2022 | FILED | 200 | BLOUNTVILLE, TN 37617 |
| FILLMORE, BRIAN (CHEYENNE) | BEN HORNOK FOR WYOMING | CANDIDATE COMMITTEE | MONETARY | 6/26/2022 | FILED | 50 | CHEYENNE, WY 82009 |
| GINGERY, LEAH (REDONDO BEACH) | BEN HORNOK FOR WYOMING | CANDIDATE COMMITTEE | MONETARY | 6/26/2022 | FILED | 235 | REDONDO BEACH, CA 90277 |
| HORNOK, DOUG (DRAPER) | BEN HORNOK FOR WYOMING | CANDIDATE COMMITTEE | MONETARY | 6/25/2022 | FILED | 50 | DRAPER, UT 84020 |
| MUELLER, TED (CHEYENNE) | BEN HORNOK FOR WYOMING | CANDIDATE COMMITTEE | IN-KIND | 6/25/2022 | FILED | 21.75 | CHEYENNE, WY 82009 |
| ROSSI, MARK (CHEYENNE) | BEN HORNOK FOR WYOMING | CANDIDATE COMMITTEE | MONETARY | 6/25/2022 | FILED | 100 | CHEYENNE, WY 82001 |
| HORNOK, KEN (TAYLORSVILLE) | BEN HORNOK FOR WYOMING | CANDIDATE COMMITTEE | MONETARY | 6/24/2022 | FILED | 300 | TAYLORSVILLE, UT 84129 |
| HORNOK, NATHAN (WEST JORDAN) | BEN HORNOK FOR WYOMING | CANDIDATE COMMITTEE | MONETARY | 6/24/2022 | FILED | 500 | WEST JORDAN, UT 84084 |
| HORNOK, BEN (CHEYENNE) | BEN HORNOK FOR WYOMING | CANDIDATE COMMITTEE | IN-KIND | 6/23/2022 | FILED | 1479.75 | CHEYENNE, WY 82009 |
| HORNOK, BEN (CHEYENNE) | BEN HORNOK FOR WYOMING | CANDIDATE COMMITTEE | IN-KIND | 6/23/2022 | FILED | 469.19 | CHEYENNE, WY 82009 |
| MUELLER, TED (CHEYENNE) | BEN HORNOK FOR WYOMING | CANDIDATE COMMITTEE | IN-KIND | 6/18/2022 | FILED | 29 | CHEYENNE, WY 82009 |
| MUELLER, TED (CHEYENNE) | BEN HORNOK FOR WYOMING | CANDIDATE COMMITTEE | IN-KIND | 6/18/2022 | FILED | 72 | CHEYENNE, WY 82009 |
| HORNOK, BEN (CHEYENNE) | BEN HORNOK FOR WYOMING | CANDIDATE COMMITTEE | IN-KIND | 6/10/2022 | FILED | 46.84 | CHEYENNE, WY 82009 |
| HORNOK, BEN (CHEYENNE) | BEN HORNOK FOR WYOMING | CANDIDATE COMMITTEE | IN-KIND | 6/10/2022 | FILED | 109.18 | CHEYENNE, WY 82009 |
| HORNOK, BEN (CHEYENNE) | BEN HORNOK FOR WYOMING | CANDIDATE COMMITTEE | IN-KIND | 6/10/2022 | FILED | 473.4 | CHEYENNE, WY 82009 |
| BROPHY, CARLEEN (JACKSON) | BEN HORNOK FOR WYOMING | CANDIDATE COMMITTEE | MONETARY | 6/9/2022 | FILED | 1000 | JACKSON, WY 83001 |
| BROPHY, DAN (JACKSON) | BEN HORNOK FOR WYOMING | CANDIDATE COMMITTEE | MONETARY | 6/9/2022 | FILED | 1000 | JACKSON, WY 83001 |
| HORNOK, BEN (CHEYENNE) | BEN HORNOK FOR WYOMING | CANDIDATE COMMITTEE | IN-KIND | 6/8/2022 | FILED | 32 | CHEYENNE, WY 82009 |
| MUELLER, TED (CHEYENNE) | BEN HORNOK FOR WYOMING | CANDIDATE COMMITTEE | IN-KIND | 6/1/2022 | FILED | 200 | CHEYENNE, WY 82009 |
| MUELLER, TED (CHEYENNE) | BEN HORNOK FOR WYOMING | CANDIDATE COMMITTEE | MONETARY | 5/24/2022 | FILED | 70 | CHEYENNE, WY 82009 |
| HORNOK, BEN (CHEYENNE) | BEN HORNOK FOR WYOMING | CANDIDATE COMMITTEE | IN-KIND | 5/19/2022 | FILED | 176.28 | CHEYENNE, WY 82009 |
| HORNOK, BEN (CHEYENNE) | BEN HORNOK FOR WYOMING | CANDIDATE COMMITTEE | IN-KIND | 5/18/2022 | FILED | 450 | CHEYENNE, WY 82009 |
| HORNOK, BEN (CHEYENNE) | BEN HORNOK FOR WYOMING | CANDIDATE COMMITTEE | IN-KIND | 5/18/2022 | FILED | 36.9 | CHEYENNE, WY 82009 |
| MUELLER, TED (CHEYENNE) | BEN HORNOK FOR WYOMING | CANDIDATE COMMITTEE | MONETARY | 5/16/2022 | FILED | 500 | CHEYENNE, WY 82009 |
| HORNOK, BEN (CHEYENNE) | BEN HORNOK FOR WYOMING | CANDIDATE COMMITTEE | IN-KIND | 5/12/2022 | FILED | 100 | CHEYENNE, WY 82009 |
| HORNOK, BEN (CHEYENNE) | BEN HORNOK FOR WYOMING | CANDIDATE COMMITTEE | IN-KIND | 5/11/2022 | FILED | 307.99 | CHEYENNE, WY 82009 |
| HORNOK, BEN (CHEYENNE) | BEN HORNOK FOR WYOMING | CANDIDATE COMMITTEE | IN-KIND | 5/11/2022 | FILED | 36.52 | CHEYENNE, WY 82009 |