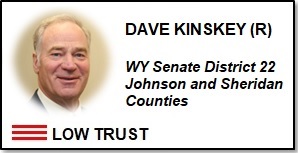 Summary
Representation
Competence
Integrity
More
– – –
Dave Kinskey has been serving from 2014 to the present as a Wyoming senator in Johnson and Sheridan Counties for Senate District 22.  Kinskey, former Mayor of the City of Sheridan, was originally appointed to SD22 in 2014 by Sheridan and Johnson County Commissioners after the death of the late WY Senator John Schiffer.
Kinskey has received a negative score for all three categories of Representation, Competence and Integrity.  Therefore he has been ranked as Low Trust.
He is up for reelection in 2024.
---
"Wyoming has a long history of good stewardship of God's many gifts to us in this great state. Usurpation by the federal government of our right as a state, and a people, to determine our destiny adds nothing to our quality of life, and threatens the viability of our jobs, industries, businesses and families."
From https://kinskey.com/legislative/
Overall Kinskey scores a (–) for Representation for vote attendance.
Attendance
It appears that Kinskey missed ten votes across 6 days in 2023 General Session.  Our guidelines require a legislator to be present for all votes on 90% of the days in any session. For 2023 session, if a legislator missed any votes on 5 or more days, they receive a negative (-) score.
1/12/23 – Committee of the Whole vote for SF60
2/7/23 –  Appropriations Committee vote for HB19; HB61; HB185;
2/9/23 – Appropriations Committee vote for HB93;
2/13/23 – Committee of the Whole vote for HB145;
2/21/23 – Appropriations Committee vote for HB74; HB99; HB208
2/23/23 – Appropriations Committee vote for HB4
Public Conduct
Kinskey appears to behave appropriately in public and to the public.
Sponsorship History
In 2023 Kinskey was the primary sponsor of 4 bills, and he co-sponsored 12 bills and 1 joint resolution.  Favored sponsorship topics appear to be 2nd Amendment issues.  For more on Kinskey see his legislator webpage.
Committee Assignments
2023-Management Council
2023-Senate Appropriations
2023-Senate Rules & Procedure
2023-Regulatory Reduction Task Force
Committee Assignments
2023-Management Council
2023-Senate Rules & Procedure
2023-Regulatory Reduction Task Force
Kinskey scored a (–) for Constitutional Competence with an average of 58.3% on the constitutional issues listed below.
For more on the bills used to analyze these scores click here.  Special hat-tip goes out to Evidence Based Wyoming for use of their statistical tool to generate the following vote scores:
Conflicts
Kinskey receives a negative score (-) for Integrity for the following judicial conflicts:
Kinskey is an attorney.  Attorneys strive to stay in the good graces of judges for professional discourse in the courtroom, and unbiased treatment of an attorney's cases and clients.  Thus, a legislator-attorney would be hard-pressed to oppose any bill or policy changes that a judge advocates for.  This is a fact for all legislator-attorneys in any state legislature.  The Wyoming Supreme Court has consistently pushed, perhaps even lobbied, for the transfer of substance abuse/mental health treatment issues from the WY Dept. of Health (Executive Branch) to the Judicial Branch.  Not only are the following bills unconstitutional because they facilitate the transfer of Executive branch duties to the Judicial branch (WY State Constitution Article 2, Section 1; Article 5, Section 16), these bills are also a conflict for any legislator-attorney to vote on:
Additionally, legislator-lawyers have an interest in making changes to law for courts, courtrooms and litigation procedures.  We believe the following bills are also conflict(s) for legislator-lawyers:
Employment/Income
According to Kinskey's legislative webpage he is an attorney and independent businessperson.  According to Kinskey's 2023 State Elected Officials Financial Disclosure available at Wyofile, he reports:
Attorney at Kisling Law
Member of *TK LLC
Income from "Any security or interest earnings"
Income from "real estate, leases, royalties"
*TK LLC appears to be real estate, property management.
Memberships/Civic Organizations
Rotary
Chamber of Commerce
Downtown Sheridan Association
Knights of Columbus
Pheasants Forever
Cowboy Joe Club
Sheridan Community Land Trust
Child Development Center
Wyoming Association of Municipalities
Sheridan Area Water System
Sheridan Economic and Educational Development Authority
Campaign Contributions
The table below shows all campaign contributions reported by the WY Secretary of State for Dave Kinskey.
From 2016 to 2020 Kinskey received 28 contributions that total $40,322.72.  Of the 28 donations, 15 were from PACs.  The total amount Kinskey received from PACS was $8,022.72.
Noteworthy contributions to Kinskey are:
$30,000 total from himself
$5,122.72 on 6/24/2016 from "KINSKEY FOR MAYOR" PAC
$200 from ESG compliant Pacific Power/Rocky Mountain Power PAC
$100 from Pfizer
Click the arrows at the top of columns to sort the data by name, date, $ amount, etc.  (Data is publicly available records obtained from the Wyoming Secretary of State's Wyoming's Campaign Finance Information System)
| Contributor Name | Recipient Name | Recipient Type | Contribution Type | Date | Filing Status | Amount | City State Zip |
| --- | --- | --- | --- | --- | --- | --- | --- |
| FARMERS INSURANCE AGENTS AND EMPLOYEE(FEAPAC) MEMBERS OF WYOMING (CHEYENNE) | DAVE KINSKEY | CANDIDATE | MONETARY | 10/28/2020 | AMEND - ADD | 500 | CHEYENNE, WY 82001 |
| WYOMING MINING ASSOCIATION PAC (WMA) (CHEYENNE) | DAVE KINSKEY | CANDIDATE | MONETARY | 9/30/2020 | FILED | 100 | CHEYENNE, WY 82001 |
| TRUCKING INDUSTRY PAC (CASPER) | DAVE KINSKEY | CANDIDATE | MONETARY | 9/28/2020 | FILED | 200 | CASPER, WY 82602 |
| WYOMING STOCK GROWERS' AG PAC (CHEYENNE) | DAVE KINSKEY | CANDIDATE | MONETARY | 9/15/2020 | FILED | 100 | CHEYENNE, WY 82003 |
| PACIFIC POWER/ROCKY MOUNTAIN POWER PAC (PORTLAND) | DAVE KINSKEY | CANDIDATE | MONETARY | 7/29/2020 | FILED | 200 | PORTLAND, OR 97232 |
| MARATHON OIL COMPANY EMPLOYEES POLITICAL ACTION COMMITTEE (MEPAC) - STATE (FINDLEY) | DAVE KINSKEY | CANDIDATE | MONETARY | 7/23/2020 | FILED | 200 | FINDLEY, OH 45840 |
| DRISKILL, OGDEN (DEVIL'S TOWER) | DAVE KINSKEY | CANDIDATE | MONETARY | 6/30/2020 | AMEND - ADD | 250 | DEVIL'S TOWER, WY 82714 |
| KINSKEY, DAVE (SHERIDAN) | DAVE KINSKEY | CANDIDATE | LOAN | 5/26/2020 | FILED | 10000 | SHERIDAN, WY 82801 |
| ELLIOT, R. ROSS (BUFFALO) | DAVE KINSKEY | CANDIDATE | MONETARY | 5/6/2020 | FILED | 100 | BUFFALO, WY 82834 |
| KINSKEY, DAVE (SHERIDAN) | DAVE KINSKEY | CANDIDATE | LOAN | 2/26/2020 | FILED | 10000 | SHERIDAN, WY 82801 |
| KINSKEY, DAVE (SHERIDAN) | DAVE KINSKEY | CANDIDATE | LOAN | 11/21/2019 | FILED | 10000 | SHERIDAN, WY 82801 |
| HOFFMAN, SAM (SHERIDAN) | DAVE KINSKEY | CANDIDATE | MONETARY | 7/23/2018 | FILED | 75 | SHERIDAN, WY 82801 |
| CLOUD PEAK ENERGY EMPLOYEE PAC (BROOMFIELD) | DAVE KINSKEY | CANDIDATE | MONETARY | 10/5/2016 | FILED | 500 | BROOMFIELD, CO 80021 |
| TRUCKING INDUSTRY PAC (CASPER) | DAVE KINSKEY | CANDIDATE | MONETARY | 9/26/2016 | FILED | 200 | CASPER, WY 82602 |
| NATIONAL FEDERATION OF INDEPENDENT BUSINESS WYOMING POLITICAL ACTION COMMITTEE (WASHINGTON) | DAVE KINSKEY | CANDIDATE | MONETARY | 9/21/2016 | FILED | 100 | WASHINGTON, DC 20004 |
| PFIZER PAC (NEW YORK) | DAVE KINSKEY | CANDIDATE | MONETARY | 9/19/2016 | FILED | 100 | NEW YORK, NY 10017 |
| WYOMING STOCK GROWERS' AG PAC (CHEYENNE) | DAVE KINSKEY | CANDIDATE | MONETARY | 9/16/2016 | FILED | 100 | CHEYENNE, WY 82003 |
| EXXONMOBILE PAC (IRVING) | DAVE KINSKEY | CANDIDATE | MONETARY | 9/14/2016 | FILED | 100 | IRVING, TX 75039 |
| PAW POLITICAL ACTION COUNCIL (CASPER) | DAVE KINSKEY | CANDIDATE | MONETARY | 9/14/2016 | FILED | 200 | CASPER, WY 82601 |
| WYOMING MINING ASSOCIATION (MINE PAC) (CHEYENNE) | DAVE KINSKEY | CANDIDATE | MONETARY | 8/26/2016 | FILED | 100 | CHEYENNE, WY 82003 |
| BNSF RAILPAC (FT WORTH) | DAVE KINSKEY | CANDIDATE | MONETARY | 8/3/2016 | FILED | 200 | FT WORTH, TX 76161 |
| BRINKERHOFF, RV & AMY (SPRING BRANCH) | DAVE KINSKEY | CANDIDATE | MONETARY | 7/23/2016 | FILED | 250 | SPRING BRANCH, TX 78070 |
| KINSKEY, JOHN (OVERLAND PARK) | DAVE KINSKEY | CANDIDATE | MONETARY | 7/20/2016 | FILED | 750 | OVERLAND PARK, KS 66214 |
| RIDGEWAY, MARY (CASPER) | DAVE KINSKEY | CANDIDATE | MONETARY | 7/12/2016 | FILED | 125 | CASPER, WY 82609 |
| BACHAND, PATRICIA (CASPER) | DAVE KINSKEY | CANDIDATE | MONETARY | 7/2/2016 | FILED | 125 | CASPER, WY 82601 |
| LEMM, RICHARD & ROBIN (STORY) | DAVE KINSKEY | CANDIDATE | MONETARY | 7/2/2016 | FILED | 125 | STORY, WY 82842 |
| KINSKEY, JOSEPH (DIKE) | DAVE KINSKEY | CANDIDATE | MONETARY | 6/29/2016 | FILED | 500 | DIKE, IA 50624 |
| KINSKEY FOR MAYOR (SHERIDAN) | DAVE KINSKEY | CANDIDATE | MONETARY | 6/24/2016 | FILED | 5122.72 | SHERIDAN, WY 82801 |