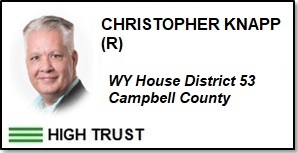 Summary
Representation
Competence
Integrity
More
+ + +
Christopher Knapp has served in House District 53 as a WY Representative for Campbell County from 2020 to the present.  Knapp was appointed by Campbell County Commissioners to replace the late Roy Edwards who passed away in Nov 2020.
Knapp has received a positive score for all three categories of Representation, Competence and Integrity and therefore has been ranked as High Trust.
He is up for reelection in 2024.
---
"I am running for election because I feel the Country has reached a crossroads. Either we defend the Constitution and what it represents, or we continue down the path of socialism. I have taken an oath five times to support, obey and defend the Constitution and take that oath very seriously. I will continue to serve if called upon, and if the citizens of my District feel I am effective. The State of Wyoming is generally a conservative state, yet we have fallen to mandates, government interference in freedoms and the interference in freedom of commerce for the resources of our state. I will continue to fight for our citizens using the constitution and our Wyoming constitution as well as legislation."
From https://county17.com/2022/07/13/campbell-county-candidate-questionnaire-christopher-r-knapp-for-state-rep-for-district-53/
Overall Knapp earns a (+) for Representation.
Attendance
It appears that Knapp missed one vote in 2023 General Session: Concurrence vote for HB86 on 2/15/23.
Public Conduct
Knapp appears to behave appropriately in public and to the public.
Sponsorship History
In 2023 Knapp was the primary sponsor of 5 bills, and co-sponsored 29 bills.  Favored sponsorship topics appear to be protection and support of constitutional rights; protection of the unborn, children and students; education; medical freedom; elections.  For more see his legislative webpage.
Committee Assignments
2023-Management Audit Committee
2023-House Corporations, Elections & Political Subdivisions
2023-House Minerals, Business & Economic Development
2023-Select Committee on Capital Financing & Investments
2023-NCSL – Budgets and Revenue
Knapp scored a (+) for Constitutional Competence with an average of 85.7% on the constitutional issues listed below.  With our cut-off being at 85%, Knapp came close to earning a (–).   Constitutional issue categories that have a "N/A" grade, refer to specific bills that Knapp did not have the opportunity to vote on.
For more on the bills used to analyze these scores click here.  Special hat-tip goes out to Evidence Based Wyoming for use of their statistical tool to generate the following vote scores:
Conflicts
Because we have not found any conflicts of interest for Knapp, he receives a (+) for Integrity.
Employment/Income
According to Knapp's 2023 State Elected Officials Financial Disclosure available at Wyofile, he reports:
Managing member of business equipment company
Commercial Real Estate/Leasing company
Income earned from "Real estate, leases, royalties"
Memberships/Civic Organizations
Former Campbell County Commissioner (three 4 year terms)
Campaign Contributions
The table below shows all campaign contributions reported by the WY Secretary of State for Committee to Elect Chris Knapp / Christopher Rex Knapp.
In 2022 Knapp received 10 contributions that total $10,400.  Of the 10 donations, 3 were from PACs.  The total amount received from PACS was $5,700.
Click the arrows at the top of columns to sort the data by name, date, $ amount, etc.  (Data is publicly available records obtained from the Wyoming Secretary of State's Wyoming's Campaign Finance Information System.)
| Contributor Name | Recipient Name | Recipient Type | Contribution Type | Date | Filing Status | Amount | City State Zip |
| --- | --- | --- | --- | --- | --- | --- | --- |
| MAYCOCK, JOE (GILLETTE) | COMMITTEE TO ELECT CHRIS KNAPP | CANDIDATE COMMITTEE | MONETARY | 10/1/2022 | FILED | 50 | GILLETTE, WY 82716 |
| CAMPBELL REPUBLICAN PARTY CENTRAL COMMITTEE (GILLETTE) | COMMITTEE TO ELECT CHRIS KNAPP | CANDIDATE COMMITTEE | MONETARY | 9/28/2022 | FILED | 5000 | GILLETTE, WY 82717 |
| WYOMING STOCK GROWERS' AG PAC (CHEYENNE) | COMMITTEE TO ELECT CHRIS KNAPP | CANDIDATE COMMITTEE | MONETARY | 9/26/2022 | FILED | 200 | CHEYENNE, WY 82003 |
| WYOMING MINING ASSOCIATION PAC (WMA) (CHEYENNE) | COMMITTEE TO ELECT CHRIS KNAPP | CANDIDATE COMMITTEE | MONETARY | 9/9/2022 | FILED | 500 | CHEYENNE, WY 82001 |
| KNAPP, CHRISTOPHER REX (GILLETTE) | CHRISTOPHER REX KNAPP | CANDIDATE | LOAN | 8/8/2022 | FILED | 1000 | GILLETTE, WY 82716 |
| KNAPP, CHRISTOPHER REX (GILLETTE) | CHRISTOPHER REX KNAPP | CANDIDATE | LOAN | 8/8/2022 | AMEND - DELETE | 1000 | GILLETTE, WY 82716 |
| KNAPP, CHRISTOPHER REX (GILLETTE) | COMMITTEE TO ELECT CHRIS KNAPP | CANDIDATE COMMITTEE | LOAN | 8/8/2022 | FILED | 1000 | GILLETTE, WY 82716 |
| ENGEL, NICOLE (GILLETTE) | CHRISTOPHER REX KNAPP | CANDIDATE | IN-KIND | 7/3/2022 | FILED | 150 | GILLETTE, WY 82716 |
| ENGEL, NICOLE (GILLETTE) | CHRISTOPHER REX KNAPP | CANDIDATE | IN-KIND | 7/3/2022 | FILED | 200 | GILLETTE, WY 82716 |
| ENGEL, NICOLE (GILLETTE) | CHRISTOPHER REX KNAPP | CANDIDATE | IN-KIND | 7/3/2022 | AMEND - DELETE | 150 | GILLETTE, WY 82716 |
| ENGEL, NICOLE (GILLETTE) | CHRISTOPHER REX KNAPP | CANDIDATE | IN-KIND | 7/3/2022 | AMEND - DELETE | 200 | GILLETTE, WY 82716 |
| ENGEL, NICOLE (GILLETTE) | COMMITTEE TO ELECT CHRIS KNAPP | CANDIDATE COMMITTEE | IN-KIND | 7/3/2022 | FILED | 150 | GILLETTE, WY 82716 |
| ENGEL, NICOLE (GILLETTE) | COMMITTEE TO ELECT CHRIS KNAPP | CANDIDATE COMMITTEE | IN-KIND | 7/3/2022 | FILED | 200 | GILLETTE, WY 82716 |
| KNAPP, CHRISTOPHER REX (GILLETTE) | CHRISTOPHER REX KNAPP | CANDIDATE | IN-KIND | 5/31/2022 | FILED | 300 | GILLETTE, WY 82716 |
| KNAPP, CHRISTOPHER REX (GILLETTE) | CHRISTOPHER REX KNAPP | CANDIDATE | IN-KIND | 5/31/2022 | AMEND - DELETE | 300 | GILLETTE, WY 82716 |
| KNAPP, CHRISTOPHER REX (GILLETTE) | COMMITTEE TO ELECT CHRIS KNAPP | CANDIDATE COMMITTEE | IN-KIND | 5/31/2022 | FILED | 300 | GILLETTE, WY 82716 |
| BROPHY, CARLEEN (JACKSON) | CHRISTOPHER REX KNAPP | CANDIDATE | MONETARY | 5/24/2022 | FILED | 1500 | JACKSON, WY 83001 |
| BROPHY, CARLEEN (JACKSON) | CHRISTOPHER REX KNAPP | CANDIDATE | MONETARY | 5/24/2022 | AMEND - DELETE | 1500 | JACKSON, WY 83001 |
| BROPHY, CARLEEN (JACKSON) | COMMITTEE TO ELECT CHRIS KNAPP | CANDIDATE COMMITTEE | MONETARY | 5/24/2022 | FILED | 1500 | JACKSON, WY 83001 |
| BROPHY, DANIEL (JACKSON) | CHRISTOPHER REX KNAPP | CANDIDATE | MONETARY | 5/24/2022 | FILED | 1500 | JACKSON, WY 83001 |
| BROPHY, DANIEL (JACKSON) | CHRISTOPHER REX KNAPP | CANDIDATE | MONETARY | 5/24/2022 | AMEND - DELETE | 1500 | JACKSON, WY 83001 |
| BROPHY, DANIEL (JACKSON) | COMMITTEE TO ELECT CHRIS KNAPP | CANDIDATE COMMITTEE | MONETARY | 5/24/2022 | FILED | 1500 | JACKSON, WY 83001 |