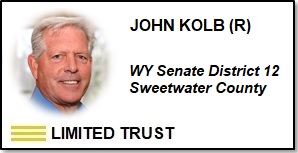 Summary
Representation
Competence
Integrity
More
+ – +
John Kolb began serving as a Wyoming Senator in 2021 when he won the election for Sweetwater County Senate District 12.  Previously he served two terms for the Sweetwater County Commission.  He has received a positive score for Representation and Integrity, and a negative score for Competence.  Therefore Kolb has been ranked as Limited Trust.
He is up for reelection in 2024.
---
"I believe in our constitution. It is a timeless document, enshrining our freedoms and defining our wonderful way of life. That also includes the freedom of speech, which is ingrained in our constitution.

​

I will do anything in my power to protect the constitution and its values and liberties. I will also ensure that the radical left will not be able to push their agenda on the Wyoming people and restrict our freedom to speak our minds."
From https://www.votekolb.com/platform
Overall Kolb scored a (+) for Representation.
Attendance
It appears that Kolb missed 2 votes in 2023 General Session:
2/22/23 Transportation Committee votes on HB199 and HB286.
Public Conduct
Kolb appears to behave appropriately in public and to the public.
Sponsorship History
In 2023 Kolb was the primary sponsor of 3 bills, and he co-sponsored 32 bills and 1 joint resolution.  Favored sponsorship topics appear to be 2nd Amendment.  For more on Kolb see his legislator webpage.
Committee Assignments
2023-Senate Agriculture, State and Public Lands & Water Resources
2023-Senate Transportation, Highways & Military Affairs
2023-Select Federal Natural Resource Management Committee
2023-Select Water Committee
2023-State Shooting Complex Oversight Task Force
2023-Wyoming Court Security Commission
Kolb scored a (–) for Constitutional Competence with an average of 62.2% on the constitutional issues listed below.
For more on the bills used to analyze these scores click here.  Special hat-tip goes out to Evidence Based Wyoming for use of their statistical tool to generate the following vote scores:
Conflicts
Because we have not found any conflicts of interest for Kolb, he receives a (+) for Integrity.
Employment/Income
According to Kolb's 2023 State Elected Officials Financial Disclosure available at Wyofile, he reported the following:
President of Alpha Petroleum Service Inc.
Income from "Any security or interest earnings"
Income from "Real estate, leases, royalties"
Memberships/Civic Organizations
None found
Campaign Contributions
The table below shows all campaign contributions reported by the WY Secretary of State for John K. Kolb.
In 2020 Kolb received 22 contributions that total $26,124.80. Of the 22 donations, 6 were from PACs. The total amount received from PACS was $11,250,  which is approximately 43% of total donations received.
Noteworthy PAC contributions to Kolb are:
$5,000 from Wyoming Hope (RINO donor)
Click the arrows at the top of columns to sort the data by name, date, $ amount, etc.  (Data is publicly available records downloaded from the Wyoming Secretary of State's Wyoming's Campaign Finance Information System.)
| Contributor Name | Recipient Name | Recipient Type | Contribution Type | Date | Filing Status | Amount | City State Zip |
| --- | --- | --- | --- | --- | --- | --- | --- |
| LEWIS, ARNOLD N (ROCK SPRINGS) | JOHN K. KOLB | CANDIDATE | MONETARY | 10/28/2020 | AMEND - ADD | 1000 | ROCK SPRINGS, WY 82901 |
| LEWIS, GERALDEAN K. (ROCK SPRINGS) | JOHN K. KOLB | CANDIDATE | MONETARY | 10/28/2020 | AMEND - ADD | 1000 | ROCK SPRINGS, WY 82901 |
| DEVRIES, DANELLA J (ROCK SPRINGS) | JOHN K. KOLB | CANDIDATE | MONETARY | 10/20/2020 | FILED | 100 | ROCK SPRINGS, WY 82901 |
| JOHNSON, WALLY J (ROCK SPRINGS) | JOHN K. KOLB | CANDIDATE | MONETARY | 10/18/2020 | FILED | 150 | ROCK SPRINGS, WY 82901 |
| CROOK REPUBLICAN PARTY CENTRAL COMMITTEE (SUNDANCE) | JOHN K. KOLB | CANDIDATE | MONETARY | 10/16/2020 | FILED | 2000 | SUNDANCE, WY 82729 |
| WYOMING STATE SENATE REPUBLICAN CONFERENCE (DOUGLAS) | JOHN K. KOLB | CANDIDATE | MONETARY | 10/16/2020 | FILED | 1000 | DOUGLAS, WY 82633 |
| REPUBLICAN (CHEYENNE) | JOHN K. KOLB | CANDIDATE | MONETARY | 9/25/2020 | FILED | 3000 | CHEYENNE, WY 82003 |
| TARDONI, EDWARD AND JONNA K. (ROCK SPRINGS) | JOHN K. KOLB | CANDIDATE | MONETARY | 9/24/2020 | FILED | 300 | ROCK SPRINGS, WY 82901 |
| | JOHN K. KOLB | CANDIDATE | ANONYMOUS | 9/24/2020 | FILED | 1549.89 | |
| SWEETWATER REPUBLICAN PARTY CENTRAL COMMITTEE (ROCK SPRINGS) | JOHN K. KOLB | CANDIDATE | MONETARY | 9/22/2020 | FILED | 1250 | ROCK SPRINGS, WY 82901 |
| BROPHY, CARLEEN (JACKSON HOLE) | JOHN K. KOLB | CANDIDATE | MONETARY | 9/16/2020 | FILED | 1500 | JACKSON HOLE, WY 83002 |
| BROPHY, DANIEL F (JACKSON HOLE) | JOHN K. KOLB | CANDIDATE | MONETARY | 9/16/2020 | FILED | 1500 | JACKSON HOLE, WY 83002 |
| LYMAN, BRANDT D (ROCK SPRINGS) | JOHN K. KOLB | CANDIDATE | MONETARY | 9/16/2020 | FILED | 150 | ROCK SPRINGS, WY 82901 |
| WYOMING STATE SENATE REPUBLICAN CONFERENCE (DOUGLAS) | JOHN K. KOLB | CANDIDATE | MONETARY | 9/16/2020 | FILED | 1500 | DOUGLAS, WY 82633 |
| MCQUILLAN, JOHN (JACKSON) | JOHN K. KOLB | CANDIDATE | MONETARY | 9/15/2020 | FILED | 1000 | JACKSON, WY 83001 |
| MCQUILLAN, KARIN (JACKSON HOLE) | JOHN K. KOLB | CANDIDATE | MONETARY | 9/15/2020 | FILED | 1000 | JACKSON HOLE, WY 83001 |
| WYOMING HOPE (CHEYENNE) | JOHN K. KOLB | CANDIDATE | MONETARY | 9/14/2020 | FILED | 5000 | CHEYENNE, WY 82009 |
| | JOHN K. KOLB | CANDIDATE | ANONYMOUS | 9/11/2020 | FILED | 674.91 | |
| DRISKILL, OGDEN (DEVILS TOWER) | JOHN K. KOLB | CANDIDATE | MONETARY | 9/1/2020 | FILED | 750 | DEVILS TOWER, WY 82714 |
| HICKS, LARRY (BAGGS) | JOHN K. KOLB | CANDIDATE | MONETARY | 9/1/2020 | FILED | 200 | BAGGS, WY 82321 |
| WYOMING PETROLEUM MARKETERS POLITICAL ACTION COMMITTEE (DENVER) | JOHN K. KOLB | CANDIDATE | MONETARY | 9/1/2020 | FILED | 500 | DENVER, CO 80203 |
| KOLB, JOHN K. (ROCK SPRINGS) | JOHN K. KOLB | CANDIDATE | MONETARY | 7/10/2020 | FILED | 1000 | ROCK SPRINGS, WY 82901 |