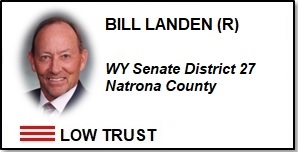 Summary
Representation
Competence
Integrity
More
– – +
Bill Landen has served in Senate District 27 as a WY Representative for Natrona County from 2007 to the present.  He was originally appointed to replace John Barrasso.
Landen has received a positive score for Representation and Integrity, and a negative score for Competence.  Therefore he has been ranked as Limited Trust.
He is up for reelection in 2026.
---
"I am not necessarily in favor of the federal mandate. But I'm certainly not in favor of rolling over the top of our school boards out there, or putting our small business in harm's way," said Landen. "And I'm certainly not interested in putting our hospitals and our medical care units in jeopardy of losing federal funding."
From https://www.wyomingpublicmedia.org/open-spaces/2021-11-05/despite-failures-many-wyoming-lawmakers-say-the-special-session-against-covid-19-vaccine-mandates-was-necessary
Overall, Landen earns a (-) for Representation.  See Public Conduct below.
Attendance
It appears that Landen missed 3 votes across two days in 2023 General Session:
on 2/8/23 2nd reading vote for HB41
on 2/9/23 Corporations Committee votes for HB7 and HB103.
Public Conduct
On the Senate floor during 2023 Session, Landen publicly spoke against SF0111 Child abuse-change of sex (sponsor Senator Charles Scott), passionately emphasizing that children up to the age of 18 "are pretty mature" and expressed they should have the right to make their own medical decisions in an attempt to change their sex (bill text: "procedure, drug, other agent or combination thereof that is administered to intentionally or knowingly change the sex of the child").
Landen also vehemently opposed child abuse charges against any adult that would initiate the same medical treatment(s) for their child or ward.
The bill, which is quite short, succinct and necessary for the long-term mental health and natural reproductive systems of children, would have protected all children under the age of 18 from making life-changing decisions they cannot reverse and protect them from becoming human Guinea pigs at the hands of indoctrinated, delusional and/or radical ideologically driven adults.
Constituent's in Landen's district might consider asking him if he supports allowing children to drink alcohol and smoke cigarettes, and allowing parents/guardians to contribute alcohol and tobacco to children/wards (minors) under their care.
Below is video of Landen's verbatim response to SF0111 Child abuse-change of sex:
Sponsorship History
In 2023 Landen was the primary sponsor of 2 bills, and co-sponsored 29 bills, and  joint resolutions.  Favored sponsorship topics appear to be education; crimes/law enforcement.  For more details, see his legislator webpage.
Committee Assignments
2023-Senate Judiciary – Chairman
2023-Capitol Interpretive Exhibits and Wayfinding Subcommittee – Chairman
2023-Select Committee on School Facilities – Vice Chair
2023-Senate Corporations, Elections & Political Subdivisions
2023-Air Transportation Liaison Committee
2023-Select Natural Resource Funding Committee
2023-Interstate Compact for Adult Offender Supervision – Alternate
Landen scored a (–) for Constitutional Competence with an average of 36.46% on the constitutional issues listed below.
For more on the bills used to analyze these scores click here.  Special hat-tip goes out to Evidence Based Wyoming for use of their statistical tool to generate the following vote scores:
Conflicts
Because we have not found any conflicts of interest for Landen, he receives a (+) for Integrity.
However, it is relevant that Landen is a retired Casper College instructor, and as such might be receiving a pension from the Wyoming Retirement System (§9-3-401 to 9-3-454).  (Casper College actually offers two retirement plans and there is no way of knowing which one Landen participates in.)  If Landen is a member of the WY Retirement System he would've had conflicts with the following 2023 bills that he should have recused himself from:
Employment/Income
According to Landen's 2023 State Elected Officials Financial Disclosure available at Wyofile, he reports:
State Senate – Cheyenne
Retired – State of Wyoming (Casper College)
Income earned from "Security or interest earnings" and "Real estate, leases, royalties"
Memberships/Civic Organizations
Campaign Contributions
The table below shows all campaign contributions reported by the WY Secretary of State for Landen for Legislature.
From 2010 to 2022 Landen received 100 contributions that total $25,330.46.  Of the 100 donations, 75 were from PACs.  The total amount received from PACS was $21,970.46, which is approximately 86% of all contributions received.
Noteworthy contributions are:
$1,450 total from ESG Compliant Energy Company PACs

$750 from DECPAC
$200 from MDU Resources Group Good Government Fund
$500 from Pacific Power/Rocky Mountain Power PAC

Pharmaceutical Company PACs

$400 total from GlaxoSmithKline
$1,050 total from Pfizer

$200 total from WY Medical Society PAC
$1,100 total from True family dynasty members
Click the arrows at the top of columns to sort the data by name, date, $ amount, etc.  (Data is publicly available records obtained from the Wyoming Secretary of State's Wyoming's Campaign Finance Information System.)
| Contributor Name | Recipient Name | Recipient Type | Contribution Type | Date | Filing Status | Amount | City State Zip |
| --- | --- | --- | --- | --- | --- | --- | --- |
| TRUCKING INDUSTRY PAC (CASPER) | LANDEN FOR LEGISLATURE | CANDIDATE COMMITTEE | MONETARY | 10/7/2022 | FILED | 200 | CASPER, WY 82602 |
| TRUE, DAVID L. (CASPER) | LANDEN FOR LEGISLATURE | CANDIDATE COMMITTEE | MONETARY | 9/30/2022 | FILED | 300 | CASPER, WY 82602 |
| WYOMING STOCK GROWERS' AG PAC (CHEYENNE) | LANDEN FOR LEGISLATURE | CANDIDATE COMMITTEE | MONETARY | 9/26/2022 | FILED | 100 | CHEYENNE, WY 82003 |
| MDU RESOURCES GROUP GOOD GOVERNMENT FUND (BISMARCK) | LANDEN FOR LEGISLATURE | CANDIDATE COMMITTEE | MONETARY | 9/22/2022 | FILED | 200 | BISMARCK, ND 58506 |
| COMMON VALUES PAC (ALEXANDRIA) | LANDEN FOR LEGISLATURE | CANDIDATE COMMITTEE | MONETARY | 9/21/2022 | FILED | 250 | ALEXANDRIA, VA 22314 |
| PACIFIC POWER/ROCKY MOUNTAIN POWER PAC (PORTLAND) | LANDEN FOR LEGISLATURE | CANDIDATE COMMITTEE | MONETARY | 9/15/2022 | FILED | 300 | PORTLAND, OR 97232 |
| FUND FOR EFFECTIVE GOVERNMENT (WASHINGTON) | LANDEN FOR LEGISLATURE | CANDIDATE COMMITTEE | MONETARY | 6/24/2022 | FILED | 250 | WASHINGTON, DC 20005 |
| BNSF RAILPAC (FT WORTH) | LANDEN FOR LEGISLATURE | CANDIDATE COMMITTEE | MONETARY | 6/16/2022 | FILED | 500 | FT WORTH, TX 76161 |
| PFIZER PAC (NEW YORK) | LANDEN FOR LEGISLATURE | CANDIDATE COMMITTEE | MONETARY | 12/7/2021 | FILED | 200 | NEW YORK, NY 10017 |
| UNION PACIFIC CORPORATION FUND FOR EFFECTIVE GOVERNMENT (WASHINGTON) | LANDEN FOR LEGISLATURE | CANDIDATE COMMITTEE | MONETARY | 11/14/2019 | AMEND - ADD | 300 | WASHINGTON, DC 20005 |
| UNION PACIFIC CORPORATION FUND FOR EFFECTIVE GOVERNMENT (WASHINGTON) | LANDEN FOR LEGISLATURE | CANDIDATE COMMITTEE | MONETARY | 11/14/2019 | AMEND - ADD | 300 | WASHINGTON, DC 20005 |
| UNION PACIFIC CORPORATION FUND FOR EFFECTIVE GOVERNMENT (WASHINGTON) | LANDEN FOR LEGISLATURE | CANDIDATE COMMITTEE | MONETARY | 11/14/2019 | AMEND - DELETE | 300 | WASHINGTON, DC 20005 |
| BLACK HILLS CORPORATION PAC (RAPID CITY) | LANDEN FOR LEGISLATURE | CANDIDATE COMMITTEE | MONETARY | 10/25/2018 | FILED | 500 | RAPID CITY, SD 57709 |
| CGI TECHNOLOGIES AND SOLUTIONS INC. PAC (FAIRFAX) | LANDEN FOR LEGISLATURE | CANDIDATE COMMITTEE | MONETARY | 10/25/2018 | FILED | 200 | FAIRFAX, VA 22030 |
| NATIONAL FEDERATION OF INDEPENDENT BUSINESS WYOMING POLITICAL ACTION COMMITTEE (WASHINGTON) | LANDEN FOR LEGISLATURE | CANDIDATE COMMITTEE | IN-KIND | 10/24/2018 | FILED | 20.46 | WASHINGTON, DC 20004 |
| TRUCKING INDUSTRY PAC (CASPER) | LANDEN FOR LEGISLATURE | CANDIDATE COMMITTEE | MONETARY | 10/17/2018 | FILED | 100 | CASPER, WY 82602 |
| ALLSTATE INSURANCE COMPANY PAC (ALLPAC) (NORTHBROOK) | LANDEN FOR LEGISLATURE | CANDIDATE COMMITTEE | MONETARY | 10/10/2018 | FILED | 150 | NORTHBROOK, IL 60062 |
| WYOMING MINING ASSOCIATION PAC (WMA) (CHEYENNE) | LANDEN FOR LEGISLATURE | CANDIDATE COMMITTEE | MONETARY | 10/10/2018 | FILED | 100 | CHEYENNE, WY 82001 |
| FFFWY FIRE PAC (CHEYENNE) | LANDEN FOR LEGISLATURE | CANDIDATE COMMITTEE | MONETARY | 9/28/2018 | FILED | 500 | CHEYENNE, WY 82003 |
| BNSF RAILPAC (FT WORTH) | LANDEN FOR LEGISLATURE | CANDIDATE COMMITTEE | MONETARY | 9/24/2018 | FILED | 200 | FT WORTH, TX 76161 |
| PACIFIC POWER/ROCKY MOUNTAIN POWER PAC (PORTLAND) | LANDEN FOR LEGISLATURE | CANDIDATE COMMITTEE | MONETARY | 9/24/2018 | FILED | 200 | PORTLAND, OR 97232 |
| SINCLAIR OIL PAC (CASPER) | LANDEN FOR LEGISLATURE | CANDIDATE COMMITTEE | MONETARY | 9/24/2018 | FILED | 1000 | CASPER, WY 82609 |
| TRUE, DAVID L.. (CASPER) | LANDEN FOR LEGISLATURE | CANDIDATE COMMITTEE | MONETARY | 9/24/2018 | FILED | 200 | CASPER, WY 82609 |
| PAW POLITICAL ACTION COUNCIL (CASPER) | LANDEN FOR LEGISLATURE | CANDIDATE COMMITTEE | MONETARY | 9/17/2018 | FILED | 200 | CASPER, WY 82601 |
| UNION PACIFIC CORPORATION FUND FOR EFFECTIVE GOVERNMENT (WASHINGTON) | LANDEN FOR LEGISLATURE | CANDIDATE COMMITTEE | MONETARY | 8/19/2018 | FILED | 250 | WASHINGTON, DC 20005 |
| PFIZER PAC (NEW YORK) | LANDEN FOR LEGISLATURE | CANDIDATE COMMITTEE | MONETARY | 8/15/2018 | FILED | 200 | NEW YORK, NY 10017 |
| CHESAPEAKE ENERGY CORPORATION FEDERAL PAC (OKLAHOMA CITY) | LANDEN FOR LEGISLATURE | CANDIDATE COMMITTEE | MONETARY | 8/10/2018 | FILED | 250 | OKLAHOMA CITY, OK 73154 |
| CIGNA POL ACTION COMMITTEE (PHILADELPHIA) | LANDEN FOR LEGISLATURE | CANDIDATE COMMITTEE | MONETARY | 1/22/2018 | FILED | 400 | PHILADELPHIA, PA 19191 |
| ALLPAC (ENGLEWOOD) | LANDEN FOR LEGISLATURE | CANDIDATE COMMITTEE | MONETARY | 8/8/2017 | FILED | 300 | ENGLEWOOD, CO 80122 |
| ALTRIA GROUP, INC. PAC (WASHINGTON ) | LANDEN FOR LEGISLATURE | CANDIDATE COMMITTEE | MONETARY | 8/4/2017 | FILED | 300 | WASHINGTON , DC 20001 |
| PFIZER PAC (NEW YORK) | LANDEN FOR LEGISLATURE | CANDIDATE COMMITTEE | MONETARY | 5/25/2017 | FILED | 200 | NEW YORK, NY 10017 |
| PFIZER PAC (NEW YORK) | LANDEN FOR LEGISLATURE | CANDIDATE COMMITTEE | MONETARY | 12/2/2015 | AMEND - ADD | 200 | NEW YORK, NY 10017 |
| ANADARKO PETROLEUM PAC (WOODLANDS) | LANDEN FOR LEGISLATURE | CANDIDATE COMMITTEE | MONETARY | 10/27/2014 | FILED | 500 | WOODLANDS, TX 77380 |
| GLAXOSMITHKLINE (RESEARCH TRIANGLE PARK) | LANDEN FOR LEGISLATURE | CANDIDATE COMMITTEE | MONETARY | 10/22/2014 | FILED | 200 | RESEARCH TRIANGLE PARK, NC 27709 |
| MARATHON OIL COMPANY EMPLOYEES POLITICAL ACTION COMMITTEE (MEPAC) - STATE (FINDLEY) | LANDEN FOR LEGISLATURE | CANDIDATE COMMITTEE | MONETARY | 10/22/2014 | FILED | 500 | FINDLEY, OH 45840 |
| TRUE, DAVID L (CASPER) | LANDEN FOR LEGISLATURE | CANDIDATE COMMITTEE | MONETARY | 10/14/2014 | FILED | 200 | CASPER, WY 82602 |
| TRUE, HANK A (CASPER) | LANDEN FOR LEGISLATURE | CANDIDATE COMMITTEE | MONETARY | 10/14/2014 | FILED | 200 | CASPER, WY 82602 |
| TRUCKING INDUSTRY PAC (CASPER) | LANDEN FOR LEGISLATURE | CANDIDATE COMMITTEE | MONETARY | 9/26/2014 | FILED | 300 | CASPER, WY 82602 |
| PFIZER PAC (NEW YORK) | LANDEN FOR LEGISLATURE | CANDIDATE COMMITTEE | MONETARY | 9/18/2014 | FILED | 250 | NEW YORK, NY 10017 |
| WYOMING STOCK GROWERS' AG PAC (CHEYENNE) | LANDEN FOR LEGISLATURE | CANDIDATE COMMITTEE | MONETARY | 9/18/2014 | FILED | 100 | CHEYENNE, WY 82003 |
| CENTURYLINK, INC., EMPLOYEES PAC (WASHINGTON ) | LANDEN FOR LEGISLATURE | CANDIDATE COMMITTEE | MONETARY | 9/2/2014 | FILED | 300 | WASHINGTON , DC 20001 |
| EXXONMOBILE PAC (IRVING) | LANDEN FOR LEGISLATURE | CANDIDATE COMMITTEE | MONETARY | 9/1/2014 | FILED | 300 | IRVING, TX 75039 |
| UNION PACIFIC CORPORATION FUND FOR EFFECTIVE GOVERNMENT (WASHINGTON) | LANDEN FOR LEGISLATURE | CANDIDATE COMMITTEE | MONETARY | 8/20/2014 | FILED | 300 | WASHINGTON, DC 20005 |
| CHEVRON EMPLOYEES PAC (SAN RAMON) | LANDEN FOR LEGISLATURE | CANDIDATE COMMITTEE | MONETARY | 8/15/2014 | FILED | 300 | SAN RAMON, CA 94583 |
| KING, ROBERT & ROSE-MARY (CASPER) | LANDEN FOR LEGISLATURE | CANDIDATE COMMITTEE | MONETARY | 8/15/2014 | FILED | 100 | CASPER, WY 82609 |
| ALLSTATE INSURANCE COMPANY PAC (ALLPAC) (NORTHBROOK) | LANDEN FOR LEGISLATURE | CANDIDATE COMMITTEE | MONETARY | 8/13/2014 | FILED | 150 | NORTHBROOK, IL 60062 |
| BLACK HILLS CORPORATION PAC (RAPID CITY) | LANDEN FOR LEGISLATURE | CANDIDATE COMMITTEE | MONETARY | 8/13/2014 | FILED | 250 | RAPID CITY, SD 57709 |
| BNSF RAILPAC (FT.WORTH) | LANDEN FOR LEGISLATURE | CANDIDATE COMMITTEE | MONETARY | 8/13/2014 | FILED | 200 | FT.WORTH, TX 76161 |
| PETROFF, RUTH ANN (JACKSON) | LANDEN FOR LEGISLATURE | CANDIDATE COMMITTEE | MONETARY | 8/13/2014 | FILED | 50 | JACKSON, WY 83001 |
| WYO-D-PAC (CASPER) | LANDEN FOR LEGISLATURE | CANDIDATE COMMITTEE | MONETARY | 8/4/2014 | FILED | 100 | CASPER, WY 82601 |
| KUNZ, BRENT & MELANIE (CHEYENNE) | LANDEN FOR LEGISLATURE | CANDIDATE COMMITTEE | MONETARY | 7/27/2014 | FILED | 100 | CHEYENNE, WY 82009 |
| BEBOUT, ELI (RIVERTON) | LANDEN FOR LEGISLATURE | CANDIDATE COMMITTEE | MONETARY | 7/24/2014 | FILED | 100 | RIVERTON, WY 82501 |
| CONPAC CONTRACTORS PAC (CHEYENNE) | LANDEN FOR LEGISLATURE | CANDIDATE COMMITTEE | MONETARY | 7/24/2014 | FILED | 1000 | CHEYENNE, WY 82003 |
| THOMAS J WALTERS CAMPAIGN ACCOUNT (CASPER) | LANDEN FOR LEGISLATURE | CANDIDATE COMMITTEE | MONETARY | 7/23/2014 | FILED | 100 | CASPER, WY 82604 |
| TANNER, R.S. & D. J. (CASPER) | LANDEN FOR LEGISLATURE | CANDIDATE COMMITTEE | MONETARY | 7/22/2014 | FILED | 500 | CASPER, WY 82609 |
| WYOMING MINING ASSOCIATION PAC (WMA) (CHEYENNE) | LANDEN FOR LEGISLATURE | CANDIDATE COMMITTEE | MONETARY | 7/21/2014 | FILED | 400 | CHEYENNE, WY 82003 |
| CATCHPOLE, GLENN & JUDITH (CASPER) | LANDEN FOR LEGISLATURE | CANDIDATE COMMITTEE | MONETARY | 7/20/2014 | FILED | 100 | CASPER, WY 82609 |
| ARCH COAL PAC (ST. LOUIS) | LANDEN FOR LEGISLATURE | CANDIDATE COMMITTEE | MONETARY | 7/18/2014 | FILED | 400 | ST. LOUIS, MO 63141 |
| CLOUD PEAK ENERGY EMPLOYEE PAC (CHEYENNE) | LANDEN FOR LEGISLATURE | CANDIDATE COMMITTEE | MONETARY | 7/16/2014 | FILED | 250 | CHEYENNE, WY 82009 |
| ALTRIA GROUP, INC. PAC (WASHINGTON ) | LANDEN FOR LEGISLATURE | CANDIDATE COMMITTEE | MONETARY | 7/15/2014 | FILED | 300 | WASHINGTON , DC 20001 |
| WY RURAL ELECTRIC ASSN. PAC (CHEYENNE) | LANDEN FOR LEGISLATURE | CANDIDATE COMMITTEE | MONETARY | 7/15/2014 | FILED | 250 | CHEYENNE, WY 82001 |
| ELLIS, DENNIS & AFFIE (CHEYENNE) | LANDEN FOR LEGISLATURE | CANDIDATE COMMITTEE | MONETARY | 7/10/2014 | FILED | 50 | CHEYENNE, WY 82001 |
| HALLOCK, PAUL (CASPER) | LANDEN FOR LEGISLATURE | CANDIDATE COMMITTEE | MONETARY | 7/9/2014 | FILED | 100 | CASPER, WY 82609 |
| SANDISON, J A (CASPER) | LANDEN FOR LEGISLATURE | CANDIDATE COMMITTEE | MONETARY | 7/7/2014 | FILED | 25 | CASPER, WY 82609 |
| FARMERS EMPLOYEE & AGENT WYOMING PAC (CHEYENNE) | LANDEN FOR LEGISLATURE | CANDIDATE COMMITTEE | MONETARY | 7/1/2014 | FILED | 1000 | CHEYENNE, WY 82003 |
| WYOMING STOCK GROWERS' AG PAC (CHEYENNE) | LANDEN FOR LEGISLATURE | CANDIDATE COMMITTEE | MONETARY | 7/1/2014 | FILED | 200 | CHEYENNE, WY 82003 |
| SCOTT, CHARLES K (CASPER) | LANDEN FOR LEGISLATURE | CANDIDATE COMMITTEE | MONETARY | 6/30/2014 | FILED | 100 | CASPER, WY 82604 |
| PICARD, DAVID C (CHEYENNE) | LANDEN FOR LEGISLATURE | CANDIDATE COMMITTEE | MONETARY | 6/28/2014 | FILED | 150 | CHEYENNE, WY 82009 |
| HARRIS, DR. MIKE & CECILIA (CASPER) | LANDEN FOR LEGISLATURE | CANDIDATE COMMITTEE | MONETARY | 6/27/2014 | FILED | 100 | CASPER, WY 82609 |
| JIM ANDERSON FOR SENATE (GLENROCK) | LANDEN FOR LEGISLATURE | CANDIDATE COMMITTEE | MONETARY | 6/25/2014 | FILED | 100 | GLENROCK, WY 82637 |
| BURNS, D BRUCE (SHERIDAN) | LANDEN FOR LEGISLATURE | CANDIDATE COMMITTEE | MONETARY | 6/24/2014 | FILED | 200 | SHERIDAN, WY 82801 |
| SULLIVAN, DAN (CASPER) | LANDEN FOR LEGISLATURE | CANDIDATE COMMITTEE | MONETARY | 6/23/2014 | FILED | 50 | CASPER, WY 82601 |
| WY REALTORS PAC (CASPER) | LANDEN FOR LEGISLATURE | CANDIDATE COMMITTEE | MONETARY | 6/17/2014 | FILED | 500 | CASPER, WY 82601 |
| WYO PAC (WYOMING MEDICAL PAC) (CHEYENNE) | LANDEN FOR LEGISLATURE | CANDIDATE COMMITTEE | MONETARY | 6/17/2014 | FILED | 100 | CHEYENNE, WY 82003 |
| BP EMPLOYEE PAC (HOUSTON) | LANDEN FOR LEGISLATURE | CANDIDATE COMMITTEE | MONETARY | 6/16/2014 | FILED | 250 | HOUSTON, TX 77079 |
| BOSWELL, CHRISTOPHER (CHEYENNE) | LANDEN FOR LEGISLATURE | CANDIDATE COMMITTEE | MONETARY | 6/10/2014 | FILED | 250 | CHEYENNE, WY 82001 |
| PAW POLITICAL ACTION COUNCIL (CASPER) | LANDEN FOR LEGISLATURE | CANDIDATE COMMITTEE | MONETARY | 6/9/2014 | FILED | 1000 | CASPER, WY 82601 |
| DECPAC (OKLAHOMA CITY) | LANDEN FOR LEGISLATURE | CANDIDATE COMMITTEE | MONETARY | 6/6/2014 | FILED | 750 | OKLAHOMA CITY, OK 73102 |
| LANTTA, USN (RET), CDR KENNETH D. (CASPER) | LANDEN FOR LEGISLATURE | CANDIDATE COMMITTEE | MONETARY | 6/2/2014 | FILED | 50 | CASPER, WY 82601 |
| ALTRIA GROUP, INC. PAC (WASHINGTON ) | LANDEN FOR LEGISLATURE | CANDIDATE COMMITTEE | MONETARY | 9/24/2013 | FILED | 200 | WASHINGTON , DC 20001 |
| ALLPAC (ENGLEWOOD) | LANDEN FOR LEGISLATURE | CANDIDATE COMMITTEE | MONETARY | 1/1/2013 | FILED | 100 | ENGLEWOOD, CO 80112 |
| MARATHON OIL COMPANY EMPLOYEES POLITICAL ACTION COMMITTEE (MEPAC) - STATE (FINDLEY) | LANDEN FOR LEGISLATURE | CANDIDATE COMMITTEE | MONETARY | 11/8/2010 | FILED | 500 | FINDLEY, OH 45840 |
| QEP RESOURCES (CHEYENNE) | LANDEN FOR LEGISLATURE | CANDIDATE COMMITTEE | MONETARY | 10/26/2010 | FILED | 100 | CHEYENNE, WY 82001 |
| SULLIVAN, DAN (CASPER) | LANDEN FOR LEGISLATURE | CANDIDATE COMMITTEE | MONETARY | 10/26/2010 | FILED | 35 | CASPER, WY 82601 |
| TRUE, DAVID L (CASPER) | LANDEN FOR LEGISLATURE | CANDIDATE COMMITTEE | MONETARY | 10/26/2010 | FILED | 100 | CASPER, WY 82602 |
| TRUE, III, HENRY A (CASPER) | LANDEN FOR LEGISLATURE | CANDIDATE COMMITTEE | MONETARY | 10/26/2010 | FILED | 100 | CASPER, WY 82602 |
| WYO-D-PAC (CASPER) | LANDEN FOR LEGISLATURE | CANDIDATE COMMITTEE | MONETARY | 10/26/2010 | FILED | 100 | CASPER, WY 82601 |
| CONPAC CONTRACTORS PAC (CHEYENNE) | LANDEN FOR LEGISLATURE | CANDIDATE COMMITTEE | MONETARY | 10/12/2010 | FILED | 500 | CHEYENNE, WY 82003 |
| EXXONMOBILE PAC (IRVING) | LANDEN FOR LEGISLATURE | CANDIDATE COMMITTEE | MONETARY | 10/8/2010 | FILED | 250 | IRVING, TX 75039 |
| CHEVRON EMPLOYEES PAC (SAN RAMON) | LANDEN FOR LEGISLATURE | CANDIDATE COMMITTEE | MONETARY | 9/30/2010 | FILED | 300 | SAN RAMON, CA 94583 |
| THE WILLIAMS COMPANIES, INC PAC (WASHINGTON) | LANDEN FOR LEGISLATURE | CANDIDATE COMMITTEE | MONETARY | 9/23/2010 | FILED | 500 | WASHINGTON, DC 20006 |
| TRUCKING INDUSTRY PAC (CASPER) | LANDEN FOR LEGISLATURE | CANDIDATE COMMITTEE | MONETARY | 9/23/2010 | FILED | 300 | CASPER, WY 82602 |
| WYO PAC (WYOMING MEDICAL PAC) (CHEYENNE) | LANDEN FOR LEGISLATURE | CANDIDATE COMMITTEE | MONETARY | 9/23/2010 | FILED | 100 | CHEYENNE, WY 82003 |
| WYOMING STOCK GROWERS' AG PAC (CHEYENNE) | LANDEN FOR LEGISLATURE | CANDIDATE COMMITTEE | MONETARY | 9/21/2010 | FILED | 100 | CHEYENNE, WY 82003 |
| ALLSTATE INSURANCE COMPANY PAC (ALLPAC) (NORTHBROOK) | LANDEN FOR LEGISLATURE | CANDIDATE COMMITTEE | MONETARY | 8/18/2010 | FILED | 100 | NORTHBROOK, IL 60062 |
| WY RURAL ELECTRIC ASSN. PAC (CHEYENNE) | LANDEN FOR LEGISLATURE | CANDIDATE COMMITTEE | MONETARY | 8/4/2010 | FILED | 100 | CHEYENNE, WY 82001 |
| ELLIS, DENNIS (CHEYENNE) | LANDEN FOR LEGISLATURE | CANDIDATE COMMITTEE | MONETARY | 7/26/2010 | FILED | 100 | CHEYENNE, WY 82001 |
| LAWYERS ACTIVE IN WY PAC (LAWPAC) (CHEYENNE) | LANDEN FOR LEGISLATURE | CANDIDATE COMMITTEE | MONETARY | 7/16/2010 | FILED | 100 | CHEYENNE, WY 82001 |
| AT&T INC. FEDERAL PAC (DALLAS) | LANDEN FOR LEGISLATURE | CANDIDATE COMMITTEE | MONETARY | 7/14/2010 | FILED | 200 | DALLAS, TX 75202 |
| BNSF RAILPAC (FT WORTH) | LANDEN FOR LEGISLATURE | CANDIDATE COMMITTEE | MONETARY | 5/19/2010 | FILED | 300 | FT WORTH, TX 76161 |
| HALLOCK, PAUL E (CASPER) | LANDEN FOR LEGISLATURE | CANDIDATE COMMITTEE | MONETARY | 5/19/2010 | FILED | 100 | CASPER, WY 82609 |
| GLAXOSMITHKLINE ( DURHAM ) | LANDEN FOR LEGISLATURE | CANDIDATE COMMITTEE | MONETARY | 1/20/2010 | FILED | 200 | DURHAM , NC 27709 |