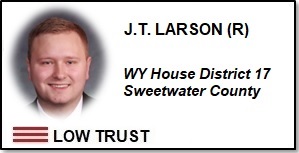 Summary
Representation
Competence
Integrity
More
– – –
J.T. (Joshua Thomas) Larson has served in House District 17 as a WY Representative for Sweetwater County from Jan 2023 to the present.  Larson received a negative score for Representation, Competence and Integrity, and has therefore been ranked as Low Trust.
He is up for reelection in 2024.
---
"I hope I can look back and hope that I have helped provide opportunities for Sweetwater County."

Larson's main concerns for Wyoming include water rights and broadband expansion. He plans to focus on bringing a stronger, more efficient technological presence to the state of Wyoming.

For the past 11 years, Larson has been involved with Rock Springs International Day, with the last five years serving on the event committee. In 2021, he was selected as the new event chairman for Rock Springs International Day.

From https://www.wyomingnews.com/larson-wins-wyoming-house-district-17/article_bf57732c-6004-11ed-8337-9794ecb8b907.html
Overall, Larson scored a (-) for Representation for vote attendance.
Attendance
It appears that Larson missed 13 votes across 6 days in 2023 General Session.  Our guidelines require a legislator to be present for all votes on 90% of the days in any session. For 2023 session, if a legislator missed any votes on 5 or more days, they receive a negative (-) score.
1/30/23 – 3rd Reading for HB144;
2/15/23 – Concurrence vote for HB86;
2/23/23 – 3rd Reading for SF97;
3/1/23 – Concurrence vote for HB152;
3/2/23 – Concurrence vote for HB195; SF76; SF120;
3/2/23 – Concurrence vote for HB64; HB76; HB93; SF42; SF48; SF96.
Public Conduct
Larson appears to behave appropriately in public and to the public.
Sponsorship History
In 2023 Larson was the primary sponsor of 3 bills, and co-sponsored 19 bills and 1 joint resolution.  Favored sponsorship topics appear to be vehicle-related.
Committee Assignments
2023-House Minerals, Business & Economic Development
2023-House Travel, Recreation, Wildlife & Cultural Resources
2023-Select Water Committee
Larson scored a (–) for Constitutional Competence with an average of 41.66% on the constitutional issues listed below.  Constitutional issue categories that have a "N/A" grade, refer to specific bills that  did not have the opportunity to vote on.
For more on the bills used to analyze these scores click here.  Special hat-tip goes out to Evidence Based Wyoming for use of their statistical tool to generate the following vote scores:
Conflicts
Larson has received a (-) for Integrity.
J.T. Larson works as a Business Agent for the Rock Springs Chamber of Commerce, whose work overlaps with the WY Business Council regularly via various entities, initiatives and grants such as the Wyoming Small Business Development Center, the Rock Springs Main Street/Urban Renewal Agency, the Sweetwater County Innovation Launchpad (SCIL), and Business Ready Community Grants.  As such, Larson should be abstaining from voting on bills that appropriate money or increase authority to the WY Business Council.  Below is a sample of bills we believe Larson should have recused himself from:
Employment/Income
According to Larson's legislative webpage, his occupation is "Business Agent – Rock Springs Chamber of Commerce".  According to Larson's 2023 State Elected Officials Financial Disclosure available at Wyofile, he reports:
Rock Springs Chamber of Commerce
Memberships/Civic Organizations
Kiwanis Club of Rock Springs
Eagle Scout
Campaign Contributions
The table below shows all campaign contributions reported by the WY Secretary of State for Joshua Larson Election Committee.
In 2022 Larson received 18 contributions that total $4025.  Of the 18 donations, 2 were from PACs.  The total amount received from PACS was $700 .
Click the arrows at the top of columns to sort the data by name, date, $ amount, etc.  (Data is publicly available records obtained from the Wyoming Secretary of State's Wyoming's Campaign Finance Information System.)
| Contributor Name | Recipient Name | Recipient Type | Contribution Type | Date | Filing Status | Amount | City State Zip |
| --- | --- | --- | --- | --- | --- | --- | --- |
| BARKDULL, CHRISTINE (FORTUNA) | JOSHUA LARSON ELECTION COMMITTEE | CANDIDATE COMMITTEE | MONETARY | 11/9/2022 | AMEND - ADD | 500 | FORTUNA, CA 95540 |
| OLSON, JACK & VAL (BOZEMAN) | JOSHUA LARSON ELECTION COMMITTEE | CANDIDATE COMMITTEE | MONETARY | 10/19/2022 | FILED | 10 | BOZEMAN, MT 59715 |
| COMMON VALUES PAC (ALEXANDRIA) | JOSHUA LARSON ELECTION COMMITTEE | CANDIDATE COMMITTEE | MONETARY | 10/6/2022 | FILED | 100 | ALEXANDRIA, VA 22314 |
| OLSEN, JARED (CHEYENNE) | JOSHUA LARSON ELECTION COMMITTEE | CANDIDATE COMMITTEE | MONETARY | 9/29/2022 | FILED | 500 | CHEYENNE, WY 82001 |
| FLAIM, LOU (ROCK SPRINGS) | JOSHUA LARSON ELECTION COMMITTEE | CANDIDATE COMMITTEE | MONETARY | 9/20/2022 | FILED | 40 | ROCK SPRINGS, WY 82901 |
| PROSPERITY AND COMMERCE PAC (CHEYENNE) | JOSHUA LARSON ELECTION COMMITTEE | CANDIDATE COMMITTEE | MONETARY | 9/20/2022 | FILED | 500 | CHEYENNE, WY 82001 |
| TOMPKINS, NANCY (ROCK SPRINGS) | JOSHUA LARSON ELECTION COMMITTEE | CANDIDATE COMMITTEE | MONETARY | 9/20/2022 | FILED | 50 | ROCK SPRINGS, WY 82901 |
| SCARIANO, RICHARD (GRESHAM) | JOSHUA LARSON ELECTION COMMITTEE | CANDIDATE COMMITTEE | MONETARY | 8/16/2022 | AMEND - ADD | 50 | GRESHAM, OR 97080 |
| LAPORTE, JEFF (MISSOULA) | JOSHUA LARSON ELECTION COMMITTEE | CANDIDATE COMMITTEE | MONETARY | 8/1/2022 | FILED | 500 | MISSOULA, MT 59801 |
| MEIER, CURT (CHEYENNE) | JOSHUA LARSON ELECTION COMMITTEE | CANDIDATE COMMITTEE | MONETARY | 7/13/2022 | FILED | 100 | CHEYENNE, WY 82001 |
| WORDEN, TOMME LU (MISSOULA) | JOSHUA LARSON ELECTION COMMITTEE | CANDIDATE COMMITTEE | MONETARY | 6/14/2022 | FILED | 500 | MISSOULA, MT 59801 |
| LARSON, MARK (ROCK SPRINGS) | JOSHUA LARSON ELECTION COMMITTEE | CANDIDATE COMMITTEE | MONETARY | 6/9/2022 | FILED | 200 | ROCK SPRINGS, WY 82901 |
| LARSON, JOSHUA (ROCK SPRINGS) | JOSHUA LARSON ELECTION COMMITTEE | CANDIDATE COMMITTEE | MONETARY | 6/2/2022 | FILED | 53 | ROCK SPRINGS, WY 82901 |
| LARSON, JOSHUA (ROCK SPRINGS) | JOSHUA LARSON ELECTION COMMITTEE | CANDIDATE COMMITTEE | MONETARY | 5/31/2022 | FILED | 350 | ROCK SPRINGS, WY 82901 |
| LEE, RICK & CARMA (ROCK SPRINGS) | JOSHUA LARSON ELECTION COMMITTEE | CANDIDATE COMMITTEE | MONETARY | 5/27/2022 | FILED | 50 | ROCK SPRINGS, WY 82901 |
| REYNA-PUGH, ROSA (ROCK SPRINGS) | JOSHUA LARSON ELECTION COMMITTEE | CANDIDATE COMMITTEE | MONETARY | 5/18/2022 | FILED | 10 | ROCK SPRINGS, WY 82901 |
| LARSON, JOSHUA (ROCK SPRINGS) | JOSHUA LARSON ELECTION COMMITTEE | CANDIDATE COMMITTEE | MONETARY | 5/13/2022 | FILED | 500 | ROCK SPRINGS, WY 82901 |
| LARSON, JOSHUA (ROCK SPRINGS) | JOSHUA LARSON ELECTION COMMITTEE | CANDIDATE COMMITTEE | IN-KIND | 5/12/2022 | FILED | 12 | ROCK SPRINGS, WY 82901 |