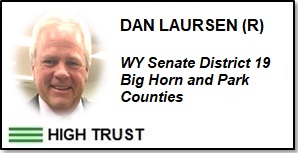 Summary
Representation
Competence
Integrity
More
+ + +
Dan Laursen has served in Senate District 19 as a WY Senator for Big Horn and Park Counties from Jan 2023 to the present.  He served in House District 25 from 2015 to 2022.
In the 2022 Primary Election, Laursen won a three-way contest against fellow Republicans R.J. Kost (incumbent) and Ray Peterson (former legsislator).  Apparently this ruffled some feathers of the RINO class, most especially with Senate leadership.
He is up for reelection in 2026.
---
"I have questioned conservation easements and definitely believe they should not be given to people in office, it does not look good in the eyes of the citizens," Laursen said. "It looks like an insider in (Washington) D.C. getting benefits."
From https://cowboystatedaily.com/2022/12/05/wyoming-state-senate-pariah-dan-laursen-frustrated-with-no-committee-assignments/
Overall, Laursen earns a (+) for Representation.
Attendance
It appears that Laursen missed 0 votes in 2023 General Session.
Public Conduct
Laursen appears to behave appropriately in public and to the public.
Sponsorship History
In 2023 Laursen was the primary sponsor of 5 bills and 2 joint resolutions and co-sponsored 28 bills and 3 joint resolutions.  Favored sponsorship topics appear to be constitutional issues; protection of the unborn and children/students; education.  For more details, see his legislator webpage.
Committee Assignments
Initially Senate leader Ogden Driskill said he would not assign Laursen to any committee assignments, but after push-back by his constituents and the Park County Republican Party Laursen was finally assigned to the following committees.  See more info at Jan 12, 2023 Powell Tribune article, Sen. Laursen to receive committee seat after session.
2023-Senate Agriculture, State and Public Lands & Water Resources
2023-Senate Journal
2023-Select Committee on Legislative Facilities, Technology and Process
2023-Select Water Committee
Laursen scored a (+) for Constitutional Competence with an average of  85.7% on the constitutional issues listed below.  Because our cut-off is at 85%, Laursen came close to scoring a (-).  Constitutional issue categories that have a "N/A" grade, refer to specific bills that he did not have the opportunity to vote on.
For more on the bills used to analyze these scores click here.  Special hat-tip goes out to Evidence Based Wyoming for use of their statistical tool to generate the following vote scores:
Conflicts
Because we have not found any conflicts of interest for Laursen, he receives a (+) for Integrity.
Employment/Income
According to Laursen's legislative webpage, his occupation is Hydrographer at the State Engineers Office.  Past: Manager Heart Mountain Irrigation District, Farmer.  According to Laursen's 2023 State Elected Officials Financial Disclosure available at Wyofile, he reports:
President/Treasurer – Laursen Farms
Employer – WY State Engineer
Memberships/Civic Organizations
Campaign Contributions
The table below shows all campaign contributions reported by the WY Secretary of State for Dan Laursen.
From 2014 to 2022 Laursen received 97 contributions that total approximately $34,737.  Of the 97 donations, 46 were from PACs and Campaign Committees.  The total amount received from PACS and Campaign Committees was approximately $12,455.
Noteworthy contributions are:
ESG compliant energy company PACs:

$250 from American Wind Energy Association
$250 from DECPAC
$200 from MDU Resources Group Good Government Fund
$250 from NextEra Energy PAC

$550 total from Pfizer
$500 from WY Hospital Association
Click the arrows at the top of columns to sort the data by name, date, $ amount, etc.  (Data is publicly available records obtained from the Wyoming Secretary of State's Wyoming's Campaign Finance Information System.)
| Contributor Name | Recipient Name | Recipient Type | Contribution Type | Date | Filing Status | Amount | City State Zip |
| --- | --- | --- | --- | --- | --- | --- | --- |
| PARK REPUBLICAN PARTY CENTRAL COMMITTEE (CODY) | DAN LAURSEN | CANDIDATE | MONETARY | 11/10/2022 | AMEND - ADD | 1500 | CODY, WY 82414 |
| BIG HORN REPUBLICAN PARTY CENTRAL COMMITTEE (LOVELL) | DAN LAURSEN | CANDIDATE | MONETARY | 10/19/2022 | FILED | 250 | LOVELL, WY 82431 |
| CROOK REPUBLICAN PARTY CENTRAL COMMITTEE (MOORCROFT) | DAN LAURSEN | CANDIDATE | MONETARY | 10/11/2022 | FILED | 1500 | MOORCROFT, WY 82721 |
| LEONHARDT, MARVIN (POWELL) | DAN LAURSEN | CANDIDATE | MONETARY | 9/19/2022 | FILED | 200 | POWELL, WY 82435 |
| LAURSEN, DAN (POWELL) | DAN LAURSEN | CANDIDATE | MONETARY | 9/1/2022 | FILED | 66 | POWELL, WY 82435 |
| GLEASON, STEFAN (CHARLOTTE) | DAN LAURSEN | CANDIDATE | MONETARY | 8/15/2022 | AMEND - ADD | 1000 | CHARLOTTE, NC 28277 |
| GALLIMORE, ALEXANDER (HUNTINGTON) | DAN LAURSEN | CANDIDATE | MONETARY | 8/11/2022 | AMEND - ADD | 25 | HUNTINGTON, WV 25705 |
| ANDREWS, JAMES (POWELL) | DAN LAURSEN | CANDIDATE | MONETARY | 8/5/2022 | FILED | 450 | POWELL, WY 82435 |
| COPENHAVER, MARK (POWELL) | DAN LAURSEN | CANDIDATE | MONETARY | 8/5/2022 | FILED | 100 | POWELL, WY 82435 |
| BAXTER, JANCI (POWELL) | DAN LAURSEN | CANDIDATE | MONETARY | 8/4/2022 | FILED | 240.15 | POWELL, WY 82435 |
| LAURSEN, DAN (POWELL) | DAN LAURSEN | CANDIDATE | LOAN | 8/1/2022 | FILED | 3000 | POWELL, WY 82435 |
| JUAREZ, DELFINO (POWELL) | DAN LAURSEN | CANDIDATE | MONETARY | 7/29/2022 | FILED | 500 | POWELL, WY 82435 |
| SULLIVAN, DONA (POWELL) | DAN LAURSEN | CANDIDATE | MONETARY | 7/25/2022 | FILED | 240.15 | POWELL, WY 82435 |
| ALLEN JAGGI PAC FOR CONSTITUTIONAL ISSUES (LYMAN) | DAN LAURSEN | CANDIDATE | MONETARY | 7/23/2022 | FILED | 500 | LYMAN, WY 82937 |
| RANEY, CATHY (ALADDIN) | DAN LAURSEN | CANDIDATE | MONETARY | 7/23/2022 | FILED | 1500 | ALADDIN, WY 82710 |
| RANEY, JEFF (ALADDIN) | DAN LAURSEN | CANDIDATE | MONETARY | 7/23/2022 | FILED | 1500 | ALADDIN, WY 82710 |
| FRENCH, TIM (POWELL) | DAN LAURSEN | CANDIDATE | MONETARY | 7/18/2022 | FILED | 250 | POWELL, WY 82435 |
| HALLINAN, TIM (GILLETTE) | DAN LAURSEN | CANDIDATE | MONETARY | 7/18/2022 | FILED | 100 | GILLETTE, WY 82717 |
| LAURSEN, DAN (POWELL) | DAN LAURSEN | CANDIDATE | LOAN | 7/15/2022 | FILED | 487.63 | POWELL, WY 82435 |
| | DAN LAURSEN | CANDIDATE | ANONYMOUS | 7/13/2022 | FILED | 50 | |
| LAURSEN, DAVE (MONTROSE) | DAN LAURSEN | CANDIDATE | MONETARY | 7/7/2022 | FILED | 480.3 | MONTROSE, CO 81401 |
| SMITH, DARIN (CHEYENNE) | DAN LAURSEN | CANDIDATE | MONETARY | 6/27/2022 | FILED | 480.3 | CHEYENNE, WY 82003 |
| FRENCH, LARRY (POWELL) | DAN LAURSEN | CANDIDATE | MONETARY | 6/22/2022 | FILED | 1000 | POWELL, WY 82435 |
| WYOMING STOCK GROWERS' AG PAC (CHEYENNE) | DAN LAURSEN | CANDIDATE | MONETARY | 6/22/2022 | FILED | 200 | CHEYENNE, WY 82003 |
| GORE, SUSAN (CHEYENNE) | DAN LAURSEN | CANDIDATE | MONETARY | 6/3/2022 | FILED | 1500 | CHEYENNE, WY 82009 |
| VANATA, VINCE (CODY) | DAN LAURSEN | CANDIDATE | MONETARY | 6/1/2022 | FILED | 200 | CODY, WY 82414 |
| TOLLMAN, VICKY (POWELL) | DAN LAURSEN | CANDIDATE | MONETARY | 5/22/2022 | FILED | 200 | POWELL, WY 82435 |
| FETZER, SANDY (POWELL) | DAN LAURSEN | CANDIDATE | MONETARY | 5/19/2022 | FILED | 100 | POWELL, WY 82435 |
| LAURSEN, KEN (KELLER) | DAN LAURSEN | CANDIDATE | MONETARY | 5/16/2022 | FILED | 480.3 | KELLER, TX 76248 |
| LEACH, SHEILA (CODY) | DAN LAURSEN | CANDIDATE | MONETARY | 5/16/2022 | FILED | 50 | CODY, WY 82414 |
| HILL, JUSTIN (ST. LOUIS) | DAN LAURSEN | CANDIDATE | MONETARY | 5/5/2022 | FILED | 240.15 | ST. LOUIS, MO 63367 |
| LEONHARDT, MARVIN (POWELL) | DAN LAURSEN | CANDIDATE | MONETARY | 5/5/2022 | FILED | 480.3 | POWELL, WY 82435 |
| SLAYMAKER, DENNIS (ST STOSBURG) | DAN LAURSEN | CANDIDATE | MONETARY | 5/5/2022 | FILED | 48.03 | ST STOSBURG, CO 80136 |
| LAURSEN, DAN (POWELL) | DAN LAURSEN | CANDIDATE | MONETARY | 3/25/2022 | AMEND - ADD | 25 | POWELL, WY 82435 |
| ALLSTATE INSURANCE COMPANY PAC (ALLPAC) (NORTHBROOK) | DAN LAURSEN | CANDIDATE | MONETARY | 11/23/2021 | FILED | 250 | NORTHBROOK, IL 60062 |
| TRUCKING INDUSTRY PAC (CASPER) | DAN LAURSEN | CANDIDATE | MONETARY | 10/11/2020 | FILED | 200 | CASPER, WY 82602 |
| ALTRIA GROUP, INC. PAC (WASHINGTON) | DAN LAURSEN | CANDIDATE | MONETARY | 8/20/2020 | FILED | 200 | WASHINGTON, DC 20001 |
| CHARTER COMMUNICATIONS, INC. WYOMING POLITICAL ACTION COMMITTEE (STAMFORD) | DAN LAURSEN | CANDIDATE | MONETARY | 8/20/2020 | FILED | 300 | STAMFORD, CT 06901 |
| FFFWY FIRE PAC (CHEYENNE) | DAN LAURSEN | CANDIDATE | MONETARY | 8/20/2020 | FILED | 500 | CHEYENNE, WY 82003 |
| FRENCH, LARRY (POWELL) | DAN LAURSEN | CANDIDATE | MONETARY | 8/20/2020 | FILED | 250 | POWELL, WY 82435 |
| PFIZER PAC (NEW YORK) | DAN LAURSEN | CANDIDATE | MONETARY | 8/20/2020 | FILED | 150 | NEW YORK, NY 10017 |
| WEBER, SCOTT (CODY) | DAN LAURSEN | CANDIDATE | IN-KIND | 8/20/2020 | FILED | 47.2 | CODY, WY 82414 |
| ALLSTATE INSURANCE COMPANY PAC (ALLPAC) (NORTHBROOK) | DAN LAURSEN | CANDIDATE | MONETARY | 7/28/2020 | FILED | 200 | NORTHBROOK, IL 60062 |
| LAURSEN, DAN (POWELL) | DAN LAURSEN | CANDIDATE | MONETARY | 7/28/2020 | FILED | 44.53 | POWELL, WY 82435 |
| SABEL, RODNEY (LOS ANGELES) | DAN LAURSEN | CANDIDATE | MONETARY | 7/27/2020 | FILED | 95.9 | LOS ANGELES, CA 90034 |
| GORE, SUSAN (CHEYENNE) | DAN LAURSEN | CANDIDATE | MONETARY | 7/24/2020 | FILED | 1000 | CHEYENNE, WY 82009 |
| NEXTERA ENERGY PAC (JUNO BEACH) | DAN LAURSEN | CANDIDATE | MONETARY | 7/24/2020 | FILED | 250 | JUNO BEACH, FL 33408 |
| BROPHY, CARLENE (JACKSON) | DAN LAURSEN | CANDIDATE | MONETARY | 7/16/2020 | FILED | 1500 | JACKSON, WY 83001 |
| HALLINAN FOR HOUSE (GILLETTE) | DAN LAURSEN | CANDIDATE | MONETARY | 7/1/2020 | FILED | 250 | GILLETTE, WY 82718 |
| BNSF RAILPAC (FT WORTH) | DAN LAURSEN | CANDIDATE | MONETARY | 6/29/2020 | FILED | 300 | FT WORTH, TX 76161 |
| SULLIVAN, LLOYD (POWELL) | DAN LAURSEN | CANDIDATE | MONETARY | 6/28/2020 | FILED | 95.9 | POWELL, WY 82435 |
| AMERICAN WIND ENERGY ASSOCIATION (WASHINGTON DC) | DAN LAURSEN | CANDIDATE | MONETARY | 6/25/2020 | FILED | 250 | WASHINGTON DC, WY 20005 |
| LAURSEN, KEN (KELLER) | DAN LAURSEN | CANDIDATE | MONETARY | 6/24/2020 | FILED | 200 | KELLER, TX 76248 |
| WYOMING MINING ASSOCIATION PAC (WMA) (CHEYENNE) | DAN LAURSEN | CANDIDATE | MONETARY | 6/22/2020 | FILED | 200 | CHEYENNE, WY 82001 |
| WYOMING STOCK GROWERS' AG PAC (CHEYENNE) | DAN LAURSEN | CANDIDATE | MONETARY | 6/18/2020 | FILED | 200 | CHEYENNE, WY 82003 |
| UNION PACIFIC CORPORATION FUND FOR EFFECTIVE GOVERNMENT (WASHINGTON) | DAN LAURSEN | CANDIDATE | MONETARY | 2/3/2020 | FILED | 250 | WASHINGTON, DC 20005 |
| GERINGER, GALE (CHEYENNE) | DAN LAURSEN | CANDIDATE | MONETARY | 12/20/2019 | FILED | 150 | CHEYENNE, WY 82009 |
| PFIZER PAC (NEW YORK) | DAN LAURSEN | CANDIDATE | MONETARY | 10/22/2019 | FILED | 150 | NEW YORK, NY 10017 |
| ALLSTATE INSURANCE COMPANY PAC (ALLPAC) (NORTHBROOK) | DAN LAURSEN | CANDIDATE | MONETARY | 8/16/2019 | FILED | 150 | NORTHBROOK, IL 60062 |
| LAURSEN, DAN (POWELL) | DAN LAURSEN | CANDIDATE | MONETARY | 3/29/2019 | FILED | 100 | POWELL, WY 82435 |
| NATIONAL FEDERATION OF INDEPENDENT BUSINESS WYOMING POLITICAL ACTION COMMITTEE (WASHINGTON) | DAN LAURSEN | CANDIDATE | IN-KIND | 11/1/2018 | FILED | 5.12 | WASHINGTON, DC 20004 |
| MDU RESOURCES GROUP GOOD GOVERNMENT FUND (BISMARCK) | DAN LAURSEN | CANDIDATE | MONETARY | 10/22/2018 | FILED | 200 | BISMARCK, ND 58506 |
| WYOMING MINING ASSOCIATION PAC (WMA) (CHEYENNE) | DAN LAURSEN | CANDIDATE | MONETARY | 10/4/2018 | FILED | 100 | CHEYENNE, WY 82001 |
| TRUCKING INDUSTRY PAC (CASPER) | DAN LAURSEN | CANDIDATE | MONETARY | 9/28/2018 | FILED | 100 | CASPER, WY 82602 |
| PAW POLITICAL ACTION COUNCIL (CASPER) | DAN LAURSEN | CANDIDATE | MONETARY | 9/13/2018 | FILED | 200 | CASPER, WY 82601 |
| BNSF RAILPAC (FT WORTH) | DAN LAURSEN | CANDIDATE | MONETARY | 8/23/2018 | FILED | 200 | FT WORTH, TX 76161 |
| PFIZER PAC (NEW YORK) | DAN LAURSEN | CANDIDATE | MONETARY | 8/13/2018 | FILED | 150 | NEW YORK, NY 10017 |
| PETERSON, RAY (COWLEY) | DAN LAURSEN | CANDIDATE | MONETARY | 8/6/2018 | FILED | 125 | COWLEY, WY 82420 |
| CIGNA POL ACTION COMMITTEE (PHILADELPHIA) | DAN LAURSEN | CANDIDATE | MONETARY | 7/24/2018 | FILED | 250 | PHILADELPHIA, PA 19191 |
| LAURSEN, DAN (POWELL) | DAN LAURSEN | CANDIDATE | LOAN | 7/6/2018 | AMEND - ADD | 125 | POWELL, WY 82435 |
| LAURSEN, DAN (POWELL) | DAN LAURSEN | CANDIDATE | MONETARY | 7/6/2018 | AMEND - ADD | 125 | POWELL, WY 82435 |
| LAURSEN, DAN (POWELL) | DAN LAURSEN | CANDIDATE | LOAN | 6/30/2018 | FILED | 522.42 | POWELL, WY 82435 |
| ALLSTATE INSURANCE COMPANY PAC (ALLPAC) (NORTHBROOK) | DAN LAURSEN | CANDIDATE | MONETARY | 10/12/2017 | FILED | 150 | NORTHBROOK, IL 60062 |
| AT&T INC. FEDERAL PAC (DALLAS) | DAN LAURSEN | CANDIDATE | MONETARY | 10/12/2017 | FILED | 150 | DALLAS, TX 75202 |
| ALTRIA GROUP, INC. PAC (WASHINGTON ) | DAN LAURSEN | CANDIDATE | MONETARY | 8/10/2017 | FILED | 150 | WASHINGTON , DC 20001 |
| PFIZER PAC (NEW YORK) | DAN LAURSEN | CANDIDATE | MONETARY | 5/25/2017 | FILED | 100 | NEW YORK, NY 10017 |
| CENTURYLINK, INC., EMPLOYEES PAC (WASHINGTON) | DAN LAURSEN | CANDIDATE | MONETARY | 11/7/2016 | FILED | 200 | WASHINGTON, DC 20001 |
| WYO-D-PAC (CASPER) | DAN LAURSEN | CANDIDATE | MONETARY | 10/29/2016 | FILED | 50 | CASPER, WY 82601 |
| HOLDING, CAROL (CODY) | DAN LAURSEN | CANDIDATE | MONETARY | 10/11/2016 | FILED | 500 | CODY, WY 82414 |
| TRUCKING INDUSTRY PAC (CASPER) | DAN LAURSEN | CANDIDATE | MONETARY | 9/29/2016 | FILED | 100 | CASPER, WY 82602 |
| FFFWY FIRE PAC (CHEYENNE) | DAN LAURSEN | CANDIDATE | MONETARY | 9/28/2016 | FILED | 500 | CHEYENNE, WY 82003 |
| PAW POLITICAL ACTION COUNCIL (CASPER) | DAN LAURSEN | CANDIDATE | MONETARY | 9/28/2016 | FILED | 200 | CASPER, WY 82601 |
| WYOMING MINING ASSOCIATION PAC (WMA) (CHEYENNE) | DAN LAURSEN | CANDIDATE | MONETARY | 9/28/2016 | FILED | 100 | CHEYENNE, WY 82003 |
| SMITH, ARDELL (POWELL) | DAN LAURSEN | CANDIDATE | MONETARY | 8/24/2016 | FILED | 1000 | POWELL, WY 82435 |
| FFFWY FIRE PAC (CHEYENNE) | DAN LAURSEN | CANDIDATE | MONETARY | 8/14/2016 | FILED | 500 | CHEYENNE, WY 82003 |
| LAURSEN, DAN (POWELL) | DAN LAURSEN | CANDIDATE | MONETARY | 8/14/2016 | FILED | 758.32 | POWELL, WY 82435 |
| LAURSEN, DAN (POWELL) | DAN LAURSEN | CANDIDATE | MONETARY | 8/1/2016 | FILED | 124.99 | POWELL, WY 82435 |
| SULLIVAN, DONNA (POWELL) | DAN LAURSEN | CANDIDATE | MONETARY | 7/31/2016 | FILED | 100 | POWELL, WY 82435 |
| SULLIVAN, DONNA (POWELL) | DAN LAURSEN | CANDIDATE | MONETARY | 7/15/2016 | FILED | 100 | POWELL, WY 82435 |
| WYOMING HOSPITAL ASSOCIATION PAC (CHEYENNE) | DAN LAURSEN | CANDIDATE | MONETARY | 7/1/2016 | FILED | 500 | CHEYENNE, WY 82001 |
| WYOMING STOCK GROWERS' AG PAC (CHEYENNE) | DAN LAURSEN | CANDIDATE | MONETARY | 7/1/2016 | FILED | 200 | CHEYENNE, WY 82003 |
| DECPAC (OKLAHOMA CITY) | DAN LAURSEN | CANDIDATE | MONETARY | 6/24/2016 | FILED | 250 | OKLAHOMA CITY, OK 73102 |
| IFA PAC - WYOMING (CODY) | DAN LAURSEN | CANDIDATE | MONETARY | 10/30/2014 | FILED | 150 | CODY, WY 82414 |
| TRUCKING INDUSTRY PAC (CASPER) | DAN LAURSEN | CANDIDATE | MONETARY | 9/26/2014 | FILED | 100 | CASPER, WY 82602 |
| LAURSEN, DAN (POWELL) | DAN LAURSEN | CANDIDATE | MONETARY | 8/18/2014 | AMEND - ADD | 274.6 | POWELL, WY 82435 |
| WYOMING STOCK GROWERS' AG PAC (CHEYENNE) | DAN LAURSEN | CANDIDATE | MONETARY | 7/3/2014 | FILED | 100 | CHEYENNE, WY 82003 |
| HARVEY, TIM (POWELL) | DAN LAURSEN | CANDIDATE | MONETARY | 6/7/2014 | FILED | 50 | POWELL, WY 82435 |