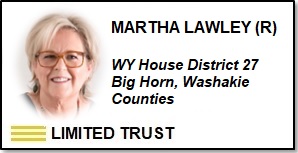 Summary
Representation
Competence
Integrity
More
+ – +
Martha Lawley has served in House District 27 as a WY Representative for Big Horn and Washakie Counties from Jan 2023 to the present.  She has received a positive score for Representation and Integrity, and a negative score for Constitutional Competence and therefore has been ranked as Limited Trust.
She is up for reelection in 2024.
---
"I'm not saying I'm going to necessarily be able to meet everyone's expectations in that, but I want to be responsive." Lawley said both the state and U.S. constitutions begin with the phrase "We the people" and it is important for people to understand they have a role to play. She said when she is in Cheyenne at the Legislature she will not have a lot of time to do a lot of research for her constituents but they can help her and themselves by doing the research on the legislative website, wyoleg.gov.
From https://www.wyodaily.com/story/2022/12/15/news/lawley-finding-her-own-way-following-in-greears-footsteps/13842.html
Overall Lawley earns a (+) for Representation.
Attendance
It appears that Lawley missed 2 votes in 2023 General Session:
2/15/23 – Concurrence vote on HB86;
2/22/23 – Education Committee vote on SF83.
Public Conduct
Lawley appears to behave appropriately in public and to the public.
Sponsorship History
In 2023 Lawley has been the primary sponsor of 1 bill, and co-sponsored 22 bills.  Favored sponsorship topics appear to be education; protection of children/students; law enforcement; property taxes.  For more see her legislative webpage.
Committee Assignments
2023-House Education
2023-House Minerals, Business & Economic Development
2023-Department of Family Services Advisory Council
2023-CSG West – Education
Lawley scored a (–) for Constitutional Competence with an average of 52.78% on the constitutional issues listed below.  Constitutional issue categories that have a "N/A" grade, refer to specific bills that  did not have the opportunity to vote on.
For more on the bills used to analyze these scores click here.  Special hat-tip goes out to Evidence Based Wyoming for use of their statistical tool to generate the following vote scores:
Conflicts
Because we have not found any conflicts of interest for Lawley, she receives a (+) for Integrity.
Employment/Income
According to Lawley's legislative webpage, she is a retired attorney.  According to Lawley's 2023 State Elected Officials Financial Disclosure available at Wyofile, she reports income from:
Social Security Administration
"Security or interest earnings"
Memberships/Civic Organizations
None Found
Campaign Contributions
The table below shows all campaign contributions reported by the WY Secretary of State for "Lawley for Wyoming".
In 2022 Lawley received 6 contributions that total $2,576.95.  Of the 6 donations, 0 were from PACs.
Click the arrows at the top of columns to sort the data by name, date, $ amount, etc.  (Data is publicly available records obtained from the Wyoming Secretary of State's Wyoming's Campaign Finance Information System.)
| Contributor Name | Recipient Name | Recipient Type | Contribution Type | Date | Filing Status | Amount | City State Zip |
| --- | --- | --- | --- | --- | --- | --- | --- |
| LAWLEY, MARTHA (WORLAND) | LAWLEY FOR WYOMING | CANDIDATE COMMITTEE | IN-KIND | 10/28/2022 | FILED | 86 | WORLAND, WY 82401 |
| LAWLEY, MARTHA (WORLAND) | LAWLEY FOR WYOMING | CANDIDATE COMMITTEE | IN-KIND | 8/8/2022 | AMEND - ADD | 84 | WORLAND, WY 82401 |
| LAWLEY, MARTHA (WORLAND) | LAWLEY FOR WYOMING | CANDIDATE COMMITTEE | IN-KIND | 6/30/2022 | FILED | 224.72 | WORLAND, WY 82401 |
| LAWLEY, MARTHA (WORLAND) | LAWLEY FOR WYOMING | CANDIDATE COMMITTEE | IN-KIND | 6/1/2022 | FILED | 245.73 | WORLAND, WY 82401 |
| LAWLEY, MARTHA (WORLAND) | LAWLEY FOR WYOMING | CANDIDATE COMMITTEE | IN-KIND | 5/12/2022 | AMEND - ADD | 100 | WORLAND, WY 82401 |
| LAWLEY, MARTHA (WORLAND) | LAWLEY FOR WYOMING | CANDIDATE COMMITTEE | IN-KIND | 5/10/2022 | FILED | 1839.5 | WORLAND, WY 82401 |