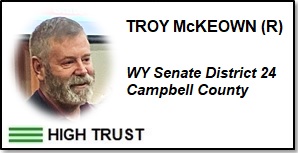 Summary
Representation
Competence
Integrity
More
+ + +
Troy McKeown began serving as a Wyoming Senator in 2021 for Campbell County WY after he won the 2020 election for Senate District 24.  He has received a positive score for all three categories of Representation, Competence and Integrity and therefore has been ranked as High Trust.
He is up for reelection in 2024.
---
"When I enlisted, I swore an oath to defend the Constitution against all enemies, foreign and domestic. I will uphold that promise at all times.

​

I will always defend freedom of speech and the Constitutional values connected to it. The values and liberties enshrined in that document shall always be protected and they shall never expire."
From https://www.troymckeown.com/issues
Overall McKeown earns a (+) for Representation.
Attendance
It appears that McKeown missed nine votes across 2 days in 2023 General Session:
1/30/23 – 3rd Reading for SF92; SF128; SF130; SF134; SF136; SF178
2/1/23 – Revenue Committee votes for SF158; SF159; SF172
Additionally, McKeown recused himself from voting because of a Conflict with:
HB0148 – Airport liquor licenses-amendment.
SF0013 – Bar and grill liquor license phaseout
Public Conduct
McKeown appears to behave appropriately in public and to the public.
Sponsorship History
In 2023 McKeown was the primary sponsor of 2 bills, and he co-sponsored 25 bills.  Favored sponsorship topics appear to be protection and support of constitutional rights; protection of the unborn and children; 2nd Amendment.  For more on McKeown see his legislator webpage.
Committee Assignments
2023-Senate Revenue
2023-Select Committee on School Facilities
2023-Small Business Assistance Program Advisory Panel
2023-State Employee Compensation Commission
2023-CSG West – Health
McKeown scored a (+) for Constitutional Competence with an average of 87.5% on the constitutional issues listed below.  With our cut-off being at 85%, McKeown came close to earning a (–).
For more on the bills used to analyze these scores click here.  Special hat-tip goes out to Evidence Based Wyoming for use of their statistical tool to generate the following vote scores:
Conflicts
Because we have not found any conflicts of interest for McKeown, he receives a (+) for Integrity.
Employment/Income
According to McKeown's 2023 State Elected Officials Financial Disclosure available at Wyofile, he reported the following:
President of Don's Supermarket
Memberships/Civic Organizations
Eagles
Campaign Contributions
The table below shows all campaign contributions reported by the WY Secretary of State for Committee to Elect Troy McKeown.
In 2020 McKeown received approximately 20 contributions that total approximately $15,625.  Of the 20 donations, approximately 2 were from PACs &/or campaign committees.  The total amount McKeown received from PACs &/or campaign committees was approximately $1,900.
Click the arrows at the top of columns to sort the data by name, date, $ amount, etc.  (Data is publicly available records obtained from the Wyoming Secretary of State's Wyoming's Campaign Finance Information System)
| Contributor Name | Recipient Name | Recipient Type | Contribution Type | Date | Filing Status | Amount | City State Zip |
| --- | --- | --- | --- | --- | --- | --- | --- |
| TRUCKING INDUSTRY PAC (CASPER) | COMMITEE TO ELECT TROY MCKEOWN | CANDIDATE COMMITTEE | MONETARY | 10/15/2020 | FILED | 400 | CASPER, WY 82602 |
| SCHOFIELD, BRAD (GILLETTE) | COMMITEE TO ELECT TROY MCKEOWN | CANDIDATE COMMITTEE | MONETARY | 9/1/2020 | FILED | 25 | GILLETTE, WY 82718 |
| MCKEOWN, TROY (GILLETTE) | COMMITEE TO ELECT TROY MCKEOWN | CANDIDATE COMMITTEE | MONETARY | 8/20/2020 | FILED | 3000 | GILLETTE, WY 82718 |
| CRONE, RHONA (GILLETTE) | COMMITEE TO ELECT TROY MCKEOWN | CANDIDATE COMMITTEE | MONETARY | 8/19/2020 | FILED | 25 | GILLETTE, WY 82718 |
| GORE, SUSAN (CHEYENNE) | COMMITEE TO ELECT TROY MCKEOWN | CANDIDATE COMMITTEE | MONETARY | 8/19/2020 | FILED | 1500 | CHEYENNE, WY 82009 |
| HAYES, J.T. (RIVERTON) | COMMITEE TO ELECT TROY MCKEOWN | CANDIDATE COMMITTEE | MONETARY | 8/19/2020 | FILED | 50 | RIVERTON, WY 82501 |
| JORDAN, KRISTI (GILLETTE) | COMMITEE TO ELECT TROY MCKEOWN | CANDIDATE COMMITTEE | MONETARY | 8/19/2020 | FILED | 75 | GILLETTE, WY 82718 |
| JUNEK, MARK (GILLETTE) | COMMITEE TO ELECT TROY MCKEOWN | CANDIDATE COMMITTEE | MONETARY | 8/19/2020 | FILED | 50 | GILLETTE, WY 82718 |
| THE COALITION TO ELECT JOHN BEAR (GILLETTE) | COMMITEE TO ELECT TROY MCKEOWN | CANDIDATE COMMITTEE | MONETARY | 7/30/2020 | FILED | 1500 | GILLETTE, WY 82718 |
| SISTI, EDWARD (GILLETTE) | COMMITEE TO ELECT TROY MCKEOWN | CANDIDATE COMMITTEE | MONETARY | 7/16/2020 | FILED | 100 | GILLETTE, WY 82718 |
| RANEY, CATHY (GILLETTE) | COMMITEE TO ELECT TROY MCKEOWN | CANDIDATE COMMITTEE | MONETARY | 7/15/2020 | FILED | 1500 | GILLETTE, WY 82718 |
| RANEY, JEFF (GILLETTE) | COMMITEE TO ELECT TROY MCKEOWN | CANDIDATE COMMITTEE | MONETARY | 7/15/2020 | FILED | 1500 | GILLETTE, WY 82718 |
| RHODES, SHIELA (GILLETTE) | COMMITEE TO ELECT TROY MCKEOWN | CANDIDATE COMMITTEE | MONETARY | 7/11/2020 | FILED | 100 | GILLETTE, WY 82717 |
| FARROW, DOUG (GILLETTE) | COMMITEE TO ELECT TROY MCKEOWN | CANDIDATE COMMITTEE | MONETARY | 7/7/2020 | FILED | 100 | GILLETTE, WY 82716 |
| MEIER, CURT (CHEYENNE) | COMMITEE TO ELECT TROY MCKEOWN | CANDIDATE COMMITTEE | MONETARY | 6/27/2020 | FILED | 100 | CHEYENNE, WY 82009 |
| BROPHY, CARLEEN (JACKSON) | COMMITEE TO ELECT TROY MCKEOWN | CANDIDATE COMMITTEE | MONETARY | 6/15/2020 | FILED | 1500 | JACKSON, WY 83001 |
| BROPHY, DANIEL (JACKSON) | COMMITEE TO ELECT TROY MCKEOWN | CANDIDATE COMMITTEE | MONETARY | 6/15/2020 | FILED | 1500 | JACKSON, WY 83001 |
| KENNEDY, KAREN (GILLETTE) | COMMITEE TO ELECT TROY MCKEOWN | CANDIDATE COMMITTEE | MONETARY | 6/12/2020 | FILED | 1000 | GILLETTE, WY 82716 |
| KREUL, BARRY (GILLETTE) | COMMITEE TO ELECT TROY MCKEOWN | CANDIDATE COMMITTEE | MONETARY | 6/11/2020 | FILED | 100 | GILLETTE, WY 82718 |
| DOWLING, WES (GILLETTE) | COMMITEE TO ELECT TROY MCKEOWN | CANDIDATE COMMITTEE | MONETARY | 5/14/2020 | FILED | 1500 | GILLETTE, WY 82718 |