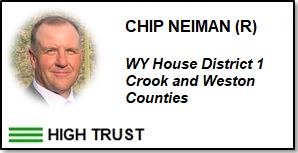 Summary
Representation
Competence
Integrity
More
+++
Neiman has served in House District 1 as a WY Representative for Crook and Weston Counties from 2021 to the present.  He has received a positive score for all three categories of Representation, Competence and Integrity and therefore has been ranked as High Trust.
He is up for reelection in 2024.
"I believe the Constitution of the United States of America has been and always will be, other than the Bible, the most divinely inspired document ever created. Our founders under God's direction created a framework that has stood longer than any other in world history. Through divine intervention we are one Nation under God and a light house for those who desire to be free. But, with this freedom comes responsibility and we must fight to protect these rights we have, I believe, come to take for granted that they will always be there. We must fight to preserve this union and the foundations of this nation. Our founders said our constitution was written for a moral people. I must do my part to preserve and uphold that belief. I will support the Constitution in it entirety."
– Chip Neiman
From https://neiman4wy.com/?page_id=9
Overall Neiman earns a (+) for Representation.
Attendance 
It appears that Neiman was present for every vote in 2023 General Session.
Public Conduct
Neiman appears to behave appropriately in public and to the public.
Bill Sponsorship
From 2021 to 2023 Neiman has been the primary sponsor of 7 bills .  In 2023 he co-sponsored 38 bills.  Favored sponsorship topics are protection of the unborn, children and students; education; medical freedom; fair elections; 2nd Amendment.  See more at Neiman''s WY legislative webpage.
Committee Assignments
2023-Management Audit Committee
2023-Management Council
2023-House Rules & Procedure
2023-Select Water Committee
Neiman scored a (+) for Constitutional Competence with an average of 87.5% on the constitutional issues listed below.  With our cut-off being at 85%, Neiman came close to earning a (–).
For more on the bills used to analyze these scores click here.  Special hat-tip goes out to Evidence Based Wyoming for use of their statistical tool to generate the following vote scores:
Conflicts
Because we have not found any conflicts of interest for Representative Neiman, he receives a (+) for Integrity.
Employment/Income
According to Neiman's 2023 State Elected Officials Financial Disclosure available at Wyofile, he reports he is the owner of two ranches and his primary income comes from ranch product sales.
Memberships/Civic Organizations
Hulett Assembly of God
Vocations for Orphans
Greater Hulett Community Center
Followers of Christ
Campaign Contributions
The table below shows all campaign contributions reported by the WY Secretary of State for Committee to Elect Chip Neiman to House District 1.
From 2020 to 2022 Neiman received approximately 53 contributions that total approximately $30,155.33.  With the exception of three contributions, all other donations came from individual WY residents.
Click the arrows at the top of columns to sort the data by name, date, $ amount, etc.  (Data is publicly available records obtained from the Wyoming Secretary of State's Wyoming's Campaign Finance Information System.)
| Contributor Name | Recipient Name | Recipient Type | Contribution Type | Date | Filing Status | Amount | City State Zip |
| --- | --- | --- | --- | --- | --- | --- | --- |
| BROPHY, CARLEEN (JACKSON) | COMMITTEE TO ELECT CHIP NEIMAN TO HOUSE DISTRICT 1 | CANDIDATE COMMITTEE | MONETARY | 5/5/2022 | FILED | 1500 | JACKSON, WY 83001 |
| BROPHY, DANIEL (JACKSON) | COMMITTEE TO ELECT CHIP NEIMAN TO HOUSE DISTRICT 1 | CANDIDATE COMMITTEE | MONETARY | 5/5/2022 | FILED | 1500 | JACKSON, WY 83001 |
| SMITH, DARIN (CHEYENNE) | COMMITTEE TO ELECT CHIP NEIMAN TO HOUSE DISTRICT 1 | CANDIDATE COMMITTEE | MONETARY | 7/15/2021 | FILED | 300 | CHEYENNE, WY 82009 |
| HOUSE REPUBLICAN CAUCUS (POWELL) | COMMITTEE TO ELECT CHIP NEIMAN TO HOUSE DISTRICT 1 | CANDIDATE COMMITTEE | MONETARY | 10/15/2020 | FILED | 150 | POWELL, WY 82435 |
| TRUCKING INDUSTRY PAC (CASPER) | COMMITTEE TO ELECT CHIP NEIMAN TO HOUSE DISTRICT 1 | CANDIDATE COMMITTEE | MONETARY | 10/15/2020 | FILED | 100 | CASPER, WY 82602 |
| | COMMITTEE TO ELECT CHIP NEIMAN TO HOUSE DISTRICT 1 | CANDIDATE COMMITTEE | ANONYMOUS | 10/15/2020 | FILED | 40 | |
| CONNETT, VICTORIA (SUNDANCE) | COMMITTEE TO ELECT CHIP NEIMAN TO HOUSE DISTRICT 1 | CANDIDATE COMMITTEE | MONETARY | 9/30/2020 | FILED | 400 | SUNDANCE, WY 82729 |
| PLEKAN, DEBI (HULETT) | COMMITTEE TO ELECT CHIP NEIMAN TO HOUSE DISTRICT 1 | CANDIDATE COMMITTEE | MONETARY | 8/21/2020 | FILED | 75 | HULETT, WY 82720 |
| SPROUL, SEAN (SUNDANCE) | COMMITTEE TO ELECT CHIP NEIMAN TO HOUSE DISTRICT 1 | CANDIDATE COMMITTEE | MONETARY | 8/21/2020 | FILED | 100 | SUNDANCE, WY 82729 |
| HARVIE, DIANNE (ALVA) | COMMITTEE TO ELECT CHIP NEIMAN TO HOUSE DISTRICT 1 | CANDIDATE COMMITTEE | MONETARY | 8/18/2020 | AMEND - ADD | 400 | ALVA, WY 82711 |
| SEMLEK, MARK (MOORCROFT) | COMMITTEE TO ELECT CHIP NEIMAN TO HOUSE DISTRICT 1 | CANDIDATE COMMITTEE | MONETARY | 8/18/2020 | AMEND - ADD | 350 | MOORCROFT, WY 82721 |
| THOMPSON, HUGH (ALADDIN) | COMMITTEE TO ELECT CHIP NEIMAN TO HOUSE DISTRICT 1 | CANDIDATE COMMITTEE | MONETARY | 8/18/2020 | AMEND - ADD | 20 | ALADDIN, WY 82710 |
| WYATT, GLEN (SUNDANCE) | COMMITTEE TO ELECT CHIP NEIMAN TO HOUSE DISTRICT 1 | CANDIDATE COMMITTEE | MONETARY | 8/18/2020 | AMEND - ADD | 100 | SUNDANCE, WY 82729 |
| BANKENBUSH, LILLY (SUNDANCE) | COMMITTEE TO ELECT CHIP NEIMAN TO HOUSE DISTRICT 1 | CANDIDATE COMMITTEE | IN-KIND | 8/17/2020 | AMEND - ADD | 140 | SUNDANCE, WY 82729 |
| NEIMAN, ALBERT (HULETT) | COMMITTEE TO ELECT CHIP NEIMAN TO HOUSE DISTRICT 1 | CANDIDATE COMMITTEE | IN-KIND | 8/17/2020 | AMEND - ADD | 1084 | HULETT, WY 82720 |
| | COMMITTEE TO ELECT CHIP NEIMAN TO HOUSE DISTRICT 1 | CANDIDATE COMMITTEE | ANONYMOUS | 8/17/2020 | AMEND - ADD | 91.34 | |
| GEIGER, KATHLEEN (HULETT) | COMMITTEE TO ELECT CHIP NEIMAN TO HOUSE DISTRICT 1 | CANDIDATE COMMITTEE | MONETARY | 8/13/2020 | AMEND - ADD | 1500 | HULETT, WY 82720 |
| HARTMAN, LYLE (HULETT) | COMMITTEE TO ELECT CHIP NEIMAN TO HOUSE DISTRICT 1 | CANDIDATE COMMITTEE | MONETARY | 8/13/2020 | AMEND - ADD | 500 | HULETT, WY 82720 |
| SANDERS, SUE (HULETT) | COMMITTEE TO ELECT CHIP NEIMAN TO HOUSE DISTRICT 1 | CANDIDATE COMMITTEE | MONETARY | 8/13/2020 | AMEND - ADD | 20 | HULETT, WY 82720 |
| STERLING, CONNIE (HULETT) | COMMITTEE TO ELECT CHIP NEIMAN TO HOUSE DISTRICT 1 | CANDIDATE COMMITTEE | MONETARY | 8/13/2020 | AMEND - ADD | 100 | HULETT, WY 82720 |
| TESCH, MYRNA (PINE HAVEN) | COMMITTEE TO ELECT CHIP NEIMAN TO HOUSE DISTRICT 1 | CANDIDATE COMMITTEE | MONETARY | 8/13/2020 | AMEND - ADD | 200 | PINE HAVEN, WY 82721 |
| THOMAS, CAROL (HULETT) | COMMITTEE TO ELECT CHIP NEIMAN TO HOUSE DISTRICT 1 | CANDIDATE COMMITTEE | MONETARY | 8/13/2020 | AMEND - ADD | 100 | HULETT, WY 82720 |
| CONNETT, VICTORIA (SUNDANCE) | COMMITTEE TO ELECT CHIP NEIMAN TO HOUSE DISTRICT 1 | CANDIDATE COMMITTEE | IN-KIND | 8/10/2020 | FILED | 276 | SUNDANCE, WY 82729 |
| FISCHER, ASHLEE (GILLETT) | COMMITTEE TO ELECT CHIP NEIMAN TO HOUSE DISTRICT 1 | CANDIDATE COMMITTEE | MONETARY | 8/6/2020 | FILED | 100 | GILLETT, WY 82718 |
| MAYCOCK, JOSEPH (GILLETTE) | COMMITTEE TO ELECT CHIP NEIMAN TO HOUSE DISTRICT 1 | CANDIDATE COMMITTEE | MONETARY | 8/6/2020 | FILED | 100 | GILLETTE, WY 82718 |
| YOUNGER, MELISSA (GILLETTE) | COMMITTEE TO ELECT CHIP NEIMAN TO HOUSE DISTRICT 1 | CANDIDATE COMMITTEE | MONETARY | 8/6/2020 | FILED | 100 | GILLETTE, WY 82718 |
| NEIMAN, ALBERT (HULETT) | COMMITTEE TO ELECT CHIP NEIMAN TO HOUSE DISTRICT 1 | CANDIDATE COMMITTEE | IN-KIND | 8/5/2020 | AMEND - ADD | 1099 | HULETT, WY 82720 |
| BUSENITZ, CORI (HULETT) | COMMITTEE TO ELECT CHIP NEIMAN TO HOUSE DISTRICT 1 | CANDIDATE COMMITTEE | MONETARY | 7/31/2020 | FILED | 500 | HULETT, WY 82720 |
| CLARK, BRAD (HULLET) | COMMITTEE TO ELECT CHIP NEIMAN TO HOUSE DISTRICT 1 | CANDIDATE COMMITTEE | MONETARY | 7/31/2020 | FILED | 30 | HULLET, WY 82720 |
| HARTMAN, LYLE (HULETT) | COMMITTEE TO ELECT CHIP NEIMAN TO HOUSE DISTRICT 1 | CANDIDATE COMMITTEE | MONETARY | 7/31/2020 | FILED | 500 | HULETT, WY 82720 |
| MARCHANT, BRAD (SUNDANCE) | COMMITTEE TO ELECT CHIP NEIMAN TO HOUSE DISTRICT 1 | CANDIDATE COMMITTEE | MONETARY | 7/22/2020 | FILED | 100 | SUNDANCE, WY 82729 |
| RANEY, JEFF (ALADDIN) | COMMITTEE TO ELECT CHIP NEIMAN TO HOUSE DISTRICT 1 | CANDIDATE COMMITTEE | MONETARY | 7/22/2020 | FILED | 500 | ALADDIN, WY 82710 |
| DOENZ, WILLIAM (SHERIDAN) | COMMITTEE TO ELECT CHIP NEIMAN TO HOUSE DISTRICT 1 | CANDIDATE COMMITTEE | MONETARY | 7/13/2020 | FILED | 1000 | SHERIDAN, WY 82801 |
| MCCULLOUGH, JUDY (OORCROFTM) | COMMITTEE TO ELECT CHIP NEIMAN TO HOUSE DISTRICT 1 | CANDIDATE COMMITTEE | MONETARY | 7/13/2020 | FILED | 1500 | OORCROFTM, WY 82721 |
| SPRAGUE, WALTER (NEWCASTLE) | COMMITTEE TO ELECT CHIP NEIMAN TO HOUSE DISTRICT 1 | CANDIDATE COMMITTEE | MONETARY | 7/13/2020 | FILED | 20 | NEWCASTLE, WY 82701 |
| BLAKEMAN, DAN (PINE HAVEN) | COMMITTEE TO ELECT CHIP NEIMAN TO HOUSE DISTRICT 1 | CANDIDATE COMMITTEE | MONETARY | 7/7/2020 | FILED | 50 | PINE HAVEN, WY 82721 |
| DAVIS, SHERRI (SUNDANCE) | COMMITTEE TO ELECT CHIP NEIMAN TO HOUSE DISTRICT 1 | CANDIDATE COMMITTEE | MONETARY | 7/7/2020 | FILED | 500 | SUNDANCE, WY 82729 |
| DROST, KAREN (NEWCASTLE) | COMMITTEE TO ELECT CHIP NEIMAN TO HOUSE DISTRICT 1 | CANDIDATE COMMITTEE | MONETARY | 7/7/2020 | FILED | 250 | NEWCASTLE, WY 82701 |
| FARNSWORTH, TOM (NEWCASTLE) | COMMITTEE TO ELECT CHIP NEIMAN TO HOUSE DISTRICT 1 | CANDIDATE COMMITTEE | MONETARY | 7/7/2020 | FILED | 300 | NEWCASTLE, WY 82701 |
| GEUTNER, GINGER (MOORCROFT) | COMMITTEE TO ELECT CHIP NEIMAN TO HOUSE DISTRICT 1 | CANDIDATE COMMITTEE | MONETARY | 7/7/2020 | FILED | 1500 | MOORCROFT, WY 82721 |
| HANSHAWS, BRIAN (HULETT) | COMMITTEE TO ELECT CHIP NEIMAN TO HOUSE DISTRICT 1 | CANDIDATE COMMITTEE | MONETARY | 7/2/2020 | FILED | 1000 | HULETT, WY 82720 |
| EBSON, AUDREY (HULETT) | COMMITTEE TO ELECT CHIP NEIMAN TO HOUSE DISTRICT 1 | CANDIDATE COMMITTEE | MONETARY | 6/24/2020 | FILED | 100 | HULETT, WY 82720 |
| MORKEN, CHARLES (HULETT) | COMMITTEE TO ELECT CHIP NEIMAN TO HOUSE DISTRICT 1 | CANDIDATE COMMITTEE | MONETARY | 6/24/2020 | FILED | 100 | HULETT, WY 82720 |
| OTWELL, SHONDAH (OSHOTO) | COMMITTEE TO ELECT CHIP NEIMAN TO HOUSE DISTRICT 1 | CANDIDATE COMMITTEE | MONETARY | 6/24/2020 | FILED | 500 | OSHOTO, WY 82721 |
| BROWN, FRANK (SAN DIEGO) | COMMITTEE TO ELECT CHIP NEIMAN TO HOUSE DISTRICT 1 | CANDIDATE COMMITTEE | MONETARY | 6/12/2020 | FILED | 500 | SAN DIEGO, CA 92107 |
| FROLANDER, PATRICIA (SUNDANCE) | COMMITTEE TO ELECT CHIP NEIMAN TO HOUSE DISTRICT 1 | CANDIDATE COMMITTEE | MONETARY | 6/12/2020 | FILED | 250 | SUNDANCE, WY 82729 |
| CONNETT, VICTORIA (SUNDANCE) | COMMITTEE TO ELECT CHIP NEIMAN TO HOUSE DISTRICT 1 | CANDIDATE COMMITTEE | IN-KIND | 6/10/2020 | AMEND - ADD | 226.17 | SUNDANCE, WY 82729 |
| BROPHY, CARLEEN (JACKSON) | COMMITTEE TO ELECT CHIP NEIMAN TO HOUSE DISTRICT 1 | CANDIDATE COMMITTEE | MONETARY | 6/4/2020 | FILED | 1500 | JACKSON, WY 83001 |
| BROPHY, DAN (JACKSON) | COMMITTEE TO ELECT CHIP NEIMAN TO HOUSE DISTRICT 1 | CANDIDATE COMMITTEE | MONETARY | 6/4/2020 | FILED | 1500 | JACKSON, WY 83001 |
| DAVIS, SHERRI (SUNDANCE) | COMMITTEE TO ELECT CHIP NEIMAN TO HOUSE DISTRICT 1 | CANDIDATE COMMITTEE | MONETARY | 5/29/2020 | FILED | 1000 | SUNDANCE, WY 82729 |
| NEIMAN, CHIP (HULETT) | COMMITTEE TO ELECT CHIP NEIMAN TO HOUSE DISTRICT 1 | CANDIDATE COMMITTEE | MONETARY | 5/28/2020 | FILED | 5000 | HULETT, WY 82720 |
| NEIMAN, ALBERT (SUNDANCE) | COMMITTEE TO ELECT CHIP NEIMAN TO HOUSE DISTRICT 1 | CANDIDATE COMMITTEE | IN-KIND | 5/22/2020 | AMEND - ADD | 1283.82 | SUNDANCE, WY 82729 |