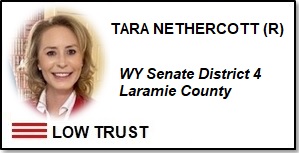 Summary
Representation
Competence
Integrity
More
– – –
Tara Nethercott is a WY Senator for Laramie County Senate District 4 who has served from 2017 to the present.  She has received a negative score for all three categories of Representation, Competence and Integrity and therefore has been ranked as Low Trust.
She is up for reelection in 2024.
---
"We, as a society, will continue to balance these interests, and in understanding how to raise our families and to raise our children in this state, we rely on those teachers, coaches, professionals and school boards to navigate these issues as we know they always have," she said. "Let's trust them to deal with these children, which they are, in the way that they know how to do."

From https://cowboystatedaily.com/2022/03/07/bill-banning-trans-athletes-from-womens-sports-dies-in-wyoming-house/
Overall Nethercott earns a (–) for Representation because of her attendance and public conduct.
Attendance
It appears that Nethercott missed nine votes across 5 days in 2023 General Session. Our guidelines require a legislator to be present for all votes on 90% of the days in any session.  For 2023 session, if a legislator missed any votes on 5 or more days, they receive a negative (-) score.
1/16/23 – Appropriations Committee vote for SF18; SF36
2/9/23 – Appropriations Committee vote for HB93
2/13/23 – Committee of the Whole vote for HB145
2/27/23 – Appropriations Committee vote for HB222
3/3/23 – Concurrence vote for HB64; HB76; HB93; SF48
Additionally, Nethercott recused herself from voting because of a Conflict on SF92 – Small customer electrical generation.
Public Conduct
Nethercott conducts herself in myriad ways that is offensive to the public, most especially during committee hearings and meetings:
Nethercott, who is an attorney, served in 2021/2022 as the Senate Chair to the Judiciary Committee – a committee that dealt with members of the WY Supreme Court during committee meetings and hearings.  On those occasions Nethercott clearly yielded to and placated the WY Chief Justice, and ingratiated herself in obvious ways.
Sponsorship History 
In 2023 Nethercott was the primary sponsor of 7 bills, and she co-sponsored 32 bills.  Favored sponsorship topics appear to be judiciary and law enforcement related issues – both of which appear to be conflicts for Nethercott.  For more on these conflicts see the Integrity tab for Nethercott.
Committee Assignments
2023-Senate Appropriations Chairman
2023-Select Committee on Capital Financing & Investments Vice Chair
2023-Subcommittee on Legislator Ethics Complaint Procedure Chairman
2023-Management Audit Committee
2023-Management Council
2023-Mental Health & Vulnerable Adult Task Force
2023-Select Committee on Blockchain, Financial Technology and Digital Innovation Technology
2023-Financial Advisory Council
Additional Appointments:
2023-Wyoming Court Security Commission (Order appointing members)
Nethercott scored a (–) for Constitutional Competence with an average of 55% on the constitutional issues listed below.
For more on the bills used to analyze these scores click here.  Special hat-tip goes out to Evidence Based Wyoming for use of their statistical tool to generate the following vote scores:
Conflicts
Judicial and law enforcement related issues appear to be unacknowledged conflicts of interest(s) for Nethercott.  Thus, Nethercott has received a negative (–) score for Integrity.
Nethercott did acknowledge a personal Conflict and abstained from voting on SF92 – Small customer electrical generation, yet apparently had no hesitation with the conflicts listed below.
Judicial Conflicts
Nethercott is an attorney.  Attorneys strive to stay in the good graces of judges for professional discourse in the courtroom, and unbiased treatment of an attorney's cases and clients.  Thus, a legislator-attorney would be hard-pressed to oppose any bill or policy changes that a judge advocates for.  This is a fact for all legislator-attorneys in any state legislature.  Additionally, legislator-lawyers have an interest in making changes to law for courtroom and litigation procedures.
Nethercott has an obvious personal/private interest in many judicial issues.  The following is a mere sample of judicial-related bills that we believe Nethercott should not have sponsored, much less voted on:
Law Enforcement Conflicts
Nethercott's spouse has worked with various agencies for the State of Wyoming in the law enforcement and cyber-crimes field, and "served as the Internet Crimes Against Children (ICAC) Task Force Commander for the State of Wyoming for almost 10 years" (source).
Clearly this is essential investigative and law enforcement work that every Wyomingite would want for protection of all children.  However, it appears that Nethercott might be sponsoring bills that would directly augment her husband's investigatory capabilities.  Is it appropriate for a legislator to run bills that would expand the professional authority and responsibility of their spouse?  We do not believe that is appropriate per WY State Constitution Article 3, Section 46 (Interested member shall not vote).
Equally important, some of these bills might also infringe upon the 4th and 5th Amendment rights of Wyoming citizens:
Additionally, as the spouse of a law enforcement officer, we believe Nethercott should have recused herself from:
Lastly, because Nethercott has a number of conflict(s) we do not believe she should be serving on the 2023-Subcommittee on Legislator Ethics Complaint Procedure.
Employment/Income
According to Tara Nethercott's 2023 State Elected Officials Financial Disclosure available at Wyofile, she reports the following:
Employer – Crowley Fleck PLLP [Law firm]
Income earned from "Security or interest earnings"
Memberships/Civic Organizations
None found.
Campaign Contributions
The table below shows all campaign contributions reported by the WY Secretary of State for Tara Nethercott.
From 2016 to 2020 Nethercott received approximately 113 contributions that total approximately $60,322.53.  Of the 113 donations, approximately 42 were from PACs &/or campaign committees.  The total received from PACs &/or campaign committees was approximately $23,700 – which is approximately 39% of total donations received.
Noteworthy contributions to Nethercott are:
$5,000 from Republican State Leadership Committee (Washington)
PACs for ESG compliant companies:

$500 from DECPAC (Devon Energy Corporation)
$500 total from Pacific Power/Rocky Mountain Power PAC

$500 total from Pfizer PAC
$100 from WY Medical Society PAC
$800 total from True family dynasty members (RINO donors)
Click the arrows at the top of columns to sort the data by name, date, $ amount, etc.  (Data is publicly available records obtained from the Wyoming Secretary of State's Wyoming's Campaign Finance Information System)
| Contributor Name | Recipient Name | Recipient Type | Contribution Type | Date | Filing Status | Amount | City State Zip |
| --- | --- | --- | --- | --- | --- | --- | --- |
| PAW POLITICAL ACTION COUNCIL (CASPER) | TARA NETHERCOTT | CANDIDATE | MONETARY | 10/19/2020 | FILED | 1000 | CASPER, WY 82601 |
| TRUCKING INDUSTRY PAC (CASPER) | TARA NETHERCOTT | CANDIDATE | MONETARY | 10/15/2020 | FILED | 300 | CASPER, WY 82602 |
| WYOMING MINING ASSOCIATION PAC (WMA) (CHEYENNE) | TARA NETHERCOTT | CANDIDATE | MONETARY | 10/15/2020 | FILED | 100 | CHEYENNE, WY 82001 |
| FEA PAC (CHEYENNE) | TARA NETHERCOTT | CANDIDATE | MONETARY | 10/7/2020 | FILED | 500 | CHEYENNE, WY 82003 |
| HEARNE, JIM (CHEYENNE) | TARA NETHERCOTT | CANDIDATE | MONETARY | 10/6/2020 | FILED | 100 | CHEYENNE, WY 82009 |
| MEULI, LARRY (CHEYENNE) | TARA NETHERCOTT | CANDIDATE | MONETARY | 10/6/2020 | FILED | 100 | CHEYENNE, WY 82009 |
| FFFWY FIRE PAC (CHEYENNE) | TARA NETHERCOTT | CANDIDATE | MONETARY | 9/21/2020 | FILED | 500 | CHEYENNE, WY 82003 |
| COWBOY GAMES PAC (SHERIDAN) | TARA NETHERCOTT | CANDIDATE | MONETARY | 9/15/2020 | FILED | 250 | SHERIDAN, WY 82801 |
| FFFWY FIRE PAC (CHEYENNE) | TARA NETHERCOTT | CANDIDATE | MONETARY | 9/8/2020 | FILED | 500 | CHEYENNE, WY 82003 |
| CHARTER COMMUNICATIONS, INC. PAC (STAMFORD) | TARA NETHERCOTT | CANDIDATE | MONETARY | 9/4/2020 | FILED | 300 | STAMFORD, CT 06901 |
| PFIZER PAC (NEW YORK) | TARA NETHERCOTT | CANDIDATE | MONETARY | 9/2/2020 | FILED | 200 | NEW YORK, NY 10017 |
| ALTRIA GROUP, INC. PAC (WASHINGTON) | TARA NETHERCOTT | CANDIDATE | MONETARY | 9/1/2020 | FILED | 200 | WASHINGTON, DC 20001 |
| CHESAPEAKE ENERGY CORPORATION FED PAC (OKLAHOMA CITY) | TARA NETHERCOTT | CANDIDATE | MONETARY | 9/1/2020 | FILED | 500 | OKLAHOMA CITY, OK 73154 |
| PACIFIC POWER/ROCKY MOUNTAIN POWER PAC (PORTLAND) | TARA NETHERCOTT | CANDIDATE | MONETARY | 8/7/2020 | FILED | 300 | PORTLAND, OR 97232 |
| CIGNA POL ACTION COMMITTEE (PHILADELPHIA) | TARA NETHERCOTT | CANDIDATE | MONETARY | 8/6/2020 | FILED | 450 | PHILADELPHIA, PA 19191 |
| MOSER, MIKE (CHEYENNE) | TARA NETHERCOTT | CANDIDATE | MONETARY | 8/6/2020 | FILED | 200 | CHEYENNE, WY 82009 |
| BNSF RAILPAC (FT WORTH) | TARA NETHERCOTT | CANDIDATE | MONETARY | 8/3/2020 | FILED | 500 | FT WORTH, TX 76161 |
| LUMMIS, CYNTHIA (CHEYENNE) | TARA NETHERCOTT | CANDIDATE | MONETARY | 8/3/2020 | FILED | 500 | CHEYENNE, WY 82007 |
| MARATHON OIL COMPANY EMPLOYEES (HOUSTON) | TARA NETHERCOTT | CANDIDATE | MONETARY | 8/3/2020 | FILED | 200 | HOUSTON, TX 77210 |
| TAYLOR, ERIN (CHEYENNE) | TARA NETHERCOTT | CANDIDATE | MONETARY | 8/3/2020 | FILED | 200 | CHEYENNE, WY 82009 |
| JENSEN, BOB (CHEYENNE) | TARA NETHERCOTT | CANDIDATE | MONETARY | 7/15/2020 | FILED | 100 | CHEYENNE, WY 82001 |
| JOYCE, EUGENE (EVANSTON) | TARA NETHERCOTT | CANDIDATE | MONETARY | 7/2/2020 | FILED | 500 | EVANSTON, WY 82931 |
| NATIONAL SHOOTING SPORTS FOUNDATION (NEWTOWN) | TARA NETHERCOTT | CANDIDATE | MONETARY | 6/25/2020 | FILED | 1000 | NEWTOWN, CT 06470 |
| TRUE, JOANNE (CASPER) | TARA NETHERCOTT | CANDIDATE | MONETARY | 6/23/2020 | FILED | 500 | CASPER, WY 82601 |
| ALTRIA GROUP, INC. PAC (WASHINGTON) | TARA NETHERCOTT | CANDIDATE | MONETARY | 11/27/2019 | FILED | 300 | WASHINGTON, DC 20001 |
| PFIZER PAC (NEW YORK) | TARA NETHERCOTT | CANDIDATE | MONETARY | 11/27/2019 | FILED | 200 | NEW YORK, NY 10017 |
| ALLSTATE INSURANCE COMPANY PAC (ALLPAC) (NORTHBROOK) | TARA NETHERCOTT | CANDIDATE | MONETARY | 11/12/2019 | FILED | 300 | NORTHBROOK, IL 60062 |
| CIGNA POL ACTION COMMITTEE (PHILADELPHIA) | TARA NETHERCOTT | CANDIDATE | MONETARY | 11/12/2019 | FILED | 350 | PHILADELPHIA, PA 19191 |
| BOYER, ERIC (TORRINGTON) | TARA NETHERCOTT | CANDIDATE | MONETARY | 11/14/2016 | FILED | 100 | TORRINGTON, WY 82240 |
| KINSKEY, DAVE (SHERIDAN) | TARA NETHERCOTT | CANDIDATE | MONETARY | 11/11/2016 | FILED | 100 | SHERIDAN, WY 82801 |
| KINSKEY, DONNA (SHERIDAN) | TARA NETHERCOTT | CANDIDATE | MONETARY | 11/11/2016 | FILED | 100 | SHERIDAN, WY 82801 |
| TRUCKING INDUSTRY PAC (CASPER) | TARA NETHERCOTT | CANDIDATE | MONETARY | 10/26/2016 | FILED | 500 | CASPER, WY 82602 |
| MEYER, MARY (CHEYENNE) | TARA NETHERCOTT | CANDIDATE | MONETARY | 10/21/2016 | FILED | 100 | CHEYENNE, WY 82009 |
| ANADARKO PETROLEUM PAC (WOODLANDS) | TARA NETHERCOTT | CANDIDATE | MONETARY | 10/20/2016 | FILED | 750 | WOODLANDS, TX 77380 |
| BLACK HILLS CORPORATION PAC (RAPID CITY) | TARA NETHERCOTT | CANDIDATE | MONETARY | 10/19/2016 | FILED | 1000 | RAPID CITY, SD 57709 |
| REPUBLICAN STATE LEADERSHIP COMMITTEE (WASHINGTON) | TARA NETHERCOTT | CANDIDATE | MONETARY | 10/18/2016 | FILED | 5000 | WASHINGTON, DC 20004 |
| WY REALTORS PAC (CASPER) | TARA NETHERCOTT | CANDIDATE | MONETARY | 10/18/2016 | FILED | 1000 | CASPER, WY 82601 |
| WYO PAC (WYOMING MEDICAL PAC) (CHEYENNE) | TARA NETHERCOTT | CANDIDATE | MONETARY | 10/18/2016 | FILED | 100 | CHEYENNE, WY 82003 |
| | TARA NETHERCOTT | CANDIDATE | ANONYMOUS | 10/18/2016 | FILED | 100 | |
| CLOUD PEAK ENERGY EMPLOYEE PAC (CHEYENNE) | TARA NETHERCOTT | CANDIDATE | MONETARY | 10/13/2016 | FILED | 250 | CHEYENNE, WY 82009 |
| GERINGER, LEONARD (CHEYENNE) | TARA NETHERCOTT | CANDIDATE | MONETARY | 10/13/2016 | FILED | 50 | CHEYENNE, WY 82009 |
| LARAMIE COUNTY REPUBLICAN PARTY (CHEYENNE) | TARA NETHERCOTT | CANDIDATE | MONETARY | 10/12/2016 | FILED | 2000 | CHEYENNE, WY 82001 |
| MCILVAIN, BILL (CHEYENNE) | TARA NETHERCOTT | CANDIDATE | MONETARY | 10/6/2016 | FILED | 100 | CHEYENNE, WY 82001 |
| PACIFIC POWER/ROCKY MOUNTAIN POWER PAC (PORTLAND) | TARA NETHERCOTT | CANDIDATE | MONETARY | 10/6/2016 | FILED | 200 | PORTLAND, OR 97232 |
| PFIZER PAC (NEW YORK) | TARA NETHERCOTT | CANDIDATE | MONETARY | 10/6/2016 | FILED | 100 | NEW YORK, NY 10017 |
| TRUE, HENRY (CASPER) | TARA NETHERCOTT | CANDIDATE | MONETARY | 10/6/2016 | FILED | 150 | CASPER, WY 82602 |
| BALOW, JILLIAN (CHEYENNE) | TARA NETHERCOTT | CANDIDATE | MONETARY | 10/4/2016 | FILED | 25 | CHEYENNE, WY 82009 |
| BURTON, JOHNNIE (CHEYENNE) | TARA NETHERCOTT | CANDIDATE | MONETARY | 10/4/2016 | FILED | 50 | CHEYENNE, WY 82009 |
| CLARK, CHRISTIE (CHEYENNE) | TARA NETHERCOTT | CANDIDATE | MONETARY | 10/4/2016 | FILED | 25 | CHEYENNE, WY 82009 |
| HARRELL, JOE (CHEYENNE) | TARA NETHERCOTT | CANDIDATE | MONETARY | 10/4/2016 | FILED | 100 | CHEYENNE, WY 82009 |
| HINKLE, JUDITH (CHEYENNE) | TARA NETHERCOTT | CANDIDATE | MONETARY | 10/4/2016 | FILED | 50 | CHEYENNE, WY 82009 |
| KIRKBRIDE, JON (CHEYENNE) | TARA NETHERCOTT | CANDIDATE | MONETARY | 10/4/2016 | FILED | 40 | CHEYENNE, WY 82009 |
| LENNOX, RICHARD (CHEYENNE) | TARA NETHERCOTT | CANDIDATE | MONETARY | 10/4/2016 | FILED | 500 | CHEYENNE, WY 82009 |
| LUCAS, LONI (CHEYENNE) | TARA NETHERCOTT | CANDIDATE | MONETARY | 10/4/2016 | FILED | 85 | CHEYENNE, WY 82009 |
| MALLORY, LAWRENCE (CHEYENNE) | TARA NETHERCOTT | CANDIDATE | MONETARY | 10/4/2016 | FILED | 25 | CHEYENNE, WY 82009 |
| MCGARVIN, LARRY (CHEYENNE) | TARA NETHERCOTT | CANDIDATE | MONETARY | 10/4/2016 | FILED | 50 | CHEYENNE, WY 82009 |
| MEYER, RITA (CHEYENNE) | TARA NETHERCOTT | CANDIDATE | MONETARY | 10/4/2016 | FILED | 100 | CHEYENNE, WY 82009 |
| SLOAN, STACY (CHEYENNE) | TARA NETHERCOTT | CANDIDATE | MONETARY | 10/4/2016 | FILED | 200 | CHEYENNE, WY 82009 |
| | TARA NETHERCOTT | CANDIDATE | ANONYMOUS | 10/4/2016 | FILED | 60 | |
| VAN HORN, PHIL (CHEYENNE) | TARA NETHERCOTT | CANDIDATE | MONETARY | 10/3/2016 | FILED | 100 | CHEYENNE, WY 82001 |
| HEARNE, JIM (CHEYENNE) | TARA NETHERCOTT | CANDIDATE | MONETARY | 10/1/2016 | FILED | 200 | CHEYENNE, WY 82001 |
| TRUE, DAVID (CASPER) | TARA NETHERCOTT | CANDIDATE | MONETARY | 10/1/2016 | FILED | 150 | CASPER, WY 82601 |
| SUTHERLAND, KIM (CHEYENNE) | TARA NETHERCOTT | CANDIDATE | MONETARY | 9/27/2016 | FILED | 400 | CHEYENNE, WY 82009 |
| EXXONMOBILE PAC (IRVING) | TARA NETHERCOTT | CANDIDATE | MONETARY | 9/25/2016 | FILED | 300 | IRVING, TX 75039 |
| WYOMING STOCK GROWERS' AG PAC (CHEYENNE) | TARA NETHERCOTT | CANDIDATE | MONETARY | 9/25/2016 | FILED | 200 | CHEYENNE, WY 82003 |
| DECPAC (OKLAHOMA CITY) | TARA NETHERCOTT | CANDIDATE | MONETARY | 9/20/2016 | FILED | 500 | OKLAHOMA CITY, OK 73102 |
| PAW POLITICAL ACTION COUNCIL (CASPER) | TARA NETHERCOTT | CANDIDATE | MONETARY | 9/14/2016 | FILED | 400 | CASPER, WY 82601 |
| QEP RESOURCES PAC (DENVER) | TARA NETHERCOTT | CANDIDATE | MONETARY | 9/13/2016 | FILED | 500 | DENVER, CO 80265 |
| GRANT, EDWARD (CHEYENNE) | TARA NETHERCOTT | CANDIDATE | MONETARY | 9/12/2016 | FILED | 100 | CHEYENNE, WY 82001 |
| WEPPNER, LINDA (CHEYENNE) | TARA NETHERCOTT | CANDIDATE | MONETARY | 9/7/2016 | FILED | 250 | CHEYENNE, WY 82009 |
| MEIER, CURT (LAGRANGE) | TARA NETHERCOTT | CANDIDATE | MONETARY | 9/6/2016 | FILED | 500 | LAGRANGE, WY 82221 |
| MELINKOVICH, CLAYTON (LARAMIE) | TARA NETHERCOTT | CANDIDATE | MONETARY | 9/6/2016 | FILED | 100 | LARAMIE, WY 82070 |
| WYOMING MINING ASSOCIATION PAC (WMA) (CHEYENNE) | TARA NETHERCOTT | CANDIDATE | MONETARY | 9/6/2016 | FILED | 200 | CHEYENNE, WY 82003 |
| WYOMING STATE SENATE REPUBLICAN CONFERENCE (AFTON) | TARA NETHERCOTT | CANDIDATE | MONETARY | 9/6/2016 | FILED | 1000 | AFTON, WY 83110 |
| BRADLEY, THOMAS (CHEYENNE) | TARA NETHERCOTT | CANDIDATE | MONETARY | 9/1/2016 | FILED | 575.69 | CHEYENNE, WY 82007 |
| GUTHRIE, MARY (CHEYENNE) | TARA NETHERCOTT | CANDIDATE | MONETARY | 8/18/2016 | FILED | 50 | CHEYENNE, WY 82001 |
| MEULI, LARRY (CHEYENN) | TARA NETHERCOTT | CANDIDATE | MONETARY | 8/18/2016 | FILED | 100 | CHEYENN, WY 82001 |
| GROFF, MIKE (CHEYENNE) | TARA NETHERCOTT | CANDIDATE | MONETARY | 8/17/2016 | FILED | 1000 | CHEYENNE, WY 82009 |
| RODEN, DEBORAH (CHEYENNE) | TARA NETHERCOTT | CANDIDATE | IN-KIND | 8/17/2016 | FILED | 371 | CHEYENNE, WY 82009 |
| WOODHOUSE, GAY (CHEYENNE) | TARA NETHERCOTT | CANDIDATE | IN-KIND | 8/17/2016 | FILED | 371 | CHEYENNE, WY 82009 |
| RODEN, DEBORAH (CHEYE) | TARA NETHERCOTT | CANDIDATE | IN-KIND | 8/16/2016 | FILED | 371 | CHEYE, WY 82001 |
| WOODHOUSE, GAY (CHEYENNE) | TARA NETHERCOTT | CANDIDATE | IN-KIND | 8/16/2016 | FILED | 371.25 | CHEYENNE, WY 82001 |
| BRADLEY, THOMAS (CHEYENNE) | TARA NETHERCOTT | CANDIDATE | IN-KIND | 8/8/2016 | FILED | 498 | CHEYENNE, WY 82009 |
| NETHERCOTT, TARA (CHEYENNE) | TARA NETHERCOTT | CANDIDATE | MONETARY | 8/8/2016 | FILED | 20000 | CHEYENNE, WY 82009 |
| RODEN, DEBORAH (CHEYENNE) | TARA NETHERCOTT | CANDIDATE | MONETARY | 8/8/2016 | FILED | 600 | CHEYENNE, WY 82009 |
| WOODS, MARC (CHEYENNE) | TARA NETHERCOTT | CANDIDATE | MONETARY | 8/4/2016 | FILED | 350 | CHEYENNE, WY 82009 |
| CATON, JANE (CHEYENNE) | TARA NETHERCOTT | CANDIDATE | MONETARY | 8/1/2016 | FILED | 100 | CHEYENNE, WY 82001 |
| BNSF RAILPAC (FT WORTH) | TARA NETHERCOTT | CANDIDATE | MONETARY | 7/26/2016 | FILED | 200 | FT WORTH, TX 76161 |
| BARTH, TIM (CHEYENNE) | TARA NETHERCOTT | CANDIDATE | MONETARY | 7/25/2016 | FILED | 100 | CHEYENNE, WY 82007 |
| WOODSON, STEVE (CHEYENNE) | TARA NETHERCOTT | CANDIDATE | MONETARY | 7/25/2016 | FILED | 200 | CHEYENNE, WY 82007 |
| LEVIN, JODY (CHEYENNE) | TARA NETHERCOTT | CANDIDATE | MONETARY | 7/19/2016 | FILED | 200 | CHEYENNE, WY 82009 |
| LEVIN, JODY (CHEYENNE) | TARA NETHERCOTT | CANDIDATE | IN-KIND | 7/19/2016 | FILED | 178.98 | CHEYENNE, WY 82009 |
| LEWIS, LAURA (CHEYENNE) | TARA NETHERCOTT | CANDIDATE | IN-KIND | 7/19/2016 | FILED | 145.61 | CHEYENNE, WY 82001 |
| MILLER, ANNE (CHEYENNE) | TARA NETHERCOTT | CANDIDATE | MONETARY | 7/19/2016 | FILED | 100 | CHEYENNE, WY 82001 |
| ROLSTON, ROBERT (CHEYENNE) | TARA NETHERCOTT | CANDIDATE | MONETARY | 7/19/2016 | FILED | 100 | CHEYENNE, WY 82009 |
| TAYLOR, SHAWN (CHEYENNE) | TARA NETHERCOTT | CANDIDATE | MONETARY | 7/19/2016 | FILED | 150 | CHEYENNE, WY 82009 |
| VOLK, WENDY (CHEYENNE) | TARA NETHERCOTT | CANDIDATE | MONETARY | 7/19/2016 | FILED | 100 | CHEYENNE, WY 82009 |
| | TARA NETHERCOTT | CANDIDATE | ANONYMOUS | 7/19/2016 | FILED | 500 | |
| | TARA NETHERCOTT | CANDIDATE | ANONYMOUS | 7/19/2016 | FILED | 20 | |
| CHESAPEAKE ENERGY CORPORATION FEDERAL PAC (OKLAHOMA CITY) | TARA NETHERCOTT | CANDIDATE | MONETARY | 7/14/2016 | FILED | 500 | OKLAHOMA CITY, OK 73154 |
| MANLOVE, LEIGH ANNE (CHEYENNE) | TARA NETHERCOTT | CANDIDATE | MONETARY | 7/13/2016 | FILED | 50 | CHEYENNE, WY 82001 |
| TESORO PAC (SALT LAKE CITY) | TARA NETHERCOTT | CANDIDATE | MONETARY | 7/7/2016 | FILED | 200 | SALT LAKE CITY, UT 84103 |
| LAWYERS ACTIVE IN WY PAC (LAWPAC) (CHEYENNE) | TARA NETHERCOTT | CANDIDATE | MONETARY | 7/6/2016 | FILED | 500 | CHEYENNE, WY 82001 |
| WOODHOUSE, GAY (CHEYENNE) | TARA NETHERCOTT | CANDIDATE | MONETARY | 7/6/2016 | FILED | 500 | CHEYENNE, WY 82007 |
| GROFF, MIKE (CHEYENNE) | TARA NETHERCOTT | CANDIDATE | MONETARY | 7/5/2016 | FILED | 1500 | CHEYENNE, WY 82003 |
| MOSER, MIKE (CHEYENNE) | TARA NETHERCOTT | CANDIDATE | MONETARY | 6/29/2016 | FILED | 150 | CHEYENNE, WY 82009 |
| PAW POLITICAL ACTION COUNCIL (CASPER) | TARA NETHERCOTT | CANDIDATE | MONETARY | 6/27/2016 | FILED | 350 | CASPER, WY 82601 |
| SURDAM, AMY (CHEYENNE) | TARA NETHERCOTT | CANDIDATE | MONETARY | 6/27/2016 | FILED | 50 | CHEYENNE, WY 82001 |
| ANDERSON, JAMES (CHEYENNE) | TARA NETHERCOTT | CANDIDATE | MONETARY | 6/23/2016 | FILED | 300 | CHEYENNE, WY 82007 |
| EDWARDS, BETH (CHEYENNE) | TARA NETHERCOTT | CANDIDATE | MONETARY | 6/22/2016 | FILED | 250 | CHEYENNE, WY 82009 |
| RACINES, THEODORE (CHEYENNE) | TARA NETHERCOTT | CANDIDATE | MONETARY | 6/22/2016 | FILED | 100 | CHEYENNE, WY 82001 |
| BRADLEY, CINDY (CHEYENNE) | TARA NETHERCOTT | CANDIDATE | IN-KIND | 6/15/2016 | FILED | 960 | CHEYENNE, WY 82009 |
| BRADLEY, THOMAS (CHEYENNE) | TARA NETHERCOTT | CANDIDATE | MONETARY | 5/31/2016 | FILED | 100 | CHEYENNE, WY 82009 |