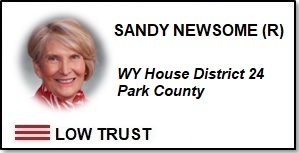 Summary
Representation
Competence
Integrity
More
– –
Sandy Newsome has served in House District 24 as a WY Representative for Park County from 2019 to the present.  Newsome has received a negative score for Representation and Competence.  While we are still assessing her Integrity score, her two negative scores already rank her as Low Trust.
She is up for reelection in 2024.
---
"Representing the people of Park County has been a true privilege," she said in a news release. "It's more important than ever for our communities to have a strong voice to speak up for our local businesses, schools and families. I've been proud to advocate for our core values in the legislature while cutting regulation for businesses, expanding educational opportunities and promoting our valuable tourism assets."
From https://www.codyenterprise.com/news/local/article_f9057bbc-c0d8-11ec-a3e1-0f2ac31c35f2.html
Overall earns a (-) for Representation for vote attendance.
Attendance
It appears that Newsome missed approximately 78 votes across 13 days in 2023 General Session.  It does not appear she was absent on all of the days listed below because she was present for other votes.  Examples are 1/20/23 (for HB134) and 1/30/23 (for HB207).  Our guidelines require a legislator to be present for all votes on 90% of the days in any session. For 2023 session, if a legislator missed any votes on 5 or more days, they receive a negative (-) score.
Apparently Newsome broke her leg during 2023 session, however the range of days of missed votes shown below is still quite extensive.
1/16/23 – HB13 3rd reading; HB28 3rd reading; HB55 Corporations;
1/17/23 – HB73 Corporations; 
1/18/23 – HB42 3rd reading; HB50 3rd reading; HB63 Corporations; HB71 COW; HB74 Corporations; HB86 Corporations;
1/19/23 – HB43 COW; HB47 3rd reading; HB62 3rd reading; HB69 3rd reading;
1/20/23 – HB7 3rd reading; HB11 3rd reading; HB14 3rd reading; HB26 3rd reading; HB33 3rd reading; HB41 3rd reading; HB44 3rd reading; HB45 3rd reading; HB73 3rd reading; HB76 Travel; HB142 Corporations;
1/24/23 – HB10 3rd reading; HB15 3rd reading; HB67 3rd reading; HB75 Travel; HB86 3rd reading; HB90 COW; HB94 3rd reading; HB96 3rd reading; HB104 Travel;
1/25/23 – HB2 3rd reading; HB65 3rd reading; HB85 Corporations; HB93 3rd reading; HB129 Corporations; HB164 Corporations;
1/26/23 – HB21 3rd reading; HB24 3rd reading; HB25 3rd reading; HB51 3rd reading; HB70 3rd reading; HB76 3rd reading; HB81 3rd reading; HB82 3rd reading; HB90 3rd reading; HB97 3rd reading; HB112 3rd reading; HB123 Travel; HB134 3rd reading; HB142 3rd reading; HB148 3rd reading;
1/27/23 – HB20 3rd reading; HB56 3rd reading; HB74 3rd reading; HB79 3rd reading; HB104 3rd reading; HB106 3rd reading; HB111 3rd reading; HB147 3rd reading; HB181 3rd reading; HB189 Corporations;
1/30/23 – HB135 Corporations; HB173 Corporations;
2/2/23 – HB156 COW; HB196 COW;
2/3/23 – HB204 Corporations; HB279 Corporations;
2/28/23 – HB89 Concurrence; SF80 3rd reading; SF83 3rd reading; SF108 3rd reading; SF112 3rd reading; SF131 3rd reading; SJ5 3rd reading;
Public Conduct
Newsome appears to behave appropriately in public and to the public – when she shows up.
Sponsorship History
In 2023 Newsome was the primary sponsor of 6 bills. In 2023 she co-sponsored 6 bills.  Favored sponsorship topics appear to be hunting.  For more see her legislative webpage.
Committee Assignments
2023-House Travel, Recreation, Wildlife & Cultural Resources – Chairman
2023-House Corporations, Elections & Political Subdivisions
2023-Wyoming Gaming Commission
Newsome scored a (–) for Constitutional Competence with an average of 43.9% on the constitutional issues listed below.
For more on the bills used to analyze these scores click here. Special hat-tip goes out to Evidence Based Wyoming for use of their statistical tool to generate the following vote scores:
Conflicts
Still being assessed…
Employment/Income
Newsome does not identify an occupation on her legislative webpage.  According to Newsome's 2023 State Elected Officials Financial Disclosure available at Wyofile, she reports:
Vice President – Ishawooa Investments Inc
Partner – Newsome Investments
Income earned from "Security or interest earnings" and "Real estate, leases, royalties"
According to the Cody Chamber of Commerce, Newsome Investments leases properties around Cody, Wyoming, and is involved in Real Estate Development and Main Street Real Estate Leasing. – both of which may pose conflicts for Newsome.
Memberships/Civic Organizations
Served on Wyoming Tourism Board for Matt Mead 2011-2017 (Vice Chairman and Chairman)
Served on Commission of Judicial Conduct and Ethics for Judicial Branch
Served on Forward Cody Board (Chairman)
Cody Chamber of Commerce
Cody Shooting Complex
Leadership Wyoming
Toastmasters
Park County Travel Council
Wyoming Outdoorsmen
Yellowstone Recreation Foundation
Campaign Contributions
The table below shows all campaign contributions reported by the WY Secretary of State for Friends of Sandy Newsome.
From 2016 to 2022 Newsome received approximately 200 contributions that total approximately $91,200.68.  Of the 200 donations, approximately 60 were from PACs &/or campaign committees.  The total amount received from PACs &/or campaign committees was approximately $40,425, which is approximately 44% of all contributions received.
Noteworthy contributions are:
$10,000 total from Wyoming Hope

(RINO donor)
$200 from Diamond Free Enterprises (RINO donor)
$500 total from Simpson family dynasty member
$6,150 total from True family dynasty members
$2,000 from Cowgirl Run Fund
$850 total from ESG compliant energy company PACs

$500 from Devon Energy Corp PAC
$250 from NextEra Energy PAC
$100 from Pacific Power/Rocky Mountain Power PAC

$2,150 total from WY Medical Society PAC
$1,500 total from WY Hospital Association PAC
$600 total from WY Education Association PAC (teachers union)
$500 from AFL-CIO PAC (union)
Click the arrows at the top of columns to sort the data by name, date, $ amount, etc. (Data is publicly available records obtained from the Wyoming Secretary of State's Wyoming's Campaign Finance Information System.)
| Contributor Name | Recipient Name | Recipient Type | Contribution Type | Date | Filing Status | Amount | City State Zip |
| --- | --- | --- | --- | --- | --- | --- | --- |
| TRUCKING INDUSTRY PAC (CASPER) | FRIENDS OF SANDY NEWSOME | CANDIDATE COMMITTEE | MONETARY | 11/2/2022 | AMEND - ADD | 200 | CASPER, WY 82602 |
| DEVON ENERGY CORPORATION PAC (OKLAHOMA CITY) | FRIENDS OF SANDY NEWSOME | CANDIDATE COMMITTEE | MONETARY | 10/13/2022 | FILED | 500 | OKLAHOMA CITY, OK 73102 |
| PACIFIC POWER/ROCKY MOUNTAIN POWER PAC (PORTLAND) | FRIENDS OF SANDY NEWSOME | CANDIDATE COMMITTEE | MONETARY | 10/13/2022 | FILED | 100 | PORTLAND, OR 97232 |
| FFFWY FIRE PAC (CHEYENNE) | FRIENDS OF SANDY NEWSOME | CANDIDATE COMMITTEE | MONETARY | 10/11/2022 | FILED | 500 | CHEYENNE, WY 82003 |
| COWBOY GAMES PAC (SHERIDAN) | FRIENDS OF SANDY NEWSOME | CANDIDATE COMMITTEE | MONETARY | 9/16/2022 | FILED | 1500 | SHERIDAN, WY 82801 |
| MOTOROLA SOLUTIONS, INC. PAC (WASHINGTON ) | FRIENDS OF SANDY NEWSOME | CANDIDATE COMMITTEE | MONETARY | 9/16/2022 | FILED | 250 | WASHINGTON , DC 20004 |
| ALTRIA GROUP, INC. PAC (WASHINGTON) | FRIENDS OF SANDY NEWSOME | CANDIDATE COMMITTEE | MONETARY | 8/17/2022 | FILED | 200 | WASHINGTON, DC 20001 |
| BECK, BIFF (CODY) | FRIENDS OF SANDY NEWSOME | CANDIDATE COMMITTEE | MONETARY | 8/17/2022 | FILED | 250 | CODY, WY 82414 |
| CHARTER COMMUNICATIONS, INC. PAC (STAMFORD) | FRIENDS OF SANDY NEWSOME | CANDIDATE COMMITTEE | MONETARY | 8/17/2022 | FILED | 500 | STAMFORD, CT 06901 |
| PAQUETTE, SHAREE (CODY) | FRIENDS OF SANDY NEWSOME | CANDIDATE COMMITTEE | MONETARY | 8/17/2022 | FILED | 100 | CODY, WY 82414 |
| FFFWY FIRE PAC (CHEYENNE) | FRIENDS OF SANDY NEWSOME | CANDIDATE COMMITTEE | MONETARY | 8/10/2022 | AMEND - ADD | 1000 | CHEYENNE, WY 82003 |
| HENDERSON, BILL (CODY) | FRIENDS OF SANDY NEWSOME | CANDIDATE COMMITTEE | MONETARY | 8/10/2022 | AMEND - ADD | 250 | CODY, WY 82414 |
| LAWYERS ACTIVE IN WY PAC (LAWPAC) (CHEYENNE) | FRIENDS OF SANDY NEWSOME | CANDIDATE COMMITTEE | MONETARY | 8/10/2022 | AMEND - ADD | 500 | CHEYENNE, WY 82001 |
| SIMPSON, ALAN (CODY) | FRIENDS OF SANDY NEWSOME | CANDIDATE COMMITTEE | MONETARY | 8/10/2022 | AMEND - ADD | 200 | CODY, WY 82414 |
| BORMAN, MARY (CODY) | FRIENDS OF SANDY NEWSOME | CANDIDATE COMMITTEE | MONETARY | 8/8/2022 | FILED | 100 | CODY, WY 82414 |
| KEITH, MICHELLE (CODY) | FRIENDS OF SANDY NEWSOME | CANDIDATE COMMITTEE | MONETARY | 8/8/2022 | FILED | 150 | CODY, WY 82414 |
| SCHRIENER, JOHN (CODY) | FRIENDS OF SANDY NEWSOME | CANDIDATE COMMITTEE | MONETARY | 7/31/2022 | FILED | 100 | CODY, WY 82414 |
| FRISBY, JUDY (CODY) | FRIENDS OF SANDY NEWSOME | CANDIDATE COMMITTEE | MONETARY | 7/30/2022 | FILED | 300 | CODY, WY 82414 |
| WYOMING STATE AFL-CIO PAC (CHEYENNE) | FRIENDS OF SANDY NEWSOME | CANDIDATE COMMITTEE | MONETARY | 7/30/2022 | FILED | 500 | CHEYENNE, WY 82001 |
| CRANFIL, DANA (CODY) | FRIENDS OF SANDY NEWSOME | CANDIDATE COMMITTEE | MONETARY | 7/29/2022 | FILED | 100 | CODY, WY 82414 |
| FRIENDS OF MARK KINNER (SHERIDAN) | FRIENDS OF SANDY NEWSOME | CANDIDATE COMMITTEE | MONETARY | 7/29/2022 | FILED | 1000 | SHERIDAN, WY 82801 |
| LARSEN, LAURIE (POWELL) | FRIENDS OF SANDY NEWSOME | CANDIDATE COMMITTEE | MONETARY | 7/27/2022 | FILED | 200 | POWELL, WY 82435 |
| MARATHON OIL COMPANY EMPLOYEES POLITICAL ACTION COMMITTEE (MEPAC) - STATE (FINDLEY) | FRIENDS OF SANDY NEWSOME | CANDIDATE COMMITTEE | MONETARY | 7/27/2022 | FILED | 500 | FINDLEY, OH 45840 |
| TAGGART, CHRIS (CODY) | FRIENDS OF SANDY NEWSOME | CANDIDATE COMMITTEE | MONETARY | 7/27/2022 | FILED | 400 | CODY, WY 82414 |
| WY RURAL ELECTRIC ASSN. PAC (CHEYENNE) | FRIENDS OF SANDY NEWSOME | CANDIDATE COMMITTEE | MONETARY | 7/27/2022 | FILED | 250 | CHEYENNE, WY 82001 |
| WYO PAC (WYOMING MEDICAL PAC) (CHEYENNE) | FRIENDS OF SANDY NEWSOME | CANDIDATE COMMITTEE | MONETARY | 7/27/2022 | FILED | 1500 | CHEYENNE, WY 82003 |
| FARMERS EMPLOYEE & AGENT WYOMING PAC (LOS ANGELES) | FRIENDS OF SANDY NEWSOME | CANDIDATE COMMITTEE | MONETARY | 7/22/2022 | FILED | 500 | LOS ANGELES, CA 90027 |
| CIGNA POL ACTION COMMITTEE (PHILADELPHIA) | FRIENDS OF SANDY NEWSOME | CANDIDATE COMMITTEE | MONETARY | 7/19/2022 | FILED | 500 | PHILADELPHIA, PA 19191 |
| HOUSEL, JOHN (CODY) | FRIENDS OF SANDY NEWSOME | CANDIDATE COMMITTEE | MONETARY | 7/19/2022 | FILED | 250 | CODY, WY 82414 |
| OLSEN, JARED (CHEYENNE) | FRIENDS OF SANDY NEWSOME | CANDIDATE COMMITTEE | MONETARY | 7/19/2022 | FILED | 250 | CHEYENNE, WY 82001 |
| SMART-TD PAC (NORTH OLMSTED) | FRIENDS OF SANDY NEWSOME | CANDIDATE COMMITTEE | MONETARY | 7/19/2022 | FILED | 500 | NORTH OLMSTED, OH 44070 |
| TRUE, JOANN (CASPER) | FRIENDS OF SANDY NEWSOME | CANDIDATE COMMITTEE | MONETARY | 7/19/2022 | FILED | 1500 | CASPER, WY 82604 |
| TRUE, SHANE (CASPER) | FRIENDS OF SANDY NEWSOME | CANDIDATE COMMITTEE | MONETARY | 7/19/2022 | FILED | 1500 | CASPER, WY 82604 |
| WY REALTORS PAC (CASPER) | FRIENDS OF SANDY NEWSOME | CANDIDATE COMMITTEE | MONETARY | 7/19/2022 | FILED | 2500 | CASPER, WY 82604 |
| BLACK HILLS CORPORATION PAC (RAPID CITY) | FRIENDS OF SANDY NEWSOME | CANDIDATE COMMITTEE | MONETARY | 7/13/2022 | FILED | 500 | RAPID CITY, SD 57709 |
| WYOMING HOSPITAL ASSOCIATION PAC (CHEYENNE) | FRIENDS OF SANDY NEWSOME | CANDIDATE COMMITTEE | MONETARY | 7/13/2022 | FILED | 500 | CHEYENNE, WY 82001 |
| FRANKLIN, ANDY (CODY) | FRIENDS OF SANDY NEWSOME | CANDIDATE COMMITTEE | MONETARY | 7/7/2022 | FILED | 250 | CODY, WY 82414 |
| STUART, PATRICIA (POWELL) | FRIENDS OF SANDY NEWSOME | CANDIDATE COMMITTEE | MONETARY | 7/7/2022 | FILED | 150 | POWELL, WY 82435 |
| LANDERS, JAMES (CODY) | FRIENDS OF SANDY NEWSOME | CANDIDATE COMMITTEE | MONETARY | 7/5/2022 | FILED | 100 | CODY, WY 82414 |
| MCCUE, GREG (CODY) | FRIENDS OF SANDY NEWSOME | CANDIDATE COMMITTEE | MONETARY | 7/5/2022 | FILED | 100 | CODY, WY 82414 |
| ONEOK EMPLOYEES PAC (SHAWNEE MISSION) | FRIENDS OF SANDY NEWSOME | CANDIDATE COMMITTEE | MONETARY | 7/5/2022 | FILED | 250 | SHAWNEE MISSION, KS 66225 |
| UNION PACIFIC CORPORATION FUND FOR EFFECTIVE GOVERNMENT (WASHINGTON) | FRIENDS OF SANDY NEWSOME | CANDIDATE COMMITTEE | MONETARY | 7/5/2022 | FILED | 250 | WASHINGTON, DC 20005 |
| WLRAPAC (CHEYENNE) | FRIENDS OF SANDY NEWSOME | CANDIDATE COMMITTEE | MONETARY | 7/5/2022 | FILED | 1000 | CHEYENNE, WY 82009 |
| WY EDUCATION ASSN. PAC FOR EDUCATION (CHEYENNE) | FRIENDS OF SANDY NEWSOME | CANDIDATE COMMITTEE | MONETARY | 7/5/2022 | FILED | 300 | CHEYENNE, WY 82001 |
| WYO-D-PAC (CASPER) | FRIENDS OF SANDY NEWSOME | CANDIDATE COMMITTEE | MONETARY | 7/5/2022 | FILED | 100 | CASPER, WY 82601 |
| CONPAC CONTRACTORS PAC (CHEYENNE) | FRIENDS OF SANDY NEWSOME | CANDIDATE COMMITTEE | MONETARY | 6/30/2022 | FILED | 1500 | CHEYENNE, WY 82003 |
| DOWNING, JONATHAN (CODY) | FRIENDS OF SANDY NEWSOME | CANDIDATE COMMITTEE | MONETARY | 6/27/2022 | FILED | 250 | CODY, WY 82414 |
| REISWIG, BARRY (CODY) | FRIENDS OF SANDY NEWSOME | CANDIDATE COMMITTEE | MONETARY | 6/22/2022 | FILED | 100 | CODY, WY 82414 |
| MCCUE, MIKE (CODY) | FRIENDS OF SANDY NEWSOME | CANDIDATE COMMITTEE | MONETARY | 6/20/2022 | FILED | 100 | CODY, WY 82414 |
| SPOMER, DUSTY (CODY) | FRIENDS OF SANDY NEWSOME | CANDIDATE COMMITTEE | MONETARY | 6/20/2022 | FILED | 500 | CODY, WY 82414 |
| WYOMING MINING ASSOCIATION PAC (WMA) (CHEYENNE) | FRIENDS OF SANDY NEWSOME | CANDIDATE COMMITTEE | MONETARY | 6/20/2022 | FILED | 500 | CHEYENNE, WY 82001 |
| MCIVER, ALLISON (CODY) | FRIENDS OF SANDY NEWSOME | CANDIDATE COMMITTEE | MONETARY | 6/13/2022 | FILED | 200 | CODY, WY 82414 |
| WOLZ, STAN (CODY) | FRIENDS OF SANDY NEWSOME | CANDIDATE COMMITTEE | MONETARY | 6/13/2022 | FILED | 100 | CODY, WY 82414 |
| WYOMING HOPE (CASPER) | FRIENDS OF SANDY NEWSOME | CANDIDATE COMMITTEE | MONETARY | 6/13/2022 | FILED | 5000 | CASPER, WY 82601 |
| ROES, CATHY (CODY) | FRIENDS OF SANDY NEWSOME | CANDIDATE COMMITTEE | MONETARY | 6/8/2022 | FILED | 100 | CODY, WY 82414 |
| HALL, MATT (CODY) | FRIENDS OF SANDY NEWSOME | CANDIDATE COMMITTEE | MONETARY | 5/25/2022 | FILED | 400 | CODY, WY 82414 |
| TILDEN, JOE (CODY) | FRIENDS OF SANDY NEWSOME | CANDIDATE COMMITTEE | MONETARY | 5/25/2022 | FILED | 200 | CODY, WY 82414 |
| HIRSHBERG, JOY (FAIRFIELD) | FRIENDS OF SANDY NEWSOME | CANDIDATE COMMITTEE | MONETARY | 5/11/2022 | FILED | 108 | FAIRFIELD, IA 52556 |
| PENDERGAST, ANNE (BIG HORN) | FRIENDS OF SANDY NEWSOME | CANDIDATE COMMITTEE | MONETARY | 4/29/2022 | FILED | 500 | BIG HORN, WY 82833 |
| CONNERS, RITA (CODY) | FRIENDS OF SANDY NEWSOME | CANDIDATE COMMITTEE | MONETARY | 4/26/2022 | FILED | 100 | CODY, WY 82414 |
| BRUSCINO, MARK (POWELL) | FRIENDS OF SANDY NEWSOME | CANDIDATE COMMITTEE | MONETARY | 4/20/2022 | FILED | 250 | POWELL, WY 82435 |
| NEWSOME, SANDY (CODY) | FRIENDS OF SANDY NEWSOME | CANDIDATE COMMITTEE | MONETARY | 1/1/2022 | FILED | 16165.67 | CODY, WY 82414 |
| COWBOY GAMES PAC (SHERIDAN) | FRIENDS OF SANDY NEWSOME | CANDIDATE COMMITTEE | MONETARY | 10/23/2020 | FILED | 200 | SHERIDAN, WY 82801 |
| TRUCKING INDUSTRY PAC (CASPER) | FRIENDS OF SANDY NEWSOME | CANDIDATE COMMITTEE | MONETARY | 10/23/2020 | FILED | 200 | CASPER, WY 82602 |
| HERMANN, JAN (CODY) | FRIENDS OF SANDY NEWSOME | CANDIDATE COMMITTEE | MONETARY | 9/3/2020 | FILED | 100 | CODY, WY 82414 |
| NEWSOME, SANDY (CODY) | FRIENDS OF SANDY NEWSOME | CANDIDATE COMMITTEE | MONETARY | 9/3/2020 | FILED | 2289.82 | CODY, WY 82414 |
| CRANFILL, STEVE & DANA (CODY) | FRIENDS OF SANDY NEWSOME | CANDIDATE COMMITTEE | MONETARY | 8/24/2020 | FILED | 250 | CODY, WY 82414 |
| PFIZER PAC (NEW YORK) | FRIENDS OF SANDY NEWSOME | CANDIDATE COMMITTEE | MONETARY | 8/24/2020 | FILED | 200 | NEW YORK, NY 10017 |
| WYO PAC (WYOMING MEDICAL PAC) (CHEYENNE) | FRIENDS OF SANDY NEWSOME | CANDIDATE COMMITTEE | MONETARY | 8/24/2020 | FILED | 200 | CHEYENNE, WY 82003 |
| FALES, DEDE (CODY) | FRIENDS OF SANDY NEWSOME | CANDIDATE COMMITTEE | MONETARY | 8/20/2020 | FILED | 100 | CODY, WY 82414 |
| FFFWY FIRE PAC (CHEYENNE) | FRIENDS OF SANDY NEWSOME | CANDIDATE COMMITTEE | MONETARY | 8/20/2020 | FILED | 500 | CHEYENNE, WY 82003 |
| PFISTER, CHRIS (POWELL) | FRIENDS OF SANDY NEWSOME | CANDIDATE COMMITTEE | MONETARY | 8/20/2020 | FILED | 250 | POWELL, WY 82435 |
| PROSPERITY AND COMMERCE PAC (CHEYENNE) | FRIENDS OF SANDY NEWSOME | CANDIDATE COMMITTEE | MONETARY | 8/20/2020 | FILED | 500 | CHEYENNE, WY 82001 |
| REISWIG, BARRY (CODY) | FRIENDS OF SANDY NEWSOME | CANDIDATE COMMITTEE | MONETARY | 8/20/2020 | FILED | 100 | CODY, WY 82414 |
| WY REALTORS PAC (CASPER) | FRIENDS OF SANDY NEWSOME | CANDIDATE COMMITTEE | MONETARY | 8/20/2020 | FILED | 1000 | CASPER, WY 82604 |
| COWBOY GAMES PAC (SHERIDAN) | FRIENDS OF SANDY NEWSOME | CANDIDATE COMMITTEE | MONETARY | 8/4/2020 | FILED | 350 | SHERIDAN, WY 82801 |
| GUNTHER, KRISTEN (LANDER) | FRIENDS OF SANDY NEWSOME | CANDIDATE COMMITTEE | MONETARY | 8/4/2020 | FILED | 25 | LANDER, WY 82520 |
| SHIVELY, TANA (CODY) | FRIENDS OF SANDY NEWSOME | CANDIDATE COMMITTEE | MONETARY | 8/4/2020 | FILED | 25 | CODY, WY 82414 |
| SIMON, JEN (JACKSON) | FRIENDS OF SANDY NEWSOME | CANDIDATE COMMITTEE | MONETARY | 8/3/2020 | FILED | 100 | JACKSON, WY 83001 |
| BLACK HILLS CORPORATION PAC (RAPID CITY) | FRIENDS OF SANDY NEWSOME | CANDIDATE COMMITTEE | MONETARY | 8/1/2020 | FILED | 250 | RAPID CITY, SD 57709 |
| BOLE, BOB (CODY) | FRIENDS OF SANDY NEWSOME | CANDIDATE COMMITTEE | MONETARY | 8/1/2020 | FILED | 100 | CODY, WY 82414 |
| COWGIRL RUN FUND (CASPER) | FRIENDS OF SANDY NEWSOME | CANDIDATE COMMITTEE | MONETARY | 8/1/2020 | FILED | 2000 | CASPER, WY 82602 |
| DIAMOND FREE ENTERPRISE PAC (CASPER) | FRIENDS OF SANDY NEWSOME | CANDIDATE COMMITTEE | MONETARY | 8/1/2020 | FILED | 200 | CASPER, WY 82601 |
| LINDENTHAL, PATRA (CODY) | FRIENDS OF SANDY NEWSOME | CANDIDATE COMMITTEE | MONETARY | 8/1/2020 | FILED | 100 | CODY, WY 82414 |
| NEXTERA ENERGY PAC (JUNO BEACH) | FRIENDS OF SANDY NEWSOME | CANDIDATE COMMITTEE | MONETARY | 8/1/2020 | FILED | 250 | JUNO BEACH, FL 33408 |
| STUART, PAT (CODY) | FRIENDS OF SANDY NEWSOME | CANDIDATE COMMITTEE | MONETARY | 8/1/2020 | FILED | 100 | CODY, WY 82414 |
| TATE, NAOMA (CODY) | FRIENDS OF SANDY NEWSOME | CANDIDATE COMMITTEE | MONETARY | 8/1/2020 | FILED | 200 | CODY, WY 82414 |
| TRUE, DAVID (CASPER) | FRIENDS OF SANDY NEWSOME | CANDIDATE COMMITTEE | MONETARY | 8/1/2020 | FILED | 150 | CASPER, WY 82602 |
| TRUE, SHANE (CASPER) | FRIENDS OF SANDY NEWSOME | CANDIDATE COMMITTEE | MONETARY | 8/1/2020 | FILED | 1500 | CASPER, WY 82604 |
| WILKENSON, MARGOT (CODY) | FRIENDS OF SANDY NEWSOME | CANDIDATE COMMITTEE | MONETARY | 8/1/2020 | FILED | 200 | CODY, WY 82414 |
| WOLZ, STAN (CODY) | FRIENDS OF SANDY NEWSOME | CANDIDATE COMMITTEE | MONETARY | 8/1/2020 | FILED | 100 | CODY, WY 82414 |
| WYOMING CONSTRUCTION COALITION POLITICAL ACTION COMMITTEE (CASPER) | FRIENDS OF SANDY NEWSOME | CANDIDATE COMMITTEE | MONETARY | 8/1/2020 | FILED | 1000 | CASPER, WY 82601 |
| BURNS, BRUCE (CODY) | FRIENDS OF SANDY NEWSOME | CANDIDATE COMMITTEE | MONETARY | 7/14/2020 | FILED | 100 | CODY, WY 82414 |
| COE, HANK (CODY) | FRIENDS OF SANDY NEWSOME | CANDIDATE COMMITTEE | MONETARY | 7/14/2020 | FILED | 100 | CODY, WY 82414 |
| HOUSEL, JOHN (CODY) | FRIENDS OF SANDY NEWSOME | CANDIDATE COMMITTEE | MONETARY | 7/14/2020 | FILED | 200 | CODY, WY 82414 |
| OSGOOD, JOHN (CODY) | FRIENDS OF SANDY NEWSOME | CANDIDATE COMMITTEE | MONETARY | 7/14/2020 | FILED | 150 | CODY, WY 82414 |
| SPOMER, DUSTY (CODY) | FRIENDS OF SANDY NEWSOME | CANDIDATE COMMITTEE | MONETARY | 7/14/2020 | FILED | 400 | CODY, WY 82414 |
| TRUE, JOANN (CASPER) | FRIENDS OF SANDY NEWSOME | CANDIDATE COMMITTEE | MONETARY | 7/14/2020 | FILED | 1500 | CASPER, WY 82604 |
| BRUCINO, MARK & LEAH (CODY) | FRIENDS OF SANDY NEWSOME | CANDIDATE COMMITTEE | MONETARY | 7/13/2020 | FILED | 50 | CODY, WY 82414 |
| MCCUE, GREG (CODY) | FRIENDS OF SANDY NEWSOME | CANDIDATE COMMITTEE | MONETARY | 7/13/2020 | FILED | 100 | CODY, WY 82414 |
| SIMONTON, STEVE (CODY) | FRIENDS OF SANDY NEWSOME | CANDIDATE COMMITTEE | MONETARY | 7/13/2020 | FILED | 300 | CODY, WY 82414 |
| WY EDUCATION ASSN. PAC FOR EDUCATION (CHEYENNE) | FRIENDS OF SANDY NEWSOME | CANDIDATE COMMITTEE | MONETARY | 7/13/2020 | FILED | 300 | CHEYENNE, WY 82001 |
| O'LEARY, TIM (CODY) | FRIENDS OF SANDY NEWSOME | CANDIDATE COMMITTEE | MONETARY | 7/10/2020 | FILED | 100 | CODY, WY 82414 |
| SCHREINER, JOHN (CODY) | FRIENDS OF SANDY NEWSOME | CANDIDATE COMMITTEE | MONETARY | 7/10/2020 | FILED | 250 | CODY, WY 82414 |
| MCCUE, MIKE (CODY) | FRIENDS OF SANDY NEWSOME | CANDIDATE COMMITTEE | MONETARY | 7/7/2020 | FILED | 100 | CODY, WY 82414 |
| JENKINS, VAUGHN & ELIZABETH (CODY) | FRIENDS OF SANDY NEWSOME | CANDIDATE COMMITTEE | MONETARY | 7/6/2020 | FILED | 100 | CODY, WY 82414 |
| LAWYERS ACTIVE IN WY PAC (LAWPAC) (CHEYENNE) | FRIENDS OF SANDY NEWSOME | CANDIDATE COMMITTEE | MONETARY | 7/6/2020 | FILED | 500 | CHEYENNE, WY 82001 |
| LOVATO, JILL (CHEYENNE) | FRIENDS OF SANDY NEWSOME | CANDIDATE COMMITTEE | MONETARY | 7/6/2020 | FILED | 150 | CHEYENNE, WY 82009 |
| TAYLOR, ERIN (CHEYENNE) | FRIENDS OF SANDY NEWSOME | CANDIDATE COMMITTEE | MONETARY | 7/6/2020 | FILED | 100 | CHEYENNE, WY 82001 |
| URBIGKIT, LAURIE (RIVERTON) | FRIENDS OF SANDY NEWSOME | CANDIDATE COMMITTEE | MONETARY | 7/6/2020 | FILED | 200 | RIVERTON, WY 82501 |
| WYOMING HOSPITAL ASSOCIATION PAC (CHEYENNE) | FRIENDS OF SANDY NEWSOME | CANDIDATE COMMITTEE | MONETARY | 7/6/2020 | FILED | 500 | CHEYENNE, WY 82001 |
| COWGER, SUSAN (CODY) | FRIENDS OF SANDY NEWSOME | CANDIDATE COMMITTEE | MONETARY | 7/2/2020 | FILED | 100 | CODY, WY 82414 |
| MCIVER, ALLY (CODY) | FRIENDS OF SANDY NEWSOME | CANDIDATE COMMITTEE | MONETARY | 7/2/2020 | FILED | 100 | CODY, WY 82414 |
| PAQUETTE, SHAREE (CODY) | FRIENDS OF SANDY NEWSOME | CANDIDATE COMMITTEE | MONETARY | 7/2/2020 | FILED | 500 | CODY, WY 82414 |
| PATRICK, NIC & JOYCE (CODY) | FRIENDS OF SANDY NEWSOME | CANDIDATE COMMITTEE | MONETARY | 7/2/2020 | FILED | 150 | CODY, WY 82414 |
| WYOMING STOCK GROWERS' AG PAC (CHEYENNE) | FRIENDS OF SANDY NEWSOME | CANDIDATE COMMITTEE | MONETARY | 7/2/2020 | FILED | 100 | CHEYENNE, WY 82003 |
| JOLLEY, LORA ANN (CODY) | FRIENDS OF SANDY NEWSOME | CANDIDATE COMMITTEE | MONETARY | 6/29/2020 | FILED | 50 | CODY, WY 82414 |
| KELLER, MARY (CODY) | FRIENDS OF SANDY NEWSOME | CANDIDATE COMMITTEE | MONETARY | 6/29/2020 | FILED | 50 | CODY, WY 82414 |
| MCCARTY, DARLENE (CODY) | FRIENDS OF SANDY NEWSOME | CANDIDATE COMMITTEE | MONETARY | 6/29/2020 | FILED | 100 | CODY, WY 82414 |
| WADE, CLAUDIA (CODY) | FRIENDS OF SANDY NEWSOME | CANDIDATE COMMITTEE | MONETARY | 6/29/2020 | FILED | 250 | CODY, WY 82414 |
| WLRAPAC (CHEYENNE) | FRIENDS OF SANDY NEWSOME | CANDIDATE COMMITTEE | MONETARY | 6/29/2020 | FILED | 500 | CHEYENNE, WY 82009 |
| WYOMING MINING ASSOCIATION PAC (WMA) (CHEYENNE) | FRIENDS OF SANDY NEWSOME | CANDIDATE COMMITTEE | MONETARY | 6/29/2020 | FILED | 100 | CHEYENNE, WY 82001 |
| ANDERSON, TOM (CODY) | FRIENDS OF SANDY NEWSOME | CANDIDATE COMMITTEE | MONETARY | 6/26/2020 | FILED | 250 | CODY, WY 82414 |
| BECK, BIFF (CODY) | FRIENDS OF SANDY NEWSOME | CANDIDATE COMMITTEE | MONETARY | 6/26/2020 | FILED | 500 | CODY, WY 82414 |
| JOYCE, EUGENE (EVANSTON) | FRIENDS OF SANDY NEWSOME | CANDIDATE COMMITTEE | MONETARY | 6/26/2020 | FILED | 1000 | EVANSTON, WY 82930 |
| OLSEN, DANI (CHEYENNE) | FRIENDS OF SANDY NEWSOME | CANDIDATE COMMITTEE | MONETARY | 6/26/2020 | FILED | 200 | CHEYENNE, WY 82001 |
| PASEK, GEORGE (CODY) | FRIENDS OF SANDY NEWSOME | CANDIDATE COMMITTEE | MONETARY | 6/26/2020 | FILED | 100 | CODY, WY 82414 |
| REISWIG, BARRY (CODY) | FRIENDS OF SANDY NEWSOME | CANDIDATE COMMITTEE | MONETARY | 6/26/2020 | FILED | 150 | CODY, WY 82414 |
| VOERDING, BILL (CODY) | FRIENDS OF SANDY NEWSOME | CANDIDATE COMMITTEE | MONETARY | 6/26/2020 | FILED | 100 | CODY, WY 82414 |
| WY RURAL ELECTRIC ASSN. PAC (CHEYENNE) | FRIENDS OF SANDY NEWSOME | CANDIDATE COMMITTEE | MONETARY | 6/26/2020 | FILED | 500 | CHEYENNE, WY 82001 |
| WYOMING HOPE (CHEYENNE) | FRIENDS OF SANDY NEWSOME | CANDIDATE COMMITTEE | MONETARY | 6/26/2020 | FILED | 5000 | CHEYENNE, WY 82009 |
| BLAIR, TED (CODY) | FRIENDS OF SANDY NEWSOME | CANDIDATE COMMITTEE | MONETARY | 6/15/2020 | FILED | 500 | CODY, WY 82414 |
| FRANKLIN, BONNIE (CODY) | FRIENDS OF SANDY NEWSOME | CANDIDATE COMMITTEE | MONETARY | 6/15/2020 | FILED | 250 | CODY, WY 82414 |
| HERMANN, JAN (CODY) | FRIENDS OF SANDY NEWSOME | CANDIDATE COMMITTEE | MONETARY | 6/15/2020 | FILED | 100 | CODY, WY 82414 |
| SIMPSON, ALAN K (CODY) | FRIENDS OF SANDY NEWSOME | CANDIDATE COMMITTEE | MONETARY | 6/15/2020 | FILED | 200 | CODY, WY 82414 |
| WLRAPAC (CHEYENNE) | FRIENDS OF SANDY NEWSOME | CANDIDATE COMMITTEE | MONETARY | 6/15/2020 | FILED | 1000 | CHEYENNE, WY 82009 |
| NEWSOME, SANDY (CODY) | FRIENDS OF SANDY NEWSOME | CANDIDATE COMMITTEE | IN-KIND | 6/11/2020 | FILED | 550 | CODY, WY 82414 |
| NEWSOME, SANDY (CODY) | FRIENDS OF SANDY NEWSOME | CANDIDATE COMMITTEE | IN-KIND | 6/3/2020 | FILED | 841.4 | CODY, WY 82414 |
| BLACK HILLS CORPORATION PAC (RAPID CITY) | FRIENDS OF SANDY NEWSOME | CANDIDATE COMMITTEE | MONETARY | 11/10/2018 | FILED | 125 | RAPID CITY, SD 57709 |
| WYO PAC (WYOMING MEDICAL PAC) (CHEYENNE) | FRIENDS OF SANDY NEWSOME | CANDIDATE COMMITTEE | MONETARY | 11/10/2018 | FILED | 200 | CHEYENNE, WY 82003 |
| COMMON VALUES PAC (ALEXANDRIA) | FRIENDS OF SANDY NEWSOME | CANDIDATE COMMITTEE | MONETARY | 10/21/2018 | FILED | 100 | ALEXANDRIA, VA 22314 |
| HOUSEL, JOHN HOUSEL (CODY) | FRIENDS OF SANDY NEWSOME | CANDIDATE COMMITTEE | MONETARY | 10/20/2018 | FILED | 75 | CODY, WY 82414 |
| HOLDING, CAROL (CODY) | FRIENDS OF SANDY NEWSOME | CANDIDATE COMMITTEE | MONETARY | 10/13/2018 | FILED | 500 | CODY, WY 82414 |
| HOUSE REPUBLICAN CAUCUS (LINGLE) | FRIENDS OF SANDY NEWSOME | CANDIDATE COMMITTEE | MONETARY | 10/13/2018 | FILED | 100 | LINGLE, WY 82223 |
| PAW POLITICAL ACTION COUNCIL (CASPER) | FRIENDS OF SANDY NEWSOME | CANDIDATE COMMITTEE | MONETARY | 10/13/2018 | FILED | 200 | CASPER, WY 82601 |
| COOK, NANCY (CODY) | FRIENDS OF SANDY NEWSOME | CANDIDATE COMMITTEE | MONETARY | 9/12/2018 | FILED | 100 | CODY, WY 82414 |
| HANSON, BETH (CODY) | FRIENDS OF SANDY NEWSOME | CANDIDATE COMMITTEE | MONETARY | 8/30/2018 | FILED | 35 | CODY, WY 82414 |
| WYOMING HOSPITAL ASSOCIATION PAC (CHEYENNE) | FRIENDS OF SANDY NEWSOME | CANDIDATE COMMITTEE | MONETARY | 8/30/2018 | FILED | 500 | CHEYENNE, WY 82001 |
| NEWSOME, SANDY (CODY) | FRIENDS OF SANDY NEWSOME | CANDIDATE COMMITTEE | MONETARY | 8/20/2018 | FILED | 45 | CODY, WY 82414 |
| SIMONTON, STEVE (CODY) | FRIENDS OF SANDY NEWSOME | CANDIDATE COMMITTEE | MONETARY | 8/11/2018 | FILED | 200 | CODY, WY 82414 |
| CURTIS, VICKY (CODY) | FRIENDS OF SANDY NEWSOME | CANDIDATE COMMITTEE | MONETARY | 8/7/2018 | FILED | 200 | CODY, WY 82414 |
| OVERFIELD, DOSSIE (CODY) | FRIENDS OF SANDY NEWSOME | CANDIDATE COMMITTEE | MONETARY | 8/6/2018 | FILED | 100 | CODY, WY 82414 |
| CONNERS, RITA (CODY) | FRIENDS OF SANDY NEWSOME | CANDIDATE COMMITTEE | MONETARY | 7/23/2018 | FILED | 50 | CODY, WY 82414 |
| HOUSEL, JOHN (CODY) | FRIENDS OF SANDY NEWSOME | CANDIDATE COMMITTEE | MONETARY | 7/23/2018 | FILED | 75 | CODY, WY 82414 |
| LAWYERS ACTIVE IN WY PAC (LAWPAC) (CHEYENNE) | FRIENDS OF SANDY NEWSOME | CANDIDATE COMMITTEE | MONETARY | 7/23/2018 | FILED | 200 | CHEYENNE, WY 82001 |
| NEWSOME, SANDY (CODY WY 82414) | FRIENDS OF SANDY NEWSOME | CANDIDATE COMMITTEE | MONETARY | 7/18/2018 | FILED | 532.35 | CODY WY 82414, WY 82414 |
| LOVELACE, MELANIE (CODY) | FRIENDS OF SANDY NEWSOME | CANDIDATE COMMITTEE | MONETARY | 7/16/2018 | FILED | 50 | CODY, WY 82414 |
| SIMPSON, AL (CODY) | FRIENDS OF SANDY NEWSOME | CANDIDATE COMMITTEE | MONETARY | 7/16/2018 | FILED | 100 | CODY, WY 82414 |
| HERMANN, JAN (CODY) | FRIENDS OF SANDY NEWSOME | CANDIDATE COMMITTEE | MONETARY | 7/10/2018 | FILED | 100 | CODY, WY 82414 |
| MCCARTY, MICHAEL (CODY) | FRIENDS OF SANDY NEWSOME | CANDIDATE COMMITTEE | MONETARY | 7/10/2018 | FILED | 100 | CODY, WY 82414 |
| PAQUETTE, SHAREE (CODY) | FRIENDS OF SANDY NEWSOME | CANDIDATE COMMITTEE | MONETARY | 7/10/2018 | FILED | 50 | CODY, WY 82414 |
| GARLOW, WILLIAM (CODY) | FRIENDS OF SANDY NEWSOME | CANDIDATE COMMITTEE | MONETARY | 6/29/2018 | FILED | 500 | CODY, WY 82414 |
| BECK, LINDA (CODY) | FRIENDS OF SANDY NEWSOME | CANDIDATE COMMITTEE | MONETARY | 6/25/2018 | FILED | 40 | CODY, WY 82414 |
| BORMAN, RON (CODY) | FRIENDS OF SANDY NEWSOME | CANDIDATE COMMITTEE | MONETARY | 6/25/2018 | FILED | 100 | CODY, WY 82414 |
| DAVIDSON, BOB (CODY) | FRIENDS OF SANDY NEWSOME | CANDIDATE COMMITTEE | MONETARY | 6/25/2018 | FILED | 100 | CODY, WY 82414 |
| HORTON, CASEY (CODY) | FRIENDS OF SANDY NEWSOME | CANDIDATE COMMITTEE | MONETARY | 6/25/2018 | FILED | 50 | CODY, WY 82414 |
| JACHOWSKI, KATHLEEN (CODY) | FRIENDS OF SANDY NEWSOME | CANDIDATE COMMITTEE | MONETARY | 6/25/2018 | FILED | 250 | CODY, WY 82414 |
| MCCUE, GREG (CODY) | FRIENDS OF SANDY NEWSOME | CANDIDATE COMMITTEE | MONETARY | 6/25/2018 | FILED | 100 | CODY, WY 82414 |
| MINNICK, DELISSA (CODY) | FRIENDS OF SANDY NEWSOME | CANDIDATE COMMITTEE | MONETARY | 6/25/2018 | FILED | 100 | CODY, WY 82414 |
| TILDEN, JOE (CODY) | FRIENDS OF SANDY NEWSOME | CANDIDATE COMMITTEE | MONETARY | 6/25/2018 | FILED | 100 | CODY, WY 82414 |
| WLRAPAC (CHEYENNE) | FRIENDS OF SANDY NEWSOME | CANDIDATE COMMITTEE | MONETARY | 6/25/2018 | FILED | 500 | CHEYENNE, WY 82009 |
| MCIVER, ALLY (CODY) | FRIENDS OF SANDY NEWSOME | CANDIDATE COMMITTEE | MONETARY | 6/18/2018 | FILED | 75 | CODY, WY 82414 |
| COE, HENRY (CODY) | FRIENDS OF SANDY NEWSOME | CANDIDATE COMMITTEE | MONETARY | 6/15/2018 | FILED | 100 | CODY, WY 82414 |
| HOUSEL, JOHN (CODY) | FRIENDS OF SANDY NEWSOME | CANDIDATE COMMITTEE | MONETARY | 6/15/2018 | FILED | 100 | CODY, WY 82414 |
| WADE, CLAUDIA (CODY) | FRIENDS OF SANDY NEWSOME | CANDIDATE COMMITTEE | MONETARY | 6/15/2018 | FILED | 250 | CODY, WY 82414 |
| NEWSOME, SANDY (CODY) | FRIENDS OF SANDY NEWSOME | CANDIDATE COMMITTEE | MONETARY | 6/1/2018 | FILED | 814.8 | CODY, WY 82414 |
| NEWSOME, SANDY (CODY) | FRIENDS OF SANDY NEWSOME | CANDIDATE COMMITTEE | MONETARY | 5/18/2018 | FILED | 1024.26 | CODY, WY 82414 |
| BLAIR, TED (CODY) | FRIENDS OF SANDY NEWSOME | CANDIDATE COMMITTEE | MONETARY | 5/2/2018 | FILED | 200 | CODY, WY 82414 |
| JOLLEY, LORA (CODY) | FRIENDS OF SANDY NEWSOME | CANDIDATE COMMITTEE | MONETARY | 5/2/2018 | FILED | 50 | CODY, WY 82414 |
| HOUSEL, JOHN (CODY) | FRIENDS OF SANDY NEWSOME | CANDIDATE COMMITTEE | MONETARY | 11/1/2016 | FILED | 50 | CODY, WY 82414 |
| JACHOWSKI, PETE (CODY) | FRIENDS OF SANDY NEWSOME | CANDIDATE COMMITTEE | MONETARY | 11/1/2016 | FILED | 100 | CODY, WY 82414 |
| LOVELACE, MELANIE (CODY) | FRIENDS OF SANDY NEWSOME | CANDIDATE COMMITTEE | MONETARY | 10/12/2016 | FILED | 100 | CODY, WY 82414 |
| BOLE, BOB (CODY) | FRIENDS OF SANDY NEWSOME | CANDIDATE COMMITTEE | MONETARY | 10/11/2016 | FILED | 100 | CODY, WY 82414 |
| WYO PAC (WYOMING MEDICAL PAC) (CHEYENNE) | FRIENDS OF SANDY NEWSOME | CANDIDATE COMMITTEE | MONETARY | 10/5/2016 | FILED | 250 | CHEYENNE, WY 82003 |
| FRANKLIN, BONNIE (CODY) | FRIENDS OF SANDY NEWSOME | CANDIDATE COMMITTEE | MONETARY | 9/28/2016 | FILED | 200 | CODY, WY 82414 |
| BLAIR, TED (CODY) | FRIENDS OF SANDY NEWSOME | CANDIDATE COMMITTEE | MONETARY | 9/24/2016 | FILED | 100 | CODY, WY 82414 |
| HOLM, ROY (CODY) | FRIENDS OF SANDY NEWSOME | CANDIDATE COMMITTEE | MONETARY | 9/24/2016 | FILED | 50 | CODY, WY 82414 |
| O'LEARY, TIM (CODY) | FRIENDS OF SANDY NEWSOME | CANDIDATE COMMITTEE | MONETARY | 9/24/2016 | FILED | 50 | CODY, WY 82414 |
| BORMAN, MARY (CODY) | FRIENDS OF SANDY NEWSOME | CANDIDATE COMMITTEE | MONETARY | 9/1/2016 | FILED | 5 | CODY, WY 82414 |
| BRUNO, JAMES (CODY) | FRIENDS OF SANDY NEWSOME | CANDIDATE COMMITTEE | MONETARY | 9/1/2016 | FILED | 100 | CODY, WY 82414 |
| CLOUD, CYNTHIA (CODY) | FRIENDS OF SANDY NEWSOME | CANDIDATE COMMITTEE | MONETARY | 9/1/2016 | FILED | 100 | CODY, WY 82414 |
| HOUSEL, JOHN (CODY) | FRIENDS OF SANDY NEWSOME | CANDIDATE COMMITTEE | MONETARY | 9/1/2016 | FILED | 100 | CODY, WY 82414 |
| LINDENTHAL, PATRA (CODY) | FRIENDS OF SANDY NEWSOME | CANDIDATE COMMITTEE | MONETARY | 9/1/2016 | FILED | 100 | CODY, WY 82414 |
| OVERFIELD, ROB (CODY) | FRIENDS OF SANDY NEWSOME | CANDIDATE COMMITTEE | MONETARY | 9/1/2016 | FILED | 50 | CODY, WY 82414 |
| POTTER, CLAIRE (CODY) | FRIENDS OF SANDY NEWSOME | CANDIDATE COMMITTEE | MONETARY | 9/1/2016 | FILED | 50 | CODY, WY 82414 |
| PREVOST, MICHELLE (CODY) | FRIENDS OF SANDY NEWSOME | CANDIDATE COMMITTEE | MONETARY | 9/1/2016 | FILED | 50 | CODY, WY 82414 |
| WADE, CLAUDIA (CODY) | FRIENDS OF SANDY NEWSOME | CANDIDATE COMMITTEE | MONETARY | 9/1/2016 | FILED | 100 | CODY, WY 82414 |
| NEWSOME, BOB (CODY) | FRIENDS OF SANDY NEWSOME | CANDIDATE COMMITTEE | MONETARY | 8/30/2016 | FILED | 2000 | CODY, WY 82414 |
| NEWSOME, SANDY (CODY) | FRIENDS OF SANDY NEWSOME | CANDIDATE COMMITTEE | IN-KIND | 8/30/2016 | FILED | 27.66 | CODY, WY 82414 |
| NEWSOME, SANDY (CODY) | FRIENDS OF SANDY NEWSOME | CANDIDATE COMMITTEE | IN-KIND | 8/28/2016 | FILED | 121.72 | CODY, WY 82414 |