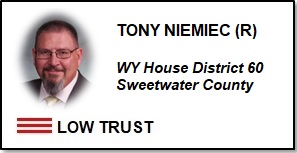 Summary
Representation
Competence
Integrity
More
– – –
Tony Niemiec has served in House District 60 as a WY Representative for Sweetwater County from Jan 2023 to the present. He has received a negative score for all three categories of Representation, Competence and Integrity and therefore has been ranked as Low Trust.
He is up for reelection in 2024.
---
"Today I am announcing my candidacy for Wyoming House District 60. I have called Green River my home for 46 years. I have been employed with the Sweetwater County Sheriff's Office for the past 21 years and currently serve as the Sweetwater Bomb Squad Commander. Before that, I spent 13 years in the United States Marine Corps prior to joining our local sheriff's office. With these jobs, I have realized one of my true passions: serving our community. When the veterans in our town asked for a home, I was one of the key players in helping them secure The American Legion Tom Whitmore Post 28 in Green River. I served as commander and am currently the post adjutant for the post, and currently hold the post of District 1 Commander for the Wyoming Department of The American Legion. My wife Chas and I own a small business in downtown Green River and couldn't imagine any place better to live our lives than here. Our two youngest children, Lillian and Kade, attend Green River High School and are looking forward to graduation! Our oldest daughter Baylee and granddaughter Runa live in Green River also.

As a Republican, I am running on my conservative political views. I believe that keeping taxes low, keeping our government accountable, and ensuring they stay fiscally responsible is of the utmost priority for any political candidate. I will be running for House District 60 to represent the voices and needs of the residents in Green River."
From https://www.facebook.com/TonyNiemiecWyHD60/
Overall, Niemiec scores a (-) for Representation for publicly flouting WY Constitution Article 3, Section 46.
Attendance
It appears that Niemiec was present for every vote in 2023 General Session.
Public Conduct
Niemiec has supported and voted on the House floor on many bills that are a clear Conflict of Interest for him, thus publicly defying WY Constitution Article 3, Section 46 – Interested member shall not vote.  See more on under Integrity.
Sponsorship History
In 2023 Niemiec was the primary sponsor of 1 bill.  In 2023 he co-sponsored 36 bills and 2 joint resolutions.  Favored sponsorship topics appear to be law enforcement related; education; elections.
Committee Assignments
2023-House Judiciary
2023-House Transportation, Highways & Military Affairs
2023-Air Transportation Liaison Committee
2023-NCSL – Military and Veterans Affairs Task Force
Niemiec scored a (–) for Constitutional Competence with an average of 70% on the constitutional issues listed below. Constitutional issue categories that have a "N/A" grade, refer to specific bills that did not have the opportunity to vote on.
For more on the bills used to analyze these scores click here. Special hat-tip goes out to Evidence Based Wyoming for use of their statistical tool to generate the following vote scores:
Conflicts
Niemiec has scored a (–) for Integrity.
Niemiec is co-owner of Tomahawk Tavern in Green River, yet sponsored and/or voted on the following liquor-related bill which is a conflict of interest:
2023 HB0134 – Alcohol sales to licensees. (Niemiec sponsored)
2023 SF0013 – Bar and grill liquor license phaseout (Niemiec voted on)
Additionally, Niemiec is employed as a law enforcement officer with the Sweetwater County Sheriff's office.  As such, we do not believe that Niemiec should be able to vote on laws that he can then arrest people for when he is serving as a Deputy Sheriff.  Furthermore, he should be prohibited from voting on bills that benefit his employer.  The following law enforcement/crime related bills are just a sample of conflict of interest bills that Niemiec cosponsored or voted on:
2023 HB0112 Theft-penalty for fifth or subsequent offense. (Niemiec cosponsored and voted on)
2023 HB0130 Law enforcement-canine detection grants.  (Niemiec cosponsored)
2023 HB0145 Disclosure of sensitive information-law enforcement. (Niemiec cosponsored and voted on)
2023 HB0261 Breach of the peace within a health care facility. (Niemiec cosponsored)
2023 HB0272 Prostitution amendments. (Niemiec cosponsored)
Employment/Income
According to Niemiec's legislative webpage his occupation is Law Enforcement.  According to Niemiec's 2023 State Elected Officials Financial Disclosure available at Wyofile, he reports:
Co-owner of Tomahawk Tavern LLC
Deputy Sheriff/CPL – Sweetwater County Sheriff's Office
Income from "Real estate, leases, royalties"
Income from investment properties, Rental (residential)
Memberships/Civic Organizations
VFW
American Legion
Marine Corps League
Fraternal Order of Police
IABTI
Campaign Contributions
The table below shows all campaign contributions reported by the WY Secretary of State for Anthony Niemiec.
In 2022 Niemiec received approximately16 contributions that total approximately $11,202. Of the 16 donations, approximately 5 were from PACs &/or campaign committees. The total amount received from PACs &/or campaign committees was approximately $6,850, which is approximately 61% of contributions.
Noteworthy contributions are:
$5,000 from Wyoming Hope (RINO donor)

$500 from True family dynasty member (RINO donor)
$1,000 from WY Medical Society PAC
$500 from WY Hospital Association PAC
Click the arrows at the top of columns to sort the data by name, date, $ amount, etc. (Data is publicly available records obtained from the Wyoming Secretary of State's Wyoming's Campaign Finance Information System.)
| Contributor Name | Recipient Name | Recipient Type | Contribution Type | Date | Filing Status | Amount | City State Zip |
| --- | --- | --- | --- | --- | --- | --- | --- |
| WYOMING MINING ASSOCIATION PAC (WMA) (CHEYENNE) | ANTHONY NIEMIEC | CANDIDATE | MONETARY | 9/9/2022 | FILED | 250 | CHEYENNE, WY 82001 |
| WYO PAC (WYOMING MEDICAL PAC) (CHEYENNE) | ANTHONY NIEMIEC | CANDIDATE | MONETARY | 7/20/2022 | FILED | 1000 | CHEYENNE, WY 82003 |
| JAMES, J. (GREEN RIVER) | ANTHONY NIEMIEC | CANDIDATE | MONETARY | 7/13/2022 | FILED | 20 | GREEN RIVER, WY 82935 |
| JAMES, T. (GREEN RIVER) | ANTHONY NIEMIEC | CANDIDATE | MONETARY | 7/13/2022 | FILED | 100 | GREEN RIVER, WY 82935 |
| TRUE, DIEMER (CASPER) | ANTHONY NIEMIEC | CANDIDATE | MONETARY | 7/12/2022 | FILED | 500 | CASPER, WY 82601 |
| OLSEN, JARED (CHEYENNE) | ANTHONY NIEMIEC | CANDIDATE | MONETARY | 7/10/2022 | FILED | 150 | CHEYENNE, WY 82001 |
| FRIENDS OF AFFIE ELLIS (CHEYENNE) | ANTHONY NIEMIEC | CANDIDATE | MONETARY | 7/8/2022 | FILED | 100 | CHEYENNE, WY 82001 |
| WYOMING HOSPITAL ASSOCIATION PAC (CHEYENNE) | ANTHONY NIEMIEC | CANDIDATE | MONETARY | 7/5/2022 | FILED | 500 | CHEYENNE, WY 82001 |
| HUGHES JR., B. WAYNE (JACKSON) | ANTHONY NIEMIEC | CANDIDATE | MONETARY | 6/24/2022 | FILED | 1500 | JACKSON, WY 83002 |
| TURNBULL, MARK (ROCK SPRINGS) | ANTHONY NIEMIEC | CANDIDATE | MONETARY | 6/24/2022 | FILED | 500 | ROCK SPRINGS, WY 82901 |
| CAROLLO, MARTY (GREEN RIVER) | ANTHONY NIEMIEC | CANDIDATE | MONETARY | 6/22/2022 | FILED | 100 | GREEN RIVER, WY 82935 |
| MADSEN, DAVID (ROCK SPRINGS) | ANTHONY NIEMIEC | CANDIDATE | MONETARY | 6/22/2022 | FILED | 200 | ROCK SPRINGS, WY 82935 |
| DAVIS, SHAWN (GREEN RIVER) | ANTHONY NIEMIEC | CANDIDATE | MONETARY | 6/8/2022 | FILED | 100 | GREEN RIVER, WY 82935 |
| SWAN, STEPH (GREEN RIVER) | ANTHONY NIEMIEC | CANDIDATE | MONETARY | 6/6/2022 | FILED | 500 | GREEN RIVER, WY 82935 |
| WYOMING HOPE (CASPER) | ANTHONY NIEMIEC | CANDIDATE | MONETARY | 6/2/2022 | FILED | 5000 | CASPER, WY 82601 |
| NIEMIEC, ANTHONY (GREEN RIVER) | ANTHONY NIEMIEC | CANDIDATE | LOAN | 6/1/2022 | FILED | 500 | GREEN RIVER, WY 82935 |