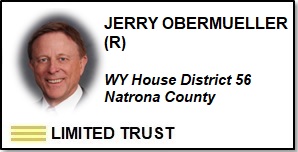 Summary
Representation
Competence
Integrity
More
+ – +
Jerry Obermueller has served in House District 56 as a WY Representative for Natrona County from 2017 to the present.
Obermeueller has received a positive score for Representation and Integrity, and a negative score for Constitutional Competence and therefore has been ranked as Limited Trust.
He is up for reelection in 2024.
---
"Obermueller asked where funding would come from that if the state were to lose much of its federal funding streams, adding that if Wyoming citizens were asked to fill those coffers, their taxes would need to increase significantly. He noted that federal dollars flowing into the state total more than all the taxes individuals in Wyoming pay to the state.

He said that he thinks that cries to stand up against the federal government will diminish if federal funding streams start to dry up.

"When the money stops flowing, this dance will certainly stop," Obermueller said. "The brinkmanship will come to a screeching halt. We can play these games and then eat crow later or we can bow out gracefully now because bottom line: we need, we like and we depend on those federal dollars."
From https://oilcity.news/wyoming/legislature/2021/10/28/wyoming-legislator-sees-call-for-secession-implied-in-approach-to-fighting-federal-vaccine-mandate/
Overall Obermueller earns a (+) for Representation.
Attendance
It appears that Obermueller missed 3 votes on one day in 2023 General Session:
3/3/23 – Concurrence votes on HB76; HB93; and SF96.
Public Conduct
Obermueller appears to behave appropriately in public and to the public.
Sponsorship History
In 2023 Obermueller was the primary sponsor of 1 bill, and he co-sponsored 1 bill and 1 joint resolution.  For more, see Obermueller's legislative webpage.
Committee Assignments
2023-Select Committee on Capital Financing & Investments- Chairman
2023-House Education
2023-House Transportation, Highways & Military Affairs
2023-Multistate Highway Transportation Agreement Cooperating Committee
Obermueller scored a (–) for Constitutional Competence with an average of 28.8% on the constitutional issues listed below.
For more on the bills used to analyze these scores click here. Special hat-tip goes out to Evidence Based Wyoming for use of their statistical tool to generate the following vote scores:
Conflicts
Because we have not found any conflicts of interest for Obermueller, he receives a (+) for Integrity.
Employment/Income
According to Obermueller's legislative webpage he is a retired Certified public accountant.  According to Obermueller's 2023 State Elected Officials Financial Disclosure available at Wyofile, he reports:
Manager of HAH LLC in Casper
Member/Manager of Nolan Farms LLC in Casper
Income from "Any security or interest earnings" and "Real estate, leases, royalties"
Memberships/Civic Organizations
None found.
Campaign Contributions
The table below shows all campaign contributions reported by the WY Secretary of State for Jerry Obermueller; Jerry A Obermueller.
From 2016 to 2022 Obermueller received approximately 86 contributions that total approximately $40,559.67. Of the 86 donations, approximately 47 were from PACs &/or campaign committees. The total amount received from PACs &/or campaign committees was approximately $17,205.12, which is approximately 42% of all contributions
Noteworthy contributions are:
$1,750 total from ESG complaint energy company PACs:

$750 total from DECPAC
$300 total from MDU Resources Group Good Government Fund
$700 total from Pacific Power PAC

$700 total from WY Medical Society PAC
$500 from WY Hospital Association PAC
$750 from MOMENTUM 307
$3,000 total from McMurry family dynasty member
$750 total from True family dynasty members
Click the arrows at the top of columns to sort the data by name, date, $ amount, etc. (Data is publicly available records obtained from the Wyoming Secretary of State's Wyoming's Campaign Finance Information System.)
| Contributor Name | Recipient Name | Recipient Type | Contribution Type | Date | Filing Status | Amount | City State Zip |
| --- | --- | --- | --- | --- | --- | --- | --- |
| PACIFIC POWER/ROCKY MOUNTAIN POWER PAC (PORTLAND) | JERRY OBERMUELLER | CANDIDATE | MONETARY | 10/21/2022 | FILED | 200 | PORTLAND, OR 97232 |
| TRUCKING INDUSTRY PAC (CASPER) | JERRY OBERMUELLER | CANDIDATE | MONETARY | 10/21/2022 | FILED | 300 | CASPER, WY 82602 |
| TRUE, DAVID (CASPER) | JERRY OBERMUELLER | CANDIDATE | MONETARY | 10/21/2022 | FILED | 150 | CASPER, WY 82601 |
| WYOMING MINING ASSOCIATION PAC (WMA) (CHEYENNE) | JERRY OBERMUELLER | CANDIDATE | MONETARY | 10/21/2022 | FILED | 100 | CHEYENNE, WY 82001 |
| OBERMUELLER, JERRY (CASPER) | JERRY OBERMUELLER | CANDIDATE | MONETARY | 10/20/2022 | FILED | 357.06 | CASPER, WY 82601 |
| FFFWY FIRE PAC (CHEYENNE) | JERRY OBERMUELLER | CANDIDATE | MONETARY | 10/13/2022 | FILED | 500 | CHEYENNE, WY 82003 |
| MDU RESOURCES GROUP GOOD GOVERNMENT FUND (BISMARCK) | JERRY OBERMUELLER | CANDIDATE | MONETARY | 9/15/2022 | FILED | 100 | BISMARCK, ND 58506 |
| NATRONA REPUBLICAN PARTY CENTRAL COMMITTEE (CASPER) | JERRY OBERMUELLER | CANDIDATE | MONETARY | 10/26/2020 | FILED | 500 | CASPER, WY 82602 |
| FFF WY FIREPAC (CHEYENNE) | JERRY OBERMUELLER | CANDIDATE | MONETARY | 8/5/2020 | FILED | 500 | CHEYENNE, WY 82003 |
| PACIFIC POWER/ROCKY MOUNTAIN POWER PAC (PORTLAND) | JERRY OBERMUELLER | CANDIDATE | MONETARY | 7/29/2020 | FILED | 200 | PORTLAND, OR 97232 |
| TRUE, DAVID L (CASPER) | JERRY OBERMUELLER | CANDIDATE | MONETARY | 7/13/2020 | FILED | 100 | CASPER, WY 82602 |
| BNSF RAILPAC (FT WORTH) | JERRY OBERMUELLER | CANDIDATE | MONETARY | 6/29/2020 | FILED | 200 | FT WORTH, TX 76161 |
| WYO PAC (WYOMING MEDICAL PAC) (CHEYENNE) | JERRY A OBERMUELLER | CANDIDATE | MONETARY | 11/16/2018 | FILED | 200 | CHEYENNE, WY 82003 |
| ANADARKO PETROLEUM PAC (WOODLANDS) | JERRY A OBERMUELLER | CANDIDATE | MONETARY | 11/6/2018 | FILED | 250 | WOODLANDS, TX 77380 |
| NATIONAL FEDERATION OF INDEPENDENT BUSINESS WYOMING POLITICAL ACTION COMMITTEE (WASHINGTON) | JERRY A OBERMUELLER | CANDIDATE | IN-KIND | 11/1/2018 | FILED | 5.12 | WASHINGTON, DC 20004 |
| TRUCKING INDUSTRY PAC (CASPER) | JERRY A OBERMUELLER | CANDIDATE | MONETARY | 10/24/2018 | FILED | 200 | CASPER, WY 82602 |
| MDU RESOURCES GROUP GOOD GOVERNMENT FUND (BISMARCK) | JERRY A OBERMUELLER | CANDIDATE | MONETARY | 10/23/2018 | FILED | 200 | BISMARCK, ND 58506 |
| HOLDING, CAROL (SALT LAKE) | JERRY A OBERMUELLER | CANDIDATE | MONETARY | 9/28/2018 | FILED | 750 | SALT LAKE, UT 84403 |
| UNION PACIFIC CORPORATION FUND FOR EFFECTIVE GOVERNMENT (WASHINGTON) | JERRY A OBERMUELLER | CANDIDATE | MONETARY | 9/6/2018 | FILED | 250 | WASHINGTON, DC 20005 |
| WYOMING HOSPITAL ASSOCIATION PAC (CHEYENNE) | JERRY A OBERMUELLER | CANDIDATE | MONETARY | 9/6/2018 | FILED | 500 | CHEYENNE, WY 82001 |
| OBERMUELLER, JERRY A (CASPER) | JERRY A OBERMUELLER | CANDIDATE | MONETARY | 8/20/2018 | FILED | 47.49 | CASPER, WY 82601 |
| CHARTER COMMUNICATIONS, INC. PAC (STAMFORD) | JERRY A OBERMUELLER | CANDIDATE | MONETARY | 8/16/2018 | FILED | 200 | STAMFORD, CT 06901 |
| TRUE III, HENRY A (CASPER) | JERRY A OBERMUELLER | CANDIDATE | MONETARY | 8/16/2018 | FILED | 150 | CASPER, WY 52602 |
| TRUE, DAVID L (CASPER) | JERRY A OBERMUELLER | CANDIDATE | MONETARY | 8/16/2018 | FILED | 150 | CASPER, WY 82602 |
| CHESAPEAKE ENERGY CORPORATION FEDERAL PAC (OKLAHOMA CITY) | JERRY A OBERMUELLER | CANDIDATE | MONETARY | 8/14/2018 | FILED | 250 | OKLAHOMA CITY, OK 73154 |
| MOMENTUM 307 - WYOMING PEOPLE SUPPORTING ENTREPRENEURSHIP, TECHNOLOGY, INNOVATION AND BUSINESS (CHEYENNE) | JERRY A OBERMUELLER | CANDIDATE | MONETARY | 8/14/2018 | FILED | 750 | CHEYENNE, WY 82003 |
| ANDEAVOR (SAN ANTONIO) | JERRY A OBERMUELLER | CANDIDATE | MONETARY | 8/6/2018 | FILED | 200 | SAN ANTONIO, TX 78259 |
| BNSF RAILPAC (FT WORTH) | JERRY A OBERMUELLER | CANDIDATE | MONETARY | 8/6/2018 | FILED | 300 | FT WORTH, TX 76161 |
| PACIFIC POWER/ROCKY MOUNTAIN POWER PAC (PORTLAND) | JERRY A OBERMUELLER | CANDIDATE | MONETARY | 8/6/2018 | FILED | 300 | PORTLAND, OR 97232 |
| WY RURAL ELECTRIC ASSN. PAC (CHEYENNE) | JERRY A OBERMUELLER | CANDIDATE | MONETARY | 8/2/2018 | FILED | 250 | CHEYENNE, WY 82001 |
| WYOMING MINING ASSOCIATION PAC (WMA) (CHEYENNE) | JERRY A OBERMUELLER | CANDIDATE | MONETARY | 8/2/2018 | FILED | 100 | CHEYENNE, WY 82001 |
| WYOMING STOCK GROWERS' AG PAC (CHEYENNE) | JERRY A OBERMUELLER | CANDIDATE | MONETARY | 8/2/2018 | FILED | 200 | CHEYENNE, WY 82003 |
| WLRAPAC (CHEYENNE) | JERRY A OBERMUELLER | CANDIDATE | MONETARY | 7/1/2018 | FILED | 250 | CHEYENNE, WY 82009 |
| DAVIS, BRUCE (WESTIMINSTER) | JERRY A OBERMUELLER | CANDIDATE | MONETARY | 6/22/2018 | FILED | 1000 | WESTIMINSTER, CO 80234 |
| LAURSEN, DAN (POWELL) | JERRY OBERMUELLER | CANDIDATE | MONETARY | 10/26/2016 | FILED | 100 | POWELL, WY 82485 |
| BYRD, GAY (DOUGLAS) | JERRY OBERMUELLER | CANDIDATE | MONETARY | 10/25/2016 | FILED | 1500 | DOUGLAS, WY 82633 |
| HENDRY, ROBERT (LYSITE) | JERRY OBERMUELLER | CANDIDATE | MONETARY | 10/25/2016 | FILED | 500 | LYSITE, WY 82642 |
| CLOUD PEAK ENERGY EMPLOYEE PAC (BROOMFIELD) | JERRY OBERMUELLER | CANDIDATE | MONETARY | 10/8/2016 | FILED | 500 | BROOMFIELD, CO 80021 |
| BNSF RAILPAC (FT WORTH) | JERRY OBERMUELLER | CANDIDATE | MONETARY | 10/6/2016 | FILED | 300 | FT WORTH, TX 76161 |
| WYO PAC (WYOMING MEDICAL PAC) (CHEYENNE) | JERRY OBERMUELLER | CANDIDATE | MONETARY | 10/5/2016 | FILED | 500 | CHEYENNE, WY 82003 |
| ANADARKO PETROLEUM PAC (WOODLANDS) | JERRY OBERMUELLER | CANDIDATE | MONETARY | 10/4/2016 | FILED | 500 | WOODLANDS, TX 77380 |
| CONPAC CONTRACTORS PAC (CHEYENNE) | JERRY OBERMUELLER | CANDIDATE | MONETARY | 10/4/2016 | FILED | 500 | CHEYENNE, WY 82003 |
| COHEE, ROY (CASPER) | JERRY OBERMUELLER | CANDIDATE | MONETARY | 10/3/2016 | FILED | 50 | CASPER, WY 82609 |
| WYOMING CONSTRUCTION COALITION POLITICAL ACTION COMMITTEE (CASPER) | JERRY OBERMUELLER | CANDIDATE | MONETARY | 10/3/2016 | FILED | 200 | CASPER, WY 82601 |
| CHADWICK, FORREST (EVANSVILLE) | JERRY OBERMUELLER | CANDIDATE | MONETARY | 10/1/2016 | FILED | 200 | EVANSVILLE, WY 82636 |
| ALLEMAND, D ELVA (CASPER) | JERRY OBERMUELLER | CANDIDATE | MONETARY | 9/30/2016 | FILED | 1500 | CASPER, WY 82609 |
| ALLEMAND, L. RAYMOND (CASPER) | JERRY OBERMUELLER | CANDIDATE | MONETARY | 9/30/2016 | FILED | 1500 | CASPER, WY 82609 |
| GLASS, WILLIAM (CASPER) | JERRY OBERMUELLER | CANDIDATE | MONETARY | 9/28/2016 | FILED | 100 | CASPER, WY 82601 |
| LEVIN, JODY (CHEYENNE) | JERRY OBERMUELLER | CANDIDATE | MONETARY | 9/26/2016 | FILED | 300 | CHEYENNE, WY 82009 |
| TRUCKING INDUSTRY PAC (CASPER) | JERRY OBERMUELLER | CANDIDATE | MONETARY | 9/26/2016 | FILED | 200 | CASPER, WY 82602 |
| WY REALTORS PAC (CASPER) | JERRY OBERMUELLER | CANDIDATE | MONETARY | 9/26/2016 | FILED | 500 | CASPER, WY 82601 |
| ELLIS, AFFIE (CASPER) | JERRY OBERMUELLER | CANDIDATE | MONETARY | 9/24/2016 | FILED | 100 | CASPER, WY 82001 |
| ALLPAC (ENGLEWOOD) | JERRY OBERMUELLER | CANDIDATE | MONETARY | 9/23/2016 | FILED | 200 | ENGLEWOOD, CO 80112 |
| DAVIS, BRUCE (WESTMINSTER) | JERRY OBERMUELLER | CANDIDATE | MONETARY | 9/23/2016 | FILED | 500 | WESTMINSTER, CO 80234 |
| NATRONA REPUBLICAN PARTY CENTRAL COMMITTEE (CASPER) | JERRY OBERMUELLER | CANDIDATE | MONETARY | 9/23/2016 | FILED | 3250 | CASPER, WY 82602 |
| TRUE , HENRY (CASPER) | JERRY OBERMUELLER | CANDIDATE | MONETARY | 9/23/2016 | FILED | 100 | CASPER, WY 82602 |
| TRUE, DAVID (CASPER) | JERRY OBERMUELLER | CANDIDATE | MONETARY | 9/20/2016 | FILED | 100 | CASPER, WY 82602 |
| ALTRIA GROUP, INC. PAC (WASHINGTON ) | JERRY OBERMUELLER | CANDIDATE | MONETARY | 9/19/2016 | FILED | 200 | WASHINGTON , DC 20001 |
| WYOMING STOCK GROWERS' AG PAC (CHEYENNE) | JERRY OBERMUELLER | CANDIDATE | MONETARY | 9/16/2016 | FILED | 100 | CHEYENNE, WY 82003 |
| ANDERSON, JAMES L (CASPER) | JERRY OBERMUELLER | CANDIDATE | MONETARY | 9/14/2016 | FILED | 50 | CASPER, WY 82601 |
| PAW POLITICAL ACTION COUNCIL (CASPER) | JERRY OBERMUELLER | CANDIDATE | MONETARY | 9/14/2016 | FILED | 300 | CASPER, WY 82601 |
| DECPAC (OKLAHOMA CITY) | JERRY OBERMUELLER | CANDIDATE | MONETARY | 9/13/2016 | FILED | 500 | OKLAHOMA CITY, OK 73102 |
| EXXONMOBILE PAC (IRVING) | JERRY OBERMUELLER | CANDIDATE | MONETARY | 9/13/2016 | FILED | 150 | IRVING, TX 75039 |
| MCMURRY, RON (CASPER) | JERRY OBERMUELLER | CANDIDATE | MONETARY | 9/8/2016 | FILED | 1500 | CASPER, WY 82609 |
| QEP RESOURCES PAC (DENVER) | JERRY OBERMUELLER | CANDIDATE | MONETARY | 9/8/2016 | FILED | 250 | DENVER, CO 80265 |
| BLACK HILLS CORPORATION PAC (RAPID CITY) | JERRY OBERMUELLER | CANDIDATE | MONETARY | 9/6/2016 | FILED | 500 | RAPID CITY, SD 57709 |
| WYOMING MINING ASSOCIATION PAC (WMA) (CHEYENNE) | JERRY OBERMUELLER | CANDIDATE | MONETARY | 9/5/2016 | FILED | 500 | CHEYENNE, WY 82003 |
| LANTTA, KENNETH D (CASPER) | JERRY OBERMUELLER | CANDIDATE | MONETARY | 8/25/2016 | FILED | 150 | CASPER, WY 82601 |
| GALLES, TOM (CASPER) | JERRY OBERMUELLER | CANDIDATE | MONETARY | 8/4/2016 | FILED | 100 | CASPER, WY 82601 |
| CONPAC CONTRACTORS PAC (CHEYENNE) | JERRY OBERMUELLER | CANDIDATE | MONETARY | 8/1/2016 | FILED | 500 | CHEYENNE, WY 82003 |
| PHILLIPS, JACK (CASPER) | JERRY OBERMUELLER | CANDIDATE | MONETARY | 7/22/2016 | FILED | 100 | CASPER, WY 82604 |
| AXTHELM, RICK (BRISTOL) | JERRY OBERMUELLER | CANDIDATE | MONETARY | 7/14/2016 | FILED | 250 | BRISTOL, VA 24201 |
| ALLEMAND, D ELVA (CASPER) | JERRY OBERMUELLER | CANDIDATE | MONETARY | 7/7/2016 | FILED | 1500 | CASPER, WY 82609 |
| ALLEMAND, L. RAYMOND (CASPER) | JERRY OBERMUELLER | CANDIDATE | MONETARY | 7/6/2016 | FILED | 1500 | CASPER, WY 82609 |
| DECPAC (OKLAHOMA CITY) | JERRY OBERMUELLER | CANDIDATE | MONETARY | 7/6/2016 | FILED | 250 | OKLAHOMA CITY, OK 73102 |
| PICARD, DAVID (CHEYENNE) | JERRY OBERMUELLER | CANDIDATE | MONETARY | 7/6/2016 | FILED | 100 | CHEYENNE, WY 82003 |
| RICE, JAMES D (DUBOIS) | JERRY OBERMUELLER | CANDIDATE | MONETARY | 7/6/2016 | FILED | 100 | DUBOIS, WY 82513 |
| WLRAPAC (CHEYENNE) | JERRY OBERMUELLER | CANDIDATE | MONETARY | 7/6/2016 | FILED | 200 | CHEYENNE, WY 82003 |
| WYOMING STOCK GROWERS' AG PAC (CHEYENNE) | JERRY OBERMUELLER | CANDIDATE | MONETARY | 7/6/2016 | FILED | 200 | CHEYENNE, WY 82003 |
| PAW POLITICAL ACTION COUNCIL (CASPER) | JERRY OBERMUELLER | CANDIDATE | MONETARY | 6/27/2016 | FILED | 300 | CASPER, WY 82601 |
| HANSULD, WILLIE (CASPER) | JERRY OBERMUELLER | CANDIDATE | MONETARY | 6/22/2016 | FILED | 100 | CASPER, WY 82601 |
| OBERMUELLER, NOLAN W (SEWARD) | JERRY OBERMUELLER | CANDIDATE | MONETARY | 6/22/2016 | FILED | 1000 | SEWARD, NE 68434 |
| OBERMUELLER, STANLEY R (SEWARD) | JERRY OBERMUELLER | CANDIDATE | MONETARY | 6/22/2016 | FILED | 500 | SEWARD, NE 68434 |
| MCMURRY, RON (CASPER) | JERRY OBERMUELLER | CANDIDATE | MONETARY | 6/17/2016 | FILED | 1500 | CASPER, WY 80602 |
| OBERMUELLER, JERRY A (CASPER) | JERRY OBERMUELLER | CANDIDATE | LOAN | 6/10/2016 | FILED | 5000 | CASPER, WY 82601 |
| OBERMUELLER, JERRY P (CHEYENNE) | JERRY OBERMUELLER | CANDIDATE | MONETARY | 6/10/2016 | FILED | 250 | CHEYENNE, WY 82009 |