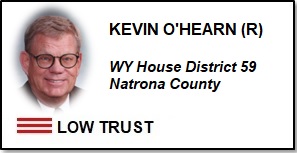 Summary
Representation
Competence
Integrity
More
+ – –
Kevin O'Hearn has served in House District 59 as a WY Representative for Natrona County from 2020 to the present.  He was appointed by the Natrona County Commissioners in July 2020 to replace Bunky Loucks who had resigned.
He has received a positive score for Representation, and a negative score for Competence and Integrity and therefore has been ranked as Low Trust.
He will be up for reelection in 2024.
---
"I didn't like the direction it seemed the state and the country was heading: crime, immigration, abortion, civil distrust, and the general respect for the Constitution and rule of law for all citizens. Bring some common sense and respect for law and order back to society."
From https://oilcity.news/community/elections/2022/07/26/candidate-questionnaire-kevin-ohearn-for-house-district-59/
Overall earns a (+) for Representation.
Attendance
It appears O'Hearn missed 4 votes across 2 days in 2023 General Session:
2/22/23 – Concurrence votes for HB67; HB81; HB118
3/1/23 – 3rd reading vote for SF137.
Public Conduct
O'Hearn appears to behave appropriately in public and to the public.
Sponsorship History
In 2023 O'Hearn was the primary sponsor of 1 bill, and he 16 co-sponsored bills.  Favored sponsorship topics appear to be education; military; protection of the unborn, children and students.  For more see his legislative webpage.
Committee Assignments
2023-House Labor, Health & Social Services
2023-House Transportation, Highways & Military Affairs
2023-Transportation Commission Liaison
O'Hearn scored a (–) for Constitutional Competence with an average of 62.85% on the constitutional issues listed below.  Constitutional issue categories that have a "N/A" grade, refer to specific bills that O'Hearn did not have the opportunity to vote on.
For more on the bills used to analyze these scores click here. Special hat-tip goes out to Evidence Based Wyoming for use of their statistical tool to generate the following vote scores:
Conflicts
O'Hearn scores a (–) for Integrity.
O' Hearn, who is a town building inspector, sponsored and/or voted on the following bills that are a conflict of interest:
2023 HB0133 – Electrical installation by licensed electricians. (O'Hearn was cosponsor and voted on)
Employment/Income
According to O'Hearn's legislative webpage, his occupation is Building Official and Asst. Town Planner.  According to O'Hearn's 2023 State Elected Officials Financial Disclosure available at Wyofile, he reports:
Building inspector – City of Mills
Business interest: Ideas Unlimited (Mills)
Income from "Any security or interest earnings" and "Real estate, leases, royalties"
Military retirement
Memberships/Civic Organizations
Army National Guard
Campaign Contributions
The table below shows all campaign contributions reported by the WY Secretary of State for Kevin O'Hearn.
From 2020 to 2022 O'Hearn received approximately 26 contributions that total approximately $11,475.  Of the 26 donations, approximately 12 were from PACs &/or campaign committees.  The total amount received from PACs &/or campaign committees was approximately $4,700.
Click the arrows at the top of columns to sort the data by name, date, $ amount, etc. (Data is publicly available records obtained from the Wyoming Secretary of State's Wyoming's Campaign Finance Information System)
| Contributor Name | Recipient Name | Recipient Type | Contribution Type | Date | Filing Status | Amount | City State Zip |
| --- | --- | --- | --- | --- | --- | --- | --- |
| AGOPIAN, NICK (CHEYENNE) | KEVIN O'HEARN | CANDIDATE | MONETARY | 10/11/2022 | FILED | 100 | CHEYENNE, WY 82001 |
| FFFWY FIRE PAC (CHEYENNE) | KEVIN O'HEARN | CANDIDATE | MONETARY | 10/11/2022 | FILED | 500 | CHEYENNE, WY 82003 |
| MOTOROLA SOLUTIONS, INC. PAC (WASHINGTON ) | KEVIN O'HEARN | CANDIDATE | MONETARY | 10/11/2022 | FILED | 250 | WASHINGTON , DC 20004 |
| TRUCKING INDUSTRY PAC (CASPER) | KEVIN O'HEARN | CANDIDATE | MONETARY | 10/7/2022 | FILED | 200 | CASPER, WY 82602 |
| TRUE, DAVE (CASPER) | KEVIN O'HEARN | CANDIDATE | MONETARY | 9/30/2022 | FILED | 75 | CASPER, WY 82602 |
| WYOMING MINING ASSOCIATION (CHEYENNE) | KEVIN O'HEARN | CANDIDATE | MONETARY | 6/10/2022 | FILED | 100 | CHEYENNE, WY 82001 |
| UNION PACIFIC CORPORATION FUND FOR EFFECTIVE GOVERNMENT (WASHINGTON) | KEVIN O'HEARN | CANDIDATE | MONETARY | 6/7/2022 | FILED | 250 | WASHINGTON, DC 20005 |
| WYOMING REALTORS POLITICAL ACTION COMMITTEE (CASPER) | KEVIN O'HEARN | CANDIDATE | MONETARY | 6/7/2022 | FILED | 1000 | CASPER, WY 82601 |
| REPUBLICAN (CHEYENNE) | KEVIN O'HEARN | CANDIDATE | MONETARY | 12/21/2020 | AMEND - ADD | 500 | CHEYENNE, WY 82003 |
| FRIESS, FOSTER (JACKSON) | KEVIN O'HEARN | CANDIDATE | MONETARY | 11/9/2020 | AMEND - ADD | 1500 | JACKSON, WY 83002 |
| BLACK HILLS CORPORATION PAC (RAPID CITY) | KEVIN O'HEARN | CANDIDATE | MONETARY | 10/27/2020 | AMEND - ADD | 150 | RAPID CITY, SD 57709 |
| PAW POLITICAL ACTION COUNCIL (CASPER) | KEVIN O'HEARN | CANDIDATE | MONETARY | 10/19/2020 | FILED | 500 | CASPER, WY 82601 |
| BROPHY, DAN (JACKSON) | KEVIN O'HEARN | CANDIDATE | MONETARY | 10/2/2020 | AMEND - ADD | 1000 | JACKSON, WY 83001 |
| HOUSE REPUBLICAN CAUCUS (POWELL) | KEVIN O'HEARN | CANDIDATE | MONETARY | 9/21/2020 | FILED | 150 | POWELL, WY 82435 |
| COMMON VALUES PAC (ALEXANDRIA) | KEVIN O'HEARN | CANDIDATE | MONETARY | 9/9/2020 | FILED | 100 | ALEXANDRIA, VA 22314 |
| HALLINAN, TIMOTHY (GILLETTE) | KEVIN O'HEARN | CANDIDATE | MONETARY | 9/9/2020 | FILED | 200 | GILLETTE, WY 82718 |
| NATRONA REPUBLICAN PARTY CENTRAL COMMITTEE (CASPER) | KEVIN O'HEARN | CANDIDATE | MONETARY | 9/9/2020 | FILED | 500 | CASPER, WY 82602 |
| WY REALTORS PAC (CASPER) | KEVIN O'HEARN | CANDIDATE | MONETARY | 9/8/2020 | FILED | 1000 | CASPER, WY 82604 |
| SPAULDING, JERE (MILLS) | KEVIN O'HEARN | CANDIDATE | MONETARY | 8/24/2020 | FILED | 100 | MILLS, WY 82644 |
| O'HEARN, KEVIN (CASPER) | KEVIN O'HEARN | CANDIDATE | MONETARY | 8/21/2020 | FILED | 350 | CASPER, WY 82604 |
| LERMA, BONNIE (CASPER) | KEVIN O'HEARN | CANDIDATE | MONETARY | 8/10/2020 | FILED | 1000 | CASPER, WY 82609 |
| OHEARN, KEVIN (CASPER) | KEVIN O'HEARN | CANDIDATE | MONETARY | 8/10/2020 | FILED | 200 | CASPER, WY 82604 |
| BOWRON, LES (ANTIOCH) | KEVIN O'HEARN | CANDIDATE | MONETARY | 8/6/2020 | FILED | 50 | ANTIOCH, TN 37013 |
| MINAHAN, LORETTA (CASPER) | KEVIN O'HEARN | CANDIDATE | MONETARY | 8/6/2020 | FILED | 100 | CASPER, WY 82604 |
| BROPHY, DAN (JACKSON) | KEVIN O'HEARN | CANDIDATE | MONETARY | 6/9/2020 | FILED | 1500 | JACKSON, WY 83001 |
| O'HEARN, KEVIN (CASPER) | KEVIN O'HEARN | CANDIDATE | MONETARY | 6/5/2020 | FILED | 100 | CASPER, WY 82604 |