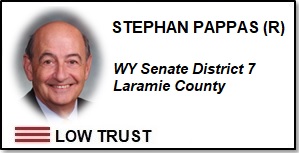 Summary
Representation
Competence
Integrity
More
– – –
Stephan Pappas has served in Senate District 7 as a WY Senator for Laramie County from 2015 to the present.  He has received a negative score for Representation, Competence and Integrity, and therefore has been ranked as Low Trust.
Pappas is up for reelection in 2026.
---
"Almost every one of those (special session) bills were, in my mind, something I would have voted no on," said Pappas, noting that if he hadn't already accepted the president's invitation, he would have attended the special session, though he found it a "waste of taxpayers' money." 
From https://cowboystatedaily.com/2022/03/28/senator-misses-special-session-part-of-budget-session-for-greek-foreign-relations-work/
Overall, Pappas earns a (–) for Representation because of the attendance issues described below.
Attendance
It appears that Pappas missed 16 votes across 5 days in 2023 General Session.  Our guidelines require a legislator to be present for all votes on 90% of the days in any session.  For 2023 session, if a legislator missed any votes on 5 or more days, they receive a negative (-) score.
1/16/23 – Appropriations vote for SF71;
1/24/23 – 3rd reading vote for SF35; SF38; SF53; SF67; SF68; SF86; SF118; SF122; SF123;
2/2/23 – Appropriations vote for SF107; SF133; SF138; SF153;
2/21/23 – Concurrence vote for SF178;
2/28/23 – Concurrence vote for SF96.
Additionally, and more importantly, Pappas missed the entire 2021 WY Special Legislative Session held to address the fallout from the COVID Pandemic.  Apparently, Pappas made the personal decision to attend a parade in Greece, instead of representing his constituents in the midst of a State Ordered Public Emergency.
Found in a March 28, 2022 Cowboy State Daily article, Senator Misses Special Session & Part Of Budget Session For Greek Foreign Relations Work, Pappas' excuses for his absence appeared to be six-fold:
(1) He had been personally invited by the President of Greece to the Oxi Day Parade in Thessaloniki;
(2) He would've voted 'No' on everything anyways;
3) The Special Session was a waste of taxpayer's money;
4) It could have waited for the February Budget Session;
5) Dan Dockstader encouraged his involvement in foreign relations; and
6) He looks for ways to benefit both Greece and Wyoming.
According to Cowboy State Daily, Pappas was "attending to his official duties as a U.S. representative in a Greek foreign relations group", and he had also missed the last two days of 2022 Budget Session, where he "left the state March 10 for celebrations of the 75th Anniversary of the Truman Doctrine in Greece – again at the invitation of the Greek government".
In the 2024 primary election Pappas was unsuccessfully challenged by two Republican opponents.
Public Conduct
See above.
Sponsorship History
In 2023 Pappas was the primary sponsor of 4 bills, and co-sponsored 12 bills and 2 joint resolutions.  Favored sponsorship topics appear to be varied.  For more details, see his legislator webpage.
Committee Assignments
2023-Senate Revenue
2023-Senate Transportation, Highways & Military Affairs
2023-Subcommittee on Capitol Governance
2023-State Building Commission Liaison
2023-Transportation Commission Liaison
2023-NCSL – Military and Veterans Affairs Task Force
Pappas scored a (–) for Constitutional Competence with an average of  44.7% on the constitutional issues listed below.
For more on the bills used to analyze these scores click here.  Special hat-tip goes out to Evidence Based Wyoming for use of their statistical tool to generate the following vote scores:
Conflicts
Pappas has scored a (-) for Integrity for the fidelity issues described below.
Pappas is a servant to two countries.  In the United States, he serves the State of Wyoming Legislature.  In Greece, he serves the World Hellenistic Interparliamentary Association.  If he had to choose between attending official duties between both, he has consistently chosen Greece over Wyoming.
At a website called Pappas Post, it was reported (Oct 5, 2021) that Stephan Pappas was elected as Treasurer of the "New Board Elected to Lead World Hellenic Inter-Parliamentary Association".
The website of the World Hellenistic Interparliamentary Association describes itself as "an interparliamentary organization of the Greek diaspora" (PADEE-WHIA).
The Resolutions of the PADEE-WHIA are international in nature and call for various actions upon various European countries and entities such as the British Government, the Republic of Turkey, the European Union, the Ecumenical Patriarchate in Constantinople, the Republic of Albania, the United Nations, etc.
"I go to Greece a lot and work with the Greek government on issues of trade, military significance," Pappas told Cowboy State Daily on Monday in a phone interview.
Clearly, Pappas' commitment to the country of Greece and the World Hellenistic Interparliamentary Association is, demonstrably, a higher priority than his Wyoming constituents in WY Senate District 7.
Additionally, Pappas has consistently served as a member of the State Building Commission Liaison (since his election in 2015) at the same time he has reported being an architect.  It is unknown if Pappas has ever been contracted by the state of Wyoming for the planning/construction of any state buildings.
2023 bills that Pappas sponsored and/or voted on that are a conflict with his architect profession include:
Employment/Income
According to Pappas' legislative webpage, his occupation is Architect / Brigadier General, USAF (Retired).  According to Pappas' 2023 State Elected Officials Financial Disclosure available at Wyofile, he reports:
Business Address – Not Applicable (Retired on 12/31/2020)
Member – Athelphia, LLC
Business Interest – Athelphia, LLC
Income earned from "Any security or interest earnings".
Social Security Income; Military Retirement Income; IRA Retirement Income.
Memberships/Civic Organizations

Greater Cheyenne Chamber of Commerce
Air Force Association
American Institute of Architects
Leadership Wyoming
UW Civil & Architectural Engineering Advisory Board
Employer Support of the Guard & Reserve
Young Men's Literary Club of Cheyenne
World Hellenistic Interparliamentary Association – Greece
Campaign Contributions
The table below shows all campaign contributions reported by the WY Secretary of State for Stephan A Pappas; Stephen Andrew Pappas.
From 2014 to 2022 Pappas received approximately 114 contributions that total approximately $35,681.  Of the 114 donations, approximately 46 were from PACs &/or campaign committees.  The total amount received from PACs &/or campaign committees was approximately $19,700.00, which is approximately 55% of all contributions received.
Noteworthy contributions are:
$900 total from ESG Compliant Energy Company PACs

$500 from Devon Energy Corporation PAC
$200 from MDU Resources Group Good Government Fund
$200 from Pacific Power/Rocky Mountain Power PAC

$500 total from Pfizer PAC
$300 from WY Education Assn. PAC for Education
$500 from WY Medical Society PAC
Click the arrows at the top of columns to sort the data by name, date, $ amount, etc.  (Data is publicly available records obtained from the Wyoming Secretary of State's Wyoming's Campaign Finance Information System.)
| Contributor Name | Recipient Name | Recipient Type | Contribution Type | Date | Filing Status | Amount | City State Zip |
| --- | --- | --- | --- | --- | --- | --- | --- |
| PACIFIC POWER/ROCKY MOUNTAIN POWER PAC (PORTLAND) | STEPHAN ANDREW PAPPAS | CANDIDATE | MONETARY | 10/31/2022 | FILED | 200 | PORTLAND, OR 97232 |
| TRUCKING INDUSTRY PAC (CASPER) | STEPHAN ANDREW PAPPAS | CANDIDATE | MONETARY | 10/27/2022 | FILED | 100 | CASPER, WY 82602 |
| DEVON ENERGY CORPORATION PAC (OKLAHOMA CITY) | STEPHAN ANDREW PAPPAS | CANDIDATE | MONETARY | 10/19/2022 | FILED | 500 | OKLAHOMA CITY, OK 73102 |
| ONEOK EMPLOYEES PAC (SHAWNEE MISSION) | STEPHAN ANDREW PAPPAS | CANDIDATE | MONETARY | 10/19/2022 | FILED | 500 | SHAWNEE MISSION, KS 66225 |
| WY REALTORS PAC (CASPER) | STEPHAN ANDREW PAPPAS | CANDIDATE | MONETARY | 10/16/2022 | FILED | 2500 | CASPER, WY 82604 |
| FFFWY FIRE PAC (CHEYENNE) | STEPHAN ANDREW PAPPAS | CANDIDATE | MONETARY | 10/14/2022 | FILED | 500 | CHEYENNE, WY 82003 |
| CHEYENNE PAC (CHEYENNE) | STEPHAN ANDREW PAPPAS | CANDIDATE | MONETARY | 10/7/2022 | FILED | 500 | CHEYENNE, WY 82003 |
| COMMON VALUES PAC (ALEXANDRIA) | STEPHAN ANDREW PAPPAS | CANDIDATE | MONETARY | 10/4/2022 | FILED | 500 | ALEXANDRIA, VA 22314 |
| TRUE, DAVID L (CASPER) | STEPHAN ANDREW PAPPAS | CANDIDATE | MONETARY | 10/3/2022 | FILED | 300 | CASPER, WY 82602 |
| MDU RESOURCES GROUP GOOD GOVERNMENT FUND (BISMARCK) | STEPHAN ANDREW PAPPAS | CANDIDATE | MONETARY | 9/26/2022 | FILED | 250 | BISMARCK, ND 58506 |
| WY PUBLIC EMPLOYEES ASSN. PAC (CHEYENNE) | STEPHAN ANDREW PAPPAS | CANDIDATE | MONETARY | 9/25/2022 | FILED | 750 | CHEYENNE, WY 82003 |
| PROSPERITY AND COMMERCE PAC (CHEYENNE) | STEPHAN ANDREW PAPPAS | CANDIDATE | MONETARY | 9/22/2022 | FILED | 500 | CHEYENNE, WY 82001 |
| WY RURAL ELECTRIC ASSN. PAC (CHEYENNE) | STEPHAN ANDREW PAPPAS | CANDIDATE | MONETARY | 9/22/2022 | FILED | 250 | CHEYENNE, WY 82001 |
| WYOMING STATE SENATE REPUBLICAN CONFERENCE (DOUGLAS) | STEPHAN ANDREW PAPPAS | CANDIDATE | MONETARY | 9/22/2022 | FILED | 500 | DOUGLAS, WY 82633 |
| SPEIGHT, JACK (CHEYENNE) | STEPHAN ANDREW PAPPAS | CANDIDATE | MONETARY | 9/21/2022 | FILED | 100 | CHEYENNE, WY 82001 |
| COWBOY GAMES PAC (SHERIDAN) | STEPHAN ANDREW PAPPAS | CANDIDATE | MONETARY | 9/14/2022 | FILED | 250 | SHERIDAN, WY 82801 |
| WYOMING MINING ASSOCIATION PAC (WMA) (CHEYENNE) | STEPHAN ANDREW PAPPAS | CANDIDATE | MONETARY | 9/14/2022 | FILED | 250 | CHEYENNE, WY 82001 |
| LARAMIE REPUBLICAN PARTY CENTRAL COMMITTEE (CHEYENNE) | STEPHAN ANDREW PAPPAS | CANDIDATE | MONETARY | 9/2/2022 | FILED | 500 | CHEYENNE, WY 82003 |
| MOTOROLA SOLUTIONS, INC. PAC (WASHINGTON ) | STEPHAN ANDREW PAPPAS | CANDIDATE | MONETARY | 9/2/2022 | FILED | 250 | WASHINGTON , DC 20004 |
| HIBBARD, WILLIAM KEVIN (CHEYENNE) | STEPHAN ANDREW PAPPAS | CANDIDATE | MONETARY | 8/13/2022 | AMEND - ADD | 250 | CHEYENNE, WY 82001 |
| CHARTER COMMUNICATIONS, INC. PAC (STAMFORD) | STEPHAN ANDREW PAPPAS | CANDIDATE | MONETARY | 8/10/2022 | AMEND - ADD | 1000 | STAMFORD, CT 06901 |
| FFFWY FIRE PAC (CHEYENNE) | STEPHAN ANDREW PAPPAS | CANDIDATE | MONETARY | 8/4/2022 | FILED | 500 | CHEYENNE, WY 82003 |
| WYOMING RESTAURANT AND LODGING ASSOCIATION (CHEYENNE) | STEPHAN ANDREW PAPPAS | CANDIDATE | MONETARY | 7/27/2022 | FILED | 400 | CHEYENNE, WY 82001 |
| WYO PAC (WYOMING MEDICAL PAC) (CHEYENNE) | STEPHAN ANDREW PAPPAS | CANDIDATE | MONETARY | 7/19/2022 | FILED | 500 | CHEYENNE, WY 82003 |
| JOANNIDES, TIM (CHEYENNE) | STEPHAN ANDREW PAPPAS | CANDIDATE | MONETARY | 7/1/2022 | FILED | 750 | CHEYENNE, WY 82009 |
| WY EDUCATION ASSN. PAC FOR EDUCATION (CHEYENNE) | STEPHAN ANDREW PAPPAS | CANDIDATE | MONETARY | 6/27/2022 | FILED | 300 | CHEYENNE, WY 82001 |
| FUND FOR EFFECTIVE GOVERNMENT (WASHINGTON) | STEPHAN ANDREW PAPPAS | CANDIDATE | MONETARY | 6/24/2022 | FILED | 250 | WASHINGTON, DC 20005 |
| BLACK HILLS CORPORATION PAC (RAPID CITY) | STEPHAN ANDREW PAPPAS | CANDIDATE | MONETARY | 6/23/2022 | FILED | 250 | RAPID CITY, SD 57709 |
| CONPAC CONTRACTORS PAC (CHEYENNE) | STEPHAN ANDREW PAPPAS | CANDIDATE | MONETARY | 6/20/2022 | FILED | 1500 | CHEYENNE, WY 82003 |
| BNSF RAILPAC (FT WORTH) | STEPHAN ANDREW PAPPAS | CANDIDATE | MONETARY | 6/16/2022 | FILED | 500 | FT WORTH, TX 76161 |
| ONEOK EMPLOYEES PAC (SHAWNEE MISSION) | STEPHAN ANDREW PAPPAS | CANDIDATE | MONETARY | 6/15/2022 | FILED | 500 | SHAWNEE MISSION, KS 66225 |
| WYOMING MINING ASSOCIATION PAC (WMA) (CHEYENNE) | STEPHAN ANDREW PAPPAS | CANDIDATE | MONETARY | 6/10/2022 | FILED | 100 | CHEYENNE, WY 82001 |
| SPEIGHT, JACK (CHEYENNE) | STEPHAN ANDREW PAPPAS | CANDIDATE | MONETARY | 6/7/2022 | FILED | 100 | CHEYENNE, WY 82001 |
| WY REALTORS PAC (CASPER) | STEPHAN ANDREW PAPPAS | CANDIDATE | MONETARY | 6/7/2022 | FILED | 1000 | CASPER, WY 82604 |
| WYOMING STOCK GROWERS' AG PAC (CHEYENNE) | STEPHAN ANDREW PAPPAS | CANDIDATE | MONETARY | 6/6/2022 | FILED | 200 | CHEYENNE, WY 82003 |
| PFIZER PAC (NEW YORK) | STEPHAN ANDREW PAPPAS | CANDIDATE | MONETARY | 6/1/2022 | FILED | 200 | NEW YORK, NY 10017 |
| PAPPAS, STEPHAN A (CHEYENNE) | STEPHAN ANDREW PAPPAS | CANDIDATE | MONETARY | 3/1/2022 | FILED | 1000 | CHEYENNE, WY 82001 |
| HIBBARD, WILLIAM KEVIN (CHEYENNE) | STEPHAN A PAPPAS | CANDIDATE | MONETARY | 11/2/2018 | FILED | 250 | CHEYENNE, WY 82001 |
| MDU RESOURCES GROUP GOOD GOVERNMENT FUND (BISMARCK) | STEPHAN A PAPPAS | CANDIDATE | MONETARY | 11/1/2018 | FILED | 200 | BISMARCK, ND 58506 |
| CHARTER COMMUNICATIONS, INC. WYOMING POLITICAL ACTION COMMITTEE (STAMFORD) | STEPHAN A PAPPAS | CANDIDATE | MONETARY | 10/23/2018 | FILED | 200 | STAMFORD, CT 06901 |
| TRUCKING INDUSTRY PAC (CASPER) | STEPHAN A PAPPAS | CANDIDATE | MONETARY | 10/10/2018 | FILED | 100 | CASPER, WY 82602 |
| BNSF RAILPAC (FT WORTH) | STEPHAN A PAPPAS | CANDIDATE | MONETARY | 10/1/2018 | FILED | 200 | FT WORTH, TX 76161 |
| FFFWY FIRE PAC (CHEYENNE) | STEPHAN A PAPPAS | CANDIDATE | MONETARY | 9/27/2018 | FILED | 500 | CHEYENNE, WY 82003 |
| HOLDING, CAROL (SALT LAKE CITY) | STEPHAN A PAPPAS | CANDIDATE | MONETARY | 9/24/2018 | FILED | 500 | SALT LAKE CITY, UT 84103 |
| UNION PACIFIC CORPORATION FUND FOR EFFECTIVE GOVERNMENT (WASHINGTON) | STEPHAN A PAPPAS | CANDIDATE | MONETARY | 8/20/2018 | FILED | 250 | WASHINGTON, DC 20005 |
| PFIZER PAC (NEW YORK) | STEPHAN A PAPPAS | CANDIDATE | MONETARY | 8/14/2018 | AMEND - ADD | 100 | NEW YORK, NY 10017 |
| CHEYENNE PAC (CHEYENNE) | STEPHAN A PAPPAS | CANDIDATE | MONETARY | 8/9/2018 | FILED | 500 | CHEYENNE, WY 82003 |
| CIGNA POL ACTION COMMITTEE (PHILADELPHIA) | STEPHAN A PAPPAS | CANDIDATE | MONETARY | 1/18/2018 | FILED | 400 | PHILADELPHIA, PA 19191 |
| AT&T INC. FEDERAL PAC (DALLAS) | STEPHAN A PAPPAS | CANDIDATE | MONETARY | 9/29/2017 | FILED | 150 | DALLAS, TX 75202 |
| PFIZER PAC (NEW YORK) | STEPHAN A PAPPAS | CANDIDATE | MONETARY | 6/2/2017 | FILED | 200 | NEW YORK, NY 10017 |
| PAPPAS, STEPHAN (CHEYENNE) | STEPHAN A PAPPAS | CANDIDATE | MONETARY | 6/1/2017 | FILED | 1000 | CHEYENNE, WY 82001 |
| THOMSON, WILLIAM (CHEYENNE) | STEPHAN A PAPPAS | CANDIDATE | MONETARY | 10/31/2014 | AMEND - ADD | 150 | CHEYENNE, WY 92009 |
| PAPPAS, ANDREW S (CHEYENNE) | STEPHAN A PAPPAS | CANDIDATE | MONETARY | 10/25/2014 | FILED | 200 | CHEYENNE, WY 82001 |
| MARATHON OIL COMPANY EMPLOYEES POLITICAL ACTION COMMITTEE (MEPAC) - STATE (FINDLEY) | STEPHAN A PAPPAS | CANDIDATE | MONETARY | 10/24/2014 | FILED | 500 | FINDLEY, OH 45840 |
| EDWARDS, WILLIAM (CHEYENNE) | STEPHAN A PAPPAS | CANDIDATE | MONETARY | 10/23/2014 | FILED | 150 | CHEYENNE, WY 82009 |
| WILSON, RICHARD (CHEYENNE) | STEPHAN A PAPPAS | CANDIDATE | MONETARY | 10/23/2014 | FILED | 150 | CHEYENNE, WY 82001 |
| MCGUIRE, PATRICK (CHEYENNE) | STEPHAN A PAPPAS | CANDIDATE | MONETARY | 10/17/2014 | FILED | 100 | CHEYENNE, WY 82009 |
| MITCHELL, MASON (FORT COLLINS) | STEPHAN A PAPPAS | CANDIDATE | MONETARY | 10/17/2014 | FILED | 100 | FORT COLLINS, CO 80524 |
| CUNNINGHAM, HAROLD (COLORADO SPRINGS) | STEPHAN A PAPPAS | CANDIDATE | MONETARY | 10/16/2014 | FILED | 100 | COLORADO SPRINGS, CO 80908 |
| DEWELL, PAMELA (CHEYENNE) | STEPHAN A PAPPAS | CANDIDATE | MONETARY | 10/14/2014 | FILED | 25 | CHEYENNE, WY 82001 |
| ILLOWAY, PETE (CHEYENNE) | STEPHAN A PAPPAS | CANDIDATE | MONETARY | 10/14/2014 | FILED | 25 | CHEYENNE, WY 82009 |
| ADDLEMAN, BILLIE (CHEYENNE) | STEPHAN A PAPPAS | CANDIDATE | MONETARY | 10/13/2014 | FILED | 250 | CHEYENNE, WY 82001 |
| BELLACK, NICHOLAS (CHEYENNE) | STEPHAN A PAPPAS | CANDIDATE | MONETARY | 10/13/2014 | FILED | 300 | CHEYENNE, WY 82009 |
| BLEDOWSKI, EDWARD (COLORADO SPRINGS) | STEPHAN A PAPPAS | CANDIDATE | MONETARY | 10/13/2014 | FILED | 100 | COLORADO SPRINGS, CO 80920 |
| DICAMPLI, DENNIS (CHEYENNE) | STEPHAN A PAPPAS | CANDIDATE | MONETARY | 10/13/2014 | FILED | 50 | CHEYENNE, WY 82001 |
| DINNEEN, MARIETTA (CHEYENNE) | STEPHAN A PAPPAS | CANDIDATE | MONETARY | 10/13/2014 | FILED | 200 | CHEYENNE, WY 82001 |
| GALEOTOS, ANGIE (CHEYENNE) | STEPHAN A PAPPAS | CANDIDATE | MONETARY | 10/13/2014 | FILED | 200 | CHEYENNE, WY 82003 |
| GALEOTOS, SAM (CHEYENNE) | STEPHAN A PAPPAS | CANDIDATE | MONETARY | 10/13/2014 | FILED | 250 | CHEYENNE, WY 82009 |
| HAUGHT, DON (TORRINGTON) | STEPHAN A PAPPAS | CANDIDATE | MONETARY | 10/13/2014 | FILED | 200 | TORRINGTON, WY 82240 |
| JOANNIDES, TIMOTHY (CHEYENNE) | STEPHAN A PAPPAS | CANDIDATE | MONETARY | 10/13/2014 | FILED | 250 | CHEYENNE, WY 82009 |
| JOHANSEN, ADRIANNE (CHEYENNE) | STEPHAN A PAPPAS | CANDIDATE | MONETARY | 10/13/2014 | FILED | 50 | CHEYENNE, WY 82009 |
| LOOMIS, MARION (CHEYENNE) | STEPHAN A PAPPAS | CANDIDATE | MONETARY | 10/13/2014 | FILED | 100 | CHEYENNE, WY 82009 |
| MILLIN, LORI (CHEYENNE) | STEPHAN A PAPPAS | CANDIDATE | MONETARY | 10/13/2014 | FILED | 50 | CHEYENNE, WY 82009 |
| PANOS, WILLIAM (CHEYENNE) | STEPHAN A PAPPAS | CANDIDATE | MONETARY | 10/13/2014 | FILED | 350 | CHEYENNE, WY 82001 |
| PULLOS, JAMIE (CHEYENNE) | STEPHAN A PAPPAS | CANDIDATE | MONETARY | 10/13/2014 | FILED | 100 | CHEYENNE, WY 82009 |
| RADICH, BETH (CHEYENNE) | STEPHAN A PAPPAS | CANDIDATE | MONETARY | 10/13/2014 | FILED | 100 | CHEYENNE, WY 82009 |
| ZAHARAS, GEORGE (CHEYENNE) | STEPHAN A PAPPAS | CANDIDATE | MONETARY | 10/12/2014 | FILED | 100 | CHEYENNE, WY 82009 |
| BINDER, ROBERT (CASTLE ROCK) | STEPHAN A PAPPAS | CANDIDATE | MONETARY | 10/10/2014 | FILED | 100 | CASTLE ROCK, CO 80109 |
| THOMPSON, TROY (CHEYENNE) | STEPHAN A PAPPAS | CANDIDATE | MONETARY | 10/10/2014 | FILED | 150 | CHEYENNE, WY 82001 |
| ANDRIKOPOULOS, ANTHONY (CHEYENNE) | STEPHAN A PAPPAS | CANDIDATE | MONETARY | 10/9/2014 | FILED | 1000 | CHEYENNE, WY 82009 |
| ANDRIKOPOULOS, BARBARA (CHEYENNE) | STEPHAN A PAPPAS | CANDIDATE | MONETARY | 10/9/2014 | FILED | 1000 | CHEYENNE, WY 82009 |
| GOLDSTONE, STEPHEN (CHEYENNE) | STEPHAN A PAPPAS | CANDIDATE | MONETARY | 10/9/2014 | FILED | 100 | CHEYENNE, WY 82001 |
| PAPPAS, STEPHAN (CHEYENNE) | STEPHAN A PAPPAS | CANDIDATE | MONETARY | 10/9/2014 | FILED | 6 | CHEYENNE, WY 82001 |
| JONES, GREGG (CHEYENNE) | STEPHAN A PAPPAS | CANDIDATE | MONETARY | 10/8/2014 | FILED | 150 | CHEYENNE, WY 82001 |
| NICKERSON, THORPE (CHEYENNE) | STEPHAN A PAPPAS | CANDIDATE | MONETARY | 10/8/2014 | FILED | 25 | CHEYENNE, WY 82009 |
| JOHNIGAN, IRENE (CHEYENNE) | STEPHAN A PAPPAS | CANDIDATE | MONETARY | 10/7/2014 | FILED | 100 | CHEYENNE, WY 82009 |
| BARRASSO, JOHN (CASPER) | STEPHAN A PAPPAS | CANDIDATE | MONETARY | 10/2/2014 | FILED | 100 | CASPER, WY 82605 |
| TRUCKING INDUSTRY PAC (CASPER) | STEPHAN A PAPPAS | CANDIDATE | MONETARY | 9/29/2014 | FILED | 100 | CASPER, WY 82602 |
| BALSER, JOHN (CHEYENNE) | STEPHAN A PAPPAS | CANDIDATE | MONETARY | 9/23/2014 | FILED | 50 | CHEYENNE, WY 82003 |
| HALVERSON, MARTHA (ETNA) | STEPHAN A PAPPAS | CANDIDATE | MONETARY | 9/20/2014 | FILED | 50 | ETNA, WY 83118 |
| WYOMING STOCK GROWERS' AG PAC (CHEYENNE) | STEPHAN A PAPPAS | CANDIDATE | MONETARY | 9/20/2014 | FILED | 200 | CHEYENNE, WY 82003 |
| FERTIG, RAY (CHEYENNE) | STEPHAN A PAPPAS | CANDIDATE | MONETARY | 9/18/2014 | FILED | 250 | CHEYENNE, WY 82001 |
| WHITE, GAYLE (MONUMENT) | STEPHAN A PAPPAS | CANDIDATE | MONETARY | 9/18/2014 | FILED | 100 | MONUMENT, CO 80132 |
| PAPPAS, DRIKO (CHEYENNE) | STEPHAN A PAPPAS | CANDIDATE | MONETARY | 9/7/2014 | FILED | 200 | CHEYENNE, WY 82001 |
| PERRY, ROBERT (GREENWOOD VILLAGE) | STEPHAN A PAPPAS | CANDIDATE | MONETARY | 9/2/2014 | FILED | 500 | GREENWOOD VILLAGE, CO 80111 |
| WING, CHARLES (CHEYENNE) | STEPHAN A PAPPAS | CANDIDATE | MONETARY | 9/2/2014 | FILED | 50 | CHEYENNE, WY 82009 |
| CASH , FREEMAN (TIMNATH) | STEPHAN A PAPPAS | CANDIDATE | MONETARY | 8/24/2014 | FILED | 100 | TIMNATH, CO 80547 |
| WYO-D-PAC (CASPER) | STEPHAN A PAPPAS | CANDIDATE | MONETARY | 8/14/2014 | FILED | 100 | CASPER, WY 82601 |
| ZAHARAS, GEORGE (CHEYENNE) | STEPHAN A PAPPAS | CANDIDATE | MONETARY | 8/8/2014 | FILED | 250 | CHEYENNE, WY 82009 |
| CROFTS, SHANE (CHEYENNE) | STEPHAN A PAPPAS | CANDIDATE | MONETARY | 7/31/2014 | FILED | 50 | CHEYENNE, WY 82009 |
| GALEOTOS, ELIAS (CHEYENNE) | STEPHAN A PAPPAS | CANDIDATE | MONETARY | 6/29/2014 | FILED | 100 | CHEYENNE, WY 82003 |
| MACY, MARK (CHEYENNE) | STEPHAN A PAPPAS | CANDIDATE | MONETARY | 6/27/2014 | FILED | 250 | CHEYENNE, WY 82009 |
| HIBBARD, WILLIAM KEVIN (CHEYENNE) | STEPHAN A PAPPAS | CANDIDATE | MONETARY | 6/26/2014 | FILED | 250 | CHEYENNE, WY 82009 |
| JOANNIDES, KATHY (CHEYENNE) | STEPHAN A PAPPAS | CANDIDATE | MONETARY | 6/23/2014 | FILED | 500 | CHEYENNE, WY 82009 |
| JOANNIDES, TIM (CHEYENNE) | STEPHAN A PAPPAS | CANDIDATE | MONETARY | 6/23/2014 | FILED | 500 | CHEYENNE, WY 82001 |
| KOUROS, GUS (SCHERERVILLE) | STEPHAN A PAPPAS | CANDIDATE | MONETARY | 5/4/2014 | FILED | 100 | SCHERERVILLE, IN 46375 |
| PAPPAS, WILLIAM (CHEYENNE) | STEPHAN A PAPPAS | CANDIDATE | MONETARY | 5/1/2014 | FILED | 100 | CHEYENNE, WY 82001 |
| DILTS, BARBARA (CHEYENNE) | STEPHAN A PAPPAS | CANDIDATE | MONETARY | 4/28/2014 | FILED | 100 | CHEYENNE, WY 82009 |
| GALEOTOS, SAM (CHEYENNE) | STEPHAN A PAPPAS | CANDIDATE | MONETARY | 4/27/2014 | FILED | 250 | CHEYENNE, WY 82009 |
| ZUBER, STEWART (CHEYENNE) | STEPHAN A PAPPAS | CANDIDATE | MONETARY | 4/12/2014 | FILED | 100 | CHEYENNE, WY 82001 |
| QUEST, JOHN (PARKER) | STEPHAN A PAPPAS | CANDIDATE | MONETARY | 4/11/2014 | FILED | 250 | PARKER, CO 80134 |
| HAEFELE, JIM (CHEYENNE) | STEPHAN A PAPPAS | CANDIDATE | MONETARY | 4/10/2014 | FILED | 200 | CHEYENNE, WY 82009 |
| MASON, DICK (CHEYENNE) | STEPHAN A PAPPAS | CANDIDATE | MONETARY | 4/10/2014 | FILED | 50 | CHEYENNE, WY 82009 |
| PAPPAS, STEPHAN (CHEYENNE) | STEPHAN A PAPPAS | CANDIDATE | MONETARY | 3/6/2014 | FILED | 1000 | CHEYENNE, WY 82001 |