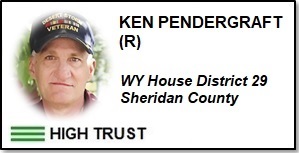 Summary
Representation
Competence
Integrity
More
+ + +
Ken Pendergraft has served in House District 29 as a WY Representative for Sheridan County from Jan 2023 to the present.  He has received a positive score for Representation, Competence and Integrity, therefore he is ranked as High Trust.
---
Instead of searching for additional revenue sources, Pendergraft explained the state's government should shrink with decreasing revenues, performing only the duties enshrined in Wyoming's Constitution and cutting out the rest. For instance, the Legislature's responsibility to establish public schools is included in Title 7 of the Wyoming Constitution but Pendergraft said the state could decrease public education costs by spending less on school administrators.

Similarly, Pendergraft argued the state should not accept federal funds to add charging stations for electric vehicles. When oil companies started setting up gas stations, Pendergraft said, there was no federal funding involved. The same should apply to electric vehicle charging; government spending on such a thing is superfluous, he said.
From https://www.thesheridanpress.com/politics/state/candidates-for-wyoming-house-district-29-talk-state-budget-revenue/article_0e8598b4-f400-11ec-8679-df2a5fd759ca.html
Overall, Pendergraft scores a (+) for Representation.
Attendance
It appears that Pendegraft missed 4 votes across 2 days in 2023 General Session:
2/8/23 – 3rd reading for HB98; HB108; HB143;
2/23/23 – 3rd reading for SF97.
Public Conduct
Pendergraft appears to behave appropriately in public and to the public.
Sponsorship History
In 2023 Pendergraft was the primary sponsor of 3 bills, and co-sponsored 36 bills.  Favored sponsorship topics appear to be protection/support of constitutional rights; protection of the unborn, children and students; education; elections.  For more details, see his legislator webpage.
Committee Assignments
2023-House Transportation, Highways & Military Affairs
2023-Air Transportation Liaison Committee
Pendergraft scored a (+) for Constitutional Competence with an average of 100% on the constitutional issues listed below.
Constitutional issue categories that have a "N/A" grade, refer to specific bills that Pendergraft did not have the opportunity to vote on.  It is relevant that Pendergraft cosponsored 2023 HB0205 Ban on teaching and training critical race theory, which was not considered for House Introduction.
For more on the bills used to analyze these scores click here.  Special hat-tip goes out to Evidence Based Wyoming for use of their statistical tool to generate the following vote scores:
Conflicts
Because we have not found any conflicts of interest for Pendergraft, he receives a (+) for Integrity.
Employment/Income
According to Pendergraft's 2023 State Elected Officials Financial Disclosure available at Wyofile, he reports:
Former Shareholder – Cosner Construction CO
Employer – Cosner Construction CO
Business Interest – Cross Creek Media LLC
Memberships/Civic Organizations
None found.
Campaign Contributions
The table below shows all campaign contributions reported by the WY Secretary of State for Committee to Elect Ken Pendergraft for House District 29.
From 2020 to 2022 Pendergraft received approximately 77 contributions that total approximately $30,355.  Of the 77 donations,  approximately 3 were from PACs &/or campaign committees.  The total amount received from PACS &/or campaign committees was approximately $5,350.
Click the arrows at the top of columns to sort the data by name, date, $ amount, etc.  (Data is publicly available records obtained from the Wyoming Secretary of State's Wyoming's Campaign Finance Information System.)
| Contributor Name | Recipient Name | Recipient Type | Contribution Type | Date | Filing Status | Amount | City State Zip |
| --- | --- | --- | --- | --- | --- | --- | --- |
| BIEN, BRENT (SHERIDAN) | COMMITTEE TO ELECT KEN PENDERGRAFT FOR HOUSE DISTRICT 29 | CANDIDATE COMMITTEE | MONETARY | 9/30/2022 | FILED | 250 | SHERIDAN, WY 82801 |
| BYRD, TOM (SHERIDAN) | COMMITTEE TO ELECT KEN PENDERGRAFT FOR HOUSE DISTRICT 29 | CANDIDATE COMMITTEE | MONETARY | 9/30/2022 | FILED | 50 | SHERIDAN, WY 82801 |
| DICKINSON, RICHARD (SHERIDAN) | COMMITTEE TO ELECT KEN PENDERGRAFT FOR HOUSE DISTRICT 29 | CANDIDATE COMMITTEE | MONETARY | 9/30/2022 | FILED | 100 | SHERIDAN, WY 82801 |
| FISHER, DAVID (SHERIDAN) | COMMITTEE TO ELECT KEN PENDERGRAFT FOR HOUSE DISTRICT 29 | CANDIDATE COMMITTEE | MONETARY | 9/30/2022 | FILED | 100 | SHERIDAN, WY 82801 |
| LABELLE, ROBERT (SHERIDAN) | COMMITTEE TO ELECT KEN PENDERGRAFT FOR HOUSE DISTRICT 29 | CANDIDATE COMMITTEE | MONETARY | 9/30/2022 | FILED | 100 | SHERIDAN, WY 82801 |
| LABLANC, RONNIE (SHERIDAN) | COMMITTEE TO ELECT KEN PENDERGRAFT FOR HOUSE DISTRICT 29 | CANDIDATE COMMITTEE | MONETARY | 9/30/2022 | FILED | 100 | SHERIDAN, WY 82801 |
| ROBERTS, DAN (BIG HORN) | COMMITTEE TO ELECT KEN PENDERGRAFT FOR HOUSE DISTRICT 29 | CANDIDATE COMMITTEE | MONETARY | 9/30/2022 | FILED | 100 | BIG HORN, WY 82833 |
| SCHREIBEIS, DAVID (SHERIDAN) | COMMITTEE TO ELECT KEN PENDERGRAFT FOR HOUSE DISTRICT 29 | CANDIDATE COMMITTEE | MONETARY | 9/30/2022 | FILED | 50 | SHERIDAN, WY 82801 |
| SHERIDAN REPUBLICAN PARTY CENTRAL COMMITTEE (SHERIDAN) | COMMITTEE TO ELECT KEN PENDERGRAFT FOR HOUSE DISTRICT 29 | CANDIDATE COMMITTEE | MONETARY | 9/30/2022 | FILED | 5000 | SHERIDAN, WY 82801 |
| ADAMS, JUDITH (SHERIDAN) | COMMITTEE TO ELECT KEN PENDERGRAFT FOR HOUSE DISTRICT 29 | CANDIDATE COMMITTEE | MONETARY | 9/10/2022 | FILED | 500 | SHERIDAN, WY 82801 |
| AMBLER, MARY MARGARET (OLATHE) | COMMITTEE TO ELECT KEN PENDERGRAFT FOR HOUSE DISTRICT 29 | CANDIDATE COMMITTEE | MONETARY | 9/10/2022 | FILED | 50 | OLATHE, KS 66061 |
| ARCURI, EDWARD (LITTLETON) | COMMITTEE TO ELECT KEN PENDERGRAFT FOR HOUSE DISTRICT 29 | CANDIDATE COMMITTEE | MONETARY | 9/10/2022 | FILED | 100 | LITTLETON, CO 80127 |
| DAHLIN, WILLIAM (SHERIDAN) | COMMITTEE TO ELECT KEN PENDERGRAFT FOR HOUSE DISTRICT 29 | CANDIDATE COMMITTEE | MONETARY | 9/10/2022 | FILED | 200 | SHERIDAN, WY 82801 |
| HAYWORTH, JUDITH (SHERIDAN) | COMMITTEE TO ELECT KEN PENDERGRAFT FOR HOUSE DISTRICT 29 | CANDIDATE COMMITTEE | MONETARY | 9/10/2022 | FILED | 50 | SHERIDAN, WY 82801 |
| KOBOLD, DORIS (SHERIDAN) | COMMITTEE TO ELECT KEN PENDERGRAFT FOR HOUSE DISTRICT 29 | CANDIDATE COMMITTEE | MONETARY | 9/10/2022 | FILED | 50 | SHERIDAN, WY 82801 |
| KRICKBAUM, KURT (OLATHE) | COMMITTEE TO ELECT KEN PENDERGRAFT FOR HOUSE DISTRICT 29 | CANDIDATE COMMITTEE | MONETARY | 9/10/2022 | FILED | 50 | OLATHE, KS 66061 |
| STEPHENSON, ROBERT (SHERIDAN) | COMMITTEE TO ELECT KEN PENDERGRAFT FOR HOUSE DISTRICT 29 | CANDIDATE COMMITTEE | MONETARY | 9/10/2022 | FILED | 100 | SHERIDAN, WY 82801 |
| SUHRSTEDT, BARBARA (FORT COLLINS) | COMMITTEE TO ELECT KEN PENDERGRAFT FOR HOUSE DISTRICT 29 | CANDIDATE COMMITTEE | MONETARY | 9/10/2022 | FILED | 100 | FORT COLLINS, CO 80525 |
| TRACY, SHARON (SHERIDAN) | COMMITTEE TO ELECT KEN PENDERGRAFT FOR HOUSE DISTRICT 29 | CANDIDATE COMMITTEE | MONETARY | 9/10/2022 | FILED | 250 | SHERIDAN, WY 82801 |
| WALKER, STUART (SHERIDAN) | COMMITTEE TO ELECT KEN PENDERGRAFT FOR HOUSE DISTRICT 29 | CANDIDATE COMMITTEE | MONETARY | 9/10/2022 | FILED | 20 | SHERIDAN, WY 82801 |
| PARKER, ROBERT (SHERIDAN) | COMMITTEE TO ELECT KEN PENDERGRAFT FOR HOUSE DISTRICT 29 | CANDIDATE COMMITTEE | MONETARY | 8/19/2022 | FILED | 30 | SHERIDAN, WY 82801 |
| WALKER, STUART (SHERIDAN) | COMMITTEE TO ELECT KEN PENDERGRAFT FOR HOUSE DISTRICT 29 | CANDIDATE COMMITTEE | MONETARY | 8/19/2022 | FILED | 20 | SHERIDAN, WY 82801 |
| HOLDEN, GEORGE (EDINA) | COMMITTEE TO ELECT KEN PENDERGRAFT FOR HOUSE DISTRICT 29 | CANDIDATE COMMITTEE | MONETARY | 8/18/2022 | FILED | 500 | EDINA, MN 55436 |
| WYOMING IS RIGHT PAC (SHERIDAN) | COMMITTEE TO ELECT KEN PENDERGRAFT FOR HOUSE DISTRICT 29 | CANDIDATE COMMITTEE | IN-KIND | 8/3/2022 | FILED | 250 | SHERIDAN, WY 82801 |
| IVERSON, DAVID (BUFFALO) | COMMITTEE TO ELECT KEN PENDERGRAFT FOR HOUSE DISTRICT 29 | CANDIDATE COMMITTEE | IN-KIND | 7/30/2022 | FILED | 200 | BUFFALO, WY 82834 |
| MAUS, TOD (JACKSON) | COMMITTEE TO ELECT KEN PENDERGRAFT FOR HOUSE DISTRICT 29 | CANDIDATE COMMITTEE | MONETARY | 7/6/2022 | FILED | 1000 | JACKSON, WY 83001 |
| BACCARI, LARRY (SHERIDAN) | COMMITTEE TO ELECT KEN PENDERGRAFT FOR HOUSE DISTRICT 29 | CANDIDATE COMMITTEE | MONETARY | 6/29/2022 | FILED | 100 | SHERIDAN, WY 82801 |
| SMITH, DARRIN (CHEYENNE) | COMMITTEE TO ELECT KEN PENDERGRAFT FOR HOUSE DISTRICT 29 | CANDIDATE COMMITTEE | MONETARY | 6/29/2022 | FILED | 500 | CHEYENNE, WY 82003 |
| STEPHENSON, ROBERT (SHERIDAN) | COMMITTEE TO ELECT KEN PENDERGRAFT FOR HOUSE DISTRICT 29 | CANDIDATE COMMITTEE | MONETARY | 6/29/2022 | FILED | 100 | SHERIDAN, WY 82801 |
| WYO-D-PAC (CASPER) | COMMITTEE TO ELECT KEN PENDERGRAFT FOR HOUSE DISTRICT 29 | CANDIDATE COMMITTEE | MONETARY | 6/26/2022 | FILED | 100 | CASPER, WY 82601 |
| DOENZ, WILLIAM (SHERIDAN) | COMMITTEE TO ELECT KEN PENDERGRAFT FOR HOUSE DISTRICT 29 | CANDIDATE COMMITTEE | MONETARY | 6/9/2022 | FILED | 1500 | SHERIDAN, WY 82801 |
| DEINES, NATE (SHERIDAN) | COMMITTEE TO ELECT KEN PENDERGRAFT FOR HOUSE DISTRICT 29 | CANDIDATE COMMITTEE | MONETARY | 5/26/2022 | FILED | 1000 | SHERIDAN, WY 82801 |
| ADAMS, JUDITH (SHERIDAN) | COMMITTEE TO ELECT KEN PENDERGRAFT FOR HOUSE DISTRICT 29 | CANDIDATE COMMITTEE | MONETARY | 5/23/2022 | FILED | 1000 | SHERIDAN, WY 82801 |
| WOLFE, PATRICIA (SHERIDAN) | COMMITTEE TO ELECT KEN PENDERGRAFT FOR HOUSE DISTRICT 29 | CANDIDATE COMMITTEE | MONETARY | 5/23/2022 | FILED | 50 | SHERIDAN, WY 82801 |
| HOXSEY, JEFF (THERMOPOLIS) | COMMITTEE TO ELECT KEN PENDERGRAFT FOR HOUSE DISTRICT 29 | CANDIDATE COMMITTEE | MONETARY | 5/17/2022 | FILED | 100 | THERMOPOLIS, WY 82443 |
| LINDEMANN, GARRETT (BUFFALO) | COMMITTEE TO ELECT KEN PENDERGRAFT FOR HOUSE DISTRICT 29 | CANDIDATE COMMITTEE | MONETARY | 5/12/2022 | FILED | 300 | BUFFALO, WY 82834 |
| PERRITT, ORLENE (SHERIDAN) | COMMITTEE TO ELECT KEN PENDERGRAFT FOR HOUSE DISTRICT 29 | CANDIDATE COMMITTEE | MONETARY | 5/12/2022 | FILED | 100 | SHERIDAN, WY 82801 |
| BROPHY, CARLEEN (JACKSON) | COMMITTEE TO ELECT KEN PENDERGRAFT FOR HOUSE DISTRICT 29 | CANDIDATE COMMITTEE | MONETARY | 5/10/2022 | FILED | 1500 | JACKSON, WY 83001 |
| BROPHY, DANIEL (JACKSON) | COMMITTEE TO ELECT KEN PENDERGRAFT FOR HOUSE DISTRICT 29 | CANDIDATE COMMITTEE | MONETARY | 5/10/2022 | FILED | 1500 | JACKSON, WY 83001 |
| COSNER, JIM (SHERIDAN) | COMMITTEE TO ELECT KEN PENDERGRAFT FOR HOUSE DISTRICT 29 | CANDIDATE COMMITTEE | MONETARY | 5/9/2022 | FILED | 500 | SHERIDAN, WY 82801 |
| ROBERTS, DAN (BIG HORN) | COMMITTEE TO ELECT KEN PENDERGRAFT FOR HOUSE DISTRICT 29 | CANDIDATE COMMITTEE | MONETARY | 5/9/2022 | FILED | 100 | BIG HORN, WY 82833 |
| RONALD, LEBLANC (SHERIDAN) | COMMITTEE TO ELECT KEN PENDERGRAFT FOR HOUSE DISTRICT 29 | CANDIDATE COMMITTEE | MONETARY | 5/9/2022 | FILED | 100 | SHERIDAN, WY 82801 |
| LOFTUS, GREG (SHERIDAN) | COMMITTEE TO ELECT KEN PENDERGRAFT FOR HOUSE DISTRICT 29 | CANDIDATE COMMITTEE | MONETARY | 5/4/2022 | FILED | 250 | SHERIDAN, WY 82801 |
| ADAMS, RODNEY (SHERIDAN) | COMMITTEE TO ELECT KEN PENDERGRAFT FOR HOUSE DISTRICT 29 | CANDIDATE COMMITTEE | MONETARY | 4/29/2022 | FILED | 25 | SHERIDAN, WY 82801 |
| ARCURI, EDWARD (LITTLETON) | COMMITTEE TO ELECT KEN PENDERGRAFT FOR HOUSE DISTRICT 29 | CANDIDATE COMMITTEE | MONETARY | 4/29/2022 | FILED | 100 | LITTLETON, CO 80127 |
| DAHLIN, WILLIAM (SHERIDAN) | COMMITTEE TO ELECT KEN PENDERGRAFT FOR HOUSE DISTRICT 29 | CANDIDATE COMMITTEE | MONETARY | 4/29/2022 | FILED | 400 | SHERIDAN, WY 82801 |
| HAYWORTH, MICHAEL (SHERIDAN) | COMMITTEE TO ELECT KEN PENDERGRAFT FOR HOUSE DISTRICT 29 | CANDIDATE COMMITTEE | MONETARY | 4/29/2022 | FILED | 100 | SHERIDAN, WY 82801 |
| SUHRSTEDT, BARBARA (FORT COLLINS) | COMMITTEE TO ELECT KEN PENDERGRAFT FOR HOUSE DISTRICT 29 | CANDIDATE COMMITTEE | MONETARY | 4/29/2022 | FILED | 100 | FORT COLLINS, CO 80525 |
| WALKER, STUART (SHERIDAN) | COMMITTEE TO ELECT KEN PENDERGRAFT FOR HOUSE DISTRICT 29 | CANDIDATE COMMITTEE | MONETARY | 4/26/2022 | FILED | 20 | SHERIDAN, WY 82801 |
| HAYWORTH, MICHAEL & JUDITH (SHERIDAN) | COMMITTEE TO ELECT KEN PENDERGRAFT FOR HOUSE DISTRICT 29 | CANDIDATE COMMITTEE | MONETARY | 8/3/2020 | FILED | 50 | SHERIDAN, WY 82801 |
| LOFTUS, JAKE (BILLINGS) | COMMITTEE TO ELECT KEN PENDERGRAFT FOR HOUSE DISTRICT 29 | CANDIDATE COMMITTEE | MONETARY | 7/30/2020 | FILED | 200 | BILLINGS, MT 59102 |
| WALKER, STUART (SHERIDAN) | COMMITTEE TO ELECT KEN PENDERGRAFT FOR HOUSE DISTRICT 29 | CANDIDATE COMMITTEE | MONETARY | 7/28/2020 | FILED | 25 | SHERIDAN, WY 82801 |
| GORE, SUSAN (CHEYENNE) | COMMITTEE TO ELECT KEN PENDERGRAFT FOR HOUSE DISTRICT 29 | CANDIDATE COMMITTEE | MONETARY | 7/27/2020 | FILED | 650 | CHEYENNE, WY 82009 |
| WOLFE, PATRICIA (SHERIDAN) | COMMITTEE TO ELECT KEN PENDERGRAFT FOR HOUSE DISTRICT 29 | CANDIDATE COMMITTEE | MONETARY | 7/27/2020 | FILED | 50 | SHERIDAN, WY 82801 |
| ARCURI, II, EDWARD (LITTLETON) | COMMITTEE TO ELECT KEN PENDERGRAFT FOR HOUSE DISTRICT 29 | CANDIDATE COMMITTEE | MONETARY | 7/20/2020 | FILED | 100 | LITTLETON, CO 80127 |
| LARGENT, DICK & SANDY (SHERIDAN) | COMMITTEE TO ELECT KEN PENDERGRAFT FOR HOUSE DISTRICT 29 | CANDIDATE COMMITTEE | MONETARY | 7/20/2020 | FILED | 100 | SHERIDAN, WY 82801 |
| ZELLER, LON & PENNY (SHERIDAN) | COMMITTEE TO ELECT KEN PENDERGRAFT FOR HOUSE DISTRICT 29 | CANDIDATE COMMITTEE | MONETARY | 7/20/2020 | FILED | 25 | SHERIDAN, WY 82801 |
| ADAMS, RODNEY & JANE (SHERIDAN) | COMMITTEE TO ELECT KEN PENDERGRAFT FOR HOUSE DISTRICT 29 | CANDIDATE COMMITTEE | MONETARY | 7/13/2020 | FILED | 20 | SHERIDAN, WY 82801 |
| HEIN, WILLIAM (SHERIDAN) | COMMITTEE TO ELECT KEN PENDERGRAFT FOR HOUSE DISTRICT 29 | CANDIDATE COMMITTEE | MONETARY | 7/13/2020 | FILED | 300 | SHERIDAN, WY 82801 |
| ROBERTS, DAN & NADINE (BIG HORN) | COMMITTEE TO ELECT KEN PENDERGRAFT FOR HOUSE DISTRICT 29 | CANDIDATE COMMITTEE | MONETARY | 7/13/2020 | FILED | 100 | BIG HORN, WY 82833 |
| WINDSOR, HENRY & JAN (SHERIDAN) | COMMITTEE TO ELECT KEN PENDERGRAFT FOR HOUSE DISTRICT 29 | CANDIDATE COMMITTEE | MONETARY | 7/13/2020 | FILED | 250 | SHERIDAN, WY 82801 |
| DOENZ, WILLIAM (SHERIDAN) | COMMITTEE TO ELECT KEN PENDERGRAFT FOR HOUSE DISTRICT 29 | CANDIDATE COMMITTEE | MONETARY | 7/2/2020 | FILED | 1500 | SHERIDAN, WY 82801 |
| SUHRSTEDT, BARBARA (FORT COLLINS) | COMMITTEE TO ELECT KEN PENDERGRAFT FOR HOUSE DISTRICT 29 | CANDIDATE COMMITTEE | MONETARY | 7/2/2020 | FILED | 100 | FORT COLLINS, WY 80525 |
| HOUGHTON, GEORGE & CYNTHIA (SHERIDAN) | COMMITTEE TO ELECT KEN PENDERGRAFT FOR HOUSE DISTRICT 29 | CANDIDATE COMMITTEE | MONETARY | 6/26/2020 | FILED | 120 | SHERIDAN, WY 82801 |
| ROBERTS, JAMES & MARILYN (SHERIDAN) | COMMITTEE TO ELECT KEN PENDERGRAFT FOR HOUSE DISTRICT 29 | CANDIDATE COMMITTEE | MONETARY | 6/26/2020 | FILED | 100 | SHERIDAN, WY 82801 |
| EBLIN, KERRY (SHERIDAN) | COMMITTEE TO ELECT KEN PENDERGRAFT FOR HOUSE DISTRICT 29 | CANDIDATE COMMITTEE | MONETARY | 6/19/2020 | FILED | 1400 | SHERIDAN, WY 82801 |
| PIXLEY, MARK & GRETA (SHERIDAN) | COMMITTEE TO ELECT KEN PENDERGRAFT FOR HOUSE DISTRICT 29 | CANDIDATE COMMITTEE | MONETARY | 6/19/2020 | FILED | 100 | SHERIDAN, WY 82801 |
| ADAMS, JUDITH (SHERIDAN) | COMMITTEE TO ELECT KEN PENDERGRAFT FOR HOUSE DISTRICT 29 | CANDIDATE COMMITTEE | MONETARY | 6/16/2020 | FILED | 1000 | SHERIDAN, WY 82801 |
| ADSIT, BILL & ROBERTA (SHERIDAN) | COMMITTEE TO ELECT KEN PENDERGRAFT FOR HOUSE DISTRICT 29 | CANDIDATE COMMITTEE | MONETARY | 6/16/2020 | FILED | 1000 | SHERIDAN, WY 82801 |
| BROPHY, CARLEEN (JACKSON) | COMMITTEE TO ELECT KEN PENDERGRAFT FOR HOUSE DISTRICT 29 | CANDIDATE COMMITTEE | MONETARY | 6/16/2020 | FILED | 1500 | JACKSON, WY 83001 |
| BROPHY, DANIEL (JACKSON) | COMMITTEE TO ELECT KEN PENDERGRAFT FOR HOUSE DISTRICT 29 | CANDIDATE COMMITTEE | MONETARY | 6/16/2020 | FILED | 1500 | JACKSON, WY 83001 |
| COSNER, JIM (SHERIDAN) | COMMITTEE TO ELECT KEN PENDERGRAFT FOR HOUSE DISTRICT 29 | CANDIDATE COMMITTEE | MONETARY | 6/16/2020 | FILED | 500 | SHERIDAN, WY 82801 |
| DAHLIN, WILLIAM & VALERIE (SHERIDAN) | COMMITTEE TO ELECT KEN PENDERGRAFT FOR HOUSE DISTRICT 29 | CANDIDATE COMMITTEE | MONETARY | 6/16/2020 | FILED | 200 | SHERIDAN, WY 82801 |
| HOXSEY, JEFF & JANICE (THERMOPOLIS) | COMMITTEE TO ELECT KEN PENDERGRAFT FOR HOUSE DISTRICT 29 | CANDIDATE COMMITTEE | MONETARY | 6/16/2020 | FILED | 100 | THERMOPOLIS, WY 82443 |
| HUSSKE, GARY (SHERIDAN) | COMMITTEE TO ELECT KEN PENDERGRAFT FOR HOUSE DISTRICT 29 | CANDIDATE COMMITTEE | MONETARY | 6/16/2020 | FILED | 150 | SHERIDAN, WY 82801 |
| LOFTUS, GREG & JANET (BUFFALO) | COMMITTEE TO ELECT KEN PENDERGRAFT FOR HOUSE DISTRICT 29 | CANDIDATE COMMITTEE | MONETARY | 6/16/2020 | FILED | 250 | BUFFALO, WY 82834 |
| PERRITT, ORLENE (SHERIDAN) | COMMITTEE TO ELECT KEN PENDERGRAFT FOR HOUSE DISTRICT 29 | CANDIDATE COMMITTEE | MONETARY | 6/16/2020 | FILED | 100 | SHERIDAN, WY 82801 |