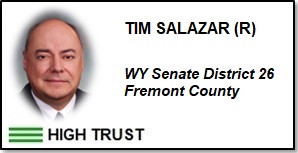 Summary
Representation
Competence
Integrity
More
+ + +
Tim Salazar initially served in Fremont County WY House District 34 from 2017 to 2020, and then in Fremont County WY Senate District 26 from 2021 to the present.  He has received a positive score for all three categories of Representation, Competence and Integrity and therefore has been ranked as High Trust.
He is up for reelection in 2024.
---
State Sen. Tim Salazar, R-Riverton, who sponsored Senate File 109, said outside voices have the right to express their opinions, but that they don't necessarily represent the views of most Wyomingites.

"They have every right to make their statements with what they believe," he told Cowboy State Daily, adding that the criticism falls on mostly deaf ears in Wyoming.

"I don't think they are in touch with the vast majority of Wyoming citizens or the values that we hold in Wyoming," he said. "What the people of New Jersey or the District of Columbia believe is right for them is different than what is right for the people of Wyoming."
From https://cowboystatedaily.com/2023/03/27/sponsor-of-wyomings-chemical-abortion-ban-unfazed-by-global-uproar/
Overall Salazar scores a (+) for Representation.
Attendance
It appears that Salazar missed one vote in 2023 General Session: Appropriations Committee vote for HB74.
Public Conduct
Salazar appears to behave appropriately in public and to the public.
Sponsorship History
In 2023 Salazar was the primary sponsor of 4 bills, and he co-sponsored 37 bills and 1 joint resolution.  Favored sponsorship topics appear to be protection and support of constitutional rights; protection of the unborn and children; education.  For more on Salazar see his legislator webpage.
Committee Assignments
2023-Senate Appropriations
2023-Riverton State Office Task Force
Salazar scored a (+) for Constitutional Competence with an average of 93.7% on the constitutional issues listed below.
For more on the bills used to analyze these scores click here.  Special hat-tip goes out to Evidence Based Wyoming for use of their statistical tool to generate the following vote scores:
Conflicts
Because we have not found any conflicts of interest for Salazar, he receives a (+) for Integrity.
Employment/Income
According to Salazar's legislative webpage he is retired military.  According to 's 2023 State Elected Officials Financial Disclosure available at Wyofile, he reports income from military pension.
Memberships/Civic Organizations
None found.
Campaign Contributions
The table below shows all campaign contributions reported by the WY Secretary of State for Tim Salazar; Timothy Salazar.
From 2014 to 2020 Salazar received approximately 24 contributions that total approximately $24,774.20, with no donations from PACs &/or campaign committees.
Click the arrows at the top of columns to sort the data by name, date, $ amount, etc.  (Data is publicly available records obtained from the Wyoming Secretary of State's Wyoming's Campaign Finance Information System)
| Contributor Name | Recipient Name | Recipient Type | Contribution Type | Date | Filing Status | Amount | City State Zip |
| --- | --- | --- | --- | --- | --- | --- | --- |
| THORNTON, STEPHEN (RIVERTON) | TIM SALAZAR | CANDIDATE | MONETARY | 8/20/2020 | FILED | 25 | RIVERTON, WY 82501 |
| SALAZAR, TIM (RIVERTON) | TIM SALAZAR | CANDIDATE | MONETARY | 8/7/2020 | FILED | 158 | RIVERTON, WY 82501 |
| SALAZAR, TIM (RIVERTON) | TIM SALAZAR | CANDIDATE | MONETARY | 7/20/2020 | FILED | 1190 | RIVERTON, WY 82501 |
| GOTTFRIED, PETER (DUBOIS) | TIM SALAZAR | CANDIDATE | MONETARY | 7/18/2020 | FILED | 500 | DUBOIS, WY 82513 |
| BINGENHEIMER, TOM (DUBOIS) | TIM SALAZAR | CANDIDATE | MONETARY | 6/24/2020 | FILED | 500 | DUBOIS, WY 82513 |
| SALAZAR, TIM (RIVERTON) | TIM SALAZAR | CANDIDATE | MONETARY | 6/16/2020 | FILED | 500 | RIVERTON, WY 82501 |
| HELMICK, JUDITH (DUBOIS) | TIM SALAZAR | CANDIDATE | MONETARY | 6/9/2020 | FILED | 100 | DUBOIS, WY 82513 |
| SALAZAR, TIM (RIVERTON) | TIM SALAZAR | CANDIDATE | MONETARY | 6/8/2020 | FILED | 5600 | RIVERTON, WY 82501 |
| SALAZAR, TIM (RIVERTON) | TIM SALAZAR | CANDIDATE | MONETARY | 6/2/2020 | FILED | 750 | RIVERTON, WY 82501 |
| SALAZAR, TIM (RIVERTON) | TIM SALAZAR | CANDIDATE | MONETARY | 6/1/2020 | FILED | 3070.64 | RIVERTON, WY 82501 |
| KAHIN, BRIAN (DUBOIS) | TIM SALAZAR | CANDIDATE | MONETARY | 5/30/2020 | FILED | 100 | DUBOIS, WY 82513 |
| SALAZAR, TIM (RIVERTON) | TIM SALAZAR | CANDIDATE | MONETARY | 5/15/2020 | FILED | 2180.56 | RIVERTON, WY 82501 |
| BROPHY, CARLEEN (JACKSON) | TIM SALAZAR | CANDIDATE | MONETARY | 3/27/2019 | FILED | 1400 | JACKSON, WY 83001 |
| BROPHY, DAN (JACKSON) | TIM SALAZAR | CANDIDATE | MONETARY | 3/27/2019 | FILED | 1400 | JACKSON, WY 83001 |
| MILLS, TIM (WASHINGTON) | TIM SALAZAR | CANDIDATE | MONETARY | 3/21/2019 | FILED | 1500 | WASHINGTON, WY 20006 |
| BROPHY, CARLEEN (JACKSON) | TIMOTHY SALAZAR | CANDIDATE | MONETARY | 2/20/2018 | FILED | 1000 | JACKSON, WY 83001 |
| BROPHY, DAN (JACKSON) | TIMOTHY SALAZAR | CANDIDATE | MONETARY | 2/20/2018 | FILED | 1000 | JACKSON, WY 83001 |
| SALAZAR, TIM (DUBOIS) | TIM SALAZAR | CANDIDATE | MONETARY | 6/1/2016 | FILED | 300 | DUBOIS, WY 82513 |
| BROPHY, CARLEEN (JACKSON) | TIM SALAZAR | CANDIDATE | MONETARY | 5/30/2016 | FILED | 450 | JACKSON, WY 83001 |
| BROPHY, DANIEL (JACKSON) | TIM SALAZAR | CANDIDATE | MONETARY | 5/30/2016 | FILED | 450 | JACKSON, WY 83001 |
| BROPHY, CARLEEN (JACKSON) | TIM SALAZAR | CANDIDATE | MONETARY | 5/12/2016 | FILED | 1000 | JACKSON, WY 83001 |
| BROPHY, DANIEL (JACKSON) | TIM SALAZAR | CANDIDATE | MONETARY | 5/12/2016 | FILED | 1000 | JACKSON, WY 83001 |
| TYSON, ROBERT (DUBOIS) | TIM SALAZAR | CANDIDATE | MONETARY | 7/27/2014 | FILED | 100 | DUBOIS, WY 82513 |
| YONKERS, JERRY (DUBOIS) | TIM SALAZAR | CANDIDATE | MONETARY | 7/2/2014 | FILED | 500 | DUBOIS, WY 82513 |