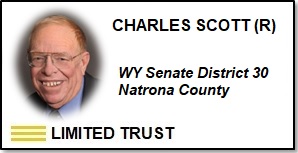 Summary
Representation
Competence
Integrity
More
+ – +
Charles Scott is the longest active serving legislator in the Wyoming State Legislature.  Scott initially served in Natrona County WY House from 1979 to 1982, and then in Natrona County WY Senate District 30 from 1983 to the present.
He has received a positive score for Representation and Integrity, and a negative score for Competence.  Therefore Scott has been ranked as Limited Trust.
He is up for reelection in 2024.
---
Landowners who feel violated by drones should be allowed to shoot them down, says at least one Wyoming state lawmaker.

"I thought maybe a shotgun would be an appropriate legal weapon to take a drone with," said state Sen. Charles Scott, R-Casper.

He made his that remark during a senate floor discussion Wednesday afternoon regarding Senate File 34, which deals with drone trespass.

The bill, which passed its first reading in the Wyoming Senate, should include a provision allowing landowners to "take" trespassing drones, Scott said.

In rural areas where it would be safe to do so, that should include shooting them down, he said.
From https://cowboystatedaily.com/2023/01/18/sen-charlie-scott-says-shotgun-is-a-good-way-to-deal-with-annoying-drones/
Overall Scott earns a (+) for Representation.
Attendance
It appears that Scott was present for every vote in 2023 General Session.
Additionally, Scott recused himself from voting because of a Conflict on the following bills:
HB0022- State land lease deficiencies-cure process.
HB0171 – State land leases.
HB0188 Wolf depredation compensation.
Public Conduct
Scott appears to behave appropriately in public and to the public.
Sponsorship History
In 2023 Scott was the primary sponsor of 3 bills, and he co-sponsored 2 bills and two joint resolutions.  Favored sponsorship topics appear to be education.  For more on Scott see his legislator webpage.
Committee Assignments
2023-Senate Education
2023-Senate Corporations, Elections & Political Subdivisions
Scott scored a (–) for Constitutional Competence with an average of 54.2% on the constitutional issues listed below.
For more on the bills used to analyze these scores click here.  Special hat-tip goes out to Evidence Based Wyoming for use of their statistical tool to generate the following vote scores:
Conflicts
Because we have not found any conflicts of interest for Scott, he receives a (+) for Integrity.
Employment/Income
According to Scott's 2023 State Elected Officials Financial Disclosure available at Wyofile, he reported the following:
Memberships/Civic Organizations
Audubon Society
Nature Conservancy
Stock Grower's Association
Reforming States Group
Harvard Alumni Association
Kiwanis Club
Campaign Contributions
The table below shows all campaign contributions reported by the WY Secretary of State for Charles Scott; Charles K. Scott.  Note that Charles Scott has been serving since 1979 and not all campaign contributions appear in WY Secretary of State publicly available records.
From 2012 to 2020 Scott received approximately 124 contributions that total approximately $53,256.  Of the 124 donations, approximately 57 were from PACs &/or campaign committees.  The total amount Scott received from PACs &/or campaign committees was approximately $30,450 – which is approximately 57% of total donations received.
Noteworthy contributions to Scott are:
$5,000 from Wyoming Hope (RINO donor)

$200 from Diamond Free Enterprise PAC (RINO donor)
$600 from True family dynasty members
$250 from MDU Resources Group Good Government Fund  (ESG compliant)
$250 from Pfizer PAC
$2,350 total from Wyoming Medical Society PAC
$500 from WY EDUCATION ASSN. PAC FOR EDUCATION
Click the arrows at the top of columns to sort the data by name, date, $ amount, etc.  (Data is publicly available records downloaded from the Wyoming Secretary of State's Wyoming's Campaign Finance Information System.)
| Contributor Name | Recipient Name | Recipient Type | Contribution Type | Date | Filing Status | Amount | City State Zip |
| --- | --- | --- | --- | --- | --- | --- | --- |
| TRUCKING INDUSTRY PAC (CASPER) | CHARLES SCOTT | CANDIDATE | MONETARY | 10/28/2020 | AMEND - ADD | 200 | CASPER, WY 82602 |
| MDU RESOURCES GROUP GOOD GOVERNMENT FUND (BISMARCK) | CHARLES SCOTT | CANDIDATE | MONETARY | 10/22/2020 | AMEND - ADD | 250 | BISMARCK, ND 58506 |
| WYO PAC (WYOMING MEDICAL PAC) (CHEYENNE) | CHARLES SCOTT | CANDIDATE | MONETARY | 10/15/2020 | FILED | 250 | CHEYENNE, WY 82003 |
| UNION PACIFIC CORPORATION FUND FOR EFFECTIVE GOVERNMENT (WASHINGTON) | CHARLES SCOTT | CANDIDATE | MONETARY | 10/8/2020 | FILED | 300 | WASHINGTON, DC 20005 |
| BURNS, BRUCE (SHERIDAN) | CHARLES SCOTT | CANDIDATE | MONETARY | 10/7/2020 | FILED | 200 | SHERIDAN, WY 82801 |
| FFFWY FIRE PAC (CHEYENNE) | CHARLES SCOTT | CANDIDATE | MONETARY | 10/5/2020 | FILED | 250 | CHEYENNE, WY 82003 |
| NATRONA REPUBLICAN PARTY CENTRAL COMMITTEE (CASPER) | CHARLES SCOTT | CANDIDATE | MONETARY | 9/15/2020 | FILED | 500 | CASPER, WY 82602 |
| WY REALTORS PAC (CASPER) | CHARLES SCOTT | CANDIDATE | MONETARY | 9/12/2020 | FILED | 1000 | CASPER, WY 82604 |
| NATRONA REPUBLICAN PARTY CENTRAL COMMITTEE (CASPER) | CHARLES SCOTT | CANDIDATE | MONETARY | 8/29/2020 | FILED | 500 | CASPER, WY 82602 |
| WYO PAC (WYOMING MEDICAL PAC) (CHEYENNE) | CHARLES SCOTT | CANDIDATE | MONETARY | 8/17/2020 | AMEND - ADD | 200 | CHEYENNE, WY 82003 |
| PASENEAUX, CAROLYN (CHEYENNE) | CHARLES SCOTT | CANDIDATE | MONETARY | 8/12/2020 | AMEND - ADD | 100 | CHEYENNE, WY 82001 |
| COWBOY GAMES PAC (SHERIDAN) | CHARLES SCOTT | CANDIDATE | MONETARY | 8/10/2020 | AMEND - ADD | 150 | SHERIDAN, WY 82801 |
| FFFWY FIRE PAC (CHEYENNE) | CHARLES SCOTT | CANDIDATE | MONETARY | 8/10/2020 | AMEND - ADD | 500 | CHEYENNE, WY 82003 |
| WY REALTORS PAC (CASPER) | CHARLES SCOTT | CANDIDATE | MONETARY | 8/6/2020 | AMEND - ADD | 1000 | CASPER, WY 82604 |
| CHESAPEAKE ENERGY CORPORATION FED PAC (OKLAHOMA CITY) | CHARLES SCOTT | CANDIDATE | MONETARY | 7/28/2020 | FILED | 250 | OKLAHOMA CITY, OK 73154 |
| DIAMOND FREE ENTERPRISE PAC (CASPER) | CHARLES SCOTT | CANDIDATE | MONETARY | 7/27/2020 | FILED | 200 | CASPER, WY 82601 |
| TRUE, DAVID L (CASPER) | CHARLES SCOTT | CANDIDATE | MONETARY | 7/24/2020 | FILED | 200 | CASPER, WY 82602 |
| FORREST CHADWICK FOR COUNTY COMMISSIONER COMMITTEE (EVANSVILLE) | CHARLES SCOTT | CANDIDATE | MONETARY | 7/13/2020 | FILED | 200 | EVANSVILLE, WY 82636 |
| BURNS, BRUCE (SHERIDAN) | CHARLES SCOTT | CANDIDATE | MONETARY | 7/11/2020 | FILED | 100 | SHERIDAN, WY 82801 |
| URBIKIT, LAURIE (CASPER) | CHARLES SCOTT | CANDIDATE | MONETARY | 7/8/2020 | FILED | 200 | CASPER, WY 82601 |
| WYOMING HOPE (CHEYENNE) | CHARLES SCOTT | CANDIDATE | MONETARY | 7/3/2020 | FILED | 5000 | CHEYENNE, WY 82009 |
| WYOMING STOCK GROWERS' AG PAC (CHEYENNE) | CHARLES SCOTT | CANDIDATE | MONETARY | 6/27/2020 | FILED | 200 | CHEYENNE, WY 82003 |
| WY RURAL ELECTRIC ASSN. PAC (CHEYENNE) | CHARLES SCOTT | CANDIDATE | MONETARY | 6/25/2020 | FILED | 250 | CHEYENNE, WY 82001 |
| DRISKILL, OGDEN (DEVILS TOWER) | CHARLES SCOTT | CANDIDATE | MONETARY | 6/24/2020 | FILED | 100 | DEVILS TOWER, WY 82714 |
| CHARTER COMMUNICATIONS, INC. WYOMING POLITICAL ACTION COMMITTEE (STAMFORD) | CHARLES K. SCOTT | CANDIDATE | MONETARY | 10/21/2016 | FILED | 200 | STAMFORD, CT 06901 |
| UCHNER, DAVID (CHEYENNE) | CHARLES K. SCOTT | CANDIDATE | MONETARY | 10/15/2016 | FILED | 400 | CHEYENNE, WY 82003 |
| UNION PACIFIC CORPORATION FUND FOR EFFECTIVE GOVERNMENT (WASHINGTON D.C.) | CHARLES K. SCOTT | CANDIDATE | MONETARY | 10/8/2016 | FILED | 500 | WASHINGTON D.C., DC 20005 |
| WYO PAC (WYOMING MEDICAL PAC) (CHEYENNE) | CHARLES K. SCOTT | CANDIDATE | MONETARY | 10/7/2016 | FILED | 100 | CHEYENNE, WY 82003 |
| COHEE, ROY (CASPER) | CHARLES K. SCOTT | CANDIDATE | MONETARY | 10/5/2016 | FILED | 100 | CASPER, WY 82609 |
| TRUCKING INDUSTRY PAC (CASPER) | CHARLES K. SCOTT | CANDIDATE | MONETARY | 10/5/2016 | FILED | 200 | CASPER, WY 82602 |
| PFIZER PAC (NEW YORK) | CHARLES K. SCOTT | CANDIDATE | MONETARY | 10/1/2016 | FILED | 250 | NEW YORK, NY 10017 |
| WY REALTORS PAC (CASPER) | CHARLES K. SCOTT | CANDIDATE | MONETARY | 10/1/2016 | FILED | 1000 | CASPER, WY 82601 |
| TRUE, DAVID (CASPER) | CHARLES K. SCOTT | CANDIDATE | MONETARY | 9/28/2016 | FILED | 150 | CASPER, WY 82602 |
| TRUE, III, H.A. (CASPER) | CHARLES K. SCOTT | CANDIDATE | MONETARY | 9/28/2016 | FILED | 150 | CASPER, WY 82602 |
| NATIONAL FEDERATION OF INDEPENDENT BUSINESS WYOMING POLITICAL ACTION COMMITTEE (WASHINGTON) | CHARLES K. SCOTT | CANDIDATE | MONETARY | 9/27/2016 | FILED | 100 | WASHINGTON, DC 20004 |
| NATRONA REPUBLICAN PARTY CENTRAL COMMITTEE (CASPER) | CHARLES K. SCOTT | CANDIDATE | MONETARY | 9/24/2016 | FILED | 500 | CASPER, WY 82602 |
| WYOMING STOCK GROWERS' AG PAC (CHEYENNE) | CHARLES K. SCOTT | CANDIDATE | MONETARY | 9/22/2016 | FILED | 100 | CHEYENNE, WY 82003 |
| BNSF RAILPAC (FT WORTH) | CHARLES K. SCOTT | CANDIDATE | MONETARY | 9/20/2016 | FILED | 200 | FT WORTH, TX 76161 |
| EXXONMOBILE PAC (IRVING) | CHARLES K. SCOTT | CANDIDATE | MONETARY | 9/19/2016 | FILED | 300 | IRVING, TX 75039 |
| PAW POLITICAL ACTION COUNCIL (CASPER) | CHARLES K. SCOTT | CANDIDATE | MONETARY | 9/16/2016 | FILED | 400 | CASPER, WY 82601 |
| WYOMING MINING ASSOCIATION PAC (WMA) (CHEYENNE) | CHARLES K. SCOTT | CANDIDATE | MONETARY | 9/16/2016 | FILED | 200 | CHEYENNE, WY 82003 |
| FARMERS EMPLOYEE & AGENT WYOMING PAC (CHEYENNE) | CHARLES K. SCOTT | CANDIDATE | MONETARY | 9/15/2016 | FILED | 1000 | CHEYENNE, WY 82003 |
| WY RURAL ELECTRIC ASSN. PAC (CHEYENNE) | CHARLES K. SCOTT | CANDIDATE | MONETARY | 7/29/2016 | FILED | 250 | CHEYENNE, WY 82001 |
| BOSWELL, CHRIS (CHEYENNE) | CHARLES K. SCOTT | CANDIDATE | MONETARY | 6/16/2016 | FILED | 100 | CHEYENNE, WY 82009 |
| SCOTT, CHARLES (CASPER) | CHARLES SCOTT | CANDIDATE | IN-KIND | 11/7/2012 | FILED | 1 | CASPER, WY 82604 |
| HOLDING, CAROL (CODY) | CHARLES SCOTT | CANDIDATE | MONETARY | 11/2/2012 | FILED | 500 | CODY, WY 82414 |
| NICHOLAS FOR SENATE (LARAMIE) | CHARLES SCOTT | CANDIDATE | MONETARY | 11/2/2012 | FILED | 300 | LARAMIE, WY 82070 |
| DEUEL, CAROLYN (CASPER) | CHARLES SCOTT | CANDIDATE | MONETARY | 11/1/2012 | FILED | 100 | CASPER, WY 82604 |
| MASSIE, RUTH (LARAMIE) | CHARLES SCOTT | CANDIDATE | MONETARY | 11/1/2012 | FILED | 150 | LARAMIE, WY 82072 |
| QUESTAR EMPLOYEES PAC (SALT LAKE CITY) | CHARLES SCOTT | CANDIDATE | MONETARY | 10/31/2012 | FILED | 250 | SALT LAKE CITY, UT 84145 |
| ROSS, ANTHONY (CHEYENNE) | CHARLES SCOTT | CANDIDATE | MONETARY | 10/31/2012 | FILED | 300 | CHEYENNE, WY 82001 |
| BIRLEFFI, LYNN (CHEYENNE) | CHARLES SCOTT | CANDIDATE | MONETARY | 10/30/2012 | FILED | 150 | CHEYENNE, WY 82001 |
| WY REALTORS PAC (CASPER) | CHARLES SCOTT | CANDIDATE | IN-KIND | 10/28/2012 | FILED | 600 | CASPER, WY 82601 |
| CABLEVISION SYSTEMS WYOMING POLITICAL ACTION COMMITTEE (BETHPAGE) | CHARLES SCOTT | CANDIDATE | MONETARY | 10/26/2012 | FILED | 200 | BETHPAGE, NY 11714 |
| DEUEL, DANA (CASPER) | CHARLES SCOTT | CANDIDATE | MONETARY | 10/24/2012 | FILED | 350 | CASPER, WY 82602 |
| HAWKS, BILL (CASPER) | CHARLES SCOTT | CANDIDATE | MONETARY | 10/19/2012 | FILED | 200 | CASPER, WY 82602 |
| LANTTA, KEN (CASPER) | CHARLES SCOTT | CANDIDATE | MONETARY | 10/19/2012 | FILED | 100 | CASPER, WY 82601 |
| NATRONA REPUBLICAN PARTY CENTRAL COMMITTEE (CASPER) | CHARLES SCOTT | CANDIDATE | MONETARY | 10/19/2012 | FILED | 1000 | CASPER, WY 82602 |
| ONEOK EMPLOYEES PAC (TOPEKA) | CHARLES SCOTT | CANDIDATE | MONETARY | 10/19/2012 | FILED | 200 | TOPEKA, KS 66606 |
| TRUE III, H. A. (CASPER) | CHARLES SCOTT | CANDIDATE | MONETARY | 10/13/2012 | FILED | 50 | CASPER, WY 82602 |
| TRUE, DAVID (CASPER) | CHARLES SCOTT | CANDIDATE | MONETARY | 10/13/2012 | FILED | 50 | CASPER, WY 82602 |
| AT&T INC. FEDERAL PAC (DALLAS) | CHARLES SCOTT | CANDIDATE | MONETARY | 10/4/2012 | FILED | 100 | DALLAS, TX 75202 |
| CENTURYLINK, INC., EMPLOYEES PAC (WASHINGTON) | CHARLES SCOTT | CANDIDATE | MONETARY | 10/4/2012 | FILED | 300 | WASHINGTON, DC 20001 |
| WY REALTORS PAC (CASPER) | CHARLES SCOTT | CANDIDATE | MONETARY | 10/4/2012 | FILED | 1000 | CASPER, WY 82601 |
| TRUCKING INDUSTRY PAC (CASPER) | CHARLES SCOTT | CANDIDATE | MONETARY | 9/18/2012 | FILED | 200 | CASPER, WY 82602 |
| MOTOROLA SOLUTIONS, INC. PAC (WASHINGTON ) | CHARLES SCOTT | CANDIDATE | MONETARY | 9/11/2012 | FILED | 200 | WASHINGTON , DC 20004 |
| SHEPPERSON, LISA (CASPER) | CHARLES SCOTT | CANDIDATE | MONETARY | 8/30/2012 | FILED | 150 | CASPER, WY 82601 |
| DEUEL, DANA (CASPER) | CHARLES SCOTT | CANDIDATE | MONETARY | 8/21/2012 | FILED | 350 | CASPER, WY 82602 |
| MCCONIGLEY, NIMI (CASPER) | CHARLES SCOTT | CANDIDATE | MONETARY | 8/21/2012 | FILED | 250 | CASPER, WY 82601 |
| URBIGKIT, LAURIE (CASPER) | CHARLES SCOTT | CANDIDATE | MONETARY | 8/21/2012 | FILED | 200 | CASPER, WY 82601 |
| ODASZ, FRANK (CASPER) | CHARLES SCOTT | CANDIDATE | MONETARY | 8/20/2012 | FILED | 100 | CASPER, WY 82604 |
| SCOTT, CHARLES (CASPER) | CHARLES SCOTT | CANDIDATE | LOAN | 8/20/2012 | FILED | 2000 | CASPER, WY 82604 |
| BLACK HILLS CORPORATION PAC (RAPID CITY) | CHARLES SCOTT | CANDIDATE | MONETARY | 8/18/2012 | FILED | 600 | RAPID CITY, SD 57709 |
| ANDERSON, SUSAN (CASPER) | CHARLES SCOTT | CANDIDATE | MONETARY | 8/16/2012 | FILED | 200 | CASPER, WY 82604 |
| CATCHPOLE, JUDY (CASPER) | CHARLES SCOTT | CANDIDATE | MONETARY | 8/16/2012 | FILED | 100 | CASPER, WY 82609 |
| MARSH, MARISUE (CASPER) | CHARLES SCOTT | CANDIDATE | MONETARY | 8/16/2012 | FILED | 200 | CASPER, WY 82601 |
| NIX, LINDA (CASPER) | CHARLES SCOTT | CANDIDATE | MONETARY | 8/16/2012 | FILED | 100 | CASPER, WY 82601 |
| WOLD, JOHN (CASPER) | CHARLES SCOTT | CANDIDATE | MONETARY | 8/16/2012 | FILED | 1000 | CASPER, WY 82601 |
| BAILEY, JOHN (CASPER) | CHARLES SCOTT | CANDIDATE | IN-KIND | 8/15/2012 | FILED | 525 | CASPER, WY 82604 |
| BAILEY, MRS. JOHN (CASPER) | CHARLES SCOTT | CANDIDATE | IN-KIND | 8/15/2012 | FILED | 525 | CASPER, WY 82604 |
| LAMBERSON, BRUCE (CASPER) | CHARLES SCOTT | CANDIDATE | MONETARY | 8/15/2012 | FILED | 100 | CASPER, WY 82602 |
| PAW POLITICAL ACTION COUNCIL (CASPER) | CHARLES SCOTT | CANDIDATE | MONETARY | 8/11/2012 | FILED | 500 | CASPER, WY 82601 |
| THOMSON, WILLIAM (CHEYENNE) | CHARLES SCOTT | CANDIDATE | MONETARY | 8/11/2012 | FILED | 100 | CHEYENNE, WY 82003 |
| BRADY, JON (ALCOVA) | CHARLES SCOTT | CANDIDATE | MONETARY | 8/10/2012 | FILED | 50 | ALCOVA, WY 82620 |
| LADD, ANNE (CASPER) | CHARLES SCOTT | CANDIDATE | MONETARY | 8/10/2012 | FILED | 50 | CASPER, WY 82609 |
| SAROSY, KATHLEEN (CASPER) | CHARLES SCOTT | CANDIDATE | MONETARY | 8/10/2012 | FILED | 50 | CASPER, WY 82601 |
| BRYCE, GEORGE (CASPER) | CHARLES SCOTT | CANDIDATE | MONETARY | 8/9/2012 | FILED | 100 | CASPER, WY 82602 |
| POMEROY, CYNTHIA (CHEYENNE) | CHARLES SCOTT | CANDIDATE | MONETARY | 8/9/2012 | FILED | 100 | CHEYENNE, WY 82009 |
| REA, ELIZABETH (CASPER) | CHARLES SCOTT | CANDIDATE | MONETARY | 8/9/2012 | FILED | 1000 | CASPER, WY 82604 |
| CURRAN, WENDY (CHEYENNE) | CHARLES SCOTT | CANDIDATE | MONETARY | 8/8/2012 | FILED | 100 | CHEYENNE, WY 82009 |
| MORTON, KATHARINE (CASPER) | CHARLES SCOTT | CANDIDATE | MONETARY | 8/8/2012 | FILED | 300 | CASPER, WY 82601 |
| REA, BAYARD (CASPER) | CHARLES SCOTT | CANDIDATE | MONETARY | 8/8/2012 | FILED | 1000 | CASPER, WY 82604 |
| SCOTT, CHARLES (CASPER) | CHARLES SCOTT | CANDIDATE | LOAN | 8/8/2012 | FILED | 5000 | CASPER, WY 82604 |
| GOSMAN, ROBERT (CASPER) | CHARLES SCOTT | CANDIDATE | MONETARY | 8/7/2012 | FILED | 200 | CASPER, WY 82601 |
| MCDOWELL, WILLIAM (CASPER) | CHARLES SCOTT | CANDIDATE | MONETARY | 8/7/2012 | FILED | 500 | CASPER, WY 82601 |
| WALSH, RITA (CASPER) | CHARLES SCOTT | CANDIDATE | MONETARY | 8/7/2012 | FILED | 50 | CASPER, WY 82601 |
| ANDERSON, SUSAN (CASPER) | CHARLES SCOTT | CANDIDATE | IN-KIND | 8/3/2012 | FILED | 60 | CASPER, WY 82604 |
| WY REALTORS PAC (CASPER) | CHARLES SCOTT | CANDIDATE | MONETARY | 8/3/2012 | FILED | 2000 | CASPER, WY 82601 |
| HAMMONS, DEBORAH (WORLAND) | CHARLES SCOTT | CANDIDATE | MONETARY | 8/2/2012 | FILED | 50 | WORLAND, WY 82401 |
| MAXFIELD, GAYLA (CHEYENNE) | CHARLES SCOTT | CANDIDATE | MONETARY | 7/31/2012 | FILED | 300 | CHEYENNE, WY 82009 |
| UCHNER, DAVID (CHEYENNE) | CHARLES SCOTT | CANDIDATE | MONETARY | 7/31/2012 | FILED | 500 | CHEYENNE, WY 82003 |
| WYO PAC (WYOMING MEDICAL PAC) (CHEYENNE) | CHARLES SCOTT | CANDIDATE | IN-KIND | 7/30/2012 | FILED | 1800 | CHEYENNE, WY 82003 |
| FARMERS EMPLOYEE & AGENT WYOMING PAC (CHEYENNE) | CHARLES SCOTT | CANDIDATE | MONETARY | 7/23/2012 | FILED | 1000 | CHEYENNE, WY 82003 |
| MASTERSON, JOHN (CASPER) | CHARLES SCOTT | CANDIDATE | MONETARY | 7/20/2012 | FILED | 250 | CASPER, WY 82602 |
| WYOMING MINING ASSOCIATION PAC (WMA) (CHEYENNE) | CHARLES SCOTT | CANDIDATE | MONETARY | 7/20/2012 | FILED | 500 | CHEYENNE, WY 82003 |
| MCBRIDE, JOHN (CHEYENNE) | CHARLES SCOTT | CANDIDATE | MONETARY | 7/18/2012 | FILED | 70 | CHEYENNE, WY 82009 |
| BERLEFFI, LYNN (CHEYENNE) | CHARLES SCOTT | CANDIDATE | MONETARY | 7/13/2012 | FILED | 200 | CHEYENNE, WY 82001 |
| UNITED TRANSPORTATION UNION PAC (NORTH OMSTEAD) | CHARLES SCOTT | CANDIDATE | MONETARY | 7/13/2012 | FILED | 800 | NORTH OMSTEAD, OH 44070 |
| FOLKS FOR FREUDENTHAL (CHEYENNE) | CHARLES SCOTT | CANDIDATE | MONETARY | 7/12/2012 | FILED | 500 | CHEYENNE, WY 82003 |
| WLRAPAC (CHEYENNE) | CHARLES SCOTT | CANDIDATE | MONETARY | 7/10/2012 | FILED | 300 | CHEYENNE, WY 82003 |
| AT&T INC. FEDERAL PAC (DALLAS) | CHARLES SCOTT | CANDIDATE | MONETARY | 7/9/2012 | FILED | 200 | DALLAS, TX 75202 |
| BROWN, STEPHEN (CASPER) | CHARLES SCOTT | CANDIDATE | MONETARY | 7/9/2012 | FILED | 100 | CASPER, WY 82604 |
| KAISER, SHERLYN (CASPER) | CHARLES SCOTT | CANDIDATE | IN-KIND | 7/6/2012 | FILED | 50 | CASPER, WY 82601 |
| MULLEN, ROBERT (CASPER) | CHARLES SCOTT | CANDIDATE | MONETARY | 7/6/2012 | FILED | 100 | CASPER, WY 82604 |
| URBIGKIT, LAURIE (CASPER) | CHARLES SCOTT | CANDIDATE | IN-KIND | 7/5/2012 | FILED | 100 | CASPER, WY 82601 |
| MAXFIELD, GAYLA (CHEYENNE) | CHARLES SCOTT | CANDIDATE | MONETARY | 6/30/2012 | FILED | 200 | CHEYENNE, WY 82009 |
| MILLIN, LORI (CHEYENNE) | CHARLES SCOTT | CANDIDATE | MONETARY | 6/30/2012 | FILED | 200 | CHEYENNE, WY 82003 |
| WYOMING STOCK GROWERS' AG PAC (CHEYENNE) | CHARLES SCOTT | CANDIDATE | MONETARY | 6/30/2012 | FILED | 200 | CHEYENNE, WY 82003 |
| WY EDUCATION ASSN. PAC FOR EDUCATION (CHEYENNE) | CHARLES SCOTT | CANDIDATE | MONETARY | 6/26/2012 | FILED | 500 | CHEYENNE, WY 82001 |
| SCOTT, CHARLES (CASPER) | CHARLES SCOTT | CANDIDATE | LOAN | 6/25/2012 | FILED | 2000 | CASPER, WY 82604 |
| WY REALTORS PAC (CASPER) | CHARLES SCOTT | CANDIDATE | MONETARY | 6/25/2012 | FILED | 1000 | CASPER, WY 82601 |
| MINCER, JASON (CHEYENNE) | CHARLES SCOTT | CANDIDATE | MONETARY | 6/18/2012 | FILED | 50 | CHEYENNE, WY 82001 |
| BOSWELL, CHRIS (CHEYENNE) | CHARLES SCOTT | CANDIDATE | MONETARY | 6/4/2012 | FILED | 100 | CHEYENNE, WY 82001 |
| SCOTT, CHARLES (CASPER) | CHARLES SCOTT | CANDIDATE | MONETARY | 5/17/2012 | FILED | 25 | CASPER, WY 82604 |