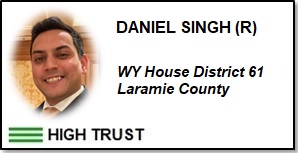 Summary
Representation
Competence
Integrity
More
+ + +
Daniel Singh has served in House District 61 as a WY Representative for Laramie County from Jan 2023 to the present.  He has received a Positive score for all three categories of Representation, Competence and Integrity and therefore has been ranked as High Trust.
He is up for reelection in 2024.
---
The first amendment has been challenged on all fronts simultaneously. In the last few years, we have seen assaults on the right to assemble, the right to freely practice your religion, and the right to speak freely without being silenced.

I am wholly dedicated to protecting our God-given rights from an inevitably tyrannical government in the modern age of autocratic tendencies. Our freedoms are an exception in history and require a constant defense from those who would rather see you silenced.
https://www.singhforwyoming.com/on-the-issues
Overall Singh earns a (+) for Representation.
Attendance
It appears that Singh missed 3 votes across 2 days in 2023 General Session:
2/21/23 3rd Reading for SF84;
2/23/23 Committee of the Whole for SF74; Concurrence vote for HB82.
Additionally, Singh recused himself from voting because of a Conflict on amendment for SF61 – Legislator per diem.
Public Conduct
Singh appears to behave appropriately in public and to the public.
Sponsorship History
 In 2023 Singh was the primary sponsor of 2 bills, and he co-sponsored 22 bills and 1 joint resolution.  Favored sponsorship topics appear to be protection of the unborn; elections.  For more on see his legislator webpage.
Committee Assignments
2023-House Travel, Recreation, Wildlife & Cultural Resources
2023-Select Committee on Blockchain, Financial Technology and Digital Innovation Technology
Singh scored a (+) for Constitutional Competence with an average of 100% on the constitutional issues listed below.  Constitutional issue categories that have a "N/A" grade, refer to specific bills that  did not have the opportunity to vote on.
For more on the bills used to analyze these scores click here.  Special hat-tip goes out to Evidence Based Wyoming for use of their statistical tool to generate the following vote scores:
Conflicts
Because we have not found any conflicts of interest for Singh, he receives a (+) for Integrity.
Employment/Income
According to Singh's 2023 State Elected Officials Financial Disclosure available at Wyofile, he reports he is employed at Starbucks.
Memberships/Civic Organizations
One Way Evangelistic Ministries
Campaign Contributions
The table below shows all campaign contributions reported by the WY Secretary of State for Singh for Wyoming.
In 2022 Singh received approximately 13 contributions that total approximately $8,675.  Of the 13 donations, approximately 1 was from a PAC for $2,500.
Click the arrows at the top of columns to sort the data by name, date, $ amount, etc.  (Data is publicly available records obtained from the Wyoming Secretary of State's Wyoming's Campaign Finance Information System)
| Contributor Name | Recipient Name | Recipient Type | Contribution Type | Date | Filing Status | Amount | City State Zip |
| --- | --- | --- | --- | --- | --- | --- | --- |
| MEIER, CURT (LAGRANGE) | SINGH FOR WYOMING | CANDIDATE COMMITTEE | MONETARY | 8/12/2022 | AMEND - ADD | 200 | LAGRANGE, WY 82221 |
| WY REALTORS PAC (CASPER) | SINGH FOR WYOMING | CANDIDATE COMMITTEE | MONETARY | 7/18/2022 | FILED | 2500 | CASPER, WY 82601 |
| DARIN SMITH FOR WYOMING (CHEYENNE) | SINGH FOR WYOMING | CANDIDATE COMMITTEE | MONETARY | 6/22/2022 | FILED | 1000 | CHEYENNE, WY 82003 |
| MARROU, GARY (LIVERMORE) | SINGH FOR WYOMING | CANDIDATE COMMITTEE | MONETARY | 6/19/2022 | FILED | 100 | LIVERMORE, CO 80536 |
| PALMER, ROBERT (CHEYENNE) | SINGH FOR WYOMING | CANDIDATE COMMITTEE | MONETARY | 6/16/2022 | FILED | 50 | CHEYENNE, WY 82001 |
| BROPHY, CARLEEN (JACKSON) | SINGH FOR WYOMING | CANDIDATE COMMITTEE | MONETARY | 5/28/2022 | FILED | 1500 | JACKSON, WY 83001 |
| BROPHY, DANIEL (JACKSON) | SINGH FOR WYOMING | CANDIDATE COMMITTEE | MONETARY | 5/28/2022 | FILED | 1500 | JACKSON, WY 83001 |
| SINGH, JERRY AND KATHY (CHEYENNE) | SINGH FOR WYOMING | CANDIDATE COMMITTEE | MONETARY | 5/27/2022 | FILED | 200 | CHEYENNE, WY 82009 |
| WILSON, SUE (CHEYENNE) | SINGH FOR WYOMING | CANDIDATE COMMITTEE | IN-KIND | 5/26/2022 | FILED | 195 | CHEYENNE, WY 82009 |
| SINGH, JERRY (CHEYENNE) | SINGH FOR WYOMING | CANDIDATE COMMITTEE | IN-KIND | 4/25/2022 | FILED | 129 | CHEYENNE, WY 82009 |
| MCILVAIN, ILA (CHEYENNE) | SINGH FOR WYOMING | CANDIDATE COMMITTEE | MONETARY | 4/21/2022 | FILED | 500 | CHEYENNE, WY 82009 |
| MEYER, DANIEL (CHEYENNE) | SINGH FOR WYOMING | CANDIDATE COMMITTEE | MONETARY | 4/20/2022 | FILED | 300 | CHEYENNE, WY 82001 |
| WALTERS, STEVE (CHEYENNE) | SINGH FOR WYOMING | CANDIDATE COMMITTEE | MONETARY | 4/18/2022 | FILED | 500 | CHEYENNE, WY 82003 |