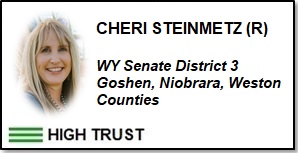 Summary
Representation
Competence
Integrity
More
+ + +
Cheri Steinmetz has served in Senate District 3 as a WY Senator for Goshen, Niobrara, and Weston Counties from 2015 to the present.  Steinmetz also served in House District 5 in Goshen County from 2015-2018.
Steinmetz has received a positive score for all three categories of Representation, Competence and Integrity and therefore has been ranked as High Trust.
---
The program also includes critical race studies, Steinmetz noted. "The other thing they want to do is 'translate feminist and social justice theories into service and activism,'" she added.

"And so, I just have to ask you, what are we doing here at the University of Wyoming with these courses?" the senator said. "I would ask for your favorable consideration to direct our funds in a more appropriate manner for taxpayer dollars, and just vote your conscience on this one, because my conscience won't sleep without addressing it here in this body today."

"We're training activists," Steinmetz said.
From https://www.lifesitenews.com/news/wyoming-senate-votes-to-eliminate-pro-lgbt-gender-studies-program-at-state-university/
Overall Steinmetz earns a (+) for Representation.
Attendance
It appears that Steinmetz missed 25 votes across three days in 2023 General Session:
2/15/23 – SF68 3rd reading;
2/16/23 – HB7 3rd reading; HB96 3rd reading; HB106, 3rd reading; HB142 3rd reading; HB213 3rd reading; HB239 3rd reading; SF9 Concurrence; SF51 Concurrence;
2/17/23 – HB22 3rd reading; HB27 3rd reading; HB31 3rd reading; HB101 3rd reading; HB118 3rd reading; HB127 3rd reading; HB165 3rd reading; HB174 3rd reading; HB180 3rd reading; SF10 Concurrence; SF37 Concurrence; SF43 Concurrence;
Public Conduct
Steinmetz appears to behave appropriately in public and to the public.
Sponsorship History
In 2023 Steinmetz was the primary sponsor of 7 bills, and co-sponsored 47 bills and 3 joint resolutions.  Favored sponsorship topics appear to be protection of the unborn, children and students; education.  For more details, see her legislator webpage.
Committee Assignments
2023-Senate Agriculture, State and Public Lands & Water Resources – Chairman
2023-Select Water Committee – Chairman
2023-Senate Education
2023-Select Committee on Capital Financing & Investments
2023-CSG West – Agriculture and Water
Steinmetz scored a (+) for Constitutional Competence with an average of 88.1% on the constitutional issues listed below.  Because our cut-off is at 85%, Steinmetz came close to scoring a (–).
For more on the bills used to analyze these scores click here.  Special hat-tip goes out to Evidence Based Wyoming for use of their statistical tool to generate the following vote scores:
Conflicts
Because we have not found any conflicts of interest for Steinmetz, she receives a (+) for Integrity.
Employment/Income
According to Steinmetz's 2023 State Elected Officials Financial Disclosure available at Wyofile, she reports:
Self employed
Business Interests – Home on The Range Ltd; Ameritas Financial Services; Rawhide Quarterhhorses & Cattle
Memberships/Civic Organizations
Goshen County Farm Bureau Federation Board
Goshen County Republican Precinct Committee Woman
Goshen County Republican Women Secretary
LEAD Fellow Graduate Class of 2012
Goshen County Cattlewomen
Campaign Contributions
The table below shows all campaign contributions reported by the WY Secretary of State for Committee to Elect Steinmetz for Senate / Committee to Elect Steinmetz for Senate 3 / Committee to Elect Cheri Steinmetz for House / Cheri E Steinmetz.
From 2010 to 2022 Steinmetz received approximately 177 contributions that total approximately $58,24.49.  Of the 177 donations, approximately 23 were from PACs &/or Campaign Committees.  The total amount received from PACs &/or Campaign Committees was approximately $6,120.46.
Noteworthy contributions are:
$200 from Pacific Power/Rocky Mountain Power PAC (ESG compliant)
Click the arrows at the top of columns to sort the data by name, date, $ amount, etc.  (Data is publicly available records obtained from the Wyoming Secretary of State's Wyoming's Campaign Finance Information System.)
| Contributor Name | Recipient Name | Recipient Type | Contribution Type | Date | Filing Status | Amount | City State Zip |
| --- | --- | --- | --- | --- | --- | --- | --- |
| PACIFIC POWER/ROCKY MOUNTAIN POWER PAC (PORTLAND) | COMMITTEE TO ELECT STEINMETZ FOR SENATE | CANDIDATE COMMITTEE | MONETARY | 10/14/2022 | FILED | 200 | PORTLAND, OR 97232 |
| TRUCKING INDUSTRY PAC (CASPER) | COMMITTEE TO ELECT STEINMETZ FOR SENATE | CANDIDATE COMMITTEE | MONETARY | 8/30/2022 | FILED | 100 | CASPER, WY 82602 |
| WADSWORTH, WADE (LINGLE) | COMMITTEE TO ELECT STEINMETZ FOR SENATE | CANDIDATE COMMITTEE | MONETARY | 7/25/2022 | FILED | 100 | LINGLE, WY 82223 |
| WY RURAL ELECTRIC ASSN. PAC (CHEYENNE) | COMMITTEE TO ELECT STEINMETZ FOR SENATE | CANDIDATE COMMITTEE | MONETARY | 7/25/2022 | FILED | 500 | CHEYENNE, WY 82001 |
| PERRY, NYONNE (VAN TASSELL) | COMMITTEE TO ELECT STEINMETZ FOR SENATE | CANDIDATE COMMITTEE | MONETARY | 7/14/2022 | FILED | 100 | VAN TASSELL, WY 82242 |
| WADE, PATRICK (LUSK) | COMMITTEE TO ELECT STEINMETZ FOR SENATE | CANDIDATE COMMITTEE | MONETARY | 7/14/2022 | FILED | 200 | LUSK, WY 82225 |
| MAUS, BLAIR (JACKSON) | COMMITTEE TO ELECT STEINMETZ FOR SENATE | CANDIDATE COMMITTEE | MONETARY | 7/11/2022 | FILED | 1000 | JACKSON, WY 83001 |
| AHEARN, FRANK (TORRINGTON) | COMMITTEE TO ELECT STEINMETZ FOR SENATE | CANDIDATE COMMITTEE | MONETARY | 7/7/2022 | FILED | 100 | TORRINGTON, WY 82240 |
| AMERICAN SOCIETY OF ANESTHESIOLOGISTS (SCHAUMBURG) | COMMITTEE TO ELECT STEINMETZ FOR SENATE | CANDIDATE COMMITTEE | MONETARY | 6/27/2022 | FILED | 500 | SCHAUMBURG, IL 60173 |
| HAGEMAN, HUGH (FT LARAMIE) | COMMITTEE TO ELECT STEINMETZ FOR SENATE | CANDIDATE COMMITTEE | MONETARY | 6/24/2022 | FILED | 200 | FT LARAMIE, WY 82212 |
| HUNTER, KENT (YODER) | COMMITTEE TO ELECT STEINMETZ FOR SENATE | CANDIDATE COMMITTEE | MONETARY | 6/24/2022 | FILED | 50 | YODER, WY 82244 |
| SHEAFFER, CORRINE (YODER) | COMMITTEE TO ELECT STEINMETZ FOR SENATE | CANDIDATE COMMITTEE | MONETARY | 6/24/2022 | FILED | 250 | YODER, WY 82244 |
| BROPHY, CARLEEN (JACKSON) | COMMITTEE TO ELECT STEINMETZ FOR SENATE | CANDIDATE COMMITTEE | MONETARY | 6/17/2022 | FILED | 1500 | JACKSON, WY 83001 |
| BROPHY, DANIEL (JACKSON) | COMMITTEE TO ELECT STEINMETZ FOR SENATE | CANDIDATE COMMITTEE | MONETARY | 6/17/2022 | FILED | 1500 | JACKSON, WY 83001 |
| STEINMETZ, CHERI (LINGLE) | COMMITTEE TO ELECT STEINMETZ FOR SENATE | CANDIDATE COMMITTEE | MONETARY | 6/17/2022 | FILED | 3000 | LINGLE, WY 82223 |
| WYOMING MINING ASSOCIATION PAC (WMA) (CHEYENNE) | COMMITTEE TO ELECT STEINMETZ FOR SENATE | CANDIDATE COMMITTEE | MONETARY | 6/17/2022 | FILED | 100 | CHEYENNE, WY 82001 |
| WYOMING STOCK GROWERS' AG PAC (CHEYENNE) | COMMITTEE TO ELECT STEINMETZ FOR SENATE | CANDIDATE COMMITTEE | MONETARY | 6/17/2022 | FILED | 200 | CHEYENNE, WY 82003 |
| BLACK HILLS CORPORATION PAC (RAPID CITY) | COMMITTEE TO ELECT STEINMETZ FOR SENATE 3 | CANDIDATE COMMITTEE | MONETARY | 10/25/2018 | FILED | 500 | RAPID CITY, SD 57709 |
| NATIONAL FEDERATION OF INDEPENDENT BUSINESS WYOMING POLITICAL ACTION COMMITTEE (WASHINGTON) | COMMITTEE TO ELECT STEINMETZ FOR SENATE 3 | CANDIDATE COMMITTEE | IN-KIND | 10/24/2018 | FILED | 20.46 | WASHINGTON, DC 20004 |
| COMMON VALUES PAC (ALEXANDRIA) | COMMITTEE TO ELECT STEINMETZ FOR SENATE 3 | CANDIDATE COMMITTEE | MONETARY | 10/16/2018 | FILED | 250 | ALEXANDRIA, VA 22314 |
| REPUBLICAN (CHEYENNE) | COMMITTEE TO ELECT STEINMETZ FOR SENATE 3 | CANDIDATE COMMITTEE | MONETARY | 10/15/2018 | FILED | 3000 | CHEYENNE, WY 82003 |
| TRUCKING INDUSTRY PAC (CASPER) | COMMITTEE TO ELECT STEINMETZ FOR SENATE 3 | CANDIDATE COMMITTEE | MONETARY | 10/15/2018 | FILED | 100 | CASPER, WY 82602 |
| ONEOK EMPLOYEES PAC (SHAWNEE MISSION) | COMMITTEE TO ELECT STEINMETZ FOR SENATE 3 | CANDIDATE COMMITTEE | MONETARY | 10/4/2018 | FILED | 250 | SHAWNEE MISSION, KS 66225 |
| PAW POLITICAL ACTION COUNCIL (CASPER) | COMMITTEE TO ELECT STEINMETZ FOR SENATE 3 | CANDIDATE COMMITTEE | MONETARY | 9/21/2018 | FILED | 250 | CASPER, WY 82601 |
| SHIPLEY, MARK (LINGLE) | COMMITTEE TO ELECT STEINMETZ FOR SENATE 3 | CANDIDATE COMMITTEE | MONETARY | 8/30/2018 | FILED | 100 | LINGLE, WY 82223 |
| STEINMETZ, CHERI (LINGLE) | COMMITTEE TO ELECT STEINMETZ FOR SENATE 3 | CANDIDATE COMMITTEE | MONETARY | 8/18/2018 | FILED | 300 | LINGLE, WY 82223 |
| STEINMETZ, CHERI (LINGLE) | COMMITTEE TO ELECT STEINMETZ FOR SENATE 3 | CANDIDATE COMMITTEE | MONETARY | 8/16/2018 | FILED | 2221.39 | LINGLE, WY 82223 |
| STEINMETZ, COREY (TORRINGTON) | COMMITTEE TO ELECT STEINMETZ FOR SENATE 3 | CANDIDATE COMMITTEE | IN-KIND | 8/15/2018 | FILED | 105.9 | TORRINGTON, WY 82240 |
| STEINMETZ, COREY (TORRINGTON) | COMMITTEE TO ELECT STEINMETZ FOR SENATE 3 | CANDIDATE COMMITTEE | IN-KIND | 8/15/2018 | FILED | 250 | TORRINGTON, WY 82240 |
| DOENZ, WILLIAM (SHERIDAN) | COMMITTEE TO ELECT STEINMETZ FOR SENATE 3 | CANDIDATE COMMITTEE | MONETARY | 8/6/2018 | FILED | 1500 | SHERIDAN, WY 82801 |
| WY RURAL ELECTRIC ASSN. PAC (CHEYENNE) | COMMITTEE TO ELECT STEINMETZ FOR SENATE 3 | CANDIDATE COMMITTEE | MONETARY | 7/30/2018 | FILED | 250 | CHEYENNE, WY 82001 |
| WYOMING MINING ASSOCIATION PAC (WMA) (CHEYENNE) | COMMITTEE TO ELECT STEINMETZ FOR SENATE 3 | CANDIDATE COMMITTEE | MONETARY | 7/30/2018 | FILED | 200 | CHEYENNE, WY 82001 |
| WYOMING STOCK GROWERS' AG PAC (CHEYENNE) | COMMITTEE TO ELECT STEINMETZ FOR SENATE 3 | CANDIDATE COMMITTEE | MONETARY | 7/24/2018 | FILED | 200 | CHEYENNE, WY 82003 |
| STEINMETZ, CHERI (LINGLE) | COMMITTEE TO ELECT STEINMETZ FOR SENATE 3 | CANDIDATE COMMITTEE | MONETARY | 7/19/2018 | FILED | 300 | LINGLE, WY 82223 |
| RIGHT FOR WYOMING (WORLAND) | COMMITTEE TO ELECT STEINMETZ FOR SENATE 3 | CANDIDATE COMMITTEE | MONETARY | 7/6/2018 | FILED | 500 | WORLAND, WY 82401 |
| GORE, SUSAN (CHEYENNE) | COMMITTEE TO ELECT STEINMETZ FOR SENATE 3 | CANDIDATE COMMITTEE | MONETARY | 7/3/2018 | FILED | 1500 | CHEYENNE, WY 82009 |
| WADE, JO ANN (LUSK) | COMMITTEE TO ELECT STEINMETZ FOR SENATE 3 | CANDIDATE COMMITTEE | MONETARY | 6/25/2018 | FILED | 100 | LUSK, WY 82225 |
| WADE, PATRICK (LUSK) | COMMITTEE TO ELECT STEINMETZ FOR SENATE 3 | CANDIDATE COMMITTEE | MONETARY | 6/25/2018 | FILED | 100 | LUSK, WY 82225 |
| SPAULDING, RONALD (TORRINGTON) | COMMITTEE TO ELECT STEINMETZ FOR SENATE 3 | CANDIDATE COMMITTEE | MONETARY | 6/12/2018 | FILED | 500 | TORRINGTON, WY 82240 |
| DOBY, REBECCA (TORRINGTON) | COMMITTEE TO ELECT STEINMETZ FOR SENATE 3 | CANDIDATE COMMITTEE | MONETARY | 6/5/2018 | FILED | 1000 | TORRINGTON, WY 82240 |
| BROPHY, CARLEEN (JACKSON) | COMMITTEE TO ELECT STEINMETZ FOR SENATE 3 | CANDIDATE COMMITTEE | MONETARY | 5/29/2018 | FILED | 1500 | JACKSON, WY 83001 |
| BROPHY, DANIEL (JACKSON) | COMMITTEE TO ELECT STEINMETZ FOR SENATE 3 | CANDIDATE COMMITTEE | MONETARY | 5/29/2018 | FILED | 1500 | JACKSON, WY 83001 |
| HAGEMAN, MARY LEE (FT LARAMIE) | COMMITTEE TO ELECT STEINMETZ FOR SENATE 3 | CANDIDATE COMMITTEE | MONETARY | 5/29/2018 | FILED | 300 | FT LARAMIE, WY 82212 |
| HALLINAN, TIMOTHY (GILLETTE) | COMMITTEE TO ELECT STEINMETZ FOR SENATE 3 | CANDIDATE COMMITTEE | MONETARY | 5/29/2018 | FILED | 250 | GILLETTE, WY 82718 |
| WADSWORTH, WADE (LINGLE) | COMMITTEE TO ELECT STEINMETZ FOR SENATE 3 | CANDIDATE COMMITTEE | MONETARY | 5/28/2018 | FILED | 100 | LINGLE, WY 82223 |
| STEINMETZ, CHERI (LINGLE) | COMMITTE TO ELECT CHERI STEINMETZ FOR HOUSE | CANDIDATE COMMITTEE | MONETARY | 8/17/2016 | FILED | 751 | LINGLE, WY 82223 |
| WY RURAL ELECTRIC ASSN. PAC (CHEYENNE) | COMMITTE TO ELECT CHERI STEINMETZ FOR HOUSE | CANDIDATE COMMITTEE | MONETARY | 11/1/2014 | FILED | 100 | CHEYENNE, WY 82001 |
| OHOTNICKY, ANDREW (TORRINGTON) | COMMITTE TO ELECT CHERI STEINMETZ FOR HOUSE | CANDIDATE COMMITTEE | MONETARY | 10/8/2014 | FILED | 25 | TORRINGTON, CT 82602 |
| HALVERSON, MARTHA (ETNA) | COMMITTE TO ELECT CHERI STEINMETZ FOR HOUSE | CANDIDATE COMMITTEE | MONETARY | 9/22/2014 | FILED | 50 | ETNA, WY 83118 |
| HUTCHINGS, TOM (CHEYENNE) | COMMITTE TO ELECT CHERI STEINMETZ FOR HOUSE | CANDIDATE COMMITTEE | MONETARY | 9/22/2014 | FILED | 200 | CHEYENNE, WY 82003 |
| TRUCKING INDUSTRY PAC (CASPER) | COMMITTE TO ELECT CHERI STEINMETZ FOR HOUSE | CANDIDATE COMMITTEE | MONETARY | 9/22/2014 | FILED | 100 | CASPER, WY 82602 |
| WYOMING STOCK GROWERS' AG PAC (CHEYENNE) | COMMITTE TO ELECT CHERI STEINMETZ FOR HOUSE | CANDIDATE COMMITTEE | MONETARY | 9/22/2014 | FILED | 100 | CHEYENNE, WY 82003 |
| GORE, SUSAN (CHEYENNE) | COMMITTE TO ELECT CHERI STEINMETZ FOR HOUSE | CANDIDATE COMMITTEE | MONETARY | 9/2/2014 | FILED | 500 | CHEYENNE, WY 82009 |
| CALLAHAN, MIKE (TORRINGTON) | COMMITTE TO ELECT CHERI STEINMETZ FOR HOUSE | CANDIDATE COMMITTEE | MONETARY | 8/23/2014 | AMEND - ADD | 50 | TORRINGTON, WY 82240 |
| STEINMETZ, CHERI (LINGLE) | COMMITTE TO ELECT CHERI STEINMETZ FOR HOUSE | CANDIDATE COMMITTEE | MONETARY | 8/18/2014 | FILED | 150 | LINGLE, WY 82223 |
| VIKTORIN, MARY (TORRINGTON) | COMMITTE TO ELECT CHERI STEINMETZ FOR HOUSE | CANDIDATE COMMITTEE | MONETARY | 8/16/2014 | FILED | 300 | TORRINGTON, WY 82240 |
| CALLAHAN, MIKE (TORRINGTON) | COMMITTE TO ELECT CHERI STEINMETZ FOR HOUSE | CANDIDATE COMMITTEE | MONETARY | 8/15/2014 | FILED | 50 | TORRINGTON, WY 82240 |
| CALLAHAN, MIKE (TORRINGTON) | COMMITTE TO ELECT CHERI STEINMETZ FOR HOUSE | CANDIDATE COMMITTEE | MONETARY | 8/15/2014 | AMEND - DELETE | 50 | TORRINGTON, WY 82240 |
| BROPHY, CARLEEN (JACKSON) | COMMITTE TO ELECT CHERI STEINMETZ FOR HOUSE | CANDIDATE COMMITTEE | MONETARY | 8/6/2014 | FILED | 1000 | JACKSON, WY 83001 |
| COMMITTEE TO ELECT CHERI STEINMETZ (YODER) | COMMITTE TO ELECT CHERI STEINMETZ FOR HOUSE | CANDIDATE COMMITTEE | MONETARY | 8/6/2014 | FILED | 300 | YODER, WY 82244 |
| GENZER, JAMES (JACKSON) | COMMITTE TO ELECT CHERI STEINMETZ FOR HOUSE | CANDIDATE COMMITTEE | MONETARY | 8/6/2014 | FILED | 20 | JACKSON, WY 83001 |
| HAGEMAN, LANE (FT. LARAMIE) | COMMITTE TO ELECT CHERI STEINMETZ FOR HOUSE | CANDIDATE COMMITTEE | MONETARY | 8/6/2014 | FILED | 50 | FT. LARAMIE, WY 82212 |
| KONTOUR, SANDY (WHEATLAND) | COMMITTE TO ELECT CHERI STEINMETZ FOR HOUSE | CANDIDATE COMMITTEE | MONETARY | 8/6/2014 | FILED | 200 | WHEATLAND, WY 82201 |
| MCQUILLAN, KARIN (JACKSON) | COMMITTE TO ELECT CHERI STEINMETZ FOR HOUSE | CANDIDATE COMMITTEE | MONETARY | 8/6/2014 | FILED | 100 | JACKSON, WY 83001 |
| DOOLEY, JOHN (JAY EM) | COMMITTE TO ELECT CHERI STEINMETZ FOR HOUSE | CANDIDATE COMMITTEE | MONETARY | 7/24/2014 | FILED | 500 | JAY EM, WY 82219 |
| HAGEMAN, HUGH (FT. LARAMIE) | COMMITTE TO ELECT CHERI STEINMETZ FOR HOUSE | CANDIDATE COMMITTEE | MONETARY | 7/21/2014 | FILED | 100 | FT. LARAMIE, WY 82212 |
| HAGEMAN, JAMES (CASPER) | COMMITTE TO ELECT CHERI STEINMETZ FOR HOUSE | CANDIDATE COMMITTEE | MONETARY | 7/21/2014 | FILED | 100 | CASPER, WY 82602 |
| HAGEMAN, MARIAN (FT. LARAMIE) | COMMITTE TO ELECT CHERI STEINMETZ FOR HOUSE | CANDIDATE COMMITTEE | MONETARY | 7/21/2014 | FILED | 50 | FT. LARAMIE, WY 82212 |
| HUNTINGTON, BERTON (CASPER) | COMMITTE TO ELECT CHERI STEINMETZ FOR HOUSE | CANDIDATE COMMITTEE | MONETARY | 7/21/2014 | FILED | 100 | CASPER, WY 82604 |
| COLEMAN, CHUCK (HAWK SPRINGS) | COMMITTE TO ELECT CHERI STEINMETZ FOR HOUSE | CANDIDATE COMMITTEE | MONETARY | 7/15/2014 | FILED | 100 | HAWK SPRINGS, WY 82217 |
| MILLER, PAUL (TORRINGTON) | COMMITTE TO ELECT CHERI STEINMETZ FOR HOUSE | CANDIDATE COMMITTEE | MONETARY | 7/15/2014 | FILED | 100 | TORRINGTON, WY 82240 |
| WAGNER, RODNEY (LINGLE) | COMMITTE TO ELECT CHERI STEINMETZ FOR HOUSE | CANDIDATE COMMITTEE | MONETARY | 7/15/2014 | FILED | 800 | LINGLE, WY 82223 |
| CLANCY, NANCY (JACKSON) | COMMITTE TO ELECT CHERI STEINMETZ FOR HOUSE | CANDIDATE COMMITTEE | MONETARY | 7/14/2014 | FILED | 10 | JACKSON, WY 83001 |
| FRENCH, LARRY (POWELL) | COMMITTE TO ELECT CHERI STEINMETZ FOR HOUSE | CANDIDATE COMMITTEE | MONETARY | 7/14/2014 | FILED | 150 | POWELL, WY 82435 |
| KAUFMAN, BRENT (TORRINGTON) | COMMITTE TO ELECT CHERI STEINMETZ FOR HOUSE | CANDIDATE COMMITTEE | MONETARY | 7/14/2014 | FILED | 100 | TORRINGTON, WY 82240 |
| LAIRD, BRUCE (TORRINGTON) | COMMITTE TO ELECT CHERI STEINMETZ FOR HOUSE | CANDIDATE COMMITTEE | MONETARY | 7/14/2014 | FILED | 100 | TORRINGTON, WY 82240 |
| WADE, PATRICK (LUSK) | COMMITTE TO ELECT CHERI STEINMETZ FOR HOUSE | CANDIDATE COMMITTEE | MONETARY | 7/14/2014 | FILED | 100 | LUSK, WY 82225 |
| WEAVER, TIM (WHEATLAND) | COMMITTE TO ELECT CHERI STEINMETZ FOR HOUSE | CANDIDATE COMMITTEE | MONETARY | 7/14/2014 | FILED | 250 | WHEATLAND, WY 82201 |
| ABERNATHY, ROBERT (LINGLE) | COMMITTE TO ELECT CHERI STEINMETZ FOR HOUSE | CANDIDATE COMMITTEE | MONETARY | 7/8/2014 | FILED | 100 | LINGLE, WY 82223 |
| TRAUTWEIN, BART (LINGLE) | COMMITTE TO ELECT CHERI STEINMETZ FOR HOUSE | CANDIDATE COMMITTEE | MONETARY | 7/7/2014 | FILED | 100 | LINGLE, WY 82223 |
| ALLISSON, CLIFFORD (YODER) | COMMITTE TO ELECT CHERI STEINMETZ FOR HOUSE | CANDIDATE COMMITTEE | MONETARY | 7/1/2014 | FILED | 25 | YODER, WY 82244 |
| STEINMETZ, COREY (LINGLE) | COMMITTE TO ELECT CHERI STEINMETZ FOR HOUSE | CANDIDATE COMMITTEE | IN-KIND | 7/1/2014 | FILED | 127.44 | LINGLE, WY 82223 |
| DIDERIKSEN, TERRILL (TORRINGTON) | COMMITTE TO ELECT CHERI STEINMETZ FOR HOUSE | CANDIDATE COMMITTEE | MONETARY | 6/30/2014 | FILED | 30 | TORRINGTON, WY 82240 |
| HENDERSON, TERRY (SHAWNEE) | COMMITTE TO ELECT CHERI STEINMETZ FOR HOUSE | CANDIDATE COMMITTEE | MONETARY | 6/30/2014 | FILED | 30 | SHAWNEE, WY 82229 |
| MASSEY, TOM (LINGLE) | COMMITTE TO ELECT CHERI STEINMETZ FOR HOUSE | CANDIDATE COMMITTEE | MONETARY | 6/30/2014 | FILED | 150 | LINGLE, WY 82223 |
| AHEARN, FRANK (TORRINGTON) | COMMITTE TO ELECT CHERI STEINMETZ FOR HOUSE | CANDIDATE COMMITTEE | MONETARY | 6/26/2014 | FILED | 100 | TORRINGTON, WY 82240 |
| SUSSEX, JOHN (LA GRANGE) | COMMITTE TO ELECT CHERI STEINMETZ FOR HOUSE | CANDIDATE COMMITTEE | MONETARY | 6/26/2014 | FILED | 25 | LA GRANGE, WY 82221 |
| WADSWORTH, WADE (LINGLE) | COMMITTE TO ELECT CHERI STEINMETZ FOR HOUSE | CANDIDATE COMMITTEE | MONETARY | 6/26/2014 | FILED | 25 | LINGLE, WY 82223 |
| DOOLEY, JOHN (JAY EM) | COMMITTE TO ELECT CHERI STEINMETZ FOR HOUSE | CANDIDATE COMMITTEE | MONETARY | 6/23/2014 | FILED | 500 | JAY EM, WY 82219 |
| SCHMIDT, LES (TORRINGTON) | COMMITTE TO ELECT CHERI STEINMETZ FOR HOUSE | CANDIDATE COMMITTEE | MONETARY | 6/23/2014 | FILED | 500 | TORRINGTON, WY 82240 |
| BEBO, ROSE (WHEATLAND) | COMMITTE TO ELECT CHERI STEINMETZ FOR HOUSE | CANDIDATE COMMITTEE | MONETARY | 6/19/2014 | FILED | 100 | WHEATLAND, WY 82201 |
| BOOTH, SHAWN (VETERAN) | COMMITTE TO ELECT CHERI STEINMETZ FOR HOUSE | CANDIDATE COMMITTEE | MONETARY | 6/19/2014 | FILED | 100 | VETERAN, WY 82243 |
| CLOUD, CHARLES (CODY) | COMMITTE TO ELECT CHERI STEINMETZ FOR HOUSE | CANDIDATE COMMITTEE | MONETARY | 6/19/2014 | FILED | 50 | CODY, WY 82414 |
| COLEMAN, CHARLES (HAWK SPRINGS) | COMMITTE TO ELECT CHERI STEINMETZ FOR HOUSE | CANDIDATE COMMITTEE | MONETARY | 6/19/2014 | FILED | 100 | HAWK SPRINGS, WY 82217 |
| COMMITTEE TO ELECT CHERI STEINMETZ (TORRINGTON) | COMMITTE TO ELECT CHERI STEINMETZ FOR HOUSE | CANDIDATE COMMITTEE | MONETARY | 6/19/2014 | FILED | 200 | TORRINGTON, WY 82240 |
| DAMROW, BRUCE (JAY EM) | COMMITTE TO ELECT CHERI STEINMETZ FOR HOUSE | CANDIDATE COMMITTEE | MONETARY | 6/19/2014 | FILED | 100 | JAY EM, WY 82219 |
| DAVISON, ROSEANNA (LINGLE) | COMMITTE TO ELECT CHERI STEINMETZ FOR HOUSE | CANDIDATE COMMITTEE | MONETARY | 6/19/2014 | FILED | 100 | LINGLE, WY 82223 |
| ELLIS, JOHN (TORRINGTON) | COMMITTE TO ELECT CHERI STEINMETZ FOR HOUSE | CANDIDATE COMMITTEE | MONETARY | 6/19/2014 | FILED | 100 | TORRINGTON, WY 82240 |
| GORR, NICHOLAS (FT. LARAMIE) | COMMITTE TO ELECT CHERI STEINMETZ FOR HOUSE | CANDIDATE COMMITTEE | MONETARY | 6/19/2014 | FILED | 150 | FT. LARAMIE, WY 82212 |
| GORR, NICHOLAS (FT. LARAMIE) | COMMITTE TO ELECT CHERI STEINMETZ FOR HOUSE | CANDIDATE COMMITTEE | MONETARY | 6/19/2014 | FILED | 50 | FT. LARAMIE, WY 82212 |
| HAAS, KIRK (LA GRANGE) | COMMITTE TO ELECT CHERI STEINMETZ FOR HOUSE | CANDIDATE COMMITTEE | MONETARY | 6/19/2014 | FILED | 100 | LA GRANGE, WY 82221 |
| HAGEMAN, MARY LEE (FT. LARAMIE) | COMMITTE TO ELECT CHERI STEINMETZ FOR HOUSE | CANDIDATE COMMITTEE | MONETARY | 6/19/2014 | FILED | 200 | FT. LARAMIE, WY 82212 |
| HERBST, JOHN (TORRINGTON) | COMMITTE TO ELECT CHERI STEINMETZ FOR HOUSE | CANDIDATE COMMITTEE | MONETARY | 6/19/2014 | FILED | 50 | TORRINGTON, WY 82240 |
| HOBBS, NANCY (TORRINGTON) | COMMITTE TO ELECT CHERI STEINMETZ FOR HOUSE | CANDIDATE COMMITTEE | MONETARY | 6/19/2014 | FILED | 50 | TORRINGTON, WY 82240 |
| HUNTER, KENT (YODER) | COMMITTE TO ELECT CHERI STEINMETZ FOR HOUSE | CANDIDATE COMMITTEE | MONETARY | 6/19/2014 | FILED | 25 | YODER, WY 82244 |
| MCDOWELL, DON (FT. LARAMIE) | COMMITTE TO ELECT CHERI STEINMETZ FOR HOUSE | CANDIDATE COMMITTEE | MONETARY | 6/19/2014 | FILED | 100 | FT. LARAMIE, WY 82212 |
| MEIER, CURT (LA GRANGE) | COMMITTE TO ELECT CHERI STEINMETZ FOR HOUSE | CANDIDATE COMMITTEE | MONETARY | 6/19/2014 | FILED | 1000 | LA GRANGE, WY 82221 |
| MERCER, DIANE (TORRINGTON) | COMMITTE TO ELECT CHERI STEINMETZ FOR HOUSE | CANDIDATE COMMITTEE | MONETARY | 6/19/2014 | FILED | 100 | TORRINGTON, WY 82240 |
| NELSON, RICK (VETERAN) | COMMITTE TO ELECT CHERI STEINMETZ FOR HOUSE | CANDIDATE COMMITTEE | MONETARY | 6/19/2014 | FILED | 100 | VETERAN, WY 82243 |
| NOVAK, PATRICIA (TORRINGTON) | COMMITTE TO ELECT CHERI STEINMETZ FOR HOUSE | CANDIDATE COMMITTEE | MONETARY | 6/19/2014 | FILED | 100 | TORRINGTON, WY 82240 |
| PERRY, KATHLEEN (LINGLE) | COMMITTE TO ELECT CHERI STEINMETZ FOR HOUSE | CANDIDATE COMMITTEE | MONETARY | 6/19/2014 | FILED | 50 | LINGLE, WY 82223 |
| SCHAFFER, STEVE (YODER) | COMMITTE TO ELECT CHERI STEINMETZ FOR HOUSE | CANDIDATE COMMITTEE | MONETARY | 6/19/2014 | FILED | 200 | YODER, WY 82244 |
| SCHUTT, RICHARD (LINGLE) | COMMITTE TO ELECT CHERI STEINMETZ FOR HOUSE | CANDIDATE COMMITTEE | MONETARY | 6/19/2014 | FILED | 100 | LINGLE, WY 82223 |
| SIMMONS, JOHN (FT. LARAMIE) | COMMITTE TO ELECT CHERI STEINMETZ FOR HOUSE | CANDIDATE COMMITTEE | MONETARY | 6/19/2014 | FILED | 100 | FT. LARAMIE, WY 82212 |
| SIMONSEN, JERRY (YODER) | COMMITTE TO ELECT CHERI STEINMETZ FOR HOUSE | CANDIDATE COMMITTEE | MONETARY | 6/19/2014 | FILED | 50 | YODER, WY 82244 |
| SIMONSON, JERRY (YODER) | COMMITTE TO ELECT CHERI STEINMETZ FOR HOUSE | CANDIDATE COMMITTEE | MONETARY | 6/19/2014 | FILED | 100 | YODER, WY 82244 |
| STEINMETZ, COREY (LINGLE) | COMMITTE TO ELECT CHERI STEINMETZ FOR HOUSE | CANDIDATE COMMITTEE | MONETARY | 6/19/2014 | FILED | 100 | LINGLE, WY 82223 |
| STEINMETZ, KENNETH (GLENROCK) | COMMITTE TO ELECT CHERI STEINMETZ FOR HOUSE | CANDIDATE COMMITTEE | MONETARY | 6/19/2014 | FILED | 100 | GLENROCK, WY 82637 |
| SUSSEX, CELSIE (LA GRANGE) | COMMITTE TO ELECT CHERI STEINMETZ FOR HOUSE | CANDIDATE COMMITTEE | MONETARY | 6/19/2014 | FILED | 100 | LA GRANGE, WY 82221 |
| VIKTORIN, MARY (TORRINGTON) | COMMITTE TO ELECT CHERI STEINMETZ FOR HOUSE | CANDIDATE COMMITTEE | MONETARY | 6/19/2014 | FILED | 100 | TORRINGTON, WY 82240 |
| VIKTORIN, SHANE (TORRINGTON) | COMMITTE TO ELECT CHERI STEINMETZ FOR HOUSE | CANDIDATE COMMITTEE | MONETARY | 6/19/2014 | FILED | 100 | TORRINGTON, WY 82240 |
| WAGNER, ROD (LINGLE) | COMMITTE TO ELECT CHERI STEINMETZ FOR HOUSE | CANDIDATE COMMITTEE | MONETARY | 6/19/2014 | FILED | 50 | LINGLE, WY 82223 |
| WELLS, ROSE (TORRINGTON) | COMMITTE TO ELECT CHERI STEINMETZ FOR HOUSE | CANDIDATE COMMITTEE | MONETARY | 6/19/2014 | FILED | 30 | TORRINGTON, WY 82240 |
| WELLS, RUSSELL (TORRINGTON) | COMMITTE TO ELECT CHERI STEINMETZ FOR HOUSE | CANDIDATE COMMITTEE | MONETARY | 6/19/2014 | FILED | 150 | TORRINGTON, WY 82240 |
| WELLS, WILLIARD (TORRINGTON) | COMMITTE TO ELECT CHERI STEINMETZ FOR HOUSE | CANDIDATE COMMITTEE | MONETARY | 6/19/2014 | FILED | 100 | TORRINGTON, WY 82240 |
| WOLLERT, MIKE (LINGLE) | COMMITTE TO ELECT CHERI STEINMETZ FOR HOUSE | CANDIDATE COMMITTEE | MONETARY | 6/19/2014 | FILED | 100 | LINGLE, WY 82223 |
| | COMMITTE TO ELECT CHERI STEINMETZ FOR HOUSE | CANDIDATE COMMITTEE | ANONYMOUS | 6/19/2014 | FILED | 225 | |
| | COMMITTE TO ELECT CHERI STEINMETZ FOR HOUSE | CANDIDATE COMMITTEE | ANONYMOUS | 6/19/2014 | FILED | 100 | |
| | COMMITTE TO ELECT CHERI STEINMETZ FOR HOUSE | CANDIDATE COMMITTEE | ANONYMOUS | 6/19/2014 | FILED | 150 | |
| CREASER, JAMES (DOUGLAS) | COMMITTE TO ELECT CHERI STEINMETZ FOR HOUSE | CANDIDATE COMMITTEE | MONETARY | 5/21/2014 | FILED | 200 | DOUGLAS, WY 82633 |
| CURRY, CHUCK (TORRINGTON) | COMMITTE TO ELECT CHERI STEINMETZ FOR HOUSE | CANDIDATE COMMITTEE | MONETARY | 5/21/2014 | FILED | 50 | TORRINGTON, WY 82240 |
| GIBBS, KEITH (LINGLE) | COMMITTE TO ELECT CHERI STEINMETZ FOR HOUSE | CANDIDATE COMMITTEE | MONETARY | 5/21/2014 | FILED | 200 | LINGLE, WY 82223 |
| GORR, ROBERT (FT. LARAMIE) | COMMITTE TO ELECT CHERI STEINMETZ FOR HOUSE | CANDIDATE COMMITTEE | MONETARY | 5/21/2014 | FILED | 250 | FT. LARAMIE, WY 82212 |
| ELLIS, JOHN (TORRINGTON) | COMMITTE TO ELECT CHERI STEINMETZ FOR HOUSE | CANDIDATE COMMITTEE | MONETARY | 5/15/2014 | FILED | 100 | TORRINGTON, WY 82240 |
| MERCER, DOUG (TORRINGTON) | COMMITTE TO ELECT CHERI STEINMETZ FOR HOUSE | CANDIDATE COMMITTEE | MONETARY | 5/15/2014 | FILED | 100 | TORRINGTON, WY 82240 |
| ZIMMERER, DAVID (LINGLE) | COMMITTE TO ELECT CHERI STEINMETZ FOR HOUSE | CANDIDATE COMMITTEE | MONETARY | 5/15/2014 | FILED | 20 | LINGLE, WY 82223 |
| HAGEMAN, DEWEY (JAY EM) | COMMITTE TO ELECT CHERI STEINMETZ FOR HOUSE | CANDIDATE COMMITTEE | MONETARY | 5/14/2014 | FILED | 100 | JAY EM, WY 82219 |
| JONES, GRANT (TORRINGTON) | COMMITTE TO ELECT CHERI STEINMETZ FOR HOUSE | CANDIDATE COMMITTEE | MONETARY | 5/14/2014 | FILED | 100 | TORRINGTON, WY 82240 |
| MASTERS, JOHN (CHEYENNE) | COMMITTE TO ELECT CHERI STEINMETZ FOR HOUSE | CANDIDATE COMMITTEE | MONETARY | 5/14/2014 | FILED | 100 | CHEYENNE, WY 82009 |
| PETERSON, CLAY (TORRINGTON) | COMMITTE TO ELECT CHERI STEINMETZ FOR HOUSE | CANDIDATE COMMITTEE | MONETARY | 5/14/2014 | FILED | 25 | TORRINGTON, WY 82240 |
| SAUL, RICHARD (LINGLE) | COMMITTE TO ELECT CHERI STEINMETZ FOR HOUSE | CANDIDATE COMMITTEE | MONETARY | 5/12/2014 | FILED | 150 | LINGLE, WY 82223 |
| BALDWIN, ELDEN (TORRINGTON) | COMMITTE TO ELECT CHERI STEINMETZ FOR HOUSE | CANDIDATE COMMITTEE | MONETARY | 5/5/2014 | FILED | 100 | TORRINGTON, WY 82240 |
| DAVISON, RON (KEMMERER) | COMMITTE TO ELECT CHERI STEINMETZ FOR HOUSE | CANDIDATE COMMITTEE | MONETARY | 5/5/2014 | FILED | 50 | KEMMERER, WY 83101 |
| ERICKSON, BARB (TORRINGTON) | COMMITTE TO ELECT CHERI STEINMETZ FOR HOUSE | CANDIDATE COMMITTEE | MONETARY | 5/5/2014 | FILED | 20 | TORRINGTON, WY 82240 |
| NORDELL, TIM (SEDAN) | COMMITTE TO ELECT CHERI STEINMETZ FOR HOUSE | CANDIDATE COMMITTEE | MONETARY | 5/5/2014 | FILED | 200 | SEDAN, KS 67361 |
| WELLS, ROSE (TORRINGTON) | COMMITTE TO ELECT CHERI STEINMETZ FOR HOUSE | CANDIDATE COMMITTEE | MONETARY | 5/5/2014 | FILED | 50 | TORRINGTON, WY 82240 |
| COMMITTEE TO ELECT CHERI STEINMETZ (FT. LARAMIE) | COMMITTE TO ELECT CHERI STEINMETZ FOR HOUSE | CANDIDATE COMMITTEE | MONETARY | 4/23/2014 | FILED | 200 | FT. LARAMIE, WY 82212 |
| HAGEMAN, KYRA (CASPER) | COMMITTE TO ELECT CHERI STEINMETZ FOR HOUSE | CANDIDATE COMMITTEE | MONETARY | 4/21/2014 | FILED | 100 | CASPER, WY 82609 |
| HAGEMAN, HARRIET (CHEYENNE) | COMMITTE TO ELECT CHERI STEINMETZ FOR HOUSE | CANDIDATE COMMITTEE | MONETARY | 4/12/2014 | FILED | 750 | CHEYENNE, WY 82001 |
| NOVAK, PAUL (TORRINGTON) | COMMITTE TO ELECT CHERI STEINMETZ FOR HOUSE | CANDIDATE COMMITTEE | MONETARY | 4/12/2014 | FILED | 100 | TORRINGTON, WY 82240 |
| BUCHANAN, WADE (TORRINGTON) | COMMITTE TO ELECT CHERI STEINMETZ FOR HOUSE | CANDIDATE COMMITTEE | MONETARY | 4/6/2014 | FILED | 50 | TORRINGTON, WY 82240 |
| STEINMETZ, COREY (LINGLE) | COMMITTE TO ELECT CHERI STEINMETZ FOR HOUSE | CANDIDATE COMMITTEE | MONETARY | 4/2/2014 | AMEND - ADD | 360 | LINGLE, WY 82223 |
| DOOLEY, JANE (JAY EM) | COMMITTE TO ELECT CHERI STEINMETZ FOR HOUSE | CANDIDATE COMMITTEE | MONETARY | 3/25/2014 | FILED | 1000 | JAY EM, WY 82219 |
| RUBINO, RACHEL (LARAMIE) | COMMITTE TO ELECT CHERI STEINMETZ FOR HOUSE | CANDIDATE COMMITTEE | MONETARY | 3/24/2014 | FILED | 150 | LARAMIE, WY 82072 |
| BEBO, MARK (WHEATLAND) | COMMITTE TO ELECT CHERI STEINMETZ FOR HOUSE | CANDIDATE COMMITTEE | MONETARY | 3/18/2014 | FILED | 200 | WHEATLAND, WY 82201 |
| BROPHY, DAN (JACKSON) | COMMITTE TO ELECT CHERI STEINMETZ FOR HOUSE | CANDIDATE COMMITTEE | MONETARY | 3/18/2014 | FILED | 1000 | JACKSON, WY 83001 |
| COMMITTEE TO ELECT CHERI STEINMETZ (LINGLE) | COMMITTE TO ELECT CHERI STEINMETZ FOR HOUSE | CANDIDATE COMMITTEE | MONETARY | 3/8/2014 | FILED | 1000 | LINGLE, WY 82223 |
| DAVISON, STEVE (LINGLE) | COMMITTE TO ELECT CHERI STEINMETZ FOR HOUSE | CANDIDATE COMMITTEE | MONETARY | 3/8/2014 | FILED | 200 | LINGLE, WY 82223 |
| HAGEMAN, HUGH (FT. LARAMIE) | COMMITTE TO ELECT CHERI STEINMETZ FOR HOUSE | CANDIDATE COMMITTEE | MONETARY | 2/24/2014 | FILED | 100 | FT. LARAMIE, WY 82212 |
| HAGEMAN, JAMES (CASPER) | COMMITTE TO ELECT CHERI STEINMETZ FOR HOUSE | CANDIDATE COMMITTEE | MONETARY | 2/24/2014 | FILED | 100 | CASPER, WY 82602 |
| BEBO, MARK & ROSE (LINGLE) | CHERI E STEINMETZ | CANDIDATE | MONETARY | 8/16/2010 | FILED | 100 | LINGLE, WY 82223 |
| STEINMETZ, COREY (LINGLE) | CHERI E STEINMETZ | CANDIDATE | MONETARY | 8/16/2010 | FILED | 600 | LINGLE, WY 82223 |
| SUSSEX, MICHAEL & CYNTHIA (TORRINGTON) | CHERI E STEINMETZ | CANDIDATE | MONETARY | 8/10/2010 | FILED | 100 | TORRINGTON, WY 82240 |
| STEINMETZ, CHERI (LINGLE) | CHERI E STEINMETZ | CANDIDATE | MONETARY | 8/9/2010 | FILED | 850 | LINGLE, WY 82223 |
| STEINMETZ, COREY (LINGLE) | CHERI E STEINMETZ | CANDIDATE | MONETARY | 8/9/2010 | FILED | 3200 | LINGLE, WY 82223 |
| STEINMETZ, COREY A (LINGLE) | CHERI E STEINMETZ | CANDIDATE | MONETARY | 8/6/2010 | FILED | 2000 | LINGLE, WY 82223 |
| STEINMETZ, NORMA & KEN (GLENROCK) | CHERI E STEINMETZ | CANDIDATE | MONETARY | 7/14/2010 | FILED | 50 | GLENROCK, WY 82637 |
| STEINMETZ, COREY (LINGLE) | CHERI E STEINMETZ | CANDIDATE | MONETARY | 7/13/2010 | FILED | 178.3 | LINGLE, WY 82223 |
| WELLS, ROSE (TORRINGTON) | CHERI E STEINMETZ | CANDIDATE | MONETARY | 7/8/2010 | FILED | 50 | TORRINGTON, WY 82240 |
| BEBO, MARK & ROSE (LINGLE) | CHERI E STEINMETZ | CANDIDATE | MONETARY | 7/6/2010 | FILED | 100 | LINGLE, WY 82223 |
| DAVISON, STEVE & ROSEANA (LINGLE) | CHERI E STEINMETZ | CANDIDATE | MONETARY | 7/2/2010 | FILED | 100 | LINGLE, WY 82223 |
| BAUMGARDNER, LINDA (TORRINGTON) | CHERI E STEINMETZ | CANDIDATE | MONETARY | 6/26/2010 | FILED | 25 | TORRINGTON, WY 82240 |
| JONES, GRANT & LINDA (TORRINGTON) | CHERI E STEINMETZ | CANDIDATE | MONETARY | 6/21/2010 | FILED | 100 | TORRINGTON, WY 82240 |
| WHITE, ED & JANIE (CHEYENNE) | CHERI E STEINMETZ | CANDIDATE | MONETARY | 6/4/2010 | FILED | 40 | CHEYENNE, WY 82001 |
| WAGNER, RODNEY & JANET (LINGLE) | CHERI E STEINMETZ | CANDIDATE | MONETARY | 6/2/2010 | FILED | 200 | LINGLE, WY 82223 |
| STEINMETZ, CHERI (LINGLE) | CHERI E STEINMETZ | CANDIDATE | MONETARY | 5/15/2010 | FILED | 500 | LINGLE, WY 82223 |
| STEINMETZ, COREY A (LINGLE) | CHERI E STEINMETZ | CANDIDATE | MONETARY | 5/15/2010 | FILED | 1000 | LINGLE, WY 82223 |
| STEINMETZ, CHERI E (LINGLE) | CHERI E STEINMETZ | CANDIDATE | MONETARY | 5/1/2010 | FILED | 1000 | LINGLE, WY 82223 |
| STEINMETZ, COREY A (LINGLE) | CHERI E STEINMETZ | CANDIDATE | MONETARY | 5/1/2010 | FILED | 1000 | LINGLE, WY 82223 |