Summary
Representation
Competence
Integrity
More
+ – –
Liz Storer has served in House District 23 as a WY Representative for Teton County from Jan 2023 to the present.  She has received a positive score for Representation and a negative score for Constitutional Competence and Integrity.  Therefore Storer has been ranked as Low Trust.
She is up for reelection in 2024.
---
"As the State of Wyoming relies increasingly on revenues from Teton County, our community should also have more of a say in our own destiny," Storer said. "It's time for Teton County to lean into Wyoming's challenges and create lasting solutions that also address Teton County's unique community needs."
From https://buckrail.com/liz-storer-for-house-district-23-experience-leadership-and-solutions-for-teton-county/
Overall, Storer earns a (+) for Representation.
Attendance
It appears that Storer missed 2 votes across 2 days in 2023 General Session:
2/15/23 – 3rd reading for SF8
2/16/23 – Travel Committee vote for SF128
Public Conduct
Storer appears to behave appropriately in public and to the public.
Sponsorship History
In 2023 Storer was the primary sponsor of 1 bill, and co-sponsored 3 bills and 1 joint resolutions.  Favored sponsorship topics appear to be taxes.  For more details, see her legislator webpage.
Committee Assignments
2023-House Revenue
2023-House Travel, Recreation, Wildlife & Cultural Resources
2023-Select Committee on Capital Financing & Investments
2023-Select Committee on School Facilities
Storer scored a (–) for Constitutional Competence with an average of 25% on the constitutional issues listed below.  Constitutional issue categories that have a "N/A" grade, refer to specific bills that Storer did not have the opportunity to vote on.
For more on the bills used to analyze these scores click here.  Special hat-tip goes out to Evidence Based Wyoming for use of their statistical tool to generate the following vote scores:
Conflicts
Storer has received a (–) for Integrity for the following 2023 bill that we believe is in conflict with her directorship at the Theodore Roosevelt Conservation Partnership:
SF0106/Senate Enrolled Act 50 2023 Large project funding.
Appropriates $59,777,715.00 for fence construction, roadway replacement and underpass construction for wildlife migration in Teton County.  (The original appropriation was for $35,066,455.00, but was amended by the House Travel, Recreation, Wildlife & Cultural Resources Committee.)  These infrastructure improvements are a Wildlife Corridors priority for the Theodore Roosevelt Conservation Partnership (https://www.trcp.org/wildlife-corridors/) – see image below.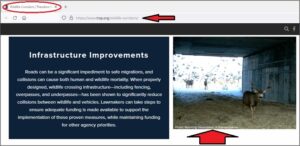 Storer's conflict is that she is director of the Theodore Roosevelt Conservation Partnership:  By voting on this bill she elected to appropriate almost $60 million dollars that helps achieve a priority for the non-profit that she is director of.  This is in violation of:
Wyoming State Constitution Article 3, Section 46. Interested member shall not vote.
A member who has a personal or private interest in any measure or bill proposed or pending before the legislature shall disclose the fact to the house of which he is a member, and shall not vote thereon.
Additionally, we believe that Storer serving on the House Travel, Recreation, Wildlife & Cultural Resources Committee also poses a conflict because a portion of their "measures or bills" directly overlap with her work at the Theodore Roosevelt Conservation Partnership and its priorities.
Employment/Income
According to Storer's 2023 State Elected Officials Financial Disclosure available at Wyofile, she reports:
Owner, Manager – La Campagne LLC
Directorship – Theodore Roosevelt Conservation Partnership (nonprofit 501(3)(c)
President & CEO – George B Storer Foundation
Income from "security or interest earnings" and "Real estate, leases, royalties"
Memberships/Civic Organizations
Former Treasurer of "Progress PAC" (PAC was terminated 1/3/22)
Campaign Contributions
The table below shows all campaign contributions reported by the WY Secretary of State for Storer For State House.
In 2022 Storer received approximately 162 contributions that total approximately $78,925.  Of the 162 donations, approximately 4 were from PACs &/or campaign committees.  The total amount received from PACs &/or campaign committees was approximately $2,767.
Noteworthy contributions are:
$300 from WY Education Assn. PAC for Education
Click the arrows at the top of columns to sort the data by name, date, $ amount, etc.  (Data is publicly available records obtained from the Wyoming Secretary of State's Wyoming's Campaign Finance Information System.)
| Contributor Name | Recipient Name | Recipient Type | Contribution Type | Date | Filing Status | Amount | City State Zip |
| --- | --- | --- | --- | --- | --- | --- | --- |
| SHUPTRINE, SANDY (JACKSON) | STORER FOR STATE HOUSE | CANDIDATE COMMITTEE | MONETARY | 12/19/2022 | AMEND - ADD | 100 | JACKSON, WY 83001 |
| RESOR, WILLIAM (WILSON) | STORER FOR STATE HOUSE | CANDIDATE COMMITTEE | MONETARY | 11/16/2022 | AMEND - ADD | 250 | WILSON, WY 83014 |
| FOSSEL, SCOTT (WILSON) | STORER FOR STATE HOUSE | CANDIDATE COMMITTEE | MONETARY | 11/15/2022 | AMEND - ADD | 100 | WILSON, WY 83014 |
| ANSELMI, NANCY (ROCK SPRINGS) | STORER FOR STATE HOUSE | CANDIDATE COMMITTEE | MONETARY | 11/7/2022 | AMEND - ADD | 200 | ROCK SPRINGS, WY 82901 |
| CHAFEE, LINCOLN (PROVIDENCE) | STORER FOR STATE HOUSE | CANDIDATE COMMITTEE | MONETARY | 11/7/2022 | AMEND - ADD | 100 | PROVIDENCE, RI 02903 |
| HEADLEY, MARK (JACKSON) | STORER FOR STATE HOUSE | CANDIDATE COMMITTEE | MONETARY | 11/7/2022 | AMEND - ADD | 250 | JACKSON, WY 83001 |
| BARCA, GRACE (JACKSON) | STORER FOR STATE HOUSE | CANDIDATE COMMITTEE | MONETARY | 11/6/2022 | AMEND - ADD | 50 | JACKSON, WY 83002 |
| GILBERT, HOLLY (BEND) | STORER FOR STATE HOUSE | CANDIDATE COMMITTEE | MONETARY | 11/6/2022 | AMEND - ADD | 25 | BEND, OR 97701 |
| CASS, LOUISE (LAFAYETTE) | STORER FOR STATE HOUSE | CANDIDATE COMMITTEE | MONETARY | 11/5/2022 | AMEND - ADD | 100 | LAFAYETTE, CO 80026 |
| MCCARTHY, AMY (VICTOR) | STORER FOR STATE HOUSE | CANDIDATE COMMITTEE | MONETARY | 11/5/2022 | AMEND - ADD | 25 | VICTOR, ID 83455 |
| MICHAEL, SARAH (SUN VALLEY) | STORER FOR STATE HOUSE | CANDIDATE COMMITTEE | MONETARY | 11/5/2022 | AMEND - ADD | 100 | SUN VALLEY, ID 83353 |
| MOORE, AMY (JACKSON) | STORER FOR STATE HOUSE | CANDIDATE COMMITTEE | MONETARY | 11/5/2022 | AMEND - ADD | 100 | JACKSON, WY 83001 |
| COPP, EUGENIE (JACKSON) | STORER FOR STATE HOUSE | CANDIDATE COMMITTEE | MONETARY | 11/4/2022 | AMEND - ADD | 500 | JACKSON, WY 83001 |
| DOFFERMYRE, KATHLEEN (JACKSON) | STORER FOR STATE HOUSE | CANDIDATE COMMITTEE | MONETARY | 11/4/2022 | AMEND - ADD | 100 | JACKSON, WY 83001 |
| LURIE, SUSAN (JACKSON) | STORER FOR STATE HOUSE | CANDIDATE COMMITTEE | MONETARY | 11/4/2022 | AMEND - ADD | 100 | JACKSON, WY 83001 |
| PATLA, DEBRA (MORAN) | STORER FOR STATE HOUSE | CANDIDATE COMMITTEE | MONETARY | 11/4/2022 | AMEND - ADD | 50 | MORAN, WY 83013 |
| ANDERSON, JEAN (WILSON) | STORER FOR STATE HOUSE | CANDIDATE COMMITTEE | MONETARY | 11/3/2022 | AMEND - ADD | 500 | WILSON, WY 83014 |
| BUCKSTAFF, DEE (JACKSON) | STORER FOR STATE HOUSE | CANDIDATE COMMITTEE | MONETARY | 11/3/2022 | AMEND - ADD | 50 | JACKSON, WY 83001 |
| CAMEZIND, FRANZ (JACKSON) | STORER FOR STATE HOUSE | CANDIDATE COMMITTEE | MONETARY | 11/3/2022 | AMEND - ADD | 50 | JACKSON, WY 83001 |
| CRAIGHEAD, LISA (MOOSE) | STORER FOR STATE HOUSE | CANDIDATE COMMITTEE | MONETARY | 11/3/2022 | AMEND - ADD | 100 | MOOSE, WY 83012 |
| ELLIS, BENJAMIN (JACKSON) | STORER FOR STATE HOUSE | CANDIDATE COMMITTEE | MONETARY | 11/3/2022 | AMEND - ADD | 100 | JACKSON, WY 83001 |
| FOSSEL, SCOTT (WILSON) | STORER FOR STATE HOUSE | CANDIDATE COMMITTEE | MONETARY | 11/3/2022 | AMEND - ADD | 250 | WILSON, WY 83014 |
| HARDIE, LESLYE (WILSON) | STORER FOR STATE HOUSE | CANDIDATE COMMITTEE | MONETARY | 11/3/2022 | AMEND - ADD | 50 | WILSON, WY 83014 |
| HARDIE, LESLYE (WILSON) | STORER FOR STATE HOUSE | CANDIDATE COMMITTEE | MONETARY | 11/3/2022 | AMEND - DELETE | 50 | WILSON, WY 83014 |
| HARDIE, LESLYE (WILSON) | STORER FOR STATE HOUSE | CANDIDATE COMMITTEE | MONETARY | 11/3/2022 | AMEND - ADD | 100 | WILSON, WY 83014 |
| HARRIS, CHUCK (JACKSON) | STORER FOR STATE HOUSE | CANDIDATE COMMITTEE | MONETARY | 11/3/2022 | AMEND - ADD | 25 | JACKSON, WY 83001 |
| HARVEY, ANN (WILSON) | STORER FOR STATE HOUSE | CANDIDATE COMMITTEE | MONETARY | 11/3/2022 | AMEND - ADD | 100 | WILSON, WY 83014 |
| KERR, CHARLES (GRAND JUNCTION) | STORER FOR STATE HOUSE | CANDIDATE COMMITTEE | MONETARY | 11/3/2022 | AMEND - ADD | 250 | GRAND JUNCTION, CO 81505 |
| PRICE, LISA LORD (JACKSON) | STORER FOR STATE HOUSE | CANDIDATE COMMITTEE | MONETARY | 11/3/2022 | AMEND - ADD | 250 | JACKSON, WY 83001 |
| RESOR, EDMUND (MOOSE) | STORER FOR STATE HOUSE | CANDIDATE COMMITTEE | MONETARY | 11/3/2022 | AMEND - ADD | 250 | MOOSE, WY 83012 |
| STERN, MICHAEL (JACKSON) | STORER FOR STATE HOUSE | CANDIDATE COMMITTEE | MONETARY | 11/3/2022 | AMEND - ADD | 250 | JACKSON, WY 83001 |
| TRAUNER, GARY (WILSON) | STORER FOR STATE HOUSE | CANDIDATE COMMITTEE | MONETARY | 11/3/2022 | AMEND - ADD | 100 | WILSON, WY 83014 |
| WUERSCH, DEBRA (WILSON) | STORER FOR STATE HOUSE | CANDIDATE COMMITTEE | MONETARY | 11/3/2022 | AMEND - ADD | 50 | WILSON, WY 83014 |
| CUMMING, ANNETTE (JACKSON) | STORER FOR STATE HOUSE | CANDIDATE COMMITTEE | MONETARY | 11/2/2022 | AMEND - ADD | 1500 | JACKSON, WY 83001 |
| CUMMING, ANNETTE (JACKSON) | STORER FOR STATE HOUSE | CANDIDATE COMMITTEE | MONETARY | 11/2/2022 | AMEND - ADD | 1500 | JACKSON, WY 83001 |
| CUMMING, ANNETTE (JACKSON) | STORER FOR STATE HOUSE | CANDIDATE COMMITTEE | MONETARY | 11/2/2022 | AMEND - DELETE | 1500 | JACKSON, WY 83001 |
| JERGRE, KAREN (JACKSON) | STORER FOR STATE HOUSE | CANDIDATE COMMITTEE | MONETARY | 11/2/2022 | AMEND - ADD | 30 | JACKSON, WY 83001 |
| SHRIVER, ROBERT (WILSON) | STORER FOR STATE HOUSE | CANDIDATE COMMITTEE | MONETARY | 11/2/2022 | AMEND - ADD | 200 | WILSON, WY 83014 |
| STORER, ELIZABETH (JACKSON) | STORER FOR STATE HOUSE | CANDIDATE COMMITTEE | LOAN | 11/1/2022 | FILED | 2100 | JACKSON, WY 83002 |
| HEALY, JJ (TETON VILLAGE) | STORER FOR STATE HOUSE | CANDIDATE COMMITTEE | MONETARY | 10/31/2022 | FILED | 250 | TETON VILLAGE, WY 83025 |
| PEDERSON, JODI (WILSON) | STORER FOR STATE HOUSE | CANDIDATE COMMITTEE | MONETARY | 10/31/2022 | FILED | 250 | WILSON, WY 83014 |
| BOYNTON, BEVERLY (KELLY) | STORER FOR STATE HOUSE | CANDIDATE COMMITTEE | MONETARY | 10/28/2022 | FILED | 50 | KELLY, WY 83011 |
| BAKER, DAN (TETON VILLAGE) | STORER FOR STATE HOUSE | CANDIDATE COMMITTEE | MONETARY | 10/27/2022 | FILED | 250 | TETON VILLAGE, WY 84025 |
| CARSON, ANDREW (WILSON) | STORER FOR STATE HOUSE | CANDIDATE COMMITTEE | MONETARY | 10/27/2022 | FILED | 50 | WILSON, WY 83014 |
| COPP, EUGENIE (JACKSON) | STORER FOR STATE HOUSE | CANDIDATE COMMITTEE | MONETARY | 10/26/2022 | FILED | 500 | JACKSON, WY 83001 |
| PERKINS, PERK (JACKSON) | STORER FOR STATE HOUSE | CANDIDATE COMMITTEE | MONETARY | 10/26/2022 | FILED | 1000 | JACKSON, WY 83001 |
| WRIGHT, JOHN (JACKSON) | STORER FOR STATE HOUSE | CANDIDATE COMMITTEE | MONETARY | 10/26/2022 | FILED | 100 | JACKSON, WY 83002 |
| BARNES, DIANA (TUCSON) | STORER FOR STATE HOUSE | CANDIDATE COMMITTEE | MONETARY | 10/25/2022 | FILED | 100 | TUCSON, AZ 85718 |
| HOGAN, TOM (WILSON) | STORER FOR STATE HOUSE | CANDIDATE COMMITTEE | MONETARY | 10/21/2022 | FILED | 1500 | WILSON, WY 83014 |
| FFFWY FIRE PAC (CHEYENNE) | STORER FOR STATE HOUSE | CANDIDATE COMMITTEE | MONETARY | 10/19/2022 | FILED | 500 | CHEYENNE, WY 82003 |
| ISHIYAMA, PATSY (SAN FRANCISCO) | STORER FOR STATE HOUSE | CANDIDATE COMMITTEE | MONETARY | 10/19/2022 | FILED | 1000 | SAN FRANCISCO, CA 94104 |
| MACKENZIE, DOUGLAS (WILSON) | STORER FOR STATE HOUSE | CANDIDATE COMMITTEE | MONETARY | 10/19/2022 | FILED | 1000 | WILSON, WY 83014 |
| OSNOS, NOAH (JACKSON) | STORER FOR STATE HOUSE | CANDIDATE COMMITTEE | MONETARY | 10/19/2022 | FILED | 250 | JACKSON, WY 83001 |
| LYKES, MAYO (WILSON) | STORER FOR STATE HOUSE | CANDIDATE COMMITTEE | MONETARY | 10/18/2022 | FILED | 250 | WILSON, WY 83014 |
| EWERT, STEFANI (WILSON) | STORER FOR STATE HOUSE | CANDIDATE COMMITTEE | MONETARY | 10/17/2022 | FILED | 50 | WILSON, WY 83014 |
| THOMPSON, CRAIG (ROCK SPRINGS) | STORER FOR STATE HOUSE | CANDIDATE COMMITTEE | MONETARY | 10/16/2022 | FILED | 100 | ROCK SPRINGS, WY 82901 |
| CAMENZIND, FRANZ (JACKSON) | STORER FOR STATE HOUSE | CANDIDATE COMMITTEE | MONETARY | 10/15/2022 | FILED | 50 | JACKSON, WY 83001 |
| CULBERTSON, JOHN (WILSON) | STORER FOR STATE HOUSE | CANDIDATE COMMITTEE | MONETARY | 10/15/2022 | FILED | 500 | WILSON, WY 83014 |
| KRUGH, BRADLEY (WILSON) | STORER FOR STATE HOUSE | CANDIDATE COMMITTEE | MONETARY | 10/14/2022 | FILED | 250 | WILSON, WY 83014 |
| MODI, KAY (JACKSON) | STORER FOR STATE HOUSE | CANDIDATE COMMITTEE | MONETARY | 10/13/2022 | FILED | 500 | JACKSON, WY 83001 |
| SIMONDS, CHRIS (DRIGGS) | STORER FOR STATE HOUSE | CANDIDATE COMMITTEE | MONETARY | 10/13/2022 | FILED | 100 | DRIGGS, ID 83422 |
| CLARK, STORY (WILSON) | STORER FOR STATE HOUSE | CANDIDATE COMMITTEE | MONETARY | 10/11/2022 | FILED | 250 | WILSON, WY 83014 |
| MANHART, AMY (JACKSON) | STORER FOR STATE HOUSE | CANDIDATE COMMITTEE | MONETARY | 10/10/2022 | FILED | 250 | JACKSON, WY 83001 |
| O'MALLEY, SEAN (JACKSON) | STORER FOR STATE HOUSE | CANDIDATE COMMITTEE | MONETARY | 10/5/2022 | FILED | 100 | JACKSON, WY 83001 |
| WEINER, BERYL (LOS ANGELES) | STORER FOR STATE HOUSE | CANDIDATE COMMITTEE | MONETARY | 10/3/2022 | FILED | 500 | LOS ANGELES, CA 90025 |
| SPEYER, JAMES (WILSON) | STORER FOR STATE HOUSE | CANDIDATE COMMITTEE | MONETARY | 9/30/2022 | FILED | 1500 | WILSON, WY 83014 |
| STARYK, TED (JACKSON) | STORER FOR STATE HOUSE | CANDIDATE COMMITTEE | MONETARY | 9/29/2022 | FILED | 1000 | JACKSON, WY 83014 |
| GERACI, MIKE (JACKSON) | STORER FOR STATE HOUSE | CANDIDATE COMMITTEE | MONETARY | 9/27/2022 | FILED | 50 | JACKSON, WY 83001 |
| NIELSON, BRADFORD (WILSON) | STORER FOR STATE HOUSE | CANDIDATE COMMITTEE | MONETARY | 9/27/2022 | FILED | 500 | WILSON, WY 83014 |
| BRENNAN, MIKE (JACKSON) | STORER FOR STATE HOUSE | CANDIDATE COMMITTEE | MONETARY | 9/26/2022 | FILED | 1500 | JACKSON, WY 83001 |
| YOCKEY, LAURA (NEW YORK) | STORER FOR STATE HOUSE | CANDIDATE COMMITTEE | MONETARY | 9/25/2022 | FILED | 1500 | NEW YORK, NY 10021 |
| YOCKEY, MARK (NEW YORK) | STORER FOR STATE HOUSE | CANDIDATE COMMITTEE | MONETARY | 9/25/2022 | FILED | 1500 | NEW YORK, NY 10021 |
| CRAMER, ADAM (BETHESDA) | STORER FOR STATE HOUSE | CANDIDATE COMMITTEE | MONETARY | 9/23/2022 | FILED | 250 | BETHESDA, MD 20816 |
| HEILIG, DAN (LANDER) | STORER FOR STATE HOUSE | CANDIDATE COMMITTEE | MONETARY | 9/22/2022 | FILED | 50 | LANDER, WY 82520 |
| WY PUBLIC EMPLOYEES ASSN. PAC (CHEYENNE) | STORER FOR STATE HOUSE | CANDIDATE COMMITTEE | MONETARY | 9/22/2022 | FILED | 500 | CHEYENNE, WY 82003 |
| DANN, MITCHELL (WILSON) | STORER FOR STATE HOUSE | CANDIDATE COMMITTEE | MONETARY | 9/20/2022 | FILED | 200 | WILSON, WY 83014 |
| COTTOM, HOLLY (CONCORD) | STORER FOR STATE HOUSE | CANDIDATE COMMITTEE | MONETARY | 9/16/2022 | FILED | 50 | CONCORD, NC 28025 |
| DISTLER, KATIE (WINSTON SALEM) | STORER FOR STATE HOUSE | CANDIDATE COMMITTEE | MONETARY | 9/16/2022 | FILED | 500 | WINSTON SALEM, NC 27104 |
| FLICKER, JOHN (NEW YORK) | STORER FOR STATE HOUSE | CANDIDATE COMMITTEE | MONETARY | 9/15/2022 | FILED | 250 | NEW YORK, NY 10065 |
| JANNOTTA, ERIKA (TETON VILLAGE) | STORER FOR STATE HOUSE | CANDIDATE COMMITTEE | MONETARY | 9/14/2022 | FILED | 1000 | TETON VILLAGE, WY 83025 |
| LEWIS, JEAN (JACKSON) | STORER FOR STATE HOUSE | CANDIDATE COMMITTEE | MONETARY | 9/14/2022 | FILED | 100 | JACKSON, WY 83002 |
| HOGAN, CYNTHIA (WILSON) | STORER FOR STATE HOUSE | CANDIDATE COMMITTEE | MONETARY | 9/13/2022 | FILED | 500 | WILSON, WY 83014 |
| CARNEY, ELAINE (WILSON) | STORER FOR STATE HOUSE | CANDIDATE COMMITTEE | MONETARY | 9/12/2022 | FILED | 250 | WILSON, WY 83014 |
| HABERFELD, LOUISE (JACKSON) | STORER FOR STATE HOUSE | CANDIDATE COMMITTEE | MONETARY | 9/12/2022 | FILED | 1500 | JACKSON, WY 83002 |
| HABERFELD, RALPH (JACKSON) | STORER FOR STATE HOUSE | CANDIDATE COMMITTEE | MONETARY | 9/12/2022 | FILED | 1500 | JACKSON, WY 83002 |
| JORGENSEN, PETER M (GREEN VALLEY) | STORER FOR STATE HOUSE | CANDIDATE COMMITTEE | MONETARY | 9/12/2022 | FILED | 1500 | GREEN VALLEY, AZ 85614 |
| NELSON, WK (JACKSON) | STORER FOR STATE HOUSE | CANDIDATE COMMITTEE | MONETARY | 9/12/2022 | FILED | 1000 | JACKSON, WY 83002 |
| STURGESS, HEATHER (SANTA BARBARA) | STORER FOR STATE HOUSE | CANDIDATE COMMITTEE | MONETARY | 9/12/2022 | FILED | 1500 | SANTA BARBARA, CA 93018 |
| THAL, LAURIE (WILSON) | STORER FOR STATE HOUSE | CANDIDATE COMMITTEE | MONETARY | 9/12/2022 | FILED | 50 | WILSON, WY 83014 |
| WY EDUCATION ASSN. PAC FOR EDUCATION (CHEYENNE) | STORER FOR STATE HOUSE | CANDIDATE COMMITTEE | MONETARY | 9/12/2022 | FILED | 300 | CHEYENNE, WY 82001 |
| DAVENPORT, KIRK (WILSON) | STORER FOR STATE HOUSE | CANDIDATE COMMITTEE | MONETARY | 9/9/2022 | FILED | 1500 | WILSON, WY 83014 |
| RESOR, KITTY (WILSON) | STORER FOR STATE HOUSE | CANDIDATE COMMITTEE | MONETARY | 9/5/2022 | FILED | 1000 | WILSON, WY 83014 |
| HOVEY, BRYAN (CONCORD) | STORER FOR STATE HOUSE | CANDIDATE COMMITTEE | MONETARY | 8/25/2022 | FILED | 250 | CONCORD, NC 28025 |
| MERKIN, AARON (MONTCLAIR) | STORER FOR STATE HOUSE | CANDIDATE COMMITTEE | MONETARY | 8/23/2022 | FILED | 100 | MONTCLAIR, VA 22025 |
| BENNETT, ANNA (WILSON) | STORER FOR STATE HOUSE | CANDIDATE COMMITTEE | MONETARY | 8/22/2022 | FILED | 100 | WILSON, WY 83014 |
| CRIBIORE, ALBERTO (WILSON) | STORER FOR STATE HOUSE | CANDIDATE COMMITTEE | MONETARY | 8/22/2022 | FILED | 1500 | WILSON, WY 83014 |
| PETERSEN, LESLIE (WILSON) | STORER FOR STATE HOUSE | CANDIDATE COMMITTEE | MONETARY | 8/22/2022 | FILED | 250 | WILSON, WY 83014 |
| MILLER, F. HUDSON (LOS ANGELES) | STORER FOR STATE HOUSE | CANDIDATE COMMITTEE | MONETARY | 8/17/2022 | FILED | 100 | LOS ANGELES, CA 90068 |
| COTTOM, MILES (SALIDA) | STORER FOR STATE HOUSE | CANDIDATE COMMITTEE | MONETARY | 8/15/2022 | AMEND - ADD | 100 | SALIDA, CO 81201 |
| STURGESS, THOMAS W. (SANTA BARBARA) | STORER FOR STATE HOUSE | CANDIDATE COMMITTEE | MONETARY | 8/10/2022 | AMEND - ADD | 1500 | SANTA BARBARA, CA 93108 |
| FOSSEL, PETRIA (WILSON) | STORER FOR STATE HOUSE | CANDIDATE COMMITTEE | MONETARY | 8/8/2022 | FILED | 250 | WILSON, WY 83014 |
| LEVY, FRANK (NEWTON) | STORER FOR STATE HOUSE | CANDIDATE COMMITTEE | MONETARY | 8/8/2022 | FILED | 100 | NEWTON, MA 02466 |
| LUSKEY, RANDOLPH (JACKSON) | STORER FOR STATE HOUSE | CANDIDATE COMMITTEE | MONETARY | 8/8/2022 | FILED | 1500 | JACKSON, WY 83001 |
| KLINGENSTEIN, PAUL (CODY) | STORER FOR STATE HOUSE | CANDIDATE COMMITTEE | MONETARY | 8/6/2022 | FILED | 1500 | CODY, WY 82414 |
| COLLINS, PATRICK (WASHINGTON) | STORER FOR STATE HOUSE | CANDIDATE COMMITTEE | MONETARY | 8/5/2022 | FILED | 250 | WASHINGTON, DC 20008 |
| BARASH, JEAN (WILSON) | STORER FOR STATE HOUSE | CANDIDATE COMMITTEE | MONETARY | 7/31/2022 | FILED | 250 | WILSON, WY 83014 |
| NIELSON, BRAD (WILSON) | STORER FOR STATE HOUSE | CANDIDATE COMMITTEE | MONETARY | 7/31/2022 | FILED | 500 | WILSON, WY 83014 |
| KRYDER, BARBARA (WABAN) | STORER FOR STATE HOUSE | CANDIDATE COMMITTEE | MONETARY | 7/30/2022 | FILED | 1000 | WABAN, MA 02468 |
| STETSON, ANNE (CAMBRIDGE) | STORER FOR STATE HOUSE | CANDIDATE COMMITTEE | MONETARY | 7/27/2022 | FILED | 1000 | CAMBRIDGE, MA 02114 |
| OVERLOCK, KATHARINE (GREENWICH) | STORER FOR STATE HOUSE | CANDIDATE COMMITTEE | MONETARY | 7/26/2022 | FILED | 1500 | GREENWICH, CT 06830 |
| OVERLOCK, WILLARD (GREENWICH) | STORER FOR STATE HOUSE | CANDIDATE COMMITTEE | MONETARY | 7/26/2022 | FILED | 1000 | GREENWICH, CT 06830 |
| LAY, KEN (GLENROCK) | STORER FOR STATE HOUSE | CANDIDATE COMMITTEE | MONETARY | 7/25/2022 | FILED | 1500 | GLENROCK, WY 83001 |
| DADELAHI, SAMIN (LARAMIE) | STORER FOR STATE HOUSE | CANDIDATE COMMITTEE | MONETARY | 7/22/2022 | FILED | 100 | LARAMIE, WY 82072 |
| FIELD, WILLIAM (JACKSON) | STORER FOR STATE HOUSE | CANDIDATE COMMITTEE | MONETARY | 7/22/2022 | FILED | 500 | JACKSON, WY 83001 |
| WHELAN, JULIANN (JACKSON) | STORER FOR STATE HOUSE | CANDIDATE COMMITTEE | MONETARY | 7/22/2022 | FILED | 100 | JACKSON, WY 83001 |
| BUCKLEY, JOHN (WILSON) | STORER FOR STATE HOUSE | CANDIDATE COMMITTEE | MONETARY | 7/21/2022 | FILED | 100 | WILSON, WY 83014 |
| DUNFORD, ALISON (DURANGO) | STORER FOR STATE HOUSE | CANDIDATE COMMITTEE | MONETARY | 7/21/2022 | FILED | 50 | DURANGO, CO 81301 |
| FOSBURGH, WHIT (BETHESDA) | STORER FOR STATE HOUSE | CANDIDATE COMMITTEE | MONETARY | 7/21/2022 | FILED | 50 | BETHESDA, MD 20816 |
| KERR, CHARLES (GRAND JUNCTION) | STORER FOR STATE HOUSE | CANDIDATE COMMITTEE | MONETARY | 7/21/2022 | FILED | 250 | GRAND JUNCTION, CO 81505 |
| MCINTOSH, DOYEN (WILSON) | STORER FOR STATE HOUSE | CANDIDATE COMMITTEE | MONETARY | 7/21/2022 | FILED | 500 | WILSON, WY 83014 |
| SHARKEY, STEVE (JACKSON) | STORER FOR STATE HOUSE | CANDIDATE COMMITTEE | MONETARY | 7/21/2022 | FILED | 250 | JACKSON, WY 83001 |
| UNFRIED, JULIET (JACKSON) | STORER FOR STATE HOUSE | CANDIDATE COMMITTEE | MONETARY | 7/21/2022 | FILED | 100 | JACKSON, WY 83002 |
| FOSSEL, SCOTT (WILSON) | STORER FOR STATE HOUSE | CANDIDATE COMMITTEE | MONETARY | 7/18/2022 | FILED | 100 | WILSON, WY 83014 |
| SALTER, ANDREW (JACKSON) | STORER FOR STATE HOUSE | CANDIDATE COMMITTEE | MONETARY | 7/18/2022 | FILED | 100 | JACKSON, WY 83001 |
| HABERFELD, LOUISE (JACKSON) | STORER FOR STATE HOUSE | CANDIDATE COMMITTEE | MONETARY | 7/16/2022 | FILED | 1500 | JACKSON, WY 83002 |
| HABERFELD, RALPH (JACKSON) | STORER FOR STATE HOUSE | CANDIDATE COMMITTEE | MONETARY | 7/16/2022 | FILED | 1500 | JACKSON, WY 83002 |
| ANDREW, SALTER (JACKSON) | STORER FOR STATE HOUSE | CANDIDATE COMMITTEE | MONETARY | 7/15/2022 | FILED | 100 | JACKSON, WY 83001 |
| PETERSEN, LESLIE (WILSON) | STORER FOR STATE HOUSE | CANDIDATE COMMITTEE | MONETARY | 7/15/2022 | FILED | 250 | WILSON, WY 83014 |
| CHOUINARD, MALINDA (MOOSE) | STORER FOR STATE HOUSE | CANDIDATE COMMITTEE | MONETARY | 7/8/2022 | FILED | 1500 | MOOSE, WY 83012 |
| CHOUINARD, YVON (MOOSE) | STORER FOR STATE HOUSE | CANDIDATE COMMITTEE | MONETARY | 7/8/2022 | FILED | 1500 | MOOSE, WY 83012 |
| HAWTIN, BRUCE (JACKSON) | STORER FOR STATE HOUSE | CANDIDATE COMMITTEE | MONETARY | 7/8/2022 | FILED | 250 | JACKSON, WY 83001 |
| IFLAND, JANE (CASPER) | STORER FOR STATE HOUSE | CANDIDATE COMMITTEE | MONETARY | 7/7/2022 | FILED | 100 | CASPER, WY 82601 |
| ELLIS, BENJAMIN (JACKSON) | STORER FOR STATE HOUSE | CANDIDATE COMMITTEE | MONETARY | 7/6/2022 | FILED | 50 | JACKSON, WY 83002 |
| BIRENBAUM, LARRY (SARATOGA) | STORER FOR STATE HOUSE | CANDIDATE COMMITTEE | MONETARY | 7/5/2022 | FILED | 500 | SARATOGA, CA 95070 |
| NIXON, JOHN (JACKSON) | STORER FOR STATE HOUSE | CANDIDATE COMMITTEE | MONETARY | 7/5/2022 | FILED | 1000 | JACKSON, WY 83001 |
| COX, CARTER (HAILEY) | STORER FOR STATE HOUSE | CANDIDATE COMMITTEE | MONETARY | 7/3/2022 | FILED | 50 | HAILEY, ID 83333 |
| LICHTENSTEIN, LAWRENCE (TROY) | STORER FOR STATE HOUSE | CANDIDATE COMMITTEE | MONETARY | 7/3/2022 | FILED | 100 | TROY, NY 12180 |
| HUNT, MAGGIE (JACKSON) | STORER FOR STATE HOUSE | CANDIDATE COMMITTEE | MONETARY | 7/2/2022 | FILED | 500 | JACKSON, WY 83001 |
| ZANETTI, KENILYNN (ROCK SPRINGS) | STORER FOR STATE HOUSE | CANDIDATE COMMITTEE | MONETARY | 7/1/2022 | FILED | 50 | ROCK SPRINGS, WY 82901 |
| ANDY, WATSON (WILSON) | STORER FOR STATE HOUSE | CANDIDATE COMMITTEE | MONETARY | 6/30/2022 | FILED | 250 | WILSON, WY 83014 |
| QUINN, MEGHAN (JACKSON) | STORER FOR STATE HOUSE | CANDIDATE COMMITTEE | MONETARY | 6/30/2022 | FILED | 250 | JACKSON, WY 83001 |
| ARMSTRONG, SUSAN (WILSON) | STORER FOR STATE HOUSE | CANDIDATE COMMITTEE | MONETARY | 6/29/2022 | FILED | 500 | WILSON, WY 83014 |
| LICHTENFELS, CHRISTINE (LANDER) | STORER FOR STATE HOUSE | CANDIDATE COMMITTEE | MONETARY | 6/29/2022 | FILED | 250 | LANDER, WY 82520 |
| MEYERS, JEANNE (HAILEY) | STORER FOR STATE HOUSE | CANDIDATE COMMITTEE | MONETARY | 6/29/2022 | FILED | 250 | HAILEY, ID 83333 |
| NANCY, LEON (WILSON) | STORER FOR STATE HOUSE | CANDIDATE COMMITTEE | MONETARY | 6/29/2022 | FILED | 250 | WILSON, WY 83014 |
| CHRIS, DUERKSEN (CHOKOLOSKEE) | STORER FOR STATE HOUSE | CANDIDATE COMMITTEE | MONETARY | 6/28/2022 | FILED | 100 | CHOKOLOSKEE, FL 34138 |
| KUNSTEL, MARCIA (WILSON) | STORER FOR STATE HOUSE | CANDIDATE COMMITTEE | MONETARY | 6/28/2022 | FILED | 1000 | WILSON, WY 83014 |
| SILBERBERG, GARY (JACKSON) | STORER FOR STATE HOUSE | CANDIDATE COMMITTEE | MONETARY | 6/28/2022 | FILED | 1000 | JACKSON, WY 83001 |
| STORER, PETER (HAMPTON FALLS) | STORER FOR STATE HOUSE | CANDIDATE COMMITTEE | MONETARY | 6/28/2022 | FILED | 1000 | HAMPTON FALLS, NH 03844 |
| NELSON, WK (JACKSON) | STORER FOR STATE HOUSE | CANDIDATE COMMITTEE | MONETARY | 6/27/2022 | FILED | 1500 | JACKSON, WY 83002 |
| STORER, ELIZABETH (JACKSON) | STORER FOR STATE HOUSE | CANDIDATE COMMITTEE | MONETARY | 6/27/2022 | FILED | 51 | JACKSON, WY 83001 |
| BABCOCK, MICKEY (WILSON) | STORER FOR STATE HOUSE | CANDIDATE COMMITTEE | MONETARY | 6/26/2022 | FILED | 250 | WILSON, WY 83014 |
| LORD-PRICE, LISA (JACKSON) | STORER FOR STATE HOUSE | CANDIDATE COMMITTEE | MONETARY | 6/26/2022 | FILED | 250 | JACKSON, WY 83001 |
| HOVEY, CAROL (CONCORD) | STORER FOR STATE HOUSE | CANDIDATE COMMITTEE | MONETARY | 6/24/2022 | FILED | 50 | CONCORD, NC 28025 |
| STOLP, RYAN (JACKSON) | STORER FOR STATE HOUSE | CANDIDATE COMMITTEE | MONETARY | 6/23/2022 | FILED | 2 | JACKSON, WY 83001 |
| CRIBIORE, ALBERTO (NY) | STORER FOR STATE HOUSE | CANDIDATE COMMITTEE | MONETARY | 6/21/2022 | FILED | 1500 | NY, NY 10022 |
| DEMOCRATS.COM (NEW YORK) | STORER FOR STATE HOUSE | CANDIDATE COMMITTEE | IN-KIND | 6/21/2022 | FILED | 1467 | NEW YORK, NY 10003 |
| STORER, ELIZABETH (JACKSON) | STORER FOR STATE HOUSE | CANDIDATE COMMITTEE | MONETARY | 6/21/2022 | FILED | 50 | JACKSON, WY 83001 |
| ANDERSON, JEAN (WILSON) | STORER FOR STATE HOUSE | CANDIDATE COMMITTEE | MONETARY | 6/19/2022 | FILED | 500 | WILSON, WY 83001 |
| HEILIG, DAN (LANDER) | STORER FOR STATE HOUSE | CANDIDATE COMMITTEE | MONETARY | 6/15/2022 | FILED | 250 | LANDER, WY 82520 |
| FOSSEL, SCOTT (WILSON) | STORER FOR STATE HOUSE | CANDIDATE COMMITTEE | MONETARY | 6/10/2022 | FILED | 100 | WILSON, WY 83014 |
| KOFINAS, GARY (WILSON) | STORER FOR STATE HOUSE | CANDIDATE COMMITTEE | MONETARY | 6/9/2022 | FILED | 100 | WILSON, WY 83014 |
| MUROMCEW, JOOHEE (BOSTON) | STORER FOR STATE HOUSE | CANDIDATE COMMITTEE | MONETARY | 6/9/2022 | FILED | 100 | BOSTON, MA 02118 |
| LEEMAN, LISA (VENICE) | STORER FOR STATE HOUSE | CANDIDATE COMMITTEE | MONETARY | 6/8/2022 | FILED | 50 | VENICE, CA 90291 |
| MCCOY, DANIEL (LARAMIE) | STORER FOR STATE HOUSE | CANDIDATE COMMITTEE | MONETARY | 6/8/2022 | FILED | 50 | LARAMIE, WY 82070 |
| ZIMMERMAN, MICHELLE (BRECKENRIDGE) | STORER FOR STATE HOUSE | CANDIDATE COMMITTEE | MONETARY | 6/8/2022 | FILED | 250 | BRECKENRIDGE, CO 80424 |