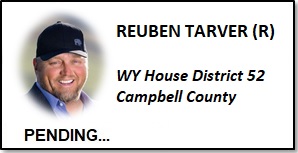 Summary
Representation
Competence
Integrity
More
+
Reuben Tarver has served in House District 52 as a WY Representative for Campbell County from Jan 2023 to the present.  We are still assessing Tarver's scores.
He is up for reelection in 2024.
---
"Broadly speaking I would like Wyoming to be free of federal oversight. That would mean not taking federal money and working toward becoming financially independent. I am told that half of our budget is federal dollars. With federal dollars comes federal rules. That's holding us back. That seems crazy to me, being we have coal, oil, natural gas, timber, cattle and farm ground. And then we depend on the feds to pay half our bills. That sounds like a management problem to me. And basically weak leadership."
From https://county17.com/2022/07/14/campbell-county-candidate-questionnaire-reuben-tarver-for-state-rep-for-district-52/
Overall, Tarver earns a (+) for Representation.
Attendance
It appears that Tarver missed 0 votes across in 2023 General Session.
Public Conduct
Tarver appears to behave appropriately in public and to the public.
Sponsorship History
In 2023 Tarver was the primary sponsor of 0 bills, and co-sponsored 21 bills.  Favored sponsorship topics appear to be education, 2nd Amendment.  For more details, see his legislator webpage.
Committee Assignments
2023-House Minerals, Business & Economic Development
2023-Select Federal Natural Resource Management Committee
Tarver scored a (–) for Constitutional Competence with an average of 83.3% on the constitutional issues listed below.  Because our cut-off is at 85%, Tarver came extremely close to scoring a (+).  Tarver was actually a cosponsor of one of the constitutional bills (HB0253 – Credit card defense act) represented below (in the 4th & 5th Amendments category) that he voted against in the Minerals Committee – thereby killing the bill he co-sponsored.  The bill failed by one vote.
Constitutional issue categories that have a "N/A" grade, refer to specific bills that Tarver did not have the opportunity to vote on.
For more on the bills used to analyze these scores click here.  Special hat-tip goes out to Evidence Based Wyoming for use of their statistical tool to generate the following vote scores:
Conflicts
Still being assessed…
Employment/Income
According to Tarver's legislative webpage he is employed as a Rancher.  According to Tarver's 2023 State Elected Officials Financial Disclosure available at Wyofile, he reports:
Part owner of: RRT Consulting Services LLC; Wildcat Welding & Operating, Inc; Wildcat Hot Oil Service; Fresh Heli; Horsecreek Helicopters; Steamboat Oil & Gas; Double T Enterprises; ODS Inc; Vista Trucking.
Memberships/Civic Organizations
None found.
Campaign Contributions
The table below shows all campaign contributions reported by the WY Secretary of State for Committee to Elect Reuben Tarver to House District 52.
In 2022 Tarver received approximately 9 contributions that total approximately $5,846.22.  Of the 9 donations, 0 were from PACs.
Click the arrows at the top of columns to sort the data by name, date, $ amount, etc.  (Data is publicly available records obtained from the Wyoming Secretary of State's Wyoming's Campaign Finance Information System.)
| Contributor Name | Recipient Name | Recipient Type | Contribution Type | Date | Filing Status | Amount | City State Zip |
| --- | --- | --- | --- | --- | --- | --- | --- |
| RANEY, JEFF & KATHY (GILLETTE) | COMMITTEE TO ELECT REUBEN TARVER TO HOUSE DISTRICT 52 | CANDIDATE COMMITTEE | MONETARY | 7/26/2022 | FILED | 1000 | GILLETTE, WY 82718 |
| DOUGHERTY, GREG (GILLETTE) | COMMITTEE TO ELECT REUBEN TARVER TO HOUSE DISTRICT 52 | CANDIDATE COMMITTEE | MONETARY | 6/24/2022 | FILED | 250 | GILLETTE, WY 82716 |
| OEDEKOVEN, FRED (RECLUSE) | COMMITTEE TO ELECT REUBEN TARVER TO HOUSE DISTRICT 52 | CANDIDATE COMMITTEE | MONETARY | 6/12/2022 | FILED | 96.06 | RECLUSE, WY 82725 |
| OEDEKOVEN, FRED (RECLUSE) | COMMITTEE TO ELECT REUBEN TARVER TO HOUSE DISTRICT 52 | CANDIDATE COMMITTEE | MONETARY | 5/31/2022 | FILED | 480.3 | RECLUSE, WY 82725 |
| TARVER, JENNIFER (GILLETTE) | COMMITTEE TO ELECT REUBEN TARVER TO HOUSE DISTRICT 52 | CANDIDATE COMMITTEE | IN-KIND | 5/30/2022 | FILED | 1876.5 | GILLETTE, WY 82716 |
| TARVER, JENNIFER (GILLETTE) | COMMITTEE TO ELECT REUBEN TARVER TO HOUSE DISTRICT 52 | CANDIDATE COMMITTEE | IN-KIND | 5/20/2022 | FILED | 1635.36 | GILLETTE, WY 82716 |
| TARVER, JENNIFER (GILLETTE) | COMMITTEE TO ELECT REUBEN TARVER TO HOUSE DISTRICT 52 | CANDIDATE COMMITTEE | MONETARY | 5/15/2022 | FILED | 100 | GILLETTE, WY 82716 |
| TARVER, JENNY (GILLETTE) | COMMITTEE TO ELECT REUBEN TARVER TO HOUSE DISTRICT 52 | CANDIDATE COMMITTEE | IN-KIND | 5/15/2022 | FILED | 120 | GILLETTE, WY 82716 |
| TARVER, JENNIFER (GILLETTE) | COMMITTEE TO ELECT REUBEN TARVER TO HOUSE DISTRICT 52 | CANDIDATE COMMITTEE | IN-KIND | 5/13/2022 | FILED | 288 | GILLETTE, WY 82716 |