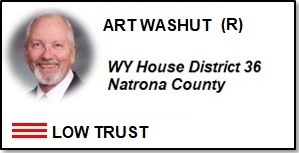 Summary
Representation
Competence
Integrity
More
– – –
Art Washut is a WY House Representative that has served in Natrona County House District 36 from 2019 to the present.  He has received a positive score for Representation, and a negative score for Competence and Integrity.  Therefore he has been ranked as Low Trust.
He is up for reelection in 2024.
---
I have been telling the people in House District 36 that I am a conservative Christian a family man with traditional Wyoming values. I am a community guy, I have been involved in a variety of local activities through the years and presently served on the board at Casper Midget Football and St. Anthony Manor and as I mentioned I am a proud member of the Heroes' Fund of the Wyoming Medical center Foundation. I am endorsed by the NRA and by Wyoming Right to Life. I am opposed to changing our marijuana laws and I think we need to freeze the property taxes of our senior citizens so that they do not increase every time our economy booms. I believe that criminal justice reform can be accomplished without jeopardizing public safety. Most of all I believe we need to protect those things that make Wyoming special.
-Art Washut
From https://oilcity.news/promoted/2012/11/01/meet-art-washut-house-36-republican-candidate/
Overall Washut earns a (–) for Representation for abuse of power.
Attendance
It appears Washut missed two votes across two days in 2023 General Session:
2/25/23 – Concurrence vote for HB86;
2/21/23 – Suspension of Rules for SF117.
Public Conduct
Feb 1, 2023:  During the WY 2023 General Session, a member of the Judiciary Standing Committee Meeting, Karlee Provenza, verbally assaulted and slandered a Wyoming citizen on issues irrelevant to the committee's official work.  Using her microphone, Provenza accosted the woman, after she publicly commented on a bill, and accused her of being a spy.  This abuse went unacknowledged by Committee Chair Art Washut even though he witnessed this action.  Allowing a member of his committee to publicly assault and slander a member of the public is disgraceful, cowardly and lacks leadership.
Feb 14, 2023:  As the Judiciary Committee Chair, Art Washut threatened a legislator to be removed from the committee if the legislator did not vote the way Washut expected him to on a Judiciary Committee bill.  This is a blatant abuse of power, and an expectation that elected representatives vote in lock step with what leadership expects.  See more here.
Sponsorship History
From 2019 to 2023 Washut has been the primary sponsor of 9 bills among a variety of topics.  In 2023 he co-sponsored 27 bills, with favored sponsorship topics of education, abortion, 2nd Amendment.   For more see Washut's legislative webpage.
Committee Assignments
2023-House Judiciary – Chairman
2023-State Shooting Complex Oversight Task Force – Chairman
2023-House Rules & Procedure
Additional Appointments:
2023-Wyoming Court Security Commission (Order appointing members)
Washut scored a (–) for Constitutional Competence with an average of 80% on the constitutional issues listed below.  With our cut-off being at 85%, he came close to earning a (+).  Constitutional issue categories that have a "N/A" grade, refer to specific bills that Washut did not have the opportunity to vote on.
For more on the bills used to analyze these scores click here.  Special hat-tip goes out to Evidence Based Wyoming for use of their statistical tool to generate the following vote scores:
Conflicts
Washut scores a (–) for Integrity.
Washut, who is a retired law enforcement officer and on the Wyoming State Retirement System, voted on the following 2023 bills which are conflict of interests for him:
Employment/Income
According to Art Washut's 2023 State Elected Officials Financial Disclosure available at Wyofile, Washut reports the following:
Instructor – Casper College (Casper, WY)
Income earned from "security or interest earnings"
Pension – Retired law enforcement officer
Memberships/Civic Organizations
Board of Casper Midget Football
St. Anthony Manor
Heroes' Fund of the Wyoming Medical center Foundation
Campaign Contributions
The table below shows all campaign contributions for Art Washut.
From 2018 to 2022 Washut received approximately 52 contributions that total approximately $25,770.84.  Of the 52 donations, approximately 18 were from PACs &/or campaign committees.  The total amount received from PACs &/or campaign committees was approximately $8,350.
Noteworthy PAC contributions to Washut are:
WY Hospital Association ($500)
Click the arrows at the top of columns to sort the data by name, date, $ amount, etc.  (Data is publicly available records obtained from the Wyoming Secretary of State's Wyoming's Campaign Finance Information System)
| Contributor Name | Recipient Name | Recipient Type | Contribution Type | Date | Filing Status | Amount | City State Zip |
| --- | --- | --- | --- | --- | --- | --- | --- |
| FFFWY FIRE PAC (CHEYENNE) | ART WASHUT | CANDIDATE | MONETARY | 10/11/2022 | FILED | 500 | CHEYENNE, WY 82003 |
| TRUCKING INDUSTRY PAC (CASPER) | ART WASHUT | CANDIDATE | MONETARY | 10/7/2022 | FILED | 100 | CASPER, WY 82602 |
| FFFWY FIRE PAC (CHEYENNE) | ART WASHUT | CANDIDATE | MONETARY | 8/4/2022 | FILED | 1000 | CHEYENNE, WY 82003 |
| WORKERS' HELP IN POLITICS (CHEYENNE) | ART WASHUT | CANDIDATE | MONETARY | 7/25/2022 | FILED | 500 | CHEYENNE, WY 82001 |
| WYO-D-PAC (CASPER) | ART WASHUT | CANDIDATE | MONETARY | 7/13/2022 | FILED | 100 | CASPER, WY 82601 |
| MCGINTY, STEVE (CASPER) | ART WASHUT | CANDIDATE | MONETARY | 7/12/2022 | FILED | 1000 | CASPER, WY 82609 |
| BLACK HILLS CORPORATION PAC (RAPID CITY) | ART WASHUT | CANDIDATE | MONETARY | 7/11/2022 | FILED | 250 | RAPID CITY, SD 57709 |
| MAUS, BLAIR (JACKSON) | ART WASHUT | CANDIDATE | MONETARY | 7/11/2022 | FILED | 500 | JACKSON, WY 83001 |
| MAUS, TODD (JACKSON) | ART WASHUT | CANDIDATE | MONETARY | 7/11/2022 | FILED | 500 | JACKSON, WY 83001 |
| WYOMING HOSPITAL ASSOCIATION PAC (CHEYENNE) | ART WASHUT | CANDIDATE | MONETARY | 7/11/2022 | FILED | 500 | CHEYENNE, WY 82001 |
| OLSEN, JARED (CHEYENNE) | ART WASHUT | CANDIDATE | MONETARY | 7/10/2022 | FILED | 250 | CHEYENNE, WY 82001 |
| SMITH, DARIN (CHEYENNE) | ART WASHUT | CANDIDATE | MONETARY | 6/24/2022 | FILED | 500 | CHEYENNE, WY 82003 |
| UNION PACIFIC CORPORATION FUND FOR EFFECTIVE GOVERNMENT (WASHINGTON) | ART WASHUT | CANDIDATE | MONETARY | 6/24/2022 | FILED | 250 | WASHINGTON, DC 20005 |
| WYOMING MINING ASSOCIATION PAC (WMA) (CHEYENNE) | ART WASHUT | CANDIDATE | MONETARY | 6/11/2022 | FILED | 100 | CHEYENNE, WY 82001 |
| WY REALTORS PAC (CASPER) | ART WASHUT | CANDIDATE | MONETARY | 6/7/2022 | FILED | 1000 | CASPER, WY 82604 |
| RAUCHFUSS, RUSS (CASPER) | ART WASHUT | CANDIDATE | MONETARY | 5/24/2022 | FILED | 500 | CASPER, WY 82601 |
| WOODSON, STEVEN (CHEYENNE) | ART WASHUT | CANDIDATE | MONETARY | 5/23/2022 | FILED | 500 | CHEYENNE, WY 82009 |
| DEGRAW, LARRY (KINNEAR) | ART WASHUT | CANDIDATE | MONETARY | 5/20/2022 | FILED | 100 | KINNEAR, WY 82516 |
| BROPHY, CARLEEN (JACKSON) | ART WASHUT | CANDIDATE | MONETARY | 5/4/2022 | FILED | 1500 | JACKSON, WY 83001 |
| BROPHY, DAN (JACKSON) | ART WASHUT | CANDIDATE | MONETARY | 5/4/2022 | FILED | 1500 | JACKSON, WY 83001 |
| WASHUT, ART (CASPER) | ART WASHUT | CANDIDATE | LOAN | 4/1/2022 | FILED | 1500 | CASPER, WY 82609 |
| MOTOROLA SOLUTIONS, INC. PAC (WASHINGTON ) | ART WASHUT | CANDIDATE | MONETARY | 3/30/2022 | FILED | 250 | WASHINGTON , DC 20004 |
| TRUCKING INDUSTRY PAC (CASPER) | ART WASHUT | CANDIDATE | MONETARY | 9/28/2020 | FILED | 100 | CASPER, WY 82602 |
| WYOMING STOCK GROWERS' AG PAC (CHEYENNE) | ART WASHUT | CANDIDATE | MONETARY | 9/15/2020 | FILED | 100 | CHEYENNE, WY 82003 |
| NATRONA REPUBLICAN PARTY CENTRAL COMMITTEE (CASPER) | ART WASHUT | CANDIDATE | MONETARY | 7/13/2020 | FILED | 500 | CASPER, WY 82602 |
| BROPHY, CARLA & DAN (JACKSON) | ART WASHUT | CANDIDATE | MONETARY | 6/7/2020 | FILED | 1000 | JACKSON, WY 83001 |
| WASHUT, LEON (VERO BEACH) | ART WASHUT | CANDIDATE | MONETARY | 6/6/2020 | FILED | 100 | VERO BEACH, FL 32967 |
| WASHUT, ARTHUR (CASPER) | ART WASHUT | CANDIDATE | LOAN | 6/1/2020 | FILED | 1610.84 | CASPER, WY 82609 |
| REPUBLICAN (CHEYENNE) | ART WASHUT | CANDIDATE | MONETARY | 10/30/2018 | FILED | 1000 | CHEYENNE, WY 82003 |
| HALVORSEN, MARTI (ETNA) | ART WASHUT | CANDIDATE | MONETARY | 10/29/2018 | FILED | 100 | ETNA, WY 83118 |
| COMMON VALUES PAC (ALEXANDRIA) | ART WASHUT | CANDIDATE | MONETARY | 10/5/2018 | FILED | 250 | ALEXANDRIA, VA 22314 |
| CAUCUS, WYOMING HOUSE REPUBLICAN (LINGLE) | ART WASHUT | CANDIDATE | MONETARY | 10/2/2018 | FILED | 100 | LINGLE, WY 82223 |
| NATRONA REPUBLICAN PARTY CENTRAL COMMITTEE (CASPER) | ART WASHUT | CANDIDATE | MONETARY | 10/2/2018 | FILED | 2500 | CASPER, WY 82602 |
| NICOLAYSEN, PETER (CASPER) | ART WASHUT | CANDIDATE | MONETARY | 10/1/2018 | FILED | 150 | CASPER, WY 82602 |
| CALAR, LEEBETT (CASPER) | ART WASHUT | CANDIDATE | MONETARY | 9/25/2018 | FILED | 100 | CASPER, WY 82609 |
| MORGAN, CATHY (CASPER) | ART WASHUT | CANDIDATE | MONETARY | 9/25/2018 | FILED | 100 | CASPER, WY 82601 |
| TRUE, DAVID (CASPER) | ART WASHUT | CANDIDATE | MONETARY | 9/21/2018 | AMEND - ADD | 150 | CASPER, WY 82602 |
| LEWIS, SHERRIE (CASPER) | ART WASHUT | CANDIDATE | MONETARY | 9/20/2018 | FILED | 100 | CASPER, WY 82604 |
| PAW POLITICAL ACTION COUNCIL (CASPER) | ART WASHUT | CANDIDATE | MONETARY | 9/20/2018 | FILED | 250 | CASPER, WY 82601 |
| STUBSON, SUSAN (CASPER) | ART WASHUT | CANDIDATE | MONETARY | 9/12/2018 | FILED | 100 | CASPER, WY 82604 |
| WATSON, RAY (CASPER) | ART WASHUT | CANDIDATE | MONETARY | 9/10/2018 | FILED | 1000 | CASPER, WY 82609 |
| GILLUM, FORREST E (CASPER) | ART WASHUT | CANDIDATE | MONETARY | 8/30/2018 | FILED | 100 | CASPER, WY 82609 |
| BRECHTEL, ROBERT (CASPER) | ART WASHUT | CANDIDATE | MONETARY | 8/24/2018 | FILED | 100 | CASPER, WY 82609 |
| BONER, ANNE (DOUGLAS) | ART WASHUT | CANDIDATE | MONETARY | 8/21/2018 | FILED | 200 | DOUGLAS, WY 82633 |
| UNDERWOOD, SUSAN (CASPER) | ART WASHUT | CANDIDATE | MONETARY | 8/8/2018 | FILED | 100 | CASPER, WY 82609 |
| READ, TIM (HOUSTON) | ART WASHUT | CANDIDATE | MONETARY | 8/3/2018 | AMEND - ADD | 150 | HOUSTON, TX 77058 |
| BROPHY, CARLEEN (JACKSON) | ART WASHUT | CANDIDATE | MONETARY | 7/11/2018 | FILED | 1500 | JACKSON, WY 83001 |
| MCGINTY, STEVE (CASPER) | ART WASHUT | CANDIDATE | MONETARY | 7/6/2018 | FILED | 500 | CASPER, WY 82609 |
| REED, DAVE (KENNEWICK) | ART WASHUT | CANDIDATE | MONETARY | 7/6/2018 | FILED | 350 | KENNEWICK, WA 99337 |
| HENDERSON, TERRY (SHAWNEE) | ART WASHUT | CANDIDATE | MONETARY | 6/25/2018 | FILED | 60 | SHAWNEE, WY 82229 |
| WASHUT, ART (CASPER) | ART WASHUT | CANDIDATE | LOAN | 6/25/2018 | FILED | 400 | CASPER, WY 82609 |
| WASHUT, LEON (VERO BEACH) | ART WASHUT | CANDIDATE | MONETARY | 6/25/2018 | FILED | 100 | VERO BEACH, FL 32967 |