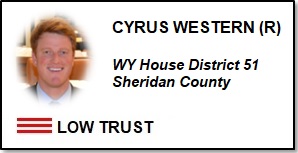 Summary
Representation
Competence
Integrity
More
– – –
Cyrus Western has served in House District 51 as a WY Representative for Sheridan County from 2019 to the present.  He has received a negative score for all three categories of Representation, Competence, and Integrity, and has therefore been ranked as Low Trust.
He is up for reelection in 2024.
---
"About two years ago, the applicant submitted an application for a land exchange, but it wasn't until last April that it became public knowledge," Western said. "The public did not know about the exchange until three-quarters of the way through the process, and the cake was already baked at that point…

Negotiating these land trades without public involvement erodes trust in the Office of State Lands," Western said. "They need to be honest and transparent from start to finish, and that's what I'm trying to accomplish with my legislation."
From https://www.thesheridanpress.com/news/local/western-bill-strives-to-increase-transparency-in-process/article_183795d4-8b68-11ec-9240-ab0eb810bc37.html
Overall Western earns a (–) for Representation for the public conduct issues listed below.
Attendance
It appears that Western missed 12 votes across 4 days in 2023 General Session:
2/23/23 Concurrence votes for HB64; HB108; HB188; HB195
2/23/23 3rd Reading votes for SF97
2/28/23 3rd Reading votes SF80; SF83; SF108
3/1/23 Concurrence votes for HB76; HB171; HB208; HB222.
Public Conduct
There have been several complaints made against Western for his public conduct:
Four election finance complaints regarding an attack-ad mailer he mailed out using an unregistered PAC (more here)
Censured by the Sheridan County GOP for the matter above
Posting a racist tweet about the state's first Black sheriff (more here)
Additionally, it is not uncommon for Western to be seen picking his nose on the House floor, which is embarrassing/disgusting to WY citizens.
Sponsorship History
In 2023 Western was the primary sponsor of 18 bills, and he co-sponsored 21 bills and 2 joint resolutions.  Favored sponsorship topics appear to be hunting/fishing; beer.  For more on Western see his legislator webpage.
Committee Assignments
2023-Select Committee on Blockchain, Financial Technology and Digital Innovation Technology – Chairman
2023-House Minerals, Business & Economic Development
2023-House Rules & Procedure
2023-House Travel, Recreation, Wildlife & Cultural Resources
Western scored a (–) for Constitutional Competence with an average of 73.8% on the constitutional issues listed below.  Constitutional issue categories that have a "N/A" grade, refer to specific bills that  did not have the opportunity to vote on.
For more on the bills used to analyze these scores click here.  Special hat-tip goes out to Evidence Based Wyoming for use of their statistical tool to generate the following vote scores:
Conflicts
Still being assessed…
Employment/Income
According to Western's legislative webpage, his occupation is Commercial real estate.  According to Western's 2023 State Elected Officials Financial Disclosure available at Wyofile, he reports:
Owner/operator of LGM Holdings LLC
*Business interest in DYT Holdings LLC
Income from "Real estate, leases, royalties"
*It appears that DYT Holdings might be related to DYT Solutions, which is a digital marketing business in Sheridan, WY;  It appears that DYT Holdings might be related to DYT Capital Investments, also in Sheridan, WY.
Additionally, Cyrus Western might be involved with Ramaco Resources mining ventures in Sheridan (see more here).
Memberships/Civic Organizations
Big Horn Lions Club, Member
Bowhunters Of Wyoming, Member
Campaign Contributions
The table below shows all campaign contributions reported by the WY Secretary of State for Friends of Cyrus Western.
From 2018 to 2022 Western received approximately 143 contributions that total approximately $71,900.  The total amount Western received from PACs &/or campaign committees was approximately $36,050 – which is approximately 50% of total donations received.
Noteworthy PAC contributions to Western are:
$10,000 total from Wyoming Hope

(RINO donor)
$4,000 from Future307 PAC in Buffalo, WY
$2,650 total from ESG compliant energy company PACs:

$250 from American Wind Energy Association
$1,500 total from DECPAC/Devon Energy Corp
$100 from MDU Resources Group Good Government Fund
$500 total from NextEra Energy PAC
$300 from Pacific Power/Rocky Mountain Power PAC

$400 total from Pfizer PAC
$200 from WY Medical Society PAC
$75 from True family dynasty member
Click the arrows at the top of columns to sort the data by name, date, $ amount, etc.  (Data is publicly available records obtained from the Wyoming Secretary of State's Wyoming's Campaign Finance Information System)
| Contributor Name | Recipient Name | Recipient Type | Contribution Type | Date | Filing Status | Amount | City State Zip |
| --- | --- | --- | --- | --- | --- | --- | --- |
| CHARTER COMMUNICATIONS, INC. WYOMING POLITICAL ACTION COMMITTEE (CHEYENNE) | FRIENDS OF CYRUS WESTERN | CANDIDATE COMMITTEE | MONETARY | 10/24/2022 | FILED | 1000 | CHEYENNE, WY 82009 |
| DEVON ENERGY CORPORATION PAC (OKLAHOMA CITY) | FRIENDS OF CYRUS WESTERN | CANDIDATE COMMITTEE | MONETARY | 10/24/2022 | FILED | 500 | OKLAHOMA CITY, OK 73102 |
| FARMERS INSURANCE AGENTS AND EMPLOYEE(FEAPAC) MEMBERS OF WYOMING (CHEYENNE) | FRIENDS OF CYRUS WESTERN | CANDIDATE COMMITTEE | MONETARY | 10/24/2022 | FILED | 250 | CHEYENNE, WY 82001 |
| FFFWY FIRE PAC (CHEYENNE) | FRIENDS OF CYRUS WESTERN | CANDIDATE COMMITTEE | MONETARY | 10/24/2022 | FILED | 500 | CHEYENNE, WY 82003 |
| MDU RESOURCES GROUP GOOD GOVERNMENT FUND (BISMARCK) | FRIENDS OF CYRUS WESTERN | CANDIDATE COMMITTEE | MONETARY | 10/24/2022 | FILED | 100 | BISMARCK, ND 58506 |
| TRUCKING INDUSTRY PAC (CASPER) | FRIENDS OF CYRUS WESTERN | CANDIDATE COMMITTEE | MONETARY | 10/24/2022 | FILED | 200 | CASPER, WY 82602 |
| TRUE, DAVE (CASPER) | FRIENDS OF CYRUS WESTERN | CANDIDATE COMMITTEE | MONETARY | 10/24/2022 | FILED | 75 | CASPER, WY 82602 |
| CARMODY, CATHERINE (MIAMI BEACH) | FRIENDS OF CYRUS WESTERN | CANDIDATE COMMITTEE | MONETARY | 9/1/2022 | FILED | 1500 | MIAMI BEACH, FL 33139 |
| COWBOY GAMES PAC (SHERIDAN) | FRIENDS OF CYRUS WESTERN | CANDIDATE COMMITTEE | MONETARY | 8/31/2022 | FILED | 1000 | SHERIDAN, WY 82801 |
| ALTRIA GROUP, INC. PAC (WASHINGTON) | FRIENDS OF CYRUS WESTERN | CANDIDATE COMMITTEE | MONETARY | 8/18/2022 | FILED | 200 | WASHINGTON, DC 20001 |
| BERRY, BOB (WOLF) | FRIENDS OF CYRUS WESTERN | CANDIDATE COMMITTEE | MONETARY | 8/18/2022 | FILED | 200 | WOLF, WY 82844 |
| BNSF RAILPAC (FT WORTH) | FRIENDS OF CYRUS WESTERN | CANDIDATE COMMITTEE | MONETARY | 8/18/2022 | FILED | 300 | FT WORTH, TX 76161 |
| CHARTER COMMUNICATIONS, INC. WYOMING POLITICAL ACTION COMMITTEE (CHEYENNE) | FRIENDS OF CYRUS WESTERN | CANDIDATE COMMITTEE | MONETARY | 8/18/2022 | FILED | 1000 | CHEYENNE, WY 82009 |
| KAUFMAN, MATT (CHEYENNE) | FRIENDS OF CYRUS WESTERN | CANDIDATE COMMITTEE | MONETARY | 8/18/2022 | FILED | 500 | CHEYENNE, WY 82003 |
| PALICH, CHRISTIAN (PLAIN CITY) | FRIENDS OF CYRUS WESTERN | CANDIDATE COMMITTEE | MONETARY | 8/18/2022 | FILED | 250 | PLAIN CITY, OH 43064 |
| WOLD, PETER (CASPER) | FRIENDS OF CYRUS WESTERN | CANDIDATE COMMITTEE | MONETARY | 8/18/2022 | FILED | 200 | CASPER, WY 82601 |
| JOHNSON, JENNIFER (ARLINGTON) | FRIENDS OF CYRUS WESTERN | CANDIDATE COMMITTEE | MONETARY | 8/5/2022 | FILED | 1000 | ARLINGTON, VA 22207 |
| NUGEN, MATT (ST LOUIS) | FRIENDS OF CYRUS WESTERN | CANDIDATE COMMITTEE | MONETARY | 8/1/2022 | FILED | 500 | ST LOUIS, MO 63104 |
| SCOTT, EMERSON (DAYTON) | FRIENDS OF CYRUS WESTERN | CANDIDATE COMMITTEE | MONETARY | 7/27/2022 | FILED | 250 | DAYTON, WY 82836 |
| AGOPIAN, NICK (CHEYENNE) | FRIENDS OF CYRUS WESTERN | CANDIDATE COMMITTEE | MONETARY | 7/19/2022 | FILED | 1000 | CHEYENNE, WY 82001 |
| BLACK HILLS CORPORATION PAC (RAPID CITY) | FRIENDS OF CYRUS WESTERN | CANDIDATE COMMITTEE | MONETARY | 7/19/2022 | FILED | 500 | RAPID CITY, SD 57709 |
| BLACKWELDER, GARRETT (GRIMESLAND) | FRIENDS OF CYRUS WESTERN | CANDIDATE COMMITTEE | MONETARY | 7/19/2022 | FILED | 500 | GRIMESLAND, NC 27837 |
| CIGNA POL ACTION COMMITTEE (PHILADELPHIA) | FRIENDS OF CYRUS WESTERN | CANDIDATE COMMITTEE | MONETARY | 7/19/2022 | FILED | 500 | PHILADELPHIA, PA 19191 |
| CONPAC CONTRACTORS PAC (CHEYENNE) | FRIENDS OF CYRUS WESTERN | CANDIDATE COMMITTEE | MONETARY | 7/19/2022 | FILED | 1000 | CHEYENNE, WY 82003 |
| EVERS, MIKE (SHERIDAN) | FRIENDS OF CYRUS WESTERN | CANDIDATE COMMITTEE | MONETARY | 7/19/2022 | FILED | 100 | SHERIDAN, WY 82801 |
| GEORGE, NICHOLAS (SHERIDAN) | FRIENDS OF CYRUS WESTERN | CANDIDATE COMMITTEE | MONETARY | 7/19/2022 | FILED | 250 | SHERIDAN, WY 82801 |
| HERSCHLER, MIMI (BIG HORN) | FRIENDS OF CYRUS WESTERN | CANDIDATE COMMITTEE | MONETARY | 7/19/2022 | FILED | 200 | BIG HORN, WY 82833 |
| KINNISON, SHARON (SHERIDAN) | FRIENDS OF CYRUS WESTERN | CANDIDATE COMMITTEE | MONETARY | 7/19/2022 | FILED | 500 | SHERIDAN, WY 82801 |
| PARKER, KEVIN (LEWISTON) | FRIENDS OF CYRUS WESTERN | CANDIDATE COMMITTEE | MONETARY | 7/19/2022 | FILED | 100 | LEWISTON, MT 59457 |
| PAW POLITICAL ACTION COUNCIL (CASPER) | FRIENDS OF CYRUS WESTERN | CANDIDATE COMMITTEE | MONETARY | 7/19/2022 | FILED | 250 | CASPER, WY 82601 |
| RASMUSSEN, SHARON (SHERIDAN) | FRIENDS OF CYRUS WESTERN | CANDIDATE COMMITTEE | MONETARY | 7/19/2022 | FILED | 50 | SHERIDAN, WY 82801 |
| SCHULTZ, DAVE (SHERIDAN) | FRIENDS OF CYRUS WESTERN | CANDIDATE COMMITTEE | MONETARY | 7/19/2022 | FILED | 400 | SHERIDAN, WY 82801 |
| SINCLAIR, SARAH (SHERIDAN) | FRIENDS OF CYRUS WESTERN | CANDIDATE COMMITTEE | MONETARY | 7/19/2022 | FILED | 50 | SHERIDAN, WY 82801 |
| UNION PACIFIC CORPORATION FUND FOR EFFECTIVE GOVERNMENT (WASHINGTON) | FRIENDS OF CYRUS WESTERN | CANDIDATE COMMITTEE | MONETARY | 7/19/2022 | FILED | 250 | WASHINGTON, DC 20005 |
| WALTERS, TOM (CASPER) | FRIENDS OF CYRUS WESTERN | CANDIDATE COMMITTEE | MONETARY | 7/19/2022 | FILED | 250 | CASPER, WY 82604 |
| WORTHEN, BRIAN (GILLETTE) | FRIENDS OF CYRUS WESTERN | CANDIDATE COMMITTEE | MONETARY | 7/19/2022 | FILED | 1500 | GILLETTE, WY 82718 |
| WY REALTORS PAC (CASPER) | FRIENDS OF CYRUS WESTERN | CANDIDATE COMMITTEE | MONETARY | 7/19/2022 | FILED | 1000 | CASPER, WY 82604 |
| WYOMING HOPE (CASPER) | FRIENDS OF CYRUS WESTERN | CANDIDATE COMMITTEE | MONETARY | 7/19/2022 | FILED | 5000 | CASPER, WY 82601 |
| WYOMING MINING ASSOCIATION PAC (WMA) (CHEYENNE) | FRIENDS OF CYRUS WESTERN | CANDIDATE COMMITTEE | MONETARY | 7/19/2022 | FILED | 1000 | CHEYENNE, WY 82001 |
| BURNS, BRUCE (BIG HORN) | FRIENDS OF CYRUS WESTERN | CANDIDATE COMMITTEE | MONETARY | 6/3/2022 | FILED | 1500 | BIG HORN, WY 82833 |
| LOCKHART, KELLY (JACKSON) | FRIENDS OF CYRUS WESTERN | CANDIDATE COMMITTEE | MONETARY | 6/2/2022 | FILED | 1000 | JACKSON, WY 83001 |
| WYOMING STOCK GROWERS' AG PAC (CHEYENNE) | FRIENDS OF CYRUS WESTERN | CANDIDATE COMMITTEE | MONETARY | 6/2/2022 | FILED | 200 | CHEYENNE, WY 82003 |
| NATIONAL SHOOTING SPORTS FOUNDATION (NEWTOWN) | FRIENDS OF CYRUS WESTERN | CANDIDATE COMMITTEE | MONETARY | 5/30/2022 | FILED | 500 | NEWTOWN, CT 06470 |
| TRUCKING INDUSTRY PAC (CASPER) | FRIENDS OF CYRUS WESTERN | CANDIDATE COMMITTEE | MONETARY | 9/28/2020 | FILED | 100 | CASPER, WY 82602 |
| COWBOY GAMES PAC (SHERIDAN) | FRIENDS OF CYRUS WESTERN | CANDIDATE COMMITTEE | MONETARY | 9/23/2020 | FILED | 200 | SHERIDAN, WY 82801 |
| WY RURAL ELECTRIC ASSN. PAC (CHEYENNE) | FRIENDS OF CYRUS WESTERN | CANDIDATE COMMITTEE | MONETARY | 9/21/2020 | FILED | 500 | CHEYENNE, WY 82001 |
| ALTRIA GROUP, INC. PAC (WASHINGTON) | FRIENDS OF CYRUS WESTERN | CANDIDATE COMMITTEE | MONETARY | 8/19/2020 | FILED | 250 | WASHINGTON, DC 20001 |
| CHARTER COMMUNICATIONS, INC. PAC (STAMFORD) | FRIENDS OF CYRUS WESTERN | CANDIDATE COMMITTEE | MONETARY | 8/19/2020 | FILED | 300 | STAMFORD, CT 06901 |
| COWBOY GAMES PAC (SHERIDAN) | FRIENDS OF CYRUS WESTERN | CANDIDATE COMMITTEE | MONETARY | 8/19/2020 | FILED | 150 | SHERIDAN, WY 82801 |
| FFFWY FIRE PAC (CHEYENNE) | FRIENDS OF CYRUS WESTERN | CANDIDATE COMMITTEE | MONETARY | 8/19/2020 | FILED | 500 | CHEYENNE, WY 82003 |
| JENNINGS, JANE (SHERIDAN) | FRIENDS OF CYRUS WESTERN | CANDIDATE COMMITTEE | MONETARY | 8/19/2020 | FILED | 50 | SHERIDAN, WY 82801 |
| PFIZER PAC (NEW YORK) | FRIENDS OF CYRUS WESTERN | CANDIDATE COMMITTEE | MONETARY | 8/19/2020 | FILED | 200 | NEW YORK, NY 10017 |
| STITH, CLARK (ROCK SPRINGS) | FRIENDS OF CYRUS WESTERN | CANDIDATE COMMITTEE | MONETARY | 8/19/2020 | FILED | 250 | ROCK SPRINGS, WY 82901 |
| WYO PAC (WYOMING MEDICAL PAC) (CHEYENNE) | FRIENDS OF CYRUS WESTERN | CANDIDATE COMMITTEE | MONETARY | 8/19/2020 | FILED | 200 | CHEYENNE, WY 82003 |
| LOCKHART, KELLY (JACKSON) | FRIENDS OF CYRUS WESTERN | CANDIDATE COMMITTEE | MONETARY | 8/4/2020 | FILED | 500 | JACKSON, WY 83001 |
| WY REALTORS PAC (CASPER) | FRIENDS OF CYRUS WESTERN | CANDIDATE COMMITTEE | MONETARY | 8/4/2020 | FILED | 1000 | CASPER, WY 82604 |
| RASMUSSEN, HARLON & SHARON (SHERIDAN) | FRIENDS OF CYRUS WESTERN | CANDIDATE COMMITTEE | MONETARY | 7/30/2020 | FILED | 50 | SHERIDAN, WY 82801 |
| PACIFIC POWER/ROCKY MOUNTAIN POWER PAC (PORTLAND) | FRIENDS OF CYRUS WESTERN | CANDIDATE COMMITTEE | MONETARY | 7/29/2020 | FILED | 300 | PORTLAND, OR 97232 |
| MEYER, SUSANNA (SHERIDAN) | FRIENDS OF CYRUS WESTERN | CANDIDATE COMMITTEE | MONETARY | 7/28/2020 | FILED | 300 | SHERIDAN, WY 82801 |
| CONPAC CONTRACTORS PAC (CHEYENNE) | FRIENDS OF CYRUS WESTERN | CANDIDATE COMMITTEE | MONETARY | 7/24/2020 | FILED | 500 | CHEYENNE, WY 82003 |
| NICOLARSEN, DAVE (SHERIDAN) | FRIENDS OF CYRUS WESTERN | CANDIDATE COMMITTEE | MONETARY | 7/24/2020 | FILED | 50 | SHERIDAN, WY 82801 |
| MARATHON OIL COMPANY EMPLOYEES POLITICAL ACTION COMMITTEE (MEPAC) - STATE (FINDLEY) | FRIENDS OF CYRUS WESTERN | CANDIDATE COMMITTEE | MONETARY | 7/23/2020 | FILED | 300 | FINDLEY, OH 45840 |
| MCNIVEN, TRAVIS (RIVERTON) | FRIENDS OF CYRUS WESTERN | CANDIDATE COMMITTEE | MONETARY | 7/20/2020 | FILED | 250 | RIVERTON, WY 82501 |
| CIGNA POL ACTION COMMITTEE (PHILADELPHIA) | FRIENDS OF CYRUS WESTERN | CANDIDATE COMMITTEE | MONETARY | 7/17/2020 | FILED | 375 | PHILADELPHIA, PA 19191 |
| PRESCOTT, JERRY (STORY) | FRIENDS OF CYRUS WESTERN | CANDIDATE COMMITTEE | MONETARY | 7/17/2020 | FILED | 200 | STORY, WY 82842 |
| MOTOROLA SOLUTIONS, INC. PAC (WASHINGTON ) | FRIENDS OF CYRUS WESTERN | CANDIDATE COMMITTEE | MONETARY | 7/16/2020 | FILED | 750 | WASHINGTON , DC 20004 |
| WORTHEN, BRIAN (GILLETTE) | FRIENDS OF CYRUS WESTERN | CANDIDATE COMMITTEE | MONETARY | 7/16/2020 | FILED | 1000 | GILLETTE, WY 82718 |
| NEXTERA ENERGY PAC (JUNO BEACH) | FRIENDS OF CYRUS WESTERN | CANDIDATE COMMITTEE | MONETARY | 7/15/2020 | FILED | 250 | JUNO BEACH, FL 33408 |
| NEXTERA ENERGY PAC (JUNO BEACH) | FRIENDS OF CYRUS WESTERN | CANDIDATE COMMITTEE | MONETARY | 7/15/2020 | FILED | 250 | JUNO BEACH, FL 33408 |
| DECPAC (OKLAHOMA CITY) | FRIENDS OF CYRUS WESTERN | CANDIDATE COMMITTEE | MONETARY | 7/13/2020 | FILED | 1000 | OKLAHOMA CITY, OK 73102 |
| HERSCHLER, MIMI (BIG HORN) | FRIENDS OF CYRUS WESTERN | CANDIDATE COMMITTEE | MONETARY | 7/13/2020 | FILED | 100 | BIG HORN, WY 82833 |
| MCELVANY, DOREEN (BIG HORN) | FRIENDS OF CYRUS WESTERN | CANDIDATE COMMITTEE | MONETARY | 7/9/2020 | FILED | 1500 | BIG HORN, WY 82833 |
| FUTURE307 (BUFFALO) | FRIENDS OF CYRUS WESTERN | CANDIDATE COMMITTEE | MONETARY | 7/8/2020 | FILED | 4000 | BUFFALO, WY 82824 |
| KAUFMAN, MATT (CHEYENNE) | FRIENDS OF CYRUS WESTERN | CANDIDATE COMMITTEE | MONETARY | 7/6/2020 | FILED | 500 | CHEYENNE, WY 82009 |
| PAW POLITICAL ACTION COUNCIL (CASPER) | FRIENDS OF CYRUS WESTERN | CANDIDATE COMMITTEE | MONETARY | 7/6/2020 | FILED | 500 | CASPER, WY 82601 |
| SCOTT, EMERSON (DAYTON) | FRIENDS OF CYRUS WESTERN | CANDIDATE COMMITTEE | MONETARY | 7/6/2020 | FILED | 250 | DAYTON, WY 82836 |
| WHYARD, BOB (BIG HORN) | FRIENDS OF CYRUS WESTERN | CANDIDATE COMMITTEE | MONETARY | 7/2/2020 | FILED | 250 | BIG HORN, WY 82833 |
| LAWYERS ACTIVE IN WY PAC (LAWPAC) (CHEYENNE) | FRIENDS OF CYRUS WESTERN | CANDIDATE COMMITTEE | MONETARY | 6/30/2020 | FILED | 300 | CHEYENNE, WY 82001 |
| BLACK HILLS CORPORATION PAC (RAPID CITY) | FRIENDS OF CYRUS WESTERN | CANDIDATE COMMITTEE | MONETARY | 6/25/2020 | FILED | 250 | RAPID CITY, SD 57709 |
| AMERICAN WIND ENERGY ASSOCIATION (WASHINGTON DC) | FRIENDS OF CYRUS WESTERN | CANDIDATE COMMITTEE | MONETARY | 6/24/2020 | FILED | 250 | WASHINGTON DC, DC 20005 |
| WYOMING PETROLEUM MARKETERS POLITICAL ACTION COMMITTEE (DENVER) | FRIENDS OF CYRUS WESTERN | CANDIDATE COMMITTEE | MONETARY | 6/23/2020 | FILED | 500 | DENVER, CO 80203 |
| AGOPIAN, NICK (CHEYENNE) | FRIENDS OF CYRUS WESTERN | CANDIDATE COMMITTEE | MONETARY | 6/22/2020 | FILED | 1000 | CHEYENNE, WY 82003 |
| WLRAPAC (CHEYENNE) | FRIENDS OF CYRUS WESTERN | CANDIDATE COMMITTEE | MONETARY | 6/22/2020 | FILED | 250 | CHEYENNE, WY 82009 |
| WYOMING MINING ASSOCIATION PAC (WMA) (CHEYENNE) | FRIENDS OF CYRUS WESTERN | CANDIDATE COMMITTEE | MONETARY | 6/22/2020 | FILED | 300 | CHEYENNE, WY 82001 |
| EVERS, JOE (DENVER) | FRIENDS OF CYRUS WESTERN | CANDIDATE COMMITTEE | MONETARY | 6/19/2020 | FILED | 100 | DENVER, CO 80210 |
| WYOMING STOCK GROWERS' AG PAC (CHEYENNE) | FRIENDS OF CYRUS WESTERN | CANDIDATE COMMITTEE | MONETARY | 6/19/2020 | FILED | 200 | CHEYENNE, WY 82003 |
| OLSEN, DANI (CHEYENNE) | FRIENDS OF CYRUS WESTERN | CANDIDATE COMMITTEE | MONETARY | 6/17/2020 | FILED | 200 | CHEYENNE, WY 82001 |
| RIGGS, DAN (SHERIDAN) | FRIENDS OF CYRUS WESTERN | CANDIDATE COMMITTEE | MONETARY | 6/16/2020 | FILED | 250 | SHERIDAN, WY 82801 |
| WYOMING HOPE (CHEYENNE) | FRIENDS OF CYRUS WESTERN | CANDIDATE COMMITTEE | MONETARY | 6/13/2020 | FILED | 5000 | CHEYENNE, WY 82009 |
| EVERS, MIKE (SHERIDAN) | FRIENDS OF CYRUS WESTERN | CANDIDATE COMMITTEE | MONETARY | 6/3/2020 | FILED | 200 | SHERIDAN, WY 82801 |
| BURNS, BRUCE (BIG HORN) | FRIENDS OF CYRUS WESTERN | CANDIDATE COMMITTEE | MONETARY | 6/1/2020 | FILED | 200 | BIG HORN, WY 82833 |
| PFIZER PAC (NEW YORK) | FRIENDS OF CYRUS WESTERN | CANDIDATE COMMITTEE | MONETARY | 10/22/2019 | FILED | 200 | NEW YORK, NY 10017 |
| CIGNA POL ACTION COMMITTEE (PHILADELPHIA) | FRIENDS OF CYRUS WESTERN | CANDIDATE COMMITTEE | MONETARY | 7/30/2019 | FILED | 250 | PHILADELPHIA, PA 19191 |
| ANADARKO PETROLEUM PAC (WOODLANDS) | FRIENDS OF CYRUS WESTERN | CANDIDATE COMMITTEE | MONETARY | 11/16/2018 | FILED | 250 | WOODLANDS, TX 77380 |
| BLACK HILLS CORPORATION PAC (RAPID CITY) | FRIENDS OF CYRUS WESTERN | CANDIDATE COMMITTEE | MONETARY | 10/25/2018 | FILED | 125 | RAPID CITY, SD 57709 |
| DODSON, DAVID (JACKSON) | FRIENDS OF CYRUS WESTERN | CANDIDATE COMMITTEE | MONETARY | 10/14/2018 | FILED | 250 | JACKSON, WY 83002 |
| RADER, BILL (SHERIDAN) | FRIENDS OF CYRUS WESTERN | CANDIDATE COMMITTEE | MONETARY | 10/11/2018 | FILED | 100 | SHERIDAN, WY 82801 |
| MECHANIC, ROBERT (NEWTON CENTER) | FRIENDS OF CYRUS WESTERN | CANDIDATE COMMITTEE | MONETARY | 10/7/2018 | FILED | 250 | NEWTON CENTER, MA 02459 |
| CAUCUS, WY HOUSE (POWELL) | FRIENDS OF CYRUS WESTERN | CANDIDATE COMMITTEE | MONETARY | 10/3/2018 | FILED | 100 | POWELL, WY 82435 |
| CIGNA POL ACTION COMMITTEE (PHILADELPHIA) | FRIENDS OF CYRUS WESTERN | CANDIDATE COMMITTEE | MONETARY | 9/24/2018 | FILED | 300 | PHILADELPHIA, PA 19191 |
| NICOLARSEN, DAVE (SHERIDAN) | FRIENDS OF CYRUS WESTERN | CANDIDATE COMMITTEE | MONETARY | 9/6/2018 | FILED | 50 | SHERIDAN, WY 82801 |
| WYOMING MINING ASSOCIATION PAC (WMA) (CHEYENNE) | FRIENDS OF CYRUS WESTERN | CANDIDATE COMMITTEE | MONETARY | 8/30/2018 | FILED | 200 | CHEYENNE, WY 82001 |
| WENDTLAND, TONY (SHERIDAN) | FRIENDS OF CYRUS WESTERN | CANDIDATE COMMITTEE | MONETARY | 8/21/2018 | FILED | 200 | SHERIDAN, WY 82801 |
| KINSKEY, DAVE (SHERIDAN) | FRIENDS OF CYRUS WESTERN | CANDIDATE COMMITTEE | MONETARY | 8/14/2018 | FILED | 250 | SHERIDAN, WY 82801 |
| CROPLEY, STEVE (SHERIDAN) | FRIENDS OF CYRUS WESTERN | CANDIDATE COMMITTEE | MONETARY | 8/9/2018 | FILED | 100 | SHERIDAN, WY 82801 |
| EVERS, JOE (DENVER) | FRIENDS OF CYRUS WESTERN | CANDIDATE COMMITTEE | MONETARY | 8/9/2018 | FILED | 100 | DENVER, CO 80203 |
| EVERS, MIKE (SHERIDAN) | FRIENDS OF CYRUS WESTERN | CANDIDATE COMMITTEE | MONETARY | 8/9/2018 | FILED | 100 | SHERIDAN, WY 82801 |
| SCHULTZ, DAVE (SHERIDAN) | FRIENDS OF CYRUS WESTERN | CANDIDATE COMMITTEE | MONETARY | 8/9/2018 | FILED | 100 | SHERIDAN, WY 82801 |
| WENDEL, KATY (HAINES) | FRIENDS OF CYRUS WESTERN | CANDIDATE COMMITTEE | MONETARY | 8/5/2018 | FILED | 100 | HAINES, AK 99827 |
| BROWN, CHRIS (SHERIDAN) | FRIENDS OF CYRUS WESTERN | CANDIDATE COMMITTEE | MONETARY | 8/4/2018 | FILED | 150 | SHERIDAN, WY 82801 |
| WALLOP, SANDY (BIG HORN) | FRIENDS OF CYRUS WESTERN | CANDIDATE COMMITTEE | MONETARY | 8/4/2018 | FILED | 50 | BIG HORN, WY 82833 |
| EBZERY, MATT (SHERIDAN) | FRIENDS OF CYRUS WESTERN | CANDIDATE COMMITTEE | MONETARY | 8/3/2018 | FILED | 200 | SHERIDAN, WY 82801 |
| ATKINS, RANDY (SHERIDAN) | FRIENDS OF CYRUS WESTERN | CANDIDATE COMMITTEE | MONETARY | 7/30/2018 | FILED | 1000 | SHERIDAN, WY 82801 |
| ENGELS, DAVE (SHERIDAN) | FRIENDS OF CYRUS WESTERN | CANDIDATE COMMITTEE | MONETARY | 7/26/2018 | FILED | 25 | SHERIDAN, WY 82801 |
| HERSCHLER, MELICENT (BIG HORN) | FRIENDS OF CYRUS WESTERN | CANDIDATE COMMITTEE | MONETARY | 7/25/2018 | FILED | 100 | BIG HORN, WY 82801 |
| WY RURAL ELECTRIC ASSN. PAC (CHEYENNE) | FRIENDS OF CYRUS WESTERN | CANDIDATE COMMITTEE | MONETARY | 7/24/2018 | FILED | 250 | CHEYENNE, WY 82001 |
| BNSF RAILPAC (FT WORTH) | FRIENDS OF CYRUS WESTERN | CANDIDATE COMMITTEE | MONETARY | 7/23/2018 | FILED | 200 | FT WORTH, TX 76161 |
| EBZERY, BILL (SHERIDAN) | FRIENDS OF CYRUS WESTERN | CANDIDATE COMMITTEE | MONETARY | 7/23/2018 | FILED | 250 | SHERIDAN, WY 82801 |
| CRICCO, MATT (PORTSMOUTH) | FRIENDS OF CYRUS WESTERN | CANDIDATE COMMITTEE | MONETARY | 7/16/2018 | FILED | 500 | PORTSMOUTH, NH 03810 |
| TRACEY, BRIAN (LITTLETON) | FRIENDS OF CYRUS WESTERN | CANDIDATE COMMITTEE | MONETARY | 7/15/2018 | FILED | 500 | LITTLETON, CO 80123 |
| TRACEY, MATT (DENVER) | FRIENDS OF CYRUS WESTERN | CANDIDATE COMMITTEE | MONETARY | 7/15/2018 | FILED | 500 | DENVER, CO 80236 |
| KENNY, LINDA (DENVER) | FRIENDS OF CYRUS WESTERN | CANDIDATE COMMITTEE | MONETARY | 7/9/2018 | FILED | 100 | DENVER, CO 80211 |
| WHITON, CHARLIE (BIG HORN) | FRIENDS OF CYRUS WESTERN | CANDIDATE COMMITTEE | MONETARY | 7/9/2018 | FILED | 300 | BIG HORN, WY 82833 |
| MILLER, GARY (SHERIDAN) | FRIENDS OF CYRUS WESTERN | CANDIDATE COMMITTEE | MONETARY | 7/6/2018 | FILED | 500 | SHERIDAN, WY 82801 |
| KAY, MARY (SHERIDAN) | FRIENDS OF CYRUS WESTERN | CANDIDATE COMMITTEE | MONETARY | 7/5/2018 | FILED | 1500 | SHERIDAN, WY 82801 |
| LOVE, KIM (SHERIDAN) | FRIENDS OF CYRUS WESTERN | CANDIDATE COMMITTEE | MONETARY | 7/5/2018 | FILED | 1500 | SHERIDAN, WY 82801 |
| MCELVENY, DOREEN (SHERIDAN) | FRIENDS OF CYRUS WESTERN | CANDIDATE COMMITTEE | MONETARY | 6/28/2018 | FILED | 1500 | SHERIDAN, WY 82801 |
| PLANK, LOLLIE (BANNER) | FRIENDS OF CYRUS WESTERN | CANDIDATE COMMITTEE | MONETARY | 6/18/2018 | FILED | 500 | BANNER, WY 82832 |
| WLRAPAC (CHEYENNE) | FRIENDS OF CYRUS WESTERN | CANDIDATE COMMITTEE | MONETARY | 6/18/2018 | FILED | 250 | CHEYENNE, WY 82009 |
| BURNS, BRUCE (SHERIDAN) | FRIENDS OF CYRUS WESTERN | CANDIDATE COMMITTEE | MONETARY | 5/29/2018 | FILED | 1500 | SHERIDAN, WY 82801 |
| LACASSE, BILL (SCARBOROUGH) | FRIENDS OF CYRUS WESTERN | CANDIDATE COMMITTEE | MONETARY | 5/28/2018 | FILED | 100 | SCARBOROUGH, ME 04074 |
| SCOTT, EMERSON (DAYTON) | FRIENDS OF CYRUS WESTERN | CANDIDATE COMMITTEE | MONETARY | 5/23/2018 | FILED | 500 | DAYTON, WY 82836 |
| JENNINGS, JANE (SHERIDAN) | FRIENDS OF CYRUS WESTERN | CANDIDATE COMMITTEE | MONETARY | 4/29/2018 | FILED | 100 | SHERIDAN, WY 82801 |
| KINNISON, SHARON (SHERIDAN) | FRIENDS OF CYRUS WESTERN | CANDIDATE COMMITTEE | MONETARY | 4/28/2018 | FILED | 200 | SHERIDAN, WY 82801 |
| RIGGS, DAN (SHERIDAN) | FRIENDS OF CYRUS WESTERN | CANDIDATE COMMITTEE | MONETARY | 4/24/2018 | FILED | 250 | SHERIDAN, WY 82801 |
| DEGRAFF, BRANDON (MENDHAM) | FRIENDS OF CYRUS WESTERN | CANDIDATE COMMITTEE | MONETARY | 4/4/2018 | FILED | 25 | MENDHAM, NJ 07945 |
| SMITH, RICKEY (MEMPHIS) | FRIENDS OF CYRUS WESTERN | CANDIDATE COMMITTEE | MONETARY | 4/2/2018 | FILED | 1000 | MEMPHIS, TX 79245 |
| SCOTT, EMERSON (DAYTON) | FRIENDS OF CYRUS WESTERN | CANDIDATE COMMITTEE | MONETARY | 3/21/2018 | FILED | 100 | DAYTON, WY 82836 |
| PENDERGAST, ANNE (BIG HORN) | FRIENDS OF CYRUS WESTERN | CANDIDATE COMMITTEE | MONETARY | 3/14/2018 | FILED | 1000 | BIG HORN, WY 82833 |
| GORIN, SARAH (LARAMIE) | FRIENDS OF CYRUS WESTERN | CANDIDATE COMMITTEE | MONETARY | 3/2/2018 | FILED | 25 | LARAMIE, WY 82070 |
| HALTOM, BRONWYN (KALAMAZOO) | FRIENDS OF CYRUS WESTERN | CANDIDATE COMMITTEE | MONETARY | 1/25/2018 | FILED | 200 | KALAMAZOO, MI 49009 |
| PENDERGAST, ANNE (BIG HORN) | FRIENDS OF CYRUS WESTERN | CANDIDATE COMMITTEE | MONETARY | 1/10/2018 | FILED | 500 | BIG HORN, WY 82833 |
| LANDAU, LARRY (MENDHAM) | FRIENDS OF CYRUS WESTERN | CANDIDATE COMMITTEE | MONETARY | 1/4/2018 | FILED | 500 | MENDHAM, NJ 07945 |
Tab content