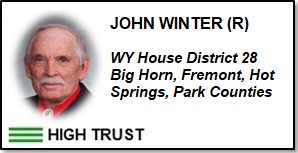 Summary
Representation
Competence
Integrity
More
John Winter has served in House District 28 as a WY Representative for Big Horn, Fremont, Hot Springs, and Park Counties from 2019 to the present.  He has received a positive score for Representation, Competence and Integrity and therefore has been ranked as High Trust.
He is up for reelection in 2024.
---
"I believe, the whole idea of Marxism, socialism, communism, progressivism, was demonically inspired it is demonically instituted and its results will be demonic. Satan wants to destroy this great nation that has been a light to this world."
From https://www.wyodaily.com/story/2020/08/13/news/wyoming-house-district-28-candidate-profiles/11141.html
Overall Winter scores a (+) for Representation.
Attendance
It appears that Winter missed 1 vote in 2023 General Session: Committee of the Whole vote for SF47 on 2/14/23.
Public Conduct
Winter appears to behave appropriately in public and to the public.
Sponsorship History
In 2023 Winter was the primary sponsor of 5 bills, and co-sponsored 36 bills.  Favored sponsorship topics appear to be medical freedom; protection of the unborn, children and students; education; elections; 2nd amendment.  For more details, see his legislator webpage.
Committee Assignments
2023-House Agriculture, State and Public Lands & Water Resources
2023-House Travel, Recreation, Wildlife & Cultural Resources
2023-Select Federal Natural Resource Management Committee
Winter scored a (+) for Constitutional Competence with an average of 100% on the constitutional issues listed below.  Constitutional issue categories that have a "N/A" grade, refer to specific bills that Winter did not have the opportunity to vote on.
For more on the bills used to analyze these scores click here.  Special hat-tip goes out to Evidence Based Wyoming for use of their statistical tool to generate the following vote scores:
Conflicts
Because we have not found any conflicts of interest for Winter, he receives a (+) for Integrity.
Employment/Income
According to Winter's legislative webpage, his occupation is Rancher / Wyoming Outfitter& Guide.  According to Winter's 2023 State Elected Officials Financial Disclosure available at Wyofile, he reports:
Wyoming State Representative
Memberships/Civic Organizations
Wyoming Outfitters & Guides Assn.
Hot Springs County Farm Bureau
National Rifle Association
Campaign Contributions
The table below shows all campaign contributions reported by the WY Secretary of State for John R. Winter.
From 2018 to 2022 Winter received approximately 30 contributions that total approximately $11,400.  Of the 30 donations, approximately 14 were from PACs &/or campaign committees.  The total amount received from PACs &/or campaign committees was approximately $3,700.
Noteworthy contributions:
$250 from MDU Resources Group Good Government Fund (ESG compliant)
Click the arrows at the top of columns to sort the data by name, date, $ amount, etc.  (Data is publicly available records obtained from the Wyoming Secretary of State's Wyoming's Campaign Finance Information System.)
| Contributor Name | Recipient Name | Recipient Type | Contribution Type | Date | Filing Status | Amount | City State Zip |
| --- | --- | --- | --- | --- | --- | --- | --- |
| TRUCKING INDUSTRY POLITICAL COMMITTEE (CASPER) | JOHN R. WINTER | CANDIDATE | MONETARY | 10/28/2022 | AMEND - ADD | 200 | CASPER, WY 82602 |
| COLLINS, JAMES AND CINDY (THERMOPOLIS) | JOHN R. WINTER | CANDIDATE | MONETARY | 10/27/2022 | FILED | 100 | THERMOPOLIS, WY 82443 |
| NELSON, ALAN AND BECKY (MANISTIQUE) | JOHN R. WINTER | CANDIDATE | MONETARY | 10/18/2022 | FILED | 200 | MANISTIQUE, MI 49854 |
| REPUBLICAN WOMEN OF FREMONT COUNTY PAC (RIVERTON) | JOHN R. WINTER | CANDIDATE | MONETARY | 10/7/2022 | FILED | 250 | RIVERTON, WY 82501 |
| COMMON VALUES PAC (ALEXANDRIA) | JOHN R. WINTER | CANDIDATE | MONETARY | 10/4/2022 | FILED | 100 | ALEXANDRIA, VA 22314 |
| MDU RESOURCES GROUP GOOD GOVERNMENT FUND (BISMARCK) | JOHN R. WINTER | CANDIDATE | MONETARY | 9/29/2022 | FILED | 250 | BISMARCK, ND 58506 |
| WYOMING STOCK GROWERS' AG PAC (CHEYENNE) | JOHN R. WINTER | CANDIDATE | MONETARY | 9/26/2022 | FILED | 200 | CHEYENNE, WY 82003 |
| WYOMING MINING ASSOCIATION PAC (WMA) (CHEYENNE) | JOHN R. WINTER | CANDIDATE | MONETARY | 9/16/2022 | FILED | 100 | CHEYENNE, WY 82001 |
| SKIVER, SHARON K. (LUSK) | JOHN R. WINTER | CANDIDATE | MONETARY | 9/13/2022 | FILED | 200 | LUSK, WY 82225 |
| FRAZIER, GARY A (THERMOPOLIS) | JOHN R. WINTER | CANDIDATE | MONETARY | 6/16/2022 | FILED | 500 | THERMOPOLIS, WY 82443 |
| BROPHY, CARLEEN E (JACKSON) | JOHN R. WINTER | CANDIDATE | MONETARY | 4/11/2022 | FILED | 1500 | JACKSON, WY 83001 |
| BROPHY, DANIEL F. (JACKSON) | JOHN R. WINTER | CANDIDATE | MONETARY | 4/11/2022 | FILED | 1500 | JACKSON, WY 83001 |
| TRUCKING INDUSTRY PAC (CASPER) | JOHN R. WINTER | CANDIDATE | MONETARY | 9/28/2020 | FILED | 200 | CASPER, WY 82602 |
| FREMONT REPUBLICAN PARTY CENTRAL COMMITTEE (RIVERTON) | JOHN R. WINTER | CANDIDATE | MONETARY | 9/13/2020 | FILED | 1500 | RIVERTON, WY 82501 |
| COMMON VALUES PAC (ALEXANDRIA) | JOHN R. WINTER | CANDIDATE | MONETARY | 9/9/2020 | FILED | 100 | ALEXANDRIA, VA 22314 |
| GORE, SUSAN W (CHEYENNE) | JOHN R. WINTER | CANDIDATE | MONETARY | 7/22/2020 | FILED | 1000 | CHEYENNE, WY 82009 |
| NELSON, ALAN AND BECKY (MANISTIQUE) | JOHN R. WINTER | CANDIDATE | MONETARY | 7/21/2020 | FILED | 400 | MANISTIQUE, MI 49854 |
| BROPHY, DANIEL AND CARLEEN (JACKSON) | JOHN R. WINTER | CANDIDATE | MONETARY | 7/16/2020 | FILED | 750 | JACKSON, WY 83001 |
| WYOMING STOCK GROWERS' AG PAC (CHEYENNE) | JOHN R. WINTER | CANDIDATE | MONETARY | 6/19/2020 | FILED | 200 | CHEYENNE, WY 82003 |
| COMMON VALUES PAC (ALEXANDRIA) | JOHN R. WINTER | CANDIDATE | MONETARY | 10/17/2018 | FILED | 100 | ALEXANDRIA, VA 22314 |
| CIGNA POL ACTION COMMITTEE (PHILADELPHIA) | JOHN R. WINTER | CANDIDATE | MONETARY | 10/12/2018 | FILED | 300 | PHILADELPHIA, PA 19191 |
| NELSON, ALAN & BECKY (MANISTIQUE) | JOHN R. WINTER | CANDIDATE | MONETARY | 10/10/2018 | FILED | 200 | MANISTIQUE, MI 49854 |
| HOUSE REPUBLICAN CAUCUS (LINGLE) | JOHN R. WINTER | CANDIDATE | MONETARY | 10/9/2018 | FILED | 100 | LINGLE, WY 82223 |
| TRUCKING INDUSTRY PAC (CASPER) | JOHN R. WINTER | CANDIDATE | MONETARY | 10/9/2018 | FILED | 100 | CASPER, WY 82602 |
| LAW, CLARENE & CREED (JACKSON) | JOHN R. WINTER | CANDIDATE | MONETARY | 10/2/2018 | FILED | 100 | JACKSON, WY 83001 |
| WINTER, JOHN R (THERMOPOLIS) | JOHN R. WINTER | CANDIDATE | MONETARY | 9/10/2018 | FILED | 500 | THERMOPOLIS, WY 82443 |
| CARLOCK, ROBERT J (LAUDERDALE LAKES) | JOHN R. WINTER | CANDIDATE | MONETARY | 8/14/2018 | FILED | 100 | LAUDERDALE LAKES, FL 33311 |
| COLLINS, CINDY (THERMOPOLIS) | JOHN R. WINTER | CANDIDATE | MONETARY | 7/9/2018 | FILED | 200 | THERMOPOLIS, WY 82443 |
| JACHOWSKI, PETER OR KATHLEEN P. (THERMOPOLIS) | JOHN R. WINTER | CANDIDATE | MONETARY | 6/21/2018 | FILED | 250 | THERMOPOLIS, WY 82443 |
| MASSIE, JAMES (THERMOPOLIS) | JOHN R. WINTER | CANDIDATE | MONETARY | 6/18/2018 | FILED | 200 | THERMOPOLIS, WY 82443 |