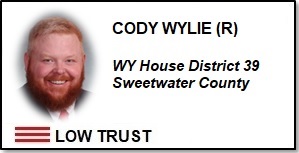 Summary
Representation
Competence
Integrity
More
+ – –
Cody Wylie has served in House District 39 as a WY Representative for Sweetwater County from Jan 2023 to the present.  He has received a positive score for Representation and a negative score for Competence and Integrity.  Therefore he has been ranked as Low Trust.
He is up for reelection in 2024.
---
"Sweetwater County needs representatives that will voice our concerns and needs in Cheyenne. Push for true economic diversification and development, not just passing the buck. A representative that will protect the standard of living that Sweetwater County deserves. Grow revenue instead of cutting essential services."
From https://wylie4wyofromwyo.com/
Overall Wylie earns a (+) for Representation.
Attendance
It appears that Wylie missed 10 votes across 3 days in 2023 General Session:
1/30/23 – Corporations Committee vote for HB103; HB207; 3rd reading vote on HB22; HB64; HB66; HB83; HB144; HB169;
2/14/23 – Committee of the Whole vote on SF47;
3/1/23 – Concurrence vote for HB152.
Public Conduct
Wylie appears to behave appropriately in public and to the public.
Sponsorship History
In 2023 Wylie was the primary sponsor of 2 bills, and co-sponsored 29 bills.  Favored sponsorship topics appear to be varied.  For more details, see his legislator webpage.
Committee Assignments
2023-House Corporations, Elections & Political Subdivisions
2023-House Transportation, Highways & Military Affairs
2023-Energy Council
Wylie scored a (–) for Constitutional Competence with an average of 50% on the constitutional issues listed below.  Constitutional issue categories that have a "N/A" grade, refer to specific bills that Wylie did not have the opportunity to vote on.
For more on the bills used to analyze these scores click here.  Special hat-tip goes out to Evidence Based Wyoming for use of their statistical tool to generate the following vote scores:
Conflicts
Wylie receives a (–) for Integrity.
Wylie, who serves on the Rock Springs Planning and Zoning Commission, voted on the following 2023 bills that are a conflict of interest:
HB0135 – Cities and towns-abandoned and nuisance buildings.
HB0195/HEA91 – American rescue plan act appropriations-amendments.
SF0137/SEA91 – Subdivisions-fencing requirements.
SF0164/SEA87 – Public improvement contract requirements-amendments.
Additionally, Wylie has a conflict in relation to his spouse being employed as a Sheriff's Deputy in Sweetwater County.  We believe Wylie should have abstained from voting on the following bills:
2023 SF0018/SEA22 – Benefits for spouses of law enforcement members.
2023 SF0158 – Public employee retirement plan-contributions.
Employment/Income
According to Wylie's 2023 State Elected Officials Financial Disclosure available at Wyofile, he reports:
Vice President – Wylie Construction, Inc.
Memberships/Civic Organizations
Rock Springs Planning and Zoning Commission
Campaign Contributions
The table below shows all campaign contributions reported by the WY Secretary of State for Cody Wylie.
In 2022 Wylie received approximately 9 contributions that total approximately $8,820.56.  Of the 9 donations, approximately 1 came from a PAC.  The total amount received from that PAC was $250.
Click the arrows at the top of columns to sort the data by name, date, $ amount, etc.  (Data is publicly available records obtained from the Wyoming Secretary of State's Wyoming's Campaign Finance Information System.)
| Contributor Name | Recipient Name | Recipient Type | Contribution Type | Date | Filing Status | Amount | City State Zip |
| --- | --- | --- | --- | --- | --- | --- | --- |
| WYLIE, BILLY (ROCK SPRINGS) | CODY WYLIE | CANDIDATE | MONETARY | 11/1/2022 | AMEND - ADD | 167.27 | ROCK SPRINGS, WY 82901 |
| WYLIE, BILLY (ROCK SPRINGS) | CODY WYLIE | CANDIDATE | MONETARY | 10/31/2022 | FILED | 510.33 | ROCK SPRINGS, WY 82901 |
| WYLIE, CODY (ROCK SPRINGS) | CODY WYLIE | CANDIDATE | MONETARY | 10/31/2022 | FILED | 1506.61 | ROCK SPRINGS, WY 82901 |
| COMMON VALUES PAC (ALEXANDRIA) | CODY WYLIE | CANDIDATE | MONETARY | 9/19/2022 | FILED | 250 | ALEXANDRIA, VA 22314 |
| COWAN, MARK (ROCK SPRINGS) | CODY WYLIE | CANDIDATE | IN-KIND | 9/19/2022 | FILED | 360 | ROCK SPRINGS, WY 82901 |
| KELLY, BRIAN (ROCK SPRINGS) | CODY WYLIE | CANDIDATE | MONETARY | 8/23/2022 | FILED | 26.25 | ROCK SPRINGS, WY 82901 |
| WYLIE, BILLY (ROCK SPRINGS) | CODY WYLIE | CANDIDATE | MONETARY | 8/12/2022 | AMEND - ADD | 25 | ROCK SPRINGS, WY 82901 |
| WYLIE, CODY MCNEIL (ROCK SPRINGS) | CODY WYLIE | CANDIDATE | MONETARY | 8/8/2022 | FILED | 5775.1 | ROCK SPRINGS, WY 82901 |
| THOMPSON, CRAIG (ROCK SPRINGS) | CODY WYLIE | CANDIDATE | MONETARY | 8/4/2022 | AMEND - ADD | 200 | ROCK SPRINGS, WY 82901 |